Character Alignment In WWE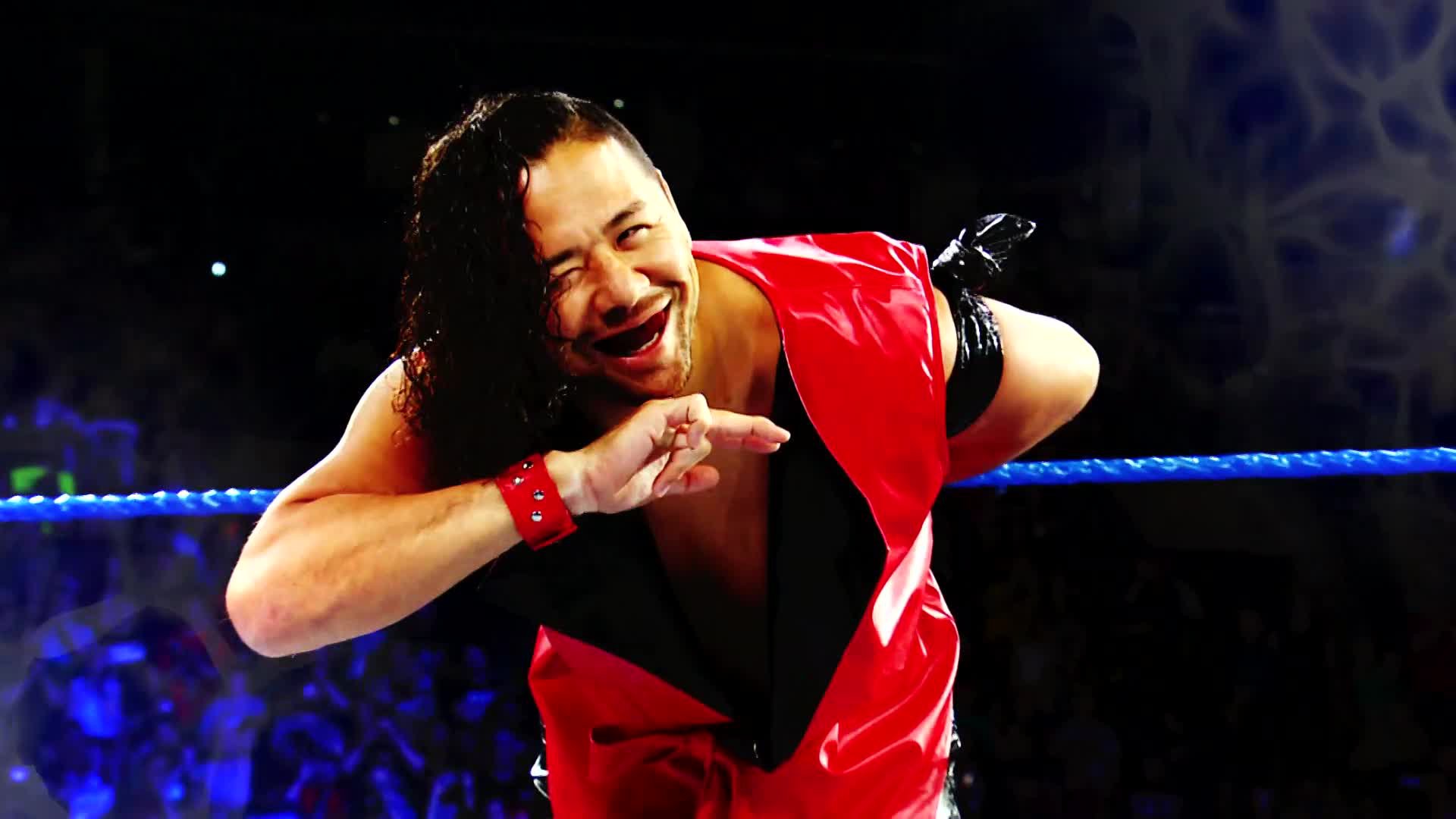 Hell of a week in wrestling, eh?
Well, given all of the news items involving professional wrestling right now, most notably the MASSIVE amounts of money that WWE is receiving for their TV rights, I want to talk about something more nuanced.  I want to talk about something that fans criticize often but seem to not truly understand. Today ladies and gentlemen, we're going to talk about character alignment.
Roman Reigns recently was interviewed by the Daily Express in the United Kingdom.  They asked him about him possibly turning heel, and his response was "It's a weird question cause, aren't I already a heel? If I garnered that reaction, what's the point? If it's already happening, if I'm already being booed, why try and get booed?"  When this article was published and it got to the internet, needless to say the IWC lost their minds. Some people, like me, tried to show people that clearly he understands that he's already an antagonist in some form. Others, like a heavy majority of fans I interacted with this past week, tried to argue that he's completely wrong and he's trying to save face by saying something that couldn't possibly be true.  So that created a question in my mind. Is Roman Reigns a face or a heel? More importantly, if Roman is a face, what does he do that constitutes being a face?
The answer to that question is simple, yet ends up getting very complicated.  Roman exhibits both heel and face tactics, often depending on the feud or who he's pitted against.  When he's heelish, he's brutal to his opponents, arrogant in promos and around other talent, attacks other wrestlers unprovoked, and known to hold a vendetta and go out of his way to eliminate his opponent.  On the other hand, Reigns has shown to be loyal to those he considers his family (The Shield and the Usos), has moments where he's pandered to the crowd, and stands up for himself often in the face of adversity.  So, the logical answer is that Roman is a tweener. Yet, some fans refuse to accept that, stating that not giving him a traditional alignment is a cop out. So, how do we figure out what Roman really is?
First, we have to realize that characters are no longer simply linear.  While there are characters that still fall in that realm, wrestling characters are, as characters in general often are, non-linear and deal with more shades of grey.  Characters have evolved into fully fleshed out characters, with motivations that serve multiple purposes. Wrestling has followed suit. Some of our greatest characters have been either a tweener or an anti-hero.  Long gone is the classic battle of good and evil between the "white meat" babyface versus the evil heel; it still exists in some forms, but wrestling and entertainment largely have moved on from this. So then, how do we figure out where a character stands when it comes to alignment?
In 1974, Dungeons and Dragons was created and introduced to the world.  The creators of that game introduced an alignment chart in which most characters in entertainment are judged by.  With society being more broad than simply good and evil, the creators found a way to classify characters taking into account their moral and ethical perspectives and motivations.  They concluded that there are 9 alignments that a character could be, all mixing the thought process of law VS chaos and good VS evil. The chart is below.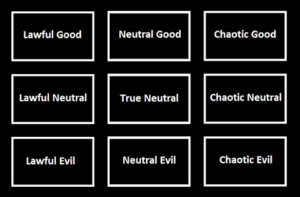 This chart gives deeper thought to character motivations and explains who a character is in a much deeper way than simply good or evil, or in wrestling terms, face or heel.  So, I'm going to explain what each alignment is and who I think associates with that alignment the most.
The first alignment on the character axis is the Lawful Good alignment.  Characters that align with this believe in truth, law, and doing good.  They often have a personal code of conduct that they stick to through everything.  The most clear character like this in the WWE is John Cena.  He stands by his code of Hustle, Loyalty, and Respect, and always tries to do the right thing.
On the other end of the spectrum, Lawful Evil characters are similar to Lawful Good characters in that they believe in law and order, but their purpose for such is to adhere to their ways and wishes.  These characters often use the law and manipulate it to get what they want, usually at the detriment of good characters. Nobody in wrestling represents this better than Triple H and Stephanie McMahon.  The Authority technically believes in the laws; they make them.  They often use their laws, however, to hold who they want down and push who they want to prominence.
Neutral characters are the most important characters in this character axis, because the represent the shades of grey more than any other.  Lawful Neutral characters represent that perfectly, as they believe in law and order and what's right, but follow their moral compass.  This differs from Lawful Good in that while both believe in law and order, Lawful Neutral characters don't necessarily believe in right and wrong.  They just believe in their code. This was the hardest for me to match to a WWE star, but the closest I can think of is Aleister Black in NXT.  Aleister has talked often about being in the grey space between good and evil, and his character follows its own motivations.  He doesn't try to be a hero, he doesn't try to be a bad guy. He believes in his own moral compass, but only his moral compass.
Chaotic Good characters differ from both other good characters in that they try to do what's right, but they believe in their conscience more than the laws maintained.  These characters are often free spirits or rebels that do what they want, but always in the name of good. I'd relate this alignment to guys like AJ Styles or Seth Rollins.  Both men have shown that they try their best to do right and stand up for what they believe in, but they've both shown that they're willing to do whatever they have to in order to achieve that.  Both men have had very brutal feuds with authority figures, and both men have also been the bad guys in the story, but through it all, they try to do the right thing according to their own conscience.
Chaotic Evil characters live by the old Joker adage; they just want to see the world burn.  Characters like this do what they want, when they want, how they want without any care who or what it hurts.  They don't really believe in anything but their own impulses. Since his heel turn at WrestleMania, Shinsuke Nakamura has represented this perfectly.  He's attacked and stalked AJ Styles at every chance simply because he wants what AJ has; the WWE Championship.  On top of his excessive and unnecessary violence, his speech and mannerisms have changed and become very neurotic and unconventional, even more than usual.
Chaotic Neutral characters are the Han Solo's of the world.  They do what they want, and are often considered crazy.  They're rebellious just for the sake of being rebellious.  Good or bad, their concern is their freedom and ability to do what they want.  I'm sure you've figured out that this is Dean Ambrose.  Ambrose is considered a lunatic, somebody who does what they wants and often doesn't make sense in doing it.  Ambrose has stuck up for his brothers but has also turned on his brothers when it's been advantageous to him. And more than anything, his concern is his ability to be unabashedly himself.
The alignment of Neutral Good is similar to Lawful Good in that characters believe in law and order, but will stand up against it if they feel that it's wrong or corrupt.  They try to always do the right thing, but are willing to go against what somebody else believes is the right thing if necessary. This describes Daniel Bryan perfectly.  Bryan had a very storied rivalry with The Authority where he was attacked and mistreated for months, but also became the authority figure later on in his career.  He's been on both sides of the law, but always does what he believes is right.
Neutral Evil characters have been called the "assholes".  They are just plain bad. They take advantage of any situation, go after their own interests, and they even align with other characters if it helps them in their goals and endeavors.  Doesn't this sound like The Miz to you?  Miz has had numerous henchmen and partners; he turned on them all.  Miz is always scheming to find a way to get what he wants. He's also cowardly and conniving, taking advantage of every opportunity.  You could also equate this to Kevin Owens.
I know you've all been waiting to see where I'd put Roman Reigns in this algorithm.  Well, we've finally gotten to the alignment I feel he fits best – the True Neutral character.  I know that differs from the perception that he's a face, so let me explain.  True Neutral characters aren't selfless enough to be good, but their don't do enough bad to be considered evil.  They don't follow the rules enough to be lawful, but they aren't wild or rebellious to be considered chaotic. True Neutral characters simply exist in the middle.  They do everything, just not enough. Doesn't that describe Roman? He'll attack a man viciously in the backstage area from behind one week, and the next, he'll stick up for his brother.  He'll pander to the crowd in a promo one week, and the next, he'll brag about how much better he is than everybody. Roman does what he wants with no bearing on anything else but his one goal.  He's a wild card, and that's the true nature of the character.
Now, obviously, these are just my interpretations of these character alignments.  I can understand if you disagree with any of these, I can even understand if you think using an alignment axis created for a Role Playing Game is even relevant to wrestling.  But my point is this – wrestling characters are no longer as simple as good or evil. There is more nuance in characters than ever before. Most of them aren't beholden to heel or face, they're more beholden to their character and it's motivations.  And, as I've explained here, often times it can serve many different purposes. So the next time you find yourself in the argument of whether Roman Reigns is a heel or not, try to think about it differently. You might be surprised what you think if you do.
FIN