Character Alignment In WWE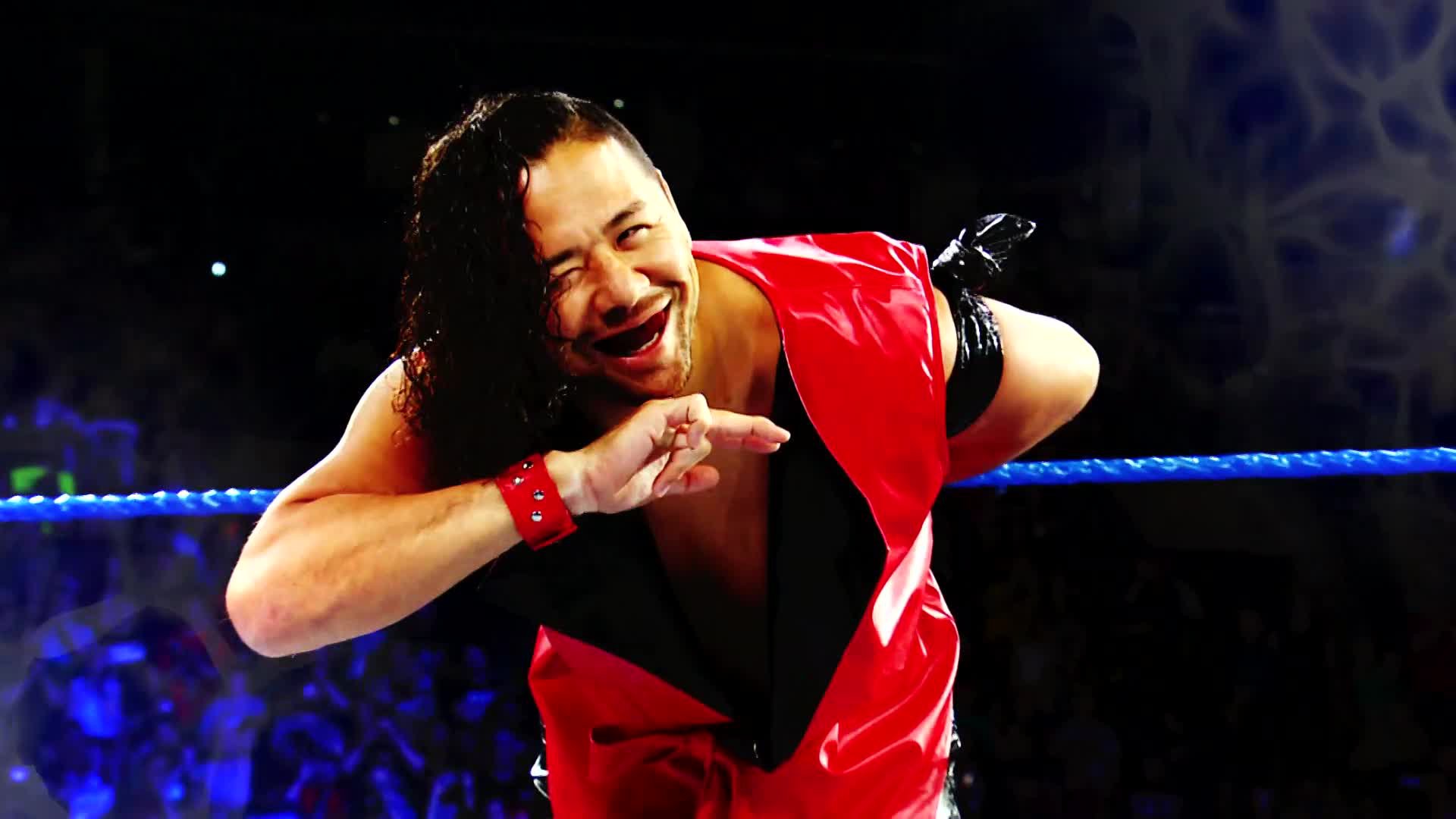 Hell of a week in wrestling, eh?
Well, given all of the news items involving professional wrestling right now, most notably the MASSIVE amounts of money that WWE is receiving for their TV rights, I want to talk about something more nuanced.  I want to talk about something that fans criticize often but seem to not truly understand. Today ladies and gentlemen, we're going to talk about character alignment.
Roman Reigns recently was interviewed by the Daily Express in the United Kingdom.  They asked him about him possibly turning heel, and his response was "It's a weird question cause, aren't I already a heel? If I garnered that reaction, what's the point? If it's already happening, if I'm already being booed, why try and get booed?"  When this article was published and it got to the internet, needless to say the IWC lost their minds. Some people, like me, tried to show people that clearly he understands that he's already an antagonist in some form. Others, like a heavy majority of fans I interacted with this past week, tried to argue that he's completely wrong and he's trying to save face by saying something that couldn't possibly be true.  So that created a question in my mind. Is Roman Reigns a face or a heel? More importantly, if Roman is a face, what does he do that constitutes being a face?
The answer to that question is simple, yet ends up getting very complicated.  Roman exhibits both heel and face tactics, often depending on the feud or who he's pitted against.  When he's heelish, he's brutal to his opponents, arrogant in promos and around other talent, attacks other wrestlers unprovoked, and known to hold a vendetta and go out of his way to eliminate his opponent.  On the other hand, Reigns has shown to be loyal to those he considers his family (The Shield and the Usos), has moments where he's pandered to the crowd, and stands up for himself often in the face of adversity.  So, the logical answer is that Roman is a tweener. Yet, some fans refuse to accept that, stating that not giving him a traditional alignment is a cop out. So, how do we figure out what Roman really is?
First, we have to realize that characters are no longer simply linear.  While there are characters that still fall in that realm, wrestling characters are, as characters in general often are, non-linear and deal with more shades of grey.  Characters have evolved into fully fleshed out characters, with motivations that serve multiple purposes. Wrestling has followed suit. Some of our greatest characters have been either a tweener or an anti-hero.  Long gone is the classic battle of good and evil between the "white meat" babyface versus the evil heel; it still exists in some forms, but wrestling and entertainment largely have moved on from this. So then, how do we figure out where a character stands when it comes to alignment?
In 1974, Dungeons and Dragons was created and introduced to the world.  The creators of that game introduced an alignment chart in which most characters in entertainment are judged by.  With society being more broad than simply good and evil, the creators found a way to classify characters taking into account their moral and ethical perspectives and motivations.  They concluded that there are 9 alignments that a character could be, all mixing the thought process of law VS chaos and good VS evil. The chart is below.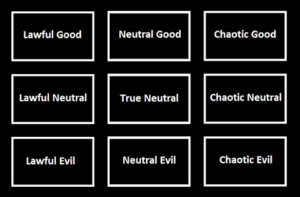 This chart gives deeper thought to character motivations and explains who a character is in a much deeper way than simply good or evil, or in wrestling terms, face or heel.  So, I'm going to explain what each alignment is and who I think associates with that alignment the most.
The first alignment on the character axis is the Lawful Good alignment.  Characters that align with this believe in truth, law, and doing good.  They often have a personal code of conduct that they stick to through everything.  The most clear character like this in the WWE is John Cena.  He stands by his code of Hustle, Loyalty, and Respect, and always tries to do the right thing.
On the other end of the spectrum, Lawful Evil characters are similar to Lawful Good characters in that they believe in law and order, but their purpose for such is to adhere to their ways and wishes.  These characters often use the law and manipulate it to get what they want, usually at the detriment of good characters. Nobody in wrestling represents this better than Triple H and Stephanie McMahon.  The Authority technically believes in the laws; they make them.  They often use their laws, however, to hold who they want down and push who they want to prominence.
Neutral characters are the most important characters in this character axis, because the represent the shades of grey more than any other.  Lawful Neutral characters represent that perfectly, as they believe in law and order and what's right, but follow their moral compass.  This differs from Lawful Good in that while both believe in law and order, Lawful Neutral characters don't necessarily believe in right and wrong.  They just believe in their code. This was the hardest for me to match to a WWE star, but the closest I can think of is Aleister Black in NXT.  Aleister has talked often about being in the grey space between good and evil, and his character follows its own motivations.  He doesn't try to be a hero, he doesn't try to be a bad guy. He believes in his own moral compass, but only his moral compass.
Chaotic Good characters differ from both other good characters in that they try to do what's right, but they believe in their conscience more than the laws maintained.  These characters are often free spirits or rebels that do what they want, but always in the name of good. I'd relate this alignment to guys like AJ Styles or Seth Rollins.  Both men have shown that they try their best to do right and stand up for what they believe in, but they've both shown that they're willing to do whatever they have to in order to achieve that.  Both men have had very brutal feuds with authority figures, and both men have also been the bad guys in the story, but through it all, they try to do the right thing according to their own conscience.
Chaotic Evil characters live by the old Joker adage; they just want to see the world burn.  Characters like this do what they want, when they want, how they want without any care who or what it hurts.  They don't really believe in anything but their own impulses. Since his heel turn at WrestleMania, Shinsuke Nakamura has represented this perfectly.  He's attacked and stalked AJ Styles at every chance simply because he wants what AJ has; the WWE Championship.  On top of his excessive and unnecessary violence, his speech and mannerisms have changed and become very neurotic and unconventional, even more than usual.
Chaotic Neutral characters are the Han Solo's of the world.  They do what they want, and are often considered crazy.  They're rebellious just for the sake of being rebellious.  Good or bad, their concern is their freedom and ability to do what they want.  I'm sure you've figured out that this is Dean Ambrose.  Ambrose is considered a lunatic, somebody who does what they wants and often doesn't make sense in doing it.  Ambrose has stuck up for his brothers but has also turned on his brothers when it's been advantageous to him. And more than anything, his concern is his ability to be unabashedly himself.
The alignment of Neutral Good is similar to Lawful Good in that characters believe in law and order, but will stand up against it if they feel that it's wrong or corrupt.  They try to always do the right thing, but are willing to go against what somebody else believes is the right thing if necessary. This describes Daniel Bryan perfectly.  Bryan had a very storied rivalry with The Authority where he was attacked and mistreated for months, but also became the authority figure later on in his career.  He's been on both sides of the law, but always does what he believes is right.
Neutral Evil characters have been called the "assholes".  They are just plain bad. They take advantage of any situation, go after their own interests, and they even align with other characters if it helps them in their goals and endeavors.  Doesn't this sound like The Miz to you?  Miz has had numerous henchmen and partners; he turned on them all.  Miz is always scheming to find a way to get what he wants. He's also cowardly and conniving, taking advantage of every opportunity.  You could also equate this to Kevin Owens.
I know you've all been waiting to see where I'd put Roman Reigns in this algorithm.  Well, we've finally gotten to the alignment I feel he fits best – the True Neutral character.  I know that differs from the perception that he's a face, so let me explain.  True Neutral characters aren't selfless enough to be good, but their don't do enough bad to be considered evil.  They don't follow the rules enough to be lawful, but they aren't wild or rebellious to be considered chaotic. True Neutral characters simply exist in the middle.  They do everything, just not enough. Doesn't that describe Roman? He'll attack a man viciously in the backstage area from behind one week, and the next, he'll stick up for his brother.  He'll pander to the crowd in a promo one week, and the next, he'll brag about how much better he is than everybody. Roman does what he wants with no bearing on anything else but his one goal.  He's a wild card, and that's the true nature of the character.
Now, obviously, these are just my interpretations of these character alignments.  I can understand if you disagree with any of these, I can even understand if you think using an alignment axis created for a Role Playing Game is even relevant to wrestling.  But my point is this – wrestling characters are no longer as simple as good or evil. There is more nuance in characters than ever before. Most of them aren't beholden to heel or face, they're more beholden to their character and it's motivations.  And, as I've explained here, often times it can serve many different purposes. So the next time you find yourself in the argument of whether Roman Reigns is a heel or not, try to think about it differently. You might be surprised what you think if you do.
FIN
---
Always Use Your Head and visit the official Pro Wrestling Tees store for The Chairshot All t-shirt proceeds help support the advancement of your favorite hard-hitting wrestling website, The Chairshot!

---
The Book Club: Rebooking The G1 Climax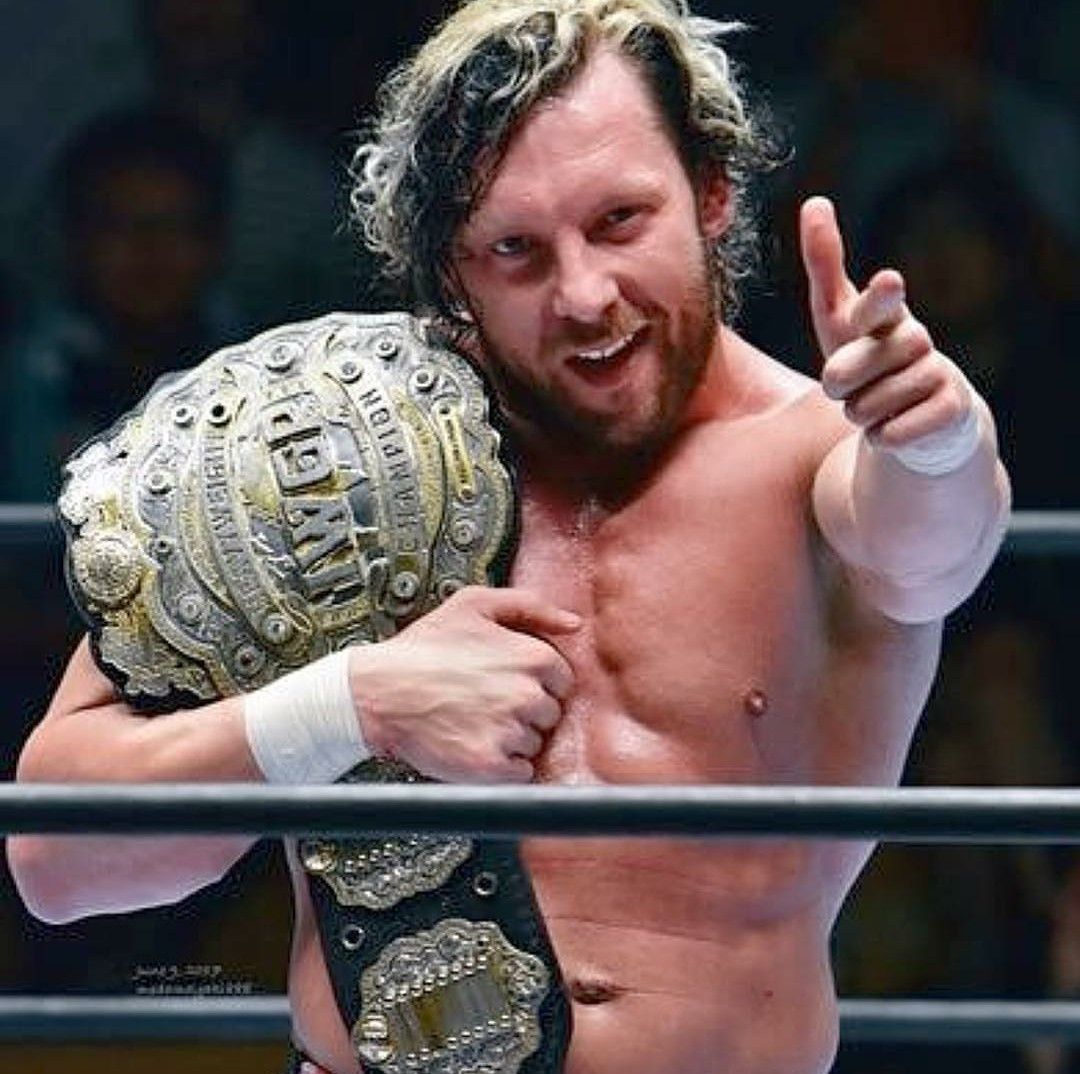 Welcome to The Book Club! This is where I try to take current talent, storylines, and events and book them to their maximum potential.  To get a better understanding, you can read through last week's installment on Roman Reigns.  This week we're taking a look at New Japan Pro Wrestling's G1 Climax 28 which just concluded on Sunday.  For an in-depth breakdown of every night of G1 action, check out the coverage of The Chairshot's Andrew Balaz and Mathew Sarpraicone. If you watched and followed along for the past month you're probably thinking that there isn't really anything that needs to be improved on.  And I agree.  New Japan has a knack for consistently providing the best product in the world.  With that being said, instead of wiping the G1 clean and stating how it should have been booked, I'm going to give a few proposals on how it could have been booked.  Whether these proposals are better than what actually happened are completely up to you.
Proposal #1: The Path of Kota Ibushi
In the first booking article I wrote back in May, I stated how I hoped Kota Ibushi would win the G1.  My feelings remained the same up until the start of the tournament.  If you're reading this then you probably know that he lost in the finals.  My big goal would have been to save the Kota Ibushi and Kenny Omega match for the main event of Wrestle Kingdom 13.  Keeping Hiroshi Tanahashi in the finals is fine with me but I probably would have booked Ibushi to win.  In order to preserve the match against Kenny and still have Ibushi win the finals, I would keep everything the same except move Ibushi to the A Block and Tanahashi to the B Block.  If you watched the final night of the B Block then you heard the commentary team mention how the venue was above capacity just because of the Omega-Ibushi main event event.  Imagine if you could channel that type of demand for a match and pair it with a 5 month build to the Tokyo Dome.
Proposal #2: Kenny Omega Loses His First Match
We saw Taiji Ishimori defeat Will Ospreay in the first night of the Best of the Super Juniors.  This was shortly after Ishimori was revealed as the new Bone Soldier of the Bullet Club.  I thought we would see something similar since Tama Tonga and Tanga Loa turned on the rest of the Bullet Club right before the G1.  The win wouldn't have been without outside interference, of course.  Tama did win his first match but didn't beat Kenny and didn't finish with a great record.  I was a little disappointed because I thought this would be the start of a big push for him.  I understand that Tama and Bad Luck Fale cared more about their impact than scoring points but I think their top priority should have been to ruin Kenny's tournament hopes.  Regardless, Kenny Omega starting the tournament 6-0 as the company's new champion was still a strong choice.
Proposal #3: Same B Block, Different Outcomes
This proposal works as an alternative to the last one.  Kenny Omega won his first six matches but lost his last three.  That worked just fine but I would have had his final three opponents be Zack Sabre Jr., Tama Tonga, then Kota Ibushi.  News broke last month that Kenny had been wrestling with a fractured heel.  With this news public, the heel would have been the perfect target for Zack Sabre Jr.  He could have targeted it with submissions throughout the match which would eventually lead to a referee stoppage.  This would then give Tama Tonga a path to cleanly defeat a hobbled Omega.  They could have a rematch for the belt later when Omega is healthy and able to retain.  That leaves us with the Ibushi v Omega match.  I mentioned wanting to preserve that encounter.  I would accomplish that with a draw via an assault from the Firing Squad.  The assault would need to be long and violent enough to warrant a draw like the one in San Francisco.  The points would also need to be in a situation like in the A Block to where Ibushi only needs a draw in the final match to win the block.  Even though it makes sense, I ultimately decided against this idea because calling off that main event would basically be robbing the capacity crowd of their money.  That's why I preferred the option of moving Ibushi to the A Block so his bout with Omega could wait for Wrestle Kingdom.
Proposal #4: Chris Jericho
I didn't mind Jericho not being part of the G1.  He has a ridiculous schedule and his mystique within NJPW remains in tact.  However, it would have been nice to see him make an appearance on the final night to target his next opponent.  Kazuchika Okada and Jay White have the perfect characters at the moment to match Jericho's insanity.  There's already a story going on between Okada and White for control of CHAOS.  Maybe the Intercontinental Championship could alternate between the three of them until the score can be settled between two of them at Wrestle Kingdom.
Proposal #5: The Kick Out
Kevin Kelly addressed it during their match.  Kota Ibushi is the only person on record to kick out of Kenny Omega's One-Winged Angel back in DDT.  Now that they've grown much closer since then, Kota should remain as the only person to do it.  The reasoning could be that perhaps Kenny doesn't want to hurt him or that only Kota knows the intricacies of Kenny's moveset like no other.  I wouldn't have been surprised if it ending up happening in their match last week.  If they meet again on a big stage, Kota Ibushi kicking out toward the end of an arduous match would be beautiful.
Proposal #6: Juice in the A Block
Chris Jericho's absence from the G1 means the second biggest belt in the company was left out of the blocks.  The B Block had three champions and the A Block didn't have any.  I thought that was a bit of a peculiar decision.  Those that defeat champions during the G1 usually get rematches for the title later on.  That means the A Block competitors didn't have any consolation belts to chase on their journey.  Since Juice Robinson lost many matches due to his injured hand, he may have been better served as the only champion in the A Block.  They tried to create the narrative that he has a long line of opponents waiting for title shots after the G1 but Kenny Omega and Hirooki Goto are bigger names that suffered losses to similar people.  So it would make more sense for guys like ZSJ and Ibushi to chase Goto instead.  In fact, Tomohiro Ishii has already hinted at a rematch for Kenny Omega's heavyweight strap.  If Juice was the lone champion in the A Block, it truly would have felt like him versus the world.  He's a bright babyface on the rise and just won his first championship.  Successful defenses against everyone in the A Block would have been a fun thing to get behind in the coming months.
---
Always Use Your Head and visit the official Pro Wrestling Tees store for The Chairshot All t-shirt proceeds help support the advancement of your favorite hard-hitting wrestling website, The Chairshot!

---
RING RIFFS: Arn Anderson vs. Johnny B. Badd – Boxer vs. Wrestler Match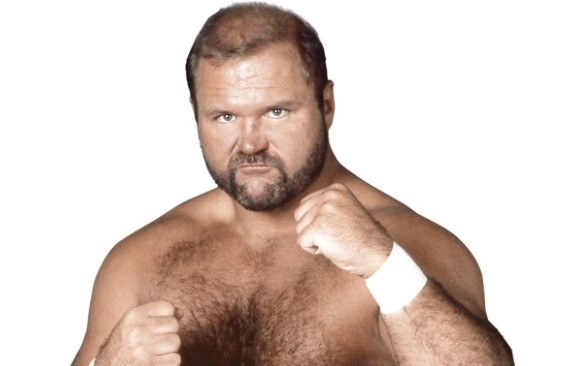 Welcome to Ring Riffs! Where we take the absolute worst of professional wrestling and wrap it up in a neat little episodic package for your entertainment…and my own sense of masochism.
***WARNING***If you are easily offended by words, or if you are generally a good parent who doesn't want their children exposed to potty-mouthed anger, viewer discretion is advised.
Ring Riffs is my video love letter to everything absolutely horrid about professional wrestling. We are all aware that, like any form of entertainment, there is the best of wrestling and the worst of it. We nerd-rage over matches and moments that are beneath our expectations of what wrestling should be – but over time, those terrible moments become inside jokes and memes for us to point and laugh at, wondering exactly what life-altering drugs were ingested by those who believed their ideas would get over with the wrestling fanbase.
So here we are, and here I am, ready to exploit the bottom of the barrel when it comes to wrestling matches. There is an entire galaxy of terrible matches for your entertainment…and for my punishment for the evil things I have done in my life.
Episode #8 continues of my tortuous month of reviews for WCW Uncensored 1995 – there's a Boxer vs. Wrestler Match between Johnny B. Badd and Arn Anderson afoot: and it's inconsistencies kicked me when I was down.
Don't forget to "like" the episodes and Subscribe to the Ring Riffs Channel! It helps The Chairshot, and helps me continue to do what I do.
---
Always Use Your Head and visit the official Pro Wrestling Tees store for The Chairshot All t-shirt proceeds help support the advancement of your favorite hard-hitting wrestling website, The Chairshot!

---
Jordan Fox Blog: My Life in Wrestling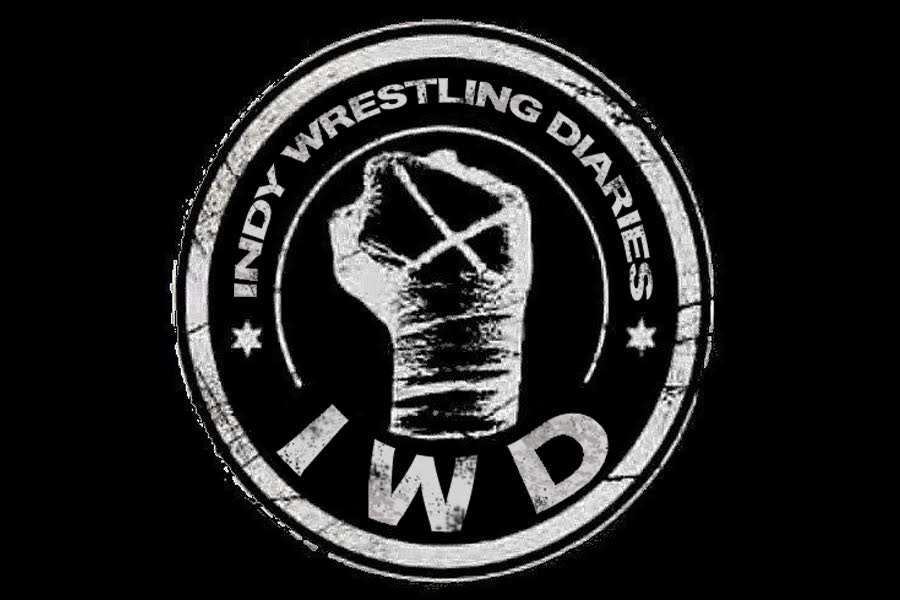 Wednesday August 15th, 2018
Quick shout out! Yesterday's episode of my show Indy Wrestling Radio has already gotten over 500 downloads!! So thank you to all the listeners!!
Disclaimer – Sometimes you might wonder what the point of the stories are… I'll be honest, sometimes there isn't going to be any meaning to what I'm blogging. I just simply want to share these really cool moments I get to experience. I get to experience these wonderful moments because I work in "The Business." I work in wrestling, that might not mean much to a non fan, but to wrestling fans, being a full time wrestling employee, like I am, is the Holy Grail.
I don't have a "shoot" job. The wrestling business is my job & this blog details the fun I experience in our wacky world of wrestling… ENJOY!
On Sunday I had my first show with Heroes of Wrestling which is based out of Royse City Texas, which is 30 miles outside of Dallas.
That sentence alone is incredible when all things are considered. I finally got clean & sober, 8 months now. My time in Iraq, time as a flight paramedic & 7 years as a fulltime firefighter have not been easy on the body or mind. I was been left with PTSD that was so crippling at times that I began to self medicate.
I know what people think about PTSD, they either think "I've seen dead bodies, what's the big deal?" or they'll feel so sorry for you that they won't take you seriously, you'll get the whole "Ahhhh, good for him." I hate that. The first one is the worst, the "I've seen dead bodies" one. I'm not discounting that you've seen some shit, I actually feel sorry for you, I don't wish that upon anyone but to think because you have seen screwed up shit & you don't have nightmares doesn't mean that I should be judged because I wake up terrified thinking I smell human flesh burning. I've seen so many things that I wish I hadn't, I couldn't begin to name them all, but the smell of human flesh burning is that one, that one thing above all else I would take away from my memory if given the chance.
Anyway, back to wrestling. I was, am still am, in a boot on my left foot because I rolled my ankle at the wrestling academy that I'm attending in Tulsa. Anyway, the show was absolutely great. I got to meet a ton of new guys & call their matches. It was a lot of fun, A life experience that every wrestling fan should experience.
The night started off with me getting ready in the locker room & as I was pulling my hair back, my friend & stablemate, Malico, came to me & said we need to shoot something short for our MadWorld web series we are developing. During the 30 second clip he called me by my character name for the first time, Sly. I was over the moon. Something I've worked so hard towards & dedicated so much time to felt like it was starting to come together at that moment. It couldn't of come at a better time either, with me being somewhat depressed that I can't train for a few more weeks because of my ankle.
I called my first "bull rope match" which featured Randy Wayne & Graham Bell. Holy shit these two guys are tough. That was a lot of fun. I had met both guys earlier in the evening & both were really cool to talk with. I was in a couple of group convo's with Randy & you can tell he knows a lot about the wrestling business so I hope to pick his brain more as I get to know him better. I didn't want to be the douche bag that asks him for advice on the first night lol.
Andy Dalton & Will Allday had a great match. I got to kinda shoot the shit with Andy for a little while but I didn't get to talk to Will a ton. My partner on commentary, Wil Rigdon said that he was from Booker T's school/promotion, Reality of Wrestling. It was obvious that wherever he was training, they are amazing because the guy was great. Both guys were. I actually watched a match of Andy's on Twitch randomly so it was cool meeting him.
Brock Baker, who had a very entertaining match with Chandler Hopkins that night as well, & Will Allday are in the middle of a feud & it was a lot of fun being on commentary as that unfolded. I wanna say that Rigdon said that Brock Baker is a Booker T guy as well.
I called a match that featured a former WORLD CHAMPION! The fan in me still can't believe that. The match was Tim Storm vs Bam Bam Malone. Bam Bam was a really cool dude, as was Brysin Scott who I got to kinda BS with for awhile. he had recently won a promotions title so I got to see his new hardware & pick his brain a bit.
AND, in a really cool moment, my good pal Malico faced off against Barrett Brown & it was great. Two world class athletes going head to head like that while I get to call the action from 12 feet away, it's indescribable. I met both guys on my first night in wrestling, so I love when I get the chance to work with either of them. I obviously don't get to work with Barrett as much but it's a blast when I do get to.
It was a ton of fun. I'm still a fan, even though I work in wrestling full time between commentary, TheChairshot.com & podcasting, I'm still a huge fan & anytime I have the opportunity to "suspend my disbelief" I'm going to take it.
These guys are stars & still on the rise, so go check them out on social media! Thanks to everyone for checking out this weeks blog entry!
Stay strong & Too Sweet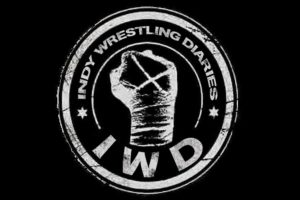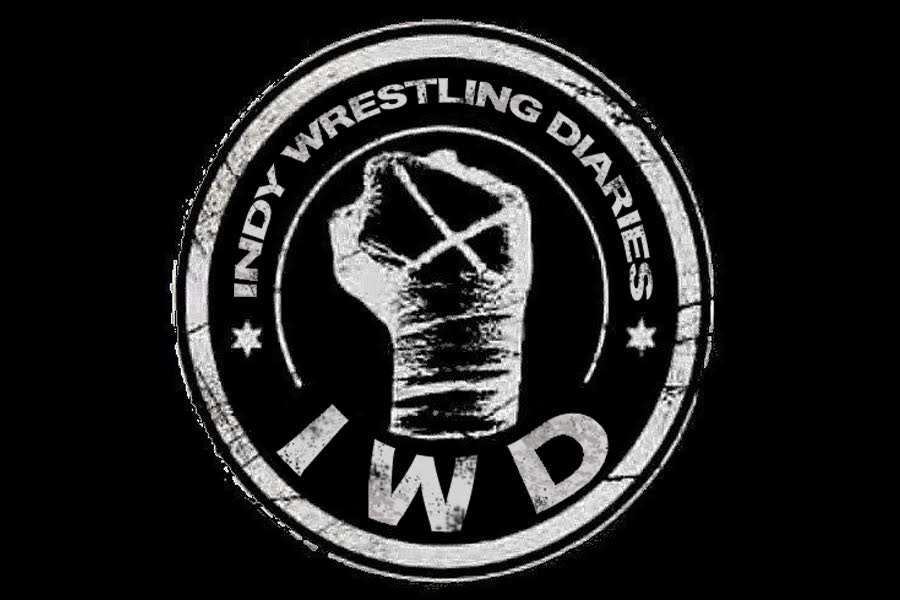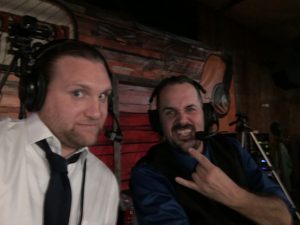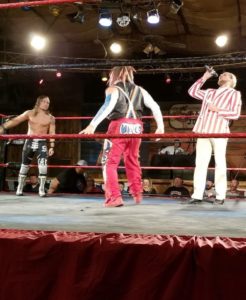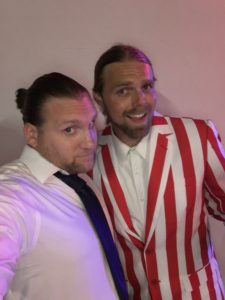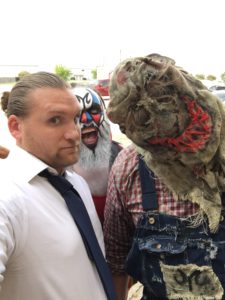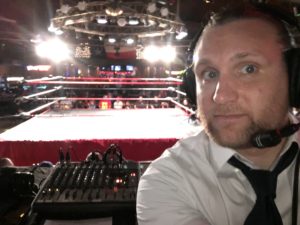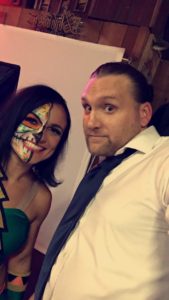 ---
Always Use Your Head and visit the official Pro Wrestling Tees store for The Chairshot All t-shirt proceeds help support the advancement of your favorite hard-hitting wrestling website, The Chairshot!

---