CheapShots: Any Seeds Left on The Island?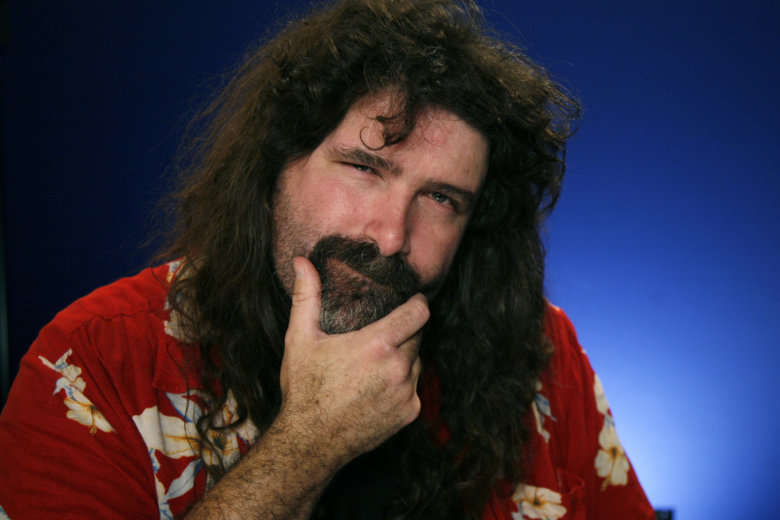 Cheap Shots are unfiltered, uncensored opinions, and those opinions reflect only the author!

As we glide into a runway at The Nassau County Airport, my passengers and I notice something interesting underneath us. It's the DeLorean. I haven't seen this thing in months! Why is it here? Who brought it out of the garage? Given the fact that it's lunch time within shouting distance of The Big Apple, I can afford a small joyride before heading to the arena tonight. But, where and when was I supposed to go? Upon opening the door and getting comfortable, I find my instructions with two dates and locations.
I am to retrieve two pieces of steel and an empty front row seat before going to the show. The dates and signature inform me of the DeLorean's purpose. Dates are sequenced chronologically. First is 10/17/83 at the Athletic Cathedral just across The Hudson. It's Madison Square Garden. The cage is not erected yet. Pieces are being carried to the ring as I type. I must haul ass to an empty front row seat over the railing. Bolt and wire cutters await. Discretely impersonating a crew member, I sneak onto the floor removing a tiny piece of steel from the bottom of the cage. After doing this, I use the bolt cutter to take the empty seat from The Garden Floor. Exiting the building without incident, my instructions say these seeds are to come with me to Pittsburgh 15 years later and repeat the first act again where the crown is handed out. Despite the cage being lowered from the ceiling this time, the effects of the DeLorean enable me to clip the cage in a blink and get out of the venue unnoticed. Remember, mine wasn't the only section of steel removed on this might. The other is now in the lore of the art form forever. Before I get to last night's show: Pop Quiz hotshots, who left these instructions for me? The organizer of this adventure was indeed Mick Foley.
Monday Night Raw comes from Mick's back yard of Long Island, New York. Show starts with our GM Kurt Angle letting us know that Carnella's creative crutch is next on WWE's PPV Calendar. The formula for arriving at the numbers and participants in both Money in The Bank Matches has been slightly altered. Despite their most recent offering being an abject disaster, WWE Creative has FINALLY woken up enough to start co-branding PPVs. This time it translates to four participants from RAW & SmackDown; eight in total, will all compete in both of the main drawing matches. How we get there appears scattered and drawn out.
This concept lends itself to on camera politics, which at times can only be rivaled on a pain scale by backstage politics most of us can't see initially. Basically, everyone not in a qualifying match will beg to be placed in a qualifying match until we get to Chicago. Baby faces are not immune. This brings Braun Strowman down the aisle. The Big Man is getting better on the mic. This time, talking about what happened when he was left out of building a tree house as a kid. It didn't end well for the others in the neighborhood. This prompts Kevin Owens to come from the back, reprising his obnoxious French-Canadian self. Whining about Angle's treatment of him the past month and saying the wrong man was pinned at Backlash. Quick question Kevin: Do you REALLY wanna know how many people cared about that match last night? Kurt is pissed at this point. He has two athletes asking for a chance. Fine boys, you want an opportunity? Fight for it! KO tried to win twice by count out. He freaked out each time Braun got back in the ring. Eventually, The Big Man overwhelmed him. Picking up the win in convincing fashion. Strowman will be in Chicago!
Anybody got a blender? Let's see if we can turn all these promos into a margarita without a hangover. Backstage, Roman Reigns is asked about the challenges in front of him. He says that he is The Uncrowned Universal Champion and Management is holding him back. Come on Roman! Even you don't believe that? He says all he can do right now is focus on The Triple Threat match in front of him. Jinder Mahal found Angle twice to scream at him. Once before actually winning a match, and once after beating Chad Gable. Mahal felt insulted and rebuffed both times. The Indian Brooklyn Brawler would make his statement later in the night.
More bright-letter format carpenter promos. First Bayley. Yo Elmo, Sasha's not dead. Handle this properly, then you can talk Money in The Bank. PS: You're still not winning. Then Breezango "cuts in" mentioning a "new case." These gentlemen are nothing if not dedicated to this part of their craft. They are still over on the strength of these promos alone. I will not knock them. Did I mention Goldust was asking for his chance too? This margarita is getting weird! KO & Sami Zayn were seen cutting a strained backstage promo revolving around both Sunday's happenings and Kevin's Monday loss. Random MITB promo from Alexa Bliss. Your shoulder hurts and Ronda Rousey hasn't touched you yet, GO AWAY! Even more random segment from The Ascension. Anyone care about them anymore? Gotta pop The Long Island crowd so Zack Ryder gets his turn asking for a MITB opportunity. The only promo that made sense from this concoction was a sit-down Rene Young got with Bobby Lashley welcoming him back to the organization. This was okay. Unfortunately, Stamford is trying to scrub the heel tendencies off of him for now. We know what he is capable of. We know what he did in Orlando. Good luck keeping all this mess down.
In case we all forget, this is wrestling programming. I will try to get back there now. The ladies needed to start their journey toward Money in The Bank in Chicago. I do take great joy that Carmella will not be in this part of the process. Recess was a Triple Threat for the first RAW spot at the PPV. Combatants: Ruby Riott w/Riott Squad, Ember Moon, and Lady Banks. Need a great match? There's Mercedes! Although, in this case her opponents didn't need carried quite so high. Ruby Riott is a solid heel. Capable of a lot of good work. Ember Moon is a special athlete who makes separation a dangerous thing. Sadly, promoters have this nasty habit of timing bias. Vinnie was no different here. I could feel Sasha wasn't gonna win. With Ruby's crew getting involved twice, it was obvious. Bayley actually ran out mid-match to help her. Relax Elmo, she's still kicking your ass at some point. At least The Female Dragon didn't take the loss. The Lunar Lone Star hit The Eclipse on Riott for the pin. Nightfall is coming to Chicago.
Turns out Creative's coin-flip booking was just a week delayed. This time Elias got through his entire tweener promo and half a song. Fans want to cheer the man. As consistently as he performs, the opportunity to turn him does not present itself obviously in this smart marks mind. Having said that, his chance to be a baby face will show up. At this point, Bobby Roode and his Gloriousness comes out to kill the vibe. After another solid match that saw The Canadian hit his finish for the win. What a surprise! Roode then asked for an opportunity at Money in The Bank.
Welcome to The Jobber Portion of Monday Night Raw. So much for thinking No Way Jose just needed some additional support to turn things around. This presentation appears wasted on him, and the young man honestly looks like he has athletic potential. Jose took an End of Days and the pin from Baron Corbin in a 6-Man Tag. Slater's kids didn't matter. Ryno and The Redneck Red Head got crushed by Ziggler and Galloway. The Deleters of Worlds quickly kenneled The Lost Puppies.
Two contests of consequence remain on The Island of Length. Monday Night Rollins came out two cut a baby face promo. It took a little while to find his own voice. But, right now few faces are over like The Architect. He says Money in The Bank is important; however, The IC Gold is important to him and he wants to fight to keep it. Cue an open challenge and enter Mojo Rawley? A month from The Superstar Shakeup, it feels like a reach. The ex jock was decent on the mic and has ability in the ring. It might be too late for him to matter though.
The Samoan Hype Machine, 8-Pack Irishman and Annoying Canadian closed Empire State proceedings with a Triple Threat. Win for the right to climb a ladder in The Windy City. The crowd was still in rare form from the disappointment of Sunday. Roman offense got booed massively while a beat up Roman got cheered massively. Two memorable spots: Balor & Zayn teamed up to take The Big Dog over the barricade and out of the match for a while. Fans behaved themselves once he was incapacitated. Sheep went all toddler after The Hype Machine reentered things though. Especially when a Vinnie's Boy victory appeared imminent. Except, who remembers a Pissed Off Indian? The next scenario is not a work. Fans exploded when Jinder Mahal came through the audience to grab Roman's leg preventing a spear and allowing Finn Balor to beat Zayn clean and earn a shot at the briefcase. Awkward show. Felt like bizarro land moved south for most of this episode of Monday Night Raw, Mrs. Foley's Baby Boy has certainly seen better and done better himself. In answer to the question: No there are no Cactus Seeds left on Long Island this time.