CheapShots: Can We Put This Greatest Royal Rumble 'Outrage' to Bed, Please?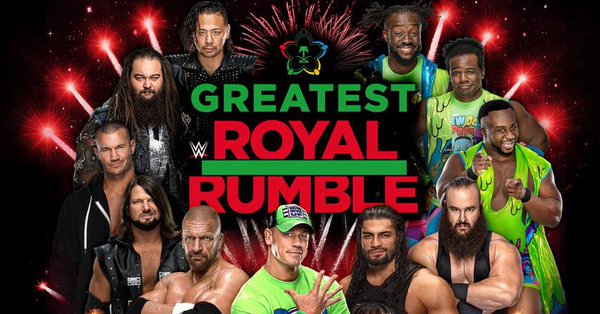 Cheap Shots are unfiltered, uncensored opinions, and those opinions reflect only the author!

Okay, I swore I wouldn't write anything else about the Greatest Royal Rumble, because it's like beating a dead horse, but since people are still griping about this and finding something about the event to stir up the outrage, here I am. This time it's the rumor that Corey Graves is in some hot water for an Instagram post where he makes references to the Women's Rights situation in Saudi Arabia.
Was what Graves said stupid, self-righteous, and smacking of a stereotypical American looking down at a foreign culture? Yes. Will he get fired for it? Probably not.  Was whoever made the error of showing female performers in costume in a country where such things are viewed VERY negatively doing it maliciously? I certainly hope not.
Let's cut the crap here: WWE has been performing in the Middle East, including Saudi Arabia, for YEARS! It's part of their spring and winter tour route. The Women's Division has NEVER been included in that leg of the trip because it's not been allowed until Sasha and Alexa were invited to perform in Abu Dhabi last year. No one has raised a fuss about it until WWE decided to sign this deal with Saudi Arabia. How do I know? Because a picture of Dean Ambrose in the airport in Jeddah, Saudi Arabia from 2015 was circulating around Twitter the day of the Greatest Royal Rumble and seemed to indicate that he would be part of the Greatest Royal Rumble. The owner of a fan news site that I'm friendly with, knowing that I'm a HUGE Dean Ambrose fan, DM'd me to warn me about the picture so that I wouldn't get my hopes up and be upset and disappointed.
Also, the Greatest Royal Rumble wasn't for WWE's US audience, it was for the fans in the Middle East. Think about it, WWE did this show on a weekday, at a time when most US fans would be at work, but European and Middle Eastern fans would be able to watch at a reasonable time of day, instead of having to stay up until 12am or so like they do for WWE's other PPVs. Yes, the promoted the heck out of it on RAW and SmackDown, but those shows also air all over the world. WWE wasn't counting on a lot of US fans watching this, which is good since GRR had no effect on the ratings of RAW or SmackDown.
I don't doubt that the people complaining about the GRR mean well with their concerns, but this sudden brouhaha over the WWE performing in Saudi Arabia and the Women's Division not being included is selective outrage and it's doing more harm than good. Women were allowed to watch the Greatest Royal Rumble in the stadium and the WWE Network is available in Saudi Arabia, so it's likely that women DID see it.  It's been rumored that WWE is going to pay the Women's Division for the rumble, even though they didn't work, which is nice, but seems more like a sop to fans since the women never compete when WWE goes to the Middle East and there's never been a peep about them still getting paid.
Seriously guys, please knock off the outrage. It's over and done and you're not helping the situation by stirring it up.