Dear Smarks: Stop Bringing Up Roman's Wellness Suspension
So the wonderful Greg DeMarco recently did a study. He showed non-wrestling people at his place of employment photos of Daniel Bryan and Roman Reigns and asked them who they would pay to see, just based on the pictures; all of them chose Roman Reigns. As you can imagine, the anti-Roman contingent threw a FIT about this, saying that he shouldn't be asking non-fans about who is a draw because they wouldn't know who either guy was, which was the point of the whole experiment.
I've been showing non-wrestling fans at work these pics today, with the question "Who would you pay money to go see?"

Every single one has said "the guy on the right." pic.twitter.com/cxPlRXAIfo

— Greg DeMarco (@ChairshotGreg) May 17, 2018
One of the complaints about Reigns that his detractors like to drag up, when they get tired of trying to claim he has no wrestling ability, mic skills, or charisma, is his 2016 Wellness Policy suspension. According to them, Reigns' suspension is a dealbreaker, he should never be allowed to be The Guy ever again because of this mistake. Really? One Wellness Policy violation over Roman forgetting to give WWE his prescription for Adderall because he was having trouble sleeping and he should be forever barred from being The Guy? Have you all conveniently forgotten about all the Legends and top guys that had or still have serious substance abuse problems? Well, if you have, let me remind you. Here's a list of people that either had Wellness Policy violations or were known in their day for having a drug and/or alcohol problem:
Jeff Hardy *
Stone Cold Steve Austin. * **
Shawn Michaels * **
Scott Hall (Razor Ramon) **
Sean Waltman (1-2-3 Kid, X-Pac)
Kevin Nash (Diesel). * **
Road Warrior Hawk **
Eddie Guerrero * **
Carlito
William Regal. To the best of my knowledge, Regal's substance abuse issues weren't widely known for much of his career, but he has admitted to them in interviews.
Sunny **
The Iron Sheik * **
Randy Orton *
Rey Mysterio *
Paige *
Eva Marie
Alberto Del Rio *
Edge * ** (part of the fallout from Chris Benoit's death).
The British Bulldog
Ric Flair. * **
Tully Blanchard **
Kerry Von Erich *  **(The Texas Tornado)
Luna Vachon
Chyna *
Jake 'The Snake' Roberts **
Curt Hennig (Mr. Perfect) **
Lex Lugar *
Miss Elizabeth.
Umaga
Joey Mercury
Road Dogg
The Fabulous Freebirds **
Roddy Piper **
'Hacksaw' Jim Duggan **.
Dustin Rhodes. Note: This one wasn't known until recently, and Dustin has been very honest about his issues.
Kurt Angle. * **. Note: Angle never had a Wellness Violation that I'm aware of, but he and Vince have said that his drug issues and refusal to go to rehab partly lead to his departure from WWE in 2006.
Don Muraco. **
Cowboy Bob Orton. **
*= Became Heavyweight Champion/Women's Champion
**= Hall of Famer
As you can see, a lot of wrestlers past and present have either run afoul of  WWE's Wellness Policy or were known to have issues with drugs and/or alcohol. Many of them are now considered Legends and/or Hall of Famers. I know there are more than this, but these were the ones I could remember off the top of my head. Several of the people listed that were WHC of some description, often during the times of their issues. Few of them found their careers hindered by their issues alone, more than half of them are in the WWE HOF and the ones who aren't are still considered legends. If they get a pass on past bad behavior and poor decision making, why am I supposed to buy Roman Reigns' one mistake as an insurmountable barrier to his becoming the top guy and Universal Champion?
Yes, Reigns made a mistake back in 2016 with that Wellness violation, but he also owned up to it publicly, we're told that he apologized to the locker room, and took his punishment humbly. There's no actual reason for this to keep him from being champion, especially since his violation was because he didn't turn in the prescription in time, rather than he got busted for illegal drugs. Of all the 'reasons' smarks give for why Roman shouldn't be The Guy, this is one of the most pathetic because it blatantly ignores the fact that so many of the 'Legends' smarks looked up to struggled with substance abuse issues and still had successful careers in the wrestling business while finger pointing and shaming Reigns for a relatively minor infraction. Let's grow up a little, people.
---
Always Use Your Head and visit the official Pro Wrestling Tees store for The Chairshot All t-shirt proceeds help support the advancement of your favorite hard-hitting wrestling website, The Chairshot!

---
Dear Smarks: WWE Does Listen To Fans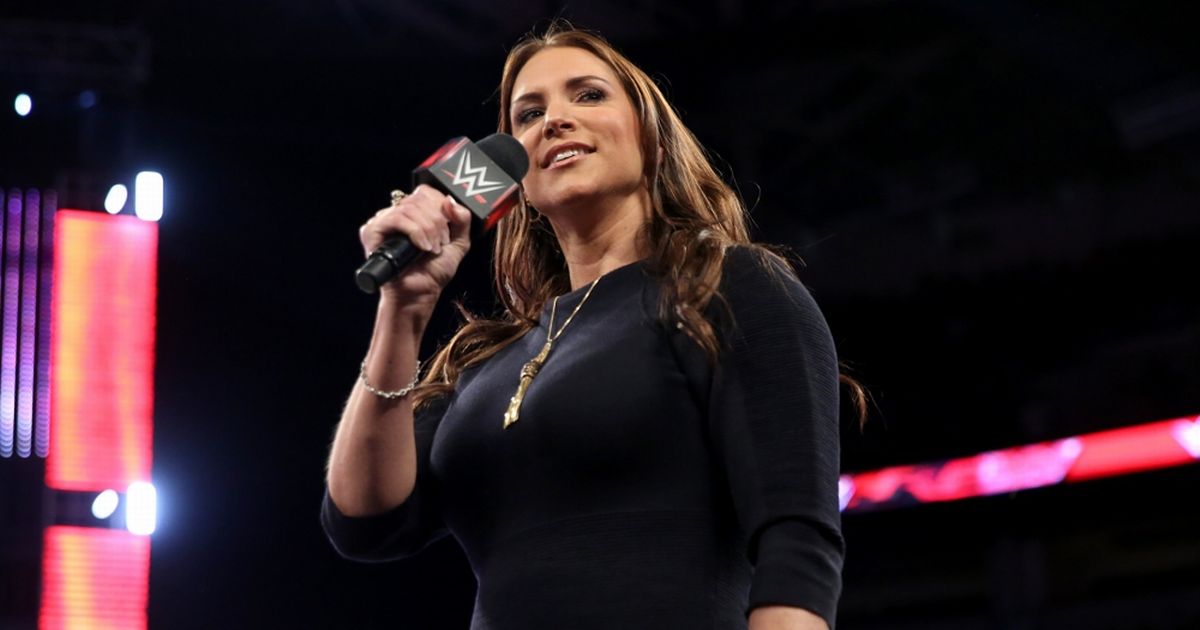 Either last week or earlier this week (my days are running together so I don't remember), Stephanie McMahon was at a summit called 'Game Changer' and she made the following comment: 'We're successful for one reason only – we listen to our fans.'
The internet smarks ROASTED Stephanie over this comment, mocking her for claiming that WWE listens to their fans when, in their minds, that is clearly not the case. Why? Because Roman Reigns, not Braun Strowman is champion, among other things. Clearly, any company that makes Roman Reigns champion over Braun Strowman isn't listening to their fans, or at least, their REAL fans. You know, the all-knowing, smark community who know how to run a multi-billion dollar business better than the people who work there do.
I've tackled this 'Real fan' nonsense in the past and I'm really not in the mood to do it now and the issue of Braun Strowman being champion is an article unto itself. However, let's be clear here: WWE DOES listen to their fans and the fans they listen to are the fans that buy stuff.
WWE first, last, always, and forever, is a business. They need money to survive and being a publicly traded company, they need money to keep the shareholders happy, that means they have to know who and what makes the money to keep the shareholders happy and keep the company afloat and who is making them the most money is Roman Reigns.
Don't give me that look. Don't roll your eyes at me and grumble about him being over pushed and/or shoved down your throat. I can name several people in WWE not named Roman Reigns that are over pushed. The bottom line is that Reigns moves merchandise, his stuff sells and sells really well. Having been to a few WWE TV/PPV tapings, I can tell you that Reigns' stuff can get a little tough to find and is usually the most requested item.
Now before any of you make snide comments about Reigns having more stuff to sell, I checked WWE's shop are and compared the number of Roman Reigns shirts to the number of shirts for AJ Styles, in terms of shirts including: T-shirts, tank tops, hoodies and what's available for both genders, Roman Reigns had thirteen shirts available while Styles had twenty. Thirteen different shirt designs to twenty and that doesn't include hats, gloves, or the non-wearable stuff available.
Oh, Reigns' stuff is bought by women and kids, so it shouldn't count? Here's my question: So what? It's still money that SOMEONE is spending on merchandise. If WWE didn't want women and kids to buy their stuff, they wouldn't be marketing stuff for women and kids. Why? Because women and kids are FANS!
For those of you still grumbling, here's some food for your thoughts: Why should WWE listen to their 'real' fans? No, I'm serious. Why should they listen to fans who cheer something one week, boo it the next, demand that indy darlings get pushed despite getting mediocre pops from Main Roster audiences, and pay more attention to beach balls and time clocks than the matches? Why should they listen to people who BRAG about spending a lot of money on tickets just to boo one person they don't like?
WWE is like any company, they listen with their bottom line, and what they're hearing from fans is that the fans like Reign because that's the stuff that sells the best. And before you say one thing about about Reigns' stuff being more available at TV tapings and Live Events, I've been to a RAW taping, a RAW PPV, and a SmackDown/205 taping and while Reigns stuff was at SmackDown, there was also a lot of Styles and Cena stuff available at RAW events and I'm not hearing any complaining about that.
Maybe the problem isn't that WWE isn't listening, it's just that your views aren't the what the majority paying fans think or want. WWE is catering to what most of their fans want, not just the small minority that can't seem to make up their minds about what they want.
---
Always Use Your Head and visit the official Pro Wrestling Tees store for The Chairshot All t-shirt proceeds help support the advancement of your favorite hard-hitting wrestling website, The Chairshot!

---
Cheap Shots: Should Finn Balor Quit WWE?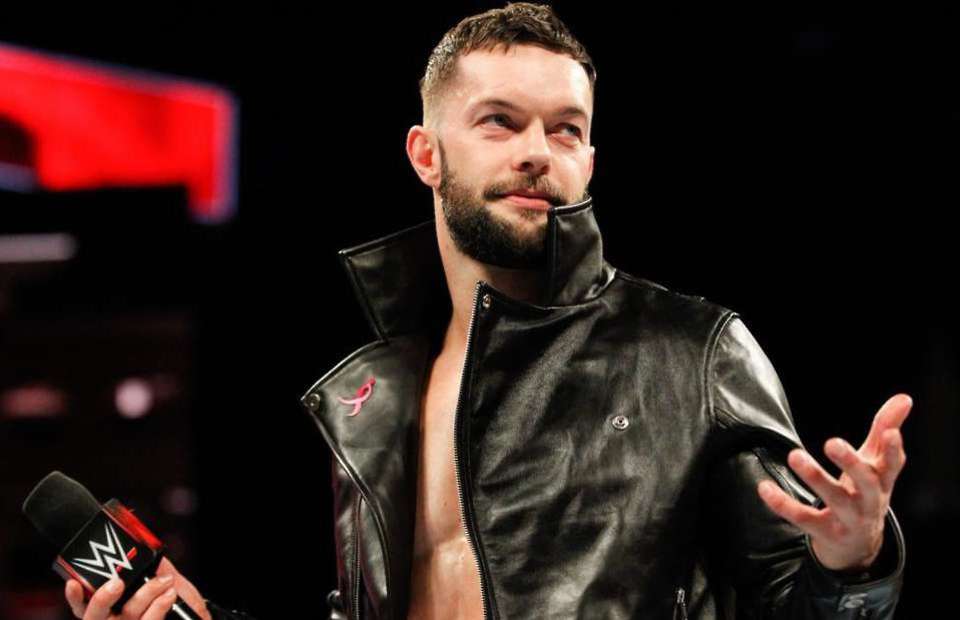 Why Finn Balor should "Quit" The WWE
After seeing KO burst into tears on Monday night RAW two weeks ago and "quit" there were a slew of videos about why KO "quit". The biggest one was to revitalize his character. So in playing the devils advocate why not have the first Universal Champion quit? Here's why!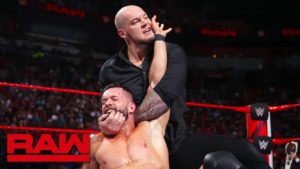 After Balor won and "lost" the title after 2016 SummerSlam he's had and up and down career in the main roster. The once longest reigning NXT champion was a phenomenon when he joined the NXT, but once he hit the main roster, while fan support is still there it is fleeting. He had a brief reunion with Gallows and Anderson which might've singled a heel turn to fans, a feud with Rollins for the IC title and has had back to back to back matches against Baron Corbin. None of which have done anything for the superstars character. A heel turn might have helped a few months ago, but the repetitive booking has kind of killed that momentum. 
With Finn away from the scene for a while it might help the WWE reevaluate the talent that is Finn Balor, it might also give Finn time to figure himself out too. With a WIN to his name against Elias, it seems like the co-founder of the Bullet Club may either turn to his alter ego The Demon, or perhaps a superstar shakeup is in order and he should be in place to get Balor back in the limelight. Right now, Raw seems packed full of main card talent that is either starting a faction of sorts I.E. Braun, Drew and Dolph or is turning on The Shield.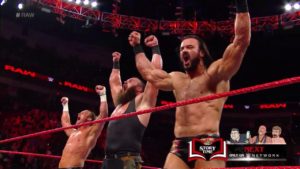 Listen, while SmackDown Live is producing the better show, it is not like the talent on there is being utilized any better. Nakamura is in limbo with the U.S. title, Aj and Joe are having a great feud in terms of promos, but not in the squared circle. The only thing that brings SmackDown Live as the A show is really their tag division and the Charlotte Flair/Becky Lynch feud. 
So maybe a frustrated Finn goes away, and comes back as The Demon on SmackDown Live and interjects himself in the feud between AJ and Joe, maybe he causes friction between The Club and AJ and they "screw over" AJ during a title match, the possibilities are endless moving Balor to team blue, but what this boils down to is WWE needs to make this move while Balor is still a fan favourite and what I mean by that is that he will always have the crowd behind him, but even the loyalist fans can get bored.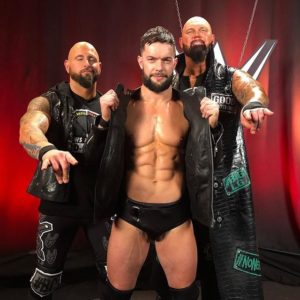 ---
Always Use Your Head and visit the official Pro Wrestling Tees store for The Chairshot All t-shirt proceeds help support the advancement of your favorite hard-hitting wrestling website, The Chairshot!

---
Cheap Shots: Mad Man's Testing Cheese in The Mouse's House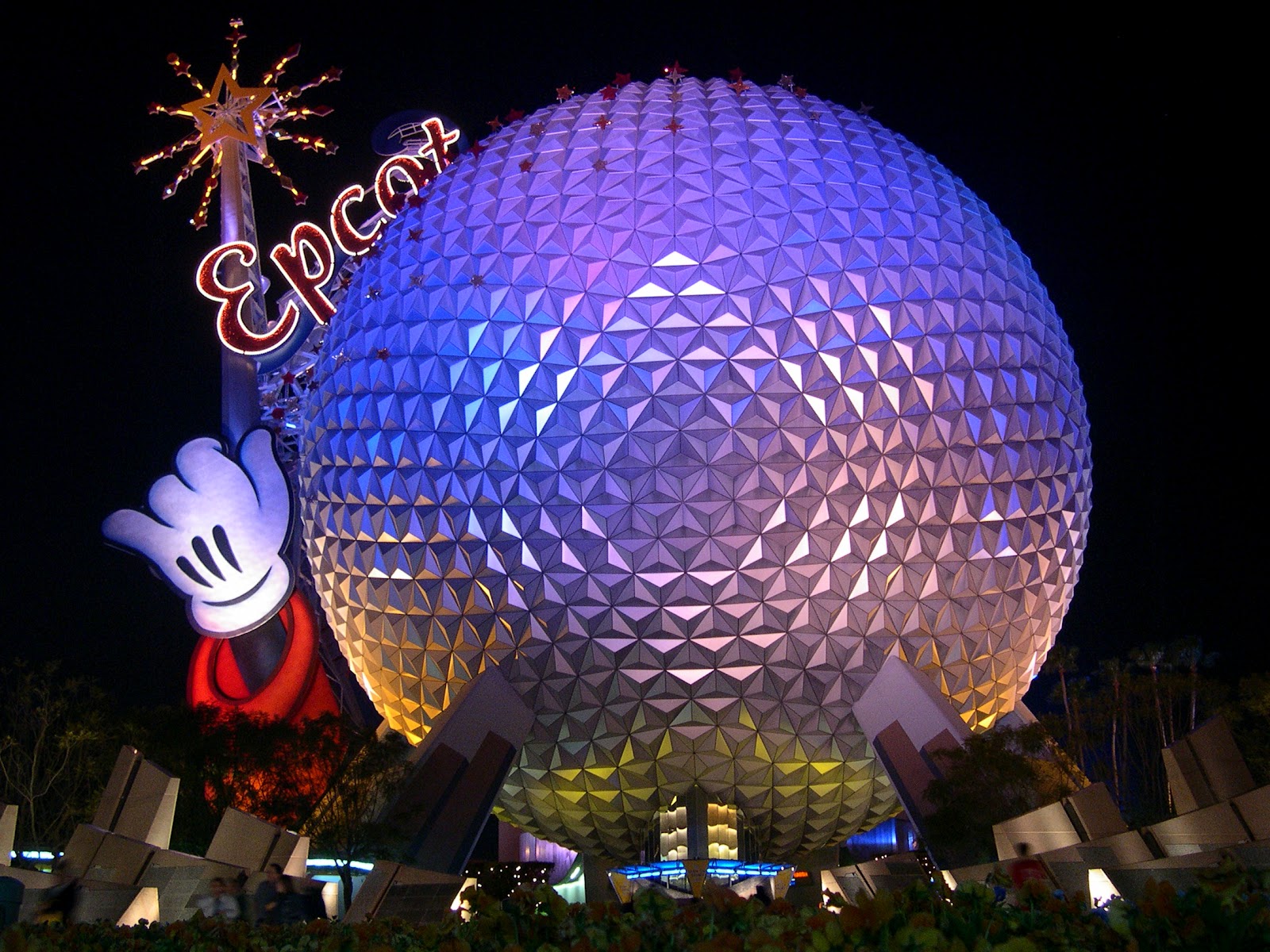 Gliding over The World's Largest Golf Ball for SmackDown Live this week. I believe Orlando was nothing more than a spot show for Graham. In his infinite wisdom, Eric Bischoff used Universal Studios for WCW TV Tapings. What's he getting paid for now? Doing a podcast? Big deal, a ton of my colleagues have podcasts, and they're smarter than him. Dixie Carter's TNA Wrestling reminds us that a talented roster cannot overcome a lack of inside knowledge. Impact Wrestling currently resides in the mouse's zip code today. The latest effort from The New York Big Top wasn't on a cheap PPV level. I have praised SmackDown Live as the better show for months. Others have done so for much longer. Instead, WWE hands us something between a glorified house show and a week early go home show for SummerSlam?
Let's find out if Vince left Mickey ANYTHING interesting. Randy Orton has been on The Main Roster for a generation now. He does psychopath extremely well. Not all psychopaths talk though. Creative should be more careful with Randy. He needs a very focused promo, and reason to talk. They should've kept him on a singular path here, Jeff Hardy. A tunnel-visioned Viper is a more dangerous Viper. Randall Keith Orton is neither one of The Authors of Pain. Don't give him a generic heel promo. We know he's capable. Let Jeff Hardy continue to twist in agony. If you must give Orton a verbal point, do a better job writing it, and save it for after SummerSlam.
Recess started with a backstage promo which would be unnecessary if Vince didn't book Triple Threats. The fracturing friendship angle is fine, if not required in the art form. However, can anyone pull it off without it feeling forced? Stamford sure can't. Why were Charlotte and Becky apologizing like it was Middle School? Vinnie put both of you in the match. Break the fourth wall and get mad at him. The Lass Kicker struggled to hide building frustration. Anybody surprised with this? She's Irish. They teased a possible tag match with The Dragon Huggers at Evolution? I EFFING HOPE NOT! Vince, get your head out of your ass. Unless it results in Sasha Banks being traded, put this mirrored storyline possibility on ice, since you can't get it right on Monday! Sorry for the tangent. The Tuesday Besties went over The IIconics, who have hit a wall recently.
Here's a crazy thought, WWE has approximately 14 ladies on The SmackDown Roster. What's wrong with holding a storyline off TV for a week instead of repeating it? Give us the illusion that friends took a week to work things out without telling Aiden English he'll be Ron Killings in a month or two. Lana is getting better in the ring, Let's find another way to stunt her. Put Almas' Mini Me over again and break up one of our most popular factions. My apologies, I must have hacked into Vince's email.
Creative got too many compliments on proms last week. Dammit boys and girls, y'all can only rope the moon once every six months. They tried again anyway, bad move! Outside of The New Day; who can read Facebook and make it good. everything else was yawn inducing. Later, WWEs modern answer to The Free Birds went on to beat The Bar in another great TV Main Event.
Random Observation: if smart marks need proof promoters and bookers view Championship Gold as nothing more than a prop, look at R-Truth. Never mind New York's original name for him. He was respected during his previous run in Orlando for Dixie Carter and TNA. He held Top Gold and was prominent there for a while. Why not? Dude is a fantastic athlete with good mic skills. Back in WWE, he is a glorified carpenter who cuts nonsense promos. I hope the paycheck is worth it, Sir? After setting up a match no one wanted, Truth lost to Shinsuke Nakamura in under ten minutes.
Sometimes, WWE looks dumber than usual in the age of social media. Can anyone tell me why they broke Mike's match signing with Daniel Brian on Twitter? Did they have a reason? Does anybody really think Mike was on set? Vinnie, suspension of disbelief? Where is it? They could've rebooted Cena/Taker from Mania. They reboot storylines far less personal and more pointless. Yes, Daniel got to wail on Mike for a minute. Can't we do better than to jump the gun so poorly on both fronts?
If Vince wants us to take one thing away from the Styles/Samoa Joe Angle, it is that Joe clearly has both the physical and psychological advantage heading into SummerSlam. Why does everything appear so lopsided though? Not saying The WWE Gold doesn't fit Joe. If he can stay healthy, it most certainly does. Yes, Joe is a badass, but AJ Styles is capable of rock-solid heel work too. Ask The Con Artist and Big Match John. Hell, Samoa Joe himself knows Styles' heel talent from elsewhere. It is disappointing the WWE might make fans wait months to see these two work up to their ability, if the trigger ever gets pulled correctly. Maybe by Hell in A Cell or Survivor Series? Given New York's reputation among smart marks, I wouldn't hold my breath. Speaking of which, if anyone did so on Tuesday waiting for a typical good show, I apologize. They got a glorified house show. Mickey Mouse deserves better cheese.
---
Always Use Your Head and visit the official Pro Wrestling Tees store for The Chairshot All t-shirt proceeds help support the advancement of your favorite hard-hitting wrestling website, The Chairshot!

---