Dragon Gate King of Gate Blocks C&D Rating & Review: Part 2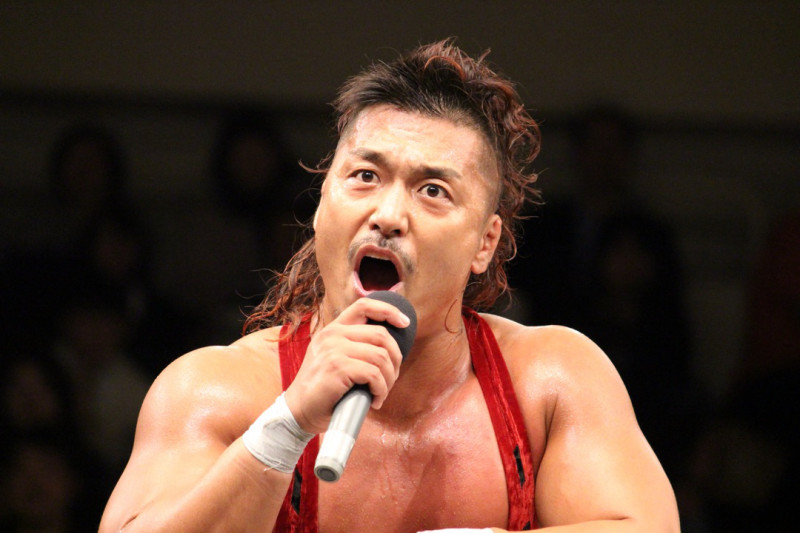 Due to the lack of shows on the Dragon Gate Network, this will be the last necessary part for Block coverage.
Sufficed to say, I don't really like how different this network is compared to AJPW and NJPW. You have a week to watch a streamed show before it falls into oblivion, there's not much of a back catalog, they skip smaller "non televised" shows and unless you like YAMATO's cooking show…money may be better spend on a different service.
But complaints aside, let's finish out the blocks before Mathew Sarpacione will take full control over the Semi-Finals and Finals for First and Last place.
C Block:
5/19/2018
Eita vs Dragon Kid
Well… this is odd with ANTIAS. It seems like it depends on who's wrestling, for how much they interfere. This match felt more like a lumberjack match, than a tournament match.
Immediately, Eita enters, hits Kid with a bat and takes him to the outside. Multiple double teams happen while the face stable stays at ringside and complains. Again, the face stable cries and this time the ANTIAS members throw in chairs and the baseball bat, so Eita can stack the chairs on Kid's ankle and go to town.
Most of Eita's offense was focused on the now injured ankle, but the constant interference was annoying. ANTIAS tripped Dragon Kid and even pulled the referee out at some point, while Over Generation finally got frustrated enough to hit Eita with a kendo stick, once.
As if there was any question, Eita wins with a standing Indian Deathlock while he used his free leg to stomp on Dragon Kid.
Since this is Dragon Gate's biggest tournament, this felt stupid. Yes it continues a storyline between the factions and develops more bad blood…but there's a time and a place. This isn't either.
Winner: Eita via Indian Deathlock
Rating: * 3/4
5/25/18
Eita vs Yosuke♡Santa Maria
The match starts off uniquely off the backs of an ANTIAS stable tag match. Eita was jawing with members of the other team, and Santa Maria runs in and hits a big drop kick off the top turnbuckle.
And now back to our regularly schedule ANTIAS shenanigans when Eita's in a match. Like if you hated Suzuki-Gun in previous years, these matches will give you an aneurysm. First he strips off Maria's skirt, so she plays up being embarrassed, then after a roll-up exchange, he kicks her below the belt in front of the referee. The ref admonished Eita, Eita chucks the referee away, takes off Maria's top and throws the ref again to eventually get disqualified.
His disregard for the tournament, opponents or whatever is really bringing down the quality of this tournament. It's supposed to be the biggest tournament in Dragon Gate, and it's being treated like garbage.
Winner: Santa Maria via DQ
Rating: 1/4
5/29/18
Naruki Doi vs Yosuke♡Santa Maria (Not on Stream)
Winner: Doi via Bakatare Sliding Kick
C Block Standings:
Naruki Doi 4-0 (8 Points)
Punch Tominaga 2-1-1 (5 Points)
Yosuke♡Santa Maria 2-2 (4 Points)
Eita 1-2-1 (3 Point)
Dragon Kid 0-3 (0 Points) – Injured
D Block:
5/19/2018
Susumu Yokosuka vs Masato Yoshino
A fairly fast paced match, a few high spots and not a lot of strong styles moments. This felt much more like a Lucha match, with the quick maneuvers, springboards and multiple mid air adjustment moves.
The entire finish is set up after a few lariats and back to back tilt-a-whirl takedowns. Yokosuka looks like he's about to set up for his own finish, but a sliding lariat gets caught and Yoshino turns it into a sitout pin, for the victory.
Winner: Yoshino via Counter Pin
Rating: ** 3/4
5/20/18
Shingo Takagi vs Kagetora (Not Shown on Stream)
Winner: Takagi via Inverted STF
5/23/18
Masato Yoshino vs Ryo Saito (Not Shown on Stream)
Winner: Yoshino via Pinfall
5/25/18
Masato Yoshino vs Kagetora
Following up two matches that had interference galore and just underwhelming work quality, this felt awkwardly placed.
The two tried to wrestle a fairly decent mat game, but the crowd was mostly quiet and those solid work, was general uninteresting. The match picks up after a Sunset Flip Powerbomb attempt in the corner, and we see Slingblades, Slingshot Dropkicks and Shining Wizards everywhere.
So for as much good as that offensive flurry did, the match started to go off the rails during another locomotion rollup sequence. Many of Kagetora's rollup attempts had one of Yoshino's shoulders on his leg, but the ref counted anyway. So that telegraped the ref just doing what was agreed upon in an attempt to build drama towards the finish.
Then when we get to the awkward finish with Yoshino hitting the ropes, Kagetora slides to pick the leg, so he's holding one of Yoshino's legs and throws one of his legs back over the free leg to secrue the pin. So it was one of the most awkward double pinfalls you've ever seen.
Winner: Double Pinfall Draw (1 Point Each)
Rating: ** 1/2
5/26/18
Shingo Takagi vs Ryo Saito
This match felt like an Owari match in the middle of a tournament.
Honestly, this was just a device to further Saito's feud with Shingo. Saito goaded Shingo to accept the Owari Gate Championship match a few months ago, he didn't mind getting his head shaved, and he was okay with getting no points, as long as that meant Shingo got zero also.
As I've said at least once, for Dragon Gate's biggest tournament, they aren't treating it like one. Sub par matches, with heavy gimmick and storyline involvement really doesn't help this tournament feel special.
Oh, as for the match, it ended in Double Countout, lots of interference, a few comedy spots, absolutely nothing worth wasting time on typing to describe.
Winner: Double Countout (0 Points)
Rating: *
5/27/18
Susumu Yokosuka vs Shingo Takagi
Well this match actually had a palpable weight since Ryo Saito put Shingo in a bad spot. This is the last streamed match of the block and Shingo needs to win to win the block. So does Susumu play spoiler, or does Shingo move on to the Semi-Finals?
ANTIAS was less involved…well…sort of. Early on, it was more of an actual match. A lot of back and forth, good strikes, a Buckle Bomb, Avalance Death Valley Driver and numerous snap suplexes. However, towards the end both ANTIAS and Natural Vibes got involed in the match, but it seemed more since the desperation was apparent and not so much the usual interference garbage.
A fun spot was, after laying out Susumu with a lariat, Shingo flips the Natural Vibes towel into the ring when the referee isn't looking. So he tries to convince the ref it was the stablemates that did it, but sadly the referee doesn't buy it.
Thanks to the ton of outside interference the final straw is a brief case shot that turns into a tug of war, then we see Natural Vibes get a hold of the brief case and hit Shingo with it. The foreign object, into the Jumbo no Kachigatame spelled the end of Shingo's tournament.
Winner: Yokosuka via Jumbo no Kachigatame
Rating: *** 3/4
5/29/18
Kagetora vs Susumu Yokosuka (Not on Stream)
Winner: Kagetora via Kagenui
D Block Standings:
Masato Yoshino 2-1-1 (5 Points)
Shingo Takagi 2-1-1 (4 Points)
Susumu Yokosuka 2-2 (4 Points)
Kagetora 1-1-2 (3 Points)
Ryo Saito 0-2-2 ( 0 Points)
For being their most important tournament of the year, the matches were controlled by storyline more than tournament vibe of caring about each match. We saw a lot of interference, a lot of continuation of stories and I admittedly hated it. Unless the playoff rounds really step up, this could be the worst tournament I've seen since the 1995 King of the Ring.
---
Always Use Your Head and visit the official Pro Wrestling Tees store for The Chairshot All t-shirt proceeds help support the advancement of your favorite hard-hitting wrestling website, The Chairshot!

---
Dragon Gate King of Gate Results & Review (6/10/2018)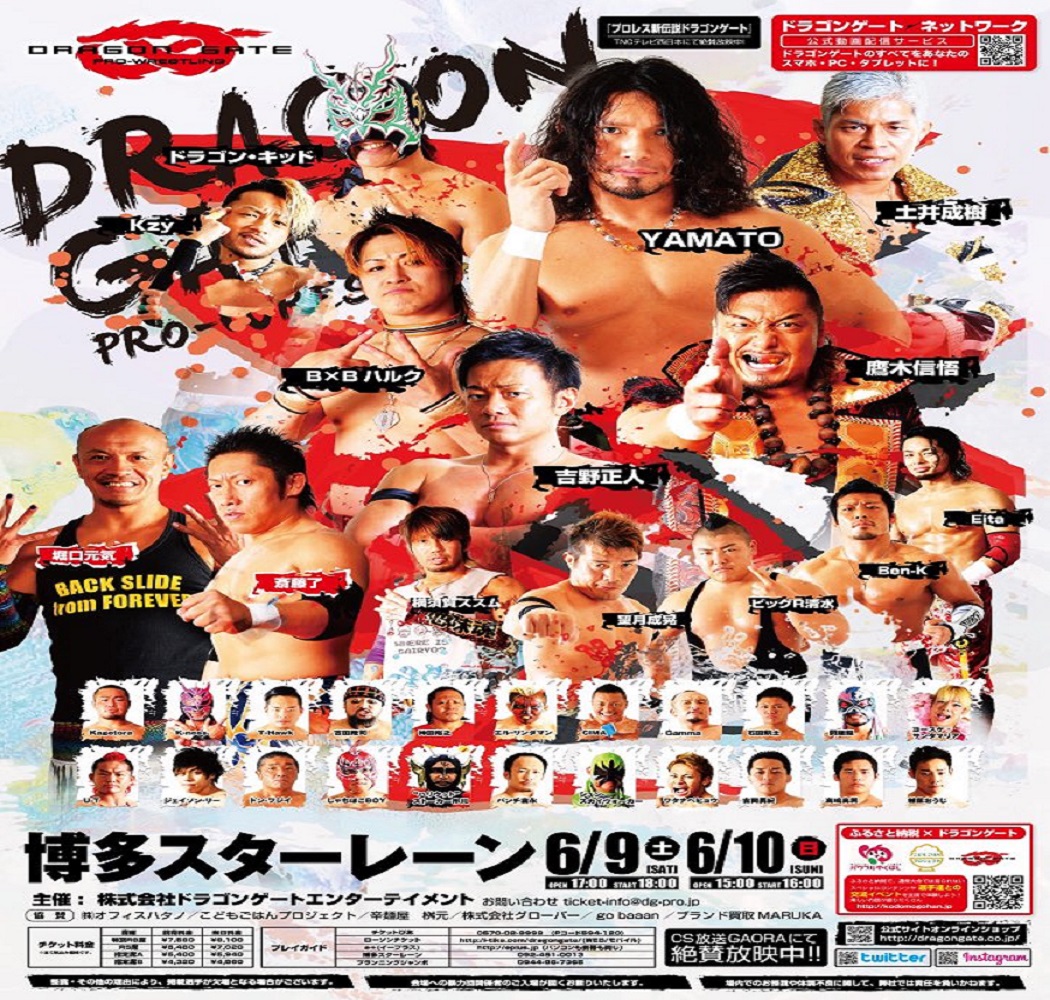 Now that the tournament is over with and also congrats to Masato Yoshino for winning the King of Gate tournament by defeating YAMATO!
He is now set to fight the current Open the Dream Gate Champion in the main event as we also have the Open the Twin Gate Championship match as well with Kagetora and Yosuke fight Big R and Ben-K, so we got some stuff to look forward to today, so let's not waste any time and…dive right in.
Six Man Tag Team Match
Don Fujii, K-ness & Shun Skywalker vs. Natural Vibes (Kzy, Susumu Yokosuka & YASSHI)
Review: We get Natural Vibes starting us off as they, of course, do that dance that I'm starting to get addicted to and I will eventually learn how to do it and have a crew to do it with me, or I do it with them when I go to Japan in 2020 if they're still a unit, whichever comes first. It looks like they're fighting members of Saito's team throughout the card as the others will be in singles matches against each other.
I don't know where this obsession with Brother YASSHI grabbing dicks lately and I mean it's effective, but also why? He would do it to Shun Skywalker and Kzy would do a Double Axe Handler onto the grabbed area, clever. Kzy would go for the pinfall, but Don Fujii attempts to throw a water bottle again and he hit's Shun this time as he missed hitting his opponent again. A lot of good combinations between these two teams and tons of quickly paced spots. One little funny spot was Susumu would attempt to drop Shun for a Skywalker and would stop himself so he wouldn't drop him while it leads to Shun flailing around like a kid til he would eventually get dropped. Shun would attempt a pinfall after a Sunset Flip and as Kzy reversed it, K-ness would kick Kzy down so Shun could get the pinfall and it's only a two count. Kzy would eventually hit his Running Elbow Smash on Shun to score the pinfall for Natural Vibes.
Recommended: Solid opener with tons of fun spots to keep it entertaining.
Singles Match
Genki Horiguchi vs. Yuki Yoshioka
Review: We get more Natural Vibes with Genki Horiguchi getting involved into the mix to take on Yuki Yoshioka. The two would start off in a Lucha style sequence and it was very crisp with both men being pretty much even with it and it was very fun to see. Yuki is someone who has been very impressive in the ring as he's quick, can work, and has a good pace for himself. Genki is also someone who knows when to keep up with just about any worker or any style they can do and can be pretty quick for a guy his age as well. The two would go back and forth with their roll-ups as neither of them would get the edge over the other, but Yuki would get a lot closer with it to only get a two count. Yuki would attempt to get another pin over him but would get caught in an Alabama Slam position and gets hit with the Beach Break giving Genki the win.
Recommended: This was a much better match than I anticipated it to be, definitely give it a look as their chemistry was great.
Singles Match
Punch Tominaga vs. Ryo Saito
Review: The last member of Natural Vibes is up as Punch Tominaga takes on our comedic hero, Ryo Saito and hilarity is expected between the two competitors here. Nothing gets Saito more motivated than by having Don slap him in the face.
I was right to say it was going to be a comedy match and it delivered just that here as our first comedic spot was Punch going for his Spear through the ropes and Saito moving out of the way, Saito would attempt to do a move, but would bow and walk over him instead. I don't know what it is with these two, but the comedy works better with these two together since that is what Punch is mostly used for also, but Saito is better at it than Punch is though. Saito would keep trying to Irish Whip Punch, but he kept holding onto the ropes until he eventually gave up and Punch kicked him. Punch would finally hit his little Headbutt through the ropes a couple of times and kept kicking out of it. Saito would go for a dive and hits Kzy instead of Punch and would get Punch into the ring for Don Fujii to try and slap, but Saito would get slapped instead. Saito did, however, hit a Double Stromp from the top rope and goes to the other side to hit his SaiRyo Rocket on Punch to get the win and end Natural Vibes little streak they had tonight.
Recommended: Very funny and entertaining match, worth a view.
Tag Team Match
MaxiMuM (Jason Lee & Naruki Doi) vs. Tribe Vanguard (BxB Hulk & YAMATO)
Review: With YAMATO losing the final, he gets involved in a tag match with BXB Hulk being his partner taking on someone he fought in the semi-final, Naruki Doi, and his partner Jason Lee.
We get YAMATO and Jason starting it off and starts off with some nice chain wrestling and YAMATO could go for a kick but stops once Jason is in his little meditating stance. YAMATO doesn't know what to do at first and slaps his head, seeing him sitting still, so he goes to pick him up from behind and gets caught in an Arm Drag. In fact, Jason and YAMATO are in the majority of the match while Hulk and Doi would get a few moments in the match to work with the others, but I felt like it was mostly about these two here and I hope it leads to a future singles match between the two.
It would be amazing as their chemistry is great. Jason would get the upper hand with most of the match when he hits those fast kicks on his body and would hit the La Magistral to try and get the pinfall over YAMATO but he kicked out at two and it would eventually bite him as YAMATO hits the Galleria for the win. Please give me Jason Lee vs. YAMATO asap since this match made me want to see it happen.
Recommended: Worth at least a viewing.
Eight Man Tag Team Match
ANTIAS (Eita, Shingo Takagi, Takashi Yoshida & Yasushi Kanda) vs. Over Generation (Dragon Kid, Gamma, Kaito Ishida & Mondai Ryu)
Review: The same match as the last show except that they both have another member added to make it an eight-man tag as ANTIAS added Yasushi Kanda while Over Generation added Mondai Ryu. Over Generation were doing their usual thing with the crowd until ANTIAS came out to cut them off to do a promo of their own and then it lead to ANTIAS brawling with Over Generation on the outside as the match begins.
Once everyone is back in the ring, Eita and Dragon Kid would start it off with some decent back and forth and ends with Dragon hitting a Head Scissor as Takashi would Uppercut Dragon and then Gamma would come in to try and overpower the guy, but does once he hits a Lariat and Kaito helps Dropkick Takashi as now him and Shingo start to go, but gets knocked down quick. The four would start beating down Kaito until Mondai would try to make the save but he would also pay the price for it as he takes the assault now. Shingo would start to attempt ripping his mask off, but Mondai was able to fight it off until later on as Eita would rip a good chunk of it off until Gamma helped make the save for more damage to be done to his mask. This would, however, give Mondai some needed momentum as he lands some moves on them to get Dragon Kid tagged in as he starts exploding with energy and even hits Shingo with a 619 while Gamma would deal with Takashi and Yasushi in the ring, wrapping his legs around Yasushi's head as he had an arm around Takashi so he could flip the both of them over. Dragon Kid would attempt to put Aita away for the win, but Shingo would attack Dragon from behind and gets caught with the Trace Kick, giving ANTIAS the win.
After the match, Dragon Kid would challenge Eita to a match and even puts his Open the Brave Gate Championship on the line as Eita accepts the challenge, but we have no release date for it yet and I really hope they have a better match this time compared to their last one on one encounter at the King of Gate Tournament.
Recommended: Fun match, give it a view as you might like it.
Open The Twin Gate Title Match
Big Ben (Ben-K & Big R Shimizu) (c) vs. Tribe Vanguard (Kagetora & Yosuke ♡ Santa Maria)
Review: One of our first of the two title matches as Kagetora and Yosuke have earned a Twin Gate Championship during this tour and would have the match here tonight. With Yosuke getting the surprise victory over Big R the day before, it gave them that needed momentum to think they have a chance to take the gold away from them, so let's see if it pays off. The match was amazing with all four of these guys stepping up to the mat with them all equally doing everything they needed to do to give us a quality match.
Kagetora was on fire with how quick he was in the ring with his combos like how he did a Springboard Dropkick to Big R and would quickly follow it up with a Cruiser Kick, but wasn't enough to put Big R away. I loved how they didn't treat this match as a comedy or anything since they sometimes do when Yosuke is involved, but I'm glad it wasn't the case here as he also shined in this match and the chemistry he has with Ben-K is great. What I loved the most about this match is the tag team combos they would produce after a reversal like how Ben-K would try to go for his Ben-K Bomb only for Yosuke to reverse it and Kagetora would be quick to give Ben a Running Enziguri right away without giving him time to catch himself in there. Yosuke would attempt to go for the Neraiuchi again on Big R shades of last time they fought, but it didn't work this time and Yosuke would eat a Spear after that, but another kick out to keep the match going. The last five minutes are starting to get exploding with Kagetora hitting the Gurumakakari on Ben and it looks like Tribe Vanguard is going to win it, but Big R would break the pinfall just in time. Big R goes for the Shot-put Slam on Yosuke, but he reverses it into the Neraiuchi and it looks like it could be it, but Big R kicks out this time! Big R throws Yosuke into the air and Ben-K catches him into a deadly Spear and he's not done yet as he finally hits his Ben-K Bomb and gets the three count, still champions!
Recommended: Great match, please watch it.
Open The Dream Gate Title Match
Masaaki Mochizuki (c) vs. Masato Yoshino
Review: Here we are with our main event of the evening as Masaaki defends his Open the Dream Gate Championship against this year's King of Gate winner, Masato Yoshino. Masato was apart of D Block as he would win that to advance to the top four where he fought Takashi Yoshida first and defeated him to move onto the final to take on YAMATO and yesterday, Masato would defeat him to win the tournament to get this chance. Mochizuki has had five successful championship defenses and has held the title for 265 days after defeating YAMATO back in September. Now can Masato finish off strong and take the title with him to complete the journey and become a four-time champion or will Mochizuki retain for the sixth time and ruin Masato's momentum? Well, let's find out right now and see how this tournament actually concludes.
The two would start by shaking hands as a sign of respect for the two competitors and would begin by doing some chain wrestling for a moment and then a lucha style sequence which ended with Masato hitting a dropkick when Mochizuki would attempt to jump over him before rolling to the outside. Masato would then make an attempt to do a Suicide Dive but would get caught with a Roundhouse Kick as Mochizuki goes back in to work on him. Mochizuki would then work on Masato's leg to limit his movement in the ring and would even deliver stiff kicks to it instead of chopping Masato back when he was trying to do a chop battle with him, but Masato would block his kick and slam him down by him arm as he now has the advantage to work on his arm. I like how this is starting off to be ground-based with a mixture of impactful strikes at the same time knowing when to pick it up when it needs to, but now Mochizuki would also slap the back of his neck a few times to try and wind him down a little which worked since whenever Masato would try to strike him back, he would fall over eventually which Mochizuki used it as his advantage. Masato would attempt to go for a Head Scissor to try and take Mochizuki down, but got caught during the middle of it with Mochizuki applying the Ankle Lock on him to try and make Masato tap, but he would try to get to the ropes which caused Mochizuki to let go and turn him around so he could knee him in the face, but he's not done as he went for a strike as Masato ducked and hits the Sling Blade for a two count.
Things would start to get quick and intense as Masato would do his Head Scissor Takedown only for Mochizuki to get up quick to deliver a kick to the chest, and Masato would do it for the second time as well as Mochizuki kicking him again, but as Masato would go for it the third time, he would get caught into a Dragon Suplex for another two count. The two would slowly get up on their knees and stare each other down, hitting each other back and forth to show that these two won't quit in this match here. Mochizuki would hit his Saikyou High Kick to knock him down and goes for the cover but kicks out at two. Masato hits his takedown once again and was able to apply his Sol Naciente to try and make him tap out and it almost worked once Mochizuki fell down to the mat, but he would find a way to break out of it and kick him a few times until Masato hits a poorly botched Torbellino Crucifix and would get the win as we have a new champion! This match was going really well and was getting into it, but I felt like Masato should've made Mochizuki tap out to make the win much more memorable than a botch Crucifix. Mochizuki, you've had a hell of a run as champion and shows you still got it for your age, thank you for a fun reign and congrats to Masato.
Recommended: Even with the sloppy ending, still well worth the watch.
After the match, Masato would grab the microphone to put Mochizuki over in a way to show respect to the former champion which is a very class act by Masato to do so since he does deserve a lot of credit. Mochizuki would then do the same thing to him by saying a few things about him before leaving the ring so the spotlight can be on the new champion. Masato would keep on talking until Shingo Tagaki would come out to ruin the celebration as he states that he will be his first challenger for the Open the Dream Gate Championship which Masato would accept, but no official date for the match just yet. The other members of MaxiMuM would come into the ring and celebrate with their fellow member to end the show. Congrats again to Masato and I hope he has a successful reign.
Overall: From top to bottom, this was a very solid show and can't really recall a bad match on here while the rest was entertaining at most. The tournament is all over with finally as we can now focus on actual shows which we all know and love.
Favorite Match: Ben-K & Big R Shimizu vs. Kagetora & Yosuke ♡ Santa Maria
Least Favorite Match: Genki Horiguchi vs. Yuki Yoshioka (If I really had to pick one)
Score: 8/10
---
Always Use Your Head and visit the official Pro Wrestling Tees store for The Chairshot All t-shirt proceeds help support the advancement of your favorite hard-hitting wrestling website, The Chairshot!

---
Dragon Gate King of Gate 2018 Final Results & Review (6/9/2018)

Welcome back to Dragon Gate as we are now in the final round of the King of Gate tournament where we have YAMATO taking on Masato Yoshino. The winner will face Masaaki Mochizuki the next day for the Open the Dream Gate Championship.
The tournament as a whole has been incredibly lackluster and I probably won't cover their next one due to how poorly the network handled it, but I will however still be covering certain shows along with the big ones. Let's get this started and just…dive right in.
Tag Team Match
K-ness & Masaaki Mochizuki vs. Natural Vibes (Punch Tominaga & YASSHI)
Review: It feels weird that the companies big champion is the opening contest in these last recent shows, but I guess it's just how they work. K-ness would rip off Punch's do-rag off of his head and once that happens, we get Punch abuse by K-ness just slapping the bald spot on his head any chance he would get and it happens quite a lot, even Mochizuki does it a couple of times too, but Punch abuse gets the crowd laughing. Also, Brother YASSHI, what are you doing grabbing their dicks in the match like they're Joey Ryan? I mean I get that it's a distraction, but couldn't rake their eyes or something instead of grabbing and raking the dicks, man?
The match would feel a bit slow at times despite some of the humor they had in the match involving Punch, but also a few sloppy spots in there to hurt the match a little bit. Near the end of the match, Punch and Mochizuki would be in the ring with Punch going for a few strikes and Mochizuki slapping the bald spot on his head along with a few stiff kicks until he hits the Saikyo High Kick to knock Punch out and win the match for him and K-ness.
Recommended: Average match, so unless you like seeing Punch get abused, skip it.
Singles Match
Shun Skywalker vs. Susumu Yokosuka
Review: We got Shun in singles action as he would take on Susumu Yokosuka. Susumu would go up to the referee when he comes into the ring and leans over on him once he was standing on the ropes with the ref between his legs, but once he got down, he saw a kid in the ring holding the flowers as he took them since I guess he wanted to feel pretty and he took a picture with the fan.
The match, for the most part, was solid for what they did since they were crisp with their spots and just had a nice flow with their chemistry here. Shun is someone that keeps on improving in the ring and I feel like he could be a big player in the upcoming years, but I'm still not a fan of his in-ring attire and I guess it's mostly just due to the colors of it that throw me off than anything else. I don't know why it happened, but when Susumu would have Shun in a Powerbomb position, he would just smack his ass a few times like he owned it, Natural Vibes is being weird today…well weirder. The last couple of minutes I enjoyed a lot with Susumu attempting to for the Lariat a few times, but Shun would roll him up quickly for a roll up, but no prevail there, but he would go for it the second time and still no luck. Once Shun got up, he got hit with a stiff Lariat for a two count. Susumu would eventually hit the Jumbo No Kachi on Shun and gets the win.
Recommended: It was pretty solid, I would say it's worth at least a view.
Singles Match
Ben-K vs. Yasushi Kanda
Review: We now have Ben-K taking on ANTIAS member, Yasushi Kanda in out next singles match and the last time these two fought in the ring during the King of Gate tournament, Ben-K would defeat him by countout and I guess he looks to try and get an actual win over him this time.
We had Kanda attacking Ben before the announcer would finish saying his name and took Ben to the outside so he could try to knock him down a little as the bell rang. Once they got back inside, Ben would get the upper hand on Kanda for a brief moment and use his power to try and knock him down, but it wouldn't last long as Kanda would send Ben back to the outside again and I feel like they already overdid it since they did it a total of four times this match and wasn't really spaced out either, so it did hurt the match a lot to me in my opinion. ANTIAS is becoming how Suzuki-Gun was in NOAH where they would do this stuff in almost every match and during times when it's just not needed and becomes overkill for me. It looked like they're still protecting the Ben-K Bomb when he wouldn't hit it again, but would eventually Spear Kanda to try and pin him only for ANTIAS to run in and start assaulting Ben-K.
The beat down would only happen for a while til Over Generation came out to make the save as they have a big match set for July between the two units as the loser of that match would disband. The referee would rule the bout a no contest.
Recommended: I love Ben-K, but the match was pretty awful.
Tag Team Match
Don Fujii & Ryo Saito vs. Natural Vibes (Genki Horiguchi & Kzy)
Review: The last time these two teams fought was in a six-man tag with Saito getting the surprise win and it looks like they'll be fighting again in a regular tag team bout this time around. I'm a little disappointed that they didn't do the Natural Vibes dance and I know they did it for the opening bout, but I wanted to see it again.
If you've seen the previous match between the teams, then it's pretty similar with the mixture of comedy and other spots throughout the match, but no Fujii hitting Saito with a water bottle again, he knew better or we get that face again. That's what I love about Ryo Saito, he's not only hilarious, but he tells a story with his comedy and wrestling, but he knows how to do it so well and that's why the fans are so behind him when he's in the ring. The chemistry between Kzy and Genki is probably my favorite of the two out of the whole Natural Vibes unit just by how they do their moves together and the flow of their teamwork. The match was a lot of fun since we got nice spots and humor in here, but Kzy would get payback this time as he does the Skyade Schoolboy on Saito to pick up the win. After the match, Saito would tell Kzy that he wants a match for the Open the Triangle Gate Championships in which Kzy accepted, but no official date for the match yet.
Recommended: Very entertaining match and a ton of fun, worth a view.
Six Man Tag Team Match
MaxiMuM (Big R Shimizu, Jason Lee & Naruki Doi) vs. Tribe Vanguard (BxB Hulk, Kagetora & Yosuke ♡ Santa Maria)
Review: This is a mostly for hyping up the Open the Twin Gate Championship match as both Yosuke and Kagetora are scheduled to fight Big R and Ben-K for the titles the next day as well and I don't know why Ben just wasn't booked for this match instead of being in that match against Kanda since it did nothing for him, but oh well.
When are people gonna learn not to pick up Jason Lee from behind when he's in his meditating position? Because he's just gonna Arm Drag you every time you try to pick him up from behind, so stop trying it even though it's still cool to see regardless. Soon as Yosuke got into the ring and Naruki was tagged in, Jason and Big R just backed away for a moment because they don't wanna deal with him since they know what he's about. People may not like the type of gimmick Yosuke is doing, but I personally love it and is a damn good worker on top of that, I'm glad he's being used more. Very fun match with everyone playing their part and the highlight for moe out of the six here is Kagetora because he started exploding with his offense throughout the match, especially with Jason Lee. There was one cool spot with Big R going for a Powerbomb on Yosuke and it got reversed when he was high into the air Leg Dropping him on the way down, but only got a two count with that one. Big R went to go for his Shot Put on Yosuke, but it got reversed into the Neraiuchi which looked insane as he pinned Big R to get that much-needed momentum for tomorrow's show.
Recommended: I enjoyed this one a lot, definitely watch.
Six Man Tag Team Match
ANTIAS (Eita, Shingo Takagi & Takashi Yoshida) vs. Over Generation (Dragon Kid, Gamma & Kaito Ishida)
Review: It looks like we're gonna get a little preview here with a six-man tag between the two units to hype up what's to come sometime in July, how as to who should disband? That's really a tough call since both of them should split up, especially with CIMA leaving to help out his Chinese promotion OWE, but ANTIAS has been doing pretty bad lately and wouldn't mind them disbanding as well, however, the only problem is that they're really the only heel faction right now and if they did disband, then there's really no heel team.
Enough with attacking them to go to the outside once the bell rings! Here and there I don't mind it if it's spread out or anything, but the fact they did like four in Ben/Kanda that it already made this one feel a bit forced this time and it's at the point where it's incredibly annoying. Despite that, the match actually does get good since ANTIAS did get some nice heat into the match with Over Generation getting some strong offense in as well. One funny little spot I liked was when Dragon and Kaito would pin Eita down on the mat while Gamma was on the top turnbuckle and spits water down on him as if he was a little fountain or something and after seeing how Eita did during the whole King of Gate, he deserved it. Something that annoyed me between Eita and Dragon Kid is that they actually did better during their encounter in this match than their actual King of Gate tournament match where it was one of the worst matches in the entire tournament, which is a shame too since they're both great workers and I hope we can an actual match soon, but we might if it's for the Open the Brave Gate Championship. When they were going for their last moments in the ring, Dragon would hit the Bible on Eita to get the win for Over Generation.
Recommended: Solid match, worth a watch.
King Of Gate 2018 Final Match
Masato Yoshino vs. YAMATO
Review: Here we are as this is the final round of the King of Gate tournament as it comes down to A Block winner, YAMATO and D Block winner, Masato Yoshino. Both men are no strangers to the Open the Dream Gate Championship also as YAMATO has won it four times while Masato has won it three times. YAMATO defeated Naruki Doi in a fantastic match to advance while Masato defeated Takashi Yoshida to make it here as well. Last year, T-Hawk would be the winner of King of Gate to fight YAMATO who was the champion at the time but failed to capture the title. With YAMATO in the finals, he wants to win the whole thing so he can get that rematch against Mochizuki to try and take back what he feels is rightfully his, but he needs to beat Masato first who hasn't won that belt in three years. Who needs the win more? Who will win the King of Gate 2018 tournament and who will fight Masaaki Mochizuki tomorrow for the Open the Dream Gate Championship? We're about to find out, right now.
The match would start off with some slow chain wrestling with Masato actually controlling the majority of it as he would work on YAMATO's arms for a moment and being smart by just working on that body part mostly since it could cut down his arsenal quite a bit if he damages the arm enough. YAMATO would eventually find a way to get some time to breathe as he went for a Crucifix for a two count but would catch Masato into a Crossface the moment he kicked out, but there would be a rope break. The two would eventually have a chop battle going back and forth, but it looks like YAMATO had the upper hand when he applied a Guillotine choke on Masato to slow him down while wrenching the arms a little bit in the process. Masato would attempt to go for a Reverserana, but he goes to choke YAMATO with his legs while he was over the ropes and while the referee was calling for the five count, Masato would move him over to the other side of the rope to choke him out again before letting go. Masato would get control again as he applies the Black Widow for a moment and turns it into a Sunset Flip for YAMATO to kick out and hits a beautiful yet quick Sling Blade the minute YAMATO got up. Masato would run at YAMATO again only to be caught in a Tombstone position and hits a Fire Thunder Driver for a two count. Masato would apply his Sol Naciente to try and make YAMATO tap out and it almost worked since he fell down almost unconscious, but he got back up and hits the Ragnarok for a two count. Masato would get back up and hits the La Mistica and a Torbellino Crucifix to get the pin as Masato Yoshino has won the King of Gate!
My thoughts on the match was that there were times that it was slow, but around the middle and on is when it started to pick up to be a great match and if it had that flow from beginning to end, then this would've been the best match out of the whole tournament and a worthy final, but I would have to give it to YAMATO and Naruki Doi for being the best match of the tournament. Masato winning this one was a shocker for me since I felt like it should've been YAMATO to get that anticipated rematch between him and Mochizuki, but I can't be mad with the result, so congrats to both of these men and we'll see if Masato will be the one who will dethrone the champion.
Recommended: Definitely worth a watch.
Overall: The show was a rather entertaining one as we had some good matches with one horrible match, but it was a good show for the final and a great main event. Now we find out what happens the next day as we have two title matches to cover.
Favorite Match: Masato Yoshino vs. YAMATO
Least Favorite Match: Ben-K vs. Yasushi Kanda
Score: 7.5/10
---
Always Use Your Head and visit the official Pro Wrestling Tees store for The Chairshot All t-shirt proceeds help support the advancement of your favorite hard-hitting wrestling website, The Chairshot!

---
Stardom Gold Star Results & Review (5/23/2018)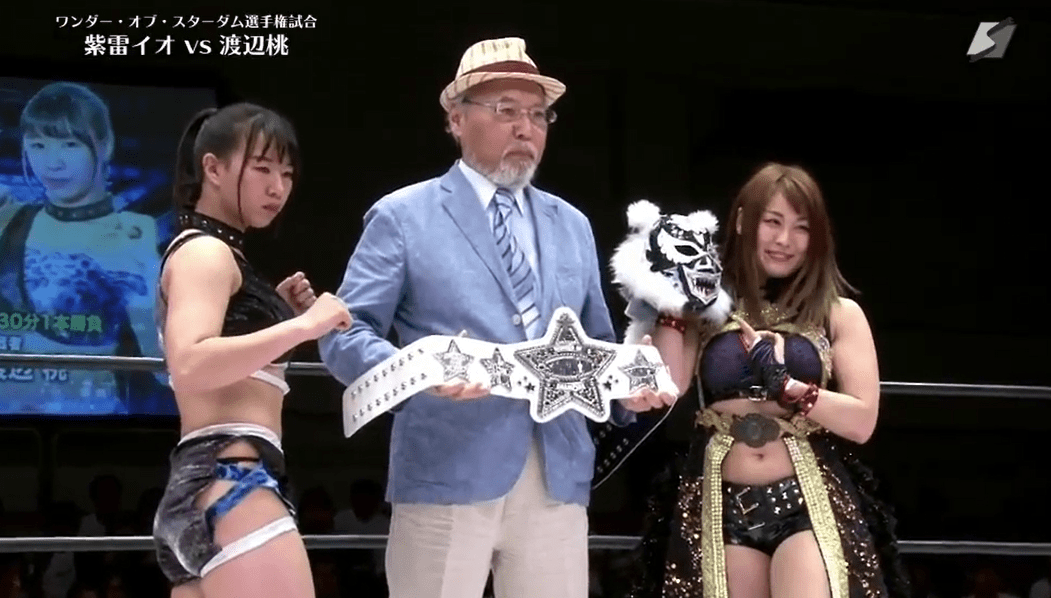 Welcome back to Stardom as the last time we were here, Io Shirai defeated Kagetsu to set a new record with the Wonder of Stardom Championship.  It was her tenth title defense and it adds another record to strengthen her legacy in the company.
Her next challenger is the winner of this year's Cinderella Tournament and fellow Queen's Quest member, Momo Watanabe. Will Io still retain her championship to keep her reign going or will Momo finally come out of her shell and get a big win in her career? Let's not waste time and…dive right in.
Six Man Tag Team Match
Candy Floss, Hanan & Starlight Kid vs. Kaori Yoneyama, Leo Onozaki & Ruaka
Review: We get Team Jungle starting off the show with Kaori leading the team with our younger girls, Leo and Ruaka as they fight fellow STARS members, Starlight Kid lead by Hanan and Candy Floss. On the May 6th show, Starlight had her second successful defense of the Future of Stardom Championship against Ruaka in an average match, but now it looks like her next title defense will be against AZM at a future date.
Team Jungle would start off by doing their pose on top of Hanan while the other two held her arms in place, but STARS would get payback and have all three members between the ropes and stood on top of them to do their STARS taunt. The match was okay at best with Starlight and Kaori being the better two of the match and that's very weird for me to say, but Kaori has been used quite frequently and well ever since the draft happened and I can't be mad at that while Starlight Kid is great as always in the ring. Team Jungle picked up the win by rolling up Hanan even though she tripped mid-roll up.
Recommended: Average, but not mandatory.
Singles Match
Martina vs. Zoe Lucas
Review: We get Martina in singles action this time…I can hardly hold my excitement on this one. But, she takes on Zoe Lucas who is known to be a freelancer and is no stranger to Stardom as she has done a few shows for them last year and earlier this year also. In the pre-match interview, Zoe would talk about how she always wanted to fight Martina and how she was one of the biggest names in the UK scene, but I still don't see it and I'm sorry for that, but she just doesn't impress me at all.
Soon as the bell rings, Martina would just roll around the ring for being drunk until she falls down and has another beer while Sumire calls for a timeout. I get that the crowd loves her due to her character and making them laugh, but I don't know what it is for her to not have me fully back her up and if you somehow like her, more power to you. I will give her credit though that she can throw a mean forearm when she wants to. The match was sloppy and Martina would throw Zoe over her shoulders, but it looked like Zoe didn't jump in time and almost landed horribly if Martina didn't help guide her, so I will give her points on that one. There was also a moment where Zoe did a Scissor Kick variation and Martina would fall down a bit early before Zoe would even touch her. Anyway, Martina would hit the Codebreaker from the second rope to get the pin.
Recommended: Skip it.
Tag Team Match
Jungle Kyona & Natsuko Tora vs. AZM & Konami
Review: We get more Team Jungle action, but we now know they changed their name to JAN or Jungle Assault Nation, which sounds so much better, and this time, they'll be taking on two members of Queen's Quest, AZM and Konami as it looks like these two will be paired up in tag team action for the time being. AZM would taunt Jungle and Momo by saying she wanted to fight the fat one in which both of them leave the arena, then AZM told them she wanted to fight the cute one instead, which then made both of them come back in the ring and cause a fun little argument between the two as both AZM and Konami took advantage of that to attack them.
I don't know what it is with Team Jungle, they have been stepping up quite a lot lately and specially Kyona since she's been showing more of herself this year and I'm glad for it because I talked about before how underrated she is in the ring, but the gimmick she has can only get her so far. It seems like both Konami and AZM were doing a mean girls thing with bullying the two members of Jungle and I like that side of them since it just gives them more character for themselves in their matches. The match was fun and did its purpose as Natsuko would get the surprise pinfall over AZM.
Natsu is winding up… only to get crushed by @junglekyona! #StardomWorld 🌟 #スターダム

➡️ https://t.co/jniqaHHrua pic.twitter.com/FyDc3BvlAr

— TDE Wrestling (@totaldivaseps) May 30, 2018
Recommended: I thought it was fun and worth a viewing.
Best Two Out Of Three Falls Eight Woman Tag Team Match
Mayu Iwatani, Saki Kashima, Shiki Shibusawa & Tam Nakano vs. Hana Kimura, Hazuki, Kagetsu & Natsu Sumire
Review: No pre-main event involving STARS and Queen's Quest? Why I haven't seen that in eons. Joking aside, We got Oedo Tai taking on STARS in a Two out of Three Falls match in an eight-woman tag match with four of their top females of each faction. A win by STARS could possibly give two of the members a future shot at the Goddesses of Stardom Championship, but if Oedo Tai wins this match then it could maybe lead Kagetsu to future opportunities, so this could definitely benefit either unit. Oedo Tai came out with a little toy puppy with Hazuki walking it, it was adorable and guess because of Nao Yamaguchi being injured.
.@0929_hazuki and @SMR_sptmber_luv prepare for the match by spending some quality time with Oedo Pupper. #StardomWorld 🌟 #スターダム

➡️ https://t.co/jniqaHHrua pic.twitter.com/rAhRkFe9JI

— TDE Wrestling (@totaldivaseps) June 2, 2018
The two teams would brawl to the outside with Mayu and Kagetsu fighting till they reached the top of the stairs in the crowd and I thought Kagetsu was gonna try to hang her off of the balcony again, but this time she kicked Mayu causing her to roll down the steps kinda like how Hiromu did when he fought Taiji Ishimori in the Super Junior Final (Which you should totally check out if you didn't).
.@doranyanpa and @hanadayo0903 bring havoc with them everywhere they go. #StardomWorld 🌟 #スターダム

➡️ https://t.co/jniqaHHrua pic.twitter.com/UBzBrwYuxR

— TDE Wrestling (@totaldivaseps) June 2, 2018
Sumire and Shiki appear to be starting off the match once they got back into the ring and Sumire, of course, does her little antics with the flogger to whip her opponent while the referee wasn't looking until the end of the beating. Tam would get a chance into the ring as she applies the Dragon Sleeper on Sumire until Kagetsu tries to break it up only to get caught by Tam so she can hit her with a DDT while giving Sumire a Reverse DDT at the same time, that was awesome. Kagetsu and Mayu would eventually get in the ring, and things start to pick up between with the back and forth fast paced action, Mayu hitting her Springboard Armdrag and would quickly go into a Slingblade to top it off. Mayu and Tam would work together for a moment with Tam kicking Kagetsu which caused her to roll back into a Wheel Barrel and Mayu slams her down face first for a two count. Hana would help come into the aide of Kagetsu to make her hit a Chokeslam on Mayu for only a two count. Hana would then hold Mayu up for a Suplex for Kagetsu to grab her from the top turnbuckle and hit a Powerbomb before going back up to the top rope again to hit her Oedo Coaster to give her team the first fall.
Kagetsu wouldn't have time to celebrate as Shiki would Dropkick her down until Hazuki and Sumire came in to try and help Kagetsu, but only for them to both get hit with a Bulldog. Kagetsu was by the corner as STARS would throw Mayu's unconscious body over to the corner to pretty much flop on Kagetsu before the other members would hit their own moves on her. Kagetsu would then try to hit a German on Mayu only for Hazuki to try and knee Mayu but misses and hits Kagetsu instead, giving Mayu him to hit a German Suplex hold for a two count. Kagetsu was gonna try to end it early, but Mayu would push Kagetsu off to make her eat Sumire's flogger by accident and hits another German. Mayu would then hit her Dragon Suplex Hold to get the win as they are now tied 1-1.
Their respective members would drag their unconscious bodies over to their corners so the two could rest up after that battle and tag someone else in as we get Hazuki and Tam starting it off for a moment and then things start going a bit chaotic with the reversals and kicks til Hazuki got the advantage to knock Tam down as she attempts to hit the Atomic Bombs Away only for her to miss and eat a Superkick by Mayu. The two would then attempt to kick her in the head, but Hazuki ducked to make them kick each other, but Mayu attempts a Superkick again for her to hit Tam by mistake and Mayu gets Dropkicked out as Saki is now tagged in. Saki and Hana would be the two fighting now as Hana applies a deadly Black Widow to try and make her tap out, but it won't last long as the hold breaks. Mayu had Hana up in the Gory Bomb position as Saki jumped off the rope to Bulldog her and nice teamwork by these two. Saki would then hit her Killswitch with Sumire breaking the pinfall just in time. Kagetsu held Saki up and gave Hana their sign for her to hit Saki with, but it backfires with her hitting Kagetsu as there has been a lot of miscommunication attacks in this match, but Saki would then roll Hana up to give STARS the win.
Recommended: Very entertaining match, worth a watch.
Wonder Of Stardom Title Match
Io Shirai (c) vs. Momo Watanabe
Review: We have arrived at our main event of the evening as Io is set to defend her Wonder of Stardom Championship for the eleventh time as she now sets to defend against Momo Watanabe as this was the request Momo made when she won the 2018 Cinderella Tournament. They have fought for the championship before, but Io came out on top as Momo would then look to prove herself that she can defeat her, which is why she was determined to win the previous tournament and wants to not only defeat Io but take her championship away from her in the process. Can she do it again or will lightning strike twice with Io being on top as usual? We shall see.
The crowd is pretty even as they both chanted both of their names while the two would start to chain wrestle for a bit and Io uses her veteran experience to outsmart Momo during the match as she should since she is better and smarter than her in the ring, so it makes sense for her to control the majority of the match. Io would, however, throw Momo into the turnbuckle only for Momo to jump up and Dropkick Io into the corner with Momo running towards her with another Dropkick.
One small opening is all it takes for @shirai_io to take control! #StardomWorld 🌟 #スターダム

➡️ https://t.co/jniqaHHrua pic.twitter.com/8by7KhVqv0

— TDE Wrestling (@totaldivaseps) June 2, 2018
Momo would attempt to hit her Cradle Piledriver on the ring apron, but Io crossed her legs on her arms to make sure she lost her grip on her which was smart thinking by the champ and she would top it off to hit a German Suplex on the ring apron to give herself control of the match once more. I'm loving the story here with Io establishing her dominance as not only the champion but as the leader of Stardom in general as she wasn't ready to give up that crown fully just yet. Momo would eventually get this boost of adrenaline and kick Io in the head, give her a Running Cradle Piledriver, and topped it off with the Tequila Sunrise, but Io would slowly kick out at two and it wasn't enough to put her away. Io would ruin Momo's comeback with her signature palm strikes and delivers a Tombstone Piledriver onto Momo as she now looks to end it quickly with her Moonsault Press, but she would miss and get hit with the Somato for a two count again! Momo went to go for another cradle only for Io to reverse it and attempt to hit the Last Ride, but Momo would counter with another Somato and it looked amazing to see and try to find that clip or GIF so you can see for yourself. Momo hits another Tequila Sunrise as Io would weakly kick out at two again, but Momo isn't done since she stayed on Io hit one more Tequila Sunrise, but she would clutch her wrist this time and soon as she hits it, it was a three count and we have a new Wonder of Stardom Champion!
The Wonder of Stardom title is on the line! It's Io Shirai vs Momo Watanabe on Stardom World now! https://t.co/q8dHnF58vW pic.twitter.com/VE4gW7SeUw

— We Are Stardom (@we_are_stardom) June 2, 2018
This is how you help elevate someone right here, you get a well-established wrestler like Io to carry one of their bigger titles next to the World of Stardom Championship, give it much needed prestige, and then when the time is right you put someone over worthy of it and that woman was Momo tonight. After Io lost the title, there have been rumors about her future until it was confirmed a few days later that Io Shirai has signed with the WWE and this was gonna be her last appearance in Stardom as the champion as she would pass the torch to one who has a bright future in Stardom and it was the right call. As I said before, Momo has come a long way for the past couple of years that she's been with the company and her hard work paid off here with the biggest wins in her career this year and it's well earned. What will be next for Stardom once Io leaves the company, well if you go to one of my previous articles, I try to tackle down some possible people that will lead Stardom as the new top woman in the company. This match though had an incredible story and I love these passing of the torch type ordeals if done right and it most certainly delivered at the end result for sure.
Recommended: Highly recommended.
Overall: A couple of weak matches in the beginning, but the last two matches make the show worth watching and we saw one seed planted for Stardom's future and now we must see how things go here as the Io Shirai farewell tour will begin soon as she leaves on June 16th.
Favorite Match: Io Shirai vs. Momo Watanabe
Least Favorite Match: Martina vs. Zoe Lucas
Score: 7.5/10
See you all next time!
---
Always Use Your Head and visit the official Pro Wrestling Tees store for The Chairshot All t-shirt proceeds help support the advancement of your favorite hard-hitting wrestling website, The Chairshot!

---