Dragon Gate King of Gate Results & Review: A&B Blocks Part 1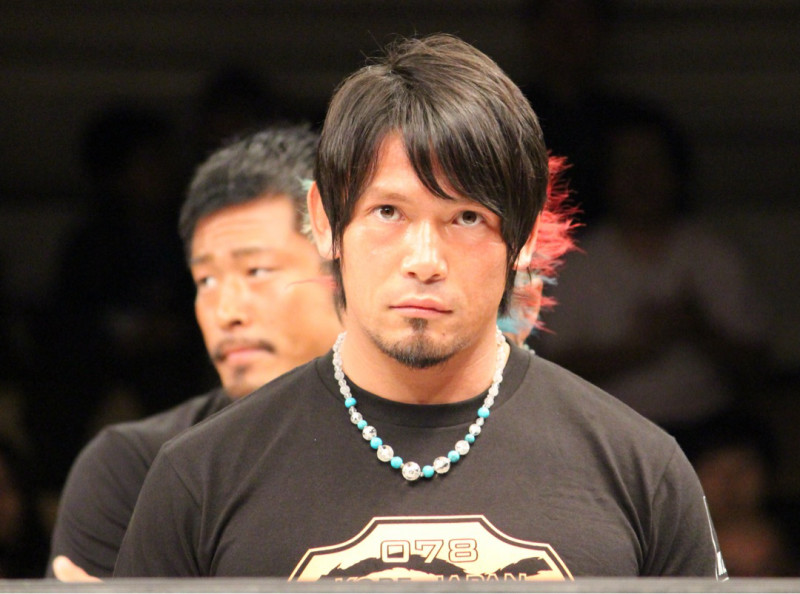 Dragon Gate makes its return to my coverage as they launched their streaming service last month and you can subscribe to it at dragongate.live if this promotion interests you.
However, this one is a bit more costly compared to the other streaming services since it costs 1500 yen a month if you want access to live shows and exclusive content unless you do 999 yen a month, but you only get archived stuff and any new shows will be up 3-4 weeks after it airs, which sucks.
Anyway, we have another tournament after AJPW finished their Carnival as Dragon Gate does their own version called King of Gate, which is a month long and four blocks instead of two, but there's five wrestlers in each block. So I will be covering blocks A and B while Andrew will join me again to cover blocks C and D. The winner of each block will fight in a single elimination match until they reach the final and the winner of that will fight the Open the Dream Gate Champion, Masaaki Mochizuki.
My Picks for Block Winners and Champion:
A Block: YAMATO
B Block: Big R Shimizu
C Block: Naruki Doi
D Block: Shingo Takagi
Overall Winner: YAMATO
Who will win their respective blocks? Let's find out and…dive right in.
5/8/2018
King of Gate 2018 B Block Match
Big R Shimizu vs. Takashi Yoshida
Review: Our first block has Takashi taking on one half of our new Open the Twin Gate Champion, Big R Shimizu and his partner is Ben-K, who is fantastic and is on my A Block. And now for the match…it was a match, it unfortunately existed. This is not a good way to start your B Block and not even a good way to start your actual tournament! The only good thing about the match is that it was only three minutes as it was just sloppy with both of these guys, then again I'm not a fan of Big R or Takashi, but still the match was terrible. The match ended with Takashi trying to pull Big R off the turnbuckle to deliver a Powerbomb, but he kept holding onto the ropes and it looked messy until he lets go and….that's it, the match ends. Takashi gets two points and I won't get those three minutes match.
Recommended: No no no no, now time to cry in the corner again.
King of Gate 2018 A Block Match
Kzy vs. YAMATO
Review: You really can't go wrong with these two as they're some of Dragon Gate's best and I'm glad they're the main event of this show. Since it's been two months since I covered Dragon Gate, time for a quick little recap. Kzy was apart of the same group YAMATO was in called Tribe Vanguard and he recently left the unit since he felt like he was being held back and wanted to shine on his own to make his own group with "brother" YASSHI, Genki Horiguchi, Punch Tominaga, and Susumu Yokosuka as they're now officially called Natural Vibes and they formed on the April 6th show, I have to admit that I am a fan of this tag team and the change in Kzy, plus their dance is really fun to watch before the match starts, they even won the Open the Triangle Gate titles at the previous show (Kzy, Yokosuka, and Horiguchi). Now he looks to fight his former ally to prove himself that leaving Tribe Vanguard was good for him, also YAMATO changed his hair on me and it scares me… The match was nearly twenty minutes and it was fantastic, both men just worked wonderfully with each other, the story was good, the sequences were crisp, and it just gelled so nicely. Kzy showed that he can hang with the top guys and I have no doubt that he'll be in getting bigger title runs soon. YAMATO also showed why he was considered an ace at one point despite getting mix reactions, but no denying that he is good in the ring and he could use this tournament to get a proper rematch against him. YAMATO would get the win with the Almighty as he praised Kzy after the match saying he felt something special from him during the bout. Fantastic showing by both of these men.
Recommended: Highly recommended, go watch it now.
– One BIG problem with the network that I'm noticing and that is they don't have all of the shows on the network, meaning that it's gonna be hard to cover the whole tournament fully or even tell you if the matches were worth watching, but we will at least tell you the results. On the May 12th show, I only had a B Block match with Genki Horiguchi defeating Takashi Yoshida, gaining two points himself. All of this and more for 1500 yen a month by the way…
5/13/2018
King Of Gate 2018 Block A Match
Ben-K vs. Shun Skywalker
Review: Least with this show we get to see the match and this time it's with Ben-K, who is another one of my favorites in the promotion and can be the future of the company, it's amazing how great he is with about two years of experience in the ring. He's got the look, the talent, the charisma, he's gonna go far in this business for sure. Shun Skywalker has been impressing me lately and was surprised to see him in this tournament, but it's a good way to prove his worth and see if he can perform well with the top guys. The match was pretty solid for what it was as Shun actually did impress me in his match with Ben-K and has done very well holding his own in the match. Ben-K also did great, but it shouldn't be a real surprise since he's on the rise right now. Definitely a lot of good sequences and Shun definitely getting enough close calls to make him feel like he can be a serious threat, but it's not enough as Ben-K would hit him with an amazing Spear to get a win here.
Recommended: I enjoyed the match, very solid and a great ending.
– Of course it's happening again with the May 14th show and it appears our next live show isn't until the 19th…1500 yen folks. This really makes it hard to cover the whole tournament as now it feels like both mine and Andrew's coverage a bit hollow without most of the matches. I could've added three more matches on here to give you all a full article, but it doesn't appear to be the case here and we at The Chairshot completely apologize for this. If it was an actual tour, then I wouldn't mind as much, but the fact that it's for your big tournament that we're having this problem and that's not fair to the audience here who subscribe to the product. Get your shit together.
For A Block, Yasushi Kanda defeated YAMATO by Countout in five minutes.
For B Block, Takashi Yoshida defeated BXB Hulk to get his second win.
Overall: The shows could've been so much better, but the Dragon Gate Network really downgraded the expectations for this show, but I really hope it delivers at the end of it despite us possibly losing half these shows. If I had known this, then we probably could've just done it ourselves, but I'm still happy to be working with someone on it. Least two out of three matches were really good, so that's a plus.
Favorite Match: YAMATO vs. Kzy
Least Favorite Match: Big R Shimizu vs. Takashi Yoshida
Score: 7/10
A Block Standings:
YAMATO (1-1) (2 Points)
Ben-K (1-0) (2 Points)
Yasushi Kanda (1-0) (2 Points)
Kzy (0-1) (0 Points)
Shun Skywalker (0-1) (0 Points)
B Block Standings:
Takashi Yoshida (2-1) (4 Points)
Genki Horiguchi (1-0) (2 Points)
BXB Hulk (0-1) (0 Points)
Big R Shimizu (0-1) (0 Points)
Jason Lee (0-0) (0 Points)
---
Always Use Your Head and visit the official Pro Wrestling Tees store for The Chairshot All t-shirt proceeds help support the advancement of your favorite hard-hitting wrestling website, The Chairshot!

---
The Book Club: Why Kenny Omega Should Win at Dominion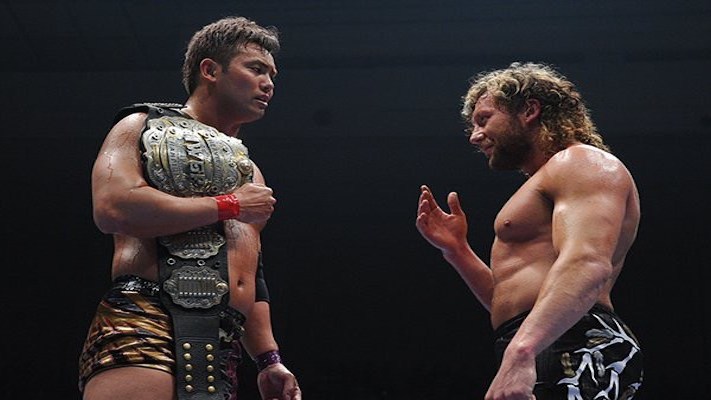 At the end of New Japan Pro Wrestling's Wrestling Dontaku show earlier this month, a match was announced that quickly made its way through the wrestling world over the next day.  On June 9, Kenny Omega will challenge IWGP Heavyweight Champion, Kazuchika Okada to headline Dominion, NJPW's next big pay-per-view.  It will be Omega's third shot at the title and his fourth encounter with Okada overall.  The two are currently deadlocked at 1-1-1.  Okada fended off Omega in their first encounter at Wrestle Kingdom 11, a 60 minute time limit decided their rematch at last year's Dominion, and Omega pinned Okada during their non-title G1 bout.
Fast forward to Okada standing in the middle of the ring following his match at Dontaku.  Okada had just beaten the record for most IWGP Heavyweight title defenses by defeating the previous record-holder, Hiroshi Tanahashi.  He openly addressed how nobody was coming out to challenge him and even listed off all his past opponents.  Okada then invited Kenny Omega out to the ring for a match that would finally settle the score, but this time with no time limits.  Kenny one-ups Okada's challenge by adding a 2-out-of-3 falls stipulation.  You know how the Big Bang Theory states that there was once nothing then a giant explosion created the universe?  That's basically what this match is for me.
Let's Book It
In short, I think it's finally time to put the strap on Kenny.  At Wrestle Kingdom 12 earlier this year, I was genuinely deflated after Tetsuya Naito took the pin from Okada in the main event.  I was anything but Tranquilo.  He was white hot and I was incredibly invested in him – maybe more than anyone in the world at the time.  I am aware that Naito has held the big belt before but that reign came and went, plus he didn't have as much momentum as he did in January.  I had a similar thought to Okada at the end of Dontaku: who else is left?  Los Ingobernables merch was flying off the shelves but they still refused to allow Naito to be the usurper.  They found some worthy opponents to roll out since then but Sanada, Zack Sabre Jr., and Tanahashi all fell to a flurry of Rainmakers just as the victims before them.  At this point, I can't imagine a more suitable challenger than Kenny Omega.  He has been Okada's most worthy adversary and one could even argue that Kenny has played a big part in getting more international eyes on the New Japan product.  The only other person I can envision being on Okada's level from an in-ring and marketing standpoint would be Kota Ibushi.
This brings me to my next point…
Imagine: Kenny dethrones Okada.  Kota Ibushi wins the G1 Climax this summer.  Now you have the Golden Lovers forced to put their relationship aside for the sake of their careers in the main event of Wrestle Kingdom.  We already saw how friends jostling for the spotlight can make for an instant classic.  Just look at the Golden Lovers vs Young Bucks match from Long Beach.  Sure everyone loves a good blood feud but there's just something deeper when you're forced to knee the one you love in the face.  We haven't really had an "I'm sorry, I love you" type of moment since Shawn and Ric made us all weep at WrestleMania.  Now is the opportunity.
My only issue with this plan is keeping Kazuchika Okada out of the main event.  Is just feels wrong, doesn't it?  He is the Rainmaker for goodness sake.  However, once the Naito-Jericho feud has boiled over it would be interesting to see Okada as Chris Jericho's next (and possibly final) target.  He even mentioned on his podcast, "Talk is Jericho" that his match with Kenny was originally supposed to be a technical classic before the storyline grew violent.  If you're looking to have a technical showcase, Okada is just the sparring partner for you! Plus, I don't think anybody would complain about an Omega v Ibushi & Okada v Jericho double main event at Wrestle Kingdom 13.
---
Always Use Your Head and visit the official Pro Wrestling Tees store for The Chairshot All t-shirt proceeds help support the advancement of your favorite hard-hitting wrestling website, The Chairshot!

---
Wrestle-1 Tour 2018 Cherry Blossom Results & Review (4/18/2018)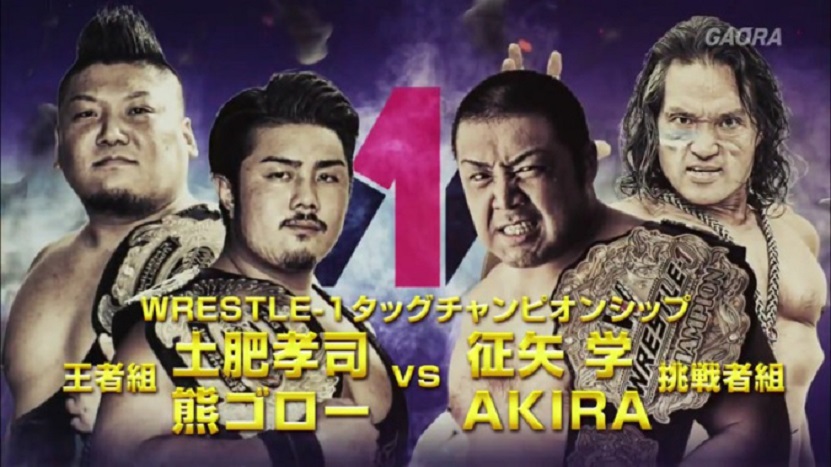 Hello and welcome to another Wrestle-1 Show with the Cherry Blossom tour. I was gonna do the one previous to this, but with too much having to cover and not much happening on that show, figured we would go right to this show where we have the return of Shotaro Ashino along with three title matches today, so definitely a stacked card and let's…dive right in.
Tag Team Match
Shotaro Ashino & Yusuke Kodama vs. Joji Otani & Masayuki Mitomi
Review: Ashino has returned to Wrestle-1 after losing his championship to Manabu Soya as he looks to build up more momentum before seeking his revenge on Manabu. This was actually a really solid match with both Joji and Masayuki working really well together here as a tag team while Ashino and Yusuke doing the same thing here and giving her great chemistry which is a great way to start off the show. Ashino, even without the title is still as aggressive as ever as he was taking out his frustrations on the opposing team here. Lots of exciting back and forth action, but Ashino would get the victory with his Ankle Lock on Masayuki and would walk away soon as the bell rings.
Recommended: Solid match, check it out.
Eight Man Tag Team Match
FUJITA, Kaz Hayashi, MAZADA & Ryuji Hijikata vs. Ganseki Tanaka, Jun Tonsho, Shunsuke Sayama & Tsugutaka Sato
Review: We get a eight man tag with the veterans taking on the future up and comers, but we got FUJITA and MAZADA on this team and not with NOSAWA while he has a tag match later on tonight, weird. Jun Sonsho looks just so skinny here like he's not even a hundred pounds soaking wet. But I feel like I had to put it out there and say, his attire looks a little similar to one of Natio's old ones even though his shorts are a solid red, but I think it's the boots that remind me.
Anyway, this match wasn't bad either as all eight of them would showcase the right amount of time they needed to do while still being a short and entertaining match here. Not a whole lot to talk about this match since it's an exhibition as FUJITA hits the SAYONARA on Jun for the win here.
Recommended: Give it a look if interested.
Tag Team Match
ASUKA & Hiroe Nagahama vs. Hana Kimura & Natsumi Maki
Review: Up next we have our women's tag match with Hana teaming up with Natsumi Maki who are called Actwres Girl'Z as they take on two people from Pro Wrestling WAVE, Hiroe and possibly one of my favorites in that promotions, ASUKA. ASUKA is nineteen years old and is a transgendered person (MtF), but she doesn't let that stop her from doing the thing she does and that's to wrestle, and she's also really good at it as she reminds me of a young Jushin Liger with how she moves in the ring. This girl has a fantastic future if she keeps working hard and not let what people say affect her. ASUKA and Hana going back and forth with the Big Boot was a joy to see and makes me wanna see them in one on one action soon and I hope we see that because that'll definitely be a great match to see.
Only con was we didn't see Hiroe really in this match at all since it was mostly ASUKA fighting both Hana and Natsumi, who are great by the way and not that I mind seeing more ASUKA, but also wanted to see what Hiroe could do also. ASUKA would get the win over Hana with a Chokeslam and I have a good feeling that Wrestle-1 will give us this one on one match soon. While I don't have this service, but Pro Wrestling WAVE does have a network if you're interested in what they got or if you're a fan of ASUKA, go to http://zabun-japan.com/wave_network/ to find out info about their service along with their shows and roster.
Recommended: Solid match, great women and teasing a future match.
WRESTLE-1 Result Title Match
Jiro 'Ikemen' Kuroshio (c) vs. Seigo Tachibana
Review: Our first title match of the night and of course it's my kawaii man, Jiro defending his Result Championship in his first defense again someone that has pinned him in a previous tour, Seigo as he looks to pin him once more and this time to claim the Result Championship. This match was just entertaining as the majority of it was just commentary and you know what? I had no issue with that since Jiro is charismatic and funny, and the crowd just loved it, so what more could you want? My main problem with Jiro is his selling can sometimes be off since he either sells really well or just hardly sells at all and it can be a little bit annoying at times, but he's still very enjoyable. We do get some wrestling in the match and some dirty tactics by Seigo due to being part of Enfant Terribles obviously, but his tricks would hardly work out for him and even got bitch slapped by Jiro's jacket and that was funny.
Ten minutes into the match, Seigo would hit Jiro in the head with a kendo stick and would proceed to roll him up, but Jiro would reverse it to roll him up as well which is calls the Ikemen Flash and he retains the Result Championship. I now kinda wanna see Jiro take on Shingo Tagaki for the Open the Owari Gate Championship since that will be funny and great to see.
Recommended: If you want good laughs and nice wrestling, definitely check it out as it's harmless fun.
Six Man Tag Team Match
Andy Wu, Takanori Ito & Jay Freddie vs. Masayuki Kono, NOSAWA Rongai & Shuji Kondo
Review: Another vet/NEW ERA match here and still confused why NOSAWA didn't have his partners in this match, but oh well. Andy Wu just gets abused throughout most of the match here, specially with NOSAWA attempting to rip his mask off of him and he actually did get close a few times since it almost ripped in half before he was stopped. The match was average with really nothing to talk much about as Shuji Konda would hit the King Kong Lariat on Jay Freddie to secure the win. After the match, Shuji Konda would give the NEW ERA an ultimatum to either split up for good or remain as they are, but Andy Wu said that they'll never die and refuse to split, but it appears Konda didn't like that answer. Curious to see where it'll go.
Recommended: Match is kinda skippable, but up to you.
WRESTLE-1 Cruiserweight Title Match
Seiki Yoshioka (c) vs. Alejandro
Review: This match I was definitely looking forward to after seeing how well Alejandro has been doing throughout the entire Cruiser Fes Tournament and gets to take on Seiki Yoshioka who I am a fan of on the roster, and it's finally for the Cruiserweight Championship as Seiki looks to have a fourth successful title defense here while Alejandro has been building up quite the momentum during the tour before this match, so let's see how it plays out. The match would start slow after Alejandro had a little offense in the beginning as Seiki would just toy with him during the majority of the match, slapping him around, kicking him down, pretty much not taking him seriously at all. But Alejandro would turn it around to get some momentum in the match and would even hit a Canadian Destroyer, but Seiki kicked out and I still hate when people kick out of that move and just treat it as a sequences more than an actual finisher now, sad really. It would finally start picking up a lot better in the last five minutes with nice back and forth action and some close calls thinking that this match could go either way, but Seiki would put Alejandro away with a Shining Wizard and end it with his SK, and still WRESTLE-1 Cruiserweight Champion. While the match wasn't fantastic, I thought it was really solid for what it was and I hope they get a rematch to try and top this encounter since both guys are really good. No new challengers stepped up to the plate to try and take the title from Seiki.
Recommended: Worth a view, really solid match.
WRESTLE-1 Tag Team Title Match
Koji Doi & Kumagoro (c) vs. AKIRA & Manabu Soya
Review: We have NEW ERA defending the Tag titles against AKIRA and the new WRESTLE-1 Champion, Manabu after they made their claim to go for the titles and still promising AKIRA that they would still have this match despite defeating Ashino at a previous show. This is my first time paying full attention to Kumagoro and I gotta say that he's not bad at all since he can work and can definitely see him going for the WRESTLE-1 Championship this year against Manabu.
I think it's crazy that AKIRA is 52 years old and he moves around like he's twenty years young since he gets great height for when he does his Dropkicks or Spinning Heel Kicks, and is just agile aside from those two things and all I gotta say is good for him. Manabu unfortunately didn't do too much in this match and it was a shame, but I guess they wanted the champ to not do too much and let AKIRA do most of the match since it's more his thing along with them strengthening their bond together since AKIRA was the one that helped motivate Manabu to fix himself. The tag mtatch was solid since everyone has done well with some nice spots despite the few little nit picks I had with the match with slow pacing and what appeared to be a botched ending. AKIRA hits his Musasabi Press on Koji Doi and it was a good way to end the match too, but it looked like Kumagoro broke it!
I think even though from where the angle was that he didn't even touch him, so they decide to do it again and this time they get the win and we have new champions. After the match, Kumagoro would attack his own partner and signaled that he is leaving NEW ERA as he now joins Ashino and Enfants Terribles while Ashino states that he wants the tag titles and picks his new member as his partner.
Recommended: Solid tag match, worth a view.
Overall: It wasn't a terrible show, but it wasn't great either since while most of the matches were solid, nothing really to write home about or say which matches stood out as amazing compared to their previous show I did which was much better.
Favorite Match: Jiro 'Ikemen' Kuroshio vs. Seigo Tachibana
Least Favorite Match: Andy Wu, Takanori Ito & Jay Freddie vs. Masayuki Kono, NOSAWA Rongai & Shuji Kondo
Score: 7/10
---
Always Use Your Head and visit the official Pro Wrestling Tees store for The Chairshot All t-shirt proceeds help support the advancement of your favorite hard-hitting wrestling website, The Chairshot!

---
Dragon Gate King of Gate Results & Ratings: Blocks C & D Part 1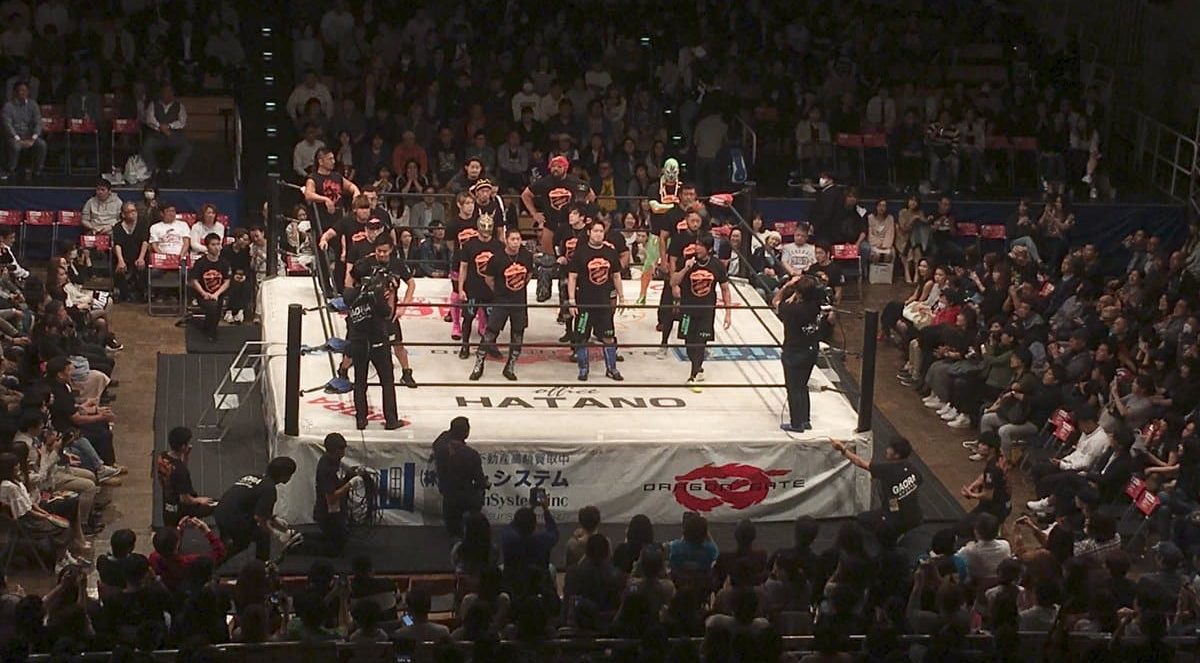 Okay, so right on the heels of the AJPW Champion Carnival, we are graced with Dragon Gate's largest tournament, King of Gate. The field is broken into four groups, which get boiled down to the four winners. The four block winners will pair off in semi-final matches to get to the finals. Also as a wrinkle this year, the two lowest point holders, will have a consolation match for overall last place.
Since we didn't do a predictions article, here's my guesses for the Final Four and overall winner.
A Block: YAMATO
B Block: BxB Hulk
C Block: Eita
D Block: Shingo Takagi
Overall Winner: YAMATO
So with all that out of the way, my articles will cover C & D Block. Whereas, A & B Blocks will be covered by Mathew again. A Block is pretty stacked, so definitely keep an eye on that one.
C Block:
5/8/2018
Naruki Doi vs Eita
Now this is fun since Naruki is a former tournament winner, and Eita has put on some very impressive matches.
This starts off as a typical face against heel match. ANTIAS continues to use their heelish tactics when Takashi Yoshida interferes and attacks Doi while on the outside.
Even though it started off a little simple, the match really picks up. We saw numerous top rope manuevers, submission attempts and strikes back and forth. It really looked like Eita was going to pick up the victory, but Doi showed the resilience of a past winner. After a near fall with his sliding kick, Eita went for a Frog Splash, but missed and got pinned after a Muscular Bomb.
Winner: Naruki Doi via Muscular Bomb
Rating: *** 1/4
5/12/2018 *Not Shown on Stream
Naruki Doi vs Punch Tominaga
Winner: Doi via Bakatare Sliding Kick
5/13/2018
Punch Tominaga vs Yosuke♡Santa Maria
We've go the Japanese George Jefferson, against Dragon Gate's Exotico Santa Maria. Now this may need some explaining, so let me say, Dragon Gate has a lot of Lucha Libre elements and Exocticos are one of them. Long and short, men that dress up in drag and are referred to in a feminine way.
So now as we get to the match, it's well…a match? Starts off a little slow, picks up with a few strikes and Santa Maria has a fantastic flurry capped off with a Spin-A-Roonie into a diving Triangle Body Press. Sadly though, the exotico had the most flair to her offense, but Punch ends up winning with a big Cross Armbreaker from the top turnbuckle.
Nothing overly special, but Santa Maria is actually a pretty polished high flier. Should be interesting to see if she gets more singles opportunities.
Winner: Punch via Flying cross armbreaker
Rating: **
5/14/2018 *Not Shown of Stream
Eita vs Punch Tominaga
Winner: Time Limit Draw (1 Point Each)
C Block Standings:
Naruki Doi 2-0 (4 Points)
Punch Tominaga 1-1-1 (3 Points)
Eita 0-1-1 (1 Point)
Dragon Kid 0-0 (0 Points)
Yosuke♡Santa Maria 0-1 (0 Points)
D Block:
5/8/2018
Masato Yoshino vs Shingo Takagi
This was a very hard hitting match, that saw the ANTIAS stable facing the MaxiMuM stable in first matches for their respective blocks. While I'm admittedly not well versed in the history between these two, since there aren't as many competitors in each block for King of Gate, every match matters. With only 5 men, in 4 different blocks, that means each match is 25% of your tournament hopes if you want to move forward.
After coming off a slightly disappointing, but still impressive run in the AJPW Champion Carnival, Shingo has a little bit to prove. This match went back and forth the entire times, trading strikes, chops and big moves. Also we saw ANTIAS work a little bit like LIJ from New Japan where they helped out Shingo on the outside by piling up chairs or causing distractions, but not being outright in the way.
Shingo had to throw literally everything at Masato, where after 2 Last Falconry attempts, Yoshino still kicked out. So Takagi laid him out with one more Pumping Bomber lariat, and finally picked up the pinfall victory.
Winner: Shingo Takagi via Pumping Bomber
Rating: **** 1/4
5/13/2018
Kagetora vs Ryo Saito
So I'm not totally familiar with Kagetora, but Ryi Saito is…quirky let's say. He lost the Owari belt and got his head shaved, purely to prove to Shingo that he's a good comedy wrestler. He really wrestles, on his own wave length.
This match is no different, with Saito starting off bowing and complying with Kagetora at one point by telling him to just fall down. After that we get an, okay match. A few submission attempts and a missed SaiRyo Rocket brings us towards the ending sequence.
We see both men spill to the outside, and take turns trying to hit the other and slide in, but they hit the apron at the same time and decide to trade blows instead of beat the count. So we get a double count out, which means no one gets points, and Saito raises his hands like he just won the match.
Sometimes…I don't even know.
Winner: Double Countout (no points)
Rating: * 1/2
5/14/2018 *Not Shown on Stream
Susumu Yokosuka vs Ryo Saito
Winner: Yokosuka via Jumbo no Kachigatame
D Block Standings:
Shingo Takagi 1-0 (2 Points)
Susumu Yokosuka 1-0 (2 Points)
Kagetora 0-0-1 (0 Points)
Masato Yoshino 0-1 (0 Points)
Ryo Saito 0-1-1 ( 0 Points)
---
Always Use Your Head and visit the official Pro Wrestling Tees store for The Chairshot All t-shirt proceeds help support the advancement of your favorite hard-hitting wrestling website, The Chairshot!

---