Dragon Gate King of Gate Results & Review: A&B Blocks Part 1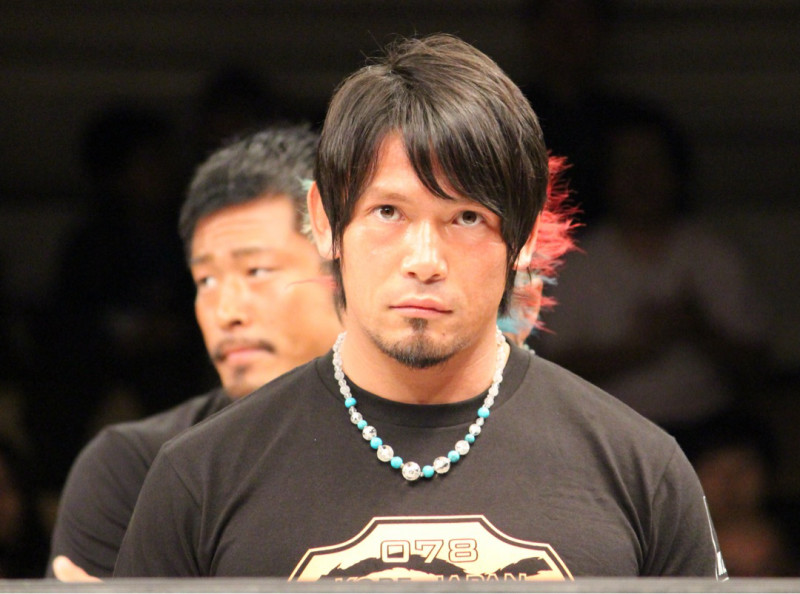 Dragon Gate makes its return to my coverage as they launched their streaming service last month and you can subscribe to it at dragongate.live if this promotion interests you.
However, this one is a bit more costly compared to the other streaming services since it costs 1500 yen a month if you want access to live shows and exclusive content unless you do 999 yen a month, but you only get archived stuff and any new shows will be up 3-4 weeks after it airs, which sucks.
Anyway, we have another tournament after AJPW finished their Carnival as Dragon Gate does their own version called King of Gate, which is a month long and four blocks instead of two, but there's five wrestlers in each block. So I will be covering blocks A and B while Andrew will join me again to cover blocks C and D. The winner of each block will fight in a single elimination match until they reach the final and the winner of that will fight the Open the Dream Gate Champion, Masaaki Mochizuki.
My Picks for Block Winners and Champion:
A Block: YAMATO
B Block: Big R Shimizu
C Block: Naruki Doi
D Block: Shingo Takagi
Overall Winner: YAMATO
Who will win their respective blocks? Let's find out and…dive right in.
5/8/2018
King of Gate 2018 B Block Match
Big R Shimizu vs. Takashi Yoshida
Review: Our first block has Takashi taking on one half of our new Open the Twin Gate Champion, Big R Shimizu and his partner is Ben-K, who is fantastic and is on my A Block. And now for the match…it was a match, it unfortunately existed. This is not a good way to start your B Block and not even a good way to start your actual tournament! The only good thing about the match is that it was only three minutes as it was just sloppy with both of these guys, then again I'm not a fan of Big R or Takashi, but still the match was terrible. The match ended with Takashi trying to pull Big R off the turnbuckle to deliver a Powerbomb, but he kept holding onto the ropes and it looked messy until he lets go and….that's it, the match ends. Takashi gets two points and I won't get those three minutes match.
Recommended: No no no no, now time to cry in the corner again.
King of Gate 2018 A Block Match
Kzy vs. YAMATO
Review: You really can't go wrong with these two as they're some of Dragon Gate's best and I'm glad they're the main event of this show. Since it's been two months since I covered Dragon Gate, time for a quick little recap. Kzy was apart of the same group YAMATO was in called Tribe Vanguard and he recently left the unit since he felt like he was being held back and wanted to shine on his own to make his own group with "brother" YASSHI, Genki Horiguchi, Punch Tominaga, and Susumu Yokosuka as they're now officially called Natural Vibes and they formed on the April 6th show, I have to admit that I am a fan of this tag team and the change in Kzy, plus their dance is really fun to watch before the match starts, they even won the Open the Triangle Gate titles at the previous show (Kzy, Yokosuka, and Horiguchi). Now he looks to fight his former ally to prove himself that leaving Tribe Vanguard was good for him, also YAMATO changed his hair on me and it scares me… The match was nearly twenty minutes and it was fantastic, both men just worked wonderfully with each other, the story was good, the sequences were crisp, and it just gelled so nicely. Kzy showed that he can hang with the top guys and I have no doubt that he'll be in getting bigger title runs soon. YAMATO also showed why he was considered an ace at one point despite getting mix reactions, but no denying that he is good in the ring and he could use this tournament to get a proper rematch against him. YAMATO would get the win with the Almighty as he praised Kzy after the match saying he felt something special from him during the bout. Fantastic showing by both of these men.
Recommended: Highly recommended, go watch it now.
– One BIG problem with the network that I'm noticing and that is they don't have all of the shows on the network, meaning that it's gonna be hard to cover the whole tournament fully or even tell you if the matches were worth watching, but we will at least tell you the results. On the May 12th show, I only had a B Block match with Genki Horiguchi defeating Takashi Yoshida, gaining two points himself. All of this and more for 1500 yen a month by the way…
5/13/2018
King Of Gate 2018 Block A Match
Ben-K vs. Shun Skywalker
Review: Least with this show we get to see the match and this time it's with Ben-K, who is another one of my favorites in the promotion and can be the future of the company, it's amazing how great he is with about two years of experience in the ring. He's got the look, the talent, the charisma, he's gonna go far in this business for sure. Shun Skywalker has been impressing me lately and was surprised to see him in this tournament, but it's a good way to prove his worth and see if he can perform well with the top guys. The match was pretty solid for what it was as Shun actually did impress me in his match with Ben-K and has done very well holding his own in the match. Ben-K also did great, but it shouldn't be a real surprise since he's on the rise right now. Definitely a lot of good sequences and Shun definitely getting enough close calls to make him feel like he can be a serious threat, but it's not enough as Ben-K would hit him with an amazing Spear to get a win here.
Recommended: I enjoyed the match, very solid and a great ending.
– Of course it's happening again with the May 14th show and it appears our next live show isn't until the 19th…1500 yen folks. This really makes it hard to cover the whole tournament as now it feels like both mine and Andrew's coverage a bit hollow without most of the matches. I could've added three more matches on here to give you all a full article, but it doesn't appear to be the case here and we at The Chairshot completely apologize for this. If it was an actual tour, then I wouldn't mind as much, but the fact that it's for your big tournament that we're having this problem and that's not fair to the audience here who subscribe to the product. Get your shit together.
For A Block, Yasushi Kanda defeated YAMATO by Countout in five minutes.
For B Block, Takashi Yoshida defeated BXB Hulk to get his second win.
Overall: The shows could've been so much better, but the Dragon Gate Network really downgraded the expectations for this show, but I really hope it delivers at the end of it despite us possibly losing half these shows. If I had known this, then we probably could've just done it ourselves, but I'm still happy to be working with someone on it. Least two out of three matches were really good, so that's a plus.
Favorite Match: YAMATO vs. Kzy
Least Favorite Match: Big R Shimizu vs. Takashi Yoshida
Score: 7/10
A Block Standings:
YAMATO (1-1) (2 Points)
Ben-K (1-0) (2 Points)
Yasushi Kanda (1-0) (2 Points)
Kzy (0-1) (0 Points)
Shun Skywalker (0-1) (0 Points)
B Block Standings:
Takashi Yoshida (2-1) (4 Points)
Genki Horiguchi (1-0) (2 Points)
BXB Hulk (0-1) (0 Points)
Big R Shimizu (0-1) (0 Points)
Jason Lee (0-0) (0 Points)