Dragon Gate King of Gate Results & Review: A&B Blocks Part 2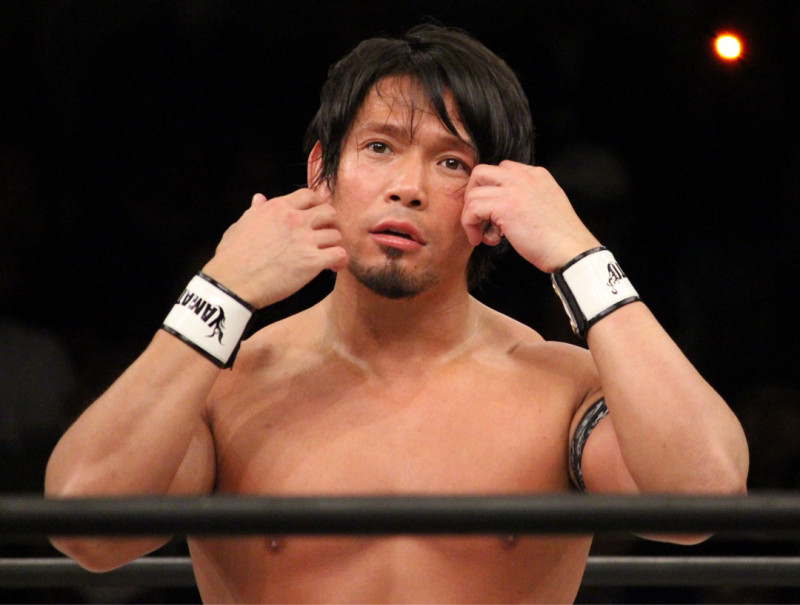 We are back with Dragon Gate as we continue talking about the King of Gate Tournament.
The last time I covered the first part of it, I only had three matches in the four shows that aired with two of them not airing at all, so it was disappointing to give people enough to read and for that I'm sorry for that. However, we have four shows that were aired on this one with about two not airing meaning I'll have plenty of content to talk about this time around for my respective blocks.
So let's get to it and…dive right in.
5/19/2018
King Of Gate 2018 Block B Match
Big R Shimizu vs. Jason Lee
Review: This is the first time I'll be seeing Jason Lee in a singles match since I saw him in the WWE Cruiserweight Classic and now I wanna see how much actual progress he's made since he's been doing fantastic in his run with Dragon Gate so far, way better than I expected him to.
His first match in B Block is against Big R, who lost in his first match, so he wants to get a win here to have points on the scoreboard. I gotta admit that this match went way better than I expected it to be compared to the last B Block match I had, Jason Lee just worked nicely with Big R in this match as his quickness was able to match Big R's strength to get some impressive chemistry in the bout. Big R went for his Shot-put Slam, but Jason Lee would reverse it to try and get the upset, but it wasn't enough. Jason did also hit a pretty nice Cutter catching Big R when he attempted to do a Splash off the top rope. After ten minutes, Jason's quickness wouldn't work here as Big R hits the Shot-put Slam this time to get his first win in the tournament.
Recommended: Very solid match, definitely worth a view.
King Of Gate 2018 Block A Match
Ben-K vs. Kzy
Review: Kzy is looking to avenge his loss to YAMATO as he looks to take on Ben-K who already had one win in his name after defeating Shun Skywalker. A victory here would definitely put him back in the race, while for Ben, it would give him the early lead. I love Natural Vibes entrance the more I see it and the unit is definitely growing on me with each match I see them in.
I believe this match is just as good as the Kzy and YAMATO match since both played their strengths beautifully here with one of our future stars and one known as the gatekeeper of Dragon Gate who is coming on his own with his faction. Not only Ben-K can be a powerhouse, but he shows a lot of his technical ability in his matches too to make him a bit unique while Kzy is more cunning with his speed and tricks to try and roll his opponent up if the opening is given to him. I've been noticing that they've been protecting the Ben-K Bomb lately as you don't see him hit it every time he makes an attempt here and I think it might lead to a big payoff in the future for him when the occasion would happen.
The last few minutes is when it started to get intense since neither of these two men would give up and wanna try to get the win fast before the time would run out. Ben-K would do a deadly Shoulder Tackle to send him flying and even hits a Spear to try and put Kzy away, but he kicked out of it. Kzy would also pull out some tricks with the La Magistrals, sick DDT, and a Frogsplash to try and get the win, but now Ben-K kicks out of it all. Kzy would take the big guy down and first hit a Swanton Bomb off the top, and then go over to hit a Frog Splash as he goes for the cover, Ben-K kicks out and the bell rings which gives us a draw. This was probably the best way to do it so it would protect both of these men without really hurting them with a pinfall loss, but now Kzy is gonna have to win his next two matches or he won't make it. Both get a point.
Recommended: Fantastic match, highly recommended.
– So the next two shows are not aired while the last three are aired. On the May 20th show which I only had B Block, Jason Lee picked up his first win by defeating BxB Hulk. On the next show which happened on May 23rd, for A Block Shun Skywalker would defeat Yasushi Kanda by Count-out and on B Block, BxB Hulk got his first win by defeated Genki Horiguchi while considered being mathematically eliminated since there's four matches for each person and lost his first two.
5/25/2018
King Of Gate 2018 Block B Match
Genki Horiguchi vs. Jason Lee
Review: This one is their third match each where a win here would give one a better chance of winning their block while the other one could be mathematically eliminated, so let's see who wants it more out of these two right here. One thing I see Jason Lee do in his matches that I absolutely love is when he's going back and forth with someone, he would randomly sit down in a meditating position to throw his opponent off guard and when they try to pick him up from behind, he does the Arm Drag,
I just find it both comical and creative at the same time. Another spot they did was that Jason would treat Genki's hair like an arm wringer, twisting it around til he would flip him over and thought it was pretty funny to see. Rest of the match was standard, but not in a bad way since they both hit some really good spots in the match like Jason hitting a Cutter off the top, but Genki still kicking out of it. Jason Lee would pick up his second win with a German Suplex Hold, giving him two more points as he now has one more match where if he wins. his chances of advancing are looking good for him and I kinda hope so.
Recommended: It was a nice match that should get at least one view.
King Of Gate 2018 Block A Match
Ben-K vs. Yasushi Kanda
Review: Up next is Ben-K taking Yasushi and despite his last match ending in a draw against Kzy, if he wins here then his chances of winning his block would increase quite a bit since the only one that has a chance of beating him would be YAMATO.
Kanda would start to attack Ben right away soon as the bell rings and it looks like he's trying to go for another count out victory like how he did with YAMATO, but Ben would still get back in the ring in time to save himself. My problem with the match is how slowly paced it was compared to his other matches and usually I don't mind it if it tells a good story, but this one sadly didn't so much since it was just nothing interesting in it at all. I like how they built up the Ben-K Bomb again in the match with having Kanda just reverse it so that we don't see it in here just yet. Kanda would try to rely on the countout again by making Ben-K go to the outside where he will attempt a Double Underhook Piledrive, but Ben would not give him that chance and then hits a vicious Spear on the outside, which gives him enough time to have Ben go back in the ring for a count out victory. Ben now has five points which makes him be in the lead with only one match left against YAMATO, so if YAMATO does lose that match against Shun then that would make Ben the winner by default unless Kzy can stack up two more wins and if Ben does lose to YAMATO if he does lose to Shun, but if YAMATO wins that match and beats Ben, then he'll move on regardless.
Recommended: I thought it was skippable and just slow.
5/26/2018
King Of Gate 2018 Block A Match
Shun Skywalker vs. Kzy
Review: So for this match, both of these men need to have a win here in order to stay alive since this is both their third match in the tournament while Kzy have one draw and one loss while Shun has just one win and one loss meaning Shun has a better chance to win if he gets the victory here, but either way there needs to be a winner here.
Shun would attempt to attack Kzy before the bell rings and it doesn't last long til Kzy starts to get the upper hand on him. I'm starting to like Shun as a performer, but I feel like he needs a change in attire since I feel like what he wear doesn't scream somebody that looks like he can be a future guy in the company despite having a solid ability. The match had plenty of fast pacing action between the two with some nice reversals and transitions into their moves and styles to add that nice factor into the match. Shun looked like he was going for a Reverserana off the top rope, but he turns it into a Sunset Flip Powerbomb to only get a two count on him. Kzy would start to get a bit serious as he looks to put him away with his Swanton Bomb and then going for the Frogsplash only for Shun to put his knees up to counter it, giving him a chance to go for the win as he rolled Kzy up three times while coming very close with the third attempt to only get a kickout. Kzy would work around it this time to hit a Canadian Destroyer which Shun kicks out of, but Kzy would get right back up to hit his Running Elbow Smash to get the win. Kzy would bow to Shun after the match to show his respect to him and then leaves the ring.
Recommended: I thought it was fun, but not as good as Kzy's previous matches against YAMATO and Ben-K, but still worth a view.
King Of Gate 2018 Block B Match
Big R Shimizu vs. Genki Horiguchi
Review: Another one where this is their third match and the winner of this match can give them a solid position in the standings as Big R has a win and loss and Genki with one win and two losses, but with Big R having one more match while this is Genki's last one meaning he's mathematically eliminated regardless, but he could still spoil it for Big R if he wins.
I didn't really see a whole lot to make this match stand out, but it was still an average match for what it was since their styles made it seem a little bit slow at times. Genki however is one I consider a bit underrated despite how the matches went since he can go in the ring and is enjoyable to watch when I see him, specially with Natural Vibes right now. Genki would attempt a Hurricanrana on Big R until he caught him to go for a Powerbomb, but then that also gets reversed into a DDT which looked nice, but not enough to put him away. Big R would then hit two Powerbombs to try and put him away only to have another kickout. Big R would then go for his Shot-put Slam only to be reversed for a Backslide which gives Genki a win, ending on a 2-2 record.
Recommended: Average match, but up to you if you wanna watch.
5/27/2018
King Of Gate 2018 Block A Match
YAMATO vs. Shun Skywalker
Review: YAMATO returns to action for his third match while this is Shun's final match on the block and is considered eliminated whether he wins or lose at this point, but he still could ruin YAMATO's chances here at least. If YAMATO does win then it would mean that only him and Ben-K can win the tournament despite Kzy still having one more match, so we gotta see how it plays out.
Shun would get the early lead over YAMATO as he would get him to the outside so he can jump off the top turnbuckle to dive onto him on the outside, and then he would have him in the ring to do a Springboard Splash, but only for a two count. YAMATO would then use his veteran experience to out wrestle Shun in the match with stiff Dropkicks and just other various strikes mostly. Later on in the match, YAMATO would go for a Frankensteiner only for it to be reversed by Shun to deliver one on his own and the back and forth between that looked solid. Shun would then take off his glove to smack the taste out of YAMATO's mouth and you can hear that slap too, but YAMATO would apply the Crossface which he calls CBV to make Shun tap out and YAMATO is now alive to fight Ben-K to decide the winner of A Block.
Recommended: Short and solid match, give it one view at least.
King Of Gate 2018 Block B Match
Big R Shimizu vs. BxB Hulk
Review: We FINALLY have a match with BxB Hulk that we get to see live since his other matches weren't aired at all. Despite the match happening, both of them are considered eliminated since both have only one win and two losses to make this their final match on the block while Jason Lee and Takashi Yoshida lead the block and have one more match together to see who will advance, so this is pretty much to see who will have three losses in their record.
The match started a bit slow again with some mat wrestling and a bit of chaining until they both went to the outside after Big R hits a mean Shoulder Tackle that caused Hulk to spin a little before he landed outside, Big R would also then hit his Splash from off the apron to the outside and that looked painful to see. You get some decent back and forth in this match, but again nothing memorable in the match since it felt pretty standard most of the time. Big R would get a huge pop near the end as he started to make his comeback and even hits his Shot-put Slam on Hulk, but Big R wouldn't cover him in time and it lead to Hulk kicking out at two. Big R would attempt it two more times, but Hulk would reverse each one, and gave him a combination of various kicks despite some of them missing, but he hits his Superkick which he calls First Flash and would get the win.
Recommended: Average match, so up to you.
This is pretty much it for the block since I found out that on the last two days of block matches will NOT be aired as the next show that'll be aired is when we have our Semi Final matches between the four block winners and it actually infuriates me and all for 1500 fucking yen a month. I don't mind keeping the service after this since when they do the bigger shows, they actually do deliver, but when it comes to the tournament shows like this, I probably won't cover something like this again due to half of them not airing on the network.
Anyway, on the May 29th show, YAMATO defeated Ben-K to be the winner of A Block and Takashi Yoshida defeated Jason Lee to win B Block. During the May 30th show, Kzy defeated Yasishi Kanda in a match that didn't matter since YAMATO still has the lead with six points.
Overall:  A Block definitely delivered except for Kanda, but the rest of them did very well and gave us quality matches. B Block was underwhelming and to me the one that stood out the most was Jason Lee and this made me hope he wins the block, but I don't think he will unfortunately. King of Gate as a whole has been underwhelming as well due to half the shows not airing and questionable outcomes in the four blocks with normally relying on count outs, especially in Andrew's C and D Blocks. I will talk about the winners of all four blocks in the next coverage since the Semi Finals will be aired next. And again, I would like to thank Andrew for helping me out at least despite the network not going in our favor.
Favorite Match: Kzy vs. Ben-K
Least Favorite Match: Ben-K vs. Yashushi Kanda
Score: 7/10
A Block Standings:
YAMATO (3-1) (6 Points)
Ben-K (2-1-1) (5 Points)
Kzy (2-1-1) (5 Points)
Yasushi Kanda (1-2) (2 Points)
Shun Skywalker (1-3) (2 Points)
B Block Standings:
Takashi Yoshida (3-1) (6 Points)
Jason Lee (2-2) (4 Points)
Genki Horiguchi (2-2) (4 Points)
BxB Hulk (2-2) (4 Points)
Big R Shimizu (1-3) (2 Points)
See you all for the Semi Final.