"Hey! It's like this now!" Naomichi Marufuji and Takashi Sugiura, the story behind the championship match of 2018.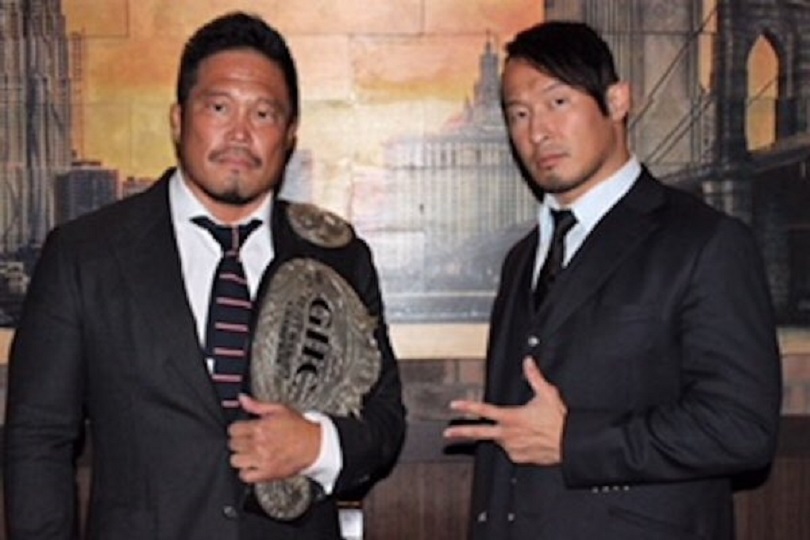 On the 23rd December 2015, Naomichi Marufuji faced Minoru Suzuki for the GHC Heavyweight title. Never before had this title been so precious as it was then to Noah. The GHC Heavyweight title is more than a belt; it is Mitsuharu Misawa's belt, it is a symbol of the company.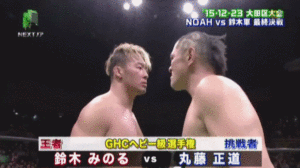 By 2015, Misawa had been dead six years and Noah were feeling the loss more than ever. A series of decline in business caused by company restructure following the tragedy in Hiroshima in which Misawa was killed, plus a revelation that the promotion had Yakuza ties, had hurt Noah badly. An alliance with New Japan was formed, and a storyline decided whereby The Suzuki Army would try and invade Noah, which would pit the two groups against each other.
By 23rd December 2015, New Japan held all the belts (except the GHC Junior Heavyweight Tag Championship which was held by Daisuke Harada and Atsushi Kotoge, and Taiji Ishimori had managed to win back the GHC Junior Championship that evening from Taichi); Kenta Kobashi made a special appearance at the beginning of the match and presented the belt to both men.
To Marufuji he gave a stern look as if to say "you know what this belt means, and you know what you must do".
Even Kenta Kobashi, who had had his own ups and downs with Noah recently, had his role to play in the preservation of the company against New Japan and The Suzuki Army.
In a fierce battle, Naomichi Marufuji used the Emerald Flowsion (Misawa's signature move and a move he doesn't often use) to put Minoru Suzuki away and regain the belt for Noah.
As The Suzuki Army withdrew up the ramp, Noah wrestlers surrounded the ring, and Kenta Kobashi presented Marufuji with the GHC Heavyweight title. Takashi Sugiura could be seen clapping in the background, he looked as if he was mentally preparing himself for what he had to do next.
Sugiura went to Marufuji, raised his arm as if in celebration and then gave him the Olympic Slam. He kicked over the trophy that all GHC Heavyweight champions receive after a defense, and then seemingly after a moment of hesitation, walked across the ring ripping his Noah t-shirt off and throwing it on him. Then he turned and walked up the ramp to where the Suzuki Army where waiting and put on the t-shirt they handed him.
There was something highly uncomfortable as Minoru Suzuki grabbed Takashi Sugiura and turned him round roughly to face the crowd and the ring. Takashi Sugiura didn't get on the microphone and explain himself, but his body language did the speaking for him. Where he wanted to be was with Noah, he looked sad, and while the Suzuki Army celebrated, he could only lift his arms half heartedly, no smile. No look of triumph.
Backstage in the post match promo, he looked blank and somewhat tired.
Sure, he could have refused, could have said he wouldn't do it, but Noah both in storyline and in true to life terms where fighting for their survival, and Sugiura (one of the three left in the company who had been part of the exodus from All Japan) understood how important this was. Sure, he would play the bad guy if he had to, and he would, but he never enjoyed it.
This wasn't Noah versus Noah, this was New Japan versus Noah, and he had to go along with it.
All Japan, (from where Sugiura came from originally) and New Japan have been traditional rivals for years, there was a time when being associated with one could get you fired, or even blackballed for life. The two promotions were forbidden to talk to or communicate with each other, and as late as the mid 2000s, veterans from both companies got annoyed if fans approached them wearing rival promotion merchandise. It was ingrained in them.
"I think that everyone knows it, but I did not enjoy the match last time. This time I want to show a match that only Marufuji and I can do"
Takashi Sugiura (May 2018)
There was to be no substantial title reign for Naomichi Marufuji. He was champion for only 39 days before Takashi Sugiura took the belt from him at "Great Voyage in Yokohama 2016".
There have been GHC title defences in the past where the champion has lost on their first defense, (Yoshihiro Takayama and Takeshi Morishima), but neither of them had to endure booking which involved chairshots or interference by seconds, seconds fighting with seconds and the ref getting knocked down, and in any case, this kind of booking was not a Noah staple. The match ended with Takashi Sugiura getting the win, not by athletic ability or a hard fought competition, but rather by chairshots to Marufuji followed by an Olympic Slam for the win.
Nothing of this was their own. Nothing of this was Noah. Sugiura even stuck his tongue out like Minoru Suzuki did as New Japan stormed the ring and beat Noah down. Even referee Nishinaga got punched out.
Marufuji lay on his back, spreadeagled and staring at the ceiling; he looked as if he wondered how it had come to this. Sugiura, meanwhile, stood by the turnbuckle away from him as more New Japan appeared and beat up on Noah. There was no enthusiasm at all from him, not even when he put his foot half heartedly on Taiji Ishimori. If anything, he looked as if he was checking on him.
The match picture was taken on a stamped on "Pro Wrestling Noah" banner next to a still immobile Naomichi Marufuji.
Takashi Sugiura made one defense of the title, before dropping it to Go Shiozaki in May 2016, after that Sugiura won it back in July and then lost it to young Katsuhiko Nakajima. By this time the alliance with New Japan had ended, and Noah were picking up the pieces.
"Takashi Sugiura is stronger this time, he doesn't need a chair, his body is a dangerous weapon. That is why I want to see a match which turns heads".
(May 2018)

Takashi Sugiura won the title back in March 2018, after he destroyed brash young Kenoh for it in Tokyo at "Great Voyage 2018 in Yokohama", the very same event in which he had known such humiliation in 2016. Naomichi Marufuji was not his first challenger, but rather Atsushi Kotoge who had competed as a heavyweight in the tag division. The match had two purposes; one to cement Kotoge as a serious heavyweight singles competitor (despite the cape and the fact he appeared to be talking to himself) and for Naomichi Marufuji (who had seconded Kotoge, a role he hadn't been required to do for years, being both a senior, a veteran and the Vice President of Noah) to challenge him for the title. Marufuji proposed that they put on a "GHC match, that only we can do".
By that, he meant he and Sugiura and Noah, no one else. It would be done to Noah's pace and to Noah's taste.
No one else's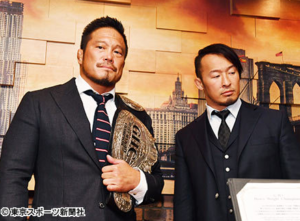 This will most likely be the last GHC Heavyweight run for both of them, and most likely the last time they will ever face each other for it. Marufuji has hinted that he may retire when he is 40 (which will be in 2019), and Takashi Sugiura, although he has made no comment on his own stepping down from the ring, is almost fifty; and both have the example of Misawa in front of them. This is their way of going out with a bang. For their last charge, they do not wish for their last match together to be one which was like a cartoon and very un-Noah like in its essence. It will be theirs, and it will ultimately be Noah's.
Whatever the outcome, the way will be clear for the next generation to rise, but the demons left behind from that night in Yokohama in 2016 need to be exorcised first by two men who deserve their final title match to be so much better.