Is IMPACT Wrestling On The Upswing?
Impact Wrestling – a name filled with speculation, turmoil and controversy. For a long period of time, Impact a.k.a TNA a.k.a GFW has been at the brunt of many jokes in the wrestling world. Whether it was trying and failing to copy WWE, employing WWE part-timers, not being able to pay talent and much much more, Impact did not feel like a legitimate promotion. Right now we're going to briefly go through every era of the company known as Impact Wrestling and see exactly why the Redemption PPV was an indicator of a huge upswing.
The Asylum Years
TNA first began as an affiliate of the NWA and ran weekly PPV programming. Through the arena referred to as The Asylum, this new promotion began to show some promise in the ashes of the fallen WCW. With Jeff Jarrett at the helm, this was the period in time where we saw some originality in TNA's presentation. The dawn of the X division very much made that individuality apparent as stars like AJ Styles  came into the fray.
TNA Impact Wrestling
As the ball started rolling in 2004, the best years of this company were underway in my opinion. 2004 through 2010 were my favorite years with Impact, as it felt edgier and overall distinct to WWE. Under the namesake of TNA, led by Sting, we saw stars emerge like Samoa Joe, James Storm, Bobby Roode, Petey Williams, AJ Styles, Christopher Daniels, Eric Young and many more young lions just trying to show the world that they had "it." This era is when the infamous X division title triple threat match took place- AJ Styles vs. Christopher Daniels vs. Samoa Joe. If you haven't seen that match, watch it. It's magic. Also not to mention how awesome and innovative the Knockouts division was with Gail Kim at the helm.
On the flip side of this, you had many big WWE stars jump to TNA. Although this would eventually plague the TNA product a bit, the initial benefits were rather exciting. Jeff Hardy and Christian came over early in the game to participate in  much deserved main event runs, while Kurt Angle trailed behind and debuted in 2006. From then on you had characters like Booker T, Kevin Nash, Scott Steiner and more come right into TNA. The Main Event Mafia storyline is still one of the strongest in TNA history, and it occurred without a hitch at first.
The Hulk Hogan Era
2010 is really when things took a turn for TNA. Hulk Hogan arrived in 2010, and with the addition of Hogan, TNA really amped up with their odd storylines and carbon copying of WCW and WWE. The first jab to the gut was the removal of the infamous six sided ring. This time from 2010 to 2014 saw the resurgence of the NWO in a stable called Immortal (basically). A terrible Jeff Hardy heel turn, and matches involving Ric Flair and Mick Foley. Nobody wanted to see any of those things, so therefore it did not work out too well.
Fast Forward to Now
After Hogan's departure in 2014, the company went through a tumultuous period from 2014 to pretty much right now in 2018. The product was saved at the end of the day by the likes of EC3, Bobby Lashley and most notably the Broken Hardy gimmick, but the company suffered many losses and many financial setbacks. This leads us to today and the landscape of Impact Wrestling.
Redemption
With the Redemption PPV earlier this year we saw a few things. We saw Impact Wrestling invent a new brand, we saw some surprise wins and we saw some great wrestling. No authority storylines, no BS, just a fun wrestling PPV. That has been a long time coming for the previously wavering Impact. The likes of Pentagon, Austin Aries, Eli Drake, Johnny Impact and others have revitalized Impact to how it was in it's golden age. Wrestlers putting on the best show they can.
From all the setbacks, it seems that Impact is finally back on track to delivering a solid wrestling program. They started to focus more on the performers and their abilities, and it clearly paid off in one of the best PPV's that company has done in so many years. The addition of lesser financial troubles also probably help as well.
It took a long time, but Impact now has the ability to go up after digging itself out of that Hogan-sized hole. Was Hogan's trek to TNA exciting? It sure as hell was. But did it do anything great for the company? Absolutely not. Through rebranding to GFW to going back to Impact Wrestling in the last few years, Impact is now back on track and I look forward to watching more as it attempts to be a solid alternative to WWE and NJPW.
Carol: Should Shane Be WWE Champion?
Shane seems poised to be Mr. McMahon 2.0. Does that also give him a free pass to grab the title this year?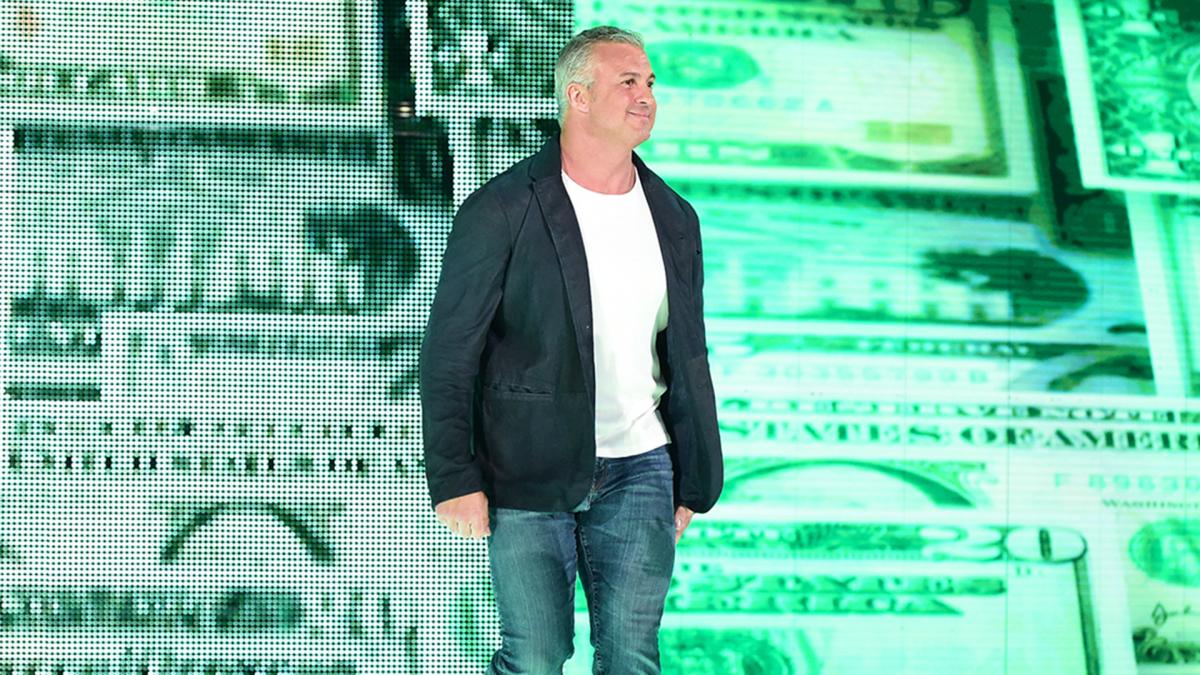 Shane seems poised to be Mr. McMahon 2.0. Does that also give him a free pass to grab the title this year?
The McMahon family is known to be egomaniacs, both on and off screen. One member of the McMahons who has made his presence known on weekly television is Shane. When Shane returned to WWE after a seven-year hiatus, fans were ecstatic to see their favorite McMahon back on television. Yet, that excitement has now waned since Shane is hogging the spotlight.
Shane's push began back at Crown Jewel, where he replaced an injured Miz in the tournament to win the award to call him "The Best In the World." Since then Shane's been the center focus of SmackDown as he proudly proclaims his new title of being the best.
After beating The Miz at WrestleMania, Shane has set his sights on destroying WWE's top star Roman Reigns. With the help of Drew McIntyre, Shane has managed to beat down The Big Dog.
So what's next for Shane if he and Drew after they're finished with Reigns?
Well, if the rumors are true, Shane may challenge Kofi Kingston for the WWE Championship.
I'm like the rest of you; I am against the idea of Shane being WWE Champion. Yet, don't be surprised if WWE actually goes this route.
In the past, we've seen members of the McMahon family win championships. Shane is a former tag team, European, and Hardcore champion. Yet, unlike his father and brother-in-law, he's never held the WWE Championship. But that could change depending on the direction of his storyline.
Shane loves to brag that he's the best in the world and with him being unstoppable, he feels like he can do anything. So the next logical step in his plan is to get his hands on the WWE Championship.
With the Scottish Psychopath in his corner, Shane has the upperhand in his quest for the gold. McIntyre could easily take out Xavier Woods and Big E, giving Shane the opportunity to pin Kofi. Winning the WWE Championship would further increase Shane's ego along with earning him more boos from the crowd.
Having another McMahon hog the championship belt would bring a lot of heat. WWE has been in a creative slump as of late and Shane's title win could go either way. It could set in motion new challengers, who are looking to take down Shane McMahon. Or the fans' hatred towards Shane will continue to grow with him as champion and lead to more viewers tuning out of WWE television.
As I stated earlier, I'm against Shane McMahon winning the WWE Championship, yet I've come to expect the worst in WWE these days, so it's only a matter of time before he's holding the belt.
Personally, I'd like to see the championship opportunity given to Shane's henchman Drew McIntyre. Drew's long overdue for a singles career and championship run. Maybe with Shane as champion, this will open up the opportunity for Drew to break free from his role as enforcer and stake his claim as a championship contender.
Tiffany's Takes: WWE NXT (6-19-19)
After weeks of silence, what is the state of the NXT championship and of Undisputed Era?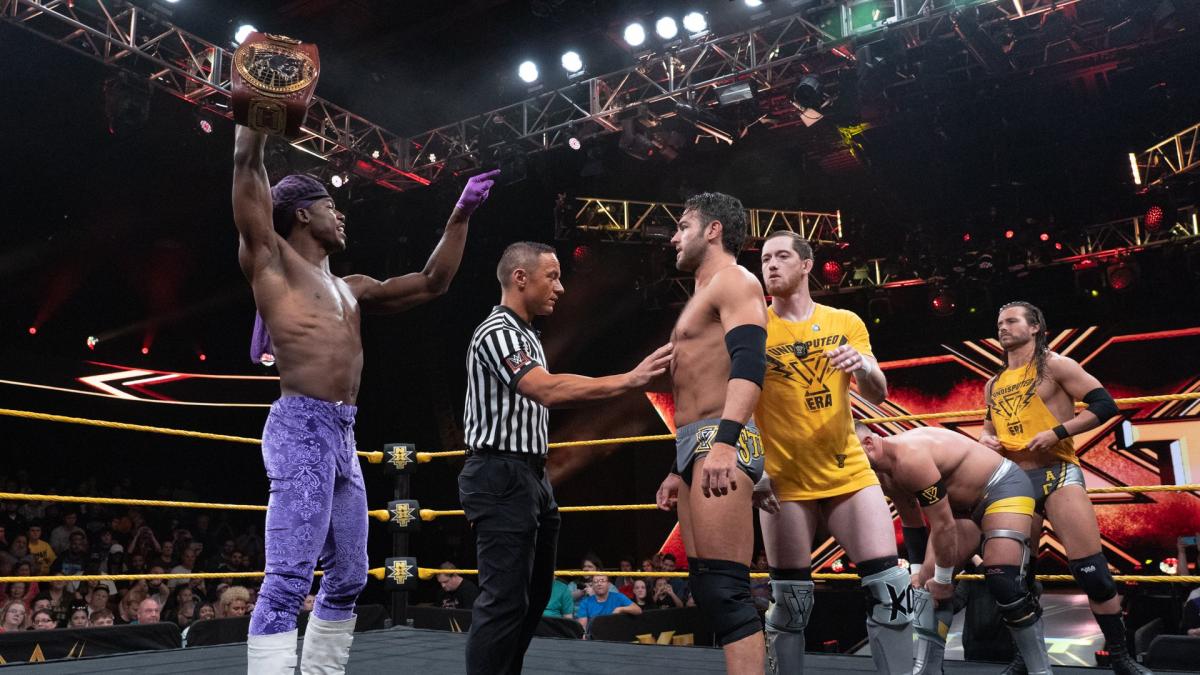 After weeks of silence, what is the state of the NXT championship and of Undisputed Era?
Undisputed Era vs Everyone: I'm not an Adam Cole fan, but I'll admit that he at least shares the joy with his buddies. I like that UE is making this a win for all of them, rather than just Cole even though he was the only one to win at TakeOver XXV. I had been beginning to doubt whether UE could get back to their winning ways, especially with all the descent between Strong and Cole, but it seems like everything's good for now. Also, love that they're using the Championship as a stepping stone to get the rest of the male titles.
I do have a question: Where's Johnny Gargano? We've finally heard from Cole, but there still hasn't been a peep from the former champ. What is going on?
The six man was REALLY good, even though Dream, Breeze, and Riddle seem like extremely strange bedfellows, they worked really well together, but they weren't the team that the Undisputed Era are, and that was the decider. I was really happy Strong got the pin and that things seem good in Undisputed Era, but I'm not sure things will stay that way for long.
NXT Tag Team Division: I like that the Street Profits are touting themselves as the People's Champs of tag team wrestling, but with Forgotten Sons and Undisputed Era both gunning for the titles, I'm not sure the love of the fans is going to be all that helpful.
NXT Women's Division: I loved Mia Yim's promo on Baszler, I think a lot of people have overlooked Yim since she hasn't been featured prominently on NXT since her debut, but she's easily one of the best female performers in the promotion. I can't wait for her and Baszler to lock up again.
When I saw that Taynara Conti and Xia Li would be locking up, I was immediately intrigued because a match between two badass martial artists is either amazing or a trainwreck. Unfortunately, the match wasn't long enough for either woman to really show their stuff. It was still an okay match, but I was hoping for more from both women.
Breakout Tournament: I LOVE this idea. One of the biggest complaints against WWE, in general, is that the rosters are so big, only a few people get any TV time, so for there to be a tournament exclusively for guys who haven't been on TV to get a chance in the sun is an idea I can get behind!
Damian Priest vs Raul Mendoza: So after weeks of promos and speculation. Punishment Martinez, now known as Damian Priest, made his debut by beat the holy hell out of Raul Medoza, who put up a pretty valiant effort. I'm usually very skeptical about newcomers who were big in ther promotions because they never seem to live up to the hype, but I was impressed by Priest. We'll see what happens down the road, but he's probably going to be NXT Champ before too long.
Overall Comments: That was a really good episode! Cole is finally back in NXT and everything is getting set up for the summer heading into SummerSlam weekend.
I loved how the Undisputed Era is building on Cole's success, but I don't think all's well in the kingdom given Strong and Cole's issues with each other. I think that will come to a head down the road.
Gargano's continued absence puzzles me since it's really unusual, even for NXT, for a former champ to go almost a month without some kind of promo or rematch.
I wish Conti vs Li had gotten more time.
I can't wait for the big cage match next week.
The Breakout Tournament is genius and I can't wait to see those matches!
That's it for Tiffany's NXT US Takes! Tune in Sunday for Stomping Grounds coverage!