Ja' Von's Impact Wrestling Live Report (5/24/18)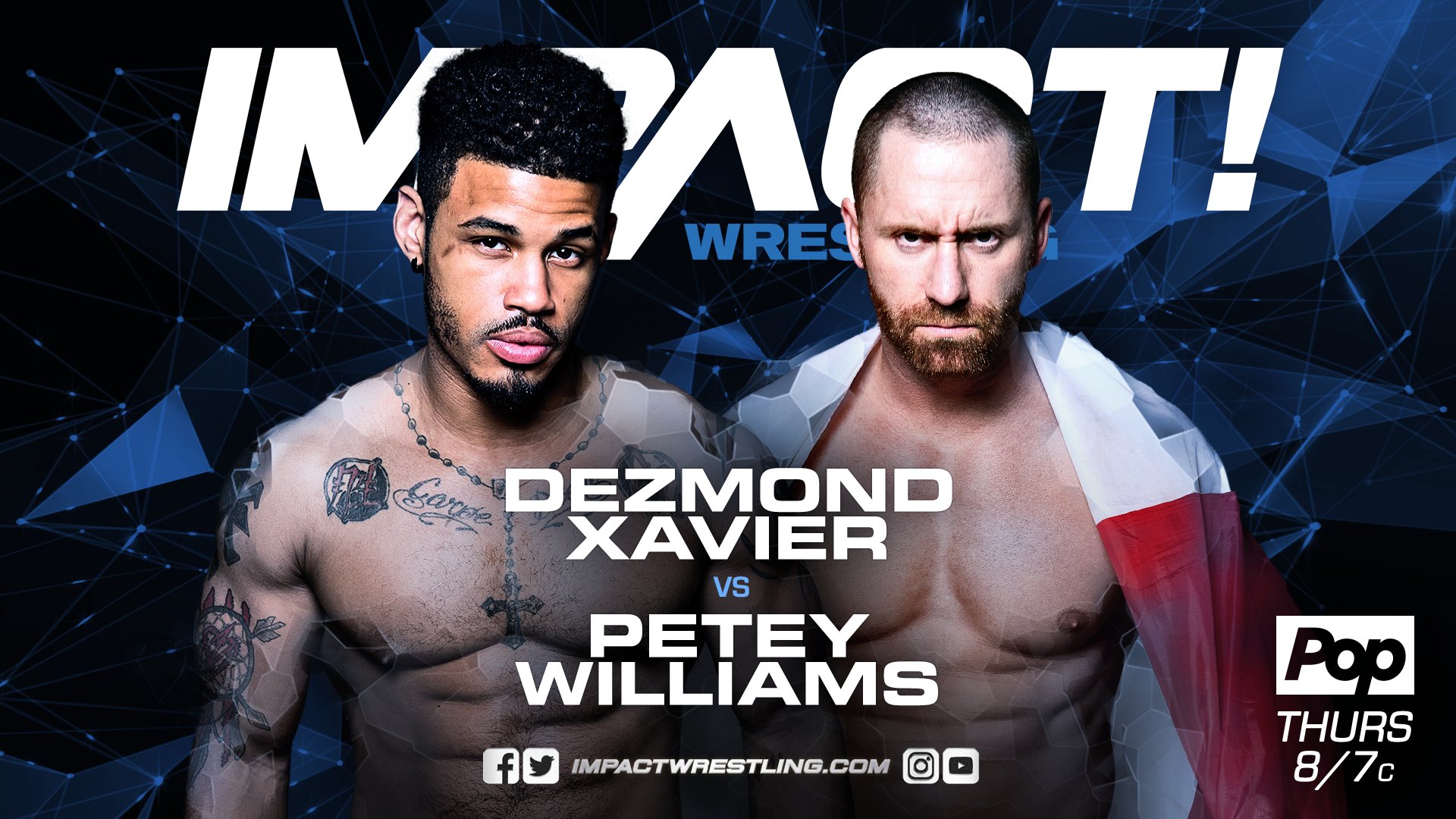 Quick Results:
oVe vs Drago and Aerostar: oVe via DQ
The Cult of Lee vs LAX: The Cult of Lee via pinfall 
Matt(c) vs El Hijo Del Fantasma(X-Division Championship): STILL X-Division Champion Matt Sydal via pinfall 
Dezmond Xavier vs Petey Williams: Dezmond Xavier via pinfall 
Moose vs Kongo Kong: Moose via pinfall
Play by Play:
Impact opens with a recap video of what went down last week.
oVe w/Sami Callihan vs Drago and Aerostar:
oVe along with Sami Callihan make their way to the ring for their match. Both Drago and Aerostar make their way to the ring. Drago gets things started early by flying over the ropes taking out oVe and Sami.
.@DragoAAA starting this match off hot! #IMPACTonPop pic.twitter.com/3z8ZuV5ORG

— IMPACT (@IMPACTWRESTLING) May 25, 2018
Aerostar then hits La Bomita. Drago makes his way back in the ring but is met with a big boot from Jake Christ. The bell finally rings and Jake tags in Dave and he goes on the attack of Drago. He then tags back in Jake who puts Drago in a chinlock and wears him down then tags back in Dave. Dave puts Drago in his corner and goes on the attack. Drago finds himself on the outside and Sami gets a cheapshot in. Dave tags back in Jake but Aerostar finally gets back in the match for the save. Jake is able to tag back in Dave and they take it to both Drago and Aerostar. The luchadors eventually take control and get a nearfall on Dave Christ. During the match it is shown that Eddie and Alisha Edward's have arrived at the Impact Zone. Alisha is pleading with Eddie to stop but Eddie comes out with a kendo stick and attacks the Christ Brothers causing the DQ. Eddie then turns his attention to Sami which leads to refs and security to hold him back from attacking Sami.
What a stark visual.

A deranged, obsessed @TheEddieEdwards attempting to choke the life out of @TheSamiCallihan.

This is not the same Eddie Edwards we've known in IMPACT for the last four years. #IMPACTonPop pic.twitter.com/w6d0d7JnUD

— IMPACT (@IMPACTWRESTLING) May 25, 2018
Eddie then snaps and attacks the refs and security guards with the kendo stick.
Winners: oVe via DQ
Alisha and Eddie are backstage and she wants to know why he is acting like this. Eddie says this is not over until he destroys Sami Callihan.
LAX vs The Cult of Lee:
Trevor Lee and Caleb Konley make their way to the ring for their match against LAX. LAX make their way to the ring still without Konnan. LAX has been on a losing streak since Konnan disappeared at the Redemption PPV.
Is tonight the night @Ortiz5150 and @SantanaLAX get things back on track? #IMPACTonPop pic.twitter.com/UFrPDZ8XPM

— IMPACT (@IMPACTWRESTLING) May 25, 2018
Trevor Lee and Ortiz start the match. Lee jumps Santana on the apron and Caleb jumps Ortiz. Yhe match breaks down a bit with the cult of Lee getting the advantage on LAX. The match spills to the outside but this is where is LAX mount a comeback. Santana taking the fight to Trevor and Ortiz racking the back of Caleb. The match makes it's way back into the ring and Trevor Lee gets a one count on Ortiz then tosses him into a corner and begins to stomp him as we go to break. We are back from break and Caleb is in control of Ortiz in the corner with the kicks and chops. Caleb jawjacks Santana which distracts the red and allows for Trevor to get a cheapshot on Ortiz. The Cult of Lee is firmly in control of this match and Caleb kicks Santana off the apron while Trevor punts the face of Ortiz who was recently thrown on the outside by Caleb. The ref is distracted by Santana but Caleb goes for a cover and gets a nearfall. Caleb then tags in Trevor but LAX seems to finally take control of this match. Trevor tags out but is still taken out by LAX and Santana hits a death valley driver on Caleb and get a nearfall as Trevor bulldozers in to break up the pin. In the closing moments of this match LAX takes out Trevor Lee and look for a wheelbarrow double team maneuver but Trevor trips up Ortiz and Caleb rolls up Santana for the win.
From March 23rd, 2017 to April 21st, 2018 – over a year – @SantanaLAX and @Ortiz5150 only lost four matches.

Since #Redemption on April 22nd they've lost four matches in a row. This is unprecedented for them. #IMPACTonPop pic.twitter.com/LkvABDTP7m

— IMPACT (@IMPACTWRESTLING) May 25, 2018
Winners: The Cult of Lee via pinfall 
McKenzie Mitchell interviews Jimmy Jacobs and Kongo Kong. Jimmy saysthat Impact is a funny place and says he is not a bad guy. He then speaks about Grado accusing them of the attacks so they had to teach him a lesson. He says he wants to see Kongo Kong break Moose into a million pieces for saving Grado from the post match attack. Jimmy says he's a princess and always gets what he wants.
KM and Fallah Bahh are backstage and runs into Grado and Katerina. They want to know how he got a girl like her and she says that she is chubby chaser.
McKenzie Mitchell interviews Madison Rayne backstage about what happened last week. Rayne says she was happy to be back in Impact but she was suppose to be a commentator not an in ring competitor. Tessa interrupts the Madison's interview and says that she is just a stay at home mom and needs to know her place and that the next time they meet will be in the ring.
McKenzie Mitchell interviewsthe new tag team champions and they DJZ said that they were underestimated but overcame the odds. The former champs interrupt the interview calling it a fluke and that they slipped on a banana peel. More tension is teased between Eli and Scott as they argue with each other and Scott blames Eli for them losing the titles. They storm off separately.
Matt Sydal(c) vs El Hijo Del Fantasma(X-Division Championship): 
Fantasma makes his way to the ring to attempt to dethrone the champion. Matt Sydal makes his way to the ring to defend his championship. They start the match with a handshakeand Sydal wanting Fantasma to open up his third eye but he is having none of it. Fantasma with the go behind gets the advantage of Matt but Sydal counters and shows off by sitting in the middle of the ring.
.@findevan will find any opportunity to center his chi and open his third eye. #IMPACTonPop pic.twitter.com/lCk1yokUE6

— IMPACT (@IMPACTWRESTLING) May 25, 2018
They jawjack watch other and Sydal is able to get a wristlock on Fantasma but Fantasma is able to escape then locks in a headlock on Sydal. Matt is able to escape and the match begins to pick up speed as Fantasma ends up on the apron. He then climbs up to the top and knocks down Sydal. He then hits a tilt a whril backbreaker on Sydal. Matt is able to gain control of the match and begins to wear down Fantasma. He then begins to focus on the left knee of Fantasma. Matt hits the ropes and comes off them and is caught by Fantasma who launches him in the air but lands on his feet and rocks Fantasma with a big kick. Fantasma is able to fight back and gain control of the match and drives Sydal out of the ring and looks to set up for the thrill of the hunt suicide dive but turns it into a baseball slide and stands tall as we go to break. Back from break Fantasma drops Matt Sydal face first on the steel steps. He then drives Sydal head first into the steel ringpost thenbrings him back in the ring. He heads to the top rope and goes for a high risk maneuver but comes up empty as Sydal rolls out ofthe way. Matt then goes to the topand looks for Air Bourne but misses and still lands on his feet. Fantasma fights back and is able to lock in a modified Indian death lock. Sydal is able to get to the bottom rope to break the hold. In the closing moments Matt is able to drive Fantasma into the mat justlike in all his other matches to pick up the win and retains his title.
AND STILL IMPACT X-Division Champion – @findevan.

The Chemical Imbalance gives @findevan another win! #IMPACTonPop pic.twitter.com/4i97MxROrS

— IMPACT (@IMPACTWRESTLING) May 25, 2018
Winner and STILL X-Division Champion: Matt Sydal via pinfall 
LAX is in the clubhouse mad and throwing stuff cause of their losing streak. Hernandez comes in and tells them that Konan was jumped but he is ok cause Homicide is with him. He also assures them that everything is ok.
A video package is shown about Pentagon Jr. winning the World Title. Aires is heared talking about the loss and hyping up the rematch for the world title next week at Under Pressure.
No one has been attacked this week and Don Callis has talked to the authorities and they have no leads on who the attackers are.
The winner of the Dezmond Xavier vs Petey Williams match will earn an opportunity to face Brain Cage next week. The winner of the match next week will face Matt Sydal for the X-Division Title.
Dezmond Xavier vs Petey Williams:
Dezemond makes his way to the ring for the match. Petey makes his way to the ring. They shake hands to show sportsmanship. Petey with the go behind but Dezmond hits him with a back elbow and they have a stand still for a bit.
.@iPeteyWilliams and @DezmondXavier have each other's big moves scouted. #IMPACTonPop pic.twitter.com/wgwA1hqJtW

— IMPACT (@IMPACTWRESTLING) May 25, 2018
They go back and fourth but Petey gets the advantage with a tilt a whirl headscissors. Dezmond then goes for a big kick but Petey moves out the way then looks for the Canadian Destroyer but Dezmond escapes and goes tothe outside for a breather. Dezmond gets back in the ring and the match picks up speed and Dezmondlands a dropkick for a nearfall. Petey is able to fight back and gains control of the match by hitting a dropkick of his own and is standing tall as we go to break. We're back from break and Petey is in control of the match and is taking it to Dezmond laying inpunches Xavier. Petey locks in a side headlock and wears him down then knocks him down and goes for a cover and gets a nearfall. Peyey then get another nearfall on Dezmond. Petey puts Xavier in the corner and stands his time which is his downfall as Dezmond knocks him down then goeson the attack hitting adelyaed dropkick which sends Petey out of the ring then followedup by a tope con hilo. They bring it back in the ring and Petey isable to kickout of a pinattempt. In the closingmoments of the match Dezmond countersthe Canadian Destroyer and hits him with a handstand kick to theside of the head for the win.
.@DezmondXavier picks up the win in incredible fashion with a moonsault kick! #IMPACTonPop pic.twitter.com/Lb2SjRxfcx

— IMPACT (@IMPACTWRESTLING) May 25, 2018
Winner: Dezmond Xavier via pinfall 
A video package is played showing Allie reading the note she received weeks ago and looking at the voodoo doll. The video also keeps kicking back to the funeral of Rosemary. The end of the video shows Allie dressed as Rosemary. The Knockouts Championship between her and Su Yung is now a Last Rites Match.
Moose vs Kongo Kong:
Moose makes his way to the ring for the match.
UP NEXT – @TheMooseNation vs. Kongo Kong! #IMPACTonPop pic.twitter.com/ujC4AlskVK

— IMPACT (@IMPACTWRESTLING) May 25, 2018
Kongo Kong makes his way to the ring ALONE. While making his entrance he keeps looking back at the ramp to see if Jimmy will show as we go to break. Back from break the bell rings and we have a collar and elbow tie with Kong getting the better of it by shoving Moose back. They go again and Kong pushes Moose back again. Kong then goes on the attack and takes down Moose. Moose with kip up hits Kong with a dropkick then knocks Kong the outside but Kong lands on his feet. Moose then runs at Kong but he side steps and shoves him into thering steps. Kong then hits a cannonball on Moose. Jimmy is not outside to guide Kong so he goes backin the ring looking for a countout. Moose barely getsback in the ring tobreak the count. Kong stays on the attack by tossing Moose into the corner then hitting a running splash on him. Kong then wears him down with a shoulder grip but Moose fights back. Moose looks to take down Kong but Kong counters and takes down Moose for a two count. Kong stays on the attack on Moose by wearing him down and hitting big shots. Moose asks for more then hits a headbutt followed by a running dropkick in the corner. Kong fights back and gains control of the match by hitting a neckbreaker across the knee for a nearfall. Kong goes for the top rope splash but comes up empty. In the closing moments of the match Moose hits a powerslam on Kong then a big spear for the win.
An ABSOLUTELY HUGE Spear by @TheMooseNation gives him another momentum building win. #IMPACTonPop pic.twitter.com/IpU8pvKuTI

— IMPACT (@IMPACTWRESTLING) May 25, 2018
Winner: Moose via pinfall 
After the match Jimmy Jacobs is shown to have been attacked.
My Take: The show was great and hyped up Under Pressure that is next week. Four profile matches were hyped and other storylines as progressed tonight. Overall tonight was a great show.
My Score: 8/10
Chris' IMPACT! Wrestling / Border City Wrestling Motown Showdown Results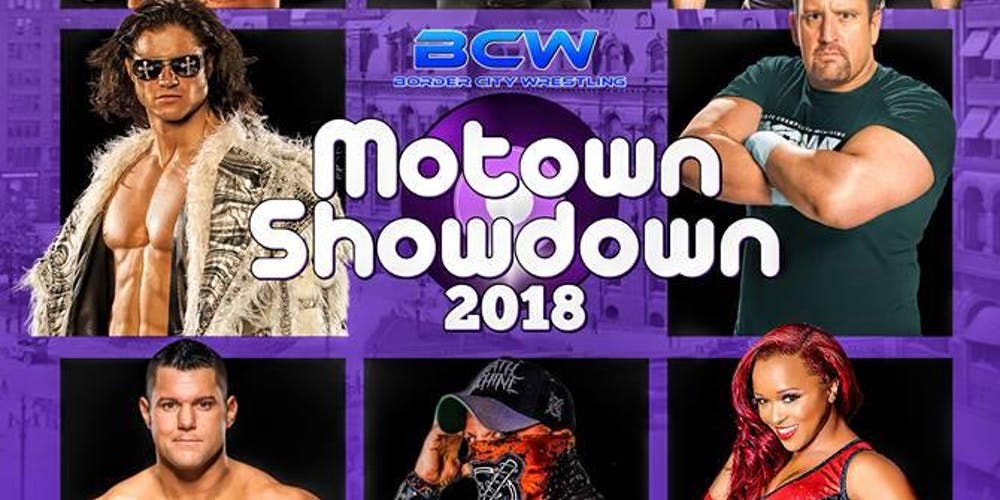 IMPACT Wrestling teams up with Border City Wrestling to present Motown Showdown, live on Twitch.tv
QUICK RESULTS
Halal Beefcake d. RJ City & Jake Something – Idris Abraham pinned RJ City after an assisted splash
Mad Man Fulton d. Movado – pin fall, swinging face buster
Scarlett Bordeaux d. Gisele Shaw – pin fall, backpack piledriver
Eli Drake d. Zach Gowen – pin fall, Gravy Train
Petey Williams d. Ace Austin, Matt Sydal and N8 Mattson – pin fall on Ace Austin, Canadian Destroyer
Sami Callihan d. Ace Romero – pin fall, roll up while in submission hold.
Eddie Edwards & Tommy Dreamer d. John Bolen & Johnny Swinger – pin fall, Eddie pins Bolen, DDT
Kongo Kong d. D-Lo Brown – pin fall, chokeslam
Johnny Impact d. Moose – pin fall, Starship Pain
---
IMPACT! / BCW Motown Showdown
Josh Matthews and Scott D'Amore are in the ring to welcome us to Bellville, Michigan for Motown Showdown!
A bigger arena and a larger crowd than they had the last time they did a Twitch special, thats for sure.
RJ City & Jake Something vs. Halal Beefcake [Joe Coleman & Idris Abraham]
RJ grabs a mic and says he wishes they weren't on Twitch because it needs to be heavily edited because he didn't get the applause he wanted. RJ asks Jake a question, but won't let him answer. RJ says they should cut to the point that he hits his finisher and comes back to sing a song for everyone.
Idris Abraham used to be on IMPACT! television and still rocks his very large afro. Coleman comes to the ring with a huge jar of protein powder.
Abraham and RJ City start off in the ring. RJ lets Idris know where he can put his handshake and tags in Jake. Something punches and kicks away before choking Idris with his foot. Jawbreaker by Idris breaks him loose and he tags in Joe. Coleman with a reverse atomic drop, and a couple dropkicks. Something whips Coleman across and City buries a knee in his back. Coleman knocks him off the apron and fights back.
RJ pulls Coleman down in the corner and splits the difference with the ring post, and tags back in. Stomps away and tags back in Joe. Jake holds a chin lock as Joe fights to his feet. RJ tags back in as they assault Joe in the corner. Flatliner by RJ as Joe tries to cross the ring. Coleman comes out of the next corner with a spear.
RJ tags John, Joe tags Idris. Idris off the ropes and hits a flying forearm. Drop toe hold on both men, he calls in Coleman who does push ups off their backs. All four men in the ring fighting now, as Idris picks up Joe for the Celtic Cross! RJ stops a double team move and Jake hits a Blakc Hole Slam on Idris before RJ tags himself back in. Jake decides he has had enough of taking orders and clocks RJ City with a right hand!! Coleman slams Abraham onto RJ City for the 1-2-3!!!
Your winners: Halal Beefcake (pin fall)
Bound For Glory video package
Mad Man Fulton vs. "The Mysterious" Movado
D'Amore says Fulton is a Sami Callihan protege. He looks like him, but is over 300 pounds!!
The actually misspelled Movado's name on the graphic to "Mavado"
Fulton over powers Movado in a collar and elbow tie up a few times before MOvado starts using his speed advantage. Moved does some rapid left hand right hand chops, and then does a worm across the ring to set up a charge in, which is interrupted by a savant kick from Fulton. Lots of chops, one off the ropes gets Fulton a two count. Moved then starts chipping away but is interrupted by a knee and a clothesline. Rolling sexton by Fulton also gets two.
Fulton goes up to the second rope, but Movado gets his knees up. Clotheslines from Movado can't take the big man down. Shots to the midsection, and then a drop kick to his knee. Back to the left right chops in the corner, another worm, and a dropkick to Fulton in the corner. Movado then does a handstand splash for two. Off the ropes, Fulton hits a Samoan Drop. Then off the ropes he hits a swinging face buster for the 1-2-3
Your winner: Mad Man Fulton
Chris Jericho's Rock 'n Wrestling Rager at Sea video package
Bound For Glory Knockout's Title Match video package
Gisele Shaw vs. Scarlett Bordeaux
This was supposed to be a three way match with Keira Hogan, but since she was put in the coffin on Thursday, she is a late scratch, so its a one-on-one match now.
This is Scarlett's first official televised match with IMPACT!
Gisele talks smack to start, and then poses for the crowd. Scarlett them poses and the crowd cheers loudly. Gisele goes to a mild reaction. Scarlett goes again and the crowd erupts. Gisele again, but goes for a cheap shot and Scarlett takes advantage. Lou These press, and then dumps Gisele over the top rope and kicks her to the floor. Scarlett goes up top, and hits a HUGE cross body block to the floor!!
Scarlett tosses Gisele back in , covers for two. forearms exchanged, and then chops by Gisele in the corner. Scarlett reverses things, and whips Gisele off the ropes, reversed, and then hits a head scissor take down. Scarlett hits a scoop power slam followed by an elbow for two.
Scarlett hits a Stinger Splash in the corner, goes for a butt attack, by Gisele rolls to the outside. Scarlett goes for s suicide dive by Gisele hits a forearm and pulls Scarlett outside and hits a suplex on the floor. Gisele puts Scarlett back in, covers for one. Gisele kicks Scarlett's ribs, then hits a gut buster for two. Gisele hits a standing duplex, hold son to roll into a second, then hangs Scarlett on the second rope for a twisting DDT for two. Gisele then goes up and misses a moonsault from the second rope, as Scarlett rolled out of the way.
A series of clotheslines from Scarlett, then rams Gisele into her backside and the second buckle. Running butt attack and Scarlett, she covers for two. Scarlett gets rolled up, one count, rolls back, now count, and Gisele hits a big boot for two. Gisele talks smack and slaps Scarlett, who spits in her pace! Scarlett gets a single leg take down and hits a sexton splash. Scarlett then hits a cradle DDT for a two count!!
Gisele then hits a sweeping back breaker, but can't make the cover. Gisele charges in with a spear and covers for two. Now Gisele is visibly frustrated. Scarlett hits some forearms then positions Gisele on her back for a backpack piledriver for the 1-2-3!!!
Your winner: Scarlett Bordeaux (pin fall)
Bound For Glory Concrete Jungle Death Match promo video
Up next is the Eli Drake Dummy Challenge…
Eli comes out first and almost falls off the ropes posing for the crowd. Eli gets a microphone and says its not Detroit Rock City, no, when he's there its E-Li-Drake City. Says tonight he has a first class ticket on the gravy train for whoever wants to come out. Out comes ZACH GOWEN to answer the challenge!!!!
Eli Drake vs. "The One Legged Wonder" Zach Gowen
Eli gets his microphone back, makes fun of the crowd, before saying this is what's wrong with the wrestling business. Says no on in the crowd can do what he can, but day after day he sees Dummies, Yeah, with no athletic prowess, and now he's looking at someone who doesn't even have enough limbs to do this. He admires that he thinks he can do this, but we need to be honest, he's got one leg and he's facing E-Li -Drake, it just ain't gonna fly. Thats not an insult, thats just a fact of life. Tells him he would be smart to just go.
Bowen gets the mic and says welcome to Detroit, bitch! Says he's going to fin donut what happens when a one legged man challenges you to a butt kicking contest.
Bowen starts rolling and chasing down Eli, who ducks onto the apron. Back in they go face to face and he shoves Gowen down. Bowen with a school boy, into a front face lock, Eli rolls him up for one. Eli trips him, Gowen eggs off and Eli stops, telling Gowen to get up. Eli kicks him as soon as he's up, and continues to beat him down. Pounds away with forearms into a chin lock, Gowen back up and hits a jawbreaker. Eli kicks him again and goes for a slam, Gowen floats in for a two count. Eli with a slam and covers for two. Eli now stomps away at Zach, picks him up and shoulder blocks in the corner. Headlock and punches from Eli, but Gowen catches him with a boot on the way back in. Off the second rope, Gowen hits a dropkick, both men down.
Eli charges across and misses a shoulder charge, then Gowen ducks and sends him over the top rope. Eli misses another charge to the ropes, goes for a DDT, but Eli sidesteps and hits a forearm shiver. Eli goes for the Gravy Train but Gower rolls him up for two. Gowen hits a jawbreaker again, then goes up top for a moonsault, but Eli moves out of the way. Eli then kicks the one leg out from under Zach, picks him up and hits the Gravy Train for the 1-2-3
Your winner: Eli Drake (pin fall)
Bound For Glory video package
Global Wrestling Network video package
Matt Sydal vs. N8 Mattson vs. Ace Austin vs. Petey Williams
Fatal Four Way X-Division Match, I will try to keep up…
Matt talks smack to start, getting everyone to open their third eye. He then sits in the corner, telling everyone else they can go at it. Sedan then drags Petey out of the ring and they brawl on the floor. Ace and N8 face off in the ring. Single leg take down by Ace for one, then another cover for one again. N8 and Ace both hit a shoulder block and go down. N8 goes off the ropes with a senton, Ace roles out, Petey in.
Petey whipped to the corner, floats over N8 and goes off the ropes in to a head scissor take down. Drop toe hold onto the middle rope and Petey hits a dropkick to N8's back. Petey sets N8 into the tree of whoa, by Matt attacks from behind. Petey hits a mule kick, and then a drop toe hold, dropping Matt onto N8's crotch. Petey with a sharp kick to N8's face takes him off the buckles as well. N8 rolls out, now its Petey and Matt in the ring.
Matt with an arm drag and a kick to the back, Ace in, but gets the same combination. Ace with a drop toe hold, and a dorp kick and a kip up. Ace goes off the ropes and hits a plancha onto all three other men on the floor. Ace throws N8 back in, and logs on a leg choke, Petey then adds a Sharpshooter to N8, and Matt comes in with forearms to Petey, then locks a crossfire on Ace Austin. All men then release their holds.
Petey grabs N8, and whips his to a corner. N8 gets his feet up, charges out and eats a boot from Petey. Blocks the supplies attempts by Petey, but then forearm finds its mark. Ace Austin comes off the top with a dropkick to both men, and then a slingshot, handstand and a kick to Matt's face on the floor, all without leaving the apron!!
Matt then crawls under the ring, Ace looking for him, and gets attacked from behind by Matt. Matt throws Ace back in, N8 covers for one. All three men square off, with N8 and Matt attacking Ace. N8 and Matt try to outdo each other's chops on Ace, then Matt with a thigh kick. N8 whips Matt to Ace, who lofts him over the top, Ace fights off N8 and then Matt drops Ace.
Ace starts fighting back against Matt and N8, hits dropkicks, until Matt blocks and hits one of his own. Ace fights back again until N8 hits a knee to the gut. Ace reverses the corner charge and hits big boot, cover by Ace for two. Ace then goes up to the top, Matt Sydal cuts him off and hits him to the floor. Petey then hits a slingshot codebreaker on Matt, then a tilt a whirl side Russian leg sweep on N8 for two. Petey with a cradle face buster on Matt and calls for the Canadian Destroyer. Sets up on Matt, by N8 hits a face buster on Petey, then goes up top, and hits a leg drop from the top on Petey for two.
Ace with a kick to N8, then a face buster on his knees, covers for two. Ace whips N8 across, Petey interrupts, hits apoop up power bomb. Goes for the Destroyer, Matt interrupts with a knee strike. Ace Austin comes in Sydal blocks his kick and gets one of his own. Sedan hits his finisher, but N8 interrupts and hits a blue thunder bomb and gets a two before Petey Williams breaks up the pin fall. Petey and N8 reverse each other, Ace hits a blockbuster on N8, Petey hits the Canadian Destroyer on Ace Austin for the 1-2-3
Your winner: Petey Williams (pin fall)
Chris Jericho's Rock 'n Wrestling Rager at Sea video package
oVe Rules Match Bound For Glory video package
Ace Romero vs. Sami Callihan
Ace Romero weighs in at almost 500 POUNDS tonight!!! He's the man from the viral video who hit The Pounce that launched his opponent into the crowd!
Callihan starts throwing chairs and some 8X10s into the ring, and the referee cleans them out as Sami enters. Sami charges in with a kick, but a second charge and Ace hits a DROPKICK that knocks Sami out of the ring. Sami moves but Ace is in hot pursuit on the floor. Sami gets on the apron and hits a kick, then Ace pulls him down by the leg. Ace then hits a kick to the fact of Sami. Ace then begins climbing the turnbuckles but misses a leg drop to the apron off the second rope.
Back out to the floor, Sami hits some chops and sets Ace up against the post. Sami then spits on his hand and goes for a chop, but Ace ducks. Ace goes for the same and Sami ducks. Both men exchange punches on the floor. Sami then hits a kick and Ace hits a European uppercut that decks Sami. Ace breaks up the count out, goes back to Sami who jams the eyes. Sami parts the crowd and hits a punch on Ace, sitting him onto chair. Sami then spits on his hand, charges in with a huge chop. Headlock control on Ace and another straight right to the face. Sami charges again but this time with a big boot. Sami motions thats he's going around the world, betakes his lap around the ring, but Ace gets a boot up on Sami when he returns. Ace then hits a sexton splash on the floor on Sami!!
Ace finally throws Sami back in the ring picks him up, but Sami starts kicking away at Ace's thighs and chopping his chest. Sami goes for a power slam, but Ace doest move. Sami hits a big boot, but again goes for a slam and gets nothing. Ace then scoops up Sami, hits a slam and a senton for two. At this point, some of the arena lights go off, as Scott and Josh joke about it. Sami flips off Ace, so Ace tells Sami to screw him, and hits another senton splash for two.
Ace picks up Sami, but he rakes the yes, tries for a German, Ace with the switch, and Sami tries for a sunset flip. Ace goes to sit on Sami, Sami moves, Sami hits an elbow on Ace for a one count. Sami funds away with rights and lefts and removes his wrist tape. Sami locks on a reverse chin lock but Ace stands up and walks Sami back first to the corner, then back s up again, then misses a splash. Sami is the finally able to get Ace in the air for a bodyslam, but both men are down.
Sami off the ropes with a clothesline, and another, and another, but Ace won't got down. Ace responds with chops until Sami hits a big boot, and Ace chases him down and hits a huge clothesline to take down Sami. Ace then hits a sit out power bomb for two.
Ace sets Sami on the top rope and follows him to the top. Sami slips out and hits asuperkick to Romero's ankles. Sami gets back under and hits a top rope Death Valley Driver and Ace kicks out at one!!! Ace is the first back to his feet, but slaps from Sami, he goes off the ropes and Ace hits  big boot and locks on a rear naked choke. Sami then floats over and pins Ace down for the 1-2-3
Your winner: Sami Callihan (pin fall)
Sami grabs a mic and begins an O-V-E chant.
IMPACT! returns to Windsor, Ontario in March 2019 ad
Video package for Eddie Edwards vs Moose at Bound For Glory
Johnny Swinger & Jon Bolen vs. Eddie Edwards (w/Kenny the Kendo Stick) & Tommy Dreamer
Eddie will start with Bolen, as they circle and lock up. Off the ropes, Bolen levels Edwards with a shoulder block. Headlock take over and another shoulder block for Bolen. Eddie hits an atomic drop, then rings the arm of Bolen and Bolen gets out and tags Swinger. Eddie tags in Dreamer.
Swinger wants a test of strength, Dreamer doest want to, but eats a kick and a shoulder block from Swinger. Dreamer gets an arm drag and a shoulder block of his own. Dreamer then hits the American Dream punches and the atomic elbow. Arm ringer by Dreamer as he hammers away at Swinger. Swinger breaks out and tags in Bolen. Arm drag by Dreamer and Eddie comes in then tags Dreamer back in. Double team off the ropes with elbows and a double elbow drop, kick out by Bolen at one.
Dreamer and Eddie take turns tagging in and working over Bolen, Bolen then charges Eddie who low bridges the ropes, Bolen lands on his feet on the floor and Eddie dives out onto him. Eddie then calls for Dreamer to dive as we'll. Crowd chants E-C-W as he runs across, steps out of the ropes, and punches Bolen.
All four men start brawling on the floor, and Dreamer and Swinger head up the steps of the ramp. Dreamer spits beer in to Swinger's face and tells the crowd to clear the way. Swinger funds away at Dreamer and Tommy falls off the balcony onto the chairs below. On the other side, Bolen has Eddie. Swinger gets Dreamer back in the ring, Swinger drops the elbow and works over Dreamer on the mat. Bowen tags back in and works over Dreamer in their corner. A big elbow drops Dreamer off the ropes.
Bolen locks in a reverse chin lock and Dreamer gets to his feet, but Bolen pulls him down and covers for two. Dreamer gets whipped into the corner and Bolen tags in Swinger. Swinger starts stomping away and hits an elbow dos on Tommy for one. Tommy charges out of the corner with a cross body, both men are down. Tommy tags in Eddie, Swinger tags in Bolen.
Eddie levels his twice and chops away. Puts Bolen in the corner, but eats a boot and then Eddie hits a front face duplex and a huge double handed chop, into a cover, broken up by Swinger at two. All four men in the ring again, Eddie and Tommy mount their men for corner punches and then both get bit for their troubles.
Dreamer looking for a DVD, Swinger reverses and gets Kenny. Swinger misses Tommy who hits a cutter and gets Kenny. Bowen hits a side slam on GDreamer from behind and Eddie gets Kenny. Eddie hits a Bolen with Kenny and a DDT for the 1-2-3
Your winners: Eddie Edwards & Tommy Dreamer (pin fall)
Eddie grabs a mic after and attempts to start a "You Still Got It" chant with no luck.
Tommy then grabs the mic and and says that everyone thinks Eddie is crazy, but he's proof that if anyone grew up watching ECW you are hardcore and crazy, and he loves him for that!
Bound For Glory video package
GWN video package
Kongo Kong vs. D-Lo Brown
D-Lo talking smack to start, then starts with the forearms. Goes to slam Kong, but can't lift him. D-Lo then kicks and forearms away, but still can't slam Kong. D-Lo calls for a test of strength, Kongo raises his hand, but its much too tall for D-Lo. D-Lo then begins making Kongo dance, then kicks away, and attempts another unsuccessful slam. Kong whips D-Lo across and hits a huge back body drop.
Kong stomps away in the corner, then pounds the back of D-Lo against the ropes. punches exchanged, D-Lo still can't slam Kong. Kong hits a running splash on D-Lo, then a belly to belly that gets a two count. Kong then hooks the face of D-Lo against the ropes. Kong whips D-Lo corner to corner, but D-Lo moves and begins punching. D-Lo goes for another slam, but Kongo shifts his weight and falls on Brown. Kong gets up, then goes for a pin and gets two. Kong then hits a sexton, and a splash on D-Lo on the ground, smothering him into the mat.
D-Lo goes under the ropes, Kong follows with an axe handle to the back. D-Lo gains control on the floor, puts Kong against the ring post, but Kong moves and Brown headsets the post. Kong then splashes D-Lo against the post on the outside. D'Amore asks "remember when wrestlers used to get counted out of the ring??"
Kong puts D-Lo back in, and D-Lo starts fighting back. D-Lo goes for Sky High and can't get Kong up. Kong drops D-Lo in a corner and then goes and hits a running bowling ball splash in the corner. Crowd chants "one more time" for Kong, Kong goes to splash D-Lo, but he moves out of the way and hits several clotheslines in the corner. D-Lo finally hits the scoop slam in the middle of the ring.
Kong back to his feet, sidestepped D-Lo's charge and Brown hits the post. Kong then follows with a headbutt and a chokeslam, and Kong covers for the 1-2-3
Your winner: Kong Kong (pin fall)
Bound For Glory video packages
you can hear the producer yelling "music!" and someone saying back "I don't have it" before the main event starts. Finally the music starts playing
Moose vs. Johnny Impact
Moose gets referee Johnny Bravo to open the ropes for him so he can enter the ring.
Impact duck behind, Moose switches, and into a headlock. Off the ropes, Moose hits a shoulder block, misses a sexton, Impact misses a moonsault, both men kip up and face off. Trash talking starts from both me in the center of the ring. Impact shoes Moose, who returns the favor and the men come to blows. Impact hits an arm drag or two off the ropes and then a dropkick hits its mark.
Moose rolls out, Impact goes over the top but lands on the apron as Moose moves. Impact switches sides and hits a topei on Moose to the floor. Moose then thumbs both eyes of Impact before collecting himself. Moose grabs a chair, but the referee takes it away. Impact hits Moose and slams him face first in to the apron. A fan then holds Moose as Impact scores a right hand. Moose and Impact then brawl into the crowd and up the entrance ramp in  front of the bar.
At this point, the crowd is in the way and you can see nothing.
You then see Moose go for a summersault through a table, but you can't tell if Moose hit Impact, Impact put Moose through the table, or Impact moved out of Moose's way.
Impact then brings Moose back down the entrance stairs, obviously he came out the better of the table exchange. Impact throws Moose back in the ring, gets a drink of a fans beer, but then Moose welcomes him back to the ring with a low blow.
Moose then goes ground and pound on Impact, and then both men struggle to get back to their feet. Moose begins the chops and whips Impact hard into the buckles. A couple more chops from Moose but misses the third and Impact throws uppercuts and jabs. Moose chases Impact out and hits an European uppercut, Impact follows with a low knee, misses the Shining Wizard, Moose with a school boy in to a power bomb and gets a two count.
Moose stomps away at Johnny, picks him up, and chops him back down. Moose picks Johnny back up, and chops him down again. Moose then goes to the second rope and goes for the Moose-sault, but Impact moves out of the way.
Both men back to their feet and start exchanging blows. Impact hits two flying elbows and a leg lariat to take Moose down. Standing shooting star press gets a two count. Impact positions Moose and heads up to the top rope. Johnny goes for the Launch to Impact, Moose moves, he rolls through and hits a kick to Moose's midsection, followed by a swinging neck breaker for two. Johnny picks up Moose, but he's met with a chop, and delivers a receipt. Both men exchanging blows again, Moose pulls off the glove, but Impact hits a super kick. Off the ropes, Moose hits a pump kick, Impact hits a step up enziguri, Moose hits a headbutt and then Impact  hits an Impact Kick, leaving both men down again!
Moose charges Impact in the corner, eats a boot, but hits a Go To Hell on Impact for two! Moose now goes up to the top rope,  Impact meets him with a right hand and heads up as well. Impact goes for a superplex, Moose blocks. Moose then bites Impact to get him off, but Impact comes back and hits a Spanish Fly off the second rope, but Moose kicks out at two!!
Impact then drags Moose to a corner, calls for Starship Pain. Goes for it, Moose rolls away, Impact lands on his feet, but Moose hits a pop-up powebomb, but cannot capitalize. Moose rolls out of the ring to collect himself. Moose grabs another chair, and brings it in. Referee Bravo takes this chair away as well, but Moose grabs the original chair and hits Impact in the head!! Bravo comes back and Moose covers, but only gets two!!
Moose gets Impact up, misses The GameChanger, but eats a drop kick from Impact and Moose runs into the referee. Impact gets a school boy but theres no referee to count. Moose then kicks a field goal like low blow on Impact in the middle of the ring. Moose grabs the chair, kicks the referee in the face, hits the mat, and tosses the chair to Impact a la Eddie Guerrero. Impact realizes what Moose is doing, wraps the chair around his own neck and lays down as well. Referee Bravo is confused. Moose swears he didn't do anything, the referee tosses a chair, and Impact hits a super kick on Moose. Impact then hits Starship Pain for the 1-2-3!!!
Your winner: Johnny Impact (pin fall)
Impact has a microphone, saying Moose kicked his ass tonight, but Moose is the one who woke up in SlamTown, and now he is more focused on BFG than ever! Says he's not going to New York for a Twitter war, he's going to take the IMPACT! World Championship out of his hands! He says theres nowhere to hide, Johnny Impact will be waiting for him, and he will see him in SlamTown!!
THATS ALL SHE WROTE! See you for IMPACT! on Thursday and next Sunday, Bound For Glory!!!!
Follow along on Twitter @OldSkewlPantz and don't forget the Bearded IMPACT! Podcast every Friday morning!!!
Chris's IMPACT Wrestling Results and Live Review (10/4/2018)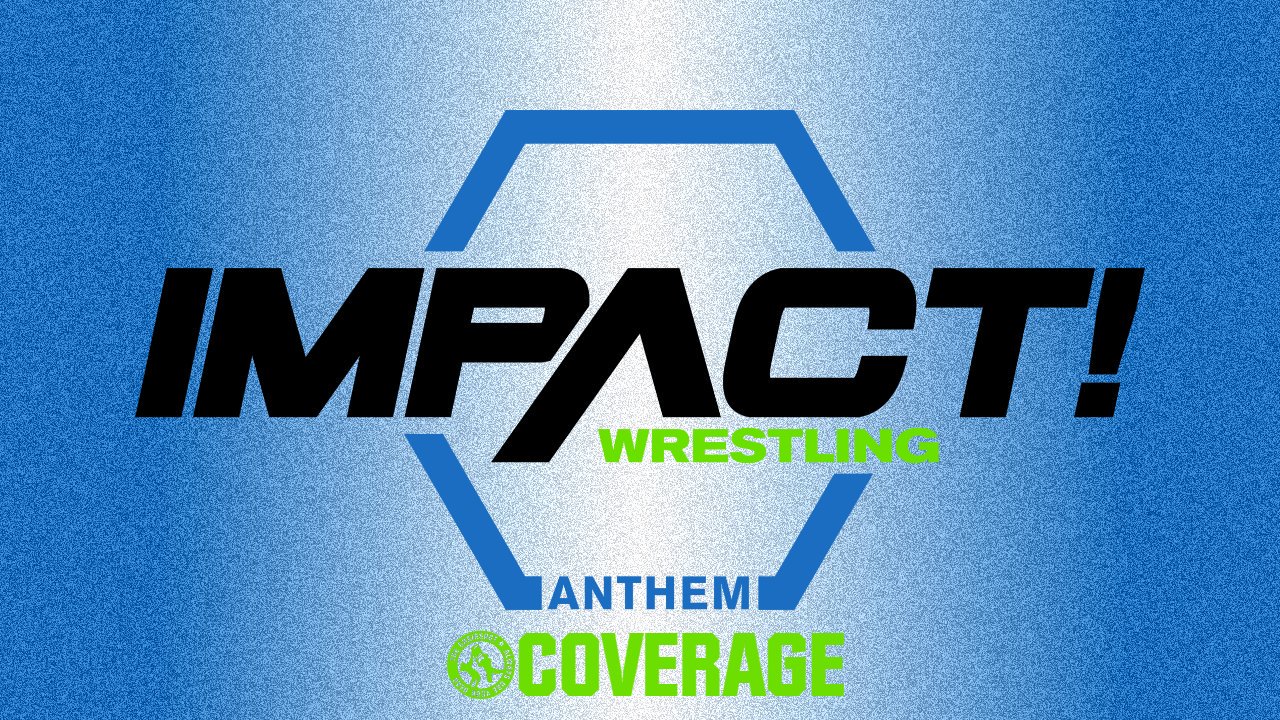 Follow along with Chris Pinheiro as he reviews IMPACT Wrestling live and in the moment! Tweet @theCHAIRSHOTcom and @OldSkewlPantz during the show.
---
SHOW RESULTS
Matt Sydal pins Rich Swann, his finisher (don't know the name)
La Parka defeats Eli Drake via count out
Murder Clown pins Joe Hendry (top rope splash)
Su Yung pins Keira Hogan (Panic Switch)
Fenix/Pentagon Jr./Brian Cage defeated oVe (disqualification)
---
LIVE PLAY-BY-PLAY
We start with the standard recap of last week's action.
IMPACT! from Mexico week three, and we start with Rich Swann!
Match One: Rich Swann vs. Matt Sydal
Matt wants a handshake, Swann has second thoughts but finally does. Sydal tries to open Swann's third eye but is hit with an enziguri. Swann then flies off the top rope onto Sydal in the floor.
Back in the ring, Swann off the ropes, and the go counter for counter. Swann hits a leg lariat to take down Sydal. Sydal begs off into the corner, hook kick to Swann sends him to the outside, as the brawl out there again.
Sydal gets knocked down with a right hand and rolls under the ring. When Swann goes to look he gets hit in the eye, Sydal claims it was a forearm.
Back inside, Swann fights back, until a back breaker slam stops him. Swann fights back again and reverses a tilt a whirl into a head scissor takeover, take down gets a two count. Hand spring  cutter by Swann gets a 2.
Swann goes up top, Sydal interrupts him. Swann shoves off Matt, who springs back with a hurricanrana but Swann lands on his feet!! Sydal eats a kick, then hits a powerbomb counter for two!!
Sydal goes for his finisher, Swann counters with a kick and goes up top again. A mystery man grabs Swann off the top rope and powerbomb him into the middle of the ring. Sydal then hits his finisher for the 1-2-3
Winner: Matt Sydal (pin fall)
Josh Matthews reveals that the mystery man is ETHAN PAGE!!
Back stage with oVe, and Dave is clearly shaken up. Sami says that even magical powers won't help the Lucha Bros. when they meet in the middle of the ring at Bound For Glory!
**commercial break**
Backstage, Eddie gets a call from "Alisha" but it's Moose. Moose tells Eddie to meet him upstairs.
Scarlett Bordeaux comes out and comes to the announce desk where Don welcomes her with open arms. Scarlett says Don is a 10 and Josh is a 5. Josh asks her why she's here, she says she wants to give back, finding the next champion.
Match Two: Eli Drake open challenge
Scarlett says Eli looks like a star.
Eli has a mic and says everyone knows the drill, it's dummy hunting season. Says he wants all the Technicos back there so they can give him all their planchas and he can kick them in their keisters.
LA PARKA(!!!!) comes out dragging a referee.
Crowd immediately begins chanting La Parka!! La Parka talks some smack in Spanish (and unfortunately my wife just left for work so I have no translator)
La Parka attacked as the bell rings, choking Eli in the corner. La Parka removes a glove to begin chopping Eli.
Eli regains control and begins punching away. He rolls outside and grabs a chair! La Parka knocks it away and hits a reverse DDT and grabs the chair. La Parka threatens and Eli rolls out of the ring. The referee counts to ten and La Parka wins.
Winner: La Parka (count out)
LAX backstage, Konnan tells them he will not break the cease fire, no matter how disrespectful the OGz get. The OGz show up, and the two sides are in each other's faces. King dares LAX to touch the OGz. Konnan tells King he basically raised him, King says you raised a snake, what do you expect. King then drinks Konnan's tequila and spits it in his face. The OGz drop the titles at their feet and walk away.
**commercial break**
Matt Sydal and Ethan Page backstage and Sydal says he doesn't have to open any of Page's eyes. Page says Swann missed his chance. Sydal says they walk together now, they're a tag team, and challenge Swann to find a partner for Bound For Glory!
Match Three: Murder Clown (w/Katarina) vs. Joe Hendry (w/Grado)
Joe Hendry comes out to "Hendry Makes Things Better" again.
Hendry has a mic to start, thanks Katarina for the early warning, and says he hasn't disturbing footage of her and her new client.
A video plays of "Katarina" and a Clown going on dates and the Clown then killing Katarina. Okay this is just too funny!!! He again takes a shot that it's too bad the clown isn't a pirate and isn't related HAHAHA
Hendry gets the early advantage but it's back and forth after. Clown hits a huge clothesline, then sets Hendry on the top and hangs him in the tree of whoa. Running dropkick in the corner, and Clown keeps picking up Hendry and knocking him down.
Clown misses a senton, Hendry then hits a fall away slam!!
Clown slams Hendry and hits a top rope splash for the 1-2-3!
Winner: Murder Clown (pin fall)
Clown then gets a table, and Grado begs off only to get a low blow from behind from Katarina. Clown sets up the table as Katarina gives instructions. Clown places Hendry on the table and hits ANOTHER top rope splash through the table!!
**commercial break**
Bound For Glory video package
Abyss Hall Of Fame 2018 video package
Eddie is walking through town with Kenny the Kendo Stick. He finds Moose who has Alisha. Eddie and Moose argue weather or not Aries and Kross are really friends to Moose. Eddie admits he was a bad friend, hopes they can be friends after Moose kicks his ass at BFG. Alisha then throws water on Moose's face and Eddie and Moose brawl. Killer Kross jumps in, Eddie breaks free, hits Kross with Kenny and he and Alisha bolt. Eddie calls Johnny Impact and tells him to get Austin Aries now because he's alone.
**commercial break**
Impact is on the hunt for Austin Aries. Kicks in his dressing room door, but cannot finding him. He even checks the bathroom and says "well he's not pooping." Finds a shirt guy getting interviewed, but he's Mexican… the segment ends without him finding Aries.
Impact then comes to the ring. He calls out Aries to have a conversation about their match. Austin's music hits, and he eventually comes out with his arm in a sling. Aries limps to the ring, slowly.
Aries joins Impact in the ring, saying he's here and alone, and he's suffered some injuries from Impact hitting him with the title belt last week. Impact says he doesn't want to whoop his ass tonight, but at Bound For Glory so he can be the champion.
He then says the title should be Aries vs Impact, and asks if Aries can face him alone at Bound For Glory as well. Aries reminds Impact that he's all ready beat Impact, so if he wants it to be one-on-one, he guarantees Moose and Kross won't interfere because he doesn't need them to beat Impact, and does Impact even know who he really is?
Aries says Impact looks like he should be champion, and he's a really good fake pro wrestler. Aries continues saying he doesn't look like the part, but he's that good and he IS a champion.
Aries then offers Impact a chance to be a part of a winning team. Says he can cancel his shot,  join his group and unlock his potential before he has to change his name to Johnny 205!
Johnny says he'd rather be wheeled out on a stretcher on his own before he follows Aries. Aries hits Impact with a cheap shot and reveals he's not injured. Impact then hits a huge clothesline and Starship Pain on the champion, hold the belt high as his music plays.
Brian Cage is backstage calling out Callihan and says he will decimate oVe at Bound For Glory.
**commercial break**
Video package for BFG Weekend in NYC
Backstage with The Desi Hit Squad as they realize they blew their shot last week. Gama then shows up and beats them with another broom. He then says next week they will face each other to find out who the weekest link is.
GWN Moment of the Week is BFG 2011 as Sting takes on Hulk Hogan
Scarlett Bordeaux is backstage, as Jack Evans tries to get her managerial services with a backflip. She then calls Puma King kinky and walks away.
The Smoke Show
Scarlett then sees Trevor Lee and Petey Williams backstage. Petey makes Lee move as he shows her the secret behind The Canadian Destroyer. Trevor is shocked by Petey being a creep. Scarlett tells them there's no fighting on The Smoke Show and they should take it outside.
**commercial break**
The Lucha Bros. call oVe stupid for trying to beat them in Mexico. Says they will see them in the ring tonight!
Match Four: Keira Hogan (w/Allie) vs. Su Yung (w/The Undead Maid of Honor)
Su attacks before the bell, but Keira gains control. Corner hip attacks and a low dropkick gets two. Keira controls off the whip by Su hits a reverse Alabama Slam off the top for one.
Su beals Keira across a few times. Su misses a corner charge, but stops herself. Keira catches her and begins hitting forearms and a snapmare. Keira misses a corner charge but puts the breaks on. Su ducks to the outside, Keira hits a suicide dive, rolls Su back in for two.
Su goes for the Panic Switch, Keira reverses into a sitout powerbomb for two. Keira goes up top, Maid interfered, Allie gets her, Su hits a palm strike and then takes Keira off the top, hits the Panic Switch for the 1-2-3!
Winner: Su Yung (pin fall)
A coffin is rolled out on the ramp, but Allie attacks Su. The Maid grabs Allie but she breaks free and dumps Su out. She then yells at Su who backs off, but the Maid attacks. Su applies the mandible claw and attempts to put Allie in the coffin. Keira saves Allie, but then gets the Claw and gets put in the coffin!!
**commercial break**
Allie is freaking out backstage. She says she knows what she has to do…
Video package of Tessa Blanchard vs Taya Valkyrie
oVe comes out and Sami gets a mic before their opponents come out, he tells the crowd to shut up. Jake again imitating Sami the entire time which is hilarious. Says they're not waiting for Bound For Glory, they want a ref and to get it on now!!
**commercial break**
Fenix and Pentagon Jr. come out to the stage, followed by Brian Cage.
Match Five: oVe [Jake Crist/Dave Crist/Sami Callihan] vs. The Lucha Bros. [Fenix & Pentagon Jr.] & Brian Cage
All three then charge the ringand attack. There's a referee in the ring and here we go. Cage and Fenix hit flying moves in Sami for two. Sami then rakes Fenix's eyes, but a boot and he takes back over. To the corner, Fenix does his leaps but Jake shakes the ropes and he crashes down.
Sami regains control. Again goes to the mask. Tags in Dave, and oVe takes everyone off the apron.
Three on one against Fenix in the ring, who reverses the all Seeing Eye and tag says in Cage. Cage hits a powerbomb on Sami, stacks up oVe and hits a German suplex on both Crist brothers.
Sami kicks Cage in the face who flexes, intimidating Sami, who throws the referee down for the disqualification
Winners: Brian Cage/Fenix/Pentagon Jr. (disqualification)
After the bell, a brawl ensues. Jake kicks Cage twice and Cage wipes him out with a knee. Cage then hits a superplex off the second rope onto everyone on the floor!!!! The brawl continues on the outside, and Fenix hits a corkscrew plancha off the guardrail!!!
Lucha Bros slam both Crists into the guardrail and they brawl off the air!!!
THAT'S ALL SHE WROTE FOLKS!!!
BOUND FOR GLORY IS OCTOBER 14!!!