Ja' Von's Impact Wrestling Live Report (5/24/18)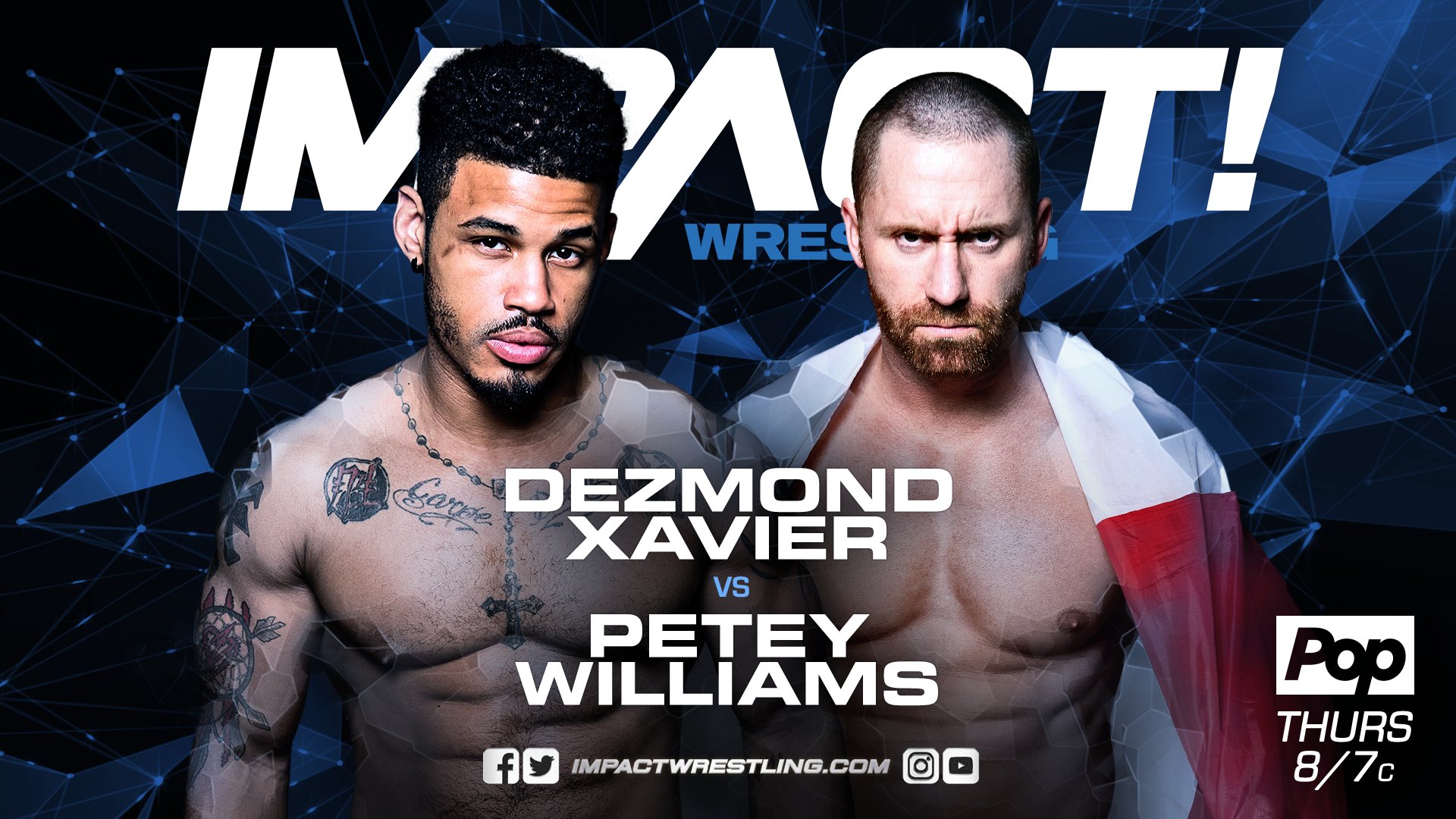 Quick Results:
oVe vs Drago and Aerostar: oVe via DQ
The Cult of Lee vs LAX: The Cult of Lee via pinfall 
Matt(c) vs El Hijo Del Fantasma(X-Division Championship): STILL X-Division Champion Matt Sydal via pinfall 
Dezmond Xavier vs Petey Williams: Dezmond Xavier via pinfall 
Moose vs Kongo Kong: Moose via pinfall
Play by Play:
Impact opens with a recap video of what went down last week.
oVe w/Sami Callihan vs Drago and Aerostar:
oVe along with Sami Callihan make their way to the ring for their match. Both Drago and Aerostar make their way to the ring. Drago gets things started early by flying over the ropes taking out oVe and Sami.
.@DragoAAA starting this match off hot! #IMPACTonPop pic.twitter.com/3z8ZuV5ORG

— IMPACT (@IMPACTWRESTLING) May 25, 2018
Aerostar then hits La Bomita. Drago makes his way back in the ring but is met with a big boot from Jake Christ. The bell finally rings and Jake tags in Dave and he goes on the attack of Drago. He then tags back in Jake who puts Drago in a chinlock and wears him down then tags back in Dave. Dave puts Drago in his corner and goes on the attack. Drago finds himself on the outside and Sami gets a cheapshot in. Dave tags back in Jake but Aerostar finally gets back in the match for the save. Jake is able to tag back in Dave and they take it to both Drago and Aerostar. The luchadors eventually take control and get a nearfall on Dave Christ. During the match it is shown that Eddie and Alisha Edward's have arrived at the Impact Zone. Alisha is pleading with Eddie to stop but Eddie comes out with a kendo stick and attacks the Christ Brothers causing the DQ. Eddie then turns his attention to Sami which leads to refs and security to hold him back from attacking Sami.
What a stark visual.

A deranged, obsessed @TheEddieEdwards attempting to choke the life out of @TheSamiCallihan.

This is not the same Eddie Edwards we've known in IMPACT for the last four years. #IMPACTonPop pic.twitter.com/w6d0d7JnUD

— IMPACT (@IMPACTWRESTLING) May 25, 2018
Eddie then snaps and attacks the refs and security guards with the kendo stick.
Winners: oVe via DQ
Alisha and Eddie are backstage and she wants to know why he is acting like this. Eddie says this is not over until he destroys Sami Callihan.
LAX vs The Cult of Lee:
Trevor Lee and Caleb Konley make their way to the ring for their match against LAX. LAX make their way to the ring still without Konnan. LAX has been on a losing streak since Konnan disappeared at the Redemption PPV.
Is tonight the night @Ortiz5150 and @SantanaLAX get things back on track? #IMPACTonPop pic.twitter.com/UFrPDZ8XPM

— IMPACT (@IMPACTWRESTLING) May 25, 2018
Trevor Lee and Ortiz start the match. Lee jumps Santana on the apron and Caleb jumps Ortiz. Yhe match breaks down a bit with the cult of Lee getting the advantage on LAX. The match spills to the outside but this is where is LAX mount a comeback. Santana taking the fight to Trevor and Ortiz racking the back of Caleb. The match makes it's way back into the ring and Trevor Lee gets a one count on Ortiz then tosses him into a corner and begins to stomp him as we go to break. We are back from break and Caleb is in control of Ortiz in the corner with the kicks and chops. Caleb jawjacks Santana which distracts the red and allows for Trevor to get a cheapshot on Ortiz. The Cult of Lee is firmly in control of this match and Caleb kicks Santana off the apron while Trevor punts the face of Ortiz who was recently thrown on the outside by Caleb. The ref is distracted by Santana but Caleb goes for a cover and gets a nearfall. Caleb then tags in Trevor but LAX seems to finally take control of this match. Trevor tags out but is still taken out by LAX and Santana hits a death valley driver on Caleb and get a nearfall as Trevor bulldozers in to break up the pin. In the closing moments of this match LAX takes out Trevor Lee and look for a wheelbarrow double team maneuver but Trevor trips up Ortiz and Caleb rolls up Santana for the win.
From March 23rd, 2017 to April 21st, 2018 – over a year – @SantanaLAX and @Ortiz5150 only lost four matches.

Since #Redemption on April 22nd they've lost four matches in a row. This is unprecedented for them. #IMPACTonPop pic.twitter.com/LkvABDTP7m

— IMPACT (@IMPACTWRESTLING) May 25, 2018
Winners: The Cult of Lee via pinfall 
McKenzie Mitchell interviews Jimmy Jacobs and Kongo Kong. Jimmy saysthat Impact is a funny place and says he is not a bad guy. He then speaks about Grado accusing them of the attacks so they had to teach him a lesson. He says he wants to see Kongo Kong break Moose into a million pieces for saving Grado from the post match attack. Jimmy says he's a princess and always gets what he wants.
KM and Fallah Bahh are backstage and runs into Grado and Katerina. They want to know how he got a girl like her and she says that she is chubby chaser.
McKenzie Mitchell interviews Madison Rayne backstage about what happened last week. Rayne says she was happy to be back in Impact but she was suppose to be a commentator not an in ring competitor. Tessa interrupts the Madison's interview and says that she is just a stay at home mom and needs to know her place and that the next time they meet will be in the ring.
McKenzie Mitchell interviewsthe new tag team champions and they DJZ said that they were underestimated but overcame the odds. The former champs interrupt the interview calling it a fluke and that they slipped on a banana peel. More tension is teased between Eli and Scott as they argue with each other and Scott blames Eli for them losing the titles. They storm off separately.
Matt Sydal(c) vs El Hijo Del Fantasma(X-Division Championship): 
Fantasma makes his way to the ring to attempt to dethrone the champion. Matt Sydal makes his way to the ring to defend his championship. They start the match with a handshakeand Sydal wanting Fantasma to open up his third eye but he is having none of it. Fantasma with the go behind gets the advantage of Matt but Sydal counters and shows off by sitting in the middle of the ring.
.@findevan will find any opportunity to center his chi and open his third eye. #IMPACTonPop pic.twitter.com/lCk1yokUE6

— IMPACT (@IMPACTWRESTLING) May 25, 2018
They jawjack watch other and Sydal is able to get a wristlock on Fantasma but Fantasma is able to escape then locks in a headlock on Sydal. Matt is able to escape and the match begins to pick up speed as Fantasma ends up on the apron. He then climbs up to the top and knocks down Sydal. He then hits a tilt a whril backbreaker on Sydal. Matt is able to gain control of the match and begins to wear down Fantasma. He then begins to focus on the left knee of Fantasma. Matt hits the ropes and comes off them and is caught by Fantasma who launches him in the air but lands on his feet and rocks Fantasma with a big kick. Fantasma is able to fight back and gain control of the match and drives Sydal out of the ring and looks to set up for the thrill of the hunt suicide dive but turns it into a baseball slide and stands tall as we go to break. Back from break Fantasma drops Matt Sydal face first on the steel steps. He then drives Sydal head first into the steel ringpost thenbrings him back in the ring. He heads to the top rope and goes for a high risk maneuver but comes up empty as Sydal rolls out ofthe way. Matt then goes to the topand looks for Air Bourne but misses and still lands on his feet. Fantasma fights back and is able to lock in a modified Indian death lock. Sydal is able to get to the bottom rope to break the hold. In the closing moments Matt is able to drive Fantasma into the mat justlike in all his other matches to pick up the win and retains his title.
AND STILL IMPACT X-Division Champion – @findevan.

The Chemical Imbalance gives @findevan another win! #IMPACTonPop pic.twitter.com/4i97MxROrS

— IMPACT (@IMPACTWRESTLING) May 25, 2018
Winner and STILL X-Division Champion: Matt Sydal via pinfall 
LAX is in the clubhouse mad and throwing stuff cause of their losing streak. Hernandez comes in and tells them that Konan was jumped but he is ok cause Homicide is with him. He also assures them that everything is ok.
A video package is shown about Pentagon Jr. winning the World Title. Aires is heared talking about the loss and hyping up the rematch for the world title next week at Under Pressure.
No one has been attacked this week and Don Callis has talked to the authorities and they have no leads on who the attackers are.
The winner of the Dezmond Xavier vs Petey Williams match will earn an opportunity to face Brain Cage next week. The winner of the match next week will face Matt Sydal for the X-Division Title.
Dezmond Xavier vs Petey Williams:
Dezemond makes his way to the ring for the match. Petey makes his way to the ring. They shake hands to show sportsmanship. Petey with the go behind but Dezmond hits him with a back elbow and they have a stand still for a bit.
.@iPeteyWilliams and @DezmondXavier have each other's big moves scouted. #IMPACTonPop pic.twitter.com/wgwA1hqJtW

— IMPACT (@IMPACTWRESTLING) May 25, 2018
They go back and fourth but Petey gets the advantage with a tilt a whirl headscissors. Dezmond then goes for a big kick but Petey moves out the way then looks for the Canadian Destroyer but Dezmond escapes and goes tothe outside for a breather. Dezmond gets back in the ring and the match picks up speed and Dezmondlands a dropkick for a nearfall. Petey is able to fight back and gains control of the match by hitting a dropkick of his own and is standing tall as we go to break. We're back from break and Petey is in control of the match and is taking it to Dezmond laying inpunches Xavier. Petey locks in a side headlock and wears him down then knocks him down and goes for a cover and gets a nearfall. Peyey then get another nearfall on Dezmond. Petey puts Xavier in the corner and stands his time which is his downfall as Dezmond knocks him down then goeson the attack hitting adelyaed dropkick which sends Petey out of the ring then followedup by a tope con hilo. They bring it back in the ring and Petey isable to kickout of a pinattempt. In the closingmoments of the match Dezmond countersthe Canadian Destroyer and hits him with a handstand kick to theside of the head for the win.
.@DezmondXavier picks up the win in incredible fashion with a moonsault kick! #IMPACTonPop pic.twitter.com/Lb2SjRxfcx

— IMPACT (@IMPACTWRESTLING) May 25, 2018
Winner: Dezmond Xavier via pinfall 
A video package is played showing Allie reading the note she received weeks ago and looking at the voodoo doll. The video also keeps kicking back to the funeral of Rosemary. The end of the video shows Allie dressed as Rosemary. The Knockouts Championship between her and Su Yung is now a Last Rites Match.
Moose vs Kongo Kong:
Moose makes his way to the ring for the match.
UP NEXT – @TheMooseNation vs. Kongo Kong! #IMPACTonPop pic.twitter.com/ujC4AlskVK

— IMPACT (@IMPACTWRESTLING) May 25, 2018
Kongo Kong makes his way to the ring ALONE. While making his entrance he keeps looking back at the ramp to see if Jimmy will show as we go to break. Back from break the bell rings and we have a collar and elbow tie with Kong getting the better of it by shoving Moose back. They go again and Kong pushes Moose back again. Kong then goes on the attack and takes down Moose. Moose with kip up hits Kong with a dropkick then knocks Kong the outside but Kong lands on his feet. Moose then runs at Kong but he side steps and shoves him into thering steps. Kong then hits a cannonball on Moose. Jimmy is not outside to guide Kong so he goes backin the ring looking for a countout. Moose barely getsback in the ring tobreak the count. Kong stays on the attack by tossing Moose into the corner then hitting a running splash on him. Kong then wears him down with a shoulder grip but Moose fights back. Moose looks to take down Kong but Kong counters and takes down Moose for a two count. Kong stays on the attack on Moose by wearing him down and hitting big shots. Moose asks for more then hits a headbutt followed by a running dropkick in the corner. Kong fights back and gains control of the match by hitting a neckbreaker across the knee for a nearfall. Kong goes for the top rope splash but comes up empty. In the closing moments of the match Moose hits a powerslam on Kong then a big spear for the win.
An ABSOLUTELY HUGE Spear by @TheMooseNation gives him another momentum building win. #IMPACTonPop pic.twitter.com/IpU8pvKuTI

— IMPACT (@IMPACTWRESTLING) May 25, 2018
Winner: Moose via pinfall 
After the match Jimmy Jacobs is shown to have been attacked.
My Take: The show was great and hyped up Under Pressure that is next week. Four profile matches were hyped and other storylines as progressed tonight. Overall tonight was a great show.
My Score: 8/10
Andrew's IMPACT Results & Match Ratings: 5.4.2023
Trinity makes her debut and Dirty Dango starts making a list of suspects for who attacked Santino Marella!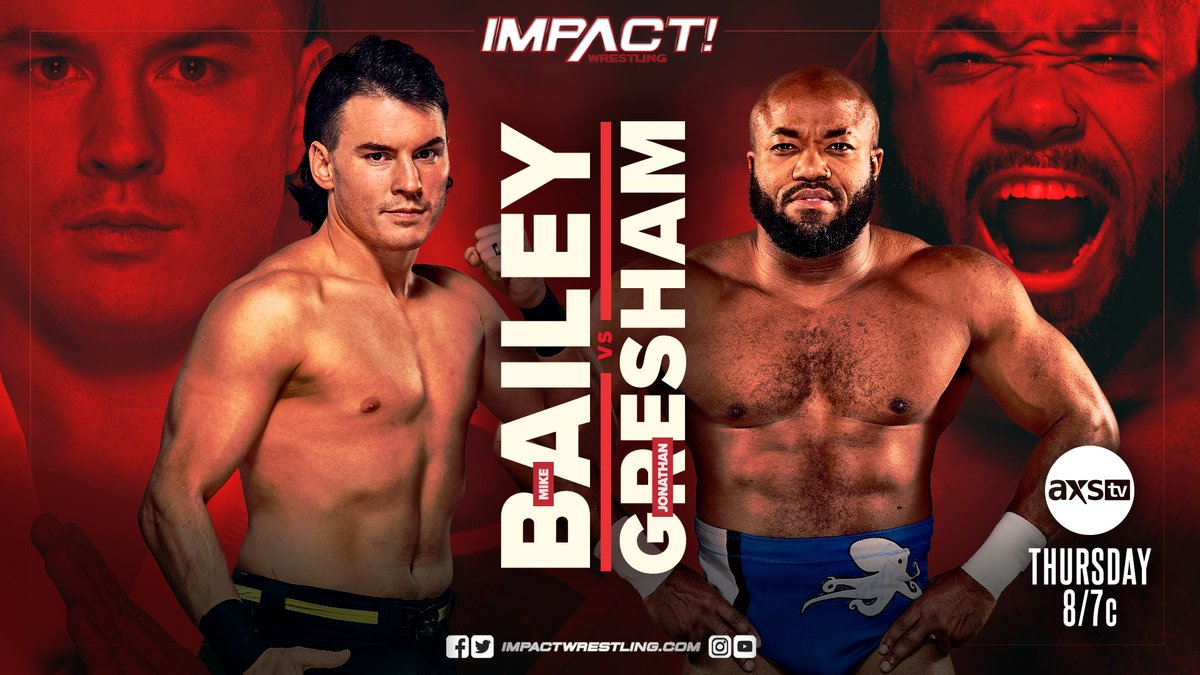 Now we all have seen some buzz about Trinity Fatu (Naomi) debuting at Impact during these Chicago tapings. They aren't shy about, and seem to have embraced the spoilers.
There are other stories, but most people are probably interested in what Trinity has to say. So let's just get the show coverage started.
.@DirtyDangoCurty is on a mission to find out who attacked @milanmiracle! @joehendry #IMPACTonAXSTV pic.twitter.com/xFG8QvDT6J

— IMPACT (@IMPACTWRESTLING) May 5, 2023
Ratings:
Bhupinder Gujjar & Yuya Uemura vs Brian Myers & Moose: Moose wins via Lights Out – **
Sami Callihan vs Kon w/Deaner & Angels: NO CONTEST – *
Alisha Edwards vs Jody Threat: Jody wins via F-416 – * 3/4
Steve Maclin, Champagne Singh & Shera vs PCO, Heath & Rhino: PCO wins via PCO-Sault – ** 1/4
Jonathan Gresham vs Speedball Mike Bailey: Gresham wins via Octopus Hold – *** 1/2
Results:
Bhupinder Gujjar & Yuya Uemura vs Brian Myers & Moose
Gujjar and Myers start off together with Gujjar getting the best of the early exchange. Tags in Yuya, and then we see them go for some tandem moves but there needs to be a beat of communication. It's kinda nice to see a simple moment of communicating the intended move as a way for younger wrestlers and a new tag team to start getting familiar with one another.
Yuya and Moose have their moments together where Yuya gets the best of the early goings as well. Big double dive gives all the momentum to the younger wrestlers until Moose and Myers cut him off while on the top rope and take advantage of the crafty veteran shortcut. Myers works over Yuya, but the simultaneous offense moment gives Yuya the chance to tag in Gujjar. Hot tag spot is only slightly tripped up because Gujjar screws up the Kip Up, but honestly it gets a little annoying seeing everyone use a Kip Up during high intensity moments. Gujjar tries to set up his terrible Gargoyle Spear, Moose dodges, goes for Lights Out, Gujjar dodges and turns it into a Slingblade for 2. Myers breaks up the pinfall, then eats a Springboard Sole Butt; but Moose comes out of nowhere with the Lights Out to kill Gujjar and pick up the win.
Did @TheTreyMiguel attack @milanmiracle!?@joehendry @DirtyDangoCurty #IMPACTonAXSTV pic.twitter.com/NnKeU82CDG

— IMPACT (@IMPACTWRESTLING) May 5, 2023
Sami Callihan vs Kon w/Deaner & Angels
Initially the assumption was that Deaner would fight Sami, but we should all know better the leader wouldn't put himself out there like that. So he swerves Sami by saying the match is against Kon. Early mugging before the bell starts off with the typical babyface from underneath idea. Sami demands the match start, and we get the official start.
Sami has an quick comeback but then Kon stabilizes and starts overpowering Sami. Some offense capped off with a wear down Bear Hug spot finally gives Sami a spot to reenergize. Sami fights out, strike exchange, Kon lays in a few Vader Hammers but then Sami counters Kon's charge with a Samoan Drop. Numbers game attempt, but while the ref is distracted Sami kicks Kon in the nuts. He calls Deaner into the ring, Deaner hits the apron gives him the thumbs down and the yellow hoodie wearing goon squad hits the ring to attack Sami and throw out the match.
Stupid ending, stupid faction with a bunch of jobbers, the faction that was cool with Eric Young and Joe Doering…is now a sad shell of its former self. 
.@RealNickAldis has no problem EARNING an IMPACT World Title match but @KennyKingPb2 isn't buying it. #IMPACTonAXSTV pic.twitter.com/mHjfQ9jKwt

— IMPACT (@IMPACTWRESTLING) May 5, 2023
Yes I am mostly inserting this interview because it has Jimmy Jacobs and no real other reason. Do It For Her, as some would say. 
Alisha Edwards vs Jody Threat
Lish with a big open hand slap, Jody starts rocking her and even returns the slap before driving her into a corner to bounce her head off the buckles a bit. Jody tosses Lish into the ropes, goes for the Leg Drape, but Lish moves, pulls her down from the ropes, rams her head into the mat multiple times with her knees and starts trash talking a little.
Jody Drop Toehold puts Lish against the ropes, Double Knees to the back, German Suplex, and then F-416. Lish's new persona is great, but she's still jobbing out a bit.
.@MeanGiaMiller is standing by with The Motor City Machine Guns to talk #UnderSiege! @fakekinkade @SuperChrisSabin #IMPACTonAXSTV pic.twitter.com/n2tE6Xkqx6

— IMPACT (@IMPACTWRESTLING) May 5, 2023
Steve Maclin, Champagne Singh & Shera vs PCO, Heath & Rhino
PCO starts and Singh tags out Maclin before the official start as he's trying to kiss ass. PCO starts eating Singh's lunch, because Singh sucks. Rhino comes in, lays in some shots, shoots him into the rope, Shoulder Tackle for a crowd pose. Singh gets in a few moves of offense but Rhino lights him up and tags in Heath. So Heath starts bouncing some offense into the corner. Heath places Singh in a dumb spot for Shera to get the blind tag and Shera starts manhandling Heath.
Maclin of course tags in because Heath is beaten down a bit, a "He's Got Kids" chant starts and Heath fires up. Maclin tries to wipe out the enemy corner but PCO gives Maclin second thoughts, the distraction allows for Heath to hit a Powerslam and then stereo tags. PCO is now destroying Singh again. PCO is just a psychopath. Zombie con Hilo, Deanimator connects! Shera attacks PCO after the Deanimator connects. Triple team attempt, Shera and Singh try to set up Caught in the Crosshairs, but PCO falls out of the Tree of Woe. Maclin tries to inform the idiots, but they're too stupid, they get laid out, Maclin powders and eats a Gore!
Singh tries to pay off PCO, Heath hits a Wake Up Call, PCO-Sault wins the match. Not surprising, but everyone being able to hit their finish was nice.
Jonathan Gresham vs Speedball Mike Bailey
A lot of early jockeying for position and small headlock advantages but a proverbial stalemate for the first few minutes. Its not until after the first commercial and a Dropkick that Bailey nearly takes control…but we're back to trading Arm Bars and Arm Drags…are we going to get a Moss Covered Three Handled Family Credenza also? Now we just get some mat and join manipulation from Gresham before Bailey tries to keep things rocking and rolling to free up his joints.
Series of kicks into the Standing Shooting Star Press gives Bailey a 2. Buzzsaw Kick attempt but Gresham counters and tries to run Bailey into the ropes for a Victory Roll, but Bailey sneaks in a Cross Armbar, Backflip Knees, Combo Kicks sends Gresham stumbling to the apron, Yakuza Kick drops Gresham onto the Apron, Slingshot Knee Drop crashes into Gresham and then a Golden Triangle Moonsault sends us to commercial with Bailey in full control. Coming off the commercial Bailey drapes Gresham over the top rope and hits the Rocky Romero half of Strong Zero for 2.
Bailey charges, Gresham counters with a Cradle, a few quick Cradle attempts, two La Magistral attempts from Gresham but only near falls for everyone. Arm Wringer from Gresham, Bailey tries to roll through and create a spot, but Gresham maintains, a Pump Kick finally gives Speedball some space, Gresham stutters runs forward and gets caught with a Standing Spanish Fly for 2! They trade styles, Gresham works the arm, looks for a submission but a few straight side kicks rocks Gresham, Tornado Kicks connect! Ultima Weapon…misses! Position work and then Speedball gets caught in the Octopus and taps out.
.@TheTrinity_Fatu has ARRIVED! #IMPACTonAXSTV pic.twitter.com/AkcWNiWJID

— IMPACT (@IMPACTWRESTLING) May 5, 2023
Not exactly paint by numbers intro, but nothing shocking. Deonna comes out and makes a "You can't walk out" joke, Trinity responds by telling her she's going to wish she got fired again. Jordynne Grace comes out to set a tone that she's game for a fight as well, but she doesn't want Deonna losing sight of the Under Siege match. Trinity did do her homework about the history of the Knockouts Division, but given the fact she came from the era of WWE she did…its not like it was hard to learn. I'll look forward to how they market Trinity (they were saying SHINE often instead of GLOW), and how her first real match goes. 
Overall Score: 6.25/10
A recurring statement from me lately, where the story building and entertainment was really solid in the show…but not so much the wrestling. The main event was the best match of the night and it was also the worst those two have had in their 4 IMPACT tussles. So the predictability of the matches is getting to be far too common place. I understand that Under Siege is mostly just a road bump to Slammiversary; but I really need to start seeing more competitive dynamics to get invested in any of these matches. Putting two main event guys against a youngster new tag team isn't hard to see the outcome. Alisha has done nothing but be enhancement talent since she's been an active part of Impact, The Design is so trash they make the Dark Order look like peak nWo.
Lets also not overlook the fact that the 6 man was obvious because Shera and Champagne Singh were involved, but the only real wrinkle that developed was Rhino hitting a Gore to piss off Maclin and earn himself a title shot next week. Impact needs to start trimming the fat (yes I mean fire some of the trash people, The Design and Champagne Singh immediately come to mind), and throw together stories where the opposition is more evenly matched. No more of this gang tactic job squad idiot crap.
Biggest positive to come from the show was Alex Shelley declaring that he's just going to win the World Championship since he doesn't love being known as "the best to never win the belt". I would be totally game for Shelley beating Maclin at either Slammiversary or Bound For Glory.
Andrew's IMPACT Results & Match Ratings: 4.27.2023
IMPACT continues to build on new challengers and film from Canadian turf! Lets see what kind of show we've got tonight!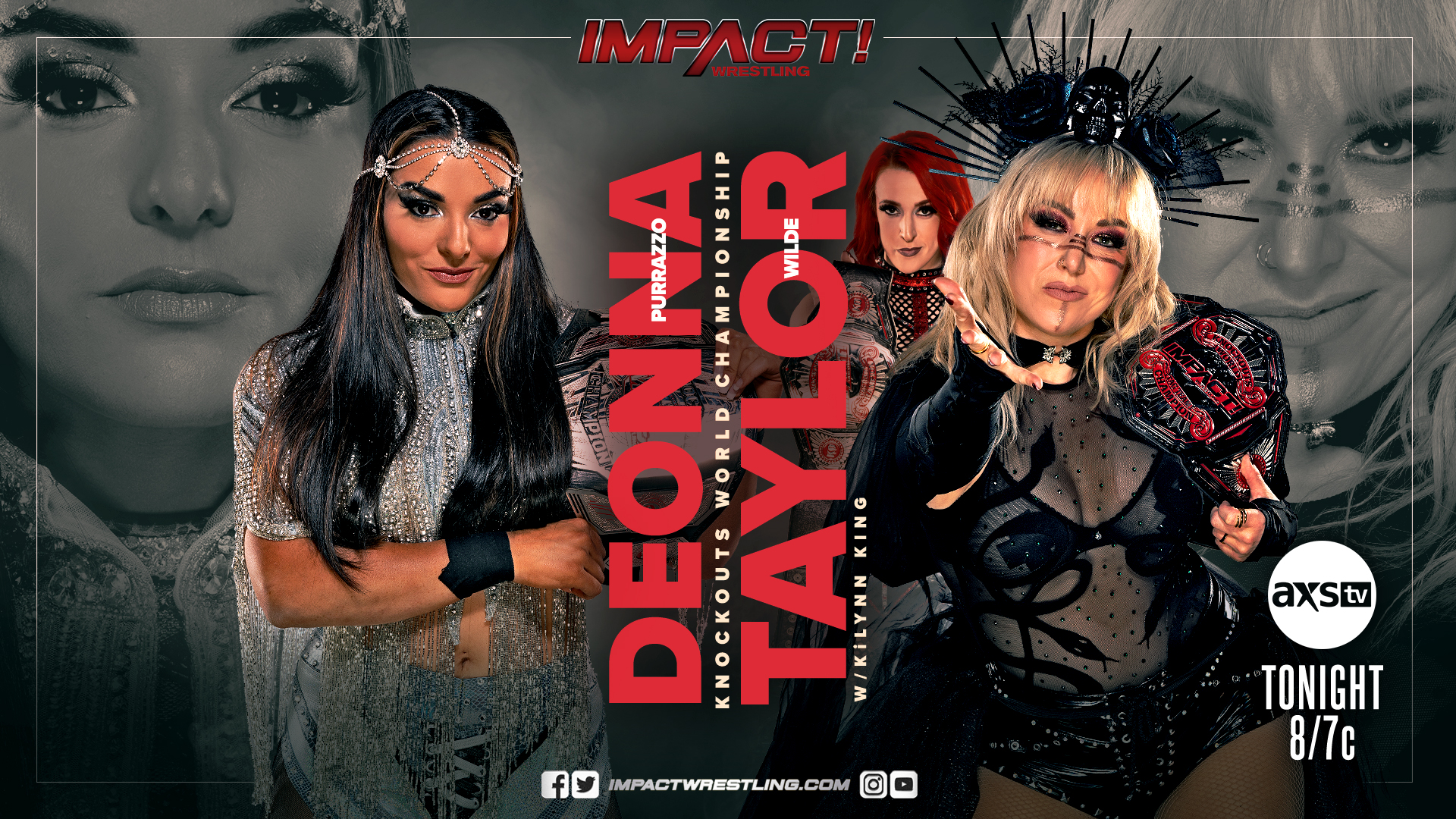 We got to start Maclin's new regime last week, and the Canadian caveat gave the fans an unexpected but well supported first challenger. While PCO isn't going to put on a mat clinic, his matches are always entertaining and the stuff he puts his body through at 55 is crazy,
The Coven also set their sights on Deonna last week, so I guess we'll find out if they'll be dispatched quickly or if we get a longer program. Let's see where this show goes!
The only way to get back to the Undead Realm is with @MinisterReal leading the way! @WeAreRosemary @steveofcrazzy @FearHavok #IMPACTonAXSTV pic.twitter.com/nzdaGSkQkv

— IMPACT (@IMPACTWRESTLING) April 28, 2023
Ratings:
Jordynne Grace vs Masha Slamovich: Jordynne wins via Cradle – *** 1/4
PCO vs Champagne Singh: PCO wins via PCO-sault – N/A
Road to 50 Wins: Johnny Swinger w/Zicky Dice vs El Dineroco: Swinger wins? via La Magistral – N/A
The Design (Kon & Angels w/Deaner) vs ABC (Ace Austin & Chris Bey): ABC wins via 1-2-Sweet – ***
Jody Threat vs Seleziya Sparx: Jody wins via F-416 – * 1/2
Knockouts World Championship: Deonna Purrazzo (c) vs Taylor Wilde w/Kilynn King: Deonna wins via Venus de Milo – *** 3/4
Results:
Jordynne Grace vs Masha Slamovich
This was supposed to be Masha versus Killer Kelly, but I think Kelly posted on her Twitter that she had a cyst that burst, so she wasn't in a position to participate in tapings. 
This stay fairly equal between these two, Jordynne tries to keep Masha in place with a Wristlock, Masha uses her agility to get out of things. They move to the corner and Jordynne hits a few big shots into a Vader Bomb for 2. Masha looks to be in trouble until Masha takes advantage of pulling Jordynne into the middle rope throat first. So Masha finally gets the advantage while Jordynne tries to recover.
Jordynne blocks Masha's attempts at a Suplex with her own, but Masha connects on a few quick strikes, Backfist into Buzzsaw Kick rocks Jordynne and Masha decides to talk smack in Russian to the crowd instead of going right after Jordynne. Camel Clutch from Masha appears to be too late since Jordynne fights through, rams her into the corner a few times before the Backpack style Backdrop to break Masha's submission.
Masha gets caught in a Muscle Buster but kicks out, eats some big strikes, Jordynne hits a Michinoku Driver out of nowhere but only two. Masha tries to find something, she looks for the Victory Roll but Jordynne counters with the Rear Naked Choke. Turns the Rear Naked into a pinfall attempt to break the hold and then goes for her own Rear Naked Choke. Jordynne fights out, Masha decides to snap off a Wristclutch German Suplex Hold for 2.
After a few more exchanges, Grace goes for the Muscle Buster again, but Masha counters. A few quick strikes and we go into a Locomotion Cradle Spot. Eventually Jordynne gets the best of the Cradles and wins via pinfall.
Maclin hits the ring, calls out PCO and demads the match to happen now. PCO isn't one to deny a fight, but as PCO is coming down Shera and Champagne Singh attack him. PCO eventually makes a comeback and then Santino's music hits. Singh tries to pay off Santino, Santino takes the money and says thank you, you just bought yourself a match. So Champagne Singh is gonna get murdered and Shera is banned from ringside.
PCO vs Champagne Singh
This is just for PCO to beat the hell out of the heel dweeb. No one thinks Singh has a prayer. 
Singh hit a few moves, thought he'd do the Million Dollar man thing and put money in PCO's mouth…but PCO starts short circuiting. He eats the money, and then eats Singh.
Champagne Singh is such a waste of time. PCO wins via Scorpion Deathdrop into PCO-Sault. The result was never in question.
ImpactPlus Flashback Moment: 2/14/2013, Christopher Daniels vs Magnus, IMPACT!
After @TheSamiCallihan's betrayal, @CodyDeaner is ready to teach @TheSamiCallihan a lesson he won't forget!

#IMPACTonAXSTV pic.twitter.com/ancSHaHf5Q

— IMPACT (@IMPACTWRESTLING) April 28, 2023
Road to 50 Wins: Johnny Swinger w/Zicky Dice vs El Dineroco
Zicky apparently is covering the Luchadors pay but has to go get him to translate. The luchador comes out and its obvious its Zicky in a mask, but the name is great.
Solid comedy match, and Swinger "winning" via La Magistral is awesome. Santino figures it out and nullifies the whole damn thing is solid comedy.
Busted..@swinger_johnny @ZickyDice @milanmiracle #IMPACTonAXSTV pic.twitter.com/Xuiejn1S9d

— IMPACT (@IMPACTWRESTLING) April 28, 2023
The Design (Kon & Angels w/Deaner) vs ABC (Ace Austin & Chris Bey)
Bey and Angels start off, and Angels starts off aggressively, but its hard to really have any faith in The Design here. The most I think we can hope for is a decent match. Ace blind tag, Russian Leg Sweep/Kung Fu Leg Sweep on Angels, Click Click Boom next for 2, then Angels does manage to tag out.
Kon comes in an bulldozes both men, regardless of the fact they're hitting him and all over him. You can hear Bey say "My ankle my ankle", which is hopefully a work to make it look like The Design have a shot. Ace eats some tandem shots and then Kon sinks in the Nerve Hold and Ace is getting smacked around. They keep Ace in their corner, when Angels tags in, Ace tries to run through Angels; but Angels turns the attempt around and Ace keeps eating chops and shoulder blocks. Ace finally grabs some wrist control, a few pot shots, Up and Over, lays out Angels. Ace tries to limp to the tag, but Angels holds his foot and connects on a Half Nelson Suplex.
Deaner tries to tell Angels to keep the foot on the gas, but Angels misses in the corner and gets rocked by Ace. Bey takes the hot tag, wipes out Kon, a few quick spots, Yoshi Tonic for 2. Looks for Art of Finesse but Kon goozles him from the apron. All four guys in the ring, they ABC tries to chop down Kon with successive Dives, they drop Angels on him but Kon won't fall down. Deaner gets on the apron to interrupt ABC, and Sami Callihan comes out of nowhere to equalize.
Angels runs off Sami, ABC finally lays out Kon and then when Angels tries to comeback, he gets leveled. Timing Spinning Heel Kicks collpase Kon, ABC 1-2-SWEET wins the match!
Decent action even though the outcome was never really in question.
Jody Threat vs Seleziya Sparx
Well given that Jody is starting to get built up and Sparx is obviously the enhancement talent, this is another match that isn't hard to see the outcome for.
Jody has an interesting energy where she has like a tough brawler style seemingly keeping the opponent close. After a top rope Thesz Press, rope run Pump Kick, German Suplex and F-416. The punk rock appeal could be kinda cool, but the Knockouts have so many brawler style women and/or dark gimmicks. They really need a touch more versatility in the personalities.
Knockouts World Championship: Deonna Purrazzo (c) vs Taylor Wilde w/Kilynn King
While its a little silly to think Deonna will lose the title so quickly, this could build to more. This should be a good strat to Deonna's first program in her third reign.
Collar and Elbow tie up with both women trying to push the other into a corner or find a small advantage, but they wrestle to a stalemate and take different approaches after a small moment of recognition.
Deonna looks for a lot of arm focused offense, but Taylor gets really clever with her legs. Twisting Deonna into a counter roll or her own modified Indian Deathlock. A few quick pinfalls follow from both and then they have another moment of acknowledgement. The feeling out process between these two has been pretty great thus far.
A quick Hip Toss into the Wristlock has Deonna in control. Taylor does manage to fight her way out of it, Kilynn trips the leg to give Taylor a chance to lay in a few cheap shots and then tease the crowd and do the smarmy heel stuff. Every time Deonna starts to fight back, Taylor powders and Kilynn is being a great partner. She pushes Taylor out of the way, eats a forearm, and is just getting smacked around to protect Taylor.
In the corner, Deonna manages to crash into Taylor's arm so Taylor sells to the ref to distract her and Kilynn makes her presence felt again. Taylor plays up the witchy persona very well and very much like The Craft. She's sarcastic and condescending, but in a cute almost flirty way. So it adds to an interesting dynamic between her and Deonna since even though Taylor is heel, she is the more playfully animated. After a few deliberate spots, Taylor hits the Satellite Crippler Crossface out of nowhere. Deonna manages to fight out of it, into a Fujiwara Armbar, but Taylor gets to the ropes.
Backslide from Deonna for 2, but as Taylor tries to roll out, Deonna grabs for the arm and keeps hunting for Fujiwara Armbars. Both women bounce off the ropes and meet in the middle with Crossbody attacks. Strike exchange, Sole Butt from Deonna, into Running Knee Lift, Russian Leg Sweep and Fujiwara Armbar; but Taylor gets a foot on the rope. Queen's Gambit attempt, but Taylor with the Backdrop to counter. Wilde Ride, for a near fall. Witch's Wrath gets countered into the Venus de Milo in the middle of the ring.
Kilynn attacks Deonna after the match, and Jordynne makes the save in the whole babyface respect angle.
Overall Score: 7/10
Well this suffered from a consistent issue that more recent IMPACT episodes have had – and that's a complete lack of suspense in the matches. Comebacks and selling lose effect when the finish is written in purple crayon because of who they position against one another. The show was bookended by two really good Knockouts matches though. The middle parts were job matches, so there really was a lot of lame filler…but stories moved forward and we got a little interesting character work.
Callihan hopefully culminating his whole destruction of The Design, DeathDollz having to connect with James Mitchell to inquire about Taya, Dango going full detective, Zicky and Swinger…being Zicky and Swinger and Maclin finding barely serviceable goons, I suppose is something. Impact continues to have a few interesting beats and solid comedy to never really take itself too seriously, but really some of the shows are just too inflated with trash matches that it weighs things down a ton. I've always enjoyed how they keep even the lower card stories relevant, but we could really do without so many job matches.
Also don't think I missed this video package:
Looks like @Kelly_WP found the perfect playmate in @mashaslamovich!#IMPACTonAXSTV pic.twitter.com/TSwnGlGYN3

— IMPACT (@IMPACTWRESTLING) April 28, 2023
The only adequate reaction to this whole video package is this: