Ja'Von's IMPACT Wrestling Live Coverage! (5/3/18)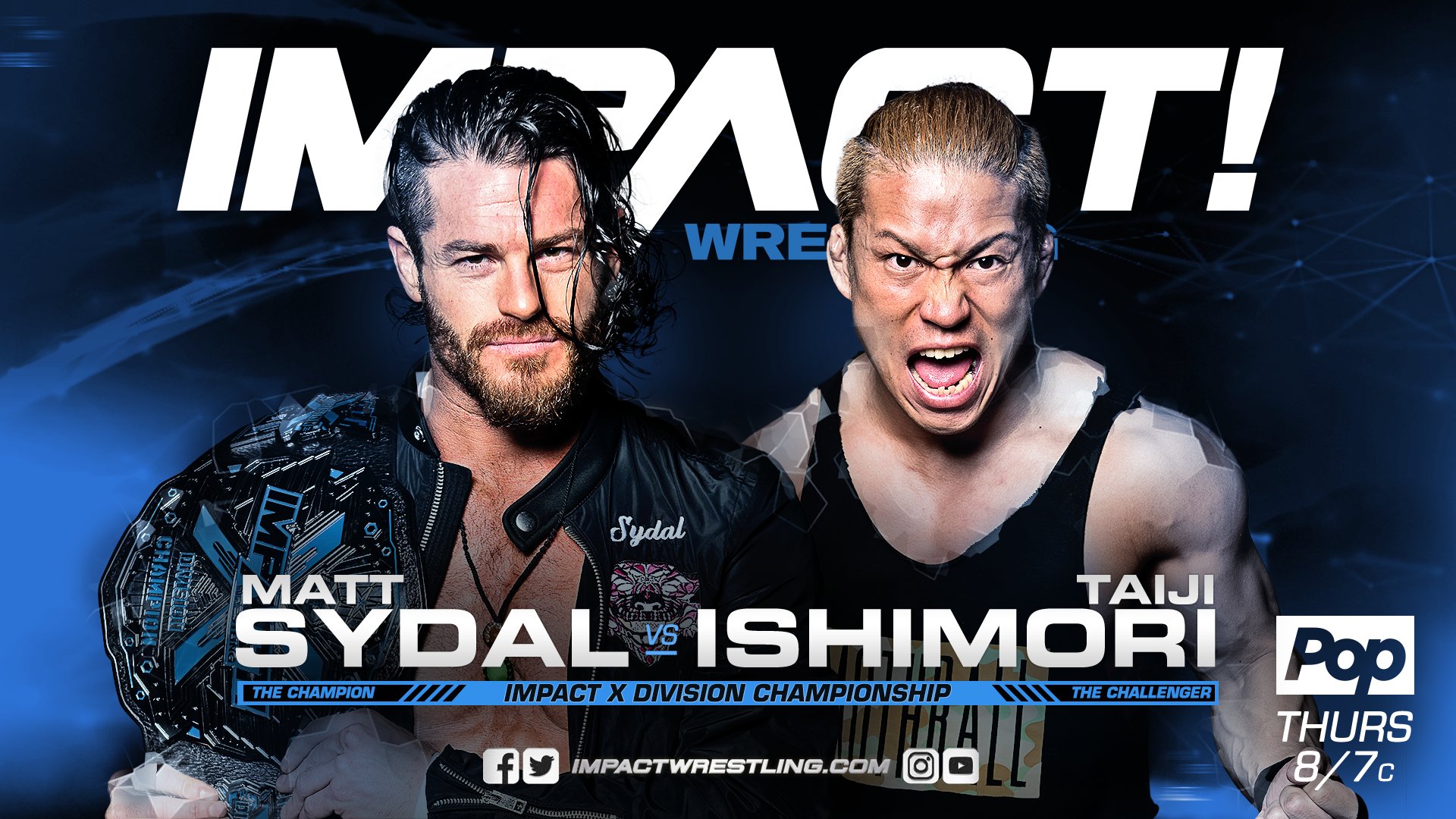 Quick Results:
Rosemary vs Su Yung: No Contest
Matt Sydal vs Taiji Ishimori (X-Division Championship): AND STILL X-Division Champion Matt Sydal via pinfall 
Brian Cage World Tour: Brian Cage via pinfall 
oVe in Tag Team Action: oVe via pinfall
Taya Valykire vs Kiera Hogan: No Contest
Drago, Fantasma, and Aerostar vs Dezmond Xavier, DJZ, and Andrew Everett: Dezmond Xavier, DJZ, and Andrew Everett via pinfall
Play by Play:
Impact opens up with a recap video package of what happend last week.
Eli Drake Kicks Off Impact: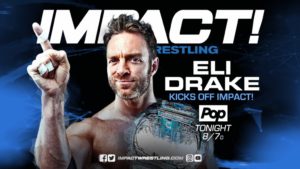 Eli Drake kicks us off tonight and makes his way to the ring but without his tag team partner Scott Steiner. Drake grabs a mic and says that he sees a lot of dummies in the crowd and says that Steiner isn't out with Drake cause he told Scott to take the night off tonight. He goes on to say that he stands here with the tag title and his briefcase and refers to last week him and him cashing in his brrifcase. He then goes on to talk about Aries and Pentagon Jr. interrupting him but he doesn't care cause there is only one man and that man is Eli Drake. Eli then calls his shot saying that he is cashing in his breifcase NEXT WEEK and is confident that he will become a two time world champion.
NEXT WEEK – it is official. @TheEliDrake will cash in his Feast or Fired World title shot and face @PENTAELZEROM for the IMPACT World Championship!

Will Drake become a two time Champion or will Pentagon retain? #IMPACTonPop pic.twitter.com/ps8cD82226

— IMPACT (@IMPACTWRESTLING) May 4, 2018
Pentagon Jr. then comes out and makes his way to the ring and they go nose to nose with each other. Both guys trash talk each other and neither man looks to be backing down. Both guys hold up the title and the breifcase to end the segment.
Kiera Hogan Backstage Interview:
McKenzie Mitchell interviews Kiera Hogan backstage and ask her about her first PPV match. Hogan knows that she lost and says her redemption will come later on tonight. Tessa Blanchard interrupts the interview and says that her first ppv should be her last and says she is better than her.
.@HoganKnowsBest3 is looking for her #Redemption. But it would appear new arrival @Tess_Blanchard has other ideas. #IMPACTonPop pic.twitter.com/6sFBaZ442p

— IMPACT (@IMPACTWRESTLING) May 4, 2018
Hogan says that Tessa is better than her but it's at sitting and watching and tells her to do so as she beats Taya tonight.
Joseph Park is seen backstage on his phone and Grado appears and tells him he has found himself a girlfriend. Aries then bumps into him and talks about the landscape changing but that everything is fine and he will win back the world title. Aries then offers them a banana.
oVe vs KM and Fallah Bahh:
oVe make their way to the ring for their match. KM and Fallah Bahh make their way to the ring for the match. The Crist Brothers get the jump on KM and Fallah Bahh but KM regains control and takes down Jake Crist then hits a Beil Throw on him. Jake then regains control by side stepping KM. Jake puts KM in his corner and he stomps down on him. A few chops later Jake tags in Dave and takes down KM. Dave tags in Jake and they attempt to hit a double suplex but he counters and tags in Fallah Bahh who hits a double crossbody on the Crist Brothers. Both brothers in separate corners and he hits a splash on both then tosses Jake into Dave and hits a splash on both. Bahh then rolls on both brothers followed by KM rolling on them this goes on few more times but the Crist Brothers regain control of the match.
.@ImpactKM is really getting into the spirit of teaming with @FALLAH1. #IMPACTonPop pic.twitter.com/vox7cdqbbF

— IMPACT (@IMPACTWRESTLING) May 4, 2018
They take out KM then Jake rolls up Fallah Bahh for the pinfall victory. Post match Fallah Bahh and KM shake hands.
Winners: oVe via pinfall
McKenzie Mitchell interviews Moose backstage. She ask him about wanting to claim the world title. Moose says that he never won a world championship in football and since coming to Impact he hasn't won a world championship. He then says that in 2018 he will win the world title. Jimmy Jacob's interrupts the interview and says the last person who called himself impact faced the wrath of Kong then Moose Jack's him up and ask him what he wants and Jimny says he wants Moose to face his monster next week and Mosse accepts the challenge.
Keira Hogan vs Taya Valykire: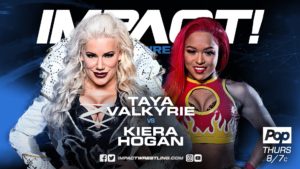 "Lucha Royalty" Taya Valykire makes her way to the ring for the match. "The Girl on Fire" Kiera Hogan makes her way to the ring. Taya Charles in and takes down Hogan with a spear then the ground and pound. Taya puts Kiera in the corner and stays on the attack. Taya follows up with a Biel and tries to stay on the attack but Hogan side steps and gets barely anything on Taya before she regains control and takes down Hogan. Taya stands over her and taunts her. Kiera Hogan then gains control of the match and takes it to Taya. She drives her out of the ring and then procees to curb stomp Taya into the ring steps.
.@HoganKnowsBest3 has a vicious streak! A curb stomp on the ring steps! #IMPACTonPop pic.twitter.com/1bSJoDNpjK

— IMPACT (@IMPACTWRESTLING) May 4, 2018
Kiera looking to hit another big move on Taya Tessa Blanchard comes out and attacks Hogan.
.@Tess_Blanchard is here! #IMPACTonPop pic.twitter.com/JT9TN6WKFM

— IMPACT (@IMPACTWRESTLING) May 4, 2018
Kiera puts up somewhat of a fight but Tessa was just too much for her and sends her back first into the post then rib first into the ring apron. Tessa tosses Hogan into the ring and then finishes her off with a Hammerlock DDT.
.@Tess_Blanchard floors Hogan with a hammerlock DDT. She has put the Knockouts Division on notice. #IMPACTonPop pic.twitter.com/uywdzfGDPn

— IMPACT (@IMPACTWRESTLING) May 4, 2018
Winner: No Contest
A video package is played showcasing Brian Cage and his unstoppable winning streak since coming to Impact Wrestling.
Brian Cage vs Brodie Marshall vs Mick Moretti vs Slex:
All four men are already in the ring and look to take out Cage and send him to the floor. They other guys go at it and take out another guy leaving only two in the ring who go at it. Cage finally makes his way back in the ring and hits a hurricanrana then a splash on a guy in the corner. Cage then goes toe to toe with Moretti then Merty looks to have taken advantage of Cage as he takes him down but it looks like Cage allowed for it to happen as he hits a double fallaway slam on two guys followed by flying over the ropes without touching them taking out everyone and gets a two count.
CAGE TAKES EVERYBODY OUT WITH A DIVE! #IMPACTonPop @MrGMSI_BCage pic.twitter.com/aGaanibvQ1

— IMPACT (@IMPACTWRESTLING) May 4, 2018
Cage then gets caught by Slex who stays on the attack and gets a two count on Cage. Moretti comes back in and is tossed into the corner but side steps Slex and hits a brainbuster type move on him. Cage gets back in the ring and hits a blue thunderbomb followed by an Alabama slam. Marshall comes back in the ring and takes out Cage then hits a spinebuster on Mick for a two count. Cage then comes back in the ring but eats a German suplex but rolls through and hits a discus clothesline followed by the drill claw for the win.
Drill Claw = @MrGMSI_BCage wins once again. #IMPACTonPop pic.twitter.com/VphdbNXTTL

— IMPACT (@IMPACTWRESTLING) May 4, 2018
Winner: Brian Cage via pinfall
Drago, Fantasma, and Aerostar vs Dezmond Xavier, DJZ, and Andrew Everett: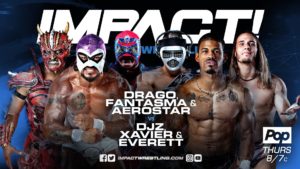 Drago, Fantasma, and Aerostar all make their way to the ring together as we go to break. DJZ, Dezmond Xavier, and Andrew Everett all make their way to the ring for the match. Dezmond and Fantasma start the match. Back and forth with go with leapfrongs and drops which lead to Xavier hitting a headscissor flip on Fantasma who lands on his feet. The match is fast and furious as Xavier slides out of the ring and DJZ comes in and Drago comes in on the other side but DJZ and Andrew Everett hit multiple double team maneuvers on him and drive him out of the ring and Aerostar comes in and DJZ gets out of the ring and Everett and Aerostar square off. Fast forward a bit after tons of high flying moves and fast pace speed that even I can't keep up Fantasma comes in a slow down the match and hits a spinebuster and gets a two count. Drago comes in and takes down Andrew for a two count. Aerostar comes in and hits a dropkick on Andrew who slides to the outside and DJZ comes in and both Andrew and DJZ hit double dropkicks on Aerostar.
Double dropkicks by @IAmDJZ and @_AndrewEverett before @DezmondXavier flies! #IMPACTonPop pic.twitter.com/K80Pn3Y03Q

— IMPACT (@IMPACTWRESTLING) May 4, 2018
Eventually the match breaks down and all six men are in the ring as Drago has a crossface on DJZ and Dezmond has the abdominal stretch on Fantasma. Andrew and Aerstar break up the submissions then the lucha have Xavier trapped but DJZ and Everett break it up with a couple of codebreakers. The match then spills to the outside as DJZ, Fantasma, and Aerostar each takeout everyone with The Arrow from The Depths of Hell, a backwards senton
La Bombita! #IMPACTonPop @aaaerostar1 pic.twitter.com/Aqhtxunvun

— IMPACT (@IMPACTWRESTLING) May 4, 2018
and a dive from the top turnbuckle.
Incredible step up dive by @IAmDJZ! #IMPACTonPop pic.twitter.com/GRo65c8l3u

— IMPACT (@IMPACTWRESTLING) May 4, 2018
All six guys are down as we go to break. Back from break and everyone is back in the ring and it's a mess. All three luchadors wre down as Dezmond, DJZ, and Andrew each hit a diving attack on each luchador and go into the cover and all three kick out at 2.
Frog Splash by @IAmDJZ.

Final Flash by @DezmondXavier.

AND @_AndrewEverett TOUCHES HIS TOES WHILE DOING A MOONSAULT! #IMPACTonPop pic.twitter.com/ZZYwn4e6dZ

— IMPACT (@IMPACTWRESTLING) May 4, 2018
The luchadors gain control and do rollups at the same time for two counts. Down the stretch Xaxvier and Fantasma are alone in the ring and Dezmond takes him out. Xavier looks to go to the top for a high risk move but Aerostar takes him out. Aerstar looks to go for a move off the top but with a distraction from Andrew DJZ was able to come in and hit the ZDT for the pinfall victory.
.@IAmDJZ picks up the win with a ZDT from the middle rope. #IMPACTonPop pic.twitter.com/3AraGQzSFV

— IMPACT (@IMPACTWRESTLING) May 4, 2018
Winners: Andrew Everett, DJZ, and Dezmond Xavier via pinfall 
Eli Drake is walking backstage and runs into Aries. Austin says things got heated last week and says that he wishes Eli good luck in his title match next week. He hopes that Eli wins because he knows he can beat him.
Back from break KM and Fallah Bahh are talking and KM says that if he follows him he will make him cool and successful. Another guy gets attacked again backstage.
This is the second week in a row somebody has been attacked with this symbol left behind. #IMPACTonPop pic.twitter.com/50N8Hn2w4e

— IMPACT (@IMPACTWRESTLING) May 4, 2018
A video is played of Eddie Edwards standing outside of the Police Station and keeps calling someone but gets no answer. Tommy Dreamer pulls up and tells Eddie to get in the car.
Matt Sydal vs Taiji Ishimori(X-Division Championship):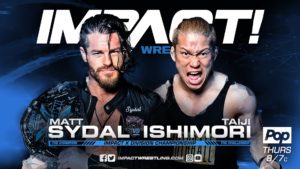 Ishimori makes his way to the ring for the championship match.
The X-Division title is on the line. It's Mothball time! #IMPACTonPop pic.twitter.com/JJzq7nFx6e

— IMPACT (@IMPACTWRESTLING) May 4, 2018
Matt Sydal makes his way to the ring to defend his championship. Collar and elbow tie up and Sydal gets theadvantage of Taiji but then Ishomori gains control with a wristlock but Sydal fights out of it and takes down Taiji. Ishimori is whipped into the ropes but he floats over them and waits for Sydal as he runs in to attack and Taiji hits him with a shoulderblock followed by a diving senton driving Sydal out of the ring as we go to break. Back from break and Taiji is in control of Sydal and pushes him into the corner then with an Irish whip into another corner followed with a roll up for a two count. Sydal then targets his attack on the knee and ankle of Ishimori. Taiji fights back and catches him with an elbow but Sydal catches him with a spinning heel kick as Ishimori comes off the ropes. Sydal then catches Taiji and hit him with a Dragonscrew and wears him down. Matt rolls through and looks to have hurt his arm but stays on the attack but Taiji fights backand catches Matt on the bridge of the nose. Ishimori slams him on the Matt and connects with a diving move from the second rope for a two count. Sydal then goes for a standing moonsault vut Ishimori gets the knees up and counters. Sydal then fights back and knocks down Ishimori for a two count. Sydal goes for the shooting starpress but Ishimori moves out of the way and hits him with a gutbuster. Sydal fights back and gains control of the match and hits a some sort of driver type move for the pinfall victory.
We saw this move against Petey Williams at #Redemption18, and @findevan put away Ishimori with it tonight. Sydal has a new weapon to put opponents away as well as the Shooting Star Press. #IMPACTonPop pic.twitter.com/ObReAPUn29

— IMPACT (@IMPACTWRESTLING) May 4, 2018
Tommy and Eddie are shown at Tommy's house trying to talk some sense into Eddie but Eddie isn't hearing it and leaves.
Allie is shown backstage with Rosemary and says he will be in her corner but Rosemary says no and Allie wasn't having it but Rosemary makes her promise to not come down to the ring and says it has to be this way.
LAX are shown in their clubhouse and everything is falling apart for them. They say if they lose next week then they are nothing.
Su Yung vs Rosemary: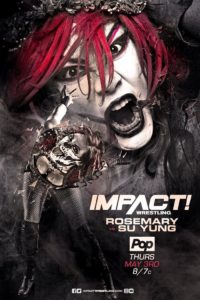 Su Yung makes her way to the ring for the match. Rosemary makes her way to the ring for the match. Su Yung meets Rosemary at the ramp with a forearm. Rosemary fights back thentosses her into the steel steps. Rosemary stays on Yung but Su fights back with a big palm strike and hits her with the panic switch on the floor.
Panic Switch on the floor by @realsuyung. #IMPACTonPop pic.twitter.com/CZvUVwhOdH

— IMPACT (@IMPACTWRESTLING) May 4, 2018
Su Yung then summons the undead bridesmaids to the ring who are carrying a coffin. Allie comes down to the ring and attacks Su Yung from behind. Allie says that Rosemary is her best friend and she will never leave her. Rosemary tell her she needs to go but Allie refuses to go.
An extremely powerful moment as @AllieImpact refuses to leave her best friend @WeAreRosemary's side. #IMPACTonPop #DemonxBunny pic.twitter.com/s2ouTPnaI1

— IMPACT (@IMPACTWRESTLING) May 4, 2018
The undead bridesmaids grab Allie and forced her to watch as she attacks Rosemary but Rosemary fights back and grabs a kendo stick.
.@realsuyung's sinister Undead Bridesmaids are here and this can't be good for @WeAreRosemary! #IMPACTonPop pic.twitter.com/CNpH2D46AC

— IMPACT (@IMPACTWRESTLING) May 4, 2018
Rosemary lunges to attack her with the kendo stick but gets hit with the mist from Su. Yung then hits a panic switch on Rosemary off the stage into a table.
PANIC SWITCH OFF THE STAGE THROUGH A TABLE! #IMPACTonPop @realsuyung pic.twitter.com/9BE844BaU5

— IMPACT (@IMPACTWRESTLING) May 4, 2018
The undead bridesmaids then drag Rosemary back to the ring and place her in the coffin as Allie is still forced to watch.
My Opinion:
This was a solid show for Impact after they suffered a big drop in viewership due to the NFL Draft. I predict that they will bounce back from last week. A lot of great matches this week. The match of the night was the six man lucha style match and the segment of the night was the Allie/Su Yung storyline that has now involved Rosemary.
My Score: 7.5/10
Mitchell's NXT TakeOver: WarGames II Results & Report! (11/17/18)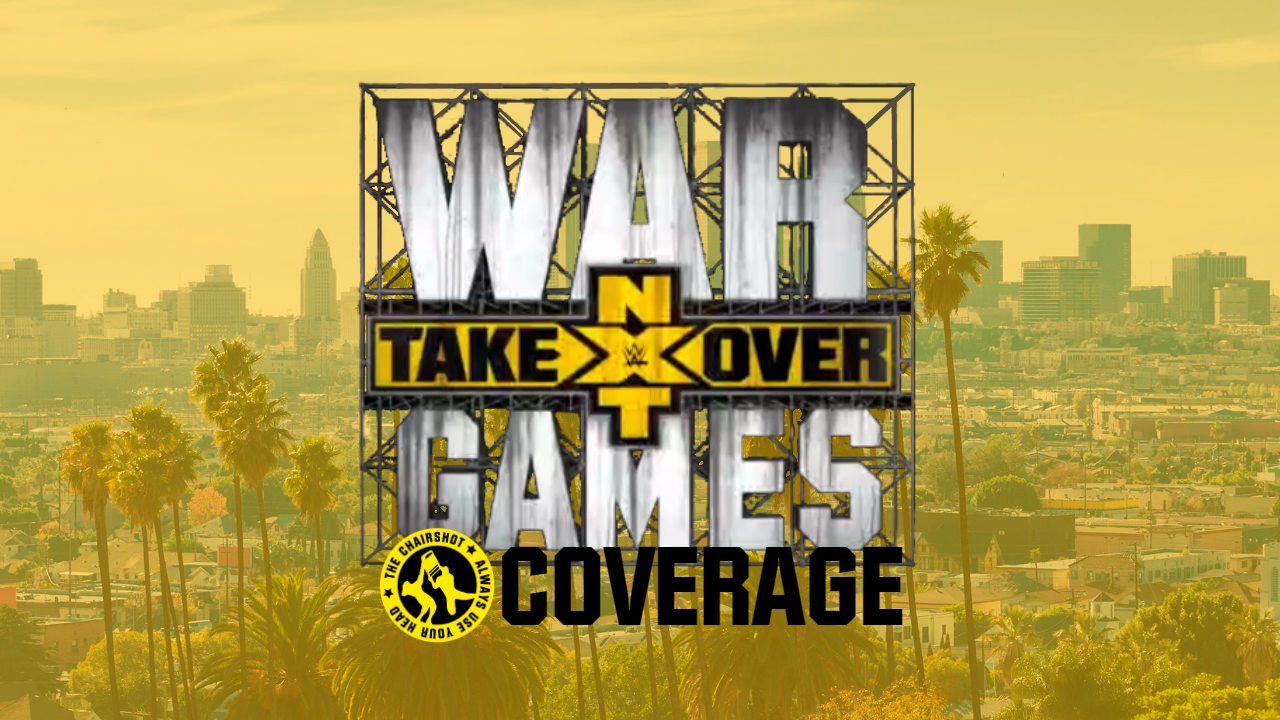 NXT takes over Los Angeles with WARGAMES! Can The Undisputed Era #ShockTheSystem with back-to-back victories? Will Tommaso Ciampa feel The Experience?
OFFICIAL RESULTS
Matt Riddle VS Kassius Ohno; Riddle wins.
NXT Women's Championship 2 out of 3 Falls: Shayna Baszler VS Kairi Sane; wins and
Aleister Black VS Johnny Gargano; wins.
NXT Championship: Tommaso Ciampa VS Velveteen Dream; wins and
WarGames: The Undisputed Era VS Ricochet, Pete Dunne & The War Raiders; win(s).
PLAY BY PLAY
Nina Strauss joins the NXT TakeOver preshow panel!
The rocking guitarist behind one of WarGames' themes, Mariana Trench, joins Charli, Sam and Pat. It's been an amazing week as her album Controlled Chaos debuted at number seven. And that's on top of joining forces with Lzzy Hale at WWE Evolution for an amazing performance. From rock 'n' roll to wrestling, the Women's Evolution is inspiring everyone, but especially young girls.
Evolution was also where Shayna Baszler recaptured the NXT Women's Championship. But now Kairi Sane comes back for another rematch, in best 2 out of 3 falls. Nina is in the #FightForeverClub, she wants them to keep going. But this match tonight will be the most amazing one yet. What is it that makes this feud so compelling? The story, the tension, the build and the tied record. How does Nina feel about badass Baszler? Yeah she definitely doesn't want to run into her in a dark alley. But Kairi is tough herself, so it could be either woman's match. Who will be THE Women's Champion after no less than two falls?
Matt Riddle joins the panel!
The King of Bros feels great to be here, "bro." He and Pat have a bro-down and fans join in. But the NXT Universe of course loves Riddle, but here comes Kassius Ohno. Ohno mocks the bro-ness, it makes him physically ill. Ohno is sick of the bro, and is sick of Riddle. He sees through Riddle's act! Everyone loves Riddle, but Ohno sees the mirage. Ohno says he'll only need one second to expose Riddle. Riddle used to think Ohno was cool. But now Ohno's just bitter. And maybe instead of being bitter, try being better. These two will face off next week on NXT, who will be better, bro?
The War has Returned Again.
For the second year in a row, "battle lines have been drawn." Two teams, two rings, one cage. Two falls, two women, one champion. And two forces of nature, two sides to a story, one winner. "Opportunity still reigns." Scores will be settled, let the WarGames begin!
Matt Riddle heads to the ring!
The King of Bros is here, but he's not on the card. Riddle grabs a mic and greets LA with a "Bro…!" He wasn't going to have a match tonight on TakeOver, a shame. But if you saw the kickoff, a certain someone interrupted him. Now Riddle and Ohno are meant to fight next Wednesday on NXT, but… If they're chilling in LA, with two rings, maybe Riddle will KO KO in both of them! Riddle has called Ohno out, so here Ohno comes! Ohno says Riddle is "too stupid to know you're not supposed to be out here right now", or that he's not ready for a TakeOver. But there's a ref, so ring the bell! And hopefully Riddle enjoys his moment, because he won't remember it after getting knocked out, "bro"! Is it happening? IT IS!
Matt Riddle VS Kassius Ohno!
The bell rings, and Ohno rushes Riddle! Riddle is ready, with a BIG knee! Cover, RIDDLE WINS!!
Winner: Matt Riddle, by pinfall
WHOA, BRO!! Riddle just beat Kassius in the fastest match in TakeOver history!! Who wasn't ready for this? Will this instant victory skyrocket Riddle to a title?
NXT Women's Championship 2 out of 3 Falls: Shayna Baszler VS Kairi Sane!
The Queen of Spades and the Pirate Princess have gone back and forth four times, and they're all tied up. Of course, Shayna had her friends help her the last time, not that she's bothered by it. There must be a true winner here tonight, who will be THE NXT Women's Champion by the end of this epic fifth chapter?
(NOAH) WEEKLY NEWSLETTER VOL.10 ~16TH NOVEMBER 2018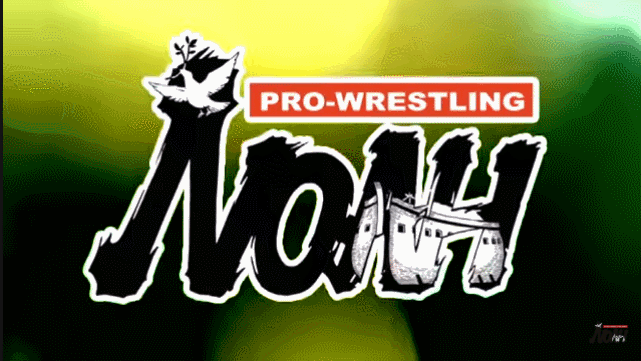 Another wonderfully in depth recap of this week in Pro Wrestling NOAH. How is the Global League going? Let's see what else has been going on in NOAH.
CURRENT TOUR RECAP
NOAH were in Hiroshima on the 12th November; Hiroshima is a city of mixed emotion for NOAH, for some it is home, but for the promotion as a whole it has sad associations, as Mitsuharu Misawa died there in 2009.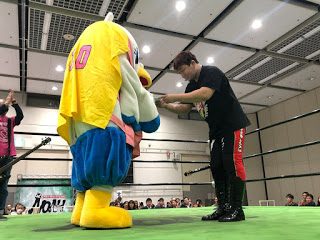 Hitoshi Kumano, (a local bear), took charge of fundraising for the Heavy Rain Fund (Hiroshima was hit badly earlier in the year by floods, and the mascot got yelled at by Mitsuya Nagai). Nagai was wound up by Naomichi Marufuji as well, who held the ropes open for him, a tactic which served to wind Kenoh up too. It was also the event where Kotaro Suzuki got his win over HAYATA, and sat on the ropes holding the belt up to both Daisuke Harada and HAYATA. Kotaro Suzuki later said that HAYATA bought out his trump card in the previous match ("the Headache"), and so he bought out his too, and that he would be no match for him with his own number of various maneuvers which he would bring out in the title match. They had their final match before the championship match on the 17th in Osaka, and they will both go into the match with one victory each over the other in the build up for the challenge.
Fan support is very much on the side of HAYATA (who is not NOAH born unlike Suzuki who is seen as an outsider, despite being NOAH born) to bring the championship home.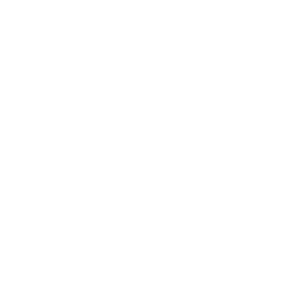 Mitsuya Nagai clashed with Naomichi Marufuji, and was chopped to shreds. Marufuji said he looked like a "boiled octopus" afterwards. Katsuhiko Nakajima would dismiss Nagai as "small fish" on the 14th, but Nagai would break through the dark cloud on the 16th when he ended the winning streak of Kohei Sato.
Despite his fluke win and spazz out victory celebration against Takashi Sugiura, Kaito Kiyomiya suffered two defeats in a row; the first being against Atsushi Kotoge on the 14th and Cody Hall on the 16th. Kotoge, however, has been on a roll and defeated Go Shiozaki on the 16th.
In a rare moment on the 14th, Masa Kitamiya and Kenoh shook hands. Kitamiya said that he did it to acknowledge that he and Kenoh (who lost to him) had practically fought to the death for the win, and that he didn't trust wrestlers who had no ambition. Speaking of Kenoh, during the huge tag on the 16th November, his victory over
Marufuji seemingly wasn't enough, and he decided to get his face again.
Marufuji (now with both shoulders needing athletic support) just looked tired and like he'd had enough.
The show on the 16th November was a shift in the league; Kohei Sato, Kazusada Higuchi and Go Shiozaki had their perfect records beaten by Mitsuya Nagai, Mohammed Yone and Atsushi Kotoge, and Nakajima avenged his loss against Quiet Storm in Global League 2017.
As Global League is beginning to heat up, everyone is talking about not letting anymore victories slip through their fingers, but of course, not all matches can go to a draw, and someone has to lose. There can only be two finalists, and ultimately one winner.
Full recap of Global League 2018 so far, can be found here.
Noah will be back on Saturday 17th November at the Edion Arena in Osaka, (gong sounds at 18.30).
NEWS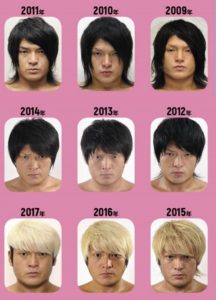 THE EVOLUTION OF KENOH 
The upcoming "Wrestlers Directory" 2018 (basically a guide to who is who, what, and where in 2018) was previewed and Naomichi Marufuji and Kenoh were profiled with their changing looks over the years. 
Kenoh made the following comments about his entry:
His 2009 picture is ugly
Like all trainees, he debuted with a shaved head. Says he didn't used to cut it, and its awkward to look at it, says he didn't think he had any money to cut it.
It doesn't really translate well, but Kenoh says he cut his hair in 2012 because it had been long for long enough. In another rough translation he says that he looks like a child of badboy parents, who has been forced to pose.
Kenoh said about his expression that it doesn't change, because in his every day life, he does not laugh a lot.
In 2015, Kenoh says that "I admired him and went blonde, but I can no longer say I have the aspiration to be like him" (he is talking about Morishima, who very sadly, has let a lot of people down, including Kenoh).
YOSHIKI INAMURA ADDED TO THE NOAH ROSTER PAGE 
At the moment there is not too much information on him apart from his birthday (November 18th 1992), his height and weight, blood type and birthplace (Otawara City in Tochigi Prefecture), date of debut and finisher. His finisher isn't anything special at the moment, and doesn't have a special name, being listed only as a "tackle".
He doesn't have a Twitter account yet.
CHRISTMAS AT MUSCLE GRILL
Naomichi Marufuji's current restaurant MUSCLE GRILL in Tokyo will be having a Christmas party on the 22nd December. Naomichi Marufuji, Hi69, Tadasuke, Atsushi Kotoge and Junta Miyawaki will be attending, but obviously this depends on whether or not they manage to stay injury free.
Event is now full.
HAJIME OHARA IN CHINA
Hajime Ohara has missed some Noah dates as he is training the Eastern Hero Athletes in Shanghai, and also when they visit the Noah dojo in Saitama. Ohara is known to be a very strict trainer with a lot of emphasis on health and well-being, which goes further than working out as he is a big advocate for healthy eating and avoiding alcohol (although he does seem to have a weakness for cake); he has banned smoking during training sessions, forbidding his students to smoke while on breaks.
NOAH IN 2019 
Noah have announced the dates for "Navigation for The Future 2019". The tour will run from January 6th to Friday, February 1st. They have also announced their (provisional) Korakuen Hall schedule for 2019.
TAKESHI MORISHIMA UPDATE
There has been no real news following Morishima's arrest earlier in the month, but further sad details have come to light about his behavior prior to the arrest and his living circumstances.
Morishima it seems was (and is) homeless and without any form of income, and was begging for drinks, even using the tactic of asking to drink with the bar staff as it meant he would be given free drinks.
The management company who were sponsoring his return had originally put him up in an apartment, which they paid the rent for. The deal was that Morishima would concentrate on his return, however, Morishima didn't do this, and preferred alcohol to training. The President of the company, seeing that Morishima wasn't giving anything in return despite repeated requests for him to change his ways, eventually lost his patience and told Morishima to pack up and leave.
Morishima, seemingly unconcerned about this, told him flippantly that he was drinking in Shinjuku, and if he wanted the keys, he should come and get them.
GHC BELT NEWS
GHC Heavyweight Champion: Takashi Sugiura
GHC Junior Champion: Kotaro Suzuki
GHC Heavyweight Tag Champions: Naomichi Marufuji & Akitoshi Saito
GHC Junior Tag Champions: Minoru Tanaka & Hi69
The winner of Global League 2018 will earn the right to challenge Takashi Sugiura for the GHC Heavyweight title, if he himself wins, Sugiura says that he will nominate Masato Tanaka as his challenger.
Kotaro Suzuki will defend the GHC Junior Heavyweight title against HAYATA on the 17th November at Edion Arena, Osaka.
The GHC Heavyweight Tag titles have not had a challenger as of yet, and probably won't until after Global League wraps up. Mitsuya Nagai has hinted that he may challenge, but Saito said that he will not be granted a title shot. Katsuhiko Nakajima was asked if he was going to challenge after the Global League match with Saito, and said cryptically, he was "in the mood for shopping" (i.e., shopping around to see what deal is best).
The GHC Junior Tag Championship will be challenged for by Koji Kanemoto and Hiroshi Yamato on the 25th November at Korakuen Hall. Seiya Morohashi has also challenged for them, his partner at this time is as yet unknown, but it is thought it will either be TAMURA or Kouki Iwasaki.

TOUR TIDBITS
Atsushi Kotoge drinks "Revolutionary Coffee"
Naomichi Marufuji sat on a wet bench wearing thin grey pants…
There was a cat at the hotel in Ehime, much to YO-HEY's delight
Kaito Kiyomiya appears to be being fitted for tailored suits (long gone are the days of the oversize one thank god)
Daisuke Harada celebrated his 32nd birthday on the 13th November (President Uchida did not even know it was his birthday!), and Yoshiki Inamura will celebrate his 26th birthday on November 18th, Takashi Sugiura bought him an early birthday cake and a small party was held at a restaurant Inamura had been taken out to by his seniors.
Shu Nishinaga said Ally (the ring announcer) "whined like a child" for udon noodles.
Naomichi Marufuji says he was disturbed by mosquitoes, in November, which woke him up at 2.30am
Kenoh apparently went jogging in the Imperial Palace Gardens in Kyoto (a fan who saw him, thought he was a blonde delinquent fleeing the law before it was discovered it was Kenoh)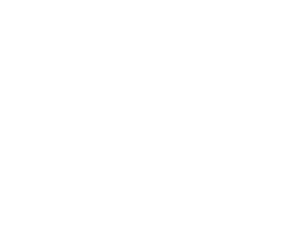 KING SHAMELESS CORNER 
After weeks of silence. Takashi Sugiura is back, posting a picture of Masao Inoue holding an ice cream cone with white foam in it and labeling it "mood" and photographing erotic looking food.
I'll leave it to your (and his) dirty imagination as to what exactly he meant by oysters being "erotic"…
BROADCASTS
The final night of Global League, 25th November, will be broadcast at 6pm on Saturday 8th December
The event on the 12th December, will be broadcast on the 15th December
The event on the 16th December, will be broadcast on the 22nd December
This is more than usual, and all seem to be going out on a weekly basis. This makes me wonder if the network are trying something out.
LINKS
K-FORCE: music inspired by Katsuhiko Nakajima
ARTICLE: "Traces to Nowhere: the tragic story behind the Takeshi Morishima arrest"
News article on Takeshi Morishima's drunken and chaotic life
Enjoy what I do? Help me do it full time.
IPW are the official vendors of Noah merchandise, please click here for shop
English translation of "Heir to the Ark" (Naomichi Marufuji's biography) ~ work in progress
Enjoy the Pro Wrestling NOAH content? Let us know on social media @theCHAIRSHOTcom and always remember to use the hashtag #UseYourHead!