Ja'Von's IMPACT Wrestling Live Coverage! (5/3/18)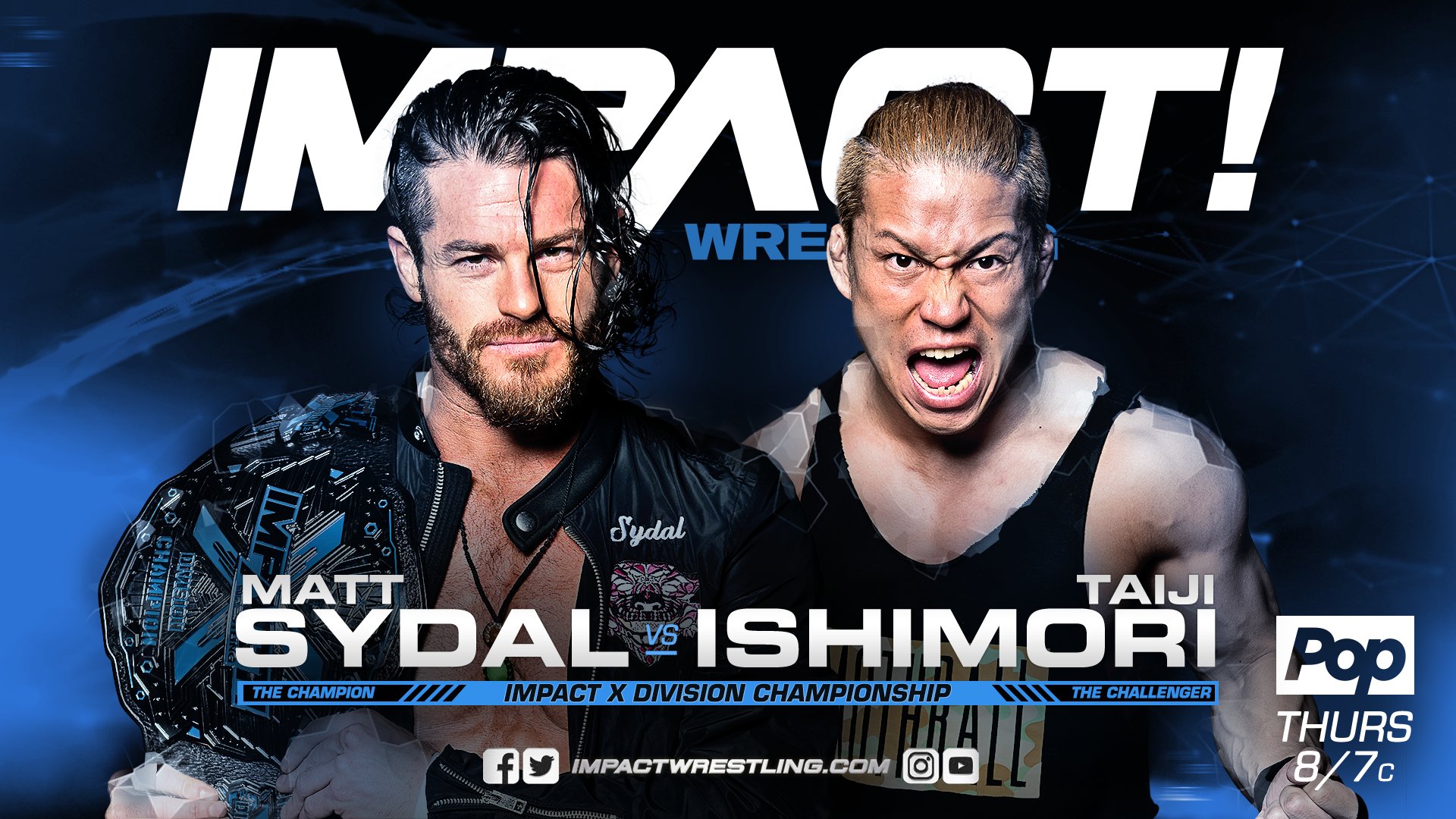 Quick Results:
Rosemary vs Su Yung: No Contest
Matt Sydal vs Taiji Ishimori (X-Division Championship): AND STILL X-Division Champion Matt Sydal via pinfall 
Brian Cage World Tour: Brian Cage via pinfall 
oVe in Tag Team Action: oVe via pinfall
Taya Valykire vs Kiera Hogan: No Contest
Drago, Fantasma, and Aerostar vs Dezmond Xavier, DJZ, and Andrew Everett: Dezmond Xavier, DJZ, and Andrew Everett via pinfall
Play by Play:
Impact opens up with a recap video package of what happend last week.
Eli Drake Kicks Off Impact: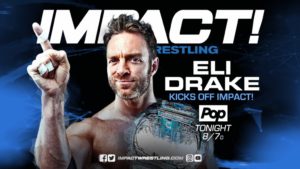 Eli Drake kicks us off tonight and makes his way to the ring but without his tag team partner Scott Steiner. Drake grabs a mic and says that he sees a lot of dummies in the crowd and says that Steiner isn't out with Drake cause he told Scott to take the night off tonight. He goes on to say that he stands here with the tag title and his briefcase and refers to last week him and him cashing in his brrifcase. He then goes on to talk about Aries and Pentagon Jr. interrupting him but he doesn't care cause there is only one man and that man is Eli Drake. Eli then calls his shot saying that he is cashing in his breifcase NEXT WEEK and is confident that he will become a two time world champion.
NEXT WEEK – it is official. @TheEliDrake will cash in his Feast or Fired World title shot and face @PENTAELZEROM for the IMPACT World Championship!

Will Drake become a two time Champion or will Pentagon retain? #IMPACTonPop pic.twitter.com/ps8cD82226

— IMPACT (@IMPACTWRESTLING) May 4, 2018
Pentagon Jr. then comes out and makes his way to the ring and they go nose to nose with each other. Both guys trash talk each other and neither man looks to be backing down. Both guys hold up the title and the breifcase to end the segment.
Kiera Hogan Backstage Interview:
McKenzie Mitchell interviews Kiera Hogan backstage and ask her about her first PPV match. Hogan knows that she lost and says her redemption will come later on tonight. Tessa Blanchard interrupts the interview and says that her first ppv should be her last and says she is better than her.
.@HoganKnowsBest3 is looking for her #Redemption. But it would appear new arrival @Tess_Blanchard has other ideas. #IMPACTonPop pic.twitter.com/6sFBaZ442p

— IMPACT (@IMPACTWRESTLING) May 4, 2018
Hogan says that Tessa is better than her but it's at sitting and watching and tells her to do so as she beats Taya tonight.
Joseph Park is seen backstage on his phone and Grado appears and tells him he has found himself a girlfriend. Aries then bumps into him and talks about the landscape changing but that everything is fine and he will win back the world title. Aries then offers them a banana.
oVe vs KM and Fallah Bahh:
oVe make their way to the ring for their match. KM and Fallah Bahh make their way to the ring for the match. The Crist Brothers get the jump on KM and Fallah Bahh but KM regains control and takes down Jake Crist then hits a Beil Throw on him. Jake then regains control by side stepping KM. Jake puts KM in his corner and he stomps down on him. A few chops later Jake tags in Dave and takes down KM. Dave tags in Jake and they attempt to hit a double suplex but he counters and tags in Fallah Bahh who hits a double crossbody on the Crist Brothers. Both brothers in separate corners and he hits a splash on both then tosses Jake into Dave and hits a splash on both. Bahh then rolls on both brothers followed by KM rolling on them this goes on few more times but the Crist Brothers regain control of the match.
.@ImpactKM is really getting into the spirit of teaming with @FALLAH1. #IMPACTonPop pic.twitter.com/vox7cdqbbF

— IMPACT (@IMPACTWRESTLING) May 4, 2018
They take out KM then Jake rolls up Fallah Bahh for the pinfall victory. Post match Fallah Bahh and KM shake hands.
Winners: oVe via pinfall
McKenzie Mitchell interviews Moose backstage. She ask him about wanting to claim the world title. Moose says that he never won a world championship in football and since coming to Impact he hasn't won a world championship. He then says that in 2018 he will win the world title. Jimmy Jacob's interrupts the interview and says the last person who called himself impact faced the wrath of Kong then Moose Jack's him up and ask him what he wants and Jimny says he wants Moose to face his monster next week and Mosse accepts the challenge.
Keira Hogan vs Taya Valykire: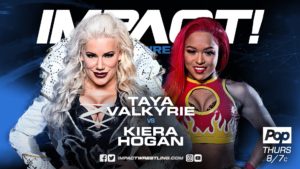 "Lucha Royalty" Taya Valykire makes her way to the ring for the match. "The Girl on Fire" Kiera Hogan makes her way to the ring. Taya Charles in and takes down Hogan with a spear then the ground and pound. Taya puts Kiera in the corner and stays on the attack. Taya follows up with a Biel and tries to stay on the attack but Hogan side steps and gets barely anything on Taya before she regains control and takes down Hogan. Taya stands over her and taunts her. Kiera Hogan then gains control of the match and takes it to Taya. She drives her out of the ring and then procees to curb stomp Taya into the ring steps.
.@HoganKnowsBest3 has a vicious streak! A curb stomp on the ring steps! #IMPACTonPop pic.twitter.com/1bSJoDNpjK

— IMPACT (@IMPACTWRESTLING) May 4, 2018
Kiera looking to hit another big move on Taya Tessa Blanchard comes out and attacks Hogan.
.@Tess_Blanchard is here! #IMPACTonPop pic.twitter.com/JT9TN6WKFM

— IMPACT (@IMPACTWRESTLING) May 4, 2018
Kiera puts up somewhat of a fight but Tessa was just too much for her and sends her back first into the post then rib first into the ring apron. Tessa tosses Hogan into the ring and then finishes her off with a Hammerlock DDT.
.@Tess_Blanchard floors Hogan with a hammerlock DDT. She has put the Knockouts Division on notice. #IMPACTonPop pic.twitter.com/uywdzfGDPn

— IMPACT (@IMPACTWRESTLING) May 4, 2018
Winner: No Contest
A video package is played showcasing Brian Cage and his unstoppable winning streak since coming to Impact Wrestling.
Brian Cage vs Brodie Marshall vs Mick Moretti vs Slex:
All four men are already in the ring and look to take out Cage and send him to the floor. They other guys go at it and take out another guy leaving only two in the ring who go at it. Cage finally makes his way back in the ring and hits a hurricanrana then a splash on a guy in the corner. Cage then goes toe to toe with Moretti then Merty looks to have taken advantage of Cage as he takes him down but it looks like Cage allowed for it to happen as he hits a double fallaway slam on two guys followed by flying over the ropes without touching them taking out everyone and gets a two count.
CAGE TAKES EVERYBODY OUT WITH A DIVE! #IMPACTonPop @MrGMSI_BCage pic.twitter.com/aGaanibvQ1

— IMPACT (@IMPACTWRESTLING) May 4, 2018
Cage then gets caught by Slex who stays on the attack and gets a two count on Cage. Moretti comes back in and is tossed into the corner but side steps Slex and hits a brainbuster type move on him. Cage gets back in the ring and hits a blue thunderbomb followed by an Alabama slam. Marshall comes back in the ring and takes out Cage then hits a spinebuster on Mick for a two count. Cage then comes back in the ring but eats a German suplex but rolls through and hits a discus clothesline followed by the drill claw for the win.
Drill Claw = @MrGMSI_BCage wins once again. #IMPACTonPop pic.twitter.com/VphdbNXTTL

— IMPACT (@IMPACTWRESTLING) May 4, 2018
Winner: Brian Cage via pinfall
Drago, Fantasma, and Aerostar vs Dezmond Xavier, DJZ, and Andrew Everett: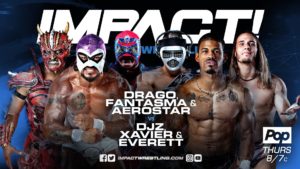 Drago, Fantasma, and Aerostar all make their way to the ring together as we go to break. DJZ, Dezmond Xavier, and Andrew Everett all make their way to the ring for the match. Dezmond and Fantasma start the match. Back and forth with go with leapfrongs and drops which lead to Xavier hitting a headscissor flip on Fantasma who lands on his feet. The match is fast and furious as Xavier slides out of the ring and DJZ comes in and Drago comes in on the other side but DJZ and Andrew Everett hit multiple double team maneuvers on him and drive him out of the ring and Aerostar comes in and DJZ gets out of the ring and Everett and Aerostar square off. Fast forward a bit after tons of high flying moves and fast pace speed that even I can't keep up Fantasma comes in a slow down the match and hits a spinebuster and gets a two count. Drago comes in and takes down Andrew for a two count. Aerostar comes in and hits a dropkick on Andrew who slides to the outside and DJZ comes in and both Andrew and DJZ hit double dropkicks on Aerostar.
Double dropkicks by @IAmDJZ and @_AndrewEverett before @DezmondXavier flies! #IMPACTonPop pic.twitter.com/K80Pn3Y03Q

— IMPACT (@IMPACTWRESTLING) May 4, 2018
Eventually the match breaks down and all six men are in the ring as Drago has a crossface on DJZ and Dezmond has the abdominal stretch on Fantasma. Andrew and Aerstar break up the submissions then the lucha have Xavier trapped but DJZ and Everett break it up with a couple of codebreakers. The match then spills to the outside as DJZ, Fantasma, and Aerostar each takeout everyone with The Arrow from The Depths of Hell, a backwards senton
La Bombita! #IMPACTonPop @aaaerostar1 pic.twitter.com/Aqhtxunvun

— IMPACT (@IMPACTWRESTLING) May 4, 2018
and a dive from the top turnbuckle.
Incredible step up dive by @IAmDJZ! #IMPACTonPop pic.twitter.com/GRo65c8l3u

— IMPACT (@IMPACTWRESTLING) May 4, 2018
All six guys are down as we go to break. Back from break and everyone is back in the ring and it's a mess. All three luchadors wre down as Dezmond, DJZ, and Andrew each hit a diving attack on each luchador and go into the cover and all three kick out at 2.
Frog Splash by @IAmDJZ.

Final Flash by @DezmondXavier.

AND @_AndrewEverett TOUCHES HIS TOES WHILE DOING A MOONSAULT! #IMPACTonPop pic.twitter.com/ZZYwn4e6dZ

— IMPACT (@IMPACTWRESTLING) May 4, 2018
The luchadors gain control and do rollups at the same time for two counts. Down the stretch Xaxvier and Fantasma are alone in the ring and Dezmond takes him out. Xavier looks to go to the top for a high risk move but Aerostar takes him out. Aerstar looks to go for a move off the top but with a distraction from Andrew DJZ was able to come in and hit the ZDT for the pinfall victory.
.@IAmDJZ picks up the win with a ZDT from the middle rope. #IMPACTonPop pic.twitter.com/3AraGQzSFV

— IMPACT (@IMPACTWRESTLING) May 4, 2018
Winners: Andrew Everett, DJZ, and Dezmond Xavier via pinfall 
Eli Drake is walking backstage and runs into Aries. Austin says things got heated last week and says that he wishes Eli good luck in his title match next week. He hopes that Eli wins because he knows he can beat him.
Back from break KM and Fallah Bahh are talking and KM says that if he follows him he will make him cool and successful. Another guy gets attacked again backstage.
This is the second week in a row somebody has been attacked with this symbol left behind. #IMPACTonPop pic.twitter.com/50N8Hn2w4e

— IMPACT (@IMPACTWRESTLING) May 4, 2018
A video is played of Eddie Edwards standing outside of the Police Station and keeps calling someone but gets no answer. Tommy Dreamer pulls up and tells Eddie to get in the car.
Matt Sydal vs Taiji Ishimori(X-Division Championship):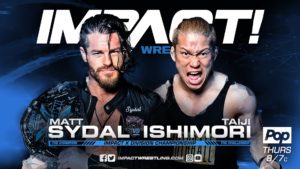 Ishimori makes his way to the ring for the championship match.
The X-Division title is on the line. It's Mothball time! #IMPACTonPop pic.twitter.com/JJzq7nFx6e

— IMPACT (@IMPACTWRESTLING) May 4, 2018
Matt Sydal makes his way to the ring to defend his championship. Collar and elbow tie up and Sydal gets theadvantage of Taiji but then Ishomori gains control with a wristlock but Sydal fights out of it and takes down Taiji. Ishimori is whipped into the ropes but he floats over them and waits for Sydal as he runs in to attack and Taiji hits him with a shoulderblock followed by a diving senton driving Sydal out of the ring as we go to break. Back from break and Taiji is in control of Sydal and pushes him into the corner then with an Irish whip into another corner followed with a roll up for a two count. Sydal then targets his attack on the knee and ankle of Ishimori. Taiji fights back and catches him with an elbow but Sydal catches him with a spinning heel kick as Ishimori comes off the ropes. Sydal then catches Taiji and hit him with a Dragonscrew and wears him down. Matt rolls through and looks to have hurt his arm but stays on the attack but Taiji fights backand catches Matt on the bridge of the nose. Ishimori slams him on the Matt and connects with a diving move from the second rope for a two count. Sydal then goes for a standing moonsault vut Ishimori gets the knees up and counters. Sydal then fights back and knocks down Ishimori for a two count. Sydal goes for the shooting starpress but Ishimori moves out of the way and hits him with a gutbuster. Sydal fights back and gains control of the match and hits a some sort of driver type move for the pinfall victory.
We saw this move against Petey Williams at #Redemption18, and @findevan put away Ishimori with it tonight. Sydal has a new weapon to put opponents away as well as the Shooting Star Press. #IMPACTonPop pic.twitter.com/ObReAPUn29

— IMPACT (@IMPACTWRESTLING) May 4, 2018
Tommy and Eddie are shown at Tommy's house trying to talk some sense into Eddie but Eddie isn't hearing it and leaves.
Allie is shown backstage with Rosemary and says he will be in her corner but Rosemary says no and Allie wasn't having it but Rosemary makes her promise to not come down to the ring and says it has to be this way.
LAX are shown in their clubhouse and everything is falling apart for them. They say if they lose next week then they are nothing.
Su Yung vs Rosemary: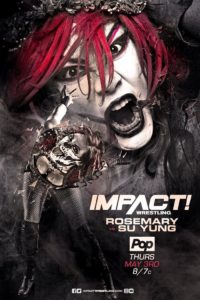 Su Yung makes her way to the ring for the match. Rosemary makes her way to the ring for the match. Su Yung meets Rosemary at the ramp with a forearm. Rosemary fights back thentosses her into the steel steps. Rosemary stays on Yung but Su fights back with a big palm strike and hits her with the panic switch on the floor.
Panic Switch on the floor by @realsuyung. #IMPACTonPop pic.twitter.com/CZvUVwhOdH

— IMPACT (@IMPACTWRESTLING) May 4, 2018
Su Yung then summons the undead bridesmaids to the ring who are carrying a coffin. Allie comes down to the ring and attacks Su Yung from behind. Allie says that Rosemary is her best friend and she will never leave her. Rosemary tell her she needs to go but Allie refuses to go.
An extremely powerful moment as @AllieImpact refuses to leave her best friend @WeAreRosemary's side. #IMPACTonPop #DemonxBunny pic.twitter.com/s2ouTPnaI1

— IMPACT (@IMPACTWRESTLING) May 4, 2018
The undead bridesmaids grab Allie and forced her to watch as she attacks Rosemary but Rosemary fights back and grabs a kendo stick.
.@realsuyung's sinister Undead Bridesmaids are here and this can't be good for @WeAreRosemary! #IMPACTonPop pic.twitter.com/CNpH2D46AC

— IMPACT (@IMPACTWRESTLING) May 4, 2018
Rosemary lunges to attack her with the kendo stick but gets hit with the mist from Su. Yung then hits a panic switch on Rosemary off the stage into a table.
PANIC SWITCH OFF THE STAGE THROUGH A TABLE! #IMPACTonPop @realsuyung pic.twitter.com/9BE844BaU5

— IMPACT (@IMPACTWRESTLING) May 4, 2018
The undead bridesmaids then drag Rosemary back to the ring and place her in the coffin as Allie is still forced to watch.
My Opinion:
This was a solid show for Impact after they suffered a big drop in viewership due to the NFL Draft. I predict that they will bounce back from last week. A lot of great matches this week. The match of the night was the six man lucha style match and the segment of the night was the Allie/Su Yung storyline that has now involved Rosemary.
My Score: 7.5/10
---
Always Use Your Head and visit the official Pro Wrestling Tees store for The Chairshot All t-shirt proceeds help support the advancement of your favorite hard-hitting wrestling website, The Chairshot!

---
Mitchell's WWE Extreme Rules Report! (7/15/18)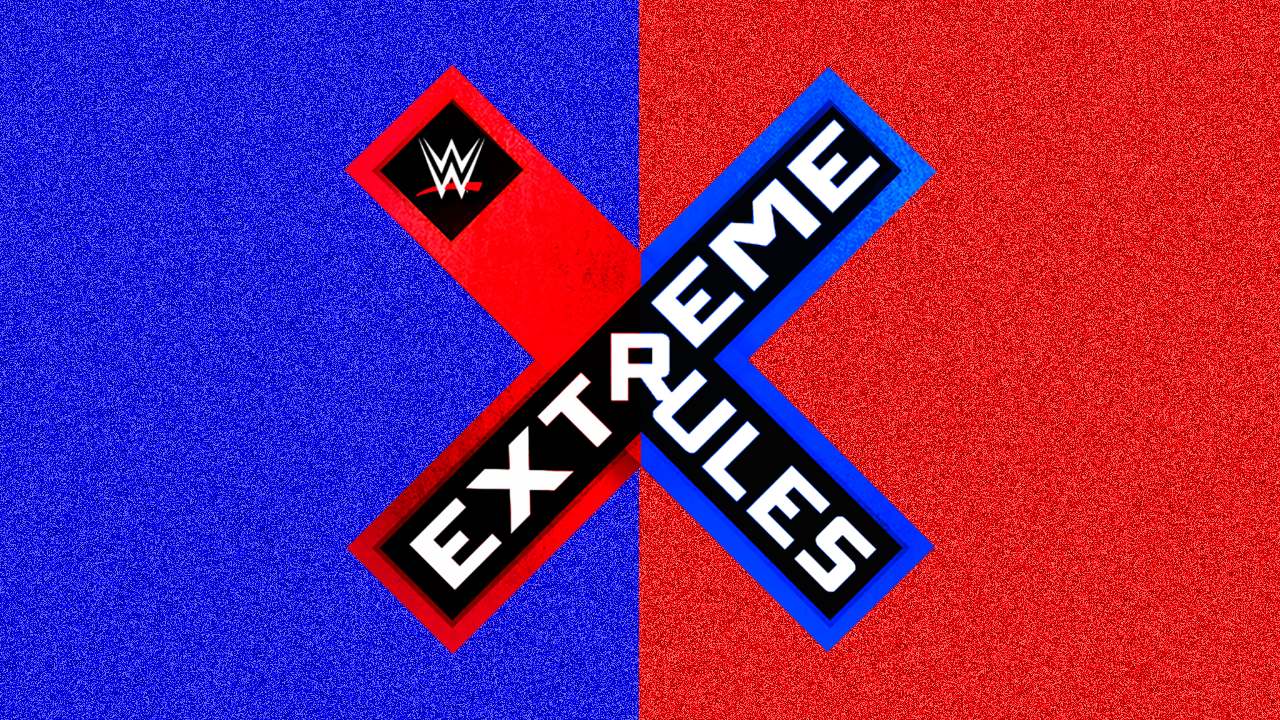 This card's stacked with a Raw Women's Championship Extreme Rules, a 30-Minute Ironman Intercontinental Championship, and a WWE Championship Rusev Day!
All images courtesy of the WWE's official Twitter
OFFICIAL RESULTS
Kickoff Show: Andrade "Cien" Almas w/ Zelina Vega VS Sin Cara; Almas wins.
Kickoff Show: Six Man Tag Tables Match: SAnitY VS The New Day; SAnitY wins.
Raw Tag Team Championships: The Deleters of Worlds VS The B Team; wins and
Finn Balor VS Constable Baron Corbin; wins.
SmackDown Women's Championship Shark Cage Match: Carmella w/ James Ellsworth (in a Shark Cage) VS Asuka; wins and
Raw Women's Championship Extreme Rules Match: Alexa Bliss VS Nia Jax; wins and
WWE United States Championship: Jeff Hardy VS Shinsuke Nakamura; wins and
WWE Intercontinental Championship 30 Minute Ironman Match: Dolph Ziggler w/ Drew McIntyre VS Seth Rollins; wins and
SmackDown Tag Team Championships: The Bludgeon Brothers VS Team Hell No; wins and
Steel Cage Match: Braun Strowman VS Kevin Owens; wins.
Roman Reigns VS Bobby Lashley; wins.
WWE Championship: AJ Styles VS Rusev w/ Aiden English; wins and
PLAY BY PLAY
Finn Balor joins the Kickoff Panel!
What does he think about Braun Strowman VS Kevin Owens in a Cage? Finn doesn't envy Kevin tonight. As for Baron Corbin, Finn feels Corbin's singing voice is the only thing worse than his wardrobe. Let's just say Corbin isn't American Idol material. Finn's been dealing with guys like Corbin, but he's gonna chop this tree down. And if it means making Stephanie McMahon an enemy for it, he'll happily do it. Can the Extraordinary Man stop the Constable from ruining Raw?
Kickoff Show: Andrade "Cien" Almas w/ Zelina Vega VS Sin Cara!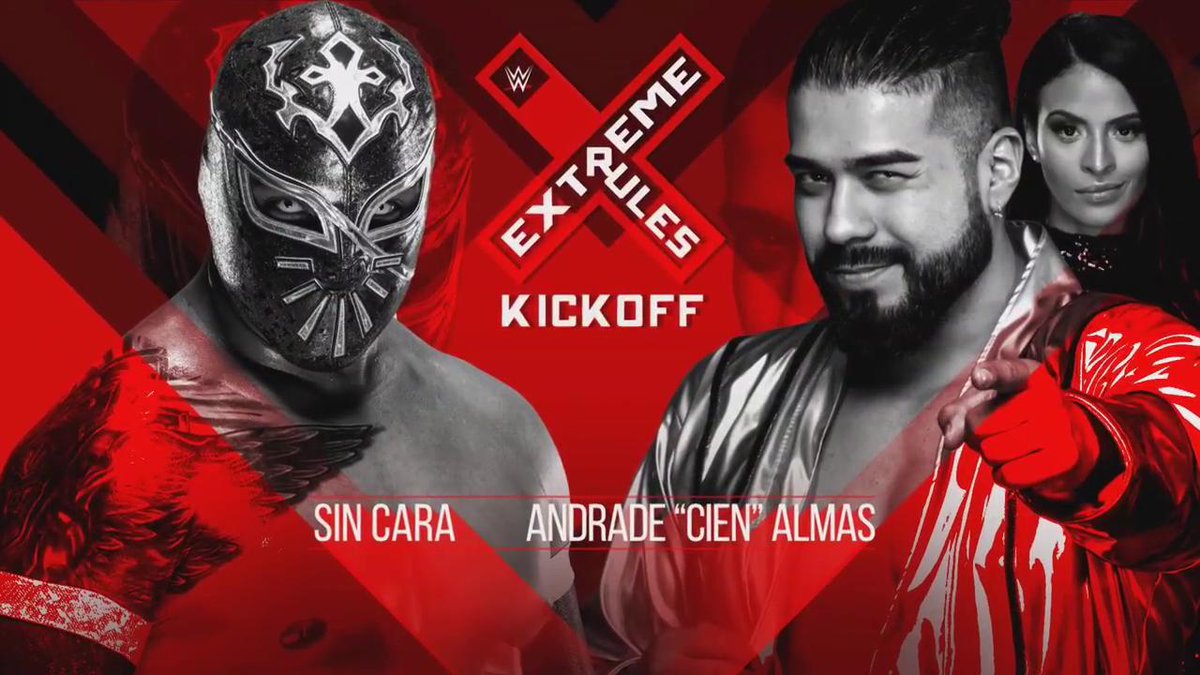 Former amigos are now enemies as El Idolo has been listening to his manager and following her business plan. Almas won on SmackDown, but can he do it just minutes away from Extreme Rules?
The bell rings and the rematch begins. Almas swings on Sin Cara with a heavy hayamker, then dodges him. Sin Cara tilt-o-whirls to arm-drag, then headscissors! Almas slips out but Sin Cara runs. Almas comes in but Sin Cara anticipates his counter to dump him out again. Sin Cara builds speed to DIVE, but Almas throws him into barriers! Vega likes that, and Sin Cara writhes while Almas catches his breath. Almas puts Sin Cara in the ring, but fans rally up for the masked luchador. Almas stomps away on Sin Cara, then throws forearms. He runs and dropkicks Sin Cara in the head. Almas stomps Sin Cara more, then drags him up to whip him to a corner. Sin Cara tries to boot, but gets caught into a draping backbreaker and DDT. Cover, TWO.
Vega grows frustrated now, she wants Almas to finish this fast. Sin Cara hits back, then runs, but into a back elbow! He ends up outside the ring now, and Almas runs to Tranquilo! Vega joins him, and the two have control while we go picture in picture.
Tranquilo…. x2!@AndradeCienWWE @Zelina_VegaWWE #ExtremeRules pic.twitter.com/FPuSgjUk5u

— WWE Network (@WWENetwork) July 15, 2018
Almas fetches Sin Cara ot chop him against the barrier. Vega applauds Almas as he drags Sin Cara up and into the ring. Almas stalks and stomps Sin Cara more, then wrenches the arm in a seated armbar. Fans rally and Sin Cara fights his way up. Sin Cara fights back but Almas wrangles him down while we go to single picture. Almas wrenches harder, but Sin Cara refuses to quit. Fans rally up again and Sin Cara stands. Sin Cara fights back again, then backs Almas down to arm-drag him away. Sin Cara dodges from the corner, then throws forearms. Almas throws back and they brawl. Sin Cara chops and chops, then whips. Almas reverses, but Sin Cara springboards for the crossbody! Then again for the quebrada! Sin Cara is fired up, but is tossed up, for another tilt-o-whirl spike-rana! Cover, TWO!
Vega is furious but Sin Cara is ready. Sin Cara brings Almas up, but Almas blocks the suplex. Almas slips out and boots back, then climbs up. Sin Cara swing kicks Almas! Almas is stuck up top and Sin Cara chops him. Sin Cara positions Almas then climbs up, but Almas fights back. Almas trips Sin Cara up, Tree of Woe but Sin Cara slips out to shove Almas down! Almas hits the apron back first, then crawls into the ring. Sin Cara goes up, for a SUPER huricanrana! BOth men crash and burn to the ground, but Sin Cara is up first. He puts Almas in the ring, climbs up again, FROG SPLASH! But Vega distracts on the apron! Almas dropkicks Sin Cara down. Vega chants for them, Almas gives us CIEN KNEES! And the Hammerlock DDT! Cover, Almas wins!
Winner: Andrade "Cien" Almas, by pinfall
El Idolo gets the sweep, but with help from his business partner this time. Will Sin Cara get some back-up before trying again? Or are Almas & Vega on to bigger and better things?
#ElIdolo @AndradeCienWWE & @Zelina_VegaWWE are all 😃😃😃 after that W! #ExtremeRules pic.twitter.com/4FOTeFx4qP

— WWE (@WWE) July 15, 2018
Shinsuke Nakamura is in the Social Media Lounge.
Can he hear Renee on the panel? Does he have a working mic? The King of Strong Style is set to face Jeff Hardy, how does he feel about the United States Champion? Shinsuke continues to "not hear" anyone. But then he speaks up, claiming "bad connection." After his rivalry with AJ Styles, how important is tonight's win? "You're a clown, like Jeff Hardy." Perhaps, but how important is winning the US title? What? Well, one artist to another, Nakamura respects Hardy. But tonight, Hardy will lose his canvas, his paint, and his title. With that, Nakamura's time is over, but is it really just beginning?
Dolph Ziggler & Drew McIntyre join the Kickoff panel.
The pulse of the nation wants THE top champion on Raw to be around, and that's Ziggler. Ziggler has made his career out of turning small opportunities into big ones. "Opportunist" gets a negative connotation, but Ziggler is proud to be one. Ziggler's been in Rollins' spot, with fans behind you as well as against you. The WWE Universe is the 12th Man, but they're also very fickle. You need to worry about yourself and the title, oh and he has McIntyre watching his back. Rollins lost to the "psychopath" Scotsman, and now McIntyre can be ringside for that Ironman Match.
So McIntyre is a part of Ziggler's strategy? Yes, because McIntyre isn't like the WWE Universe, who are only behind Rollins while they're here. McIntyre is on Ziggler's side 24/7, and they're not tired of winning. Ziggler won't worry about stealing the show, he's just here to win. Main event no matter the spot, but will Rollins be the one stealing the win?
Kickoff Show: Six Man Tag Tables Match: SAnitY VS The New Day!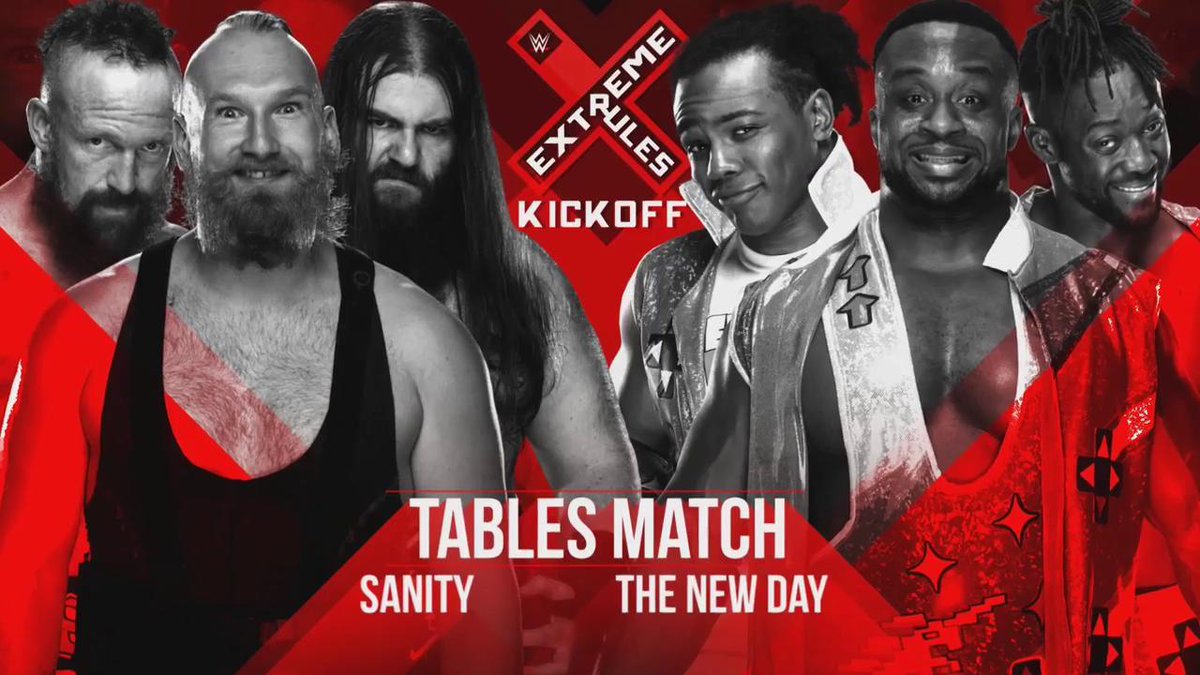 Awwwwww~ Pittsburgh! Don't you dare be sour! Someone is going through a table, so feel~ the power~! Can the power of positivity overcome pure chaos? Or will Eric Young and his anarchic allies begin their own Purge in SmackDown?
The bell rings, annd it's a brawl! All six men pair off as Big E goes after Killian Dain and Kofi clotheslines Alexander Wolfe out of the ring. Woods clubs away on Young but Young whips. Woods reverses and sends Young out of the ring while Big E throws Dain into steps! Kofi kicks Wolfe while he's down, and then the New Day present the first table! They set it up but SAnitY pounces! Wolfe clubs Big E while Young kicks Kofi. Dain has Woods while the others put Big E in the ring. Young & Wolfe stomp away then drag Big E up for body shots. Big E slips out and Young hits Wolfe by accident. Big E dumps Young out, and then runs at them both, but into double knees! Wolfe drags E up while Young climbs. Swinging neckbreaker then elbow drop in that order!
Woods and Kofi have wiped out "Big Damo" in the meantime, but that still leaves Big E alone against two opponents. We go picture in picture while E endures stomps. Wolfe brings Big E up for a haymaker from Young. Young and Wolfe kick and choke Big E against ropes, and there are no rules keeping them from doing it. But Big E revives to throw hands! Only for Young to clobber him again. Young & Wolfe choke Big E more while we go back to single picture. They haul Big E up, but Big E holds on. Kofi & Woods return to throw Wolfe & Young out! Then together, Woods & Kofi FLY! They wipe out Young & Wolfe, but Big Damo returns, to DIVE!!
The Beast of Belfast wipes them both out, then he drags Kofi up and into the ring. SAnitY regroups to go after Kofi while getting a table of their own. Make that two tables! Wolfe hoists Kofi up to the top rope while the tables are set up. Young keeps Woods and Big E down while the preparations finish. Wolfe wants a STACK, so that's what they make! Kofi resists, so Young & Damo come in to help. Big E goes after Big Damo, yurinagi and backstabber with Woods' help! The New Day regroup to help Kofi with Young & Wolfe. Double powerbomb stomps! Steel City is fired up as The New Day stand. Big E drags Young up while Kofi kicks Wolfe out. They bring Young over to the first table, and set him up. Kofi climbs but Damo drags him down off the top!
Big E and Woods run in, but into a clothesline, and a Michinoku Driver that drives Woods into Big E! Kofi kicks Damo in the corner, then Trouble in Paradise! Damo goes down, and Young is still on that table. Kofi takes aim, but Wolfe runs in. Wolfe is sent onto the apron, but Young gets away while Wolfe picks Kofi up. Kofi turns it around, but Wolfe holds on for dear life. Wolfe fights back and even bites Kofi's face! Kofi teeters, Young jumps to drive Kofi through!!
Winners: SAnitY, Kofi going through table
Anarchy rules the day! Is this a new day of doom and gloom for SmackDown's Tag Team Division?
The Deleters of Worlds speak.
"B Team, you mendacious monkeys!" The rules of extreme shall end their streak of luck. "We're here, and we're next."
WWE takes it to the Extreme!
Two alphas fight for supremacy, two frenemies reunite, and two men go for no less than 30 minutes to decide who is the rightful Intercontinental Championship, and that's only some of what's in store for tonight. The Goddess and Irresistible Force go to the Extreme with the namesake match. A Prizefighter is stuck in a cage with a Monster! And a Bulgarian Brute looks to be better than Phenomenal in his first world title match! Who will be victorious on this 10th anniversary of Extreme Rules!?
Raw Tag Team Championships: The Deleters of Worlds VS The B Team!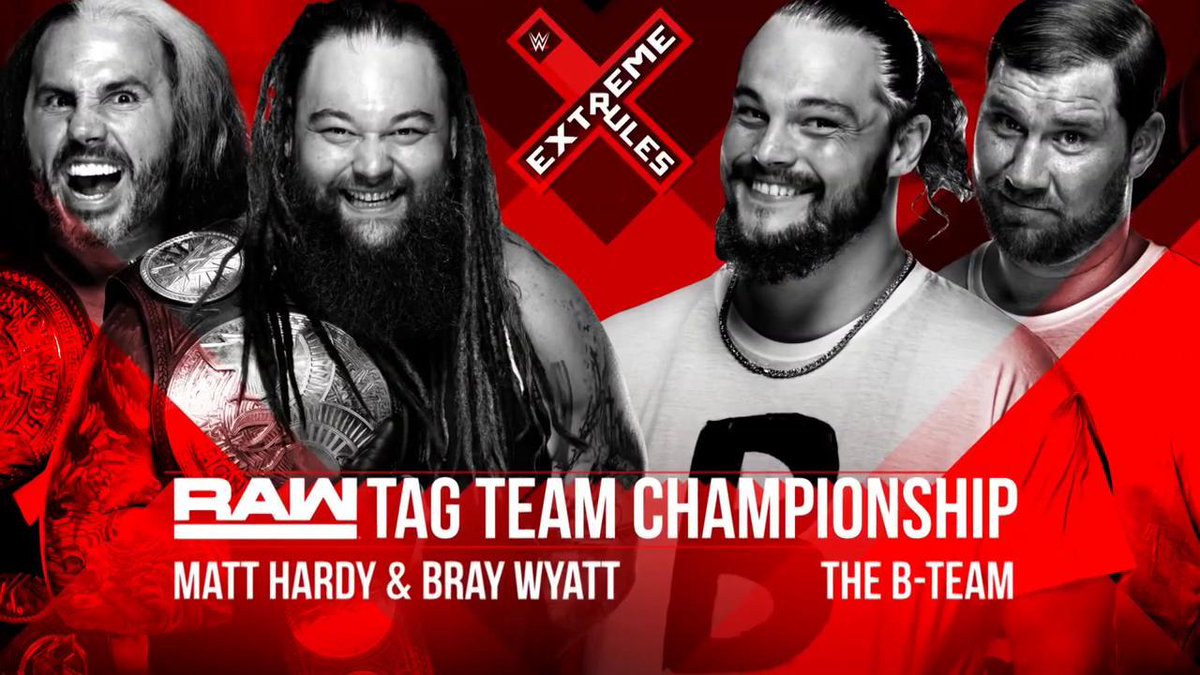 The undefeated "Best" Team of Monday Night Raw wishes to mock and belittle the WOKEN Wisdom of the Consumer of Terrestrial Entities and the vessel known as Matt Hardy. However, this only served to raise the ire of both eternal beings, and now there must be RETRIBUTION! Will Axel & Bo be EATEN, DELETED and DEFEATED!?
---
Always Use Your Head and visit the official Pro Wrestling Tees store for The Chairshot All t-shirt proceeds help support the advancement of your favorite hard-hitting wrestling website, The Chairshot!

---
Mitchell's Ring of Honor Report! (7/7/18)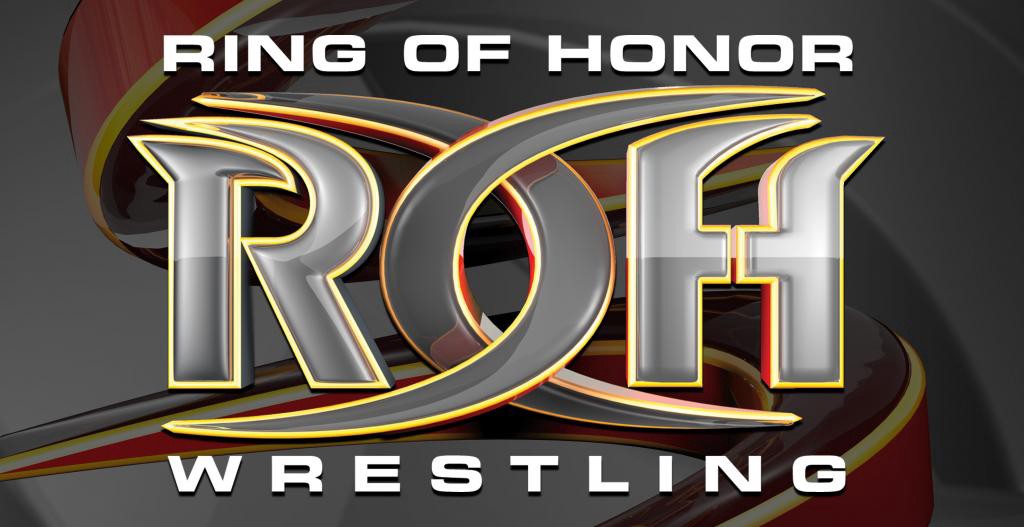 ROH WRESTLING TELEVISION, Episode 355
ROH goes to the extreme as Cheeseburger and Bully Ray battle in a No Holds Barred Match! With no rules but to win, can Burger survive the hardcore legend?!
All images courtesy of the Fite.TV app and streaming service
OFFICIAL RESULTS
Riley Shepard & Gabby Ortiz VS Sumie Sakai & Stella Grey; Sumie & Stella win.
No Holds Barred: Bully Ray Dudley VS Cheeseburger; Bully Ray wins.
Titan VS Cody w/ Brandi Rhodes & Bernard the Business Bear; Cody wins.
PLAY BY PLAY
Cody & Brandi Rhodes speak.
"You know those stories about pirates that plundered a ship and leave a man behind, marauders that raid a village and leave one behind?" Both fiction and reality, one person was always left behind to tell the tale. Titan, you're going to experience that as Cody leaves just enough gas left for you to crawl back to CMLL. That way, he can tell them that if they want to maintain a relationship with Cody's ROH, they need to send someone bigger, better. No one's bigger than Cody. Cody laughs and hugs his wife, but will he need to be consoled by her after tonight?
Riley Shepard & Gabby Ortiz VS Sumie Sakai & Stella Grey!
The Women of Honor return as the inaugural ROH WOH Champion teams with the ROH Dojo graduate to take on the debuting Geek Gladiator and returning Gift of Gab. Can the Ray of Sunshine continue on her roll since becoming champion, even in 2v2 competition? Or will there be a shocking non-title upset from the Monster Factory graduates?
The Code of Honor is upheld, and Stella starts with Riley. They circle with the bell and tie up. Riley gets a headlock then wrenches the arm. Stella rolls through to reverse the wrench, then brings Riley to the mat. Riley gets up and arm-drags but Stella holds on. Stella has Riley in the armlock, but Riley gets up and whips. Stella reverses the whip, then drop toeholds, and Sumie adds the dropkick before Stella hits the elbow drop. Sumie goes back to her corner while Stella covers, TWO.
Stella brings Riley up but Riley rolls Stella away from Sumie. Riley kicks Stella down, then tags to Gabby. Gabby neck snaps Stella then hits a basement dropkick. Cover, TWO, but Gabby keeps her cool. Fans rally up while Gabby tags Riley back. They double Russian leg sweep Stella, then Riley cartwheels to drop knees. Cover, TWO, but Gabby & the Geek keep control while we go to break.
ROH returns and Stella suplex fights with Gabby. They go for a suplex at the same time, but cancel out. Stella suddenly throws Gabby overhead! Stella crawls for Sumie while fans fire up. Gabby crawls for Riley, hot tags to her and Sumie! Sumie rallies on Riley with Mongolian chops! She's all fired up as she whips but Riley reverses, only for Sumie to hammerlock and forearm Riley! Sumie runs, and bowls Riley over with a forearm smash! She hits the shining wizard, covers, but Gabby breaks it up quick. Gabby and Riley double whips Sumie, but Sumie breaks through to hit them with double clotheslines! Gabby and Riley end up in opposite corners, so Sumie forearms Riley before grinding a boot into Gabby.
Sumie hits Riley with another forearm, then the swinging knee! She goes after Gabby but Gabby puts her on the apron. Sumie knocks Gabby away, then climbs up top. Missile dropkick! Riley gets up to roll Sumie, TWO! Sumie gets back at her with the TJ Neckbreaker! TWO! Sumie's surprised, but she's not done yet. She brings Riley up but Riley jawbreakers. Gabby returns for a jumping DDT! Riley fireman's carry but Sumie slips out. Riley kicks away and rock Sumie with a roundhouse. Cover, but Stella breaks it just in time. Gabby hits Stella, then whips Stella, only for Stella to SPEAR her down! Riley gets Stella with an Exploder! She swings on Sumie but Sumie counters with a back elbow. Sumie then gets Riley in the Smash Mouth!
Cover, Sumie & Stella win!
Winners: Sumie Sakai & Stella Grey, Sumie pinning
Gabby & Riley did the Monster Factory proud, but it wasn't enough to stop this Ray of Sunshine. Will the star of Japan's Jersey Shore make this inaugural reign an instant classic?
ROH looks at what led to tonight's No Holds Barred match.
Cheeseburger requested such an intense match after everything Bully Ray has done to him. It was back at Supercard of Honor XII that The Dawgs challenged Burger to a match, but Burger needed a partner. So Burger turned to a man he thought would help him in the tag team hall of fame legend. Bully accepted, and the two rallied on Rhett & Ferrara, only for Bully to turn on Burger mid-match! Bully was disgusted by Burger putting him on the spot. To Bully, Burger and wrestlers like him are what's wrong with wrestling today.
Then, as Burger looked for payback at War of the Worlds back in May, Bully robbed him of it with a low blow! Bully let himself be counted out as he glared at fans, then came back to hurt Burger more with a powerbomb. Burger got back at Bully a couple days later with a low blow, only to suffer a SUPER sit-out powerbomb! Bully added insult to injury as he used chains to whip and lash Burger. Burger wins on the record books, but he wants more. Now he will enter the hardcore legend's territory in a match with No Disqualifications and No Count Outs! Will Burger truly win against his Bully? Or will he be lucky to survive?!
No Holds Barred: Bully Ray Dudley VS Cheeseburger!
It's Burger Time, but this won't be fun and games. Bully literally let Burger win their past two meetings, once by disqualification, then by count-out. Now there's no way for Bully to keep himself protected from a loss to the underdog, will Bully be a man and finish this fight?
Bully sure seems to do something, as he rushes the ring, already armed with a kendo stick!
Though, he doesn't use it yet, as he sneaks up behind the fired up Burger for a low blow! Burger tumbles down and fans rain down boos and jeers as the bell rings. Fans do cheer "E C Dub! E C Dub!" for the legend, too, as the Hammerstein Ballroom is old stomping grounds for one half of Team 3D. Bully also shows he has a cheese grater for the Cheeseburger. Burger is clutching his nuts but Bully won't give him time to rest. He hammers Burger down then brings in a trash can to SMASH Burger with it! Bully grimaces down at Burger as he drags him over, to whip him into barriers! Bully trash talks Burger, egging him on as he hammers Burger again. He brings Burger up and around to bounce off the timekeeper's table.
Cary Silkin gets up from his seat, not wanting to be this close to the action, and Bully gets in his face about it. The fans sense a table in their future, but Bully puts Burger into the ring instead. Bully talks trash to Cary again, then goes back to Burger. Fans let Bully know what they think of him as he brings Burger up. Bully sets Burger on the top rope, and into a Tree of Woe, to stand on the crotch! Bully tortures Burger's nuggets, and reminds everyone, especially the referee, that there are no disqualifications. He starts intimidating the referee, and fans boo and jeer. Bully watches Burger on the mat, refusing to quit. Burger drags himself up but Bully is on him again with a trophy lift! And then throws him to the mat! Bully mocks the fans by lending an ear, brother.
Bully, still talking crap to Cary, then grabs that kendo stick and takes his time playing around. He dares the ref to do something, then he SMACKS Burger across the back. Burger writhes in pain but Bully won't end it. Bully continues to, well, bully the referee, but we take a commercial break.
ROH returns but Bully still toys with Burger. He lifts Burger up with the kendo stick to jab it into Burger's ribs. Bully says "This is what you wanted." He puts up his hands to jab and jab away. Burger wobbles as Bully winds up the Bionic Elbow, but Bully takes too long and Burger picks up the kendo stick! Burger SMACKS Bully back! And his front! Fans are fired up with Burger as he just swings for the fences! Bully is writhing in pain now as fans chant for Burger. Burger keeps going, then chokes Bully with the stick! Bully snapmares Burger off, then kicks him before picking him up for a powerbomb TOSS!
Burger crash lands on the mat, but Bully isn't done with him. Bully is stinging from the kendo stick strikes, but Hammerstein shouts "We Want Tables!" Bully rejects that idea to present a chain! He whips and slaps Burger over and over with the steel, daring Burger to get up. The referee won't let Bully continue, "He's had enough!" Bully says "He's had enough when I say he's had a enough." The ref pleads with Bully but Bully whips HIM with the chain! That's the last straw for Colt Cabana, he rushes the ring!
Cabana SPEARS Bully and throws furious right hands! Hammerstein is thunderous as Cabana grabs that chain, to clothesline Bully with it! Fans are chanting "Colt Cabana!" as the ROH veteran takes that cheese grater, and hands it to Burger! He brings Bully around to open the way, and Burger goes up to ask, WAZZUP!? The cheese grater to the nuts, that's what! And Burger grinds it in deep! Fans are thunderous for Burger, as Cabana tells him, "Burger! Get the tables!" Fans like that!
Burger & Cabana grab a table, drag it into the ring, but Bully revives and grabs Burger, to back suplex him down. Cabana is beside himself as Bully brings the table out for his own uses. Cabana tries to coach Burger up but Bully is on him again. Bully brings Burger over, sets him on the table, then hammers away to keep him there. Bully climbs up, takes aim, and leaps, but Burger dodges! The splash belly-flops through the table!
Burger crawls over, makes the cover, but there's no referee! Another one appears, counts, TWO!! If only there wasn't the delay, Burger would've won by now. But Burger still has something left. He fires up, takes aim, but now BJ Whitmer brings Cabana away from ringside. Bully boots Burger down, covers, Bully wins!
Winner: Bully Ray Dudley, by pinfall
Just as Burger was closing in on true victory, Bully pulls a win out of nowhere. The referee helps him stand up, but Bully shoves him out of the ring! Bully celebrates for himself, and surprisingly doesn't beat down Burger more. Will this bully ever get what he truly deserves?
It's Coleman's Pulpit!
The Most Versatile Man in Sports Today returns to bring us the truth, for the truth will help you see. Today's guest, or rather guests, are the most requested guests and the ROH World Six Man Tag Team Champions, The Kingdom.
The Kingdom's Matt Taven & TK O'Ryan are honored to be on the show, they're big fans of Caprice Coleman. Huge fans even. They were raised right, because they never come to a party without bringing a gift. The Kingdom remembers Coleman's days in the Rebellion, and that sweet beret. They have a nice little surprise: a brand new… Dunce cap! Or rather, "Melvin" cap. Oh, and balloons, courtesy of Vinnie Marseglia. Want some wine? No thanks. Well alright. Vinnie drinks his from a balloon…?
Moving on, the two-time Six Man champs are going to learn who their next contenders are after a five-team Gauntlet match! Isn't that a little fishy? The Kingdom had to wait a whole year to get their rematch, but a "merry bunch of Melvins" get a shortcut to a title match? Caprice is a smart man, is that a conspiracy to him? Perhaps. Coleman remembers a story, there was a guy who got everything handed to him. His parents bought him a luxury sedan for his 16th birthday, but then he wrecked it! So what did he do then? He just asked for another, and his parents got him one. This time it was a mid-size, because now he'd have to drive his siblings around. This "adversity" made that young man spruce up that car into the best out of what they head. Like The Kingdom and the titles!
Hey, wait. Are they the sedan in this story?! Is Coleman claiming there's no conspiracy?! Well he just thought they were passed that. There IS a conspiracy! Matt is #TwoBeltsOneTaven and he should have THREE belts! He's the real ROH World Champion! And by the way, that hat was calling Coleman a Melvin the entire time. Coleman tells "Pauly Shore" here that he is no Melvin, and they are his guests, "you jive turkey!" Says you, you Melvin jive turkey SUCKA! Back at you, you jive TIVE turkey! That's Dr. Jive Turkey to you, Melvin! Doctor? More like SUCKA Jive Tive- Balloon pop. Y'all're crazy. And that's coming from Vinnie. Taven isn't crazy, he's a champion. And Coleman's pocket square isn't even real. The Kingdom storm out, leaving Coleman to close his segment with a "See you later."
SoCal Uncensored speaks.
"Matt Taven, the Kingdom, I have to applaud you." First, they took advantage of Three-Team Six Man chaos to keep those titles in the UK. Second, there's now a "wacky gauntlet" so that SCU has to battle everyone else for a rematch they should already have. That's fine by Daniels, because the SCU is happy to beat up all the filler ROH creates for this gauntlet to happen. In New York, all the wannabe badass trios can bring it on, because the SCU will bring that #MandatoryViolence. Will Daniels, Kaz & Scorpio win against four other would-be contenders to get their rematch with The Kingdom?
The Dawgs are desperate.
They need a third man to even be part of the Six Man Tag Gauntlet, but if they want Shane Taylor to be that third man, they need lots and lots of cash! Maybe they can squeeze some of the other guys for money. Ryan Nova comes along but doesn't want any trouble. Then give up some cash! He doesn't have any on him, so Rhett shakes him down. Look, it's his wallet! Wait, all he has is $6 and a bunch of receipts? Now what? Can they at least give Ryan his wallet back? Yes, and a swift jab, too! "Keep the change, you filthy animal." The Dawgs laugh their way out, but with barely enough money for drinks, how are they gonna pay the Notorious Hitman?
Titan VS Cody w/ Brandi Rhodes & Bernard the Business Bear!
The crossover of ROH and CMLL continue, but the American Nightmare vows to make this an ultimatum. Will the former ROH World Champion prove the oldest promotion needs to step it up? Or will he find that he's the one not on CMLL's level?
Cody upholds the Code of Honor with Titan, but then wants Titan to kiss the ring. Titan declines, he just wants to wrestle. The bell rings and the two circle. Cody wants Titan to hold on a moment, as he gets some push-ups in. Cody gets his pump and flexes, so Titan shows off his flexibility with neck stretches. Fans like that, and even Cody applauds. Fans chant "Lucha! Lucha!" for CMLL as Cody and Titan circle again. They tie up, Cody gets a headlock and takeover, but Titan stands back up. Titan fights out then powers out, but Cody runs him over. Titan kips back up, and Cody admits that was good. But then Cody kicks low and drops for the uppercut.
Titan comes back with quick kicks, then whips. Cody reverses and things speed up, but Titan shows his balance with the handstand, only for Cody to kick him down. Cody flexes to embrace both cheers and jeers. He stalks Titan to a corner, then whips him corner to corner, but Titan reverses. Titan runs in but is put on the apron. Titan swing kicks Cody away, then springboards for a crossbody! Dropkick on top, and Titan dares Cody to come back. Titan runs, but Bernard swipes at him! Titan backs the bear down, but Cody comes back. Cody misses but then Brandi trips Titan up. Cody pounces on Titan, then covers. TWO, but the former champion is still in control while we go to one more break.
ROH returns once more, and Cody goes after Titan's mask! The referee counts so Cody backs off to hear the fans boo and jeer, brother. Fans only boo and jeer more as Cody goes side to side. Cody goes back to Titan and whips him into a corner. Cody gives a corner clothesline, then another. He slaps Titan, then embraces the heat. Cody runs corner to corner, but Titan follows with a big corner clothesline! Titan kicks Cody between ropes over and over, then springboards for a missile dropkick! He keeps moving, giving another dropkick to send Cody out. Titan and the fans rally up, and Titan builds speed, but Bernard trips him! Titan goes after Bernard, but then Cody rushes in. Cody swings on Titan, but Titan dodges and Cody hits Bernard instead! Cody checks on Bernard, but then Titan mule kicks and SUPER Asai Moonsaults!
Titan wipes out both Cody and Bernard! Bernard's head came off! Is he dead?! Brandi tries to help the mascot, but Titan grabs her by the sling. The referee warns Titan, and Titan thinks better of it, so he just hits Cody again. Titan puts Cody back in the ring, then climbs up top. Fans fire up, but Cody sees him and goes to the opposite side. Titan hops down, but Cody boots him down! Cody shouts for Brandi to give him something. She throws in her hairspray, but it ends up closer to Titan. Titan picks it up, but the referee takes it away. This leaves Titan open to Cody's low blow kick! Then Beautiful Disaster Kick! TWO!? Titan survives somehow, but Cody grows frustrated.
Cody drags Titan up, and the two brawl with forearms. They go back and forth, then Cody jabs and throws haymakers. Cody runs, but Titan goes Matrix to then calf kick! Titan runs, but Cody uses the ref as a shield. Titan stops, and in the distraction, Cody snatches the mask off!! Small package, Cody wins!!
Winner: Cody, by pinfall
Such disrespect and dishonor, but for the American Nightmare, a win is a win. Cody and Brandi laugh at the embarrassed luchador, but will they get the last laugh in the hunt for the ROH World Championship?
---
My Thoughts:
This was a good episode of ROH. Not as good as other weeks, but still good. The WOH Division tag match was alright, but it could've been better. Perhaps while Gabby & Riley have worked together and they have chemistry, they just weren't as familiar with Sumie and Stella. That and the fans didn't really know whether to cheer or boo Sumie, they went back and forth at times. In the end, Sumie's team wins because the inaugural WOH Champion should only lose in singles competition, and only to someone fitting. With Deonna Purrazzo headed back to the WWE, it seems like it'll be between Kelly Klein or Tenille Dashwood to be the next #1 contender.
That No Holds Barred Match went as could be expected. I like this new element of Bully targeting Cary Silkin, former owner of ROH before the Sinclair purchase, and still an active producer of the show. I bet Bully will end up facing Colt Cabana at some point, with how Cabana did his best to even things out for Cheeseburger. That Coleman's Pulpit segment to hype up the Six Man Gauntlet was so goofy, I couldn't help but like it. There was a lot of great detail in facial expressions and close-up camera cuts, like Vinnie preparing a balloon string garrote for Coleman. SCU stake their claim, but I wonder if one of these makeshift trios will come out on top instead. And I know Cody is the star right now, especially in his own mind, but Bully and Burger would've made a better main event all things considered.
My Score: 8/10
---
Always Use Your Head and visit the official Pro Wrestling Tees store for The Chairshot All t-shirt proceeds help support the advancement of your favorite hard-hitting wrestling website, The Chairshot!

---
Mitchell's Lucha Underground Report! (7/11/18)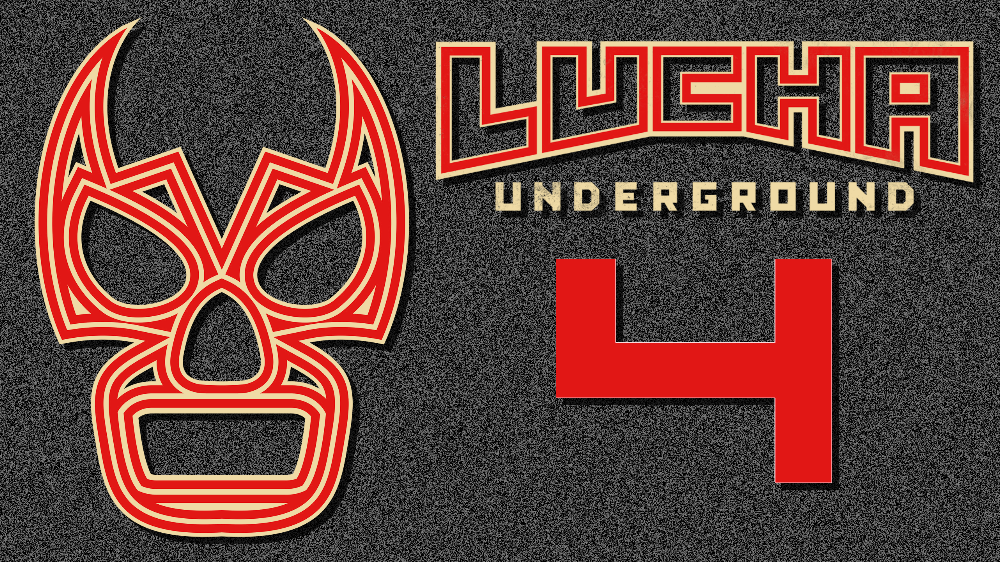 Lucha Underground Season 4, "Sacrificio"
The Monster, Matanza, is a demigod on a rampage, and he prepares another Sacrifice to the Gods! Is anyone on the Lucha Underground roster safe?!
Gifs to come courtesy of http://frentique.tumblr.com/
OFFICIAL RESULTS
Sacrifice to the Gods: Matanza Cueto VS Cortez Castro; Matanza wins, and Cortez is sacrificed.
Ancient Aztec Medallion match: Ivelisse VS Joey Ryan; Ivelisse wins.
Triple Threat Ancient Aztec Medallion match: Son of Havoc VS Killshot VS The Mack; Mack wins, he and Havoc earn medallions.
Ancient Aztec Medallion match: Mil Muertes w/ Catrina VS Cage; Muertes wins.
PLAY BY PLAY
Cortez Castro is in the ring.
The dirty cop who was investigating Dario Cueto has been invited out by Antonio. Antonio's sources have sniffed out that Cortez is an undercover cop. But that's fine, because Antonio is reporting a murder. Well, not a murder, but a sacrifice!!
Sacrifice to the Gods: Matanza Cueto VS Cortez Castro!
Antonio is killing two birds with one stone, or perhaps a pig? Either way, Matanza rushes the ring in a hurry! Cortez tries to fight him off with that kendo stick, but to no avail. Matanza headbutts Cortez down, then whips for the WRATH OF THE GODS! Cover, Matanza wins!
Winner: Matanza Cueto, by pinfall
The Monster God has won, and the Believers call for "Sacrifice!" With another flash of bloody lightning, Cortez disappears! That makes two souls devoured by the Temple, how many more will be taken to satiate Matanza's blood lust?
Ancient Aztec Medallion match: Ivelisse VS Joey Ryan!
The Baddest Bitch made an impact in her return when she hammered her ex, Jeremiah Crane, then shoved him in a casket. Meanwhile, The Big Sleazy just wants to spread the love. Or at least the baby oil… Who will grab hold of gold to qualify for the Gift of the Gods?
The bell rings and Joey tucks the lollipop in his pants. He knows Ivelisse wants him, but he won't let her slap him. She still does, with the other hand. He pie faces her back, then he gives her a face full of chest hair! Ivelisse grabs that hair and throws him by it! She chops the chest hair off him, then springboards for an arm-drag. Joey staggers, but Ivelisse throws him more with headscissors. She gives him a back elbow, he gives her a SLAP! Joey climbs on and grinds her face into the mat. Fans boo and jeer, but Joey just enjoys it more. He covers, TWO. He tries again, TWO! One more time, TWO! Joey swears that's six, because it adds up. The referee disagrees with that logic. Joey goes back to Ivelisse for a chinlock.
Fans rally up for Ivelisse, and she stands up. Ivelisse fights out with body shots, but Joey shoves her. She comes back into an Octopus! Joey breaks out but Ivelisse throws him out. Ivelisse builds speed, but runs into a SUPERKICK! Joey covers, but rather lazily, TWO! He's shocked, but he has something up his sleeve. Or rather, in his pants. He pulls the lollipop, but Ivelisse snapmares and kicks him down! Both wrestlers slowly get up, then speed up. Ivelisse rallies and enziguris, cover, TWO! Joey gets to a corner but Ivelisse is on him with a chop and a whip. He reverses, then sleazes it up as he runs in, but into a SUPERKICK. Ivelisse runs, but into a spinebuster! Cover, TWO!
The Believers rally up, and Joey stalks Ivelisse. He goes for the chest but Ivelisse counters and kicks away. Ivelisse throws him with a German Suplex! Cover, TWO! Fans rally up again, and Ivelisse gets going. Joey catches her with a  shoulder to the stomach, then prepares a bomb. He lifts her up but she fights out. She slaps away, then scorpion kicks into the running Destroyer! Cover, Ivelisse wins!
Winner: Ivelisse, by pinfall; earns an Aztec Medallion
Finally, the Baddest joins the Gift of the Gods seven-way! Can she skyrocket to the top with a free shot at the Lucha Underground Champion?
Triple Threat Ancient Aztec Medallion match: Son of Havoc VS Killshot VS The Mack!
The Lucha Underground Trios Champions weren't so sure about each other when Antonio Cueto just decided to lump the Man from the Open Road in for the MIA Dante Fox. But then they turned it around in their first defense together against Infamous Inc. Will they be able to keep things together when they're forced to fight over such a tempting singles prize?
But wait, Antonio Cueto has been thinking about this match all night. It's missing something. Three champions fighting for one medallion, that's great. But he always asks himself, "Could it be greater?" Believers seem to think so. So in a brilliant flash, it came to him: it's missing a second medallion! The only one who gets nothing is the one who gets pinned or submitted! The stakes just got raised, who will be the odd man out?
Lucha Underground returns and the match begins! And while Killshot targets Havoc, Mack doesn't want the team to implode like this. Killshot moves him aside, but Havoc counters. Killshot slips out of the suplex and shoves Havoc into Mack's shoulder. Mack swings a kick but Killshot ducks it. The champions stare down, but the two who have been a team longest are the ones arguing the strongest. Killshot kicks Mack and then throws him out. He goes after Havoc, then throws him to ropes. Havoc dodges and speeds up to DIVE on Mack! Killshot builds speed but handsprings out, only to run into Havoc's boots. Havoc goes up to springboard, asai moonsault wipes out Killshot & Mack!
Fans rally for Havoc as he puts Mack in the ring. Havoc throws hands on Mack then whips him. Mack counters with an arm-drag, then runs into the corner. Havoc dodges but Mack headstands and twerks! Mack dodges Havoc to back elbow him into the corner. Havoc rolls out but Mack takes aim. Mack builds speed but Killshot moves to intercept, only to get the running enziguri! Killshot goes back out and Mack builds speed again to FLY! Mack wipes out Havoc and Killshot! Fans are fired up as Mack puts Killshot back in the ring. Killshot is dazed but he still swings on Mack. Mack blocks and SLAPS the taste out of his mouth. Mack chops Killshot sharp in the corner, then whips him to ropes. Killshot reverses and wrings the arm out, to then kick it out. He stalks Mack to a corner to then stomp that arm.
Killshot brings Mack up and chops him in return. He kicks the arm, then trips Mack up. Havoc returns but Killshot ducks under. Killshot gives him a tilt-o-whirl backbreaker. Mack hits Killshot from the apron but Killshot sweeps the legs to SUPERKICK Mack down. Fans rally for Killshot as he stalks Havoc. He slaps Havoc in the head, then says he's not a brother in arms, he's a nobody! Killshot slaps Havoc more, but Havoc gets fired up. Havoc hits back, and it's a brawl of heavy forearms. They go back and forth but Havoc gets the edge. Killshot knees low, then runs, but Havoc follows. Tilt-o-whirl DDT brings Killshot down!
Mack returns slowly while the other two are still down. He stands, but Killshot and Havoc follow. Mack hits Killshot, Killshot hits Havoc, and Havoc hits Mack.
They keep going, and Mack kicks Killshot. Havoc boots Mack, then handsprings but misses. Mack POUNCES to send Havoc out! Mack whips Killshot out but Killshot bumps him back. Killshot then slings in and German suplexes, but Mack is up! But Mack runs into a Spanish Fly and dropkick! Believers know "This is Awesome!" but far from over. Havoc returns, and kicks Mack back. He climbs up, lines up the shot, an double double stomps them! Rebound cutter!
But Mack kicks Havoc to a corner. Mack runs in for a big left, then a boot wash! He keeps going, inverted cannonball! Havoc staggers up, Mack Samoan Drops and kip-ups to a moonsault! Cover, TWO!! Fans are loving Mack as he puts Havoc on the top rope. Mack slaps Havoc before climbing up to join him. Havoc resists, then fights back with body shots. He clubs away on Mack's back, fast and furious! Havoc headbutts Mack down, then adjusts. Killshot returns to grab his beard! Killshot fireman's carry, Death Valley on the apron! He puts Havoc in, then climbs up for the killer stomps! Mack Stunner! But who to pin!? The loser loses a medal, so he chooses Kilslhot! Mack wins!!
Winner: The Mack, by pinfall; only Killshot does not earn an Aztec Medallion
The Mack helps himself and Son of Havoc join the Gift of the Gods match, but leaves his older friend out in the cold. They're all still Trios Champions, but it doesn't seem like Killshot is happy with how it went down. He and the others argue it out, but Killshot slaps the medallion out of Mack's hand. Dysfunction always seems to follow the Trios Titles, will it lead to a tag team implosion?
Ancient Aztec Medallion match: Mil Muertes w/ Catrina VS Cage!
The Man of 1000 Deaths and the Machine fought over the Gauntlet of the Gods last season, but both men are without that prize after King Cuerno stole it from Mil. But in the Temple, revenge always gains rewards, so perhaps this will make it up to Cage. Can the Machine overcome death in order to then pursue the Gift of the Gods and Pentagon Dark's Lucha Underground Championship?
The two behemoths stare down, then start brawling! Cage knees low but Muertes hits back. Cage hits a jumping knee, then runs, but into a big right from Muertes. Muertes whips but Cage reverses. Muertes clubs Cage's back but Cage clobbers him with a clothesline. Yet Muertes comes back with one of his own! Muertes whips Cage again, then pops Cage up, but to get a headscissors! Cage swings but misses, Muertes tilt-o-whirls! Then backstabber! Cage goes out of the ring, but Muertes pursues. Believers are dueling as Muertes brings Cage up to ram him into the apron. Then he throws Cage into railing. Cage gets up and SUPERKICKS Muertes! And throws Muertes into the railings. Cage throws forearm after forearm, and the Believers are rabid!
Cage grabs Catrina, but she's not worried. Muertes rocks Cage with a right! Then Muertes bumps Cage off a chair, and puts him back in the ring. Muertes goes to bump Cage but Cage counters. Cage swing kicks, then climbs up to DEADLIFT SUPERPLEX Muertes into the ring! Cover, TWO! Cage is surprised, but not deterred. Fans duel more as Cage whips Muertes . Muertes slides to a stop to rock Cage. Cage staggers towards the ref, Muertes runs in, and SPEARS the ref!
Cage jumped out of the way, then discus clotheslines Muertes down! He covers, but no ref to count! The Believers count to about 5 before a replacement ref enters! He counts, TWO! If only he was there sooner, Cage would've won. Cage hears the Terminator drums, but then he suddenly clobbers that second ref!
Muertes hits the Flat Liner, covers, but a third ref is slow to appearing. TWO, and now Muertes is the one angry with authority. The referee is caught into a CHOKE SLAM! Muertes lifts Cage, Cage slips out but Muertes elbows back. Muertes goes to throw Cage but Cage throws Muertes into a post! Cage lifts Muertes in a pumphandle driver! But there's still no referee. Muertes gets away, but fans know "This is Awesome!" Cage builds speed to FLY! The Machine wipes out Muertes, and Believers are losing their minds! Cage brings Muertes around to bump off the apron, then fireman's carry. Muertes slips out to RAINMAKER! Or, maybe, Death Maker. Muertes brings out a chair, but Cage SUPERKICKS it into him! Cage scoop slams Muertes, then brings that chair over.
Cage soaks in the applause of the Believers, but that fan wearing the Cuerno mask takes off that mask to reveal… He's Pentagon Dark!!
The Lucha Underground Champion is back for revenge after what Cage did to him weeks ago! CERO MIEDO!! And he attacks! The referees can't disqualify this as Pentagon SMACKS Cage with the chair!
Pentagon puts Cage in the ring, and Muertes slithers in. Muertes stalks Cage, and SPEARS! The Reaper's Trident sets up for the Flat Liner! Cover, count, Muertes wins!
Winner: Mil Muertes, by pinfall; earns an Aztec Medallion
With an assist to the Bone Collector, the Man of 1000 Deaths earns his spot in the Gift of the Gods title match. He asks Catrina to bless his victory with the Lick of Death, but she cannot. Seems that after gaining her mortality, she gave up her dark rituals. Muertes doesn't understand, but he's very upset with his femme fatale. They disappear into the shadows, for now.
Pentagon Dark speaks.
"Cage, don't be sad because you didn't win that medallion." Don't worry, because next week they will battle for the Lucha Underground Championship! Cage gets what he wants, but Pentagon tells him right now, that just like Aztec Warfare, the night will end with Pentagon still champion. And Cage, "mi amigo", my friend, you will come out with a broken arm! Because Pentagon Dark has CERO MIEDO! Will the Machine make good on the free shot the Bone Collector is giving him? Or will he lose an arm along with the match?
The Rabbit Tribe has gone down the rabbit hole.
Paul London wonders, can this furniture get any smaller? Saltador finally speaks, saying he finds it "quite comfortable." Mala Suerte seems to agree. Mascarita Sagrada finally returns. Alright, muchachos, the White Rabbit is ready to see you. Vaminos! Yes, let's go! The tripped-out trio follow Mascarita further down the rabbit hole and…
"I have been waiting for you." They bow before the great White Rabbit. They wish to have his guidance. Oh? In exchange for what? "Anything that you wish." Anything, you say? Yes, anything. Then kill the man who brought you to him. Wait. Kill Mascarita? Tick tock, Mr. London! Kill Mascarita or you will not get your wish. Well okay… London raises the blunt instrument, and SPLATTERS poor Mascarita.
Bravo, Mr. London, bravo! That was very entertaining. And now, they shall see how far they're really willing to go. What new madness has come to Lucha Underground?
---
My Thoughts:
A pretty good Lucha Underground episode, and all about the Aztec Medallions and Gift of the Gods. Unless I've lost count, I think there's one medallion left, and we've got a great field of competitors already. Cuerno, Dragon Azteca, Ivelisse, The Mack, Son of Havoc, and now Mil Muertes. These six alone will put on a great match, adding just about anyone as the seventh will make it better. Ivelisse does pretty good against Joey Ryan, and she was a shoe-in between how fans love her and how Joey has been booked in LU. The twist for the triple threat was great, it really gives a great story for the Trios Champions without even needing another team to face. Though, I do expect them to put those titles on the line soon, and then lose them because Killshot quits on the team.
Muertes VS Cage was great, even before Pentagon made that surprise appearance. Pentagon giving Muertes the win is fine, as it helps bring up a new wrinkle in Catrina's story: Muertes' reaction. He'll want explanations as to why Catrina didn't do the Lick of Death, which has been a staple of their segments since the beginning. Meanwhile, Cage VS Pentagon is set and is going to be a great match. Honestly it could go either way, and creates suspense as to who the eventual Gift of the Gods Champion will be challenging. The only thing not related to Gift of the Gods was the Sacrifice. There wasn't a whole lot of pomp and circumstance with it, but it seems this will be Lucha Underground's way of doing squash matches. At the same time, sacrificing Cortez should trigger the story with Captain Perez, so that'll be interesting.
My Score: 8.5/10
---
Always Use Your Head and visit the official Pro Wrestling Tees store for The Chairshot All t-shirt proceeds help support the advancement of your favorite hard-hitting wrestling website, The Chairshot!

---