Ja'Von's IMPACT Wrestling Live Coverage! (5/3/18)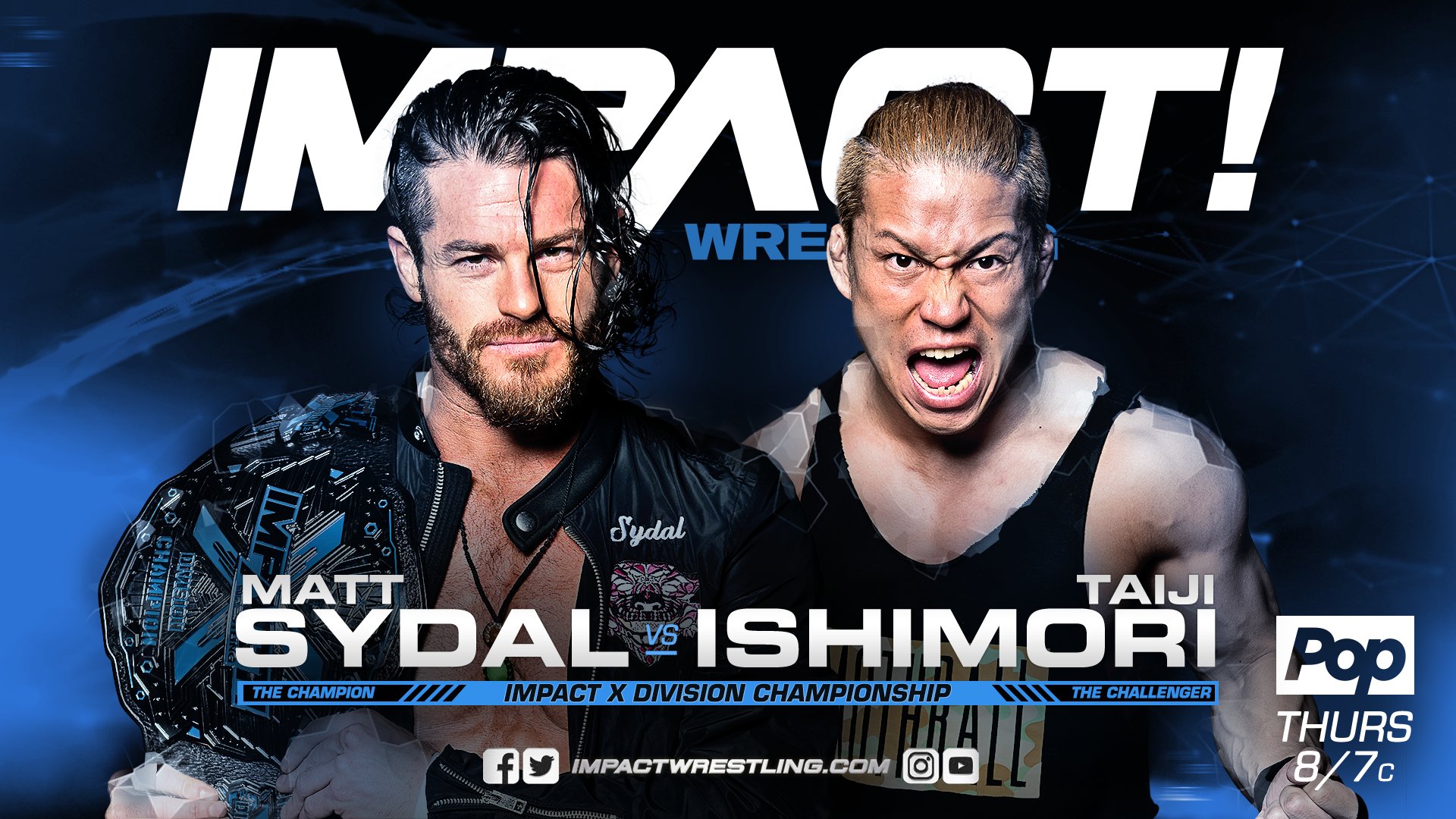 Quick Results:
Rosemary vs Su Yung: No Contest
Matt Sydal vs Taiji Ishimori (X-Division Championship): AND STILL X-Division Champion Matt Sydal via pinfall 
Brian Cage World Tour: Brian Cage via pinfall 
oVe in Tag Team Action: oVe via pinfall
Taya Valykire vs Kiera Hogan: No Contest
Drago, Fantasma, and Aerostar vs Dezmond Xavier, DJZ, and Andrew Everett: Dezmond Xavier, DJZ, and Andrew Everett via pinfall
Play by Play:
Impact opens up with a recap video package of what happend last week.
Eli Drake Kicks Off Impact: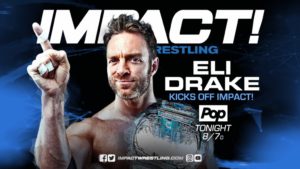 Eli Drake kicks us off tonight and makes his way to the ring but without his tag team partner Scott Steiner. Drake grabs a mic and says that he sees a lot of dummies in the crowd and says that Steiner isn't out with Drake cause he told Scott to take the night off tonight. He goes on to say that he stands here with the tag title and his briefcase and refers to last week him and him cashing in his brrifcase. He then goes on to talk about Aries and Pentagon Jr. interrupting him but he doesn't care cause there is only one man and that man is Eli Drake. Eli then calls his shot saying that he is cashing in his breifcase NEXT WEEK and is confident that he will become a two time world champion.
NEXT WEEK – it is official. @TheEliDrake will cash in his Feast or Fired World title shot and face @PENTAELZEROM for the IMPACT World Championship!

Will Drake become a two time Champion or will Pentagon retain? #IMPACTonPop pic.twitter.com/ps8cD82226

— IMPACT (@IMPACTWRESTLING) May 4, 2018
Pentagon Jr. then comes out and makes his way to the ring and they go nose to nose with each other. Both guys trash talk each other and neither man looks to be backing down. Both guys hold up the title and the breifcase to end the segment.
Kiera Hogan Backstage Interview:
McKenzie Mitchell interviews Kiera Hogan backstage and ask her about her first PPV match. Hogan knows that she lost and says her redemption will come later on tonight. Tessa Blanchard interrupts the interview and says that her first ppv should be her last and says she is better than her.
.@HoganKnowsBest3 is looking for her #Redemption. But it would appear new arrival @Tess_Blanchard has other ideas. #IMPACTonPop pic.twitter.com/6sFBaZ442p

— IMPACT (@IMPACTWRESTLING) May 4, 2018
Hogan says that Tessa is better than her but it's at sitting and watching and tells her to do so as she beats Taya tonight.
Joseph Park is seen backstage on his phone and Grado appears and tells him he has found himself a girlfriend. Aries then bumps into him and talks about the landscape changing but that everything is fine and he will win back the world title. Aries then offers them a banana.
oVe vs KM and Fallah Bahh:
oVe make their way to the ring for their match. KM and Fallah Bahh make their way to the ring for the match. The Crist Brothers get the jump on KM and Fallah Bahh but KM regains control and takes down Jake Crist then hits a Beil Throw on him. Jake then regains control by side stepping KM. Jake puts KM in his corner and he stomps down on him. A few chops later Jake tags in Dave and takes down KM. Dave tags in Jake and they attempt to hit a double suplex but he counters and tags in Fallah Bahh who hits a double crossbody on the Crist Brothers. Both brothers in separate corners and he hits a splash on both then tosses Jake into Dave and hits a splash on both. Bahh then rolls on both brothers followed by KM rolling on them this goes on few more times but the Crist Brothers regain control of the match.
.@ImpactKM is really getting into the spirit of teaming with @FALLAH1. #IMPACTonPop pic.twitter.com/vox7cdqbbF

— IMPACT (@IMPACTWRESTLING) May 4, 2018
They take out KM then Jake rolls up Fallah Bahh for the pinfall victory. Post match Fallah Bahh and KM shake hands.
Winners: oVe via pinfall
McKenzie Mitchell interviews Moose backstage. She ask him about wanting to claim the world title. Moose says that he never won a world championship in football and since coming to Impact he hasn't won a world championship. He then says that in 2018 he will win the world title. Jimmy Jacob's interrupts the interview and says the last person who called himself impact faced the wrath of Kong then Moose Jack's him up and ask him what he wants and Jimny says he wants Moose to face his monster next week and Mosse accepts the challenge.
Keira Hogan vs Taya Valykire: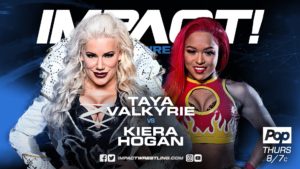 "Lucha Royalty" Taya Valykire makes her way to the ring for the match. "The Girl on Fire" Kiera Hogan makes her way to the ring. Taya Charles in and takes down Hogan with a spear then the ground and pound. Taya puts Kiera in the corner and stays on the attack. Taya follows up with a Biel and tries to stay on the attack but Hogan side steps and gets barely anything on Taya before she regains control and takes down Hogan. Taya stands over her and taunts her. Kiera Hogan then gains control of the match and takes it to Taya. She drives her out of the ring and then procees to curb stomp Taya into the ring steps.
.@HoganKnowsBest3 has a vicious streak! A curb stomp on the ring steps! #IMPACTonPop pic.twitter.com/1bSJoDNpjK

— IMPACT (@IMPACTWRESTLING) May 4, 2018
Kiera looking to hit another big move on Taya Tessa Blanchard comes out and attacks Hogan.
.@Tess_Blanchard is here! #IMPACTonPop pic.twitter.com/JT9TN6WKFM

— IMPACT (@IMPACTWRESTLING) May 4, 2018
Kiera puts up somewhat of a fight but Tessa was just too much for her and sends her back first into the post then rib first into the ring apron. Tessa tosses Hogan into the ring and then finishes her off with a Hammerlock DDT.
.@Tess_Blanchard floors Hogan with a hammerlock DDT. She has put the Knockouts Division on notice. #IMPACTonPop pic.twitter.com/uywdzfGDPn

— IMPACT (@IMPACTWRESTLING) May 4, 2018
Winner: No Contest
A video package is played showcasing Brian Cage and his unstoppable winning streak since coming to Impact Wrestling.
Brian Cage vs Brodie Marshall vs Mick Moretti vs Slex:
All four men are already in the ring and look to take out Cage and send him to the floor. They other guys go at it and take out another guy leaving only two in the ring who go at it. Cage finally makes his way back in the ring and hits a hurricanrana then a splash on a guy in the corner. Cage then goes toe to toe with Moretti then Merty looks to have taken advantage of Cage as he takes him down but it looks like Cage allowed for it to happen as he hits a double fallaway slam on two guys followed by flying over the ropes without touching them taking out everyone and gets a two count.
CAGE TAKES EVERYBODY OUT WITH A DIVE! #IMPACTonPop @MrGMSI_BCage pic.twitter.com/aGaanibvQ1

— IMPACT (@IMPACTWRESTLING) May 4, 2018
Cage then gets caught by Slex who stays on the attack and gets a two count on Cage. Moretti comes back in and is tossed into the corner but side steps Slex and hits a brainbuster type move on him. Cage gets back in the ring and hits a blue thunderbomb followed by an Alabama slam. Marshall comes back in the ring and takes out Cage then hits a spinebuster on Mick for a two count. Cage then comes back in the ring but eats a German suplex but rolls through and hits a discus clothesline followed by the drill claw for the win.
Drill Claw = @MrGMSI_BCage wins once again. #IMPACTonPop pic.twitter.com/VphdbNXTTL

— IMPACT (@IMPACTWRESTLING) May 4, 2018
Winner: Brian Cage via pinfall
Drago, Fantasma, and Aerostar vs Dezmond Xavier, DJZ, and Andrew Everett: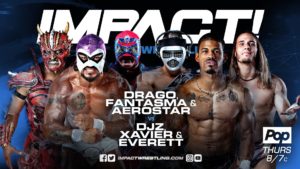 Drago, Fantasma, and Aerostar all make their way to the ring together as we go to break. DJZ, Dezmond Xavier, and Andrew Everett all make their way to the ring for the match. Dezmond and Fantasma start the match. Back and forth with go with leapfrongs and drops which lead to Xavier hitting a headscissor flip on Fantasma who lands on his feet. The match is fast and furious as Xavier slides out of the ring and DJZ comes in and Drago comes in on the other side but DJZ and Andrew Everett hit multiple double team maneuvers on him and drive him out of the ring and Aerostar comes in and DJZ gets out of the ring and Everett and Aerostar square off. Fast forward a bit after tons of high flying moves and fast pace speed that even I can't keep up Fantasma comes in a slow down the match and hits a spinebuster and gets a two count. Drago comes in and takes down Andrew for a two count. Aerostar comes in and hits a dropkick on Andrew who slides to the outside and DJZ comes in and both Andrew and DJZ hit double dropkicks on Aerostar.
Double dropkicks by @IAmDJZ and @_AndrewEverett before @DezmondXavier flies! #IMPACTonPop pic.twitter.com/K80Pn3Y03Q

— IMPACT (@IMPACTWRESTLING) May 4, 2018
Eventually the match breaks down and all six men are in the ring as Drago has a crossface on DJZ and Dezmond has the abdominal stretch on Fantasma. Andrew and Aerstar break up the submissions then the lucha have Xavier trapped but DJZ and Everett break it up with a couple of codebreakers. The match then spills to the outside as DJZ, Fantasma, and Aerostar each takeout everyone with The Arrow from The Depths of Hell, a backwards senton
La Bombita! #IMPACTonPop @aaaerostar1 pic.twitter.com/Aqhtxunvun

— IMPACT (@IMPACTWRESTLING) May 4, 2018
and a dive from the top turnbuckle.
Incredible step up dive by @IAmDJZ! #IMPACTonPop pic.twitter.com/GRo65c8l3u

— IMPACT (@IMPACTWRESTLING) May 4, 2018
All six guys are down as we go to break. Back from break and everyone is back in the ring and it's a mess. All three luchadors wre down as Dezmond, DJZ, and Andrew each hit a diving attack on each luchador and go into the cover and all three kick out at 2.
Frog Splash by @IAmDJZ.

Final Flash by @DezmondXavier.

AND @_AndrewEverett TOUCHES HIS TOES WHILE DOING A MOONSAULT! #IMPACTonPop pic.twitter.com/ZZYwn4e6dZ

— IMPACT (@IMPACTWRESTLING) May 4, 2018
The luchadors gain control and do rollups at the same time for two counts. Down the stretch Xaxvier and Fantasma are alone in the ring and Dezmond takes him out. Xavier looks to go to the top for a high risk move but Aerostar takes him out. Aerstar looks to go for a move off the top but with a distraction from Andrew DJZ was able to come in and hit the ZDT for the pinfall victory.
.@IAmDJZ picks up the win with a ZDT from the middle rope. #IMPACTonPop pic.twitter.com/3AraGQzSFV

— IMPACT (@IMPACTWRESTLING) May 4, 2018
Winners: Andrew Everett, DJZ, and Dezmond Xavier via pinfall 
Eli Drake is walking backstage and runs into Aries. Austin says things got heated last week and says that he wishes Eli good luck in his title match next week. He hopes that Eli wins because he knows he can beat him.
Back from break KM and Fallah Bahh are talking and KM says that if he follows him he will make him cool and successful. Another guy gets attacked again backstage.
This is the second week in a row somebody has been attacked with this symbol left behind. #IMPACTonPop pic.twitter.com/50N8Hn2w4e

— IMPACT (@IMPACTWRESTLING) May 4, 2018
A video is played of Eddie Edwards standing outside of the Police Station and keeps calling someone but gets no answer. Tommy Dreamer pulls up and tells Eddie to get in the car.
Matt Sydal vs Taiji Ishimori(X-Division Championship):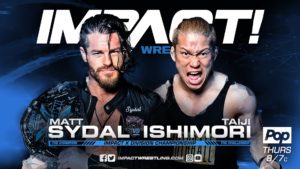 Ishimori makes his way to the ring for the championship match.
The X-Division title is on the line. It's Mothball time! #IMPACTonPop pic.twitter.com/JJzq7nFx6e

— IMPACT (@IMPACTWRESTLING) May 4, 2018
Matt Sydal makes his way to the ring to defend his championship. Collar and elbow tie up and Sydal gets theadvantage of Taiji but then Ishomori gains control with a wristlock but Sydal fights out of it and takes down Taiji. Ishimori is whipped into the ropes but he floats over them and waits for Sydal as he runs in to attack and Taiji hits him with a shoulderblock followed by a diving senton driving Sydal out of the ring as we go to break. Back from break and Taiji is in control of Sydal and pushes him into the corner then with an Irish whip into another corner followed with a roll up for a two count. Sydal then targets his attack on the knee and ankle of Ishimori. Taiji fights back and catches him with an elbow but Sydal catches him with a spinning heel kick as Ishimori comes off the ropes. Sydal then catches Taiji and hit him with a Dragonscrew and wears him down. Matt rolls through and looks to have hurt his arm but stays on the attack but Taiji fights backand catches Matt on the bridge of the nose. Ishimori slams him on the Matt and connects with a diving move from the second rope for a two count. Sydal then goes for a standing moonsault vut Ishimori gets the knees up and counters. Sydal then fights back and knocks down Ishimori for a two count. Sydal goes for the shooting starpress but Ishimori moves out of the way and hits him with a gutbuster. Sydal fights back and gains control of the match and hits a some sort of driver type move for the pinfall victory.
We saw this move against Petey Williams at #Redemption18, and @findevan put away Ishimori with it tonight. Sydal has a new weapon to put opponents away as well as the Shooting Star Press. #IMPACTonPop pic.twitter.com/ObReAPUn29

— IMPACT (@IMPACTWRESTLING) May 4, 2018
Tommy and Eddie are shown at Tommy's house trying to talk some sense into Eddie but Eddie isn't hearing it and leaves.
Allie is shown backstage with Rosemary and says he will be in her corner but Rosemary says no and Allie wasn't having it but Rosemary makes her promise to not come down to the ring and says it has to be this way.
LAX are shown in their clubhouse and everything is falling apart for them. They say if they lose next week then they are nothing.
Su Yung vs Rosemary: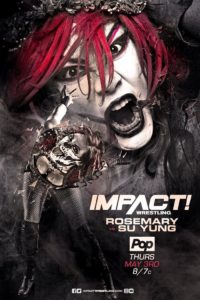 Su Yung makes her way to the ring for the match. Rosemary makes her way to the ring for the match. Su Yung meets Rosemary at the ramp with a forearm. Rosemary fights back thentosses her into the steel steps. Rosemary stays on Yung but Su fights back with a big palm strike and hits her with the panic switch on the floor.
Panic Switch on the floor by @realsuyung. #IMPACTonPop pic.twitter.com/CZvUVwhOdH

— IMPACT (@IMPACTWRESTLING) May 4, 2018
Su Yung then summons the undead bridesmaids to the ring who are carrying a coffin. Allie comes down to the ring and attacks Su Yung from behind. Allie says that Rosemary is her best friend and she will never leave her. Rosemary tell her she needs to go but Allie refuses to go.
An extremely powerful moment as @AllieImpact refuses to leave her best friend @WeAreRosemary's side. #IMPACTonPop #DemonxBunny pic.twitter.com/s2ouTPnaI1

— IMPACT (@IMPACTWRESTLING) May 4, 2018
The undead bridesmaids grab Allie and forced her to watch as she attacks Rosemary but Rosemary fights back and grabs a kendo stick.
.@realsuyung's sinister Undead Bridesmaids are here and this can't be good for @WeAreRosemary! #IMPACTonPop pic.twitter.com/CNpH2D46AC

— IMPACT (@IMPACTWRESTLING) May 4, 2018
Rosemary lunges to attack her with the kendo stick but gets hit with the mist from Su. Yung then hits a panic switch on Rosemary off the stage into a table.
PANIC SWITCH OFF THE STAGE THROUGH A TABLE! #IMPACTonPop @realsuyung pic.twitter.com/9BE844BaU5

— IMPACT (@IMPACTWRESTLING) May 4, 2018
The undead bridesmaids then drag Rosemary back to the ring and place her in the coffin as Allie is still forced to watch.
My Opinion:
This was a solid show for Impact after they suffered a big drop in viewership due to the NFL Draft. I predict that they will bounce back from last week. A lot of great matches this week. The match of the night was the six man lucha style match and the segment of the night was the Allie/Su Yung storyline that has now involved Rosemary.
My Score: 7.5/10
---
Always Use Your Head and visit the official Pro Wrestling Tees store for The Chairshot All t-shirt proceeds help support the advancement of your favorite hard-hitting wrestling website, The Chairshot!

---
Mitchell's WWE Monday Night Raw Results & Report! (9/24/18)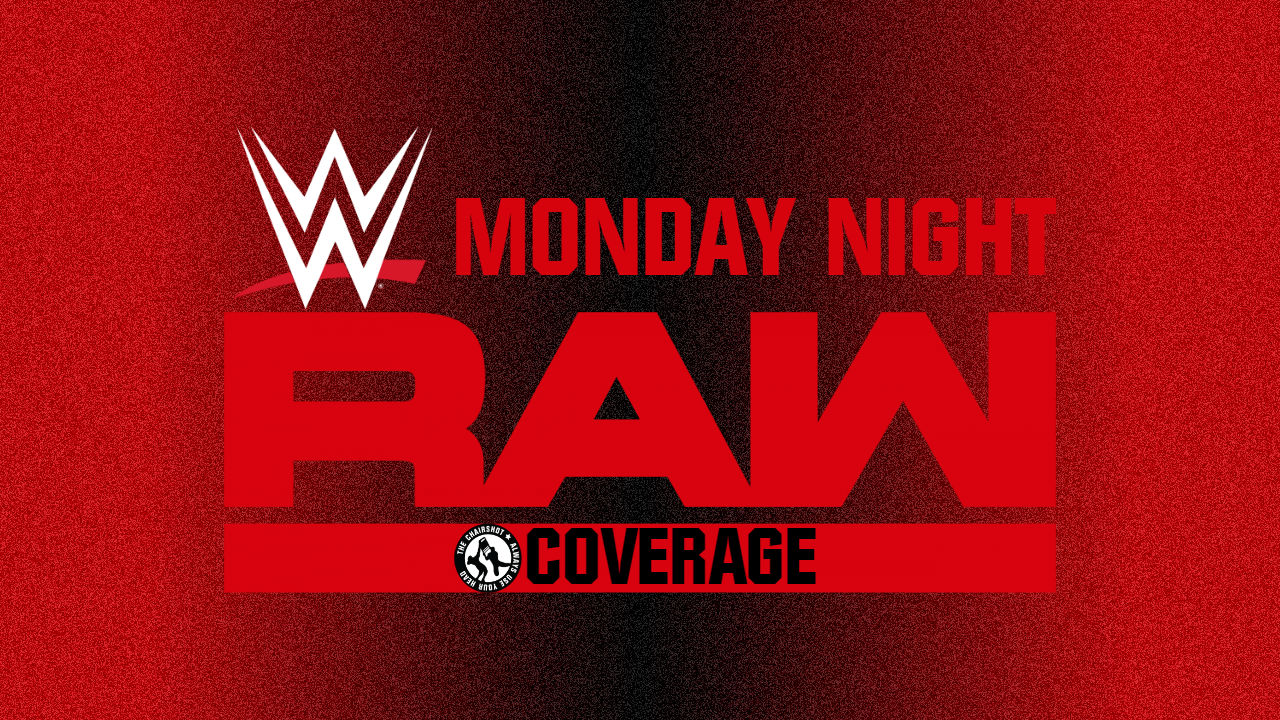 After being ambushed and screwed out of a championship match, The Revival returns to get revenge and the Raw Tag Team titles from McIntyre & Ziggler!
OFFICIAL RESULTS
Finn Balor w/ Bayley VS Jinder Mahal w/ Alicia Fox; Finn wins.
Six Woman Tag: The Bellas & Natayla VS The Riott Squad; win(s).
Bobby Lashley w/ Lio Rush VS Elias; wins.
Raw Tag Team Championships: Drew McIntyre & Dolph Ziggler VS The Revival; win(s) and
Six Man Tag: The Shield VS Baron Corbin & ???; win(s).
PLAY BY PLAY
Baron Corbin greets the returning Raw Commissioner, Stephanie McMahon!
And it's her birthday! Corbin begins singing for her, but then Triple H exits the limousine, too. Corbin promises everything is set up for her in her office and offers to lead the way. Stephanie tells Corbin that whatever she has to say to and about Corbin, she can say in front of everyone in the WWE Universe. HHH says this must be awkward for Corbin, so he'll just leave. Stephanie says she thought Corbin could do the job Kurt Angle couldn't. Corbin tries to make excuses but she cuts him off by saying she expected him to make good decisions, the right decisions. Was Corbin putting himself in a match for the WWE Universal Championship a good decision?
Corbin admits that was too much, but The Shield keep provoking him. They're running wild. So then he admits he has no control over the show? Mistakes can be tolerated, but excuses aren't. If Corbin wants to get the Shield in line, grab two tag partners and settle this in the ring. Otherwise, Angle might be back from "vacation" sooner than anticipated. What is the Lone Wolf to do about the Hounds of Justice? Speaking of…
The Shield heads to the ring!
Dean Ambrose, Seth Rollins and Roman Reigns are going to be back in action as the full trio here in tonight's main event! But that means there's a couple hours for Constable Corbin to find compatriots to fight one, if not THE, most dominant trio in WWE History. At the same time, it will be quite the chance for The Shield to warm-up before Super Show Down's showdown with The Pack. But as for right this moment, The Shield hears Denver out on their ovation before speaking.
"What you are looking at are the three workhorses of WWE." Ambrose knows they've lost battles here and there, but they've never lost the war, because they're still standing. Roman says their resumes would take all day to read. But the fact is, they can lift up two title belts. The championships are the keys to the kingdom, and everyone should want them. It's why Brock Lesnar came back, it's why Baron Corbin put himself in title matches, because the titles will change your life. But the only men that deserve championships are the ones in this ring right now. Rollins says that Raw is and will always be about being the best. That's what The Shield are. Braun Strowman wanted power so bad, he's recruited a "pack of jackasses".
As for Corbin, "the world's largest substitute teacher", he has a problem with The Shield. He's to get a couple of partners to show everyone who's the boss. Well The Shield is here now, they can show how big of a problem they are right NOW! Baron Corbin appears and does his best to laugh it all off. Corbin lets everyone know that tonight is Stephanie's birthday. And he's not going to let Raw erupt into madness like it has these last few weeks. Corbin puts his foot down tonight. Because he and his partners are going to rag doll The Shield while impressing Stephanie. Corbin and his partners will expose the Shield as "a bunch of selfish individuals." No one likes The Shield, and that includes The Pack! Braun Strowman, Dolph Ziggler & Drew McIntyre all walk out, microphones in hands.
Fans still chant "Get These Hands!" for the Monster Among Men as he stares at The Shield. Strowman hopes Roman shines that belt up real nice, because he wont' be wearing it for much longer. As for the entire Shield, there are cracks already forming, and then they'll implode all over again. Super Show Down will be two against four, and it's not about Corbin. Rollins points out the bad math, maybe they need to brainstorm together on this. Strowman wants them to check the mat with Ambrose, because perhaps Ambrose sees the light. The Shield needs Ambrose but he doesn't need The Shield. Two years ago, on SmackDown, Ziggler was there when Ambrose was WWE World Champion all by himself. Ambrose had fire in his eyes, but now his brothers have everything and he has nothing.
Rollins and Roman shrug this off, but McIntyre uses his brutal honesty to point something out. Ambrose pushed Mcintyre to his absolute limit, that was a close match. McIntyre wants Ambrose to look him in the eyes. The Shield does not appreciate Ambrose, and Ambrose deserves more. Ziggler wants "Disposable Dean" to realize something. Rollins asked Ambrose to help him in order to fight Ziggler. And then Roman needed Ambrose to stop the Monster in the Bank's cash-in. What has Ambrose gotten in return for any of that? Nothing. Rollins: champion. Roman: champion. Ambrose: chump. Ziggler even uses Rollins' interruption as a reason Ambrose isn't needed. Ambrose goes down and how long does Rollins wait to replace him with Jason Jordan? And did they even communicate while Ambrose was out?
Ziggler points out another thing. Ziggler & McIntyre are Raw Tag Team Champions. Strowman can beat Roman for the Universal Championship. So maybe Ambrose becomes Intercontinental Champion with them? Think about it, because it's all true. But Roman tells Ziggler to shut up with all this already. The fans aren't here to watch people talk. They're here to watch The Shield whoop The Pack's ass. Strowman leads the charge but Corbin keeps the peace. This is not happening like this. Fans chant "YES! YES!" but Corbin stands firm. The tag team champions have their match but Corbin and his partners will "spoil your little reunion before it even begins." The matches have been set, but will The Shield stay unified? Or will Ambrose give in to the mind games?
Finn Balor w/ Bayley VS Jinder Mahal w/ Alicia Fox!
Raw plugs the Mixed Match Challenge as the Extraordinary Man goes 1v1 with the Modern Day Maharaja while their partners are in their corners. Can Finn score points for Team B 'n' B before tomorrow night's MMC? Or will Alicia's #InnerCrazy rub off on the man of peace?
The bell rings and fans chant "Too Sweet! Woop Woop!" Mahal puts Finn in a corner then throws heavy hands and stomps. Mahal scoops and slams Finn, then grins as he looms over the inaugural Universal Champion. He puts on a chinlock and Finn endures as Bayley and the fans rally. Mahal drives his knees into Finn, then grinds on a headlock. He gets the headlock takeover, but Finn works against it. They stand up and Finn powers out, only for Mahal to run Finn over. Mahal wraps the chinlock back on, but fans still rally with Bayley. Finn stands and powers out again. This time, Finn ducks and dropkicks Mahal! Finn clotheslines Mahal out, then builds speed to FLY! Direct hit! Finn flexes while we go to break.
Raw returns and Finn fights out of a waistlock. Mahal knees low then whips to then kick Finn down. Fans chant "Jinder Sucks!" but Mahal tunes it out as he chokes Finn against the ropes. Mahal drops springboard knees then grinds a knee into Finn's ribs. He drags Finn up for a standing abdominal stretch. Finn endures while fans rally again. Mahal drives in elbows, then pulls on Finn more. Finn works against the hold and pops out, only to get a knee to the ribs. Mahal throws a haymakers, then sunset flips, but Finn rolls through to dropkick Mahal down! Both men get to opposite ends, and Finn boots Mahal away. Finn dodges Mahal to hit him down with forearms. Finn gets the takedown then the double stomps!
Fans fire up with Finn as he runs into the corner for the chop! He whips but Mahal reverses. Finn goes up and over but get a kick! Mahal hops up but Finn swing kicks him down! Finn climbs up and aims at the drop zone. Mahal springs up but Finn jumps over him to come back with a slingblade! Finn takes aim, but Sunil Singh trips him up! Mahal rolls Finn up, TWO! Mahal kicks low, then elbows Finn down. He runs but Bayley trips Mahal up now! Alicia protests but fans are on Bayley's side. Foxy and the Huggable One come face to face. Alicia swings but Bayley counter punches! Sunil looks to defend Alicia's honor but gets a Bayley2Belly! Finn rolls Mahal, Finn wins!
Winner: Finn Balor, by pinfall
The Extraordinary Man takes the win and helps his team gain ground for the Mixed Match Challenge. Will this be a preview of the future? Or will #Mahalicia turn things around? One thing is for sure, Mahal takes his frustrations out on Sunil. They go into the ring, and with Alicia cheering him on, Mahal roughs Sunil up more. Mahal calms himself, and forces Sunil to go along. They chant "Shanti~", but will this partnership be anything but stable?
Six Woman Tag: The Bellas & Natayla VS The Riott Squad!
After Ruby, Sarah & Liv ruined the Queen of Harts answering Ronda Rousey's open challenge, these three former Diva's Champions team up to show the new generation how it's done! Can Natty, Nikki & Brie win before the Squad #StartaRiott?
Raw returns and the Juvenile Delinquent, Liv Morgan, starts against "Fearless" Nikki. They tie up and Nikki throws Liv. Liv comes back with a Thesz Press and then fast hands. Liv kicks Nikki then runs, but Nikki follows to run her over with a shoulder. Nikki drags Liv up for a hammerlock backbreaker. Cover, ONE, but Nikki keeps on Liv by grabbing some hair. Tag to Brie and the Bellas work together to double leg sling Liv. Cover, TWO, but Nikki drags Liv up. Brie gives Liv some Yes Kicks for the Squad. Fans chant "YES! YES!" with every kick, then Brie covers Liv. TWO, but barely. Brie drags Liv up and around, but Liv powers Brie to the Squad's corner. Tag to Ruby and Sarah helps Liv get out. Ruby stomps a mudhole into Brie, then drags her up into a headlock.
Ruby throws Brie with a headlock takeover but fans chant "Brie Mode!" Brie endures and then makes the hold a cover. Sarah distracts so the ref is late to the count. ONE and Ruby maintains the lock. They stand up as fans rally again. Brie fights back with body shots, but Ruby reverses a whip. Ruby runs into an elbow, Brie hops up to hit the missile dropkick! Ruby gets to ropes, but Brie Mode knee takes her out! Cover, TWO, but Brie keeps on Ruby. She suplexes but Sarah helps Ruby. Nikki comes in but so does Liv, so Natty comes in. It's a TRIPLE suplex in favor of Natty & The Bellas! The Squad regroups while fans cheer on the veterans. But Brie goes out to fetch Ruby. She puts Ruby in but gets blasted back out. The Squad takes control while we go to break.
---
Always Use Your Head and visit the official Pro Wrestling Tees store for The Chairshot All t-shirt proceeds help support the advancement of your favorite hard-hitting wrestling website, The Chairshot!

---
Andrew's Stardom 5 Star Grand Prix Red Stars Ratings & Review: Day 7 & 8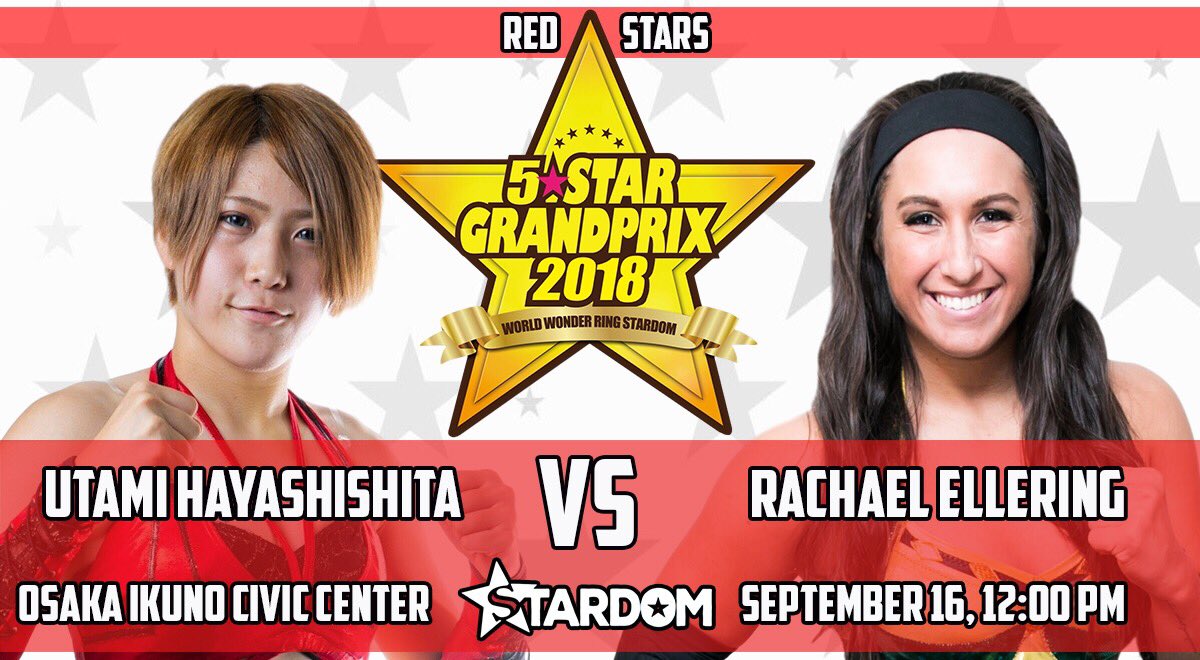 We get another combined article because of the way Stardom likes to stagger matches in this tournament.
Day 7 actually didn't have any Blue Star matches at all, so now the articles will be titled a little differently. I need that Rick and Morty clip about getting your shit together and direct it at Stardom booking. Oh wait, I can!
So with that established, I guess we should look at the matches to come. Tam is eliminated but still has 3 matches to go. So she can go from a measly 2 to a respectable 8 if she can put a few wins together. Utami and Rachael however are still very much in the thick of things, and even face one another on Day 8.
Let's find if anyone else gets eliminated, or if we continue to have the top half stay alive.
Day 7
Rachael Ellering vs Tam Nakano
Rachael's promo is fake and over enthusiastic, whereas Tam's was realistic and a little bubbleheaded. So it's really hard for me to ever connect to Ellering's promos, cause she's not convincing and her matches thus far have been…umm…shall we say, sub par. So sadly Tam seems to be in the plucky underdog role this year and always getting close with not much of a pay off. So let's she if she picks up a win to play spoiler, or continues to come up short.
I have no clue what it is about most of Rachael's matches, but they are hard to watch. Rachael's Pump Kick that she over uses never looks impactful, she doesn't take or sell offense well, and it's just a schlog. This match was no different.
Tam's kicks are usually crisp, but they hit awkwardly and slowly. Tam even went for a bottom rope assisted Back Body Drop, but Rachael's foot cause the middle rope and it just looked sloppy. Tam still sold her back, while Rachael focused it, so that was good.
We also see a decent barrage at the end of the match with some false finish rollups, Rachael's Bossman Slam and then Ellering finally finishes this with the Fallaway Powerbomb.
Winner: Ellering via Fallaway Powerbomb
Rating: * 1/2
Kagetsu vs Kimber Lee
Kimber always has this oddly endearing way of cutting a promo. She talks fairly slowly (the way people do when you're speaking a language people might not understand), which I find ridiculous, but she says all the correct babyface things. Kagetsu however has a skull mask on her head, pops up into frame and just starts talking casually about things. She just wants to end the match, eat some good food and head to Osaka. It's casually dismissive of Kimber, but not cruel, perfect tweener kind of temperature.
Kagetsu takes the early advantage and does the cocky heel thing by throwing Kimber to the outside. Hazuki and Sumire get in a few cheap shots before rolling her back in. Kagetsu takes a drink of water and then we get her water spit/mist spot. Which I'm still not sure why that isn't a disqualification, but I like it, so I'm not questioning it.
After the initial cockiness, Kimber takes advantage of Kagetsu taking her foot of the gas and puts together some offense. A few well placed kicks and suplexes lead to the Swanton Bomb attempt, but Kimber misses. After a little more struggle, Kagetsu eventually hits a Chokeslam and then enough of the Oedo Coaster to get the pinfall.
Not Kagetsu's best work, but it was a fairly short match and Kimber isn't positioned as a threat in this tournament.
Winner: Kagetsu via Oedo Coaster
Rating: *** 1/4
Day 8
Kimber Lee vs Tam Nakano
The opening promos are pretty low energy for both women. Kimber talks about being eliminated but fighting for herself and Tam tries her best to psych herself up. The lack of points is effecting both of these women. Who will get the ball moving to end on a high note?
Not a bad match, just fairly short. Given that all of the Grand Prix matches have a 15 minute time limit, even the longer ones are a little short. Both women utilize a fair amount of kicks and flexibility in their offense, so the mirror aspect was on full display.
Kimber does her split spot, Tam goes for a Buzzsaw Kick, but Kimber blocks it and tries to sweep the leg, but Tam does a split and they both start throwing forearms from the split position. Kimber hits a kick combination first, which drops Tam but only for two. In her opening promo Tam put some emphasis on not wanting to lose to kicks, since those are kinda her thing.
Maintaining advantage, Kimber goes to the top rope but Tam shows some fight. Eventually hitting the Avalanche Snapmare and going up for her Diving Idol Knee, for only a near fall. After a few more close calls, Kimber catches Tam coming off the ropes for a Brain Buster, pulls her to a corner and lands the Swanton Bomb for the pinfall.
Valiant efforts in all her matches, but Tam really can't catch a break.
Winner: Kimber via Swanton Bomb
Rating: ** 1/4
Rachael Ellering vs Utami Hayayshishita
Well, ya know I'm usually overly disinterested in whatever Rachael's been doing, but this match was a little different. She basically got to play the heel since she was being very tough on Utami and showing some personality while arguing with the referee. So when it comes down to Rachael's involvement, it wasn't the thing that brought the match down, for a change.
However, after the initial burst from Rachael and the playing up a few strikes on the outside, the match never kick it into another gear. It basically was treading water for the last half. Signature moves were hit, Utami landed her Sleeper Hold takeover into the Coquina Clutch, but Rachael got out of it. I'm guess the high point was supposed to be Rachael hitting a Superplex, but nothing felt important, desperate or impressive.
The match ends just as Utami cinches in an Inside Cradle, but the time expires. All of the draws in this tournament are a little off putting.
Winner: Time Limit Draw
Rating: ***
Red Stars Standings:
Kagetsu 4-1-1 (9 Points)
Rachael Ellering 4-1-1 (9 Points)
Jungle Kyona 3-1-2 (8 Points)
Utami Hayashishita 3-1-2 (8 Points)
Konami 3-3 (6 Points) – Eliminated
Kimber Lee 2-4 (4 Points) – Eliminated
Tam Nakano 1-5 (2 Points) – Eliminated
Natsuko Tora 1-5 (2 Points) – Eliminated
Thoughts:
You know Stardom, you know what happens when you make Tam look good but don't give her wins? Nothing happens, it's actually decent story telling and could set up for a big upset of Kagetsu on the Finals day. So as much as the fan in me hates watching Tam come up short (Naito fans around the world know that feel), her determination and the storyline wrinkles could pay off later.
As for the two days…meh? Nothing stood out and these really just felt like matches to set up for the final swerve. These kind of days happen in all tournaments, it just hit really hard in these four matches. I just really really hope Rachael doesn't win Red Stars.
---
Always Use Your Head and visit the official Pro Wrestling Tees store for The Chairshot All t-shirt proceeds help support the advancement of your favorite hard-hitting wrestling website, The Chairshot!

---
Mathew's Stardom 5 Star Grand Prix Blue Stars Results & Review: Day 8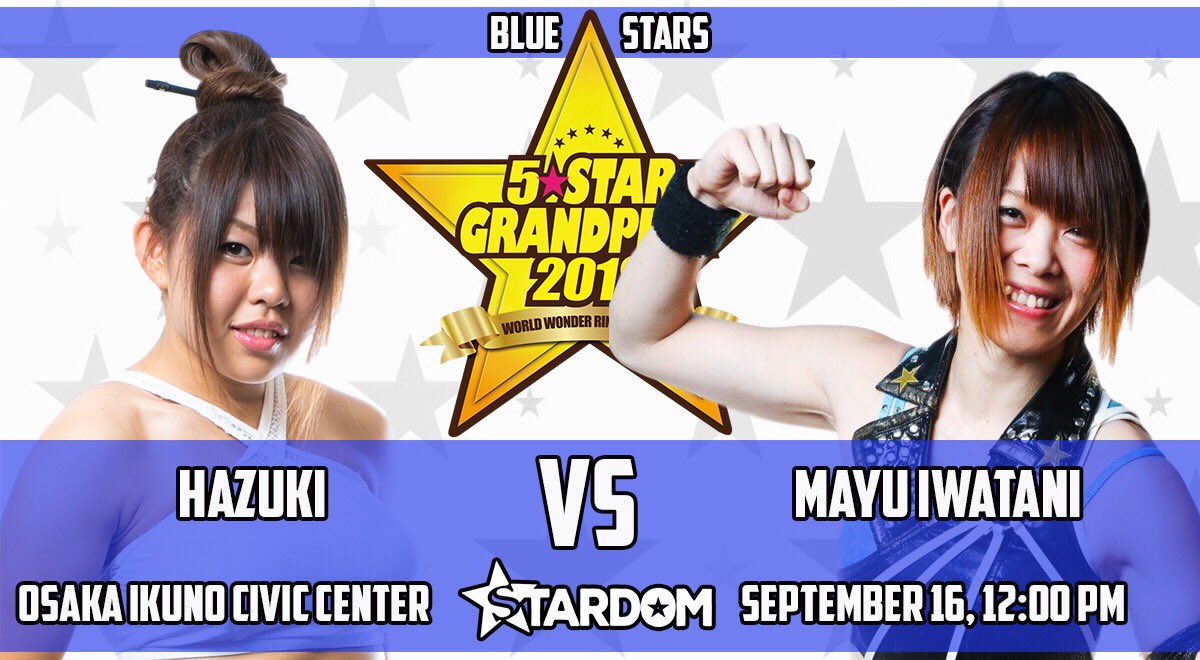 So tomorrow is the last day of the Five Star Grand Prix where we will have our final four matches and the final match on the same day but we got two matches left to cover before we go to the final day.
This show is for people that didn't have their six matches before the final day and we're using this to make sure they're all caught up to speed and we can see who has a chance to make it and who doesn't. I know it says day 8 in my headline but I had no matches on the seventh day, so I decided to just skip it and go where I have my actual matches. So who wins these two matches?
Let's find out and…dive right in.
Grand Prix Blue Stars Match
Kelly Klein vs. Natsu Sumire
Review: It's pretty clear that Sumire is pretty much eliminated and even if she does win this match and her last one, the fact that Mayu would hold the tiebreaker over her if she lost today and won tomorrow, but would still be out if Momo won on the final day since she'd have nine points while Sumire would still have eight if she won both and wouldn't matter, but she has been one of the highlights of this tournament due to her personality flourishing a lot more here and the fans loving her more and more. Sumire in her pre-match interview seems to be more focused on her bust size and even talked about the supplements she's been taking for a couple weeks now and is disappointed that there's been no change in her results just yet and hopes to provide progress updates. Kelly is her opponent tonight and if Kelly does win here, she'll be in the top spot of the standings and would have a strong chance of winning. Can Kelly win again or will Sumire ruin it for her?
Once again, Sumire made the match fun when it was needed due to it not being the best bout in the tournament here but they did work with what they got, even if it was as pretty standard as they come. Kelly did an okay job in the match as well and probably my least favorite outing of her in the Grand Prix and she just wanted to dominate Sumire. Sumire was mostly doing her antics that you would see in her matches with the false handshakes, cradling them up when they least expect it, and just whipping them. It looked like Kelly was going to go for the win here and when she ran the ropes, Kagetsu kicked her in the back to stun her long enough for Sumire to grab the Oedo Tai sign so she could hit Kelly with it, but Kelly moved out of the way causing the sign to bounce off the ropes and hit Sumire instead in which it gets turned around for Kelly to hit the Fireman's Carry Slam for the victory and she's now in first place.
Rating: Tony Schiavone
Grand Prix Blue Stars Match
Hazuki vs. Mayu Iwatani
Review: A win here is very crucial for Mayu Iwatani if she wants to tie it up with Kelly, otherwise she would be eliminated from the tournament and her opponent, Hazuki would take the top spot with nine points and potentially win the whole thing if things work out in her favor. The last time the both of them fought one on one was around February during the ROH Women of Honor tournament and Mayu would come out the winner of that match and Mayu wants to beat her again to show she's on a whole different level now. Who will take the top spot of the standings, Mayu or Hazuki?
Hazuki is in my top 5 wrestlers of Stardom right now and this match here with Mayu just solidified my statement for this claim. This whole tournament, she has been one of the most consistent wrestlers in her matches with her sequences being on point, her moves are crisp, and how to handle a match lately has been outstanding that she should be under peoples radar. Hazuki right away was being aggressive with Mayu before the bell even rang when she attacked her from behind and kept rolling her up which failed, but she kept on the attack by throwing her around into chairs on the outside and even destroyed Mayu's arm during the whole match and not holding back on her, I love this side of Hazuki.
This match is one of my favorites in my block next to Hazuki/Momo still being my favorite one, but this one was still pretty damn close with their chemistry in the ring together gave us a special match and it's not even their last one for their block. They told a great story in the ring, executed everything almost flawlessly, seeing a more aggressive side of Hazuki in her previous two matches, and Mayu selling it all to make it look more dangerous than it probably is, but they were just on point with everything together. Hazuki was pulling out all the stops with having her in the Crossface, working on her arm, stiff Dropkicks and a Codebreaker, but it still wasn't enough to take Mayu out as she hits the Dragon Suplex Hold and gets the victory to tie first place with Kelly Klein. After the match, she told the crowd that she was now in first place and hopes the crowd will still support her as she looks to win it all at the final.
Rating: Bruce Prichard
Overall: Can't really give it a fair assessment due to only having two matches with one being average and the other one being great, but the average of it was solid enough. I'm glad to see that all three of my picks are in the top 4 of potential winners and excited for the last day since it's stacked.
Favorite Match: Hazuki vs. Mayu Iwatani
Score: 6/10
Blue Stars Standings:
Mayu Iwatani: 4-2 (8 Points)
Kelly Klein: 4-2 (8 Points)
Momo Watanabe: 3-2-1 (7 Points)
Hazuki: 3-2-1 (7 Points)
Nicole Savoy: 3-3 (6 Points)
Jamie Hayter: 2-4 (4 Points)
Saki Kashima: 2-4 (2 Points)
Natsu Sumire: 2-4 (4 Points)
Now that we have our final standings before the final show tomorrow, we see that our top 4 people that could still win this are Mayu Iwatani, Kelly Klein, Momo Watanabe, and Hazuki. We're gonna break down the final card for tomorrow and see who has a real chance and how can it be done.
Mayu Iwatani vs. Momo Watanabe
Hazuki vs. Natsu Sumire
Kelly Klein vs. Nicole Savoy
Saki Kashima vs. Jamie Hayter
Here is how these four can win.
Mayu Iwatani: Defeat Momo Watanabe and Nicole Savoy defeats Kelly Klein.
Momo Watanabe: Defeat Mayu Iwatani and Nicole Savoy defeats Kelly Klein.
Kelly Klein: Defeat Nicole Savoy
Hazuki: Defeat Nicole Savoy, Momo Watanabe defeats Mayu Iwatani, and Nicole Savoy defeats Kelly Klein
If Momo and Hazuki do win their matches and Kelly loses, these two will be in a tie and it'll be interesting to see who gets the final spot since they did tie it up in their outing, interesting direction if that's the case.
---
Always Use Your Head and visit the official Pro Wrestling Tees store for The Chairshot All t-shirt proceeds help support the advancement of your favorite hard-hitting wrestling website, The Chairshot!

---