Is Jeff Hardy Too Old for This?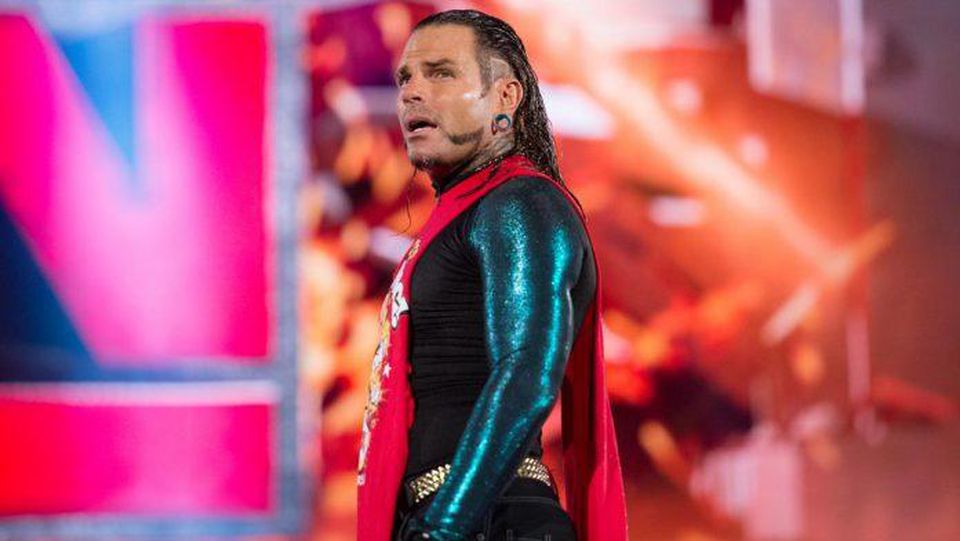 It has yet to be 100% confirmed, but Jeff Hardy may have suffered an injury during his entrance for this past week's SmackDown dark match in London. Jeff Hardy returned to WWE alongside his brother Matt at WrestleMania 33 in 2017 and has spent most of that time sidelined with injury. As Jeff returns to singles competition, one has to imagine that his body is catching up with him.
Return (Again)
Jeff's post WrestleMania 34 return was hot. The crowd blew up, the spots were big and there seemed to be a bright future in Jeff's singles aspirations as Matt was and is still teamed up with Bray Wyatt. After Jeff's return, he quickly won the US title from Jinder Mahal on an episode of Raw. Throughout the match though, Jeff was noticeably slower than he used to be. Sure, I don't exactly expect the Jeff Hardy of 2008 to magically return, but it almost felt like every move Hardy did hurt him and slowed him down throughout the match.
With a move to SmackDown away from his brother and a win over Randy Orton at Backlash in the books, Jeff Hardy's return looks really good on paper. However, since his return from rotator cuff surgery, we're now able to see more of his issues. The excitement has been palpable to see Jeff Hardy, but his singles matches really have not been anything of note.
Last year when he was tagging with Matt, he didn't have to do 100% of the legwork because he always had an option to tag out. Now that he's (rightfully so) on a singles run, he has to last out for full matches, which is looking more and more difficult for him match after match.
Hardy vs. Hardy
As opposed to Matt, Jeff's style over the years has been a lot more risky and death defying, which is probably one of the reasons that Jeff seems a little worse off than his brother at the moment. It is also one of the reasons that Jeff has historically been more over than Matt in the WWE- that daredevil style draws in fans, and Jeff was a deserving recipient of that notoriety.
Matt Hardy though seems to be dealing with less significant issues as his style is much more grounded and leverages a strong character to excite the fans. Jeff Hardy is very capable in exciting the fans, but years of jumping off tall objects and aerially throwing himself at his opponents has to have done a number on his body.
The Verdict
Although it is tough for me to say: Is Jeff Hardy just too old to compete on a full WWE schedule? Is his body too weathered for one last long singles run? I sure hope not, but it really does look like the younger Hardy is experiencing some troubles in executing his move set without slowing down. Matt Hardy has a bit more longevity of the two in his wrestling style, but to lose Jeff right now would be incredibly unfortunate as he has the potential to really be a face of the SmackDown brand.
Let's hope this is not a serious injury and that Jeff can entertain the fans for many more years to come. I just hope his body can hold up. A slow Jeff Hardy though is better than no Jeff Hardy, and as long as he's not at extensive risk, his current limitations will just have to do.