Leaping Through The Network: ECW Living Dangerously (3/21/99)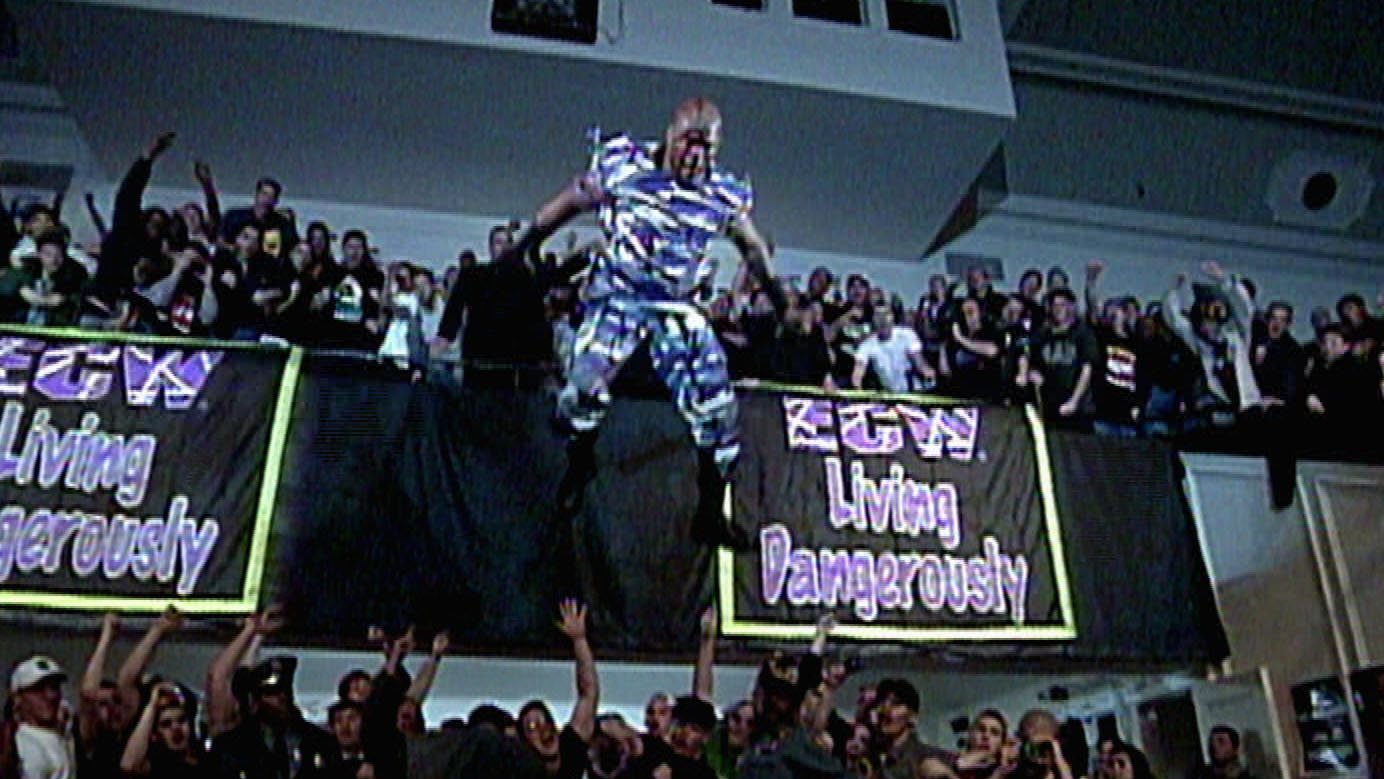 As this goes out on a Pay Per View weekend those that vote were given a selection of pay per views to vote on and almost half of you (a whopping 47% to be exact) voted to send me to the land of Misfit toys that is ECW. The number three promotion in wrestling during the 90's with an emphasis on blood, guts and violence.
But was it any good.
There's only one way to find out……
ECW Living Dangerously '99
March 21 1999
We open with Steve Prazak talking with Taz about his upcoming match tonight. Taz says his strategy is to go after Sabu's injured jaw and that he is better than Ric Flair and Steve Austin.
Joey Styles is in the ring and he welcomes us to the show and hypes the Taz vs Sabu match.
Super Crazy vs Yoshihiro Tajiri
Yes it's THAT Tajiri. Joey Styles on commentary says the winner of this match wins the feud. No he won't, these two will face off many times between now and ECW going out of business. A Collar and Elbow Tie-up is turned into a Headlock by Crazy. Taking Tajiri to the mat, he locks in a Front Facelock but Tajiri grabs Crazy with an Armbar and an Arm Wringer before Cazy counters with an Arm Wringer of his own. After a few cartwheels, Tajiri breaks the hold with a Monkey Flip and they have a stand off. Crazy wins a Test Of Strength and pushes Tajiri to the mat for a two count. Tajiri hits a Hurricanranna which Crazy rolls through and Monkey Flips Tajiri who Arm Drags Crazy. After Arm Dragging each other, they have another stand off to a standing ovation. Crazy boots Tajiri in the gut and shoots him into the ropes but Tajiri comes back with a Handspring Elbow and a Head Scissors. A Slap knocks Tajiri down but Tajiri sends a charging Crazy out of the ring courtesy of a Monkey Flip and Tajiri launches himself at Crazy over the turnbuckles with a Plancha before using the rope to throw himself at Crazy with an Asai Moonsault. Crazy gets back into the match with some inverted It Kicks and a springboard Moonsault before Tajiri hits Crazy with a Stratusphere.
Back in the ring, Crazy hits a Wasteland and the Triple Moonsaults for a two count. Crazy then lifts Tajiri to the top turnbuckle and hits Diez punches (a ten punch spot where the crowd count in Mexican) and a tree of woe Dropkick. An Asai Moonsault of his own gets Crazy a two but a Fireman's Carry is turned by Tajiri into a Roll Up which gets him a two. Crazy gets control back with a kick and hits a second Wasteland but a middle turnbuckle Moonsault is countered by Tajiri who gets his knees up to block it and kicks Crazy in the ribs to follow and a tree of woe Dropkick of his own for a two. A couple of Roundhouse Kicks knock Crazy down. Crazy somersaults his way out of an Irish Whip attempt but still gets Dropkicked in the face for a two. A second Irish Whip attemt is countered into a Sunset Flip that gets a two for Crazy. A slingshot by Crazy is foiled when Crazy slips and fall from the top rope (lot of falling going on this week)and Tajiri encourages the chants of 'You Messed Up' (What? My mother reads this) Focusing back on wrestling and Tajiri gets a two from a German Suplex. A Full Nelson by Tajiri is countered by Crazy who kicks Tajiri in his Nakamuras before hitting Tajiri with a huge Powerbomb that only gets a two. Tajiri attempts to Counter a second Powerbomb with a Hell's Gate, doesn't work and he gets Powerbombed anyway. Tajiri counters an Irish Whip with a Hurricanranna but Crazy, much like he did at the start of the match, rolls through it. This time he rolls it into a pin attempt and gets the pinfall.
Winner: Super Crazy
Backstage with Rob Van Dam, Sabu, Bill Alfonso and his whistle. Alfonso reminds Taz that he is no longer with Taz and that Taz is on his own. He discusses Sabu and says if he gets injured during the match he will either tape or glue Sabu back together. Van Dam says it's a big night for Sabu as he gets to watch Van Dam defend the ECW TV Title. Van Dam tells Sabu that he's going to beat Taz easily and it's not even a challenge. The challenge for Van Dam is how he is going to carry all the belts AND Sabu. Ooh disention!
Steve Corino vs ?
Corino says he doesn't take steroids and doesn't need to wrestle in foreign lands. He been watching the Saudi Rumble or something? He issues an open challenge to anyone who wants to see just how Hardcore Corino is. and out comes……
Steve Corino vs Balls Mahoney
Balls starts with a seres of left jabs before a Right Hand knocks Corino down before Irish Whipping Corino off the ropes and Back Dropping him. A series of Clotheslines have Corino dazed but he manages to Back Drop a charging Balls out of the ring and then Baseball Slides Balls into the metal guard rail. A Plancha by Corino is caught by Balls who whips him into the shoulder of a charging Axl Rotten, Balls' corner man. Back in the ring, Balls hits Corino with a Bodyslam and a huge Frog Splash that gets a two. Corino avoids a top rope Legdrop and hits Balls with a Spinning Heel Kick for a two. Corino gets a chair and threatens to hit Balls with it but instead he sits on it and applies a Chinlock but Balls pushes his way out of it and Superkicks Corino before smashing the chair across Corino's skull for the pinfall.
Winner: Balls Mahoney
We see highlights of The Dudley Boyz hitting a 3D on a lot of people and injuring a few. Apparently New Jack was supposed to be next so, in an attempt to not let that happen, he brought in his former partner Mustafa. However, it was Mustafa that was setting New Jack up in the first place. He turns on New Jack hitting him with a guitar and setting up a match between the two later tonight.
Guido vs Antifaz Del Notre
No, me neither. Guido starts by slapping Antifaz. Guido ducks a Clothesline and applies a Waistlock which is countered and countered until Antifaz uses a Back Elbow to break out of it. Guido knocks Antifaz down with a Shoulder Block and an Elbow Drop to the spine that gets him a two. Guido grabs Antifaz's arm and tries for a Cross Armbreaker but Antifaz is too close to the ropes and it is broken up. Antifaz hits Guido with a springboard Armdrag and a Superkick and a springboard Dropkick. Guido slinks to the outside but that doesn't save him from Antifaz landing on him after a Corkscrew Plancha. Back in the ring and a slinghsot Sunset Flip gets Antifaz a two. A Hurricanrana is countered by Guido into a Powerbomb that gets him a two. Guido hits Antifaz with stomps and chops in the corner but Antifaz fires back with Chops of his own and a Front Suplex for a two. Antifaz spends too long climbing the buckles and Guido hits an impressive looking second rope Russian Leg Sweep that gets him a two. Guido then spends too long yelling at the crowd which allows Antifaz to roll him up for a two with a second rope School Boy. A Sleeper by Antifaz is countered into a Jawbreaker by Guido and the follow up Clothesline gets Guido another two. A Spinning Heel Kick by Antifaz sends Guito to the outside. A Plancha by Antifaz ends when Sal E Graziano, a 500 pound monster at ringside, catches him and Powerslams Antifaz through a table before throwing him back into the ring where Antifaz is a sitting duck for a second rope Legdrop and a Sicillian Crab (Liontamer to you and me) that gets Guido the submission victory.
Winner: Guido
Rob Van Dam vs Jerry Lynn
ECW TV Championship
A Collar and Elbow Tie-up is turned into an Arm Wringer by Lynn but RVD pulls Lynn's leg from under him to break the hold. On the mat, RVD puts Lynn into a headlock but Lynn breaks it with a Headscissors that RVD rolls through and gets a one count. Another Collar and Elbow Tie-up is turned into a Headlock by RVD. Lynn breaks it by sending RVD off the ropes but is knocked down by a Shoulder Block by RVD. Lynn leapfrogs RVD's next move attempt only to see RVD Leapfrog his. Lynn kicks RVD in the gut and Irish Whips RVD who reverses it sending Lynn to the corner. Lynn leapfrogs backwards over a charging RVD and avoids a Moonsault attempt by RVD. Lynn hits RVD with a Cross Body. RVD knocks a charging Lynn down but Lynn avoids a Standing Thunder and we have a stand off to the applause of the crowd.
Another Collar and Elbow Tie-up is turned into a Headlock by Lynn, RVD pushes him off the ropes and Leapfrogs over him before bouncing off the ropes himself. Lynn tries to Leapfrog RVD but RVD catches Lynn with an Inverted Atomic Drop but gets caught by a Clothesline from Lynn. Collar and Elbow Tie-up again is turned into a Headlock by Lynn, pushed off the ropes by RVD who Leapfrogs Lynn and tries to duck a second run only to be Legdropped on the back of the neck by Lynn who Dropkicks RVD in the face and Clotheslines him to the outside. Lynn dives at RVD with a Cannon Ball from the apron which sends RVD into the rail.
Lynn gets into the ring and RVD tries to follow but Lynn hits RVD with a Baseball Slide that sends RVD into the front row. Lynn gets on the apron and launches at RVD, who is in the front row, with what can best be discribed as an Asai Cross Body. Back in the ring and RVD catches Lynn with a Dropkick and a series of Forearms. When RVD attempts a move from the top rope, Lynn kicks him off the top rope and out of the ring face first into the rail. Lynn follows RVD to the outside and Irish Whips RVD but RVD reverses it and sends Lynn into the metal barrier before jumping on the barrier and Legdropping Lynn before diving off the barrier at Lynn with a Cross Body into a sea of people. RVD then lays Lynn on the ring apron and Legdrops Lynn from a ringside barrier. A cover only gets RVD a two. Alfonso throws a chair into the ring and RVD lies on it while applying a Surfboard before throwing Lynn into the air and rolling out of the way so that Lynn comes crashing down onto the chair. Another two count. RVD sets the chair on the ground and plans to Monkey FLip Lynn onto the chair. Lynn has other ideas as he moves out of the way and hits RVD with a slingshot Sunset Flip sending RVD head first into the chair for a two count. Lynn tries to Piledrive RVD on the chair but RVD counters it into a Back Drop that gets a two count. Lynn goes for a DDT but RVD counters that with an Inverted Atomic Drop before Lynn catches RVD with a Reverse DDT for a two.
Lynn gets distracted by Alfonso on the apron. Lynn realises this is a ploy to distract him and turns to see RVD throw the chair. Lynn ducks it, Alfonso catches it. Lynn kicks RVD in the gut as Alfonso swigs the chair at Lynn who grabs the chair out of Alfonso's hands. Lynn ducks a Spinning Kick from RVD by sitting the chair down on the mat. RVD tries to kick the legs from under Lynn but Lynn jumps over RVD's leg and brings his own leg down across RVD when he Legdrops RVD onto the chair for yet another two. Lynn takes the chair and climbs to the top turnbuckle but Alfonso grabs his ankle preventing him from doing anything. Both men are now fighting on the second rope. Lynn hits RVD twice with the chair before RVD Van Daminators Lynn sending Lynn through a table at ringside. RVD rolls Lynn back inside the ring and somehow gets another two count. RVD hits Lynn with a World's Strongest Slam befor placing a chair on Lynn's chest but Lynn throws it in RVD's face to counter a Split Legged Moonsault and a Sunset Flip gets a two for Lynn when RVD hits Lynn with the chair in the skull. Both men roll each other up for a series of two counts before Lynn hits a massive German Suplex for yet another two. Climbing to the second rope, Lynn grabs RVD on the ring apron and Tornado DDTs RVD onto the table which doesn't break (I AM THE TABLE) Lynn rolls RVD into the ring for, yep, a two count. RVD gets a two of his own from a Legdrop. A Bodyslam followed by a Rolling Thunder again gets a two for RVD. It's Lynn's turn at getting a two this time from a Tornado DDT IN the ring. THe bell rings.
Winner: Time Limit Draw
The referee tries to award the belt to Jerry Lynn who refuses it asking for five more minutes. This starts a crowd chant of "Five more minutes" leading to…
Rob Van Dam vs Jerry Lynn
ECW TV Championship
Lynn charges at RVD hitting a Dropkick and a Piledriver for a two. Lynn Irish Whips RVD into the corner but RVD boots a charging Lynn in the face. Lynn catches a chair that Alfonso threw into the ring but he gets Van Daminatored in the face. RVD climbs to the top turnbuckle and flies at Lynn hitting him with a Frog Splash. RVD doesn't need all five minutes as he gets the pin.
Winner: Rob Van Dam (still ECW TV Champion)
Paul Heyman narrates a video package hyping the Taz vs Sabu match later tonight.
Joey Styles introduces us to a moment earlier tonight when porn star Jasminn St Claire was in the ring. Francine came to the ring and both women exchanged words before Francine hit St Claire with a horrendously bad RKO.
New Jack vs Mustafa
New Jack hits Mustafa with a crutch and a computer keyboard before a golf club to the nakamuras. Mustafa fights back smacking New Jack across the skull with a child's push toy and what may have been a tin of paint before whacking New Jack in the face with a wheelie bin and a baking tray. New Jack gets back into the match with another shot from the computer keyboard followed by a guitar. A low blow by Mustafa sends New Jack to the outside. Mustafa follows and they brawl through the crowd until Mustafa throws New Jack into a wall. Mustafa unloads on New Jack with punches, a chair shot an Elbow drop and more punches. New Jack fights back with an Uppercutt and a chair shot. New Jack sets up a table and then tapes Mustafa to it. New Jack then goes to an area some twenty feet above where Mustafa is and dives from it Splashing Mustafa through the table. At this point, security carry both men back to the ring where New Jack covers Mustafa for the win.
Winner: New Jack
Post match, Bubba Ray Dudley and D Von Dudley head to the ring and beat up New Jack. Bubba gets on the mike and issues an open challenge to any two in the back. So we get………
Bubba Ray Dudley & D Von Dudley vs Spike Dudley & Nova
Bubba and D Von smash their opponents with metal sheets. D Von punches Nova in the corner while Bubba lifts Spike for a Gorilla Press and throws him into the crowd. Spike bodysurfs through the crowd, he'll be back later. In the ring, D Von hits Nova with a Whassup Headbutt and lifts Nova so Bubba can hit him with a second rope Powerbomb before they hit a 3D. To prevent further damage to Nova, officials step in which only leads to a 3D for the ring announcer. Bubba gets on the mike and says they have destroyed all the fans' heroes with a 3D before extending his open challenge to anybody who has the guts or man enough. Juge Jeff Jones walks down the isle pushing a stretcher and he says he brings to ECW….. SID!!!!!!
Sid tries to Powerbomb D Von but Bubba hits him in the back with the mike. They pound on Sid with punches but when they miss a Clothesline Sid grabs them and Chokeslams both of them at the same time. He Powerbombs D Von and punches Bubba. Spike's back (told you he would be) and he hits Bubba with punches and a top rope Legdrop while Sid Press Slams the stretcher onto D Von. Spike hits Bubba with an Acid Drop and gets the pinfall. Post match, Sid Powerbombs Spike in the ring and then Powerbombs him from the entrance ramp through a table
Winners: Spike Dudley & Nova
We see highlights of Shane Douglas threatening to retire and hand over the mantle of The Franchise. Justin Credible says it should be him. Lance Storm says it should be him. Shane Douglas says it's Tommy Dreamer so Storm and Credible beat down Douglas, Dreamer and Douglas' valet, Francine.
Lance Storm & Justin Credible vs Shane Douglas & Tommy Dreamer
Storm hits a knee and a punch to Dreamer before an Irish Whip that he follows with a Clothesline. Dreamer avoids a charging Storm but tastes a Right Hand from Credible Storm goes for a Spinning Heel Kick but Dreamer ducks the move as Storm accidentally clobers his own partner. Dreamer hits Storm with a Clothesline and a Neckbreaker before tagging Douglas who catches Strom with a Rolling Inverted Neck Snap. A tag to Credible who exchanges punches with Douglas who gets the better of that exchange before hitting Credible with Two Amigos and a Delayed Suplex. Following an exchange of chops that each get a 'Wooooo' Credible takes a Flair Roll in the corner and lands on the apron. Credible ducks a Clothesline before hitting Douglas with one of his own. Credible launches himself from the top turnbuckle at Douglas who catches him with a Flapjack. Dreamer in and he gets a two from Demolition's Decapitator. Credible catches Dreamer with a Punch to the ear but fails to follow it as Dreamer catches him with a Spinebuster. Dreamer applies an Abdominal Stretch on Credible, Storm in to break it but Douglas lifts Storm for a Gorilla Press bringing him down across Credible's knee.
Douglas hits Credible with Right Hands before Storm, on the apron, Kicks Douglas in the back of the head leaving him open for a Superkick by Credible. Storm catches Douglas with a Dropkick before Credible chops him and punches him in the skull. Storm tries a Clothesline but Douglas ducks it and hits Storm with a Side Suplex. Credible hits Douglas with a Jawbreaker. Storm and Credible make frequent tags hitting Douglas with Chops and Elbows. Douglas moves out of the way of a Credible Baseball Slide into the corner which sends Credible nakamuras first into the post giving Douglas the time to tag Dreamer who lights up Credible with a series of Right Hands, a Leg Sweep and a Clothesline that knocks both men out of the ring. Dreamer doesn't see Storm throw himself at Dreamer with a Plancha. Douglas Irish Whips Storm into the barrier and then deposits him nakamuras first into the ring post.
In the ring, Dreamer hits a Powerslam to Storm for a two count, same from a Side Inverted Tombstone. A Superkick knocks Dreamer down and allows Strom to choke him before a Knee Lift and stomps in the corner. A Chinlock on Dreamer by Credible slows things down before a Jawbreaker gets Dreamer out of the hold but a Heel Kick by Storm gets a two. A Suplex by Storm allows him to tag Credible who drives a second rope Elbow into Dreamer before Storm and Credible hit Dreamer with a Double Suplex on the entrance ramp. Credible dumps Dreamer back into the ring and tags Strom who rams Dreamer's head into the turnbuckle but Dreamer counters a top rope Moonsault attempt by Storm and hits him with a Neckbreaker and hits a second rope RKO on Credible. Douglas is in and he pretends to form an alliance with Storm and Credible before Clothesline both men. Douglas dishes out Right Hands, Bodyslams and Dropkicks to both men before a Double Noggin Knocker. As he celebrates, Storm's valet, Dawn Marie, runs in and nails Douglas with a low blow. Francine is in the ring and she hits Dawn with a Snapmare and we have a catfight!! Storm hits Dreamer with a Snap Suplex as Francine drags a ladder to the ring. Dreamer lays the ladder across a corner and carries Credible (chicken fight style) to the corner before dropping him face first on the ladder. On the other side of the ring, Douglas gets a two on Storm after a High Cross Body before he and Dreamer drive the ladder in to Storm and Credible's faces, a cover by Douglas on Credible gets two. Douglas hits a Front Suplex on Storm followed by a Belly To Belly Suplex on Credible that gets a two. Francine kicks Credible in the back of the head and Douglas hits him with a Pittsburgh Plunge for the three
Winners: Tommy Dreamer & Shane Douglas
Joey Styles shows us highlights of this evening's RVD vs Jerry Lynn match and we cut to Steve Prazak who is with the ref for the match. Ref says that he felt that Jerry Lynn deserved the TV Title and was ready to award it to him but Jerry Lynn turned it down demanding five more minutes. Rob Van Dam turns up. He calls Jerry Lynn a great competitor and challenges Jerry Lynn to challenge him for the TV Title at the next ECW pay per view.
Taz vs Sabu
ECW Championship
Taz gets on the mike and makes this a Falls Count Anywhere Match. Didn't know he had the power to do so but it's ECW. Sabu lunges at Taz's legs but he moves and tries to grapple Sabu who slips out and wraps his arms around Taz 's upper torso. Taz grabs Sabu's arm in a Hammerlock and a quick roll up that gets about one and a half. A Collar and Elbow Tie-up ends in a Waistlock by Sabu but Taz reverses it and Sabu lunges at the ropes to break the hold. Taz wins an exchange of Right Hands but Sabu manages to block a cross face and Arm Drags Taz into an Arm Bar but Taz puts Sabu into a Head Scissors and wrenches on Sabu's arm before Sabu manages to roll on top of Taz for a one. Another Collar and Elbow Tie-up this time ends in a Waistlock by Taz who takes down Sabu with a Belly To Back Suplex before he gets in the cross face smashing his forearms into Sabu's jaw. Taz then bounces off the ropes catching Sabu in the skull with a Brooklyn Boot. Sabu reverses an Irish Whip by Taz before hitting what can best be described as a Slingshot Rear View followed by a somersault Legdrop for a two. Alfonso slides a chair into the ring and Sabu throws it at Taz's head before using the chair to basically hit Taz with a Poetry In Motion. Taz slips to the outside for a breather but Sabu deposits him over the rail and into the crowd before getting in the ring and diving off the top rope at Taz who lifts a chair to protect himself smacking Sabu in the face with it. Taz and Sabu brawl through the throng of people, as was the main event style at the time, before Sabu sits a chair on the entrance ramp and uses it as a launchpad to throw himself at Taz before Taz tosses Sabu from the entrance ramp into the crowd and then back into the ring.
A Dropkick to the knee keeps Taz down long enough for Sabu and Alfonso to lean a table between the ring apron and the crowd barrier. Sabu hits a fury of Right Hands before Taz grabs him and hoists Sabu up and over with an Overhead Belly To Belly Suplex over the top rope and through the recently set up table. Taz picks up Sabu and Press Slams him, jaw first, into the barrier but Sabu throws another chair at the head of Taz. SabuOn the outside of the ring, Sabu prevents Alfonso from throwing in a towel before Taz (yet again) throws Sabu from the ramp into the crowd. Alfonso throws a chair at Taz who chases Alfonso to the back hopefully making this one on one. In the ring Sabu hits a jumping Fameasser to Taz that gets a two and, Damn it, Alfonso's back. Alfonso's slid a table into the ring and Sabu sets it up. Taz punches Sabu and lays him on the table before climbing the turnbuckles. Sabu gets up, throws the table out the way and hits Taz with a Hurricanranna from the second rope that gets a two. Taz standing Hurricanranna attempt into a Powerbomb that gets a two.
Outside the ring, Sabu reverses an Irish Whip sending Taz into the barrier. Sabu tries to Sunset Flip Taz from the apron to the floor but the gap between the ring and the barrier isn't big enough and Taz ends up landing on Sabu. Either way Sabu makes a cover and gets a two. There is a table balanced on top of a guard rail and Sabu lays Taz on it, climbs to the top turnbuckle and Splashes Taz through it, gets two. Sabu hits Taz with a chair assisted Legdrop for another two. Taz gets a two from a Pump Handle Suplex. Sabu uses a chair to hit a top rope Monsault for a two and a Head Arm Suplex gets a two for Taz. Sabu uses the chair to jump to the top rope again, this time for a Legdrop, and he gets another two count. Taz dumps Sabu with another Head Arm Suplex and he lifts him to the buckles for a Head Arm Superplex and again he gets a two. Taz then Dragon Suplexes Sabu through a table. Alfonso throws the towel in the ring but Sabu throws it back out. In the commotion, Taz is able to lock in the Tazmission. Sabu is out. The bell rings.
Winner: Taz (still ECW Champion)
Taz gets on the mike and says Sabu gave him the fight of his life and that he respects Sabu. He tells Sabu he wants to shake his hand which Sabu does before leaving Taz in the ring to celebrate his victory as we fade out.
Post show: I thought this was a good show that had some really good wrestling on it. It's easy to brand ECW as a 'Hardcore' promotion that smack each other with weapons. There was only one match like that (Mustafa vs New Jack) and I'd say that match was the worst on the show.
Match Of The Night: Tajiri vs Super Crazy. It was this or RVD/Jerry Lynn. Both were outstanding matches but I felt that the RVD one went a little bit too long.
MVP: Jerry Lynn. everyone to this day knows what RVD is capable of but I felt that Jerry Lynn showed he is every bit as good as RVD and in a match that lasted over twenty minutes, Jerry Lynn went toe for toe with RVD and shone
Rating: 8/10
And that is me. I can be fount on Twitter @Callaweasy2220 where I live tweet my way through Raw, Smackdown, NXT and when there is one on (like this week: Backlash) Pay per view. Feel free to pop over and talk wrestling
As with most weeks, there is a vote for what YOU want to see on upcoming editions of Leaping Through The Network over on Twitter @theCHAIRSHOTcom
I'll be back next week but right now the blue is surrounding me so all that is left to say is
#UseYourHead and ALWAYS have an Angle
"Tommy, you look like a sardine sitting on that couch."
Oh boy.
---
Always Use Your Head and visit the official Pro Wrestling Tees store for The Chairshot All t-shirt proceeds help support the advancement of your favorite hard-hitting wrestling website, The Chairshot!

---
Chairshot Classics: WWF King Of The Ring 1993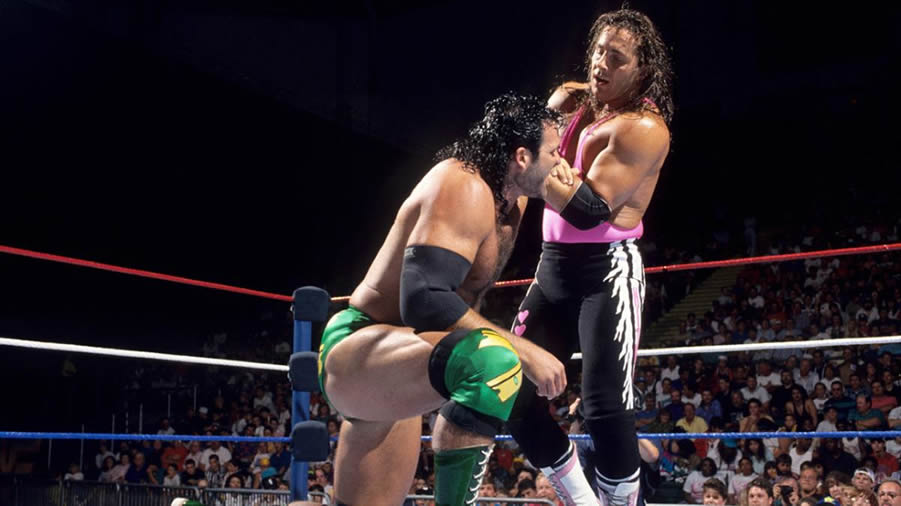 The nWo is reuniting next month for a very rare event where fans can see all three original members in the same place at the same time. So today, were looking back at another rare occurrence when Hulk Hogan, Scott Hall and Kevin Nash were all apart of the same card before they "took over" with King Of The Ring 1993! 'The Bad Guy' takes part in the King Of The Ring tournament, meanwhile 'Big Daddy Cool' accompanies Shawn Michaels as he defends the Intercontinental Title, on top of Yokozuna challenging 'The Hulkster' for the WWF Championship!
Open: Vince McMahon voices over a video package highlighting tonight's King Of The Ring Tournament, running down our Quarterfinal match-ups before we head to the arena.
Match #1 – King Of The Ring Quarterfinals: Razor Ramon vs. Bret 'Hitman' Hart
The people chant "1-2-3" at Razor, they lock-up, Ramon using his power and pushes Bret away. Another collar & elbow, The Bad Guy powers The Hitman away again, a third lock-up now and Hart applies a side headlock. Razor pushes him away to the ropes, they collide shoulders, Bret back to the ropes, ducks a couple of shots and scores with right hands before taking Ramon over with an arm drag. Hitman grounds him with an armbar, Ramon back to his feet, shoots Hart to the ropes for a hip toss, it's blocked, Bret attempts one of his own, but that is also blocked and The Bad Guy floors him with a clothesline.
Follow-up elbow drop doesn't find the mark, The Excellence Of Execution with another arm drag, targeting the left arm again with a standing armbar. Ramon throws him to the corner and charges in, Bret side-steps it, hits another arm drag and is persistent in applying the armbar. The Bad Guy attempts to body slam his way out, The Hitman maintains his grip, drives fists into the shoulder joint, Razor coming back with a thumb to the eye. He whips Hart to the ropes and scores with a back elbow for a quick 2 count, looks to hook on a rear chinlock, Hitman quickly counters out and utilizes a hammerlock, Ramon finding his way to a corner to force a break, but sneaks in a back elbow. Irish whip to the opposite corner is reversed, Hart charges in and is met by a knee to the jaw, Razor grabs him and drives Bret shoulder-first into the ring post.
The Bad Guy takes control and hammers The Hitman on the outside, throws him back inside to more loud "1-2-3" chants, starts to pummel Hart with heavy rights and boots, tosses him with a fallaway slam and hooks the leg for a count of 2. He lifts Bret onto his shoulders and plants him with a running powerslam for another near fall, drops a succession of elbows, then hits a side slam. He goes to the ropes for another elbow drop and misses, Bret avoids a couple more attempts, fires up with stiff right hands, splits Razor with an inverted atomic drop and levels him with a clothesline for a 2 count. He whips Ramon to the ropes, goes downstairs with a right hand, scores with a side russian leg sweep for another 2, The Excellence Of Execution cracking him with a backbreaker, but still can't get a 3 count.
The Hitman off the 2nd rope now with an elbow drop that nearly gets 3, The Bad Guy swings with a wild right, Hart ducks under, rolls him up and Razor barely kicks out again at 2. Bret sets him for a running bulldog, Ramon pushes him away sternum-first into the turnbuckles, staggers to his feet and calls for The Razor's Edge. He gets Hart up in the air, Hitman slips out of it for a backslide, The Bad Guy blocks it, but Bret uses his feet to scale the ropes and flips himself over, grabbing a small package for a near fall. The Excellence Of Execution can't believe it and argues with the referee, Razor takes the opening to clobber him from behind, props Hart on the top turnbuckle for a super back suplex, Hitman counters and falls on top of Ramon and gets the pinfall.
Winner: Bret 'Hitman' Hart (Super Back Suplex Counter)
EA's Take: Tremendous opening contest and one of the better WWF pay-per-view matches since WrestleMania VIII, if not the best one. After losing the WWF Title 3 months earlier at WrestleMania, Bret was moved away from the championship picture for a few months and although Razor had been getting cheered at Mania, the people were clearly behind The Hitman tonight. Ramon was just getting into the start of his angle that would turn him face, recently losing in a major upset to 1-2-3 Kid on RAW, hence the "1-2-3" chants aimed at him.
Video: This past weekend on WWF Superstars, Harvey Wippleman masterminded a plan to punish The Undertaker, using Giant Gonzalez as a distraction and allowing Mr. Hughes to lay him out with Paul Bearer's urn and take possession of it.
Match #2 – King Of The Ring Quarterfinals: Mr. Hughes w/Harvey Wippleman vs. Mr. Perfect
They lock-up to begin and Hughes uses his raw power to shove Perfect down, they tie-up again with the same results, Hughes hits the ropes, The Perfect One drops down and scores with a hip toss. Irish whip back to the ropes is reversed, Perfect leaps over a back body drop attempt, comes back through with a dropkick, but it doesn't take Mr. Hughes off his feet. Hughes powers Mr. Perfect to the ropes off the collar & elbow, doesn't break clean and clocks Perfect over the top to the floor, The Perfect One staggering back into the squared circle.
Mr. Hughes with heavy shots, wrenches away at the neck, Mr. Perfect battles to his feet, hits the ropes, ducks a clothesline, but gets flattened by a big boot on the other side. Hughes shoots him back to the ropes and connects with a clothesline, snapmares Perfect back over and focuses his attention on wrenching at the neck again. The Perfect One uses Hughes' tie to works his way up, tries to hit the ropes, Mr. Hughes with a handful of hair to prevent it and he buries a knee to the abdomen. Irish whip to the corner turns Perfect inside-out, maintains control with more heavy blows as Bret 'Hitman' Hart offers up his comments about the outcome of this match. Mr. Hughes sends Perfect hard into the turnbuckles again, whips him to the ropes and we have a badly botched spot before Hughes rakes at the eyes, then chokes him on the middle rope.
Hughes hits the ropes to gain a head of steam and land on The Perfect One's back, he misses and gets crotched on the 2nd rope, Perfect taking the opening to send him to the ropes for a hip toss. He shoots him back in for a back body drop, snapmares Hughes over and hits the patented neck snap, Mr. Perfect then working him over in the corner with rights and lefts to the breadbasket. The officials steps in to force a break, Wippleman hands Mr. Hughes the urn and he clobbers Perfect right in front of the referee.
Winner: Mr. Perfect (Disqualification)
EA's Take: Short and a little bit rough, Perfect doing what he could to make this at least decent, Mr. Perfect moves on to meet Bret Hart in a semi-finals dream match. Also known as Big Cat, Mr. Hughes is most known for competing with sunglasses on. Hearrived in the WWF to join in with Harvey Wippleman in his rivalry with The Undertaker. He generally played more of a ringside enforcer and his in-ring career never really took off because he was sloppy at best. This stint with the WWF was very brief as this was his only PPV match. Interestingly enough, he was released not long after this match, ironically suffering an eye injury after his sunglasses shattered during a match against Tatanka.
Video: Gene Okerlund caught up with Yokozuna & Mr. Fuji earlier in the day in the locker room, Fuji reminding us that Yoko defeated Bret Hart for the WWF Title in a hard-fought match at WrestleMania. Hulk Hogan then cheated to steal the championship away, Yokozuna warning The Hulkster that tonight he and America will go down.
Match #3 – King Of The Ring Quarterfinals: Bam Bam Bigelow vs. 'Hacksaw' Jim Duggan
Duggan starts the "U-S-A!" chants, they lock-up, Bam Bam with a side headlock, Hacksaw pushes him away to the ropes, they collide shoulders and neither man budges. Bigelow goes back to the ropes to try again to no avail, hits the ropes for a clothesline on the third try, Duggan ducks it, scores with multiple clotheslines of his own to stagger the big man before finally dropping him. Bam Bam rolls to the floor to regroup, steps back inside and goes to the eyes, attempts right hands and Hacksaw fires back, forcing him to the corner.
Irish whip across is reversed, Hacksaw grabs the ribs, manages to avoid Bigelow running in and crumbles to the mat holding his midsection. He looks to deliver a body slam, can't get The Beast From The East up, Bam Bam with big headbutts and he starts targeting the injured abdomen. He sends Duggan to the ropes and hooks on a bearhug, Hacksaw clubs his way out of it, but Bigelow goes right back to the breadbasket to stop any momentum. He bounces off the ropes to drop a headbutt, Duggan rolls out of harm's way, gets Bam Bam up for a body slam, but can't hold the weight, Bigelow falling on top for a count of 2 before going back to the bearhug.
Hacksaw resorts to biting Bam Bam to break the grip, he reverses a whip to the ropes, finally hits the body slam and goes into the 3 Point Stance, The Beast From The East side-stepping out of the way. Duggan goes crashing into the top turnbuckle and hits the mat, Bigelow heads to the top rope, connects with a Diving Headbutt and advances.
Winner: Bam Bam Bigelow (Top Rope Diving Headbutt)
EA's Take: Not much excitement here, nothing really sloppy, but a pretty short one. Bam Bam is still being built as one of the top heels in the company, maintaining a status that was at the top of the mid-card with the ability to also work main events. Hacksaw had returned from a brief hiatus after an attack at the hands of Yokozuna, but the WWF's youth movement put him in a position to help establish the new stars. This would be his final WWF PPV match until a nostalgia run in 2006, leaving the company just before SummerSlam in August.
---
Always Use Your Head and visit the official Pro Wrestling Tees store for The Chairshot All t-shirt proceeds help support the advancement of your favorite hard-hitting wrestling website, The Chairshot!

---
Chairshot Classics: NWA-TNA Episode 12 – Best of the X-Division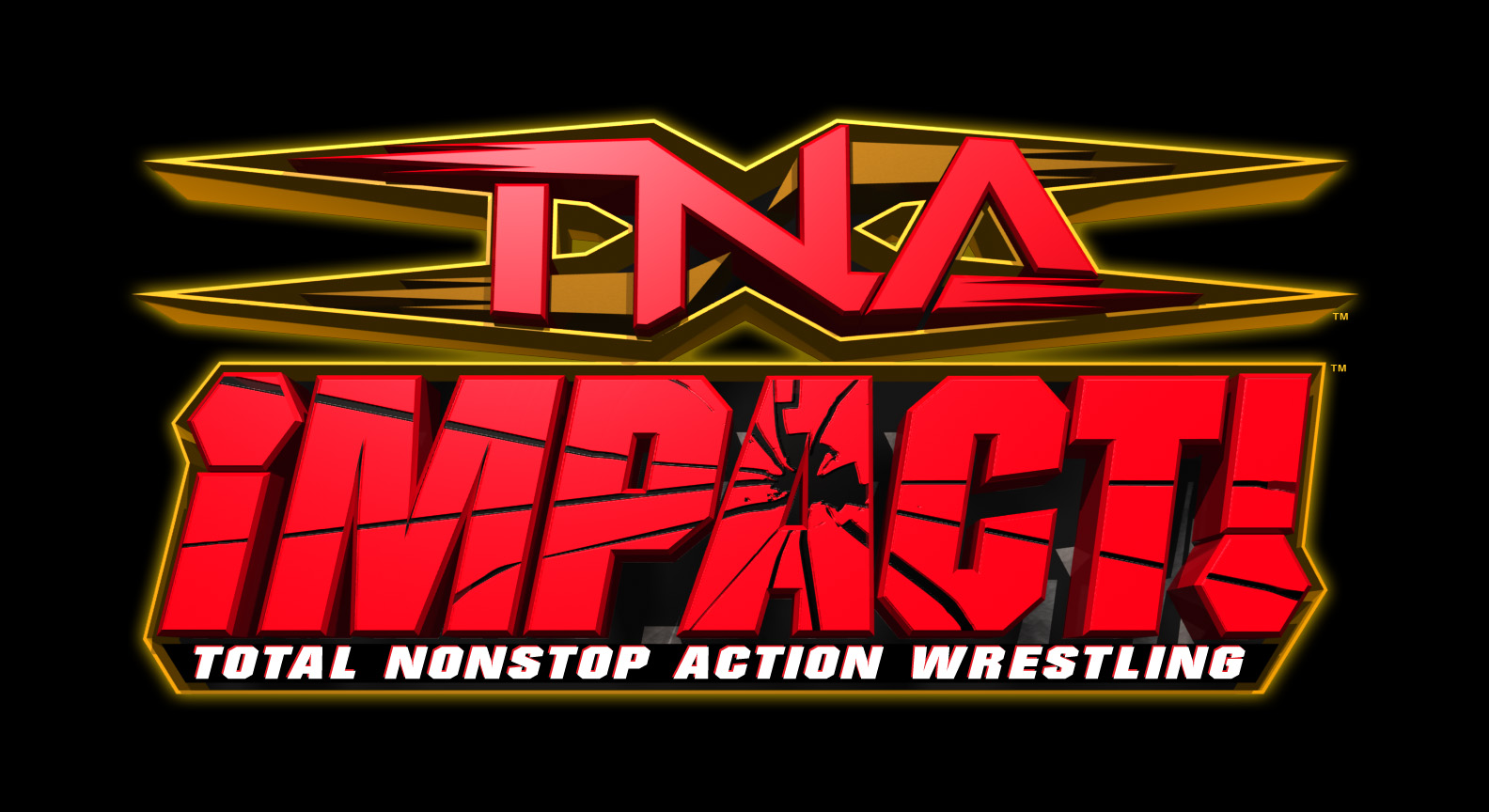 This recap is going to be a little different from the usual. Since, at the time this episode was done, TNA was still looking for new investors after Health South withdrew its financial backing of the program, the decision was made to do a clip show of the X-Division for Week 12 to fill the timeslot. This was September 4, 2002, Week 13 wouldn't air until the 18th due to being preempted by remembrance of the 9/11 attacks, which had happened the year before. So, let's see what's going on.
We start off with a RARE Lo-Ki interview with Goldilocks. Lo-Ki says there's no bigger opportunity than this and that opportunities like him don't get many shots like this on a national level.  We also get some fan interviews stating that they keep coming back for the X-Division matches. A lot of TNA stars like Kid Kash, Ron Killings, Monte Brown, and the Flying Elvises sing the praises of the X-Division and how great it is that anyone can compete in it, despite the fact that the division is pretty much made up of cruiserweight size guys.
Jeremy Borash and Goldylocks, who seems to be in a very good mood, probably because Borash isn't being a jerk to her. Borash and Goldy discuss how great the X-Division has been and how you never know what to expect. We get the explanation about how the X-Division is open to all kinds of athletes regardless of size or wrestling style. Again, I will point out that except for Sonny Siaki, all of the athletes in the X-Division fall into the Cruiserweight category. Also, Siaki had BARELY competed in the X-Division, at least as far as this episode.
ANYWAY, let's take a look at the matches TNA has dubbed the best of the X-Division.
The Flying Elvises vs Lo-Ki, AJ Styles, and Jerry Lynn
Comment: I remember being very impressed with this match. It seemed like a good opening match for TNA. These six men are easily the best of the X-Division as they actually WRESTLE and do the high-flying stuff. Sonny Siaki stands out here, not only due to his skills, but because he's easily the tallest and largest man in the match. This was such a good match that the fact that Styles took the pin doesn't really seem to matter.
*-*-*–*-*-*-*-*-*-*-*-*-*-
In the backstage interview, Estrada talks about how much pressure they were under because they were the first match. Yang says that his favorites to watch were Amazing Red, Lo-Ki, and AJ Styles. We also learn that Styles and Yang are great friends and started out together, which is a nice tidbit. Estrada talks again about paying their dues and working hard and wanting some changes. Yang talks about his WCW run and how he never felt like he'd be an impact player and that it feel different in TNA.
Tenay talks about how the Elvises were the first winners of TNA but that they've had communication issues and issues with Siaki's ego, which prompts a clip of Siaki saying that he's the best of the X-Division.
*-*-*-*-*-*-*-*-*-*-*-*-*-*-*
Borash and Goldy talk about the Elvises and Borash comments about Siaki thinking Goldy is sweet on him, to which Goldy says 'Only in his own mind.'
With that settled, we are turning our attention to Lo-Ki, Styles, and Lynn who, along with Psichosis, competed to be the first X-Division Champion.
Double Elimination Round Robin Match For the X-Division Championship: AJ Styles vs Psichosis vs Lo-Ki vs Jerry Lynn.
Comment: This match is, for me, still the best match, not just X-Division, but overall match that TNA has put on so far. That said, I still think they should've had a tournament to decide who would compete for the title and brought it down to Jerry Lynn vs AJ Styles because it felt like Lo-Ki and Psichosis were just there to take the pins, especially Psichosis.
*-**-*–*-*–*-*-*–*-*-*-*-*-*-*–*-*-*
Borash and Goldy discuss Styles and Lynn getting the Tag Team Championship and the issues the two men have had with each other during the show's run so far.
NWA Tag Team Championship: Jerry Lynn and AJ Style vs Slash and Tempest (with James Mitchell).
Comment: First of all, I'm annoyed that they didn't show us the Tag Team Championship Final between the Rainbow Express and Lynn/Styles, which is what it looked like they were going to show.
Anyway, I still think this was a pretty good match. Slash and Tempest, like many guys in TNA weren't totally ready for prime time, but still did a really great job of keeping up with Lynn and Styles.
As I'm watching this, a scroll is going across the screen, announcing that TNA will be back in two weeks, so the partnership with Panda Energy must've happened pretty quickly.
Watching this back, I'm not totally buying Jerry Lynn's excuse about Styles playing mind games and pulling ribs as the reason he turned on him. Lynn is clearly not happy about Styles tagging himself in the get the pinfall. Why not just stick with that instead of ret-conning it to make Lynn more sympathetic instead of a veteran being mad about a kid showing him up?
*-*-*-*-*-*-*-*-*-*-*–*-*-*-*-*-*-*-*-*-*-*-
Borash and Goldy continue their discussion about the issues between Lynn and Styles, which has been the central story of the X-Division and how it was all about respect.
NWA World Tag Team Match: The Flying Elvises vs Jerry Lynn and AJ Styles.
Comment: This was another really great match from these teams. The five guys in this segment are the core of the fledgling X-Division because they consistently put on great matches together, though the Elvises tend to stumble when they work with other teams. I still don't know who did the blade job on Lynn, but they overdid it for that little bump on the guardrail.
After this match, we get a clip of the Styles/Lynn backstage fight and them trying to work things out so that they can function as tag partners. I find it interesting that for all Lynn's talk about respect, he goes out of his way to disrespect Styles and what Styles has done in his, then, short career. I guess no one told Lynn that the best way to get respect is to give it in return and that he should earn Styles' respect instead of demanding it after jumping him from behind and beating him up. I guess this is why they had Lynn come up with the excuse of mind games and ribbing to justify him being the babyface despite being a jerk.
We see Styles and Lynn seeming to want to work things out and have the kinks ironed out, but that didn't even last the one show.
---
Always Use Your Head and visit the official Pro Wrestling Tees store for The Chairshot All t-shirt proceeds help support the advancement of your favorite hard-hitting wrestling website, The Chairshot!

---
Chairshot Classics: WWE Survivor Series 2015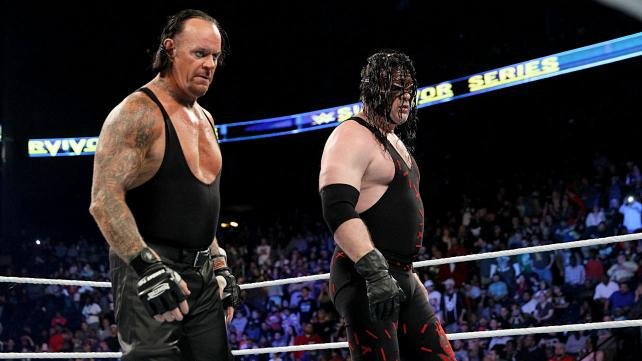 With all signs pointing to The Brothers Of Destruction teaming up at WWE's Crown Jewel on November 2nd, today we're looking back at another time The Undertaker partnered up with his brother Kane, Survivor Series 2015! It was a celebration of 25 years of 'The Deadman' on this evening, but The Wyatt Family looked to spoil the party. Could 'The New Face Of Fear' defeat The Brothers Of Destruction and take his place as WWE's newest evil?
Kickoff Show Match – Traditional Survivor Series Elimination Match: The Miz, Bo Dallas, Stardust & The Ascension (Konnor & Viktor) vs. Neville, The Dudley Boyz (Bubba Ray & D-Von), Titus O'Neil & Goldust
Gold & Stardust will kickoff the action, Stardust tries a boot, Goldust catches the foot and they slug it out, The Cosmic One falling back into his corner and tagging out. Viktor hits the ring, charges right into a powerslam, Goldust with the cover and he scores an early elimination. Viktor has been eliminated.
Konnor steps in and has words for The Bizarre One, Titus calling for the tag and he gets it. Collar & elbow lock-up, Konnor backs O'Neil into the corner, doesn't break clean and hammers away with right hands before celebrating prematurely, Titus turning the tables and unleashing a series of his won. Konnor reverses a whip across, charges in, O'Neil hops up and over and delivers a slam, following with a leg drop before tagging out. D-Von enters the match, connects with a couple of rights and brings in his brother, Bubba hitting a slam and calling D-Von to the top, hitting the Wazzup Headbutt. Bubba gives the orders for tables, Stardust and Miz charge the ring, only to get clotheslined to the outside. The Man That Gravity Forgot comes in, sees Dallas running in and elevates him out to the floor, hits the ropes and flies to the outside with a moonsault plancha as we go to a break….Konnor whips Bubba into the ropes for a back body drop when we come back, drops a big elbow and covers for 1. Bubba ducks a right hand and plants Konnor with a uranage out of nowhere, hooks the leg and gets a sneaky 3 count. Konnor has been eliminated.
Stardust rushes the ring and runs into a hiptoss, D-Von tags in and takes a knee to the breadbasket, The Cosmic One tagging out and Miz pummels D-Von in the corner. Bo tags and does more of the same, quickly tags out and Stardust rips at D-Von's face. The A-Lister re-enters the match, snapmares D-Von over and hits the ropes for a running boot that gets a count of 2. He goes to a front facelock, D-Von battles to his feet, Miz with a kneelift, hits the ropes and D-Von plants him with a spinebuster. Stardust gets a tag, climbs to the top for a double axe handle and catches a right hand to the midsection on the way down. D-Von crawls to a tag, The Man That Gravity Forgot spingboards into the ring over Stardust, takes down Dallas and Miz on the apron, then connects with a flurry of kicks to The Cosmic One. Neville scores with an enzuigiri, shoots him in for a back body drop and Stardust with a kick to the chest. He charges Neville in the corner, The Man That Gravity Forgot side-steps it, Bo makes a blind tag and plants him with the Running Bo-Dog, Miz with a blind tag, follows with the Skull Crushing Finale and finishes Neville off. Neville has been eliminated.
The A-Lister runs his mouth at The Dudleys on the apron, Goldust slides in from behind with a schoolboy and gets the 1-2-3. The Miz has been eliminated.
Miz can't believe it and argues with the referees on his way out, Goldust is distracted and Stardust takes advantage as we go to another break….Bo has Goldust on the floor when we return, rolls him back inside and covers for a 2 count before going to a rear chinlock. The Bizarre One finds his footing, breaks the hold and hits the ropes, running into a dropkick by Dallas for another count of 2. Stardust tags, clobbers away at Goldust on the apron, feigns going for a table and changes his mind, stomping away at his brother in the ring. The Cosmic One grabs a crossface chickenwing, pulls Goldust up for a suplex, The Bizarre One counters to a small package for a count of 2, but gets immediately laid out by a clothesline. Stardust with some early celebration, Goldust takes advantage with a schoolboy for 2, The Cosmic One angrily pounding away and bringing Dallas back in. The Inspirational One continues the onslaught, levels Goldust with a short-arm clothesline for a near fall, then goes back to the rear chinlock to wear him out. Bo slams him to the mat trying to get to his feet, Stardust tags and they split The Bizarre One with a wishbone, then drops The Dudleys & Titus off the apron. The Cosmic One runs at Goldust in the corner, meets a boot to the midsection and The Bizarre One plants him with a sunset flip bomb. Bo gets the tag as Goldust reaches Titus, O'Neil with a shoulder to Dallas, squashes Stardust in the corner, then clotheslines Bo and shoots him in for a back body drop. The Inspirational One sees it coming and hits a kick, but gets dropped by a big boot, Titus turning around and catching Stardust coming off the top into multiple backbreakers. O'Neil stacks them in the corner, squashes them both and Goldust & Bubba enter the ring with synchronized Dusty tributes, Clash Of The Titus to Bo and we're down to 4 on 1. Bo Dallas has been eliminated.
Stardust realizes he's all by himself, drops off the apron and tries to take a walk. O'Neil goes out to meet him, Goldust comes up from behind and catches a back elbow, The Cosmic One tries to run away, slides in the ring and runs into a 3D to finish it.
Winners & Sole Survivors: The Dudley Boyz, Titus O'Neil & Goldust
EA's Take: I think Renee Young is overblowing just how 'good' this match really was. To me it was just an appetizer, a time-filler, something to get the people in the arena a little more hyped up for the main show. The match was not bad by any means, but it was merely a bunch of thrown-together parts and the only significance was the return of Goldust.
Open: Everyone rises to their feet in the arena, as Lilian Garcia is in the ring to sing our National Anthem.
Video: "Once in a generation there comes a phenom. An individual not measured in seconds, days, weeks or even years, but by the legacy he's built. A presence that's risen above all challenges and gone head-first into the unknown. But, when a Phenom joins a Demon from the depths of Hell, only time will tell us what the future will bring." Tonight marks the 25 year anniversary of The Undertaker in WWE, as he and his brother, Kane, look to cement their spot as the keepers of the darkness over The Wyatt Family. A change is coming, as tonight we crown a brand new WWE World Heavyweight Champion. "History is written, by the survivors."
Match #1 – WWE Title Tournament Semi-Finals: Roman Reigns vs. WWE United States Champion Alberto Del Rio w/Zeb Colter
Collar & elbow tie-up to start, Alberto backs Roman into the corner and they break clean. Another lock-up, Reigns with a side headlock, Del Rio pushes him off into the ropes and gets knocked down by a shoulder, re-thinking his strategy. The champion with a leg kick, backs Reigns into the corner for more to the ribs, then fires off right hands from the 2nd rope. Roman powers out of the corner with Alberto on his shoulder, flipping him to the mat, Del Rio coming right back by pulling Reigns to the outside. The Big Dog drags Alberto out by the foot, looks to drive him into the barricade, Del Rio counters and Roman is sent into the wall, then rolled back inside.
Alberto comes off the top with an overhand chop for a count of 2, Roman reversing a whip into the corner, climbs to the 2nd rope with right hands, Del Rio pushes him off, charges in and gets planted by a tilt-a-whirl powerslam for 2. Roman drives the champion into the top turnbuckle, whips him hard into the corner, charges in and gets elevated to the apron, Alberto hanging him across the top rope and dropping him to the floor with an enzuigiri. Del Rio heads out and rams Reigns into the steel steps as Triple H watches from the back. Back in the arena, El Patron tosses Roman inside, heads up top for another overhand chop and goes to a rear chinlock.
The Big Dog battle to a standing position, whips Del Rio into the corner, rushes in and misses, hitting the ring post shoulder-first. The champion keeps the pressure on with kicks and right hands, charges for a running dropkick, Roman avoids it and Alberto flies through the ropes to the outside. Reigns rolls outside, catches Del Rio climbing up the apron with the Drive-By, bashes his head off the apron and announce desk, then rolls him back in the ring. Alberto tries a clothesline, Reigns ducks it and connects with one of his own, then clobbers the champion in the corner with a flurry more before hitting the ropes for a big boot. The Big Dog calls for the Superman Punch, El Patron ducks out of the way and scores with a Backstabber, makes the cover and gets a near fall.
Del Rio goes back to kicks in the corner, spikes Roman with a DDT for another count of 2, arguing with the ref about the count. The champion sets his sights on a superkick, The Big Dog ducks out of the way, plants Alberto with a Samoan Drop and gets 2. Reigns props Del Rio on the top turnbuckle, attempts a superplex, Alberto with headbutts, gets Reigns in the tree of woe and tries the double stomp. Roman avoids it, Del Rio's knee buckles on the landing, Reigns coming back with a Superman Punch and positioning himself for the Spear, Alberto countering with a superkick for a near fall.
The champion thinks it's time for the Cross Armbreaker, Reigns counters into a schoolboy powerbomb, Alberto kicking out at 2. Both men struggle to get to their feet, Alberto grabbing a Cross Armbreaker out of nowhere on the canvas, Reigns powers Del Rio up to a vertical base, but the champion hanging onto the hold in the ropes. The referee finally forces the break, El Patron heads to the top, jumps over Roman who's getting to his feet, turns around and takes a Spear, Reigns covering to advance.
Winner: Roman Reigns (Spear)
EA's Take: Del Rio clearly still hasn't quite gotten his footing back yet, there were some mix-ups at the beginning of the match that were glaring, things were a bit choppy for a bit there. They were able to turn it around towards the end of the match, but I've had Roman as a lock for the finals since the tournament was announced. Nothing surprising here in a match that was similar to a Raw main event.
Backstage: Jojo brings in Roman Reigns for some words, Dean Ambrose coming right in and congratulating his friend on the victory. Roman tells Dean that all he has to do is win and it'll be them for the title, Ambrose walking away. The Big Dog tells Jojo that once Dean's done, it will be best friends fighting for the championship. Kevin Owens comes in to remind Roman that he's not eliminated yet, telling Reigns he's been close before and tonight, he's the guy that will stop him. KO walks off, Reigns stating that Owens is about to get his ass whooped.
Match #2 – WWE Title Tournament Semi-Finals: Dean Ambrose vs. WWE Intercontinental Champion Kevin Owens
Ambrose with a hammerlock to start, switches to a side headlock, Owens fighting out and grabbing one of his own. The Lunatic Fringe pushes KO into the ropes and gets dropped by a shoulder knockdown, Owens back into the ropes and Dean with multiple armdrags. The champion reverses whip into the ropes, Ambrose with a schoolboy for a quick 1, gets a waistlock and Owens with a back elbow, using a schoolboy for a quick 1 of his own. KO with shoulders to the midsection in the corner, shoots Dean across and charges in, The Lunatic Fringe hops up and over, hits the ropes and takes Owens down with a forearm.
He rakes KO's face on the top rope, clotheslines him to the outside and flies with a slingshot crossbody to the floor. Ambrose sends the champion back inside, charges him in the corner with a forearm, follows with a running bulldog and covers for 1. The Lunatic Fringe heading upstairs, Owens hits the ropes and crotches Dean, dropping him to the mat with right hands and scoring with the Cannonball that gets 1. The Prize Fighter utilizes a rear chinlock, Ambrose gains a vertical base and breaks the hold with jabs and chops, Owens countering a whip into the corner and Dean goes in sternum-first.
The champion plants Dean with a torture rack neckbreaker for a 2 count, hits the ropes for a running senton and gets another count of 2. He chokes Ambrose on the middle rope, levels him with a short-arm clothesline, fires away with heavy rights, sends Dean into the ropes for a back elbow and gets another near fall. KO back to the rear chinlock, again Triple H is watching from the back as The Lunatic Fringe fights to his feet. Owens catches him in a sleeper, Dean counters to a back suplex, then avoids a running senton, hits the ropes and they double down off a double clothesline. The Lunatic Fringe tries Dirty Deeds, KO blocks it, they exchange right hands, Ambrose hits the ropes and Owens hangs him on the top rope.
He splits Dean with a gutbuster, heads up top for a moonsault and misses, The Lunatic Fringe scaling the corner to follow with a diving elbow drop and a near fall. Ambrose props Owens on the top turnbuckle, hooks for a superplex, KO blocks it and drops Dean back to the mat. The Lunatic Fringe fires back up to attempt a superplex, the champion counters and powers him into a 2nd rope fisherman's buster, but still can't get a 3 count. Owens yells at Dean to stay down, sends him into the ropes for a Pop-Up Powerbomb, Ambrose rebounds off the middle rope and scores with the Lunatic Lariat, KO rolling to the outside.
Ambrose flies through the ropes with a suicide dive, tosses the champion in, Owens rolls out the other side and Dean tries another suicide dive, but gets caught. KO drops The Lunatic Fringe on the announce table, tosses him back in for a Pop-Up Powerbomb, Dean avoids it and lands on his feet turning around into a superkick. Ambrose rebounds off the ropes for another Lunatic Lariat, walks into another superkick, the champion attempts the Pop-Up Powerbomb again, Dean counters with a hurricanrana, then spikes Owens with Dirty Deeds to head to the finals.
Winner: Dean Ambrose (Dirty Deeds)
EA's Take: A better match, a lot cleaner than our first semi-final. I had a hard time believing Ambrose wouldn't win this, but figured the odds were greater than that of Reigns, so it definitely helped make the match more interesting. I'm hoping for something more interesting to happen in the main event, as everything thus far has been expected.
---
Always Use Your Head and visit the official Pro Wrestling Tees store for The Chairshot All t-shirt proceeds help support the advancement of your favorite hard-hitting wrestling website, The Chairshot!

---