MLW Fusion Ratings & Results: 5/11/2018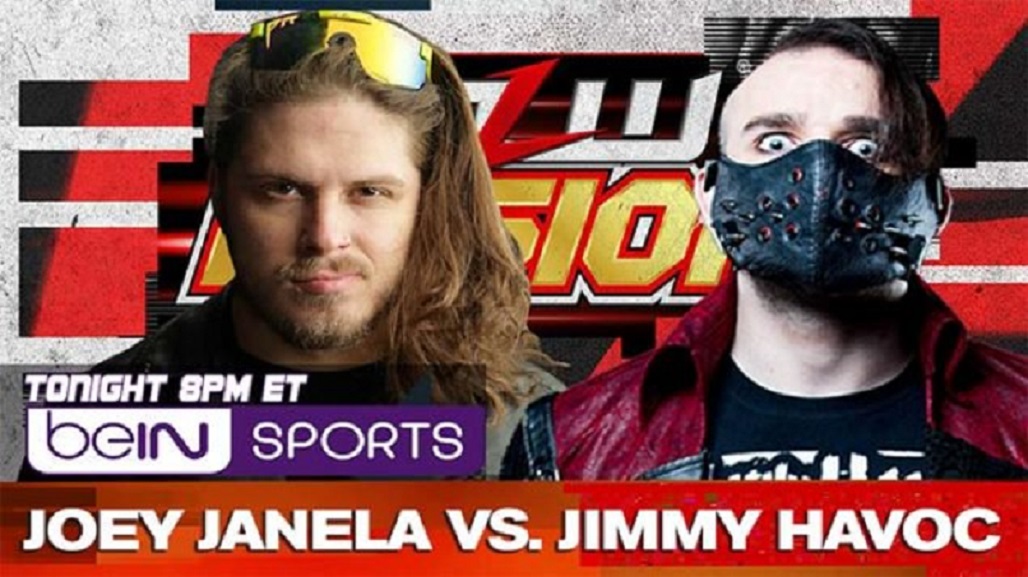 Coming off MLW Fusion last week, I'm hoping there's a little more wrestling and less multiple promo segments in a row. Also an odd point is that the show started about 15 minutes late tonight. I'm not sure if a soccer game ran over so that threw off the timing, but I'd be interested to know if the lack of starting on time, hurt the viewership at all.
It's a good thing they started loading the episodes up to YouTube right? Well anyway, let's see what tonight's episode gives us:
ACH vs Filthy Tom Lawlor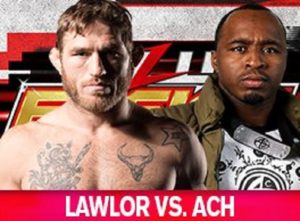 Tony Schiavone knew Planet Vegeta was a Dragon Ball Z thing. I don't know if he was fed the info, or if his kids informed him at some point, but it's nice to hear him acknowledge it.
This was actually a pretty solid contrast of a styles match. Lawlor kept the match very ground based for a while, until ACH was able to start stringing a few moves together.
It looked like ACH was gonna win, until Lawlor's lackeys distract him and allow him to pull of the old Lex Luger. For those who don't know, Lawlor had a forearm injury and it's being said that he had a titanium rod put in. So Lawlor took off the padding to use his forearm as an illegal object technically…reminiscent, of Luger.
Winner: Lawlor via Rear Naked Choke
Rating: *** 1/4
Salina de la Renta and Shane Strickland have a confrontation in the back. Leads into Pentagon showing up to red mist Strickland in the face.
After the commercial break we see officials helping Strickland get the mist out of his eyes in the back.
Maxwell J. Friedman vs Fred Yehi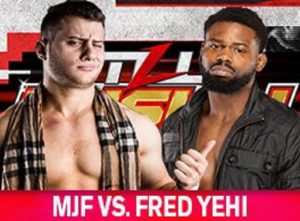 MJF is a Dollar Store Ethan Carter III, he's not original, not impressive and talks way too much during matches.
This match was awkward because there were so many stalled moments cause MJF was talking, or over reacting to everything. Yehi was a nice bright spot, cause he actually pulls off nice moves, has an interesting persona in the ring, and sorta acts like a real life Blanka from Street Fighter.
But the heel wins using the ref as a shield, raking the eyes and a cheap roll up. As I've said before, people will like this guy because people enjoy arrogant heels. But the "Because I'm Better Than You" line is laughable and he's very boring in the ring.
Winner: MJF via roll up with a fistful of tights
Rating: ** 1/2
Friedman cuts a promo after, and stumbles through it more than Titus O'Niel coming down the ramp.
Small recap of the Sami Callihan vs MVP match last week, leads into an interview with Sami Callihan and his big associate who still has yet to be identified.
Plug for the July 19th NYC show at the Melrose Ballroom.
As punishment for his actions tonight, Pentagon has to put his number 1 contender spot up next week. His opponent, the man he beat on episode 1, Rey Fenix.
Bogus Adventure Match: Joey Janela w/ Aria Blake vs Jimmy Havoc
As most main events have gone so far, this match immediately spills into the crowd. A couple dives and a vertical suplex on the chair sent the crowd and Tony Schiavone into a frenzy. At this point we see a few weapons get introduced, and in a most excellent way, we get a big white door from beneath the ring.
Janela works in some nice offense stepping up off of the chair and trying to add more chairs to the match. However, there's entirely too much cooperation between the head in chair bulldog into a chair and what can be interpreted as a botch that turned into Janela placing a chair nicely on Havoc's chest and hitting a Swanton Bomb. Trust me, I know things are supposed to be cooperative, but when I say too much, I mean too much visibly obvious cooperation for spots that logically don't make sense.
The match was a rather bland hardcore match, up until the ending sequence. We see Janela miss a senton through the table, Havoc Shotgun Dropkicks him through the white door, then Death Valley Driver's him into a pile of chairs, to finish things off with the Acid Rainmaker.
So a match where I was heavily unimpressed and irritated at moments, had a fantastic ending sequence to save face.
Winner: Havoc via Acid Rainmaker
Rating: ***
After the match Havoc tries to get out of the arena and literally bumps into Team Filthy. They beat him down and walk off complaining about Havoc getting blood on their outfits.
Reaction: There was more focus on the wrestling in this one, which is nice, but the as you can see some little things left something to be desired for me. MJF is a necessary evil, but he's every arrogant rich kid stereotype with nothing clever or original. So his cut and paste persona just rolls my eyes for me.
Aside from that though, I'm not really upset with the matches on Fusion tonight. They shouldn't be mind blowingly fantastic because they have big events they're building towards and that's when you're supposed to get the high quality shows. Still an enjoyable episode, a lot of storylines got progressed or started and their production is very visually appealing.