Well I missed last week's episode of MLW Fusion, because previous arrangements were made. But Christopher Platt did an awesome job in his debut article. So maybe I'll take more days off to give him a chance to increase his footprint on the site.
Either way, let's get to the show:
Jimmy Havoc kicks things off calling out Joey Janela after an altercation in New Orleans after WaleMania. Janela comes out and they brawl out of the ringside area and out to…well…who knows where.
Before Havoc and Janela are completely out of the arena, Low Ki comes out to wage war on MLW authority since MSL suspended him. MVP comes out to confront Low Ki and Sami Callihan chokes him out with a baseball bat. Low Ki has issues with MVP and Callihan has a match later in the night, so it all works out nicely.
Now we're about to get our first match of the show, when 'Filthy' Tom Lawlor comes out saying he's still not cleared to wrestle because of his left forearm, but offers Simon Gotch in his stead if ACH still wants a match.
ACH vs Simon Gotch
Before this match even happens, the suspension of disbelief is off since many of us know Gotch as the Vaudevillain jobber. So ACH is fantastic, and Gotch is a jobber that needs to hopefully get reestablished in MLW.
Awkward white boy fist bump turkey a few times in the early goings. Not sure if that's just Gotch still being out of touch, or just very white, but the match, I suppose was okay.
ACH was grounded most of the time which helped to showcase Simon Gotch's catch wrestling ability. Preconceptions aside, Gotch put on a decent display. Still not close to a top performer level, but hopefully they continue to put effort into rebuilding him.
Winner: ACH via reversing a suplex into a cradle
Rating: ** 1/4
Next segment was going over the MLW Top 10 Ranked Wrestlers, followed by a nice video package hyping up Shane 'Swerve' Strickland, the current MLW Heavyweight Champion.
Off the commercial break we get stuck with a Maxwell Jacob Friedman promo. The stereotypical egotistical rich boy heel, so people will enjoy the character since it's a proven formula…but he's crap to me.
Vandal Ortagun vs Mike Parrow
This is an extended squash match, with one of our favorite ChairshotRadio guests. The whole match was used as a way to extend the storyline between Col. Robert Parker trying to recruit Parrow to the Stud Stable.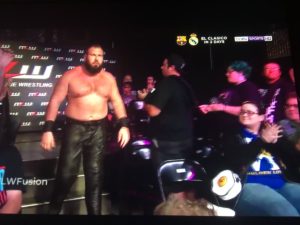 After the match, it seems that Parrow and Col. Parker have reached an agreement, but they walk off, and we're left wondering.
Winner: Mike Parrow via Sitout Powerbomb
Rating: *
We get an attempted interview with Salina de la Renta, but she ignores the interviewer to talk some trash to Shane Strickland to add to the drama of Pentagon's title shot.
So we find Jimmy Havoc cutting a promo at what sounds like the roadside somewhere. He pushes the idea that he's going to bloody up Joey Janela next week and lick off the blood.
Another attempted interview with Team Filthy about the legitimacy of Lawlor's forearm injury. They feign shock, tell her they'll talk in the hallway and then close the door. No one respects poor interviewer Andrea.
Sami Callihan is in the back putting over the ranking system as a tangible ladder to climb, and then getting across that he's gonna climb, for power. Insults MVPs motivations while reminding everyone he's the most dangerous man in the business.
MVP vs Sami Callihan
MVP slides in before his music after the earlier attack, and kicks off the match fast. Things quickly spill outside and there's an extended spot in the crowd, that really just goes too long. A few moves using the apron and a lot of mutual hatred bring us towards the finish.
The ref bump, saves Sami Callihan from losing to the Game Changer and then a huge man comes out to help Callihan by hitting a big STO. MVP manages to kick out regardless of the help, but the numbers game gets the best of him. The outside interference distracts the referee long enough for Callihan to hit a low blow, followed by his signature Cranial Contusion.
Winner: Callihan via Cranial Contusion
Rating: ** 3/4
Andrea finally gets a decent interview with Shane Strickland before he walks into his room and sees a Day of the Dead style shrine dedicated to him. Sending a rather obvious message from Pentagon and Salina de la Renta.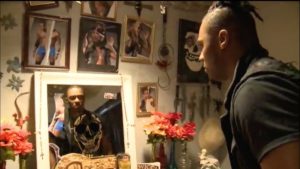 Reaction: Well to be completely honest, the quality of the matches weren't as high as the debut episode, but this show put a lot of effort into extending storylines. Personally, I felt that the back to back to back promos/interview segments stagnated the show and since there wasn't any high workrate match to really grip people into their seats, it gave the episode a very flat feeling.
Not gonna say it was bad, since MLW Fusion is still establishing it's storylines. But this was one of those necessary evil episodes. I'm still interested in what they're doing next week, but I can definitely understand if this wasn't a well received episode.