The Unlikely Feud Between Sami Callihan & Eddie Edwards
It all started on IMPACT Wrestling in March, Sami Callihan vs Eddie Edwards. There weren't any implications in the match, it was all that Impact, fans, and Edwards knew it was just another match. Edwards won the match and the sadistic Callihan was not having it. Callihan is known for being hardcore. At times he is not the prettiest wrestler in the squared circle. You won't see any technical submission holds or acrobatic flips, but you'll get a Callihan who enjoys to inflict obscene amounts of pain to his opposition. 
Callihan began a vicious assault on Edwards. Which ended up with Edwards flat on his back and Callihan placing a chair over him and grabbing a bat. The bat that not only end up colliding with Edwards face and resulted in blood and breaking bones, but sparked buzz across sports media outlets, even TMZ. Becoming on of the most talked about feuds in Impact wrestling in a long while. Callihan became the heel with the most heat in wrestling. Even measuring ups to the likes of current heels Cody Rhodes and Tommaso Ciampa. In this unlikely feud and showed that it's more like Callihan vs everyone that would get in his way. The Callihan was unapologetic to fans, wrestlers, and wrestling critics. He took pride in the act and would state that anyone defending Edwards would suffer the same fate.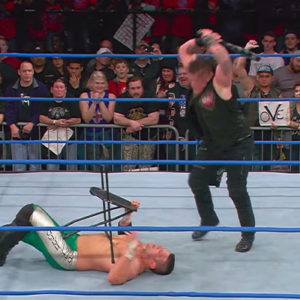 The plan originally was to have the chair placed on Edwards and Samihit the chair with the bat. It was a botch, a brutal botch and Impact aired every minute of it. Impact had this footage since the January taping and aired it in March. No punishment was handed out to Callihan. Even going as far as adding dramatic music and sick sound effects when showing the incident over and over again. 
Impact would then set up a six man tag match with oVe and Sami Callihan Vs. Moose, Eddie Edwards and the hardcore legend himself Tommy Dreamer in an anything goes match at the Redemption PPV. I have to say that this was every bit as bloody as you could expect a match featuring the Innovator of Violence. Punishment was given and taken from both sides, but ultimately Dreamer (of all people) would cost his team the victory by getting pinned by Callihan. 
Edwards enraged by the loss and the constant mental and physical pain Callihan had to put him through snapped. He pounced on Sami attacking and tangling  him up in the ropes. Before beating Callihan, brutality with a kendo stick. It was suppose to be Eddie's moment! He was suppose to defeat the villain and be the superhero of sorts. It wasn't. Eddie began swinging the kendo stick at whoever was in his way and ultimately swinging and hitting his wife, Alisha. 
This past week on Impact, Edwards still consumed with rage, bragging that he put Callihan in the hospital. Called out oVe and stated that if they didn't come out he [Edwards] would b putting their wives in the ER as well. So much for learning from your mistakes, Eddie. The Crist brothers would show up and attack Edwards for what he said about their wives, but during the attack the cameras cut to a battered and bruised Callihan showing up at Alisha Edwards hospital bedside stating "I just want to talk." 
We are then shown Edwards abandoning the brawl at Impact and going to protect his wife at the hospital. As he arrives at the hospital, where no one tries to stop the crazed Edwards, the camera crew adding  suspenseful music to heighten the drama. Checks on his wife, Alisha who is fine goes off in search of Callihan. He finds him in no time and begins to beat the helpless Callihan. Only to leave when the doctors state that the police are there. And so here we are, Eddie Edwards continues down this dark path of madness and revenge. No one capable of reaching the depths of darkness that he has sunken to, not even his own wife. Will Sami and Eddie end each other's career? Will Alisha leave her crazed husband who is a man possessed with revenge? Is anyone going to get punished for their actions? Hard to say in wrestling world.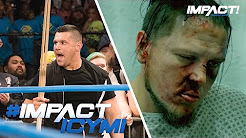 One thing is for certain and that is that Impact is slowly, but surely getting a sense of where they stand in the wrestling world. This feud is just the beginning of things to come for Impact. Anything is possible when it comes to Eddie Edwards.