Predicting the End of Each Championship Reign in WWE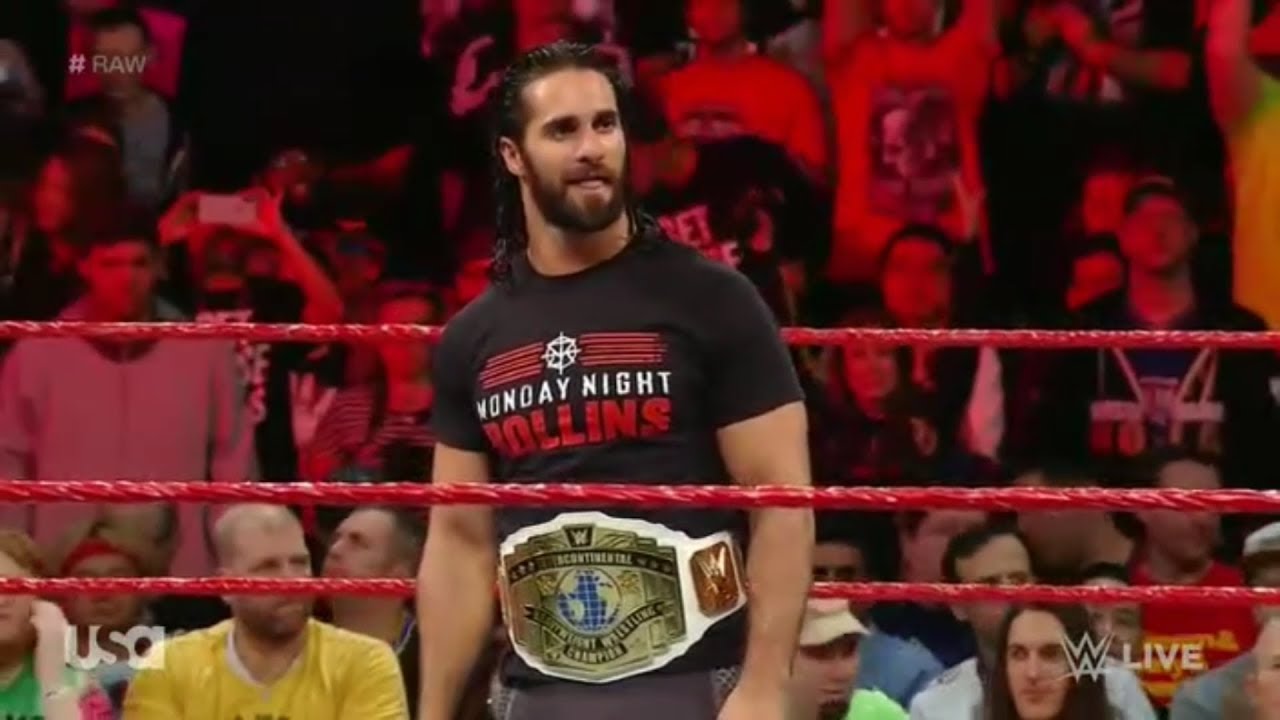 There is a saying when it comes to the WWE, and that is "anything can happen." That is somewhat a true statement, as sometimes WWE likes to throw us a curveball every now and then. This goes double for champion reigns. As one of the main stables of wrestling, championship reigns are always sure to surprise, weather how they end or how long they exist. That doesn't mean however, it is impossible to predict when certain title reigns will end.
Intercontinental Championship – Seth Rollins – Lose at Extreme Rules
Unless there is a drastic change of mid-card championships between shows, then it is safe to say Rollins will be carrying the I.C. championship for a while. With Balor looking to feud with Rollins over the title, we may be seeing some great in ring action. A heel turn for Balor would breath new life for his character and if he is able to capture the championship at Extreme Rules as predicted, he and Rollins could relive their Summerslam encounter two years earlier. Rollins could move on to the Universal Championship or a reignited rivalry with Dean Ambrose.
United States Championship – Jeff Hardy – Extreme Rules
Jeff Hardy is the perfect person to carry the United States with such a stacked SmackdownLive. He's a fan favorite and big merchandise seller, so unless there is an unpredictable title change while the shake-up cools down, he'll hold on to the strap. The extreme Rules PPV is perfect for Hardy to get into a stipulation match where he puts it all on the line only to come up short. Who takes the red, white, and blue strap isn't clear at all, but there are some distinct candidates. Samoa Joe, The Miz, Big Cass could all make good heel champions coming off of a favorite like Hardy. Just to pick one, Samoa Joe seems the most likely. He has yet to win a championship on the main roster, which is odd considering how he is one of the few NXT call ups that seems to be thriving in his role. A feud with Jeff Hardy would also provide solid match ups down the road.
Cruiserweight Championship – Cedric Alexander – Lose at 205 Live
With 205 Live now under a new mindset, it wouldn't be too far off to see some title changes on the main show itself. Granted Cedric could lose the title at a PPV, but it would make sense for the revamped 205 Live show to hold some big surprises going forward. Like Cedric before, Drew Gulak was close to capturing the belt, doing wonders with his gimmick before 205 Live changed. He is one of few who could do well with a gimmick, and could become the next Cruiserweight Champion. Sometime after Summerslam feels right, as WWE could milk Cedric's reign. Whever he does win the purple belt, it will be well deserved.
RAW Tag Team Championships – Matt Hardy and Bray Wyatt – Lose at Money in the Bank
While the team of Matt and Bray appears to be working now, much like the team of Wyatt and Orton in 2017, it probably won't last long. It would be nice to see the duo defend the gold within the Hardy Compound, but that may be too good to be true. It's more likely they'll lose the belts due to Wyatt turning on Matt after some seeds of doubt are planted. Or they could lose the title's clean to the rising Authors of Pain, and have a rivalry with them or another team outside the championship picture.
SmackdownLive Tag Team Championships – Bludgeon Brothers – Lose at Hell in a Cell
The largest wait on the list, it makes sense for Harper and Rowan to remain dominant for most of 2018. SmackdownLive has some good tag teams but it isn't clear who would take the belts of the Bludgeon Brothers, but there is enough time to build someone for that opportunity. Perhaps the New Day could capture the gold a few times, trading wins with Harper and Rowan. What Bludgeon Brothers will do after the fact remains to be seen. Luke Harper has a promising career as a singles competitor as seen in the build up to WrestleMania 33, but the two may stick together to keep a good amount of depth in the tag team division.
RAW Women's Championship – Nia Jax – Lose at Extreme Rules
Nia will lead the women's division as a dominant champion before someone rises up to take it from her. A tables match could be the perfect opportunity to have someone take the title off of her while keeping the Irresistible Force looking strong. Many wish the feud between Baylay and Sasha was for the championship, and we may just get that going into Summerslam. Whoever turns heel (most likely Sasha) could defeat Nia and defend against her former friend. Nia would chase the champion as well, or continue her feud with Alexa Bliss.
SmackdownLive Women's Championship – Carmella – Lose at SmackdownLive
WWE likes to have a championship change hands every now and then on television. With the talents of Charlotte, Asuka, and Becky Lynch on SmackdownLive, Carmella won't be holding the championship for long. A few defenses will do her well and perhaps she could stay in the title picture after losing it. Charlotte would be a good choice to take the championship but if the rumors are true that she'll be facing Ronda Rousey at WrestleMania 35, then we have some time before she needs the championship. Becky Lynch and Carmella have a long lasting feud that goes back to the days of James Ellsworth, and could culminate with a Lynch title run. In terms of which SmackdownLive she'd lose it on, my guess is sometime between Money in the Bank and Extreme Rules.
WWE Championship – AJ Styles – Lose at Backlash
As the shortest wait on the list, the WWE Championship is in danger of changing hands soon. AJ has held the belt since November and Shinsuke Nakamura is sure to capture it soon enough. The feud could extend passed Backlash with AJ retaining in a way that Nakamura can still challenge him, but it is more likely Nakamura will win the championship next Sunday. It will be the same event he made his in-ring debut on a year previous. This will rejuvenate the rivalry going into the summer, where we can see Nakamura shine on top.
Universal Championship – Brock Lesnar – Lose at Summerslam
While it is also possible that Brock works at Money in the Bank, it is more probable that he'll lose the Universal Championship at the Barclays Center. This would put him passed CM Punk's WWE Championship reign. Not to mention Lesnar only comes out for the grand events, and Summerslam is arguably the second biggest show on the WWE calendar. Who he losses it to is another story. Roman Reigns is an obvious choice but there are only so many chances he can get. There are a plethora of superstars we would love to see dethrone the Beast, but just to keep it simple, I'll stick with the Big Dog taking down Lesnar. We can wish otherwise, but it's probably going to happen. Let's just hope Roman has some good feuds moving forward.