The Case For Ronda Rousey To Lose
"Rowdy" Ronda Rousey may be one of the hottest commodities in wrestling right now but she should lose her first title match.  I know this is a very hot take but I think the best thing the WWE can do for Rousey's character development, if she plans on joining the roster full time, is to lose to Nia Jax at Money in the Bank. I'm not saying by Pinfall or Submission, as that could hurt her character, but a well executed DQ finish. More on that later.
If, and most likely, when she beats Nia at Money in the Bank, she would become the third fastest WWE SuperStar to win a premier title at 141 days. The fastest being "The Dirtiest Player in the Game", Ric Flair. He accomplished this feat at the 1992 Royal Rumble by eliminating Sid Justice and becoming the only one to win the Heavyweight strap by doing so. This was 113 days after he debuted but "The Nature Boy" was a 9 time Heavyweight champion at this point, 8 times in the NWA and 1 WCW reign. She has her accomplishments to this point, former UFC/StrikeForce Women's Bantamweight champ and two Olympic medals, but this is Professional Wrestling. As much as I like "Rowdy" Ronda, she is not even on the same playing field as Flair was when he earned The Strap so quick. If Rousey beats Nia Jax it would slot her between Sheamus, at 116 days, and Brock Lesnar, who at 126 days beat The Rock at SummerSlam '02. She and Lesnar have similar pedigrees, but the difference is we actually saw something in the ring from Lesnar first. All we have gotten from Rousey is a gimmick match at WrestleMania, which was great by the way but a gimmick still, and NO singles matches. Don't get me started on the mic skills.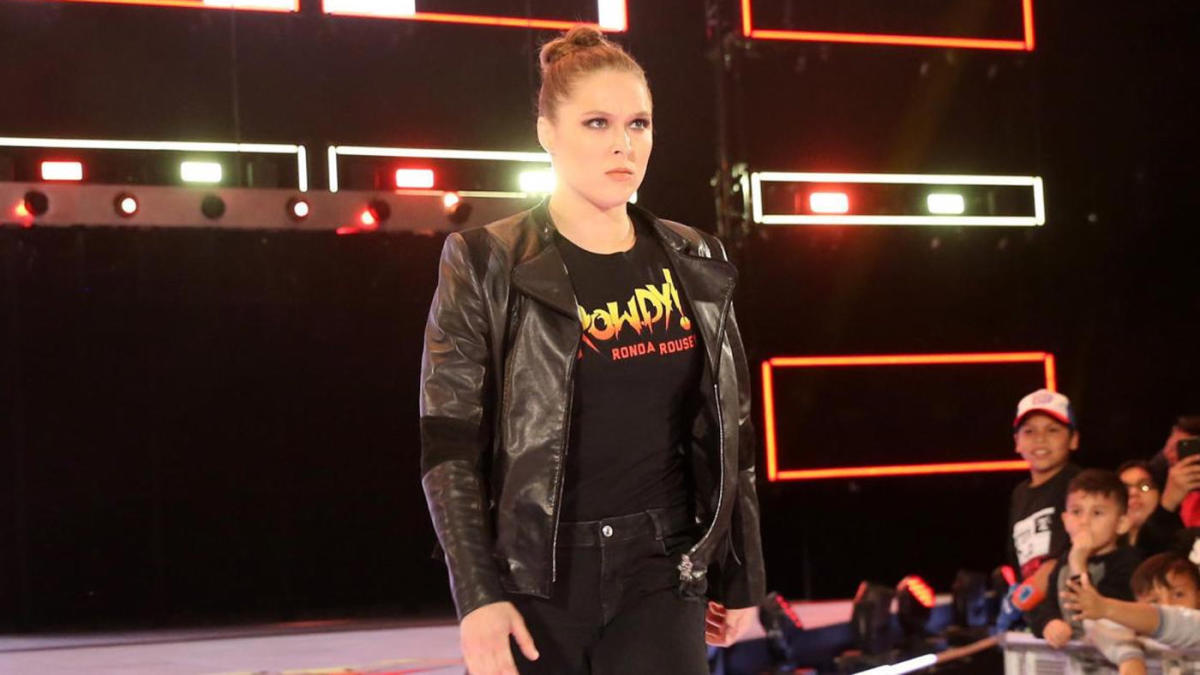 I think the only way to end this and still leave credibility for Ronda Rousey's character is to have her loose by DQ. Be it by Alexa Bliss having a "Moment of Bliss" and trying to regain the trust of Jax after the "bully angle' or whatever the "Road Dogg" throws together over there at Titan Towers.With this angle we would get the hype, like we have had with the Styles/Nakumara feud of late, and they could even finish in a cage match at Extreme Rulez. Imagine "Rowdy" Ronda Rousey winning her first WWE Women's Title in the cage. That would make for good TV.
But we won't get this. The same "Marks" who BOO Roman Reigns will cheer to the high heavens when Ronda wins from a premature, undeserved push. Roman deserves it. He has been around for awhile now and even came up through the NXT system. But because he comes from a wrestling family, The Anoa'i Dynasty, and has the proverbial "Machine" behind him the fans don't give him the time of day. Or, maybe it's because he falls in the "MAN" category (more on that here)  That's a discussion for another day. We will most likely see her become a Brock Lesnar type champ, with part time appearances and this guy as her mouthpiece.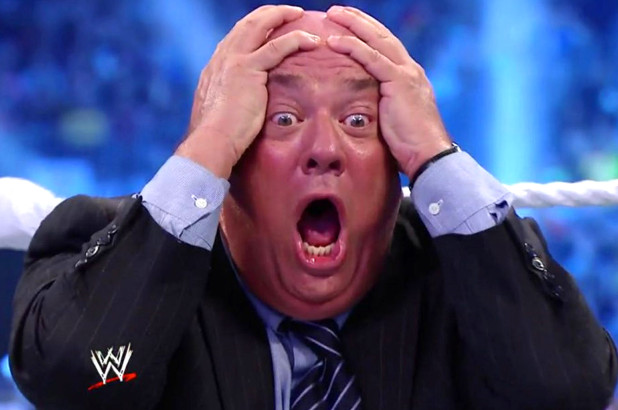 Make sure to tell me what you don't like about my opinion on TWITTER @james_callear
Mitchell's Wednesday Night War Review! The End!
The Wednesday Night War… is DONE!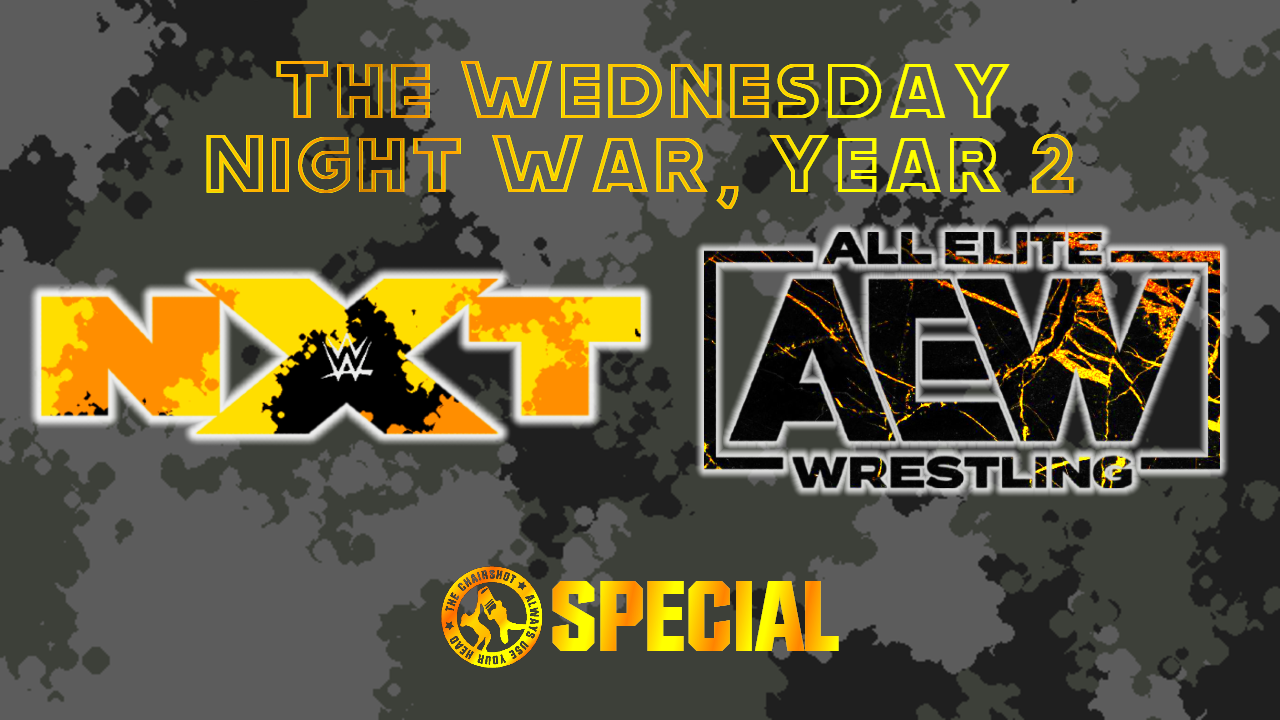 Thank you, Wednesday Night War! It was fun while it lasted!
With NXT moving to Tuesdays, the wrestling war on Wednesday nights is no more! But let's see where both sides stand now that the dust settles!
Let's recap Year Two's first phase.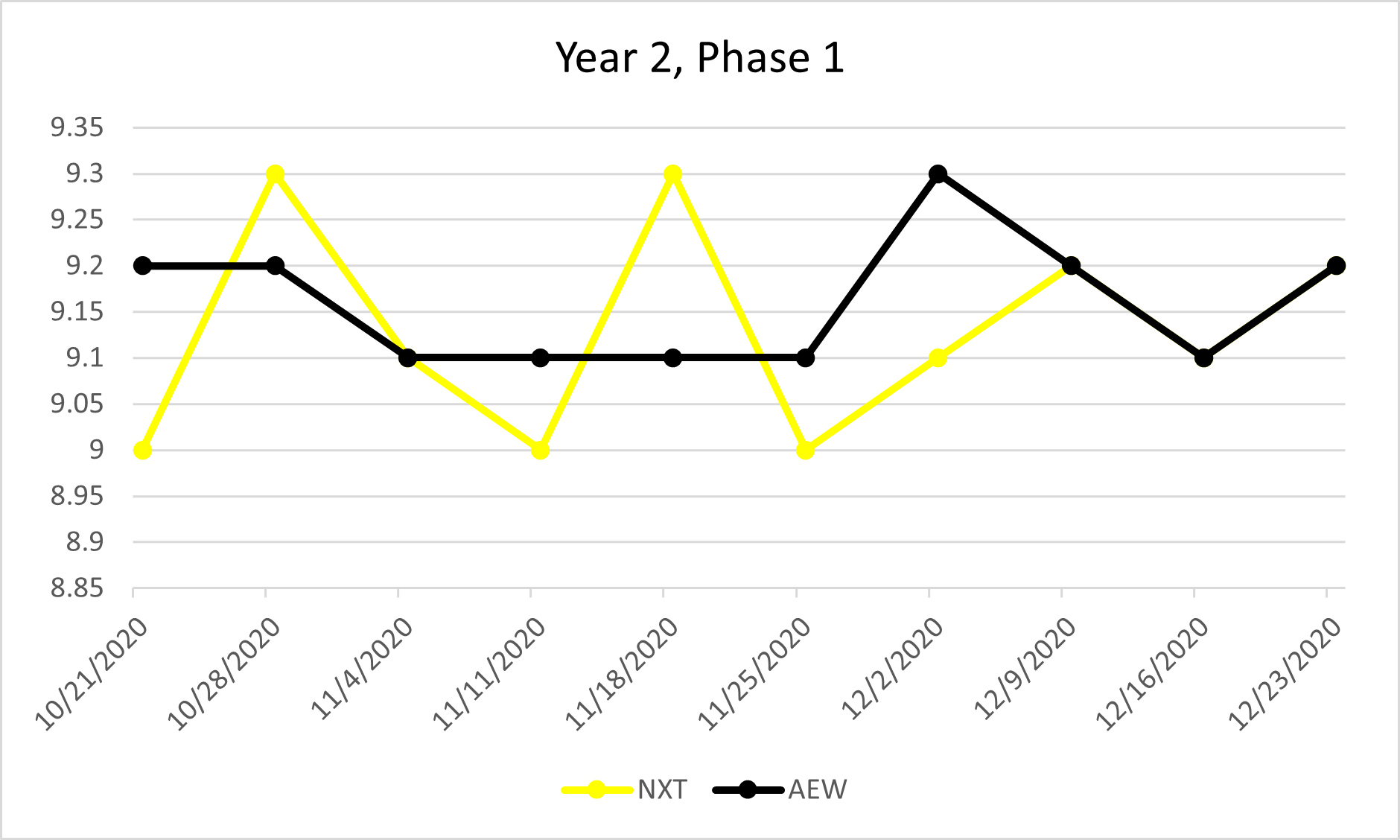 Year Two, Phase One Final Scores: NXT – 9.13; AEW – 9.16
The margin was close as ever, but AEW inched out the win to continue their dominance from Year One! Don't worry, NXT went past 12/9/20, it's just that they and AEW tied those last three weeks. And you'll notice that I left 12/30/20, the last Wednesday of the year, off because of the circumstances. Jon Huber, aka Brodie Lee aka Luke Harper, past away just days before that night, and AEW changed their plans to give us a "Celebration of Life" tribute episode. It did not feel right trying to give that show a score, because it wasn't supposed to be about AEW but about Jon Huber. And to be fair to AEW's score, I left off NXT's episode for that night, even though NXT did have great action on their Year-End Award episode.
Now, for Year Two's Phase Two, the WNW FINALE!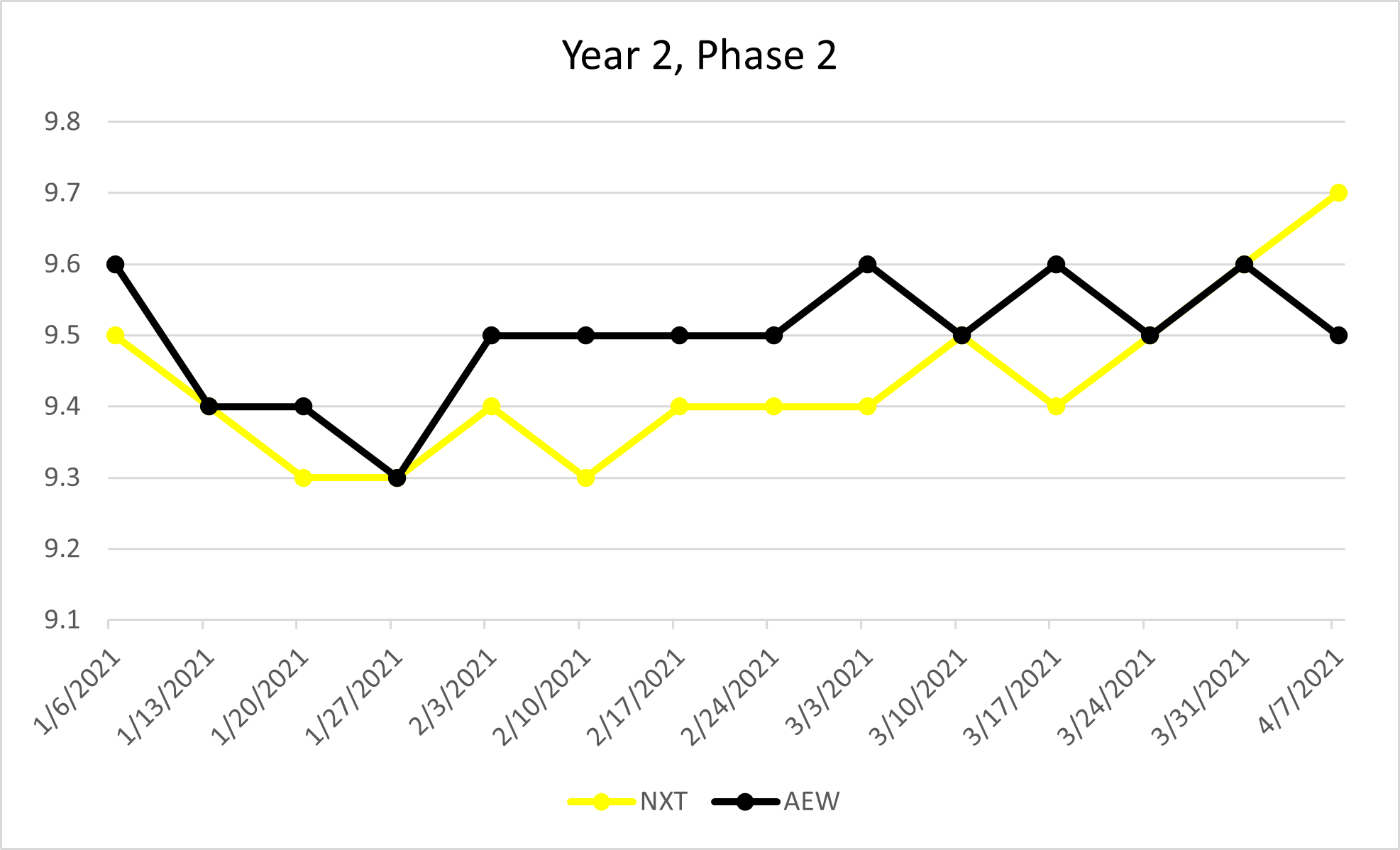 Year Two, Phase Two Final Scores: NXT – 9.44; AEW – 9.50
Year Two, Overall: NXT – 9.31; AEW – 9.36
Much stronger numbers from both sides this time, but these two companies started hard and kept going hard from New Year's Evil VS New Year's Smash all the way to TakeOver: Stand & Deliver and… Well, the AEW Dynamite put up against it. Just looking at it, that string in February for AEW made all the difference. They were just on fire right there, building towards AEW Revolution 2021, which itself was an awesome PPV (even with the pyro mishap at the end).
The margins were still close, but bigger than last phase's, and even with TakeOver: Stand & Deliver Night One bringing NXT up to a high level, it was not enough! AEW wins again! They win two phases to zero, and are therefore the overall winner of the Wednesday Night War!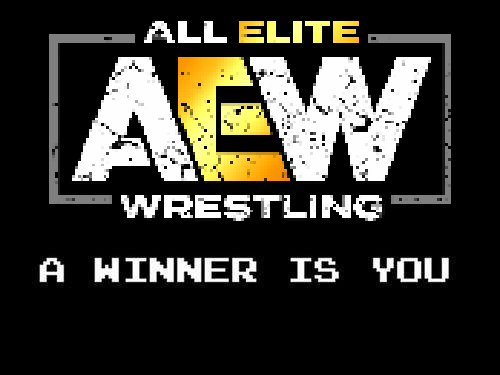 My Thoughts:
The Wednesday Night War may not have been as epic as the Monday Night War, or as long, but it was a lot of fun. NXT and AEW were giving us great wrestling every week, not just in-ring action but the promos and segments. The wrestlers on these shows are now stars because they got to be on cable network television, and literally kept me up late at night because I could not let either show wait until Thursday morning. But now, #NXTuesday is going to be how it is going forward, and we can all argue one way or another why the move happened but it doesn't really matter, I'm still going to be watching both anyway.
Cook's WrestleMania 37 Night One Gambling Picks
Who's trying make money on guessing the predetermined scripts? If that's you, Cook gots all the lines you need. This isn't Breaking Bad; we only do betting lines!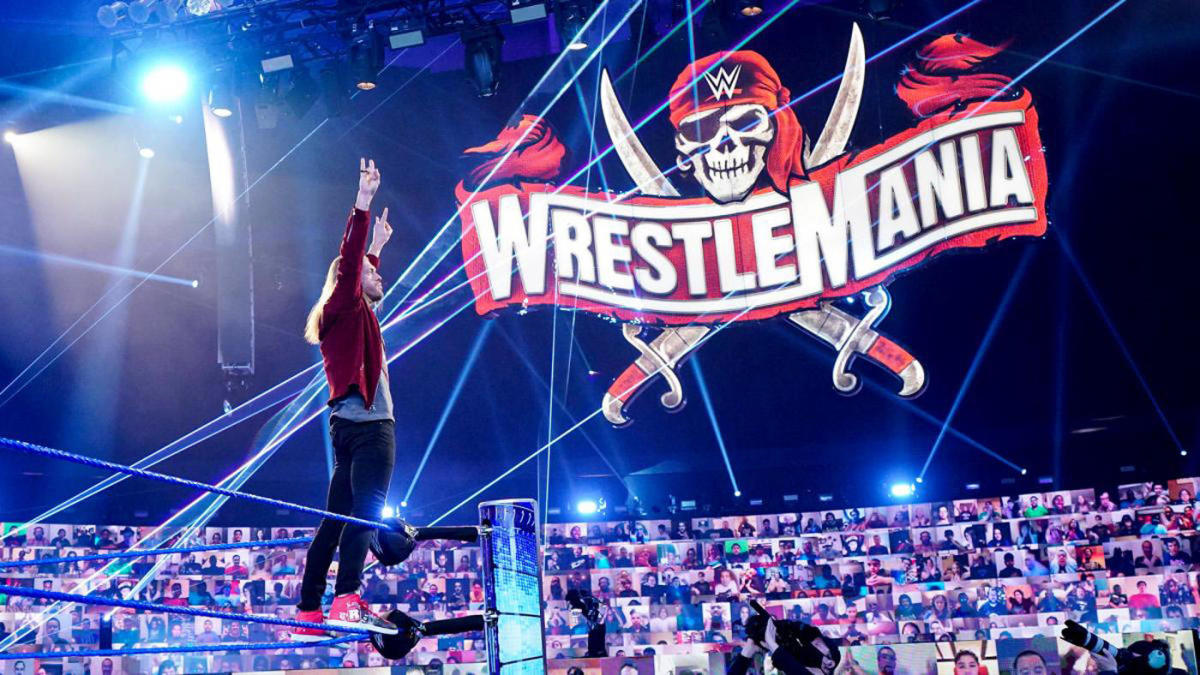 This is one of those columns that needs no real intro or explanation. Its WrestleMania! What else do you need me to tell you? Today we're talking Night One, tomorrow it'll be Night Two. Easy peezy lemon breezy.
I know that some of you prefer a 12 hour WrestleMania event, but to me, two nights is definitely the way to go. Think of it this way: instead of one night to watch the biggest show of the year, you get two. What's the downside?
Also, you can get two days to make money, if you're into the kind of thing we're talking about here. Though, I am contractually obligated to mention that my look at these matchups, with odds provided by BetOnline, is for entertainment purposes only.
Tag Team Turmoil
Lana & Naomi vs. Dana Brooke & Mandy Rose vs. The Riott Squad vs. Natalya & Tamina
History always repeats itself. #WrestleMania @TaminaSnuka pic.twitter.com/ss9FjOGYks

— Nattie (@NatbyNature) April 7, 2021
We've got a match setting up a Night 2 match here, as Nia Jax & Shayna Baszler will face the winners for the Women's Tag Team Championship. They've had some amount of issues with each team, so we can't really use that as an indicator of who will win. We also can't base it off of who will have the best match with Nia & Shayna, as that seems like a push.
We also don't have odds on this match as I write this. If some do get posted, my guess would be that Natalya & Tamina will have long odds and could be a good pick as a team WWE might want to give a little reward for their service over the years.
Bad Bunny & Damian Priest (-950) vs. The Miz & John Morrison (+500)
Dude…….#WWERaw pic.twitter.com/hE5sGI5YKC

— WWE (@WWE) April 6, 2021
We all know how this one is going, right? Bunny & Priest are the easiest pick on this two day extravaganza. I'm sure an outside celebrity lost a WrestleMania match at some point, but one isn't immediately coming to mind. I assume some are still complaining about Bad Bunny getting a WM match, I choose to be good with it since it gets Damian Priest a match too. Hopefully this all works out well for him.
Braun Strowman (-500) vs. Shane McMahon (+300)
We do this together!!!!!! #WrestleMania pic.twitter.com/rbYHQzUbm5

— Braun Strowman (@BraunStrowman) April 6, 2021
Braun is the natural pick here for obvious reasons (he's actually a wrestler), but one can easily make an argument for Shane. The usage of a steel cage rarely keeps interested outside parties out of a match, and surely Shane will have a few allies looking to make an impact on WrestleMania. We'll see Elias & Jaxson Ryker, and we'll likely see somebody else. Any big stiffs in the Performance Center not otherwise occupied could be an option for Shane here.
The thing about gambling picks: we're not always going to pick what we think will happen. I think Braun will destroy whoever gets put in his path here. But the object of this game is to make some money, and I think Shane McMahon at +300 is a good bet. Especially since I don't think this feud will be ending at WrestleMania. Still some more heat to get on this issue.
Cesaro (-300) vs. Seth Rollins (+200)
"I'm on fire. Don't touch me you'll get burned!" – @WWERollins on his #WWEHOF drip. pic.twitter.com/qNrAFkqCu5

— WWE on FOX (@WWEonFOX) April 7, 2021
Speaking of feuds that I think will extend beyond WrestleMania and will likely have the evildoer squeaking out a victory by nefarious means. I can easily talk myself into Cesaro getting a big win here, one which will lead to declarations that he's a made man and finally on the level he deserves to be at. I certainly wouldn't have a problem with that.
I think it's far more likely that Seth Rollins gets the win, and the issue between these two continues. Cesaro's big win is coming, but not at WrestleMania.
Raw Tag Team Championship Match
The New Day (+250) vs. AJ Styles & Omos (-400)
AJ Styles vs. Xavier Woods – straight out of 2008 TNA. A reminder WWE is a TNA nostalgia company. pic.twitter.com/VNU9VULZ7N

— Garrett Kidney (@garrettkidney) April 6, 2021
I've lost track of how many times I've been burnt by picking against Xavier Woods & Kofi Kingston. They have a knack for overcoming all obstacles at these major events and coming out on top. Its a good idea to keep these men featured on television, as they're positive role models for the community and I can only think of one time that one of them did something a bit embarrassing for the company.
I mean….that Jamaican accent. What were they thinking? Never mind, we got more accent stuff to talk about for Night 2, let's move on.
It is tempting to pick AJ & Omos, as there's an obvious story there hopefully leading to Omos' breakout as a singles star. That can easily be drug out though, and we don't pick against The New Day here. Their victory will be a good way to pop the crowd early in the evening.
SmackDown Women's Championship Match
Sasha Banks (+250) vs. Bianca Belair (-400)
IMPOSSIBLE, THINGS ARE HAPPENING EVERY DAY. pic.twitter.com/7iXlEA4gAe

— Mercedes Varnado (@SashaBanksWWE) April 8, 2021
This is a huge moment for Bianca, and for the Women's division in general, as the significance of two women of color fighting for a championship on the biggest show of the wrestling year can't be overlooked. Its a big f'n deal, as politicians would say.
A win here would put Bianca Belair over the top as a star in this company, and I think that's what happens here. Sasha doesn't need the championship to retain her relevancy, and it's not like any losses have hurt her standing with the people yet. She'll do whatever she can on this evening to make Bianca a star.
WWE Championship Match
Bobby Lashley (+150) vs. Drew McIntyre (-200)
"@fightbobby, how can you beat a man that will sacrifice everything?!" – @DMcIntyreWWE #WrestleMania pic.twitter.com/dFsnaKdtLl

— WWE (@WWE) April 7, 2021
People seemed legit shook when it was mentioned on Raw that this would be the main event of Night 1. Like…that wasn't obvious? As much as I like Sasha & Bianca & think they will have a fantastic match, the build of their match hasn't exactly gotten me any more excited than I was the moment after the women's Royal Rumble Match ended. Maybe y'all are more into TAG TEAM PARTNERS THAT SECRETLY HATE EACH OTHER than I am, but zero part of that whole thing seemed inspired to me. To be fair, it seemed even less inspired when Asuka & Rhea Ripley did it.
Meanwhile, this is the WWE Championship, dating back to the days of Bruno Sammartino & Buddy Rogers. Drew & Bobby's issue has been building since the Royal Rumble, and now is the time for Drew McIntyre to get the WrestleMania coronation they wanted to give him last year. Will it work?
Well, the mystery is one of the reasons we'll be paying attention.
Thanks for reading! Join me next time for Night Two!