Is Samoa Joe Headed for a Babyface Turn in WWE?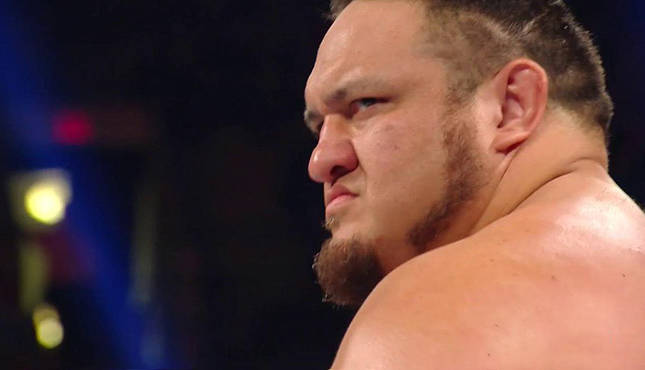 Samoa Joe's recent promo on Big Colin Cassady has everyone talking. That's because Joe once again took advantage of the mic time afforded him to cut his opponent in half. Both men may be heels but Joe's words were that of a babyface, which has many asking if a character turn is on the horizon.
The Samoan Submission Specialist is booked to face Big Cass in a Money in the Bank Qualifying Match on the May 22 edition of SmackDown Live. The two men have a reason to sound off on each other. Joe was simply generating heat and nothing more may come of this scathing promo. But what if it does?
What if this propels Samoa Joe to a whole new level? Fans already love to cheer for him despite how vicious he is. Samoa Joe could do just about anything to anyone on SmackDown and still pop the crowd. There's just something about him that makes the fans want to stand up and shout.
Joe is a man's man. He's a legitimate tough guy and everyone knows it. His gaze is ice cold and his intentions are purely evil. Every time he opens his mouth, his words cut like a knife. Just as there is no wasted movement in his matches, there are also no wasted words when he speaks. Samoa Joe is deliberate and that is what makes him different.
Pro wrestling fans gravitate to this kind of personality. It's precisely what first turned The Road Warriors babyface during the mid-80's. The same was true of Jake the Snake Roberts in 1987. Stone Cold Steve Austin was supposed to be a heel as well but like Hawk, Animal and Roberts, Austin turned face because of the crowd.
The WWE faithful wanted Steve because he was the real deal. He wasn't flashy, he wasn't loud and he wasn't a caricature. He was the baddest man in WWE and every fan in the crowd respected that. They loved him for it. This is Samoa Joe.
It's not to suggest that Joe could suddenly explode in terms of popularity the way Austin did but it's obvious that Joe has that unique quality about him. He's Charles Bronson tough but with a Clint Eastwood intensity that's always simmering just below the surface. Samoa Joe looks as though he could take down half the locker room with little to no effort. What's not to love about that?
Losses don't hurt him. Time off doesn't hurt him. Samoa Joe is the same piece of steel today as he was yesterday. His gimmick does not age and his persona is timeless. It's hard for any man in the crowd to hate a guy with that much fire, especially when that guy is matched against a lesser talent.
Enter Big Cass, who has a world of potential in his corner. But he doesn't have a real direction just yet and he also doesn't have any real credibility. Cass is a big guy that could be a big star but right now he's just talking a big fight. He was dismantled by Daniel Bryan and it took three guys to pull Daniel off of him. Cass is seven-foot, 285lbs. Bryan is 5'10," 210lbs.
Big Cass is already at a disadvantage going into his match with Joe and the fans know it. They will surely remind him of it and when Joe's music hits, they will surely erupt. The fans want Joe to turn face. They love him as a heel and they love what he does but if he were on their side? Samoa Joe could become the hottest protagonist in WWE.
But the main problem with any sort of character change for Joe is WWE itself. The company doesn't exactly have a great track record when it comes to turning guys from one side to the other. Fans have demanded a Roman Reigns heel turn for two years and it's not happened yet. They've also wanted a Rusev face turn but that's not happened yet either. What makes anyone believe Joe will be any different?
The fact is that so much is possible with Samoa Joe if he does make the turn. He can immediately be positioned against any heel in the company and he would automatically get over with the crowd. He would be one of the most popular babyfaces on the blue brand and very few would be able to match his pop. But is this really the best move for him right now?
Joe is working on a program that features AJ Styles, Daniel Bryan, Jeff Hardy and Randy Orton. These are four top faces that consistently get the biggest reactions on SmackDown Live. Does WWE really want to add another face to that group? Is there even room for Samoa Joe as a top babyface on Tuesday nights?
What makes him a great heel is ultimately the same thing that keeps him a great heel. He's much too valuable in his current role to try anything new. Joe is just too good at being bad. Why would WWE want to change that now?
But when it comes to the fans, anything is possible. If the crowds continue to react positively to Joe and if he keeps getting cheers even when he's doing something wrong, then everything could change. Samoa Joe is the kind of destroyer that fans want on their side. He's just so cool and he's just too tough to hate. He may remain right where he is but Samoa Joe is ready for anything. He always has been.