Stardom Cinderella Tournament 2018 First Round Results & Review (4/30/2018)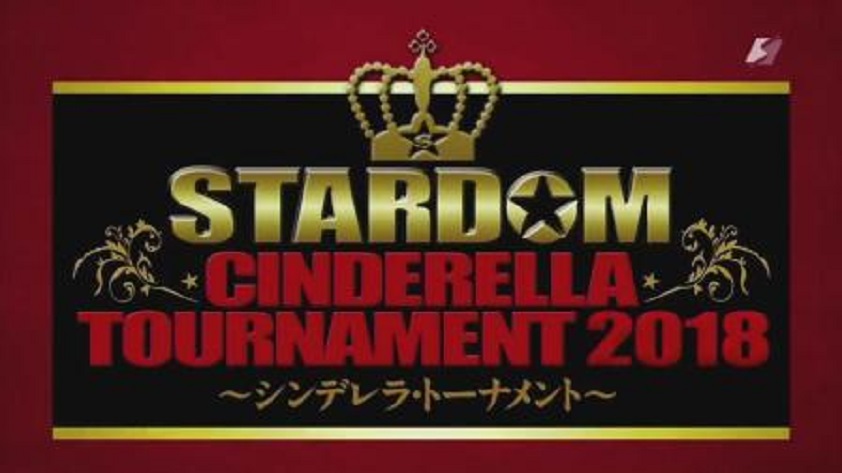 Welcome to the first part of coverage for the Cinderella Tournament and let me tell you how this works before we get started.
It's a one day tournament involving 16 people and all matches have a ten minute time limit and you can also win by throwing them over the top rope. The winner of the match will not only get a pretty dress to wear and take home, but they also get a wish. The wish, can be any match they want of their choosing as it could be a rivalry you wanna settle, someone from another company for a dream match if allowed, or of course a title match of your choosing. Since it's a long show, I will be splitting it up into two parts as the tag match and first round will be in this article and the rest of the tournament will be in part two. So who will advance to the next round? Let's find out and…dive right in.
Ten Woman Tag Team Match
AZM, Leo Onozaki, Natsuko Tora, Ruaka & Shiki Shibusawa vs. Hanan, Mary Apache, Nao Yamaguchi, Natsumi & Starlight Kid
Review: Before we start the actual tournament, our Future of Stardom division with the exception of Natsuko Tora and Mary Apache will start us off in a tag match to give them something to do. Nothing really to talk about for this match as it was pretty standard with people doing some work on each other and not a while lot since it was like five or six minutes. Started sloppy at first and then it ended up being average with Starlight Kid hitting her Rounding Frogsplash on Leo for the win.
Recommended: Skippable really.
Cinderella Tournament 2018 First Round Match
Konami vs. Momo Watanabe
Review: Our tournament is starting up with two our of members from Queen's Quest. It's Konami's second time while Momo's possibly third since she doesn't remember as she said before how she never made it past the first round and hopes to break that here tonight with some friendly competition.
Momo and Konami definitely delivered for the first match of the first round as we had beautiful kicks towards one another, nice reversals, and a crisp finish with Momo hitting the Soba Sword for the win as she advances to the next round. Great job, Momo.
スターダム動画配信「スターダム・ワールド」本日の配信です。

▪️2018年4月30日(祝)
後楽園ホール
◆シンデレラ・トーナメント2018 1回戦
渡辺桃 vs 小波

互いにキックを得意とするシングル初対決。激しい蹴り合いの中で渡辺桃が飛び出した!

会員登録は https://t.co/lZc15hAPwd pic.twitter.com/zbfjnSWwqj

— スターダム/STARDOM (@wwr_stardom) May 8, 2018
Recommended: Fun match, worth the four minutes.
Cinderella Tournament 2018 First Round Match
Candy Floss vs. Saki Kashima
Review: For Saki Kashima, this is her first singles match since making her return in March as she looks to show she can still go and she has been doing better in tag matches, but now this is the real test to see how she'll do. Saki didn't do a whole lot, but she sold her moves pretty well, but I would work on that Shining Wizard to the turnbuckle a bit better since it looked really slow. Candy did pretty well for herself and I've been taken a liking to her lately since she's not terrible in the ring, but mostly entertaining. Saki would advance with her first singles win since her return with the Killswitch.
Recommended: Decent match, your call.
Cinderella Tournament 2018 First Round Match
Bea Priestley vs. Martina
Review: Well, time to kill me since my two least favorites in the roster are fighting off against each other, but I can at least tolerate Bea more than Martina since she's had shown progress lately. And..it's a match and I did try to get into them, but with Bea having weak strikes and almost missing them like the Double Stomp after reversing the Sunset Flip and the Helluva Kick, that lost me a little. I will give Martina credit for giving Bea stiff forearms near and end and Bea hits another good Curb Stomp! You get points and even with winning the match with it too. Despite the plus, the match wasn't really good.
Recommended: Skip.
Cinderella Tournament 2018 First Round Match
Brandi Rhodes vs. Natsu Sumire
Review: No this is not a typo and you're reading it right, this is the same Brandi Rhodes that is married to Bullet Club member and ROH sensation, Cody. It looks like Brandi will be joining Stardom for a while to hone her skills and this is my first time seeing her in a singles match, so let's see how she does against Sumire.
As we see in the pre-match interview, Brandi is actually considered a member of Oedo Tai and I can get behind that. Nice little comedy before the match with Kagetsu and Nao choosing to be in Brandi's corner over Sumire and have playful banter, I love this group.
While it wasn't a great match, it was very entertaining to say the least with Kagetsu having fun teasing Sumire by cheering for Brandi throughout the match and I gotta say that while Brandi is still green, she didn't do bad at all and was pleasantly surprised with her performance. I think she can do good work here if she sticks around. Brandi would pick up the win after reversing Sumire's roll up and advances.
スターダム動画配信本日の配信です。

▪️2018年4月30日(祝)
後楽園ホール
◆シンデレラ・トーナメント2018 1回戦
夏すみれ vs ブランディ・ローデス

codyの妻であるブランディが初来日。期待のベールを脱いだが、試合巧者の夏は頭脳プレーが裏目に…

会員登録は https://t.co/lZc15hSqUN pic.twitter.com/dapQRJ8ZGo

— スターダム/STARDOM (@wwr_stardom) May 9, 2018
Recommended: I had a good time with it, specially if you're a Oedo Tai fan.
Cinderella Tournament 2018 First Round Match
Hana Kimura vs. Hazuki
Review: We get another Oedo Tai match-up with Hazuki getting another match against Hana as you can tell how badly she wants to get her hands on her again, and Hazuki even changed her look as she looks to be wearing white and pink now instead of her black and pink look, it looks nice.
The match started off exactly how it needed to, just Hazuki beating the crap out of Hana before the bell rings, it should be mostly treated as a fight instead of a wrestling match and they did exactly that throughout the whole thing. The match felt personal and it did what it needed to do with both of them going back and forth almost like they wanted to kill each other. Hazuki would get the win by throwing Hana over the top rope and was the best way to do it to protect Hana from an actual clean loss. After the match, Hazuki would offer her hand to Hana to end the rivalry as Hana shakes her hand and Oedo Tai hug in the ring, making Hazuki fully embrace her new home.
スターダム動画配信本日の配信です。

▪️2018年4月30日(祝)
後楽園ホール
◆シンデレラ・トーナメント2018 1回戦
葉月 vs 木村花

因縁の対決が1回戦で実現!大江戸隊入りした葉月にとって目の上のたんこぶ的存在の花と意地と意地が爆発したが…

会員登録は https://t.co/lZc15hAPwd pic.twitter.com/ZGuYZEG3Gy

— スターダム/STARDOM (@wwr_stardom) May 9, 2018
Recommended: Very solid match, worth a view.
Cinderella Tournament 2018 First Round Match
Mayu Iwatani vs. Tam Nakano
Review: Now that both Oedo Tai matches are out of the way, we now have both members from STARS fighting off with Mayu taking on the returning Tam Nakano who we haven't seen since the Exploding Death Match. Mayu won the first two Cinderella Tournaments and now looks to win her third one this time around.
This match was actually really good as Tam actually showed progress in singles action here against Mayu and even getting some close calls in there also. Mayu still showing she's one of Stardom's best here as the two worked very nicely together and hardly anything bad to say about the match. Mayu got the win with her Dragon Suplex Hold.
Recommended: Probably my favorite first round match so far, watch it.
Cinderella Tournament 2018 First Round Match
Chardonnay vs. Io Shirai
Review: We got Queen's Quest fighting each other this time as Chardonnay takes on the Wonder of Stardom Champion and leader of the faction, Io Shirai. Who actually, never won this tournament in her career and looks to get that accolade added to her collection here. Chardonnay is definitely one of the better gaijins in the roster next to Toni Storm and Viper since she's a very solid worker and has been nothing but impressive since this tour started and gets to work with one of the best at the same time. Very good back and forth match, but Io would work on her legs and eventually make her tap out with the Cloverleaf to advance, but Chardonnay did great.
▪️2018年4月30日(祝)
後楽園ホール
◆シンデレラ・トーナメント2018 1回戦
紫雷イオ vs シャーダネー

かつて白いベルトを賭けて闘った経験のある両者だが、シャーダネー は人間風車で追い込んだが、イオはテキサス式クローバーで勝負を決めた!?

会員登録は https://t.co/lZc15hAPwd pic.twitter.com/bZtJLguEML

— スターダム/STARDOM (@wwr_stardom) May 9, 2018
Recommended: Very solid match, worth a go.
Cinderella Tournament 2018 First Round Match
Jungle Kyona vs. Kagetsu
Review: This is the last match of the first round as Jungle looks to take on…not Kagetsu as this her identical twin sister wearing a dress and a wig named Kageko…this is awesome and the crowd loves it. Kageko wrestles nothing like her twin, Kagetsu and looks to be more clean with her ability than dirty tactics, but Jungle would ruin the fun by ripping off her wig and it was Kagetsu the whole time!
The nerve! It was entertaining while it lasted, but now Kagetsu starts to show off her aggressive side once again and even have Oedo Tai try to pull Jungle off the apron until Natsuko came in to try and fight them off. Kagetsu would run after Jungle to be thrown over the ropes with the two of them fighting on the apron until Jungle caught her with a Powerbomb and slams her onto the apron, but picks her up one more time to throw her outside, leaving Kagetsu eliminated. It was better this way since she can't afford a pinfall loss right now with her upcoming title match.
Recommended: It was enjoyable.
Overall: Aside from one bad match, the first round of the tournament was a success as most of the matches were actually really solid and enjoyable to watch. Now I'm excited for the second round which is what it looks like down below.
Bea Priestley vs. Hazuki
Momo Watanabe vs. Jungle Kyona
Saki Kashima vs. Mayu Iwatani
Brandi Rhodes vs. Io Shirai
Favorite Match: Mayu Iwatani vs. Tam Nakano
Least Favorite Match: Bea Priestley vs. Martina
Score: 7.5/10
See you all for the next round and the finals!
Mathew's Top 10 Joshi Wrestlers (Excluding Stardom)
Did your favorite non-Stardom wrestler make the cut? Check out Mathew's Top 10 and find out!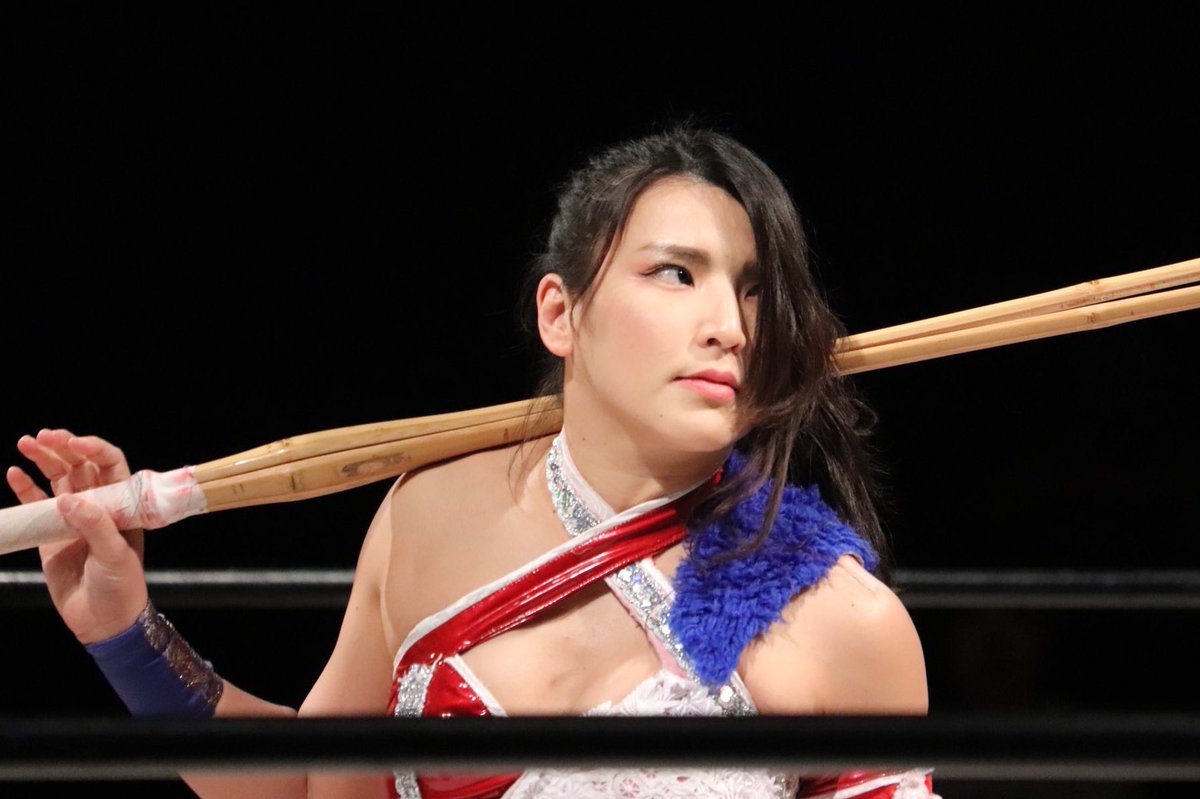 Did your favorite non-Stardom wrestler make the cut? Check out Mathew's Top 10 and find out!
I've wanted to do this one for a while and I'm gonna use this time to get to it.
You normally see me cover Stardom along with a few shows in the Joshi scene from time to time, but this countdown list is going to focus on the wrestlers that aren't apart of the Stardom roster. Let's be honest, if I did add Stardom on this list then that would be almost half and that's not fair since there are so many talented Japanese women from various promotions and they deserve recognition.
I'm also going by active members instead of all-time to keep up with the current scene, so let's get right to it as I talk about my Top 10 Joshi wrestlers.
10. ASUKA (Freelancer)
– No, not that Asuka, this is a different ASUKA. ASUKA was able to make history in the short amount of time she's been around professional wrestling in her three-year career and it's still going. Asuka was originally from Pro Wrestling WAVE until the end of 2018. She was the first transgender wrestler to main event their biggest show and also the first transgender wrestler to win their biggest title, the Regina Di WAVE Championship. She's only twenty-years-old and has so much to offer as she represents her community while having the agility of a young Jushin Liger. I only knew her around 2017 but that was when she was also coming out of her shell in the wrestling world and what a big impact she has left so far. She definitely is someone worth keeping an eye on.
9. Takumi Iroha (Marvelous)
– Twenty-six years old and only six years in the wrestling business, Takumi really is something else. She comes from the Marvelous promotion and is considered their top star in the promotion and for good reasons too since she's just dynamite. Amazing how she started in Stardom and years later, she would make a better name for herself wrestling in various promotions and winning different titles as well. She recently won SEAdLINNNG's top title, the Beyond the Sea Championship when she defeated the first champion and owner of the promotion, Nanae Takashi. A very talented woman with some fantastic strikes to top it off as she's someone you would wanna book for your promotion for a couple of shows.
8. Tsukasa Fujimoto (Ice Ribbon)
– The ace of Ice Ribbon and the only one to hold their top title, the ICExInfinity Championship for a total of six times and has had some incredible reigns as the champion. Thirty-five years old and wrestling for only ten years as she was trained by some of the best people like Nanae Takahashi, Manami Toyota, and Emi Sakura. Hardly sloppy in the ring, can work with most styles, these are great qualities to look for in a wrestler in general and Tsukasa is no exception to that.
7. Hikaru Shida (OZ Academy/AEW)
– While she is now considered AEW, she still left an impact in the Japanese scene and is also considered OZ Academy for the time being, so she counts to being on here. This ten-year veteran made sure the world knew who she was when she just performed globally, not bad from someone who started in Ice Ribbon back in 2008. She won major titles from Ice Ribbon, WAVE, OZ Academy, RCW, and Sendai Girls. She was also the one that got knocked out by Naomichi Marufuji on one of her produced shows in 2017 in under two minutes but she wanted a rematch a year later and while she lost, she took her punishment like a champion and still give the fans a great show on her 10th anniversary. Now that she has joined AEW, the fans overseas are sure to get something special with her around as she could be the top star of that division.
6. Hiroyo Matsumoto (Freelancer)
– Otherwise known as the Lady Destroyer and she might be the best Freelancer in the Joshi scene. She's wrestled in almost every promotion for Joshi wrestling, became more noticed when she recently joined WWE's Mae Young Classic in 2018 where she lasted until the second round. Hiroyo is strong, fast, technically sound in the ring, and has had many great matches in all of the promotions she's worked for and you knew you were going to get your money worth since she was that talented. She may not look like much but believe me when I say that she's an absolute monster and can just wreck you if she wanted to. Surprised nobody has snatched her up for an exclusive contract because she would be the top star in an instant, but I think she enjoys going to various promotions and performing on a high level that she definitely does make do with what she has, so nothing wrong with that.
5. Miyu Yamashita (Tokyo Joshi Pro-Wrestling)
– The star of TJP and for good reasons. She only has about five years of experience with only a background in karate, but she was able to hold the TOKYO Princess of Princess Championship two times for a grand total of 746 days and during those times that she was a champion, she's had great title defenses on top of it to make her a worthy champion of that company. She was also the SHINE Champion when she went to a title or title match during WrestleMania weekend. She's like the Shotaro Ashino of TJP. just great in the ring and while not many follow the promotion, people would mostly keep an eye on her from how talented she is. I really hope she gets future opportunities to fight other people from various promotions soon because she would have a lot of dream matches built up that you'd be crazy not to do any of them. Great talent and somebody please get her some special bookings on the double, she's worth your time!
4. Chihiro Hashimoto (Sendai Girls)
– Meiko Satomura's prized pupil in Sendai Girls and that woman is Chihiro Hashimoto. If you look at her at first glance, you would think she would be a powerhouse but she's also very technical in the ring. Chihiro has been wrestling for three years also and Meiko went full speed for Chihiro to make her the top star of her promotion and even be known as one of the best of the next generation of Joshi wrestlers. A four-time Sendai Girls World Champion with a combination of 777 days and each title defense would always leave you satisfied and wanting more of her at the end of things. With very little years under her belt, there's plenty of room for her to grow in the upcoming years of her career and she might be another one that'll be considered an all-time great when she does decide to hang it up. Powerful and wrestling-sound, Chihiro has the tools and can back it up at the same time and she's just getting started.
3. Sareee (World Woman Pro-Wrestling Diana)
– I'm gonna level with you on this one, I'm fairly new to her despite being in the wrestling business for eight years, meaning she wrestled since she was fifteen-years-old, but I was able to become a fan of her the moment I saw her. She's currently wrestling for World Woman Pro-Wrestling Diana and was known as an underdog of sorta. For about a year now, she was able to have big moments in her career when she defeated Aja Kong to become the promotion's World Champion for the second time, defeating Meiko Satomura clean during a Sendai Girls show in an amazing match, and was able to defeat Chihiro in a title for title match to win the Sendai Girls World Championship, making her a double crown champion with two of the biggest belts in the Joshi scene. A lot of the veterans like Meiko and Nanae are high on Sareee and have faith in her being another won to be the future of professional wrestling as a whole. She has a lot more to prove and plenty of time to do it as this is now her time to shine from here on out.
2. Arisa Nakajima (SEAdLINNNG)
– Aside from Nanae Takashi, I believe Arisa Nakajima is one of the best that SEAdLINNNG has to offer. Arisa is both intense and physical in the ring and while not many have seen a lot of her matches, she always left a big impression on people that have watched her matches and gave them something memorable. While most will be known for their stiff kicks in the ring, she's more known for her elbows and they're just as deadly as any stiff kick that you see in most matches these days. Made her career in JWP and is now looking to stand out in her new home and hopefully a future Beyond the Sea Champion when the time is right. Killer instinct and a veteran in the business with thirteen years of experience, she's someone that will amaze you in that ring.
Before I get to my final one, here's a small list of honorable mentions down below.
– Nanae Takahashi (SEAdLINNNG)
– Emi Sakura (Gatoh Move)
– Mika Iwata (Sendai Girls)
– DASH Chisako (Sendai Girls)
– Aja Kong (OZ Academy)
– Yuka Sakazaki (Tokyo Joshi Pro-Wrestling)
– Riho (Gatoh Move)
– Yuu (Freelancer)
– Mayumi Ozaki (OZ Academy)
– Saori Anou (Actwres girl'Z)
– Miyako Matsumoto (Ice Ribbon)
1. Meiko Satomura (Sendai Girls)
– I think it's obvious that she would be at the top of the list for everything she has done throughout her career and still performs at such a high level. The creator of Sendai Girls, Meiko Satomura would go down in the history books as one of the greatest females and wrestlers in general of all time with her incredible wrestling ability and her contributions to the business as a whole. She was also the first female to win DDT's top title, the KO-D Openweight Championship but that reign didn't last long, unfortunately. She's held big titles in her own promotion, Stardom, AAAW, and in Fight Club Pro. Meiko has been wrestling for almost twenty-five years and she still wrestles as if she's half her age while also being lethal at the same time. She made a big impact in Japan, the United States, and just globally as a whole that she's earned every accomplishment that she has received. My favorite Joshi wrestler and one of my all-time favorites. If you haven't seen her before, then something is wrong with you.
Thank you all for taking the time out of your day for reading my list. I'm sure there's quite a few that I'm missing on here but there are just so many talented women in the Japanese wrestling scene that it's so hard to put them all in as they all deserve praise. If you have time in your day for more, definitely look up all of these women since they're worth your time.
(NOAH) WEEKLY NEWSLETTER VOL.38 ~ 9TH JUNE 2019
The busy week that was in NOAH! The first Misawa memorial show and thoughts on the KENTA situation!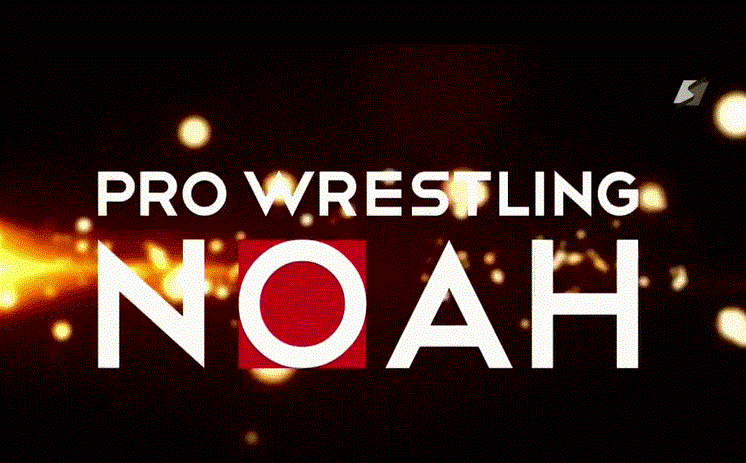 The busy week that was in NOAH! The first Misawa memorial show and thoughts on the KENTA situation!
CURRENT TOUR RECAP
Global Junior Tag League 2019 held its final two nights before the big finals in Osaka, on the 8th June in Yokohama, and the 9th June in Tokyo (the 9th June being the Mitsuharu Misawa memorial show).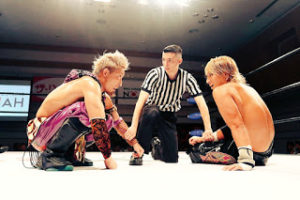 The RATELS seesaw bought Daisuke Harada and Tadasuke down with a bump, while at the other end of the scale rose, bringing YO-HEY & HAYATA up. On the 8th in Yokohama, Tadasuke fell to Hajime Ohara after ten minutes, and Daisuke Harada fell to Yoshinari Ogawa's sneak schoolboy pin on the 9th. This now means that they are out of the league.
YO-HEY & HAYATA however, on the rising end, won against Hitoshi Kumano & Chris Ridgeway (and eliminating them in the process) and the following night, won against Hi69 & Minoru Tanaka (who despite this loss, have said that they will be challenging for the GHC Junior Heavyweight tag belts). The finals of Global Junior Tag League 2019 in Osaka will be Stinger vs YO-HEY & HAYATA.
The main event of the Yokohama evening was called "The Mitsuharu Misawa Memorial Pre-match" which pitted the veteran team of Naomichi Marufuji, Takashi Sugiura & Shuhei Taniguchi against AXIZ (Go Shiozaki & Katsuhiko Nakajima) & Kaito Kiyomiya.
As Shuhei Taniguchi is going to be Marufuji's opponent on the 13th in Osaka, there were tensions between the two, although fans did report that there was tension between all the the vets.
During the match, Naomichi Marufuji worked on Go Shiozaki's shoulder (Shiozaki was to be his opponent for the 9th June), while Shuhei Taniguchi concentrated on everyone else, and Takashi Sugiura against Kaito Kiyomiya in particular. Sugiura managed to destroy him, and later commented that he would be very disappointed if the title match turned out the same way.
NOAH held the first night of the Mitsuharu Misawa memorial show on June 9th (Misawa actually died on the 13th June, when NOAH will be in Osaka) in Tokyo. The memorials are always a moving event with the flower altar arranged for him where fans leave gifts of flowers, his favorite food, drink and even cigarettes, and the traditional ceremony when he is welcomed to the green ring as the GHC Heavyweight Champion while "Spartan X" plays. The event was sold out with even the standing room tickets going quickly.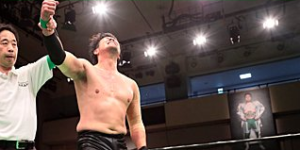 Naomichi Marufuji had a singles match against Go Shiozaki.
This match was symbolic as Shiozaki has never ever beaten (until now) Marufuji in a singles match, but in a hard fought fight, he managed to get the win over him by a Gowan Lariat\Emerald Fusion combination. Marufuji slunk away to lick his wounds, while Shiozaki spoke in the ring, thanking Marufuji for keeping NOAH alive, and Misawa for creating NOAH. Marufuji, in the post match promo, swore to become "the wall that Misawa was".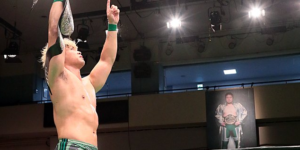 The GHC Heavyweight match started off civilly, with a handshake between the young champion and the veteran challenger, then all gloves were off, and Takashi Sugiura battered him for the best part of the match. Kiyomiya endured everything; the Olympic Slam, vicious elbows, the DDT avalanche, apron suplexed, speared, and that match finisher that has taken out other older, hardened and more experienced challengers, the front neck choke-hold.
The match finished after 33 minutes and 53 seconds, with Kaito Kiyomiya using the Tiger Suplex.
There was no immediate challenger after the match, (although both Kenoh and Naomichi Marufuji had hinted at a challenge), and Kiyomiya had no speech either, simply holding the belt up and pointing to the ceiling.
Elsewhere on the card that evening, Junta Miyawaki got his second win, and the biggest win of his career when he schoolboy pinned NOSAWA Rongai in the league, it was too late for either team to win, but the effects on Miyawaki's confidence was immense.
It was hoped that KENTA would make his return to NOAH on this night, but instead he appeared at a New Japan show in Osaka, and announced he would be competing in the G1 Climax. NOAH fans are naturally disappointed, as it was hoped that he would come home to NOAH first. Naomichi Marufuji posted on Twitter (without directly naming anyone, but it was obvious who he meant), saying to the effect that on this day of all days, he chose to do this. He wished him luck, and said "don't get buried".
EVENT RECAPS
Post match promos ~ Hamamatsu City
EVENT RECAP: Global Junior Tag League 2019 – 8th June, Yokohama Radiant Halls
POST MATCH PROMOS: Global Junior Tag League 2019 – 8th June, Yokohama Radiant Halls
EVENT RECAP: Global Junior Tag League 2019 – 9th June, Korakuen Hall (Mitsuharu Misawa Memorial night)
NEWS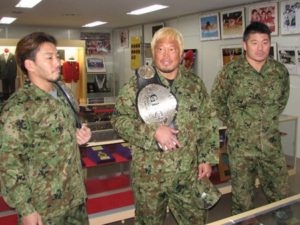 ATSUSHI AOKI PASSES AWAY
It was announced on June 3rd that All Japan (and NOAH born) wrestler, Atsushi Aoki, had been killed in a motorcycle accident in Tokyo. His bike had failed to take a swerve correctly, and he had crashed into a side wall.
Although he was an All Japan wrestler at the time of his death (plus their junior heavyweight champion, and a trainer in the dojo), Atsushi Aoki had actually started his career in Pro-Wrestling NOAH. A friend of Takashi Sugiura from their days in the JSDF (Japan Special Defense Forces), he had entered the NOAH dojo after an introduction to Naomichi Marufuji in Aomori, and graduated on the same date as Shuhei Taniguchi, December 24th 2005. He stayed with NOAH until 2013 when he walked out to All Japan with his trainer, Jun Akiyama (alongside Yoshinobu Kanemaru, Kenta Kobashi, Go Shiozaki and Kotaro Suzuki) in protest over NOAH's firing of Kobashi due to injuries. During his time in NOAH he had held the GHC Junior Heavyweight Tag Team championship twice, once with Kotaro Suzuki and once with Naomichi Marufuji. Jun Akiyama called him one of his most talented students who had a remarkable capacity for remembering advice about technique and carrying it out, what you told him after one match, he would remember in another.
After the walk out to All Japan, Aoki would return to NOAH one last time in September 2018 when he faced Takashi Sugiura and Daisuke Harada, while teaming with Jun Akiyama at Naomichi Marufuji's "Flight".
He was forty-four years old at the time of his death.
NOAH held a commemoration service for him at Yokohama, with old dojo friend and fellow trainee, an emotional Shuhei Taniguchi holding his picture.
NOAH'S PHOTO EXHIBITION
Pro Wrestling NOAH have announced that another photo exhibition will take place on Saturday September 14th until Monday September 16th at the ROJI Gallery in Osaka. The exhibition will be known as "NOAH the BEST 2019". There is no word as of yet whether another photo book will be released.
"COME AT ME YOU BASTARDS" ~ Kenoh's column
Kenoh's column this week dealt with one of his favorite subjects, not his hatred of Naomichi Marufuji, Takashi Sugiura or his hate\love\older brother relationship with Kaito Kiyomiya, or LIDET, but his beloved car.
"BEYOND MISAWA AND KOBASHI" ~ Interview with Go Shiozaki
Go Shiozaki gave an interview to "Weekly Pro" in which he speaks about AXIZ, Shuhei Taniguchi, Sugiura, the new NOAH and other subjects.
CURRENT CHAMPIONS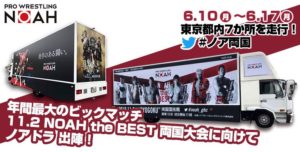 TOUR TIDBITS
~ To hype the Sumo Hall show on the 2nd November (which I will be attending), NOAH have commissioned a truck with artwork advertising the event, to drive around Tokyo on a schedule in June. Fans have been asked to photograph it, hash tag it and put it on Twitter.
~ Takashi Sugiura got home from the event at Korakuen Hall and saw his two dogs play fighting, he took a picture, put it on Twitter and said, "I also lost today, and so did you".
BROADCASTS
The 9th June show (the Misawa Memorial from Korakuen Hall, Tokyo and the second to last night of Global Junior Tag League) will be broadcast by G+ on Thursday 13th at 8pm JST.
The 13th June Mitsuharu Misawa memorial show from Osaka, will be shown on the 22nd at 10pm on Samurai TV. This will be the final night of Global Junior Tag League 2019.
Riki Choshu's Power Hall (featuring Go Shiozaki and Yoshiki Inamura) will be broadcast live on the 26th June on Samurai at 6.30pm
PICTURE CREDITS: YO-HEY, NOAH GHC, PKDK
Newsletter by Hisame