Stardom Cinderella Tournament 2018 First Round Results & Review (4/30/2018)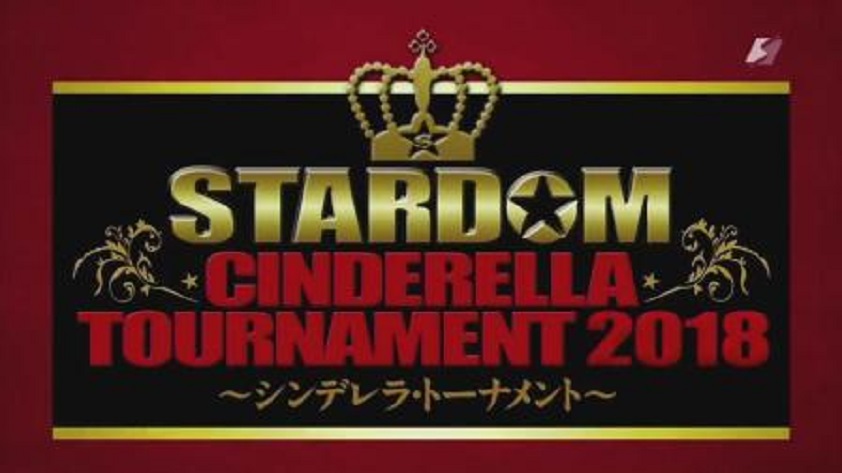 Welcome to the first part of coverage for the Cinderella Tournament and let me tell you how this works before we get started.
It's a one day tournament involving 16 people and all matches have a ten minute time limit and you can also win by throwing them over the top rope. The winner of the match will not only get a pretty dress to wear and take home, but they also get a wish. The wish, can be any match they want of their choosing as it could be a rivalry you wanna settle, someone from another company for a dream match if allowed, or of course a title match of your choosing. Since it's a long show, I will be splitting it up into two parts as the tag match and first round will be in this article and the rest of the tournament will be in part two. So who will advance to the next round? Let's find out and…dive right in.
Ten Woman Tag Team Match
AZM, Leo Onozaki, Natsuko Tora, Ruaka & Shiki Shibusawa vs. Hanan, Mary Apache, Nao Yamaguchi, Natsumi & Starlight Kid
Review: Before we start the actual tournament, our Future of Stardom division with the exception of Natsuko Tora and Mary Apache will start us off in a tag match to give them something to do. Nothing really to talk about for this match as it was pretty standard with people doing some work on each other and not a while lot since it was like five or six minutes. Started sloppy at first and then it ended up being average with Starlight Kid hitting her Rounding Frogsplash on Leo for the win.
Recommended: Skippable really.
Cinderella Tournament 2018 First Round Match
Konami vs. Momo Watanabe
Review: Our tournament is starting up with two our of members from Queen's Quest. It's Konami's second time while Momo's possibly third since she doesn't remember as she said before how she never made it past the first round and hopes to break that here tonight with some friendly competition.
Momo and Konami definitely delivered for the first match of the first round as we had beautiful kicks towards one another, nice reversals, and a crisp finish with Momo hitting the Soba Sword for the win as she advances to the next round. Great job, Momo.
スターダム動画配信「スターダム・ワールド」本日の配信です。

▪️2018年4月30日(祝)
後楽園ホール
◆シンデレラ・トーナメント2018 1回戦
渡辺桃 vs 小波

互いにキックを得意とするシングル初対決。激しい蹴り合いの中で渡辺桃が飛び出した!

会員登録は https://t.co/lZc15hAPwd pic.twitter.com/zbfjnSWwqj

— スターダム/STARDOM (@wwr_stardom) May 8, 2018
Recommended: Fun match, worth the four minutes.
Cinderella Tournament 2018 First Round Match
Candy Floss vs. Saki Kashima
Review: For Saki Kashima, this is her first singles match since making her return in March as she looks to show she can still go and she has been doing better in tag matches, but now this is the real test to see how she'll do. Saki didn't do a whole lot, but she sold her moves pretty well, but I would work on that Shining Wizard to the turnbuckle a bit better since it looked really slow. Candy did pretty well for herself and I've been taken a liking to her lately since she's not terrible in the ring, but mostly entertaining. Saki would advance with her first singles win since her return with the Killswitch.
Recommended: Decent match, your call.
Cinderella Tournament 2018 First Round Match
Bea Priestley vs. Martina
Review: Well, time to kill me since my two least favorites in the roster are fighting off against each other, but I can at least tolerate Bea more than Martina since she's had shown progress lately. And..it's a match and I did try to get into them, but with Bea having weak strikes and almost missing them like the Double Stomp after reversing the Sunset Flip and the Helluva Kick, that lost me a little. I will give Martina credit for giving Bea stiff forearms near and end and Bea hits another good Curb Stomp! You get points and even with winning the match with it too. Despite the plus, the match wasn't really good.
Recommended: Skip.
Cinderella Tournament 2018 First Round Match
Brandi Rhodes vs. Natsu Sumire
Review: No this is not a typo and you're reading it right, this is the same Brandi Rhodes that is married to Bullet Club member and ROH sensation, Cody. It looks like Brandi will be joining Stardom for a while to hone her skills and this is my first time seeing her in a singles match, so let's see how she does against Sumire.
As we see in the pre-match interview, Brandi is actually considered a member of Oedo Tai and I can get behind that. Nice little comedy before the match with Kagetsu and Nao choosing to be in Brandi's corner over Sumire and have playful banter, I love this group.
While it wasn't a great match, it was very entertaining to say the least with Kagetsu having fun teasing Sumire by cheering for Brandi throughout the match and I gotta say that while Brandi is still green, she didn't do bad at all and was pleasantly surprised with her performance. I think she can do good work here if she sticks around. Brandi would pick up the win after reversing Sumire's roll up and advances.
スターダム動画配信本日の配信です。

▪️2018年4月30日(祝)
後楽園ホール
◆シンデレラ・トーナメント2018 1回戦
夏すみれ vs ブランディ・ローデス

codyの妻であるブランディが初来日。期待のベールを脱いだが、試合巧者の夏は頭脳プレーが裏目に…

会員登録は https://t.co/lZc15hSqUN pic.twitter.com/dapQRJ8ZGo

— スターダム/STARDOM (@wwr_stardom) May 9, 2018
Recommended: I had a good time with it, specially if you're a Oedo Tai fan.
Cinderella Tournament 2018 First Round Match
Hana Kimura vs. Hazuki
Review: We get another Oedo Tai match-up with Hazuki getting another match against Hana as you can tell how badly she wants to get her hands on her again, and Hazuki even changed her look as she looks to be wearing white and pink now instead of her black and pink look, it looks nice.
The match started off exactly how it needed to, just Hazuki beating the crap out of Hana before the bell rings, it should be mostly treated as a fight instead of a wrestling match and they did exactly that throughout the whole thing. The match felt personal and it did what it needed to do with both of them going back and forth almost like they wanted to kill each other. Hazuki would get the win by throwing Hana over the top rope and was the best way to do it to protect Hana from an actual clean loss. After the match, Hazuki would offer her hand to Hana to end the rivalry as Hana shakes her hand and Oedo Tai hug in the ring, making Hazuki fully embrace her new home.
スターダム動画配信本日の配信です。

▪️2018年4月30日(祝)
後楽園ホール
◆シンデレラ・トーナメント2018 1回戦
葉月 vs 木村花

因縁の対決が1回戦で実現!大江戸隊入りした葉月にとって目の上のたんこぶ的存在の花と意地と意地が爆発したが…

会員登録は https://t.co/lZc15hAPwd pic.twitter.com/ZGuYZEG3Gy

— スターダム/STARDOM (@wwr_stardom) May 9, 2018
Recommended: Very solid match, worth a view.
Cinderella Tournament 2018 First Round Match
Mayu Iwatani vs. Tam Nakano
Review: Now that both Oedo Tai matches are out of the way, we now have both members from STARS fighting off with Mayu taking on the returning Tam Nakano who we haven't seen since the Exploding Death Match. Mayu won the first two Cinderella Tournaments and now looks to win her third one this time around.
This match was actually really good as Tam actually showed progress in singles action here against Mayu and even getting some close calls in there also. Mayu still showing she's one of Stardom's best here as the two worked very nicely together and hardly anything bad to say about the match. Mayu got the win with her Dragon Suplex Hold.
Recommended: Probably my favorite first round match so far, watch it.
Cinderella Tournament 2018 First Round Match
Chardonnay vs. Io Shirai
Review: We got Queen's Quest fighting each other this time as Chardonnay takes on the Wonder of Stardom Champion and leader of the faction, Io Shirai. Who actually, never won this tournament in her career and looks to get that accolade added to her collection here. Chardonnay is definitely one of the better gaijins in the roster next to Toni Storm and Viper since she's a very solid worker and has been nothing but impressive since this tour started and gets to work with one of the best at the same time. Very good back and forth match, but Io would work on her legs and eventually make her tap out with the Cloverleaf to advance, but Chardonnay did great.
▪️2018年4月30日(祝)
後楽園ホール
◆シンデレラ・トーナメント2018 1回戦
紫雷イオ vs シャーダネー

かつて白いベルトを賭けて闘った経験のある両者だが、シャーダネー は人間風車で追い込んだが、イオはテキサス式クローバーで勝負を決めた!?

会員登録は https://t.co/lZc15hAPwd pic.twitter.com/bZtJLguEML

— スターダム/STARDOM (@wwr_stardom) May 9, 2018
Recommended: Very solid match, worth a go.
Cinderella Tournament 2018 First Round Match
Jungle Kyona vs. Kagetsu
Review: This is the last match of the first round as Jungle looks to take on…not Kagetsu as this her identical twin sister wearing a dress and a wig named Kageko…this is awesome and the crowd loves it. Kageko wrestles nothing like her twin, Kagetsu and looks to be more clean with her ability than dirty tactics, but Jungle would ruin the fun by ripping off her wig and it was Kagetsu the whole time!
The nerve! It was entertaining while it lasted, but now Kagetsu starts to show off her aggressive side once again and even have Oedo Tai try to pull Jungle off the apron until Natsuko came in to try and fight them off. Kagetsu would run after Jungle to be thrown over the ropes with the two of them fighting on the apron until Jungle caught her with a Powerbomb and slams her onto the apron, but picks her up one more time to throw her outside, leaving Kagetsu eliminated. It was better this way since she can't afford a pinfall loss right now with her upcoming title match.
Recommended: It was enjoyable.
Overall: Aside from one bad match, the first round of the tournament was a success as most of the matches were actually really solid and enjoyable to watch. Now I'm excited for the second round which is what it looks like down below.
Bea Priestley vs. Hazuki
Momo Watanabe vs. Jungle Kyona
Saki Kashima vs. Mayu Iwatani
Brandi Rhodes vs. Io Shirai
Favorite Match: Mayu Iwatani vs. Tam Nakano
Least Favorite Match: Bea Priestley vs. Martina
Score: 7.5/10
See you all for the next round and the finals!