Stardom Rebirth Day 1 Results & Review (4/14/2018)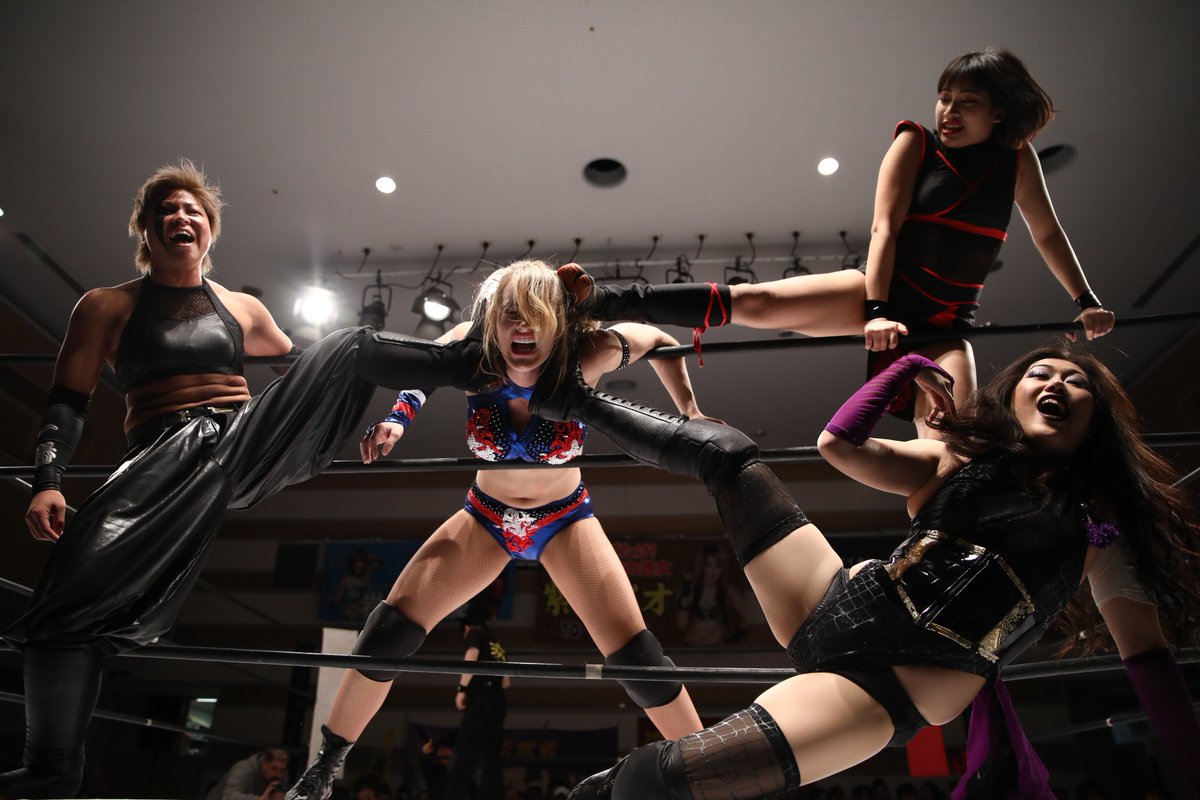 After Stardom having a successful tour with tons of great matches and memorable moments, we kick off the next tour titled 'Rebirth'.
Since we found out that there will be a match between Io Shirai, Kagetsu, and Mayu Iwatani to determine draft picks for their respected factions which is coming up on the show after this. For this show we will see some new faces and a title match as our main event. So let's not waste any time here and let's…dive right in.
Three Way Match
Hanan vs. Leo Onozaki vs. Nao Yamaguchi
Review: Our first match is a three way between the Future of Stardom division as all three of these women look to possibly get a win here to gain some momentum. The match is about only three minutes as it was pretty standard for them with some sloppy spots since they do need some work still. Hanan got the win when she rolled up Nao Yamaguchi.
Recommended: The match is just okay.
Singles Match
Candy Floss vs. Shiki Shibusawa
Review: This will be Candy Floss' debut in Stardom as she is known to be a Freelancer from the UK wrestling scene as she looks to take on Shiki to impress Stardom, and I wish her luck. The match starts with a hug from Candy and when she goes for another one, it leads to a weak School Boy and then Candy Floss is just messing with her with the mind game like hugs and taunting her on the floor. I don't fully understand Candy's gimmick just yet, but I do however think she's fairly decent in the ring and think she could do some good there if she's gonna be around for a while after the Cinderella Tournament coming up soon. Shiki is slowly improving as well and could be one of the top in the Future division if she keeps it up. Five minutes later, Candy Floss would win her Stardom debut with a Triangle Choke to make Shiki tap out.
Recommended: The match was fun for what it was and Candy isn't too bad.
Six Man Tag Team Match
Bea Priestley, Chardonnay & Martina vs. Hana Kimura, Kagetsu & Natsu Sumire
Review: Aside from Hana Kimura, Kagetsu and Natsu both suffered a loss from the Exploding Death Match, so they're obviously not in the right mindset right now and they would need to get back into the game if they want Oedo Tai to come back strong. We first have Chardonnay making her return to Stardom as she looks to stick around a bit longer to make a name for herself in Japan as she teams up with both Bea and Martina, who is also making her Stardom debut from Ireland and has been wrestling for about five years now, so let's see what she can bring to the promotion. This is my first time seeing both Chardonnay and Martina and so far I gotta say that they both actually did pretty impressive here in this tag team match. Chardonnay has the look and ability, but I don't know if she'll stick around more since she is in the Cinderella Tournament as well, but I don't know her status after that and I hope she sticks around more this time around. Martina did fine for her first time in the promotion and even pulled a Kagetsu by spitting beer in her face, but Kagetsu would get revenge on her later on in the match, don't take her shit. The match was pretty solid for what it was and Bea did a little bit better this time around and she can keep going from here. Bea would hit the Curb Stomp on Sumire to get the win and this stomp wasn't too good this time.
Session Moth Martina debuts in Stardom, teaming with Bea Priestley & Chardonnay to take on Oedo Tai! On https://t.co/q8dHnF58vW now! pic.twitter.com/4DQKY2to7u

— We Are Stardom (@we_are_stardom) April 24, 2018
Recommended: Fun match, should be worth a view for Oedo Tai and Chardonnay.
Six Man Tag Team Match
Kaori Yoneyama, Konami & Ruaka vs. Natsumi, Jungle Kyona & Natsuko Tora
Review: A little odd that Kaori isn't part of Team Jungle since that's where she normally is, but I guess it's so the rookies get a spot in the tag match to make it fair since each team has two vets and a rookie. Jungle Kyona is looking to prove her worth again after suffering a loss from Viper in a great match for the SWA Championship. The match was standard with Kyona, Natsuko, and Konami doing most of the work in this match while Ruaka and Natsui are using this as a learning experience while doing some decent work. Jungle would get the win over Ruaka with hitting her Jungle Splash off the top rope.
Recommended: Decent match, watch it if you wish to.
Six Man Tag Team Match
Mayu Iwatani, Saki Kashima & Starlight Kid vs. AZM, HZK & Momo Watanabe
Review: We have another Stardom Army vs. Queen's Quest six man tag match here as Queen's Quest are confident going into this bout since they don't see Starlight Kid and Saki as a threat while they think Mayu is vulnerable due to losing her chance at regaining the World of Stardom Championship over Toni Storm, which was a great match by the way and worth a watch if you haven't seen it. AZM and Starlight Kid start the match off and they start to get intense right away with their sequences back and forth to make you wanna see them eventually have another rematch for that Future of Stardom Championship, AZM would eventually get the upper hand and tag Momo in for Queen's Quest to start going back and forth on Starlight to generate heat in the match. Starlight has shown that she can work with some of the best and this is why she's the champion right now, but same with AZM who is a future champ. Saki is starting to find more of her groove after returning from her injury and if she keeps this up, then she'll definitely have a bright future ahead of her this time. HZK and Mayu are obviously the better performers out of the six as they control the match when in the ring to help out the others, and it was a really fun match. Starlight and AZM would also end the match as AZM got pinned by Starlight with her Rounding Frog Splash after Mayu hitting AZM with a Superkick, followed by Saki hitting the Killswitch.
Recommended: Definitely a fun match to watch.
Wonder Of Stardom Title Match
Io Shirai (c) vs. Mary Apache
Review: This was a nice surprise to see as Mary Apache would be apart of this tour too it seems and she starts it off with fighting one of her students, Io Shirai and it seems to be for the Wonder of Stardom Championship, definitely didn't expect that, but I ain't complaining about it. Much like the World of Stardom Championship, Io is looking to break the record for number of title defenses with this title as she already defended it seven times as she looks to make it number eight while the current record is held by Satana Garrett who has defended it nine times, can she do it? We will find out. Mary might look like a big woman, but she can move for her age and it shows that she still hasn't missed a step for the long career she's had in Mexico. The two just work well, they knew when to do certain things, rest spots, the whole thing. It looked like Mary hurt her arm when Io went for the Asai Moonsault to the outside and looked like she caught her wrong, but she would still keep going to tough it out and even get an advantage over Io a few times. Mary would call for the Michinoku Driver on Io, but she would reverse it into a Spinning Heel Kick and then an Axe Kick, you can hear the sound of it and it looked painful. Io would kick out of that to still be in the mix before getting hit with the Michinoku Driver this time, but still finds a way to kick out of that one. Mary would attempt to put her away when Io ran into a Torture Rack, but when she spun her around, Io would counter for a Sunset Flip and pin her for the victory. After the match, the two would hug it out in a sign of respect as Io now needs to defend it two more times to break the record as Kagetsu is next in line it seems.
Now on https://t.co/q8dHnFmJUw! Io Shirai defends the Wonder of Stardom title vs Mary Apache! Only on Stardom World! pic.twitter.com/QMKDpAUact

— We Are Stardom (@we_are_stardom) April 25, 2018
Recommended: Very good match, worth a watch.
Overall: The show itself was average, but nothing terrible either as the second half was better compared to the bottom half and our next show will be the draft to see which wrestlers go to which faction and it should be a good one.
Favorite Match: Io Shirai vs. Mary Apache
Least Favorite Match: Hanan vs. Leo Onozaki vs. Nao Yamaguchi
Score: 6.5/10
See you all at the next Stardom show which is the draft.