Stardom Rebirth Day 3 Results & Review (4/21/2018)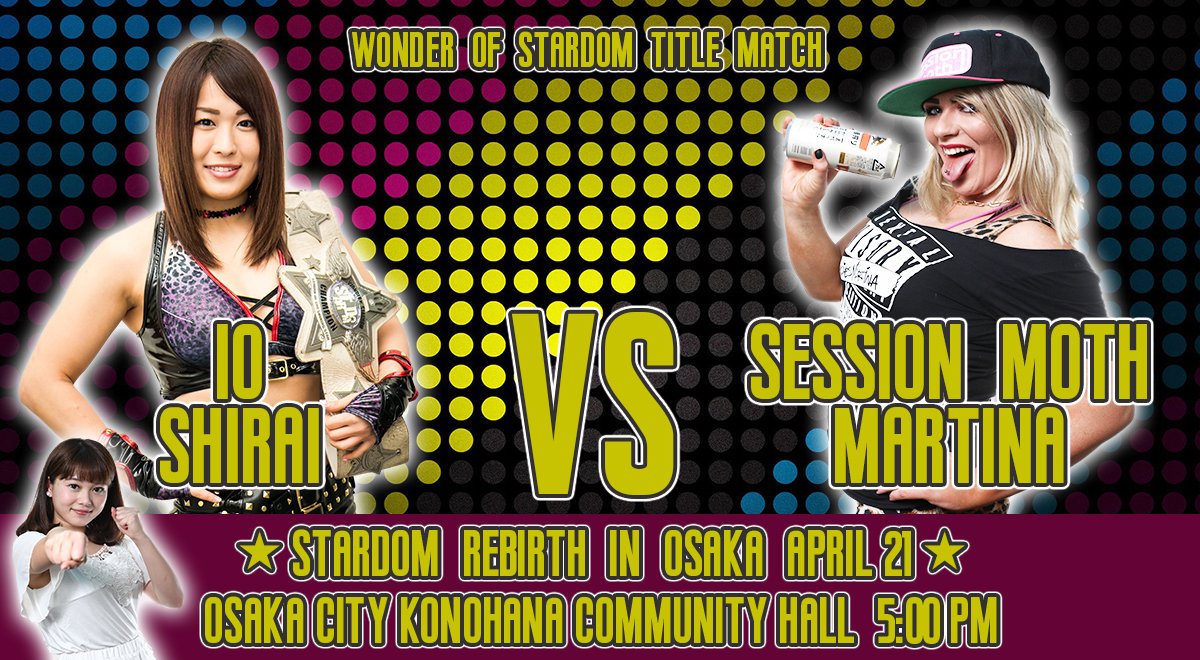 Welcome to the continuation of the Stardom Rebirth tour. This is the first show after the draft, resulting in these three units having some new members to represent their group and grow stronger.
Let's see how they all do as we have a title match in our main event, so let us…dive right in.
Singles Match
Leo Onozaki vs. Ruaka
Review: As always we got our Future of Stardom division to open up our show with Leo trying to get a win as she takes on Ruaka this time and who knows, maybe she'll impress me this time..maybe. Also happy 24th birthday to Leo and a win here would be a nice gift, if she wins of course. Unfortunately, the match didn't do anything for me as it was just sloppy here and the ending, Ruaka misses the Helluva Kick clear as day and Leo would still sell it, and then she would get the greatest birthday gift of all, a loss with Ruaka winning with her Fisherman Suplex.
Recommended: No, now allow me to cry in the corner before we continue.
Tag Team Match
Candy Floss & Shiki Shibusawa vs. Nao Yamaguchi & Natsu Sumire
Review: This is the first time we'll see Nao Yamaguchi teaming with Oedo Tai as she partners up with Sumire to take on Candy Floss and Shiki, so it's time to see how Nao does with her newfound home and if Sumire will help her out.
In the pre-match interviews, we for some reason have Nao on her knees in front of Kagetsu…I mean..okay then, but HZK or now known as Hazuki just still feels the disappointment of being away from Queen's Quest and is now stuck with the faction she hates, but nothing she can do about it.
The match isn't great, but it's a lot better than the opening contest, so I don't know what that tells you. Sumire would try to make Nao use the flogger on Shiki during the match and she would refuse to since it's not who she is, but I do like the idea of potentially having her get more comfortable of being Oedo Tai and nothing wrong with a slow build. I like Candy, but she's hardly in the match and hard to fully review her performance in the match. Sumire would pin Shiki with a modified DDT to win the match and after the bout, she would confront Nao about not listening to what she told her to do as Nao would grab the flogger to throw it on the ground and leave, interesting.
Recommended: Skippable, but the potential for Yamaguchi is there.
Tag Team Match
Mary Apache & Natsumi vs. Bea Priestley & Chardonnay
Review: This is Bea and Chardonnay's first time being apart of Queen's Quest and hopefully this transition can help elevate their careers in Stardom as they have been doing surprisingly well together as a tag team, so a win here could lead to a title match if they beat Mary Apace and her daughter, Natsumi.
I don't know what's really going on with the show as I don't know if it's just the arena, the crowd, or whatever, but none of them so far are really performing well in these matches as aside from Mary Apache, everything else that the others did was incredibly slow or sloppy and it's disappointing too since it could've been a solid match if done right. Bea made Natsuni tap out with the Kimura Lock and even that looked average, but Bea and Chardonnay do have a Goddesses of Stardom Championship match against Kagetsu and Hana at the next show and hopefully it delivers.
Recommended: Unfortunately, another skippable
Six Man Tag Team Match
Hana Kimura, Hazuki & Kagetsu vs. Jungle Kyona, Kaori Yoneyama & Natsuko Tora
Review: According to Team Jungle, nobody picked them in the draft despite Mayu saying she was gonna take them in at the previous show, but as of now they're on their own for the time being and looks to show Oedo Tai what they're all about.
Oedo Tai doesn't appear to off to a good start as Hazuki and Hana push each other a little to cause some tension, which Team Jungle use to their advantage to attack them when they're not paying attention. We finally have a good and entertaining match on the show since all six of them have done well and even Kaori performed better than the majority of the roster on this show, what is exactly happening!? Kaori is normally used for comedy stuff now, but in this match she showed that she can still kick ass when she wants to, more of that please! As we saw with Nao/Sumire's match, there's the progression with Hazuki now as she refused to tag or get along with Hana and Kagetsu as she was mostly working with herself until Hana dragged her unconscious body to the corn to get a tag in there.
Kagetsu really is rising up in the ranks for me as one of my favorites in the promotion next to Io and Mayu since she just performs so well in the ring as well as her character, her charisma, and even her selling since she makes the moves she took look vicious. Anyway, Kagetsu would hit the Michinoku Driver on Natsuko to pick up the win for her team and after the match, she tried to make Hazuki and Hana shake hands, but Hazuki would refuse and leave the ring. Kagetsu would also tease Jungle a little bit which could possibly lead to a future match between the two.
▪️2018年4月21日
大阪市此花区民ホール
◆チーム・ジャングルってるvs大江戸隊 6人タッグマッチ
米山香織&ジャングル叫女&刀羅ナツコ vs 花月&木村花&葉月

大江戸隊入りしたばかりの葉月が主力メンバーとして、ジャングルってると対戦。賑やかな6人が暴れまくる!

https://t.co/lZc15hAPwd pic.twitter.com/g04UeKwIzt

— スターダム/STARDOM (@wwr_stardom) May 2, 2018
Recommended: It was actually a fun match and much better than the last three matches.
Six Man Tag Team Match
Mayu Iwatani, Saki Kashima & Starlight Kid vs. AZM, Konami & Momo Watanabe
Review: Since we had Oedo Tai vs. Team Jungle in the previous match, we now have Stardom Army taking on Queen's Quest and we've seen this match before and instead of Hazuki due to not having her anymore, they add Konami into the mix since she's their newest member and hoping big things for her here. I'm glad things are picking up on this show as this match was also solid and unlike Hazuki and Nao, Konami actually got along with her fellow members of Queen's Quest and fits right in with them very nicely.
The more AZM and Starlight are in the ring, the more I really wanna see this rematch come here sooner and I really hope it's longer than five minutes this time, if we can have them for for like ten or twelve minutes, I think the match will be great and could possibly be on my list somewhere if done right since the chemistry between the two is there and it needs to be showcased more properly. Saki is something who I'm glad seeing is doing better with each match she's involved in even if it's mostly tag matches for right now, but it's still progress in the ring and could be a future Wonder of Stardom Champion, same with Momo who keeps showing that she's incredibly underrated and can even be her year too. Saki picks up the win over AZM with the Killswitch in a good bout.
▪️2018年4月21日(土)
大阪市此花区民ホール
◆ STARS vs クイーンズ・クエスト 6人タッグマッチ
岩谷麻優&鹿島沙希&スターライト・キッド vs 渡辺桃&小波&AZM

スターダムが誇るスピードアップしたスリリングな6人タッグ戦。 QQ新加入の小波は…鹿島が燃えた!https://t.co/lZc15hAPwd pic.twitter.com/tbfqwy1i6Y

— スターダム/STARDOM (@wwr_stardom) May 2, 2018
Recommended: Solid match again between the two units as it hardly disappoints.
Wonder Of Stardom Title Match
Io Shirai (c) vs. Session Moth Martina
Review: I really have no idea how Martina would get a title match here right away, but this is where we are now unless they want Io to have one more defense to tie up the record before her big match with Kagetsu later on down the road. I gotta admit though, the Oedo Tai dance is looking better with more members despite Hazuki sitting it out by the apron, and not Martina and Nao need to have matching outfits like the other three do and it'll be great, but Hazuki needs to get along with them eventually though.
I thought being in a singles match would change my opinion about Martina, but it unfortunately doesn't.  I still can't get fully invested in her and don't get me wrong, she has the personality and can work, but the character just isn't working for me and hopefully it changes over time. This is probably the weaker of Io's title defenses during this reign since this just feels really lackluster to me, but still had some good moments like Oedo Tai interfering in the match. Io would win with her Moonsault Press as she is now tied for total number of defenses with the Wonder of Stardom Championship as she now sets to break the record, but she needs to beat Kagetsu in order for it to happen.
▪️2018年4月21日
大阪市此花区民ホール
◆ワンダー・オブ・スターダム選手権試合
紫雷イオ vs "セッション・モス"マルティナ

イオが最多タイ記録のV9を賭けて大江戸隊入りしたドランク女の挑戦を受けた。変則ファイトのマルティナを圧倒し、イオが月面弾で返り討ち!https://t.co/lZc15hAPwd pic.twitter.com/Lt2FQ0LmcZ

— スターダム/STARDOM (@wwr_stardom) May 3, 2018
Recommended: It wasn't a terrible match, but it wasn't great either and definitely one of her weaker title defenses. Still worth a watch.
Overall: It unfortunately wasn't that good of a show with most of the matches being mediocre to average aside from two matches, but I've seen worse shows. The Cinderella Tournament is coming up soon after this next show coming up, so I'm still looking forward to it as we got a nice lineup.
Favorite Match: Oedo Tai vs. Team Jungle
Least Favorite Match: Leo Onozaki vs. Ruaka
Score: 6/10