Stardom Rebirth Day 3 Results & Review (4/21/2018)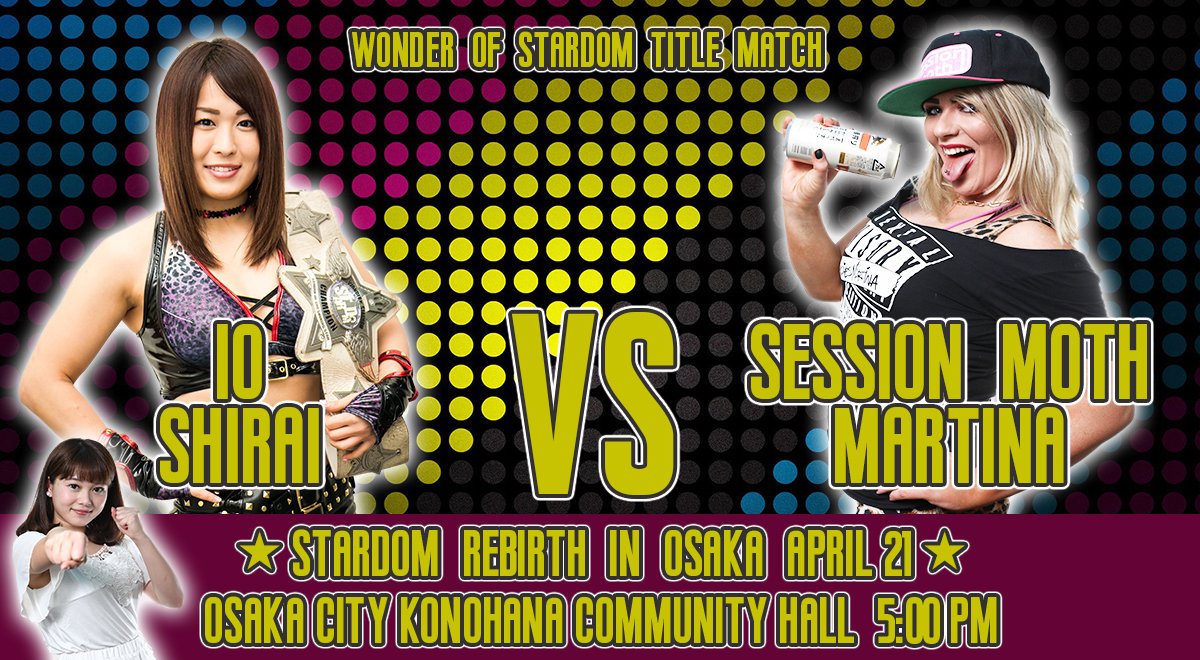 Welcome to the continuation of the Stardom Rebirth tour. This is the first show after the draft, resulting in these three units having some new members to represent their group and grow stronger.
Let's see how they all do as we have a title match in our main event, so let us…dive right in.
Singles Match
Leo Onozaki vs. Ruaka
Review: As always we got our Future of Stardom division to open up our show with Leo trying to get a win as she takes on Ruaka this time and who knows, maybe she'll impress me this time..maybe. Also happy 24th birthday to Leo and a win here would be a nice gift, if she wins of course. Unfortunately, the match didn't do anything for me as it was just sloppy here and the ending, Ruaka misses the Helluva Kick clear as day and Leo would still sell it, and then she would get the greatest birthday gift of all, a loss with Ruaka winning with her Fisherman Suplex.
Recommended: No, now allow me to cry in the corner before we continue.
Tag Team Match
Candy Floss & Shiki Shibusawa vs. Nao Yamaguchi & Natsu Sumire
Review: This is the first time we'll see Nao Yamaguchi teaming with Oedo Tai as she partners up with Sumire to take on Candy Floss and Shiki, so it's time to see how Nao does with her newfound home and if Sumire will help her out.
In the pre-match interviews, we for some reason have Nao on her knees in front of Kagetsu…I mean..okay then, but HZK or now known as Hazuki just still feels the disappointment of being away from Queen's Quest and is now stuck with the faction she hates, but nothing she can do about it.
The match isn't great, but it's a lot better than the opening contest, so I don't know what that tells you. Sumire would try to make Nao use the flogger on Shiki during the match and she would refuse to since it's not who she is, but I do like the idea of potentially having her get more comfortable of being Oedo Tai and nothing wrong with a slow build. I like Candy, but she's hardly in the match and hard to fully review her performance in the match. Sumire would pin Shiki with a modified DDT to win the match and after the bout, she would confront Nao about not listening to what she told her to do as Nao would grab the flogger to throw it on the ground and leave, interesting.
Recommended: Skippable, but the potential for Yamaguchi is there.
Tag Team Match
Mary Apache & Natsumi vs. Bea Priestley & Chardonnay
Review: This is Bea and Chardonnay's first time being apart of Queen's Quest and hopefully this transition can help elevate their careers in Stardom as they have been doing surprisingly well together as a tag team, so a win here could lead to a title match if they beat Mary Apace and her daughter, Natsumi.
I don't know what's really going on with the show as I don't know if it's just the arena, the crowd, or whatever, but none of them so far are really performing well in these matches as aside from Mary Apache, everything else that the others did was incredibly slow or sloppy and it's disappointing too since it could've been a solid match if done right. Bea made Natsuni tap out with the Kimura Lock and even that looked average, but Bea and Chardonnay do have a Goddesses of Stardom Championship match against Kagetsu and Hana at the next show and hopefully it delivers.
Recommended: Unfortunately, another skippable
Six Man Tag Team Match
Hana Kimura, Hazuki & Kagetsu vs. Jungle Kyona, Kaori Yoneyama & Natsuko Tora
Review: According to Team Jungle, nobody picked them in the draft despite Mayu saying she was gonna take them in at the previous show, but as of now they're on their own for the time being and looks to show Oedo Tai what they're all about.
Oedo Tai doesn't appear to off to a good start as Hazuki and Hana push each other a little to cause some tension, which Team Jungle use to their advantage to attack them when they're not paying attention. We finally have a good and entertaining match on the show since all six of them have done well and even Kaori performed better than the majority of the roster on this show, what is exactly happening!? Kaori is normally used for comedy stuff now, but in this match she showed that she can still kick ass when she wants to, more of that please! As we saw with Nao/Sumire's match, there's the progression with Hazuki now as she refused to tag or get along with Hana and Kagetsu as she was mostly working with herself until Hana dragged her unconscious body to the corn to get a tag in there.
Kagetsu really is rising up in the ranks for me as one of my favorites in the promotion next to Io and Mayu since she just performs so well in the ring as well as her character, her charisma, and even her selling since she makes the moves she took look vicious. Anyway, Kagetsu would hit the Michinoku Driver on Natsuko to pick up the win for her team and after the match, she tried to make Hazuki and Hana shake hands, but Hazuki would refuse and leave the ring. Kagetsu would also tease Jungle a little bit which could possibly lead to a future match between the two.
▪️2018年4月21日
大阪市此花区民ホール
◆チーム・ジャングルってるvs大江戸隊 6人タッグマッチ
米山香織&ジャングル叫女&刀羅ナツコ vs 花月&木村花&葉月

大江戸隊入りしたばかりの葉月が主力メンバーとして、ジャングルってると対戦。賑やかな6人が暴れまくる!

https://t.co/lZc15hAPwd pic.twitter.com/g04UeKwIzt

— スターダム/STARDOM (@wwr_stardom) May 2, 2018
Recommended: It was actually a fun match and much better than the last three matches.
Six Man Tag Team Match
Mayu Iwatani, Saki Kashima & Starlight Kid vs. AZM, Konami & Momo Watanabe
Review: Since we had Oedo Tai vs. Team Jungle in the previous match, we now have Stardom Army taking on Queen's Quest and we've seen this match before and instead of Hazuki due to not having her anymore, they add Konami into the mix since she's their newest member and hoping big things for her here. I'm glad things are picking up on this show as this match was also solid and unlike Hazuki and Nao, Konami actually got along with her fellow members of Queen's Quest and fits right in with them very nicely.
The more AZM and Starlight are in the ring, the more I really wanna see this rematch come here sooner and I really hope it's longer than five minutes this time, if we can have them for for like ten or twelve minutes, I think the match will be great and could possibly be on my list somewhere if done right since the chemistry between the two is there and it needs to be showcased more properly. Saki is something who I'm glad seeing is doing better with each match she's involved in even if it's mostly tag matches for right now, but it's still progress in the ring and could be a future Wonder of Stardom Champion, same with Momo who keeps showing that she's incredibly underrated and can even be her year too. Saki picks up the win over AZM with the Killswitch in a good bout.
▪️2018年4月21日(土)
大阪市此花区民ホール
◆ STARS vs クイーンズ・クエスト 6人タッグマッチ
岩谷麻優&鹿島沙希&スターライト・キッド vs 渡辺桃&小波&AZM

スターダムが誇るスピードアップしたスリリングな6人タッグ戦。 QQ新加入の小波は…鹿島が燃えた!https://t.co/lZc15hAPwd pic.twitter.com/tbfqwy1i6Y

— スターダム/STARDOM (@wwr_stardom) May 2, 2018
Recommended: Solid match again between the two units as it hardly disappoints.
Wonder Of Stardom Title Match
Io Shirai (c) vs. Session Moth Martina
Review: I really have no idea how Martina would get a title match here right away, but this is where we are now unless they want Io to have one more defense to tie up the record before her big match with Kagetsu later on down the road. I gotta admit though, the Oedo Tai dance is looking better with more members despite Hazuki sitting it out by the apron, and not Martina and Nao need to have matching outfits like the other three do and it'll be great, but Hazuki needs to get along with them eventually though.
I thought being in a singles match would change my opinion about Martina, but it unfortunately doesn't.  I still can't get fully invested in her and don't get me wrong, she has the personality and can work, but the character just isn't working for me and hopefully it changes over time. This is probably the weaker of Io's title defenses during this reign since this just feels really lackluster to me, but still had some good moments like Oedo Tai interfering in the match. Io would win with her Moonsault Press as she is now tied for total number of defenses with the Wonder of Stardom Championship as she now sets to break the record, but she needs to beat Kagetsu in order for it to happen.
▪️2018年4月21日
大阪市此花区民ホール
◆ワンダー・オブ・スターダム選手権試合
紫雷イオ vs "セッション・モス"マルティナ

イオが最多タイ記録のV9を賭けて大江戸隊入りしたドランク女の挑戦を受けた。変則ファイトのマルティナを圧倒し、イオが月面弾で返り討ち!https://t.co/lZc15hAPwd pic.twitter.com/Lt2FQ0LmcZ

— スターダム/STARDOM (@wwr_stardom) May 3, 2018
Recommended: It wasn't a terrible match, but it wasn't great either and definitely one of her weaker title defenses. Still worth a watch.
Overall: It unfortunately wasn't that good of a show with most of the matches being mediocre to average aside from two matches, but I've seen worse shows. The Cinderella Tournament is coming up soon after this next show coming up, so I'm still looking forward to it as we got a nice lineup.
Favorite Match: Oedo Tai vs. Team Jungle
Least Favorite Match: Leo Onozaki vs. Ruaka
Score: 6/10
---
Always Use Your Head and visit the official Pro Wrestling Tees store for The Chairshot All t-shirt proceeds help support the advancement of your favorite hard-hitting wrestling website, The Chairshot!

---
Andrew's Stardom 5 Star Grand Prix Red Stars Ratings & Review: Day 7 & 8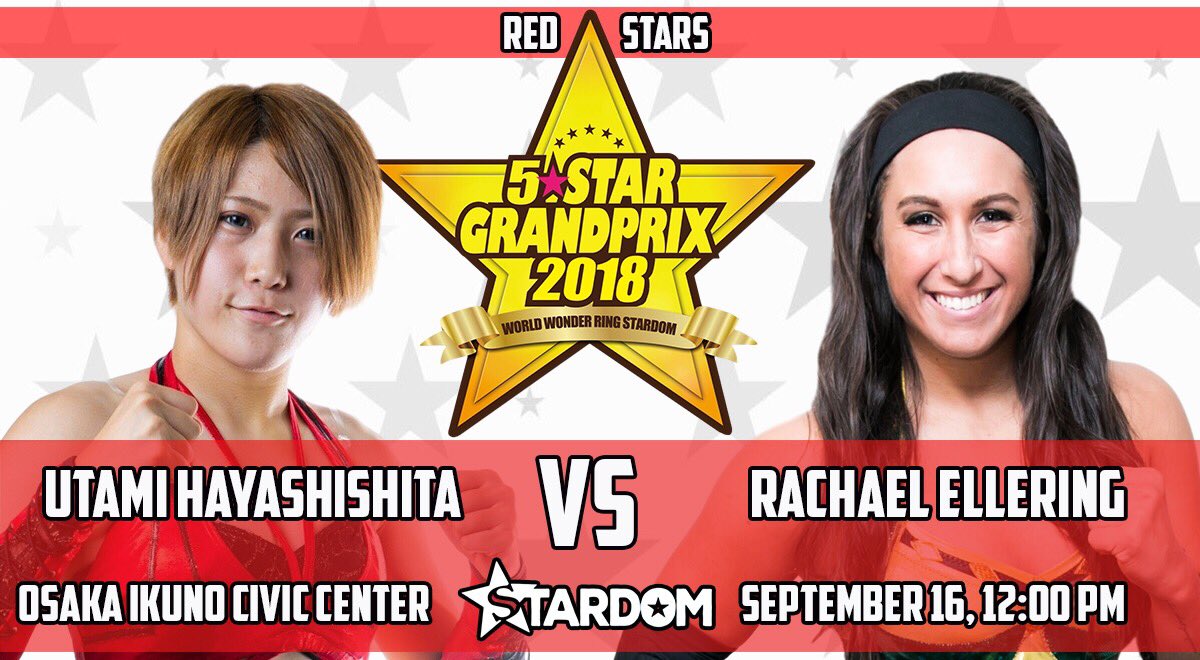 We get another combined article because of the way Stardom likes to stagger matches in this tournament.
Day 7 actually didn't have any Blue Star matches at all, so now the articles will be titled a little differently. I need that Rick and Morty clip about getting your shit together and direct it at Stardom booking. Oh wait, I can!
So with that established, I guess we should look at the matches to come. Tam is eliminated but still has 3 matches to go. So she can go from a measly 2 to a respectable 8 if she can put a few wins together. Utami and Rachael however are still very much in the thick of things, and even face one another on Day 8.
Let's find if anyone else gets eliminated, or if we continue to have the top half stay alive.
Day 7
Rachael Ellering vs Tam Nakano
Rachael's promo is fake and over enthusiastic, whereas Tam's was realistic and a little bubbleheaded. So it's really hard for me to ever connect to Ellering's promos, cause she's not convincing and her matches thus far have been…umm…shall we say, sub par. So sadly Tam seems to be in the plucky underdog role this year and always getting close with not much of a pay off. So let's she if she picks up a win to play spoiler, or continues to come up short.
I have no clue what it is about most of Rachael's matches, but they are hard to watch. Rachael's Pump Kick that she over uses never looks impactful, she doesn't take or sell offense well, and it's just a schlog. This match was no different.
Tam's kicks are usually crisp, but they hit awkwardly and slowly. Tam even went for a bottom rope assisted Back Body Drop, but Rachael's foot cause the middle rope and it just looked sloppy. Tam still sold her back, while Rachael focused it, so that was good.
We also see a decent barrage at the end of the match with some false finish rollups, Rachael's Bossman Slam and then Ellering finally finishes this with the Fallaway Powerbomb.
Winner: Ellering via Fallaway Powerbomb
Rating: * 1/2
Kagetsu vs Kimber Lee
Kimber always has this oddly endearing way of cutting a promo. She talks fairly slowly (the way people do when you're speaking a language people might not understand), which I find ridiculous, but she says all the correct babyface things. Kagetsu however has a skull mask on her head, pops up into frame and just starts talking casually about things. She just wants to end the match, eat some good food and head to Osaka. It's casually dismissive of Kimber, but not cruel, perfect tweener kind of temperature.
Kagetsu takes the early advantage and does the cocky heel thing by throwing Kimber to the outside. Hazuki and Sumire get in a few cheap shots before rolling her back in. Kagetsu takes a drink of water and then we get her water spit/mist spot. Which I'm still not sure why that isn't a disqualification, but I like it, so I'm not questioning it.
After the initial cockiness, Kimber takes advantage of Kagetsu taking her foot of the gas and puts together some offense. A few well placed kicks and suplexes lead to the Swanton Bomb attempt, but Kimber misses. After a little more struggle, Kagetsu eventually hits a Chokeslam and then enough of the Oedo Coaster to get the pinfall.
Not Kagetsu's best work, but it was a fairly short match and Kimber isn't positioned as a threat in this tournament.
Winner: Kagetsu via Oedo Coaster
Rating: *** 1/4
Day 8
Kimber Lee vs Tam Nakano
The opening promos are pretty low energy for both women. Kimber talks about being eliminated but fighting for herself and Tam tries her best to psych herself up. The lack of points is effecting both of these women. Who will get the ball moving to end on a high note?
Not a bad match, just fairly short. Given that all of the Grand Prix matches have a 15 minute time limit, even the longer ones are a little short. Both women utilize a fair amount of kicks and flexibility in their offense, so the mirror aspect was on full display.
Kimber does her split spot, Tam goes for a Buzzsaw Kick, but Kimber blocks it and tries to sweep the leg, but Tam does a split and they both start throwing forearms from the split position. Kimber hits a kick combination first, which drops Tam but only for two. In her opening promo Tam put some emphasis on not wanting to lose to kicks, since those are kinda her thing.
Maintaining advantage, Kimber goes to the top rope but Tam shows some fight. Eventually hitting the Avalanche Snapmare and going up for her Diving Idol Knee, for only a near fall. After a few more close calls, Kimber catches Tam coming off the ropes for a Brain Buster, pulls her to a corner and lands the Swanton Bomb for the pinfall.
Valiant efforts in all her matches, but Tam really can't catch a break.
Winner: Kimber via Swanton Bomb
Rating: ** 1/4
Rachael Ellering vs Utami Hayayshishita
Well, ya know I'm usually overly disinterested in whatever Rachael's been doing, but this match was a little different. She basically got to play the heel since she was being very tough on Utami and showing some personality while arguing with the referee. So when it comes down to Rachael's involvement, it wasn't the thing that brought the match down, for a change.
However, after the initial burst from Rachael and the playing up a few strikes on the outside, the match never kick it into another gear. It basically was treading water for the last half. Signature moves were hit, Utami landed her Sleeper Hold takeover into the Coquina Clutch, but Rachael got out of it. I'm guess the high point was supposed to be Rachael hitting a Superplex, but nothing felt important, desperate or impressive.
The match ends just as Utami cinches in an Inside Cradle, but the time expires. All of the draws in this tournament are a little off putting.
Winner: Time Limit Draw
Rating: ***
Red Stars Standings:
Kagetsu 4-1-1 (9 Points)
Rachael Ellering 4-1-1 (9 Points)
Jungle Kyona 3-1-2 (8 Points)
Utami Hayashishita 3-1-2 (8 Points)
Konami 3-3 (6 Points) – Eliminated
Kimber Lee 2-4 (4 Points) – Eliminated
Tam Nakano 1-5 (2 Points) – Eliminated
Natsuko Tora 1-5 (2 Points) – Eliminated
Thoughts:
You know Stardom, you know what happens when you make Tam look good but don't give her wins? Nothing happens, it's actually decent story telling and could set up for a big upset of Kagetsu on the Finals day. So as much as the fan in me hates watching Tam come up short (Naito fans around the world know that feel), her determination and the storyline wrinkles could pay off later.
As for the two days…meh? Nothing stood out and these really just felt like matches to set up for the final swerve. These kind of days happen in all tournaments, it just hit really hard in these four matches. I just really really hope Rachael doesn't win Red Stars.
---
Always Use Your Head and visit the official Pro Wrestling Tees store for The Chairshot All t-shirt proceeds help support the advancement of your favorite hard-hitting wrestling website, The Chairshot!

---
Mathew's Stardom 5 Star Grand Prix Blue Stars Results & Review: Day 8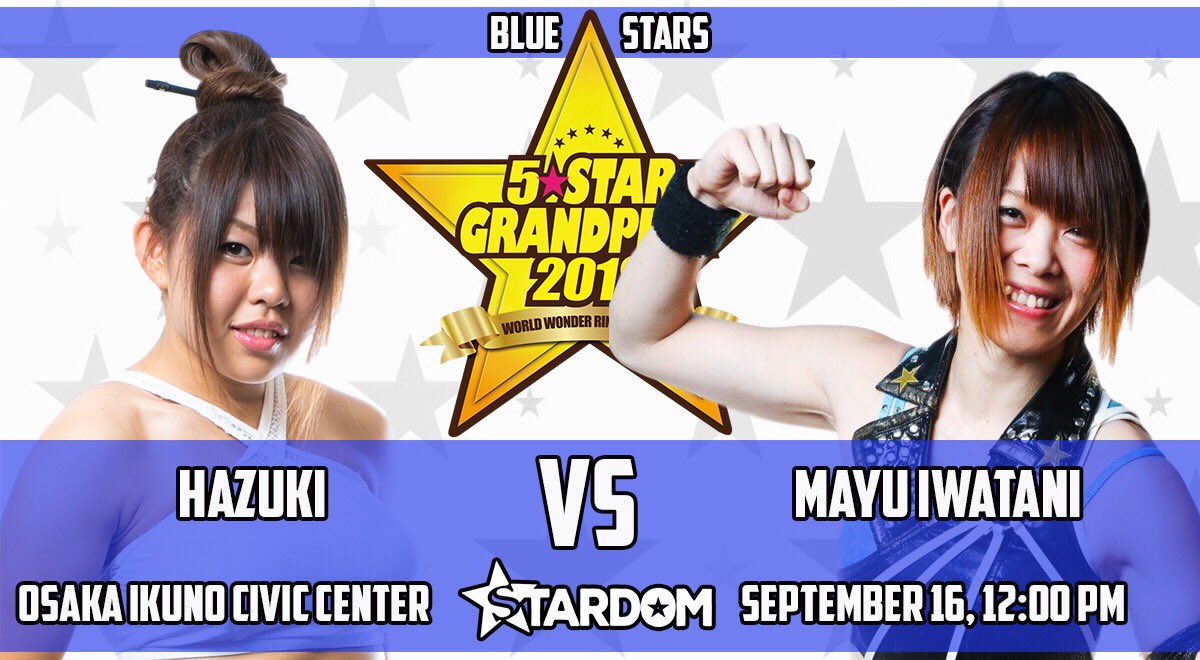 So tomorrow is the last day of the Five Star Grand Prix where we will have our final four matches and the final match on the same day but we got two matches left to cover before we go to the final day.
This show is for people that didn't have their six matches before the final day and we're using this to make sure they're all caught up to speed and we can see who has a chance to make it and who doesn't. I know it says day 8 in my headline but I had no matches on the seventh day, so I decided to just skip it and go where I have my actual matches. So who wins these two matches?
Let's find out and…dive right in.
Grand Prix Blue Stars Match
Kelly Klein vs. Natsu Sumire
Review: It's pretty clear that Sumire is pretty much eliminated and even if she does win this match and her last one, the fact that Mayu would hold the tiebreaker over her if she lost today and won tomorrow, but would still be out if Momo won on the final day since she'd have nine points while Sumire would still have eight if she won both and wouldn't matter, but she has been one of the highlights of this tournament due to her personality flourishing a lot more here and the fans loving her more and more. Sumire in her pre-match interview seems to be more focused on her bust size and even talked about the supplements she's been taking for a couple weeks now and is disappointed that there's been no change in her results just yet and hopes to provide progress updates. Kelly is her opponent tonight and if Kelly does win here, she'll be in the top spot of the standings and would have a strong chance of winning. Can Kelly win again or will Sumire ruin it for her?
Once again, Sumire made the match fun when it was needed due to it not being the best bout in the tournament here but they did work with what they got, even if it was as pretty standard as they come. Kelly did an okay job in the match as well and probably my least favorite outing of her in the Grand Prix and she just wanted to dominate Sumire. Sumire was mostly doing her antics that you would see in her matches with the false handshakes, cradling them up when they least expect it, and just whipping them. It looked like Kelly was going to go for the win here and when she ran the ropes, Kagetsu kicked her in the back to stun her long enough for Sumire to grab the Oedo Tai sign so she could hit Kelly with it, but Kelly moved out of the way causing the sign to bounce off the ropes and hit Sumire instead in which it gets turned around for Kelly to hit the Fireman's Carry Slam for the victory and she's now in first place.
Rating: Tony Schiavone
Grand Prix Blue Stars Match
Hazuki vs. Mayu Iwatani
Review: A win here is very crucial for Mayu Iwatani if she wants to tie it up with Kelly, otherwise she would be eliminated from the tournament and her opponent, Hazuki would take the top spot with nine points and potentially win the whole thing if things work out in her favor. The last time the both of them fought one on one was around February during the ROH Women of Honor tournament and Mayu would come out the winner of that match and Mayu wants to beat her again to show she's on a whole different level now. Who will take the top spot of the standings, Mayu or Hazuki?
Hazuki is in my top 5 wrestlers of Stardom right now and this match here with Mayu just solidified my statement for this claim. This whole tournament, she has been one of the most consistent wrestlers in her matches with her sequences being on point, her moves are crisp, and how to handle a match lately has been outstanding that she should be under peoples radar. Hazuki right away was being aggressive with Mayu before the bell even rang when she attacked her from behind and kept rolling her up which failed, but she kept on the attack by throwing her around into chairs on the outside and even destroyed Mayu's arm during the whole match and not holding back on her, I love this side of Hazuki.
This match is one of my favorites in my block next to Hazuki/Momo still being my favorite one, but this one was still pretty damn close with their chemistry in the ring together gave us a special match and it's not even their last one for their block. They told a great story in the ring, executed everything almost flawlessly, seeing a more aggressive side of Hazuki in her previous two matches, and Mayu selling it all to make it look more dangerous than it probably is, but they were just on point with everything together. Hazuki was pulling out all the stops with having her in the Crossface, working on her arm, stiff Dropkicks and a Codebreaker, but it still wasn't enough to take Mayu out as she hits the Dragon Suplex Hold and gets the victory to tie first place with Kelly Klein. After the match, she told the crowd that she was now in first place and hopes the crowd will still support her as she looks to win it all at the final.
Rating: Bruce Prichard
Overall: Can't really give it a fair assessment due to only having two matches with one being average and the other one being great, but the average of it was solid enough. I'm glad to see that all three of my picks are in the top 4 of potential winners and excited for the last day since it's stacked.
Favorite Match: Hazuki vs. Mayu Iwatani
Score: 6/10
Blue Stars Standings:
Mayu Iwatani: 4-2 (8 Points)
Kelly Klein: 4-2 (8 Points)
Momo Watanabe: 3-2-1 (7 Points)
Hazuki: 3-2-1 (7 Points)
Nicole Savoy: 3-3 (6 Points)
Jamie Hayter: 2-4 (4 Points)
Saki Kashima: 2-4 (2 Points)
Natsu Sumire: 2-4 (4 Points)
Now that we have our final standings before the final show tomorrow, we see that our top 4 people that could still win this are Mayu Iwatani, Kelly Klein, Momo Watanabe, and Hazuki. We're gonna break down the final card for tomorrow and see who has a real chance and how can it be done.
Mayu Iwatani vs. Momo Watanabe
Hazuki vs. Natsu Sumire
Kelly Klein vs. Nicole Savoy
Saki Kashima vs. Jamie Hayter
Here is how these four can win.
Mayu Iwatani: Defeat Momo Watanabe and Nicole Savoy defeats Kelly Klein.
Momo Watanabe: Defeat Mayu Iwatani and Nicole Savoy defeats Kelly Klein.
Kelly Klein: Defeat Nicole Savoy
Hazuki: Defeat Nicole Savoy, Momo Watanabe defeats Mayu Iwatani, and Nicole Savoy defeats Kelly Klein
If Momo and Hazuki do win their matches and Kelly loses, these two will be in a tie and it'll be interesting to see who gets the final spot since they did tie it up in their outing, interesting direction if that's the case.
---
Always Use Your Head and visit the official Pro Wrestling Tees store for The Chairshot All t-shirt proceeds help support the advancement of your favorite hard-hitting wrestling website, The Chairshot!

---
(NOAH) WEEKLY NEWSLETTER VOL.2 ~ 21ST SEPTEMBER 2018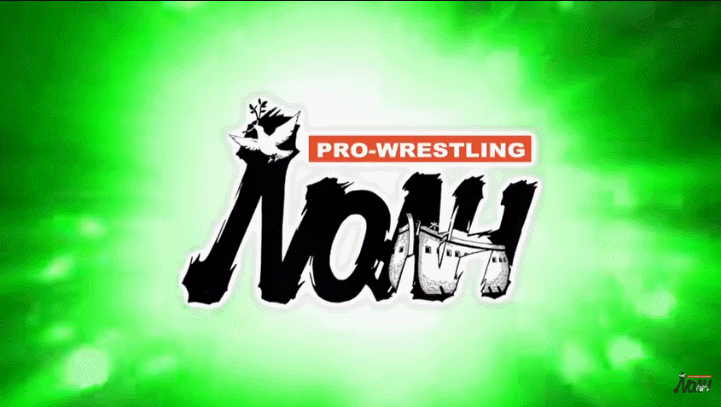 CURRENT TOUR RECAP
NOAH finished up their mammoth five day in a row event (14th September to the 18th September), fortunately no-one was injured, but both Hajime Ohara (neck) and Hi69 (knee) seem to be carrying injuries.
After losing the GHC Heavyweight Tag Title challenge against Naomichi Marufuji and Akitoshi Saito, Kaito Kiyomiya intimated that he would be interested in challenging for them again, but with another partner (i.e. Go Shiozaki). Shiozaki was seen watching Kaito Kiyomiya in the tag match against 50 Funky Powers in Hakata Stalene. Later in the tour he mentioned on Twitter about "shutting them up" and their GHC Heavyweight Tag Challenge
.Speaking of Go Shiozaki there was a very sweet moment that took place in Hakata, involving both himself and Atsushi Kotoge. When they made their entrance in their match against The Hooligans (Cody Hall and Maybach Taniguchi), a little boy could be seen dressed in a homemade "Revolutionary Cloak". When Kotoge appeared the little boy and the little girl next to him (most probably his sister), did the revolutionary fist pumps (to the delight of Kotoge who joined in), and when he had gone, Shiozaki noticed, did it for half a second, and then went bright red (Shiozaki gets very shy when he has to do physical comedy, he also has a tendency to start giggling as well when others do it).
During the match, the brawl went into the crowd, and a little girl was upset by it and started crying. Go Shiozaki, gave her a hug to comfort her, and once back in the ring got The Hooligans in the corner, pointed to her and said "this is for you", and proceeded to chop them.
Despite his claim to "bring the revolution to Hakata, and defeat the villains!", Atsushi Kotoge took the Zwei Bomb from Taniguchi.
Naomichi Marufuji is still not accepting the challenge of The Hooligans, and gave a somewhat bad tempered promo in Ehime saying they were "a fool, a baldie" and "even though I am an asshole with a lack of sleep, I am going to crush you all. Come and line up with your heads bowed. I am not going to accept your challenge! I'm not in the mood!" Marufuji is still being obsessively hated by Kenoh, and he certainly has taken it from him on this tour, but the person the five days really belongs to, is Katsuhiko Nakajima, who utterly obliterated Takashi Sugiura and did the cocky pin on him. I don't think anyone has ever at any time or anywhere ever done this…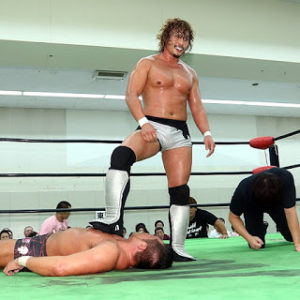 Nakajima, being Nakajima, wasn't finished there as he draped the belt over him, and then threw Sugiura out of the ring. When Sugiura had recovered and scraped himself off of the floor, Nakajima had gotten the microphone, and standing on the turnbuckle he told him that he would continue to plague him like he did today, he would plague him again tomorrow and the day after that and forever afterwards.
At the end of the five day tour, having been thoroughly battered by Nakajima, Takashi Sugiura said tiredly he couldn't keep up and says that he has had no choice but to get better, and rethink his strategy. I can only imagine that Sugiura is playing the spider and the fly…
"Black or white, this is a league." (Hi69) 
The NOAH Juniors, despite being divided over Junior Global League, are all gunning for Kotaro Suzuki (Hitoshi Kumano says that he is going to "crush the beat so no sound comes out"). Kotaro Suzuki has dismissed even the freelancers amongst the NOAH Juniors as being "weak".
The biggest build so far is Daisuke Harada vs Kotaro Suzuki, which will take place in Yokohama (Suzuki has already lost to the other "elder" of the Juniors, Hajime Ohara). Daisuke Harada in Kochi, delivered the message to Suzuki that he would beat him down, and then he would "tell you this"…Harada spoke silently to the camera and walked off. Kotaro Suzuki later said that he had no idea what he was saying, but would find out before they faced each other.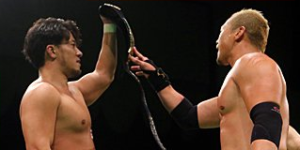 Suzuki has made unflattering comments about various NOAH juniors, Hitsohi Kumano is "heavy" and "bulging with fat", and Tadasuke, due to "too much hair treatment" is "greasy".
Kotaro Suzuki, known for being just as "slippery" as Tadasuke (maybe even more) has promised something special for his "vision of Korakuen" (he also posted a picture of himself and Yoshinari Ogawa out drinking and said they were "discussing strategy"), well, whatever he has planned, it is probably a lot better than what Tadasuke has promised, he says that he may have to "poison the rice of the winning candidates" if he doesn't win.
Suzuki and Harada clashed in a tag match on the 18th September on the last day of tour with Harada getting in his face with the belt, and Suzuki playing the innocent after attacking him while standing on the ring apron.
There has been no rift between The Backbreakers, with Hitoshi Kumano defeating Hajime Ohara. Kumano said he had to win, even though Ohara's neck was very bad.
Part of his reasons for wanting to beat Ohara was due to the comments made by Daisuke Harada when he was aiming for the GHC Junior Heavyweight championship a few months ago, Harada had basically said that Kumano was "below Ohara" or that he was his "subordinate".
Between RATELS, Daisuke Harada is too busy to comment on Tadasuke beating him, and YO-HEY and HAYATA still appear to be friends (better description might be master and pet).
Junta Miyawaki is still to get his first win, but the boy has earned a lot of accolades with people praising him and saying he was "insanely good" in his matches. NOAH are really teasing his first win with many near pinfalls.  He has also been likened to a young Kenta Kobashi, which means that now in NOAH we have almost the Four Pillars for a new generation with Misawa (Kiyomiya) and Kawada (Kenoh) – now we just need a Taue.
NOAH have had very good attendances out in the provinces for this tour, not all venues have been sold out, but attendances have been very high. The promotion has a policy whereby they travel outside of the metropolitan areas (i.e. Tokyo, Osaka) and the big city areas and bring the show to the "provinces" (i.e. the countryside or the more rural areas on the edge of the suburbs). While this doesn't always result in a full house (something a lot of people don't seem to understand and they think its a reflection on NOAH ), what it does do is bring a company who unlike New Japan, All Japan, Big Japan etc doesn't have a streaming service and\or a TV show, to people who wouldn't see them otherwise. They have also attracted a lot of new fans too.
Global Junior League Scores (as of 18th September 2018)
YO-HEY: 7
Ikuto Hidaka: 6
Daisuke Harada: 6
Kotaro Suzuki: 6
Hitoshi Kumano: 4
Tadasuke: 4
Hi69: 4
Minoru Tanaka: 4
HAYATA: 3
Hajime Ohara: 2
Seiya Morohashi: 2
Junta Miyawaki: 0
NOAH are back on the 29th September at Radiant Hall, Yokohama, bell sounds at 17.30
NEWS
QUIET STORM CELEBRATES 20 YEARS
Quiet Storm has celebrated his own twenty years in wrestling on the 16th September, he debuted in 1998 (about a month after Naomichi Marufuji did) at roughly the age of seventeen, and while in America had spells with Ring of Honor, PWF and NYWC. Quiet Storm made his debut in his hometown of New York (he's a Brooklyn boy I think). He came to Japan and trained with KAIENTAI DOJO, but had to return home due to a family situation. Aside from NOAH, his other affiliation is with Osaka Pro. He has been with NOAH since 2014.
His tag team partner, Mohammed Yone, presented him with flowers in the ring.
GHC BELT NEWS
Current champions
GHC Heavyweight Champion: Takashi Sugiura
GHC Junior Champion: Daisuke Harada
GHC Heavyweight Tag Champions: Naomichi Marufuji & Akitoshi Saito
GHC Junior Tag Champions: Minoru Tanaka & Hi69
OTHER NEWS
Atsushi Kotoge will be holding his own fan event, further details to be announced (this is not a produce)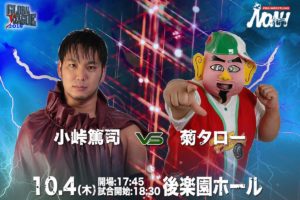 Comedy wrestler Kikutaro (who returned to Japan to have ear surgery), announced that before he leaves for America, he wants to appear in NOAH(he was once a regular in SEM, where he memorably teamed with KENTA, who had him thrown out of the building afterwards, Kikutaro made his way back in though), and a match has been arranged against Atsushi Kotoge for the 4th October at Korakuen Hall. Kotoge has asked Kikutaro whether he wants to join the "Revolutionary Army". What should be a very funny match, will be broadcast on Samurai on the 11th October (FYI: Fuji TV no longer exists, it is now "ForJoyTV")
Naomichi Marufuji and Doug Williams will be having what will be their last match ever in IPW on Sunday the 23rd September. Their history was made not in NOAH or even in Japan, but in Europe. You can read about their history in an article I have written, "
Farewell Europe
"
Hajime Ohara, (who quite rightly is called "NOAH's treasure"), has taken part in more municipal activities in Kawasawki by lecturing the Staff Hygiene Committee about exercise that can be done at the office and at home.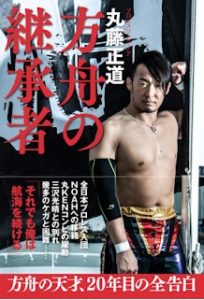 Thanks to Metal-Noah who very kindly sent me a copy of "Heir to The Ark", Naomichi Marufuji's biography, English translation has started, and can be found here. This is a work in progress, and I hope to update it daily. The book is ranked #3 on the Japanese book charts. TOUR TIDBITS
Tadasuke used a chair on Seiya Morohashi (which is unusual for him).
Whilst in Shikoku, a big crab turned up on Hi69's cigarette packet (its probably HAYATA shape-shifting)
The ceiling was so low in Hakata Stalene that people's feet and heads grazed it.
Naomichi Marufuji watched "the youngsters" going off together after NOAH arrived in Kochi, and said "the old man is going to bed"
Tadasuke announced to Kotaro Suzuki "Hey, Fool! I am today's NOAH Junior!" (and Kotaro Suzuki beat him down in ten minutes with the Tiger Driver)
Naomichi Marufuji wrapped Yoshiki Inamura in Atsushi Kotoge's cloak, and forced him to do the "Revolution Pose", right in front of Kotoge.
YO-HEY'S rambling promos include him having all his teeth knocked out (he hasn't), and likening himself to a 16th century Japanese warlord, a champion stallion racehorse which was put out to stud (don't ask) and then forgetting what he was talking about. He is still convinced that he will be facing Yoshiki Inamura in the finals of Global Junior League, despite the fact that Inamura isn't in Global Junior League.
Yoshinari Ogawa took Atsushi Kotoge's cape and used it to wipe his boots, much to Kotoge's horror.
Ehime Pro did an opening exhibition at Noah's show at TEXPORT Imbari
Yoshiki Inamura getting good reviews.
Go Shiozaki went to shake hands with Kotoge, but Kotoge drew his hand back, wiped his head and walked off (Shiozaki, notorious for giggling, couldn't keep a straight face)
NOAH have had a crack down on people filming at the event, Atsushi Kotoge said "Heroes obey the rules".
Masao Inoue is holding another bowling event, wrestlers participating will be Atsushi Kotoge, Kaito Kiyomiya and Tadasuke
On September 17th, Atsushi Kotoge, Kenoh, Katsuhiko Nakajima and Masa Kitamiya went to a sports bar and spent until the early hours watching classic Four Pillars era All Japan (the match Kotoge photographed on the TV was Mitsuharu Misawa vs Kenta Kobashi on the 21st October 1997. When this match took place, Kotoge and Kenoh would have been 12, Kitamiya 14 and Nakajima 9).
Cody Hall and Maybach Taniguchi now have a finisher called "The Hooligans Bomb".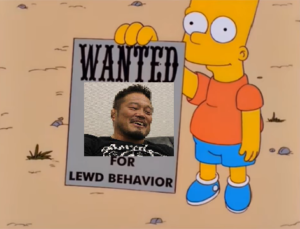 On the long drive back from Tottori to Tokyo, (about nine to eleven hours), Takashi Sugiura photographed Masao Inoue at the urinal (twice), and then predictably, things got even worse when Marufuji filmed Inoue eating an ice cream on the bus, and then pausing to look briefly at a passing woman. Between Marufuji and Sugiura, this turned into Inoue thinking about "licking" women…
Lets just end this newsletter here until next week.
---
Always Use Your Head and visit the official Pro Wrestling Tees store for The Chairshot All t-shirt proceeds help support the advancement of your favorite hard-hitting wrestling website, The Chairshot!

---