Stardom Rebirth Day 4 Results & Review (4/22/2018)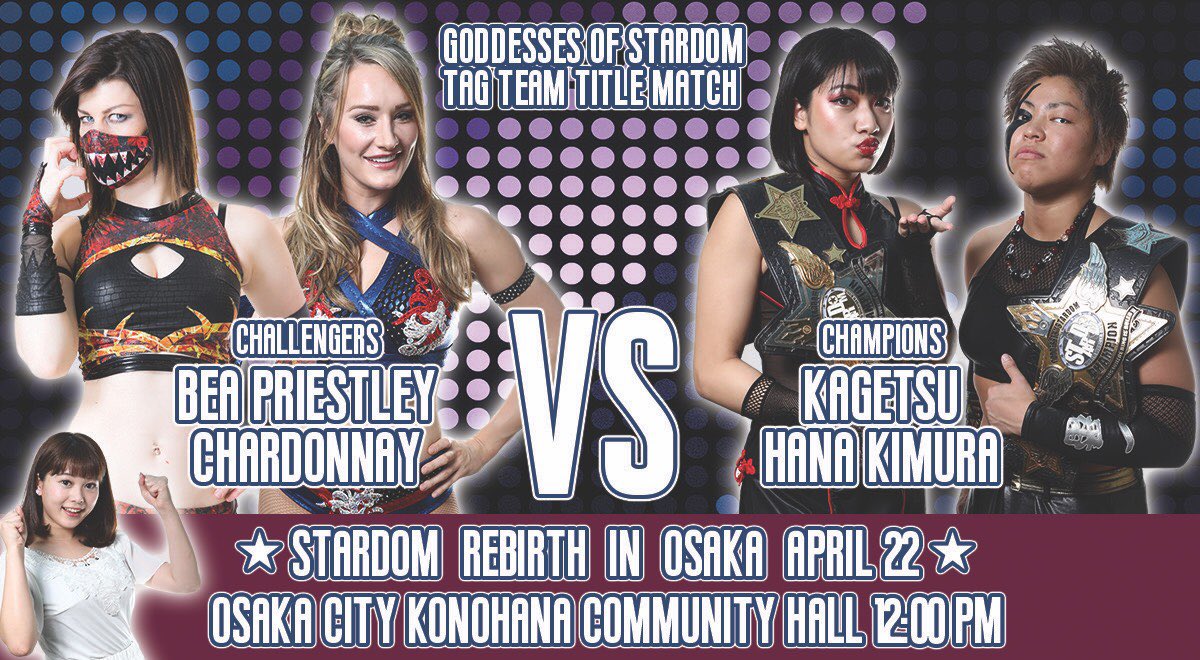 Welcome to the final day of the Rebirth tour of Stardom.  The Cinderella Tournament is the next event to go on, which I will go over in my next Stardom reviews.
The show appears to have a match less compared to their regular shows, but works for me as we have another title match as our main event, so let's…dive right in.
Three Way Match
AZM vs. Nao Yamaguchi vs. Ruaka
Review: Our show starts with a three way between the Future of Stardom Divsion as AZM, Nao, and…Ruaka are our participants in this match and I really hope Ruaka does better this time unlike the last show. It appears that Nao is slowly getting more comfortable with Oedo Tai as she seems to be interacting with Kagetsu well and even had a..cute off I think since they're making faces towards another. It starts off a bit better than I expected it too, then again, AMZ is more seasoned compared to the other two and it's easier for her to control most of the match. While Nao showed some progress with her new character, Ruaka is still not doing it for me and is officially the weakest member of the Future of Stardom Division in my opinion. AZK would win after Kagetsu accidentally spraying water in Nao's eyes and rolling her up while Ruaka was distracted with Kagetsu and it was really botched, what a shame.
Recommended: It was okay til the end, but up to you.
Six Man Tag Team Match
Candy Floss, Kaori Yoneyama & Leo Onozaki vs. Mary Apache, Natsumi & Starlight Kid
Review: Next is a six man with no units involved as it's basically a couple of vets, a gaijin, and the rookies fighting off this time. The first minute between Starlight and Leo made me forgive Leo on her performance from her last match against Ruaka, so good job on that. Another decent match with nothing too special about it since it was mostly showcasing and just for the sake of being on the card and the performances weren't bad either. Starlight Kid was the star of the match as she continues to shine and could quite possibly be the future of the company like others in the company have claimed. Starlight Kid pinned Leo with her Rounding Frogsplash for the win.
スターダム動画配信「スターダム・ワールド」本日の配信です。

▪️2018年4月22日(日)
大阪市此花区民ホール
◆6人タッグマッチ
マリー・アパッチェ&スターライト・キッド&ナツミ vs 米山香織&キャンディ・フロス&小野崎玲皇

会員登録は https://t.co/lZc15hAPwd pic.twitter.com/sgpdnA4zw7

— スターダム/STARDOM (@wwr_stardom) May 4, 2018
Recommended: Decent match, up to you.
Tag Team Match
Jungle Kyona & Natsuko Tora vs. Hazuki & Martina
Review: We get Oedo Tai taking on Team Jungle again, but this time it's a two on two bout with Hazuki and Martina teaming up this time. Hazuki was able to be more of herself since she wasn't partnered with any of the other Oedo Tai members while still focusing on herself since who else would wanna partner up with Martina? While it wasn't as good as the last match from the previous show, still decent enough to get by and Martina was less annoying here compared to the other times I've watched her, even Jungle stole her beer to see if it would do anything and the answer is no. Hazuki would pin Natsuko with the Atomic Bombs Away, winning the match for Oedo Tai..or more for herself in that regard.
▪️2018年4月22日(日)
大阪市此花区民ホール
◆タッグマッチ
ジャングル叫女&刀羅ナツコ vs 葉月&"ザ・セッション・モス"マルティナ

チーム・ジャングルってるvs大江戸隊の真っ向対決。新加入の葉月は酔いどれ女のマルティナを好リードするか!?

会員登録は https://t.co/lZc15hAPwd pic.twitter.com/DgIrIOdvDo

— スターダム/STARDOM (@wwr_stardom) May 5, 2018
Recommended: Watch for Jungle and Hazuki, skippable after that.
Six Man Tag Team Match
Mayu Iwatani, Saki Kashima & Shiki Shibusawa vs. Io Shirai, Konami & Momo Watanabe
Review: Queen's Quest vs. Stardom Army continues as Io is adding into the mix this time and you know what that means, a Mayu and Io encounter going ot happen and it can happen as many times as it wants to since it'll still be great. I think Mayu called the faction Stardom Army, but now it appears that the faction going forward is just called STARS, but just don't let Nemesis know or he might have to hunt them down. Anyway, Io would basically taunt Shiki while they were in the ring together due to her being a vet while Shiki still technically a newbie, Io would hardly sell her punches and Dropkicks til she had enough and landed a beautiful Dropkick of her own on her. I did get what I wanted with Mayu and Io sharing the ring even if it was for a brief moment, but it was enough to know that they will clash again soon enough in one on one action, but the question is when? Maybe at the Cinderella since they're pretty close in the same bracket long as they win. All six of these women stepped up their game to give us a solid match with each of them getting even amount of work done and whoever they paired with just worked nicely. Konami would make Shiki tap out during the match to get her first win in as a member of Queen's Quest.
▪️2018年4月22日(日)
大阪市此花区民ホール
◆STARS vs クイーンズ・クエスト 6人タッグマッチ
岩谷麻優&鹿島沙希&渋沢四季 vs 紫雷イオ&渡辺桃&小波

連日のSTARSと QQの対戦はイオが加わり、新加入の小波も力を存分に発揮。岩谷&鹿島も渋沢を帯同し挑む。https://t.co/lZc15hAPwd pic.twitter.com/Psh8jHfxaA

— スターダム/STARDOM (@wwr_stardom) May 6, 2018
Recommended: Solid match, did its purpose.
Goddesses Of Stardom Title Match
Hana Kimura & Kagetsu (c) vs. Bea Priestley & Chardonnay
Review: Our main event of the evening which is a title match between Oedo Tai and Queen's Quest. Last time Kagetsu and Hana defended the titles as a month ago against the Apache Sisters in a fun match and now they look to keep the momentum going to take out the team of Bea and Chardonnay who have been on quite a roll lately, so let's see if they could keep the ball rolling and win the titles. Surprised Sumire wasn't at the show at all and we don't even get to see their entrance this time, this makes me sad. The beginning of the match was pretty slow and sloppy with Bea messing up a Hurricanrana and even tripping over the top rope to the outside, but thankfully she wasn't hurt. This is probably one of my few problems with Stardom even though I like the promotion, it's that aside from Toni Storm, Viper, and Chardonnay, the rest of the Gaijin's are how you say…not that great. Some of them can carry themselves, but most of the time it's nothing fully impressive or anything to wow me and I do like them, but just can't fully be invested in most of them except for the three I mentioned. The match definitely does pick up though around the middle since it's mostly Kagetsu and Chardonnay working together to improve the quality of the match. Oedo Tai would retain after Kagetsu sprays blue mist into Chardonnay's eyes and then did their own but kinda sloppy Doomsday Device, and then Kagetsu hits her Oedo Coaster for the win and have eight defenses under their belt while Kagetsu gains momentum for her upcoming match against Io.
Recommended: Still a good match with fun spots.
Overall: Only two good matches on the card and both days in Osaka felt like underwhelming house shows compared to the previous shows that I've covered on here, making these so far the weaker Stardom shows of the year so far. I still got hope for the Cinderella Tournament which is my next coverage thankfully. The tour in general was passable enough since day 1 and the draft were great, just wish these last two were.
Favorite Match: Hana Kimura & Kagetsu vs. Bea Priestley & Chardonnay
Least Favorite Match: Jungle Kyona & Natsuko Tora vs Hazuki & Martina
Score: 5.5/10