Stardom Rebirth: The Stardom Draft Results & Review (4/15/2018)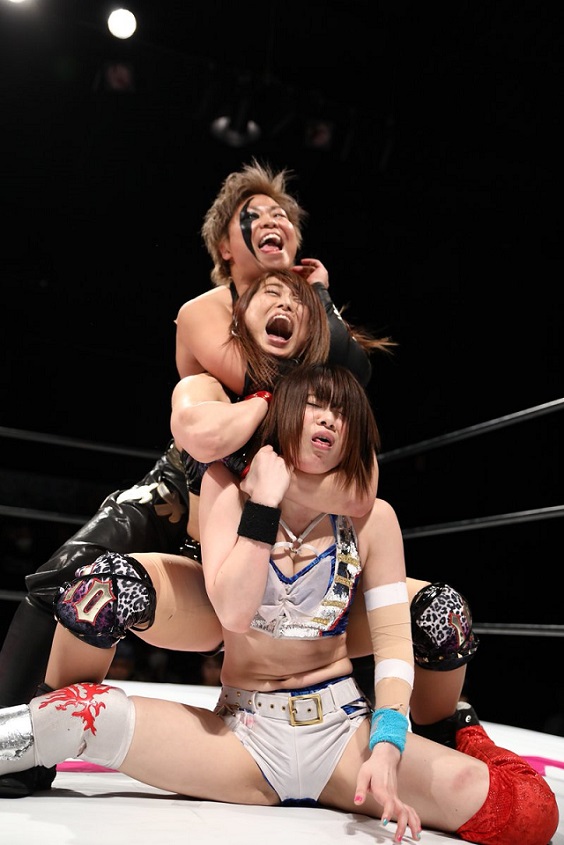 Welcome to day two of the Stardom Rebirth tour as today is the day that we will reveal the draft at the end of the show to see which members will be joining/leaving their respected units and that will be decided in our three way match tonight, so let's not waste any time and…dive right in.
Singles Match
Hanan vs. Leo Onozaki
Review: With Hanan getting a win at the previous show, she's looking to build up some steam and this time with a singles match while Leo is looking to get a win under her belt as well, time to see who wants it more. The two here seem to be improving slightly with each show they're used in and for Leo, I like how she does her variation of the Cutter, but seeing it back to back with no result hurts it a little for me and feels like it should be her finisher instead of just a move. Nice stuff with Hanan as she applies more of her judo into her style and is paying off well except for how she does her STO and Armbar combo, I don't mind it, but it just looks weird how she executes it and hopefully she'll improve it as she keeps it up. Hanan would pick up a second win with an Armbar to make Leo tap out.
Recommended: It was alright, up to you.
Six Man Tag Team Match
Kaori Yoneyama, Nao Yamaguchi & Ruaka vs. Mary Apache, Natsumi & Shiki Shibusawa
Review: Completely forgot to bring this up, but I forgot that Mary Apache was their High Speed Champion and I keep looking pass that, but figured it would be a good time to bring it up now finally. Anyway, she's teaming up with her daughter and Shiki as it looks like it's a tag match with one vet pairing up with two rookies in this match since we have Kaori paired with Nao and Ruaka and these two vets should be able to help them out a little. Okay, either Shiki or Nao need to either team up or have one of them change their attire since it's almost exactly the same, one or the other. Despite that though, Shiki appears to be the better one of the group since she's had more progress compared to the others while Ruaka still hasn't impressed me in her matches and is normally the weak link when it comes to these tag matches. Mary Apache is also great and she normally is anyway, so not hard to say she did great in the match while Kaori did her part also. The ending of the match was just sloppy and all over the place as Shiki pinned Nao with a average Missile Dropkick.
Recommended: Skippable.
Tag Team Match
Candy Floss & Martina vs. Hana Kimura & Natsu Sumire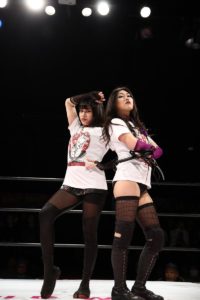 Review: I love me some Oedo Tai and can never go wrong with them being on my screen. In the pre-match interview, Sumire would mostly bury Martina with how drunk she is every time she performs and is looking to take care of her. Candy Floss did pretty well at the last show and let's see who she does with them and as for Martina, I don't know how I feel about her just yet. Well it finally happened, Sumire would actually hit someone in the ass with her flogger and of course it had to be Martina with how she was acting during the match, so I guess it fits. Candy and Hana had a small exchange after after the mind games spot I don't know what happened since it looked like they were trying to do a rope spot and it looked very sloppy. The match was mostly comical due to how both Candy and Martina are and Martina kinda reminds me of a New York version of ODB, but not as good so far. Hana and Natsu would do their best with the match and it's not terrible either, just not great. Hana would make Candy tap out with her Black Widow.
Recommended: Decent match, say at least one viewing if you like Oedo Tai.
Tag Team Match
Bea Priestley & Chardonnay vs. Konami & Natsuko Tora
Review: We got Bea and Chardonnay teaming up once again after being successful at the previous show as a tag team and if this keeps up, maybe they'll be set for a Goddesses of Stardom title match down the road, but we gotta see how they do in a regular tag instead of a six man. I gotta admit that Bea is slowly doing a bit better this time around and hopefully she keeps going up from here, and her partner Chardonnay isn't too bad herself and could be in big matches this year in Stardom. Natsuko and Konami did pretty well for teaming up too as I do like seeing Konami work and wonder if she'll be one of the people picked in the draft tonight since you'd be crazy not to snatch her. Aside from a botched Spinebuster, the match was solid for what it was as chardonnay won with a Double Underhook Suplex on Natsuko for the pin.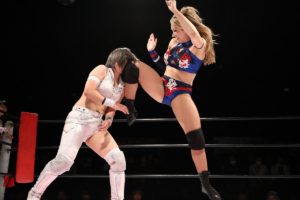 Recommended: Solid match, worth a view.
Six Man Tag Team Match
Jungle Kyona, Saki Kashima & Starlight Kid vs. AZM, HZK & Momo Watanabe
Review: It looks like another Queen's Quest vs. Stardom Army bout here tonight as it could be their last time teaming together depending on how the draft fairs up and AZM is still looking to get her hands on Starlight Kid since she really wants to get that Future of Stardom Championship and rightfully so, but she needs to beat her this time if she wants another opportunity. AZM would walk up to Starlight before the bell as they both pull on each other until HZK and Jungle pulled them off, putting the two of them in timeout. This match was a lot of fun as everyone that was paired up in this match had nice sequences with hardly any complaints from any of them, so that was nice to see since the rest of the show was lackluster so far. Momo is really an underrated talent and I do hope she gets a bigger role in the company in the future since she's a really good worker too. All six women have done well and the last couple of minutes delivered nicely with AZM getting the win over her rival with a Lionsault and gives her a future opportunity at the Future of Stardom Championship.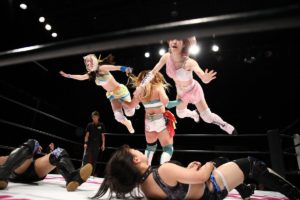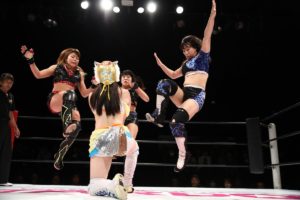 Recommended: Very good match, worth watching.
Draft Decision Three Way Match
Io Shirai vs. Kagetsu vs. Mayu Iwatani
Review: Well this is it, we're now at the main event with the draft decision match. How this match works is that you can win by either pinfall, submission, or throwing them over the top rope and if you win first, then you're out of the match and you get to pick first for the draft as the other two will fight until there is a winner there and the loser of that match will pick last.
The three units for this one is Kagetsu from Oedo Tai, Io Shirai from Queen's Quest, and Mayu Iwatani from Stardom Army as the big three units of the promotion and now it will be time to see what happens next. Kagetsu has claimed that the draft was her idea since she only has herself, Hana, and Sumire on her team and felt like this could shake things up within the company if things work in her favor first. Io's goal right now is to try and secure off of her Queen's Quest members and possibly put one new person in her unit, but it all depends on which one. Mayu just wants people on her team who will fight for justice and is confident that she'll be the first winner to make that happen.
This match is actually pretty great since you have three of the top females in the promotion going at it and they just don't disappoint you. Around eight minutes, Kagetsu would throw Io over the top rope and spit water in her eyes to make herself the first winner meaning she get's to pick her team first, and now it's up to Io and Mayu to see who goes second. I could watch these two fight and never get tired of seeing them since they got great chemistry in the ring. The two would be on the apron going back and forth until eventually, Io would pick Mayu up and throw her out, giving Io the win and the second pick while Mayu goes last. I'm glad there wasn't a pinfall victory here since it didn't hurt both Io and Mayu when they lost.
Recommended: Great three way match, worth watch.
– Now it is time for the Stardom draft and due to Kagetsu winning, she will go first, while Io goes second, and Mayu goes last as it will keep going til I guess they stop.
Round 1: Hana (Oedo), AZM (QQ), Starlight Kid (Stardom)
Round 2: Natsu Sumire (Oedo), Momo Watanabe (QQ), Saki Kashima (Stardom)
Round 3: HZK (Oedo), Bea Priestly (QQ), Shiki Shibusawa (Stardom)
Round 4: Nao Yamaguchi (Oedo), Chardonnay (QQ), Natsumi (Stardom)
Round 5: Martina (Oedo), Konami (QQ), Tam Nakano (Stardom)
Round 6: Oedo stops, Viper (QQ) and Io stops, Team Jungle? (Stardom)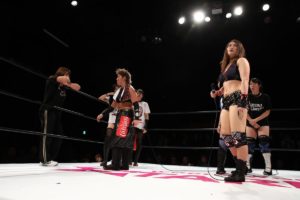 – Most of these I am okay with, HZK being in Oedo Tai shocked me and curious to see where this will lead, everyone has made good choices and Mayu mostly focusing on the future of Stardom, but no love for Team Jungle as they were left out. Mayu said she'll take the three of them in, but Jungle says they're solo despite Mayu taking them anyway. Io may have lost HZK, but she gained Chardonnay, Bea, and Konami which is a fair trade.
Overall: The lower card was average while the last two matches were the only memorable ones on the show along with the draft. Excited to see what happens going forward though.
Favorite Match: Kagetsu vs. Io Shirai vs. Mayu Iwatani
Least Favorite Match: Kaori Yoneyama, Nao Yamaguchi & Ruaka vs. Mary Apache, Natsumi & Shiki Shibusawa
Score: 7/10
(NOAH) WEEKLY NEWSLETTER VOL.18 ~ 12TH JANUARY 2019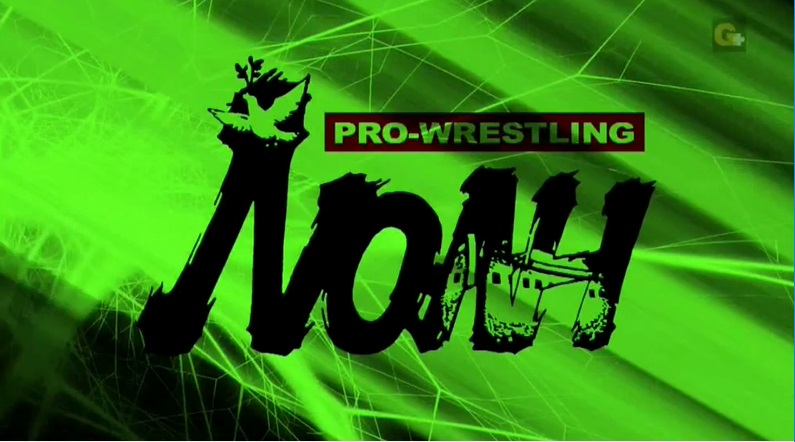 We got the important Day 1 review for Navigation for the Future last week from Andrew, but Hisame is the expert. She clarifies things from that first day, on top of events since January 6th.
NEWS
"NAVIGATION FOR THE FUTURE 2019" BEGINS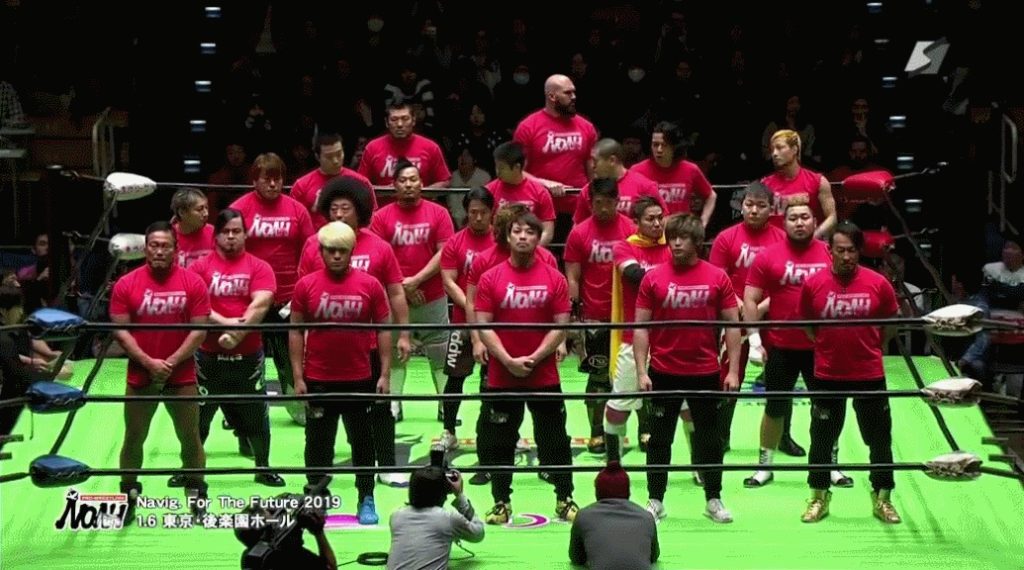 NOAH began their year in Korakuen Hall on the 6th January. The roster filed to the ring (this years color is red) and stood while Go Shiozaki made the traditional New Years speech (this is either done by himself as Chairman of the NOAH Wrestlers Association, President Uchida or Naomichi Marufuji, but usually by himself), and although naturally he wasn't competing, Marufuji was there.
Kinya Okada took on Masa Kitamiya, which ended with Kitamiya doing a massive spear on him which winded him.
Yoshiki Inamura took on his hero, Takashi Sugiura. Inamura put up a good fight, and like all the heavyweights, participated in the unofficial competition that they seem to have, which involves lifting Sugiura up and for as long as possible. He even once or twice managed to knock Sugiura down. However, the match finished as it only could, with the win by Sugiura via the infamous chokehold.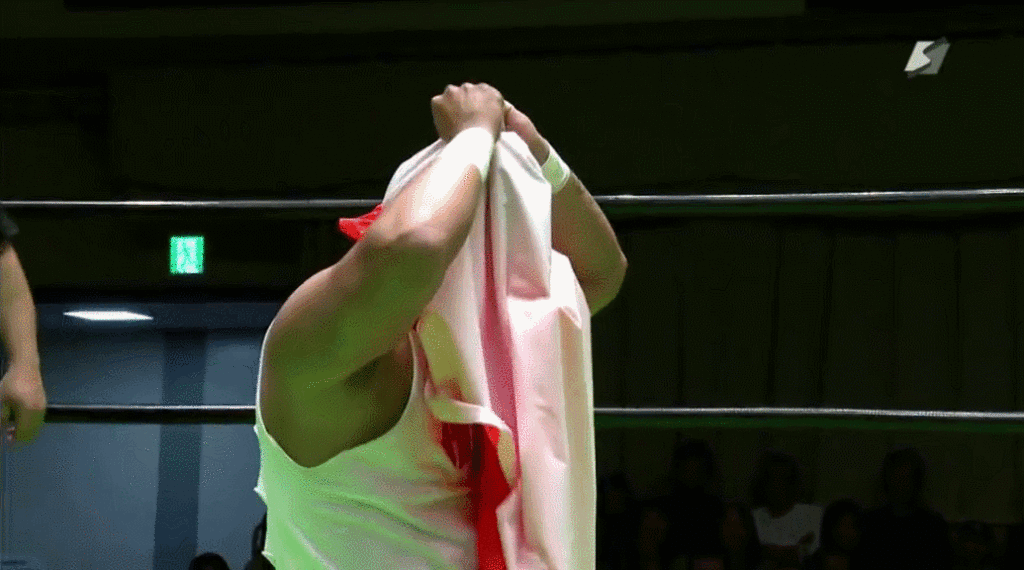 Atsushi Kotoge teamed with Masao Inoue against Hi69 and Minoru Tanaka.
The cape was the star of this match; Minoru Tanaka wore it on his head, Hi69 put it on to do the "Revolutionary Splash" and then got into a fight with it when he took it off over his head and it got kind of stuck.
Kotoge thought that they were going to join the "Revolutionary Army" (which so far has only one member, and no one wanting to join), when Tanaka sarcastically put the cape on at the end of the match and did the revolutionary fist when his arm was raised for the win.
They didn't want to become his junior corps however, and Kotoge found himself thrown out of the ring, and looked up to see Minoru Tanaka using the cape to wipe Hi69's ass…
The Backbreakers had their "assessment" match with Seiya Morohashi and Junta Miyawaki to see if they were eligible to challenge for the GHC Junior Tag Team titles. They weren't as they lost, but afterwards Ohara predicted great things for Miyawaki, and said that he had the potential to be putting on a belt in the spring.
In the meantime, The Backbreakers have been challenged by Keisuke Ishii and Kouki Iwasaki.
The Hooligans had their first match of the evening when Akitoshi Saito teamed with 50 Funky Powers against them (Mitsuya Nagai, KAZMA SAKAMOTO and Cody Hall).
Due to interference by The Hooligans, who shoved Referee Nishinaga down, the match was abandoned after five minutes. This was a taster of what was to come in the title match.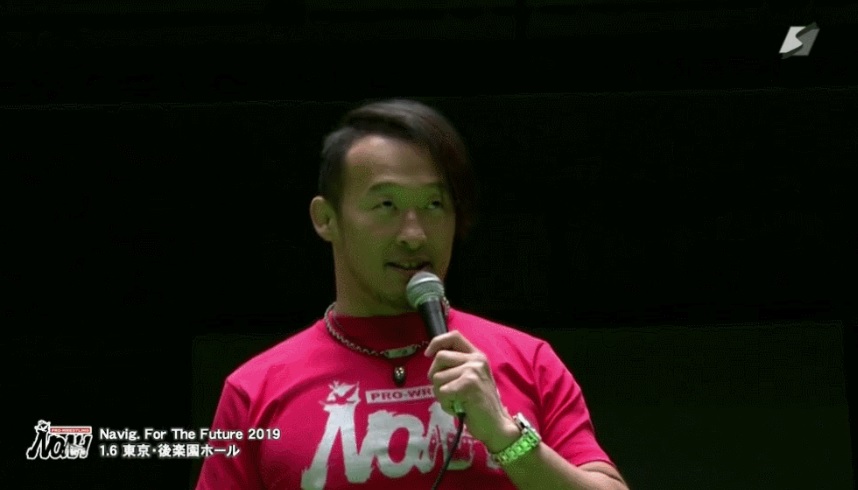 A much healthier, happier and relaxed looking Naomichi Marufuji announced that he would be returning to the ring on the 1st February. After that he remained on commentary for the rest of the event.
The three remaining RATELS took on YO-HEY and his new friends, Yoshinari Ogawa and Kotaro Suzuki. Harada was not wasting any time as he stamped across the ring while he was being announced, not even bothering to look away from YO-HEY or even remove his RATELS jacket as he attacked him. YO-HEY won against the man he used to call "The Boss".
After the match, HAYATA was bending over Harada, as YO-HEY looked on at Ogawa and Suzuki approaching them. HAYATA stood up, Ogawa said something to him, HAYATA put his hands on his hips and looked away, and the three of them left. HAYATA left soon after, leaving the seconds to help Harada out of the ring.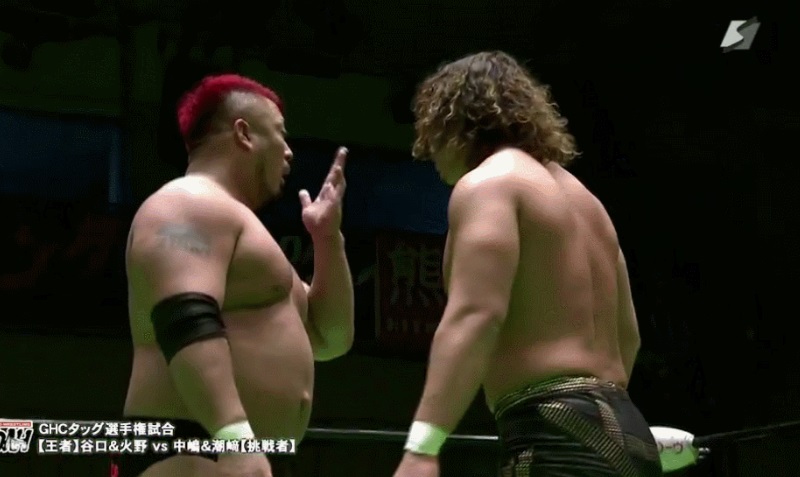 The Hooligans had their second match of the evening as Yuji Hino and Maybach Taniguchi defended the GHC Heavyweight Tag Team Championship against Go Shiozaki and Katsuhiko Nakajima, following the bloodbath in Yokohama at the end of the year.
The problem with this match was the stop start, stop start, Hooligan interference, which after a while got tiresome. The booking was in itself very Suzuki-Gun, which is not something people really want to be reminded of. When the match was allowed to flow, we got some good moments, especially the dynamic between Katsuhiko Nakajima and Yuji Hino when neither would sell each others moves; Nakajima's eyes filled black when Hino yawned in response to his kicks.
In the end (and beating up Atsushi Kotoge on the way who seems to have attached himself to Shiozaki and Nakajima, although no one has probably asked him to), The Hooligans retained.
Fifty Funky powers then challenged them for the titles with Quiet Storm telling them that everyone was sick of The Hooligans, and the way they fight, and they would finish them.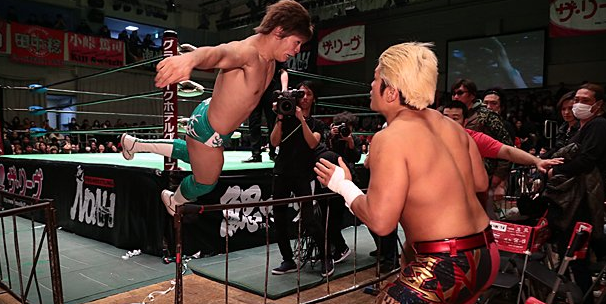 In the main event, Kaito Kiyomiya came full circle, and beat Kenoh to retain the GHC Heavyweight championship.
Kenoh entered with slicked back hair and the usual scowl (he hasn't debuted the hair since, probably because he was teased, or else he is saving it for big matches), and Kiyomiya entered with a Kobashi mannerism, where he pauses to look at the crowd as if he can't believe they are cheering for him. They had what will be probably the start of their epic battles. Kenoh had said that neither he and Kiyomiya were the same people they were in January 2018, but I don't think he really knew that Kiyomiya was not this young boy anymore, who he swung alternately between seeing as a younger brother, and an a potentially dangerous rival, who he had so easily kicked around in 2018. Sugiura had underestimated Kiyomiya during Global League, and Kenoh, while not making the same mistake, made the mistake as seeing Kiyomiya as still somewhat green and unprepared for his role as the GHC Heavyweight Champion.
Kiyomiya knew Kenoh well, he was able to dodge his moves, and he also knew when to play dead and come out of his daze. They had great chemistry together, and this match, already a match of the year to some, was hard fought all the way through, and a solid fight from the start.
At one point, seeing Marufuji on commentary, Kenoh paused to glare at his hated obsession.
After the match, Atsushi Kotoge (mercifully wearing a fresh new cape which hadn't been anywhere near Hi69's hindquarters, although lets face it, ALL those cloaks probably have a rude backstage story to tell on a Misawa level), came out to challenge Kaito Kiyomiya.
Kotoge proposed starting a revolution together, and fortunately for Kiyomiya, he was saved from this by Masa Kitamiya, who also challenged and said sensibly (and firmly) that "the GHC Heavyweight does not need a comedy wrestler".
Kiyomiya, as polite as ever, left the company to arrange the details and Kotoge and Kitamiya will face each other on January 20th to determine the number one contender, with the winner facing Kiyomiya on February 1st.
During the pre-matches, neither Kotoge or Kitamiya got the pin or had the pin given on them by Kiyomiya directly.
Kaito Kiyomiya says that he wants to be an approachable champion, one that talks to fans and makes people leave the event smiling. He was driven by Kenoh to become champion, and he is driven by the memories of the dark days of Suzuki-Gun and the vicious circle it created with the fans who felt the crisis in Noah, which was transmitted to the wrestlers, and when no one was happy. As well as being the youngest GHC Heavyweight Champion on history, he also wants to beat Takashi Sugiura's defensive record of fourteen people.

NOAH are currently approaching the end of their three day in a row event. Hi69 said that the attendances have not been good, and more people need to come, but for winter in the provinces, the attendances weren't bad; there was a long line to see Katsuhiko Nakajima, and according to Kaito Kiyomiya, a lot of new fans came to the events.
IPW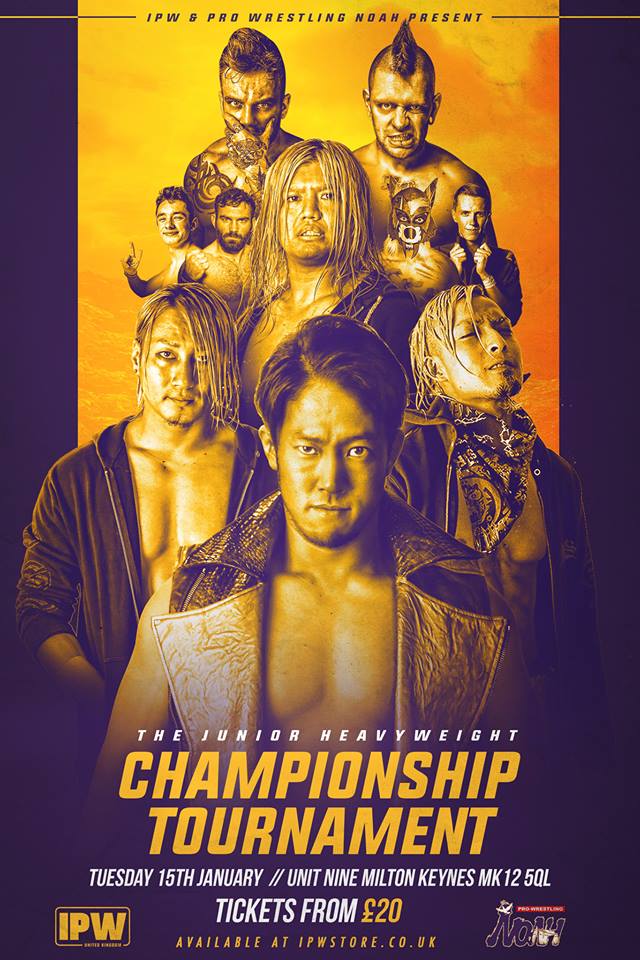 RATELS (including YO-HEY) are taking part in IPW'S Junior Tournament on the 15th January. Their opponents for the first round have been announced as:
Daisuke Harada vs Chris Ridgeway
HAYATA vs Kid Lykos
YO-HEY vs Ben Basden
Tadasuke vs James Basden
While Harada is yet to comment on his opponent (who seems to do the Sugiura mouth-guard thing), although he did say that this will be the first time he will ever have competed for a belt concurrently in another promotion, HAYATA doesn't use social media, YO-HEY said he wanted to meet Mr. Bean, Tadasuke has commented that he will "knock down" his opponent.
Tickets can be purchased here
DDT
Naomichi Marufuji and Go Shiozaki will be taking part in DDT'S 22nd anniversary event "Judgement 2019" on February 17th.
President Uchida represented Marufuji at the press conference (Marufuji has had to be very strict with his rehabilitation, and so cannot travel with NOAH to the events in the countryside, and sometimes has to miss things for treatment), and was met with Tetsuya Endo (who will be Marufuji's opponent), eating his lunch.
Endo basically said he respects Marufuji, but he doesn't care about the actual match, he's out to crush him, he also said that he didn't think that Marufuji would be physically or mentally ready for it either.
Fortunately, having had the experience of both Kenoh and Sugiura in his face and therefore being familiar with such behavior, President Uchida just ignored him.
CURRENT CHAMPIONS
TOUR TIDBITS
~ Hajime Ohara announced that NOAH will be returning to Kultz Kawasaki on the 27th July, and he will once again be involved in the booking of the show.
~ Yuji Hino said about Mohammed Yone, "The Afro is dead".
~ YO-HEY appears to have an invisible friend…
~ Atsushi Kotoge's cloak fell off when he attempted to do the "Revolutionary Cloak Splash"
~ HAYATA did not second Harada and Tadasuke in Hamamatsu
~ Takashi Sugiura bought home a little yellow hat for his puppy. He also said he realizes that his account should be used for photographing people, and not his dog, but he doesn't apologize; he is going to keep photographing his dog.
~ There seems to be friction developing between Kenoh and Katsuhiko Nakajima, and the fans want to see a single match.
~ Despite the manner in which he left NOAH, and where he is now, Taiji Ishimori appears to be on good terms with Marufuji. Marufuji congratulated him on winning the IWGP Junior in New Japan, and Ishimori thanked him and said he remembered the lessons and experience he had in NOAH. Even if he does return as a Freelancer, which he may well do one day, hopefully Ishimori will be back in the NOAH ring one day.
~ Two small kids ran to Kenoh (who was standing watching the ring action) and asked if they could shake his hand, he was very gentle with them in doing it.
~ Tadasuke turned 33 on the 13th January.
~ President Uchida hinted that a GHC Heavyweight Title defense could take place in Canada (or on IMPACT) as a thank you to Scott D'Amor who took care of him when he was overseas.
KING SHAMELESS CORNER
He's been good as he's got a new dog.
His good behavior won't last, especially when summer comes, or when he finds Masao Inoue at the urinal.
BROADCASTS
I am afraid that no broadcasts have been announced as of yet, although it is likely that the last day of tour (1st February which is the GHC Heavyweight title match and Marufuji's return) will be broadcast, and perhaps the 26th January in Osaka.
BOOK CORNER
The translation of Naomichi Marufuji's biography, "Heir to The Ark" continues.
In this chapter he dispels a lot of the myths surrounding himself and KENTA. Its a commonly held (and dearly held belief) that they were close, if anything, they were anything but. They rarely had any contact outside the ring, never socialized or had really had any significant contact out of tour, and Marufuji said he lent him a CD which he never returned.
LINKS
"No memory of the match" ~ Kaito Kiyomiya, the youngest champions first defense
Marufuji's enthusiastic return on the 1st February at Korakuen
The Hooligans do as they like
"Whichever comes, I will not lose" GHC Heavyweight Champion, Kaito Kiyomiya's confidence about Kotoge and Kitamiya
Kaito Kiyomiya's first defense and an ambition in Canada
The birth of the youngest GHC Heavyweight Champion ~ Kaito Kiyomiya's interview (1st defense)
Wrestling Grand Prix Fighting Spirit winner Kaito Kiyomiya, "My starting point for battle came from Fujinami and Choshu"
NOAH FROM THE VAULT
Kaito Kiyomiya's "My Turning Point" (translated by Purodino)
Photos & gifs – credit to Noah GHC, IPW, PDXD & Puroresu Weekly
Stardom New Years Stars 2019 Day 1 Results & Review (1/2/2019)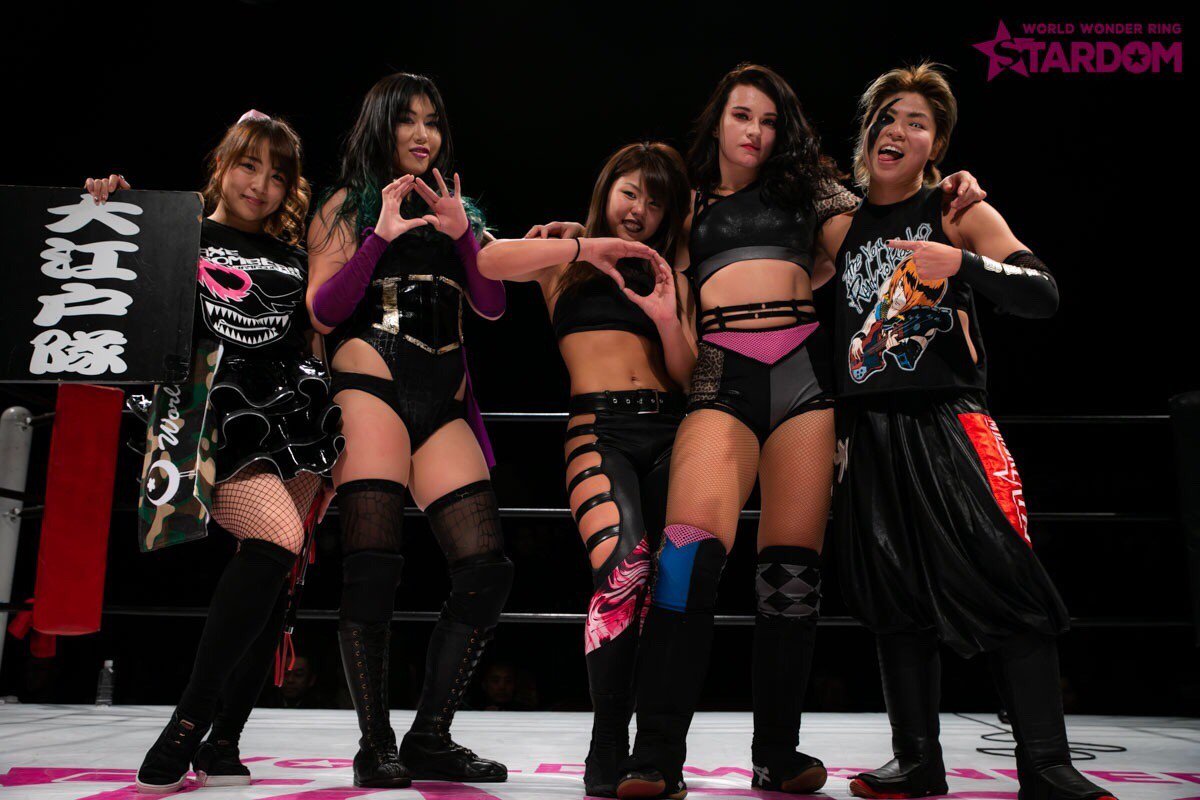 New Year, New Years Stars Stardom event! Do things start off hot, or are we looking for more of a simmer to the start of the year? Mathew let's us know.
Welcome back to Stardom as we start some coverage for 2019. It's been over a month since I covered Stardom due to being too focused on All Japan's Real World Tag League, so let's take a quick little recap of what we missed during that gap.
Arisa Hoshiki made her return to Stardom and has joined STARS, AZM has defeated Natsu Sumire to win back her mask and flag, Momo Watanabe and Utami Hayashishita have not only won the Goddesses of Stardom Tag League but have also won the Goddesses of Stardom Championships, meaning Utami is apart of Queen's Quest. BUT WAIT, THERE'S MORE – Hazuki defeated Mary Apache for the High Speed Championship, and Jungle Kyona got the pin on Kagetsu to set up a World of Stardom Championship match at their 8th Anniversary Show on January 14th.
We got a lot to look forward to 2019 so let's get started with our first Stardom show of 2019 and…dive right in!
Three Way Match
Kaori Yoneyama vs. Natsuko Tora vs. Alex Gracia
Review: Our first match of 2019 here in Stardom is a Three-Way Match between two of JAN's members, Kaori Yoneyama and Natsuko Tora, and Alex Gracia. Alex Gracia is someone completely new it looks like and this is also her first time in Japan as she calls herself the Pink Dream, I don't know where she had her first real start but I do wish her well and see how she does here. Will Alex be able to win in her Stardom debut or will it go to one of the JAN girls?
This one is pretty much how most triple threats go with all of them getting a little bit of offense with not much big shown on here. How did Alex fair off in her debut? Honestly, she didn't do badly at all as she sold fine, her bumps were clean, and nothing really stood out as her messing up or anything. Kaori and Natsuko also did their best to help her out in the match and had decent back and forth action. Kaori would hit the Senton on Alex to go for the pin but Natsuko would hit a Senton of her own on top of Kaori to break the hold before she made her way up the top rope to hit her Splash on Alex for the win. After the match, Stardom Trainee, Saya Iida came to the ring and said she would like to challenge her to a match when she makes her debut. Natsuko said she's very happy about the challenge, but she's going to make her regret it when they fight. Good luck to Saya and same to Alex.
Now on https://t.co/q8dHnF58vW! It's the first Stardom match of 2019, a three way battle! The Stardom debut of Alex Gracia as she faces Natsuko Tora & Kaori Yoneyama! pic.twitter.com/eLAdt4VnK1

— We Are Stardom (@we_are_stardom) January 6, 2019
Rating: Tony Schiavone and a quarter
Three on One Handicap Match
Viper vs. Hanan, Hina, & Rina
Review: Our next match is a Handicap Match but not a two on one but a three on one as Viper makes her return to Stardom to take on Hanan and her sisters, Hina and Rina. Hina and Rina are Hanan's younger sisters as they are both twelve years old and have made their debut a little after the last show I covered so I have no idea how good they are or anything, but I'll be going to find out now. Will Viper be able to fight off the sisters or will they find a way to get a surprise win?
I'm not exactly sure if Hanan, Hina, and Rina are exactly the right opponents for her since I feel like Hina and Rina are still very green in the ring and while Hanan has improved a lot, still probably not ready for someone like Viper. Least they were smart with Viper not really selling the strikes they were giving her due to the fact that she's bigger than all three of them while they're young and weak, so I'm glad they made it believable. There would be times that the sisters would outsmart her like when Hanan was behind Viper while Rina Dropkicked Viper to make her trip as all three of them went for a pin, them dodging the turnbuckle spots, and even Hanan pinning Viper when Rina and Hina held her down with an Armbar. The sisters wouldn't last much longer as Viper slammed all three of them down and hits a Diving Body Press onto all of them for the victory.
Divided Viper stands. United she falls!https://t.co/a7jwJZdm7Q#StardomWorld #STARS pic.twitter.com/HTgBhIyXUN

— Spirit of Jazz (@SpiritOfJazzz) January 7, 2019
Rating: Vince Russo and three quarters
Tag Team Match
Jungle Kyona & Ruaka vs. Mary Apache & Sadie Gibbs
Review: Our next match is a regular tag match with JAN members, Jungle Kyona and Ruaka taking on former High Speed Champion, Mary Apache and Sadie Gibbs. Sadie Gibbs is another new girl much like Alex Gracia with little to no info about her but it looks like she's from the UK scene with her accent. I always do enjoy seeing new people enter the world of professional wrestling and let's see what she can do. Can Sadie and Mary win or will JAN take it?
So now that I've seen Sadie make her debut, how did she do? I think she had a decent amount of time to get a fair rating of her and I think she definitely does have the potential there as she has the look, she had a little sloppy moment in the ring but she managed to recover from it and is a solid athlete. Ruaka did improve quite a bit since I've last seen her and was able to hold her own against Mary in the match. It didn't feel much of a tag match since Mary and Sadie was an odd pairing while Jungle and Ruaka didn't do so much teamwork together, but it was still a solid match for the time we were given and nothing was terrible. Sadie would wow the audience when she does a cartwheel into a backflip to the outside of the ring to land on her opponents. Sadie would bring Ruaka into the ring and hits the Michinoku Driver for the three count and wins in her debut. Was kinda surprised with the outcome since I expected Kyona to get a win for some momentum towards her match with Kagetsu and maybe pin Sadie, but I guess they wanted Ruaka to eat the pin. Congratulations to Sadie Gibbs and best of luck to you!
Rating: Eric Bischoff
Six Man Tag Team Match
Oedo Tai (Kagetsu, Hazuki, & Natsu Sumire) vs. Hana Kimura, Jamie Hayter, & Bobbi Tyler
Review: We got a six-man tag match next with Oedo Tai members, Kagetsu, Hazuki, and Natsu Sumire taking on Hana Kimura as she brings Jamie Hayter and Bobbi Tyler with her. Bobbi is a Freelancer from the UK scene and this is her Stardom debut with about three years of experience under her belt, so let's see how she fairs with Stardom. It appears as though Hana is not done with Kagetsu and Oedo Tai yet and would possibly want a rematch with her soon since she didn't technically tap when they last fought. Will Hana be able to win to get Kagetsu's attention or will Oedo Tai win this one?
What better way to start the new year than with Oedo Tai doing a dance for the audience and Nao Yamaguchi is back as their permanent manager due to her unable to compete in the ring still after that concussion. I'm not sure who drugged Sumire's mochi but she started moving her body around and started to dance to 'We Will Rock You' by Queen as the fans sing along as I think she saw Bohemian Rhapsody recently, she's awesome. The match started off a little bit over the place when they were outside, especially with Hana and Kagetsu as they fought on top of the bleachers for a little bit. Jamie would slap Sumire's taped up shoulder as it made her cry but Sumire psyched her out to attack her a little bit and when did Jamie improve? Because she did a lot better here than she did at the Five Star Grand Prix, I wanna see more of this Jamie please because she's awesome like this.
For Hana, I still get confused about how she performs a lot better anywhere else but with Stardom, it's just completely different for her with how she wrestles and I don't get why that is as it frustrates me. Bobbi did impress me in the match as she pulls a Clothesline to the corner shades of Miz and tops it off with a Flatliner on Kagetsu but she gets a two count. It looked like Bobbi was going to get the win but Jamie betrays her teammates to help out Oedo Tai! She throws Hana out of the ring while Kagetsu hits the Oedo Coaster onto Bobbi to get the pinfall! After the match, Jamie would talk to Oedo Tai as she requests to join the faction and Kagetsu accepts her without hesitation, welcome to Oedo Tai!
Now on Stardom World! Oedo Tai enters 2019 and they take on Hana Kimura, Bobbi Tyler and Jamie Hayter! https://t.co/q8dHnF58vW pic.twitter.com/ijJGCJFURY

— We Are Stardom (@we_are_stardom) January 7, 2019
Rating: Eric Bischoff and a quarter
Elimination Ten Man Tag Team Match
STARS (Tam Nakano, Starlight Kid, Saki Kashima, Arisa Hoshiki, & Natsumi) vs. Queen's Quest (Momo Watanabe, Utami Hayashishita, Bea Priestly, Konami, & AZM)
Review: Our main event for the evening is an elimination match with our two factions, Queen's Quest and STARS. Representing Queen's Quest for this one are Momo Watanabe, Utami Hayashishita, Konami, AZM, and Bea Priestly and representing STARS, Tam Nakano, Starlight Kid, Saki Kashima, Natsumi, and Arisa Hoshiki. Basic rules for an elimination match in Stardom as you can win by pinfall, submission, and throwing them over the top rope. Also, if you're wondering where Mayu Iwatani is, she's unfortunately out due to a minor injury she suffered from her ankle and should make a short recovery soon. We do have future matches building up with Utami and Starlight fighting for the Future of Stardom Championship the next day and Momo defending the Wonder of Stardom Championship against Tam Nakano, so this would be a build-up for momentum with these two factions. Do Queen's Quest win or will it go to STARS?
The first part of the match is Tam and Momo starting things off while showing us a little preview of what's to come as they kicked each other back and forth for a little bit and after being in a stalemate, they tagged in Utami and Starlight. Those two would also give us a little preview before tomorrow's title match and would quickly tag out to not spoil us anymore. They usually do these ten tag matches well together out of the other multi-man tag matches since they all have a fair amount of time to shine while giving one some momentum before elimination. They would do their usual spot where they are all going for a unit Suplex but Tam would grab the referee to have them help them out with the Suplex as six is better than one to make STARS beat Queen's Quest in the battle of Suplexes this time around. Natsumi had some improvement in the ring when she does the Wheel Barrel into a roll-up on AZM and is moving a lot crisper until AZM stopped her momentum and Queen's Quest do their famous 5 person Dropkick onto Natumi before AZM hits a Double Stomp off the top rope to eliminate her.
AZM would celebrate a little too soon as Saki almost threw her over the top rope when she wasn't looking but Queen's Quest would be able to save AZM. Konami is in the ring now as he and Saki go at it for a minute until Saki threw her into the corner and ran into her, but Konami would throw her over the top rope. Saki was hanging on as Konami would try to kick her off as STARS would attempt to Dropkick her and Bea but they would dodge out of the way as they accidentally hit Saki to eliminate her as well. Arisa gets in the ring now to try and fight Konami but Momo would hold Arisa by the ropes as Tam does the same to Konami, but Starlight and AZM come in to Dropkick their opponents but accidentally hit their partners. AZM and Arisa are in the ring as AZM would try to get the quick pinfall as Arisa kept on kicking out of them as they now both go back and forth till they stopped after they kept kicking out. Arisa would run into AZM and think she kicked her in the face and pinned her to get her eliminated. Konami is back in as she hits a Misle Dropkick onto Arisa and Starlight comes in to try and fight her off until Konami kicked her in the chest and in the face to knock her down for a two count but she's not done as Konami goes running to the top rope as Starlight pushes her off to eliminate her!
We're now tied with three members each as Momo and Tam are now in the ring with each other once again and the two would go at it until they would be over the top rope and onto the apron where they will keep on fighting. Momo would kick Tam down and hits her with the Package Driver but Tam didn't roll out as Momo then hits the Somato only for Tam to slide under her to hit a German Suplex onto Momo on the apron and before Tam would roll out, she would take Momo with her for a double elimination. Utami and Starlight are next in the ring as Starlight hits a Dropkick while Utami responds with a Shoulder Tackle to take her down, but now Starlight would hit the Sliced Bread #2 for a kickout. Utami would go for the Torture Rack and Starlight fought out of it go for a Hurricanrana but Utami would hold her up to try and throw her out as Starlight tosses them both out, leaving Arisa and Bea the last two in the match. The two start kicking each other in the head and it looked like Bea would win when she pushed her off the top rope but Arisa was still holding on as Bea ran into her for only to be tossed over as the two are now on the apron. The two fought a little bit more as Arisa had the advantage and ran towards Bea to only eat a knee to the face to get eliminated as Bea wins it for Queen's Quest! After the match, Momo said this would be a great year for Queen's Quest and told Tam that she was going to beat her when they have their match. Utami would tell Starlight that she will take the title away from her and before she could give Starlight a chance to speak, Utami pulls the mic away from her as they closed the show. I can't wait for these matches to happen.
Now on Stardom World! Queen's Quest vs STARS in a 5 on 5 Elimination Match! Only on https://t.co/q8dHnF58vW! pic.twitter.com/QpfySulA3O

— We Are Stardom (@we_are_stardom) January 8, 2019
Rating: Bruce Prichard
Overall: Aside from two impressive debuts, Jamie joining Oedo Tai, and a great main event, I thought the show was a little lackluster but there's also enough enjoyment out of it and plenty of hype towards the 8th Anniversary show along with what's in store for tomorrow.
Favorite Match: STARS (Tam Nakano, Starlight Kid, Saki Kashima, Arisa Hoshiki, & Natsumi) vs. Queen's Quest (Momo Watanabe, Utami Hayashishita, Bea Priestly, Konami, & AZM)
Least Favorite Match: Viper vs. Hanan, Hina, & Rina
Score: 6.5/10