Thank you, Io Shirai. What's next for Stardom?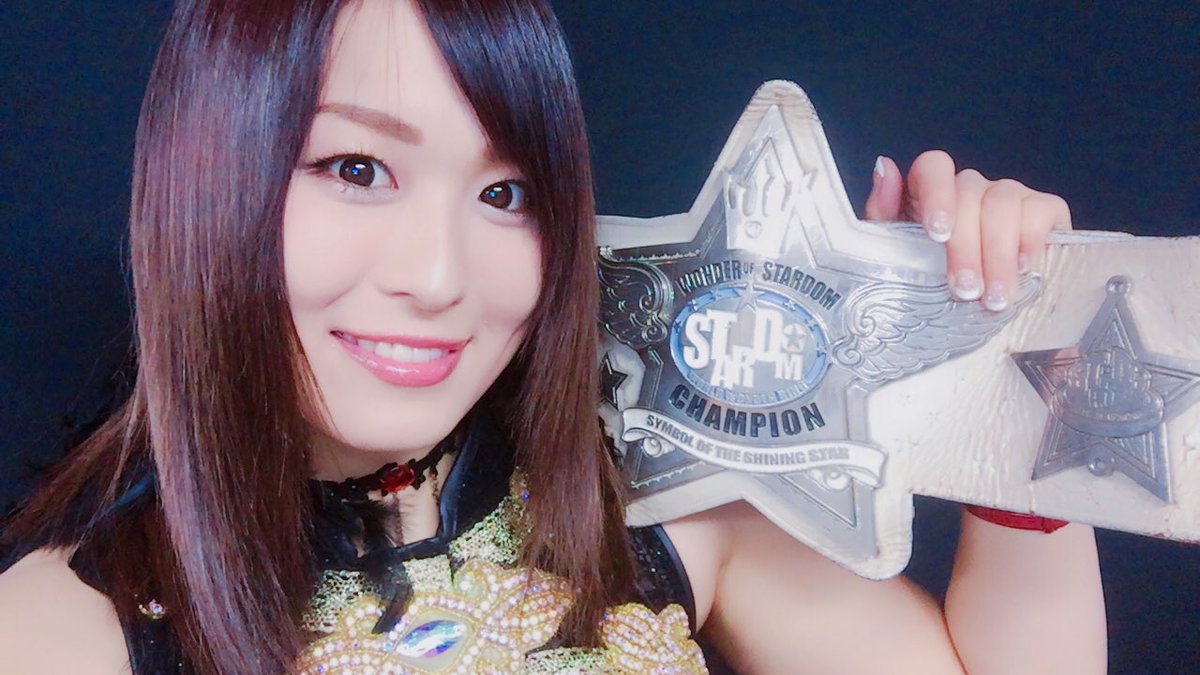 News broke out today from Tokyo Sports that Io Shirai has signed a contract with the WWE and is rumored to take part of the second annual Mae Young Classic tournament. Her final date for Stardom is set to take place on June 17th before she departs from Japan to pursue her dream of working for the WWE.
I know a lot of people are not too happy with the idea due to them not fully trusting WWE every time they sign a big name to the company and yeah some haven't been winners, but there are those that actually do make it. Asuka has been doing pretty well for herself ever since she joined, Kairi Sane won the classic last year and is getting that nice slow build without getting hurt, so, I have confidence in Io making it.
Io Shirai was rumored to join the WWE since 2016 and had a tryout in 2017, but WWE didn't sign her due to medical issues with her neck and heart that they had to back away for the time being, but WWE was still interested in her. Why wouldn't they be? She's considered one of, if not the best female wrestler in the entire world right now. With her dreams of being a WWE superstar being set on hold for the time being, she decided to stay with Stardom where she would become the Wonder of Stardom Champion this time instead of going after the top belt as a way to take a step back and take it easy for a while. Luckily Io would have another chance at a contract with the company and luckily enough, she was able to sign one after dropping the championship to Momo Watanabe on the May 23rd show.
Right now this is the best time for her to leave Stardom since she has won all the titles she could win, broke records with most of them, and needs time for her body to take it easy due to all the damage she's put herself through over the past eleven years of her career. At only 28 years old, Io has accomplished a lot in her career in Japan and gave us some of the best matches that we would see, not just for females, but some better than the male athletes globally as well. Her style and psychology is some of the best I've seen in quite a while.
She just carries herself well and gives it her all in every match you see her in no matter how big or small the crowd is, she's just a natural in the ring and you can see why a lot of people love Io. I'm gonna support Io with her decision to finally achieve her dream and all I can say to her right now is thank you, Io Shirai. Thank you for everything you have done for Japanese wrestling and just wrestling in general, and I wish her the best in her next chapter.
Now the next question remains, what will be next for Stardom? With Io considered their ace and is now leaving, they're gonna need someone to fill in that void now, specially with Toni Storm signing a contract too and she's the current World of Stardom Champion as well, so that leaves a bit of a gap of top talent to see who could be the next ace.
So let's go down the list and see what they could do now with five possible choices.
5. Momo Watanabe
– The eighteen year old with two years of experience and the current Wonder of Stardom Champion after defeating fellow Queen's Quest member, Io Shirai, thanks to winning the Cinderella Tournament. Momo has been considered an underrated talent in the years that she started with the company and I do think she was incredibly underrated and overlooked compared to the other various talents they had. While I think of her as an incredibly gifted talent, I don't think she is ready for the top spot in the company as she is now finally finding her stride, plus her being the Wonder of Stardom Champion right now is a great starting point to see how things will work out for her. Give her a couple of years and then we'll see where she's at before climbing to the very top, but don't count her out for sure.
4. Saki Kashima
– Stardom's first Artist of Stardom Champion and has been apart of the company since 2011 around when it was formed. I don't know that much about her, but from what I've seen from around when she started that she really did have a promising future with the company and would start to wrestle with them until 2013 where she has departed from the company and I honestly do not know the reason for her decision at all as it could've been an injure, personal issues, problems with management, but there is no public info I can find out about her and I will keep searching for it since it definitely is a mystery to me and I'm sure to various others.
She returned to the company in March of 2018 and has been on a roll ever since her five year departure with the company and it felt like she hasn't lost a step in the ring at all as if she never left in the first place. I wouldn't mind her doing a storyline to prove herself once more like how Katsuyori Shibata did when he left New Japan and returned years later. I would give her about a year to see where she's at and she can be their next top female in the company for sure if she keeps it up. Definitely someone to keep an eye on.
3. Hazuki
– I think she would've made a good case to be the next leader of Queen's Quest and rise up to the ranks to replace Io in the company, but since she has now been drafted to the Oedo Tai unit, it looks like her chances at the top spot has been put on hold right now.
Hazuki right now feels more like a gatekeeper of the company to help elevate people while performing well in the ring at the same time. With her new home with Oedo Tai, I can see her either getting the Wonder of Stardom Championship soon or go for the Goddesses of Stardom Championship if Hana and Kagetsu do drop it eventually since I think her and Hana would actually make a pretty good team since they work well together. While another great talent, I don't see her taking the top spot right now at this time either, but one day she will and until then, she's a great gatekeeper.
Honorable Mentions
– Jungle Kyona start to move up, but much like Hazuki, she's just considered a gatekeeper of the company and the jungle gimmick is really something that you can't take too seriously in the company, so definitely not anytime soon.
– Hana Kimura is another one that could be a possibility, but she's really not considered a member of the Stardom roster as she actually is a member of Wrestle-1 while they have her freelance at the same time. Definitely not someone I see taking the top spot for quite some time, but can be a big player there despite that.
– We could try with another gaijin within the company since Toni Storm has signed with WWE as well, however aside from her, Viper, and Chardonnay they gaijins that they haven aren't really that good at all. So they would have to try to get a big name to go with them if they wanna try another one or capitalize on Viper and Chardonnay if they're serious of staying.
– If we look at the Future of Stardom division, the only one right now that could have a big impact once they're older are either Starlight Kid or AZM, but way too young right now despite being in the company for quite some time. They're fine with where they are right now and again we'll try again once they're older.
2. Kagetsu
– The leader of Oedo Tai and current Goddess of Stardom Champion with Hana Kimura, this could be the time for Kagetsu to step out of the tag division since her unit has plenty of people right now and can focus more of the top spot finally. I definitely get a Naito vibe from her while despite being considered a heel in the company that the fans are connected to her and the group that she leads. In 2008, she started at Sendai Girls in her career before moving over to Stardom full time in 2016 to lead the group that we have right now and evolved into this character with a personality. She is another one I consider to be one of the top wrestlers in that promotion next to Io and Mayu as she combines her character and ability to carry herself over to give people not only a good match, but give it some entertainment into the mix as well.
Despite my praise for Kagetsu, I don't see her as the ace of the company or her gimmick being taken too seriously to be considered the number one person in the company. I do however believe she could be the next top heel of the company and even have a run with both Wonder and World of Stardom Championships should the occasion come to her, but she would need to step away from the tag division to utilize her to her full potential.
1. Mayu Iwatani
– Mayu is in my opinion Stardoms next best talent right next to Io and has been with the company for quite some time now. She is another natural in the ring, loved by the crowd, and someone that has the look of a star. Mayu would defeat Io last year to end her historic reign for the World of Stardom Championship and felt like it was the passing of the torch when Io was rumored to leave at that time. However, her reign was short lived due injuring her elbow during a match against Toni Storm in which she had to drop the belt to her by default without giving us a proper winner. She re turned months later to help build herself back up and would eventually get that match with Toni in April for the championship, but she unfortunately failed to recapture the title, admitting defeat right now, but hasn't given up yet since she feels like the belt is rightfully hers and wants to win it when she feels like she's earned it this time around.
There is also confirmation that WWE has signed another star from Stardom and they didn't reveal who it was at this time, but some rumors have said that it could be Mayu and if that turns out to be true, that'll make the gap in Stardom bigger since you're losing your biggest stars and not enough to help fill in that void. I don't think it is true since her home right now is Stardom and would need to help carry that company around, so she's definitely my pick if the rumors of her being signed are false.
So who do you think could be the next ace of Stardom? Are the choices I picked have credible cases or did I overlook someone? Please let me know so we can discuss the future of the company with the loss of their biggest star.