The Book Club: Why Kenny Omega Should Win at Dominion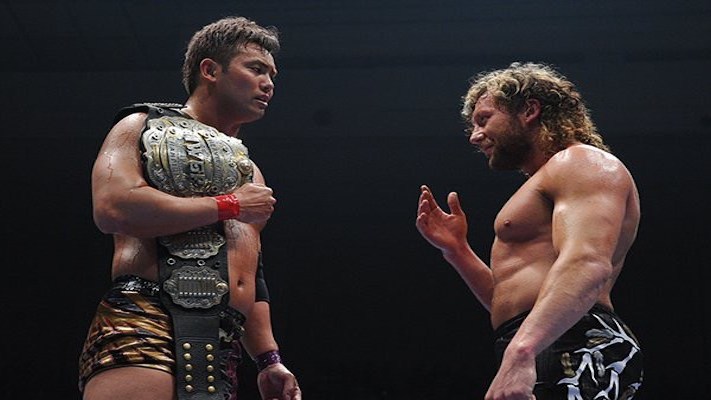 At the end of New Japan Pro Wrestling's Wrestling Dontaku show earlier this month, a match was announced that quickly made its way through the wrestling world over the next day.  On June 9, Kenny Omega will challenge IWGP Heavyweight Champion, Kazuchika Okada to headline Dominion, NJPW's next big pay-per-view.  It will be Omega's third shot at the title and his fourth encounter with Okada overall.  The two are currently deadlocked at 1-1-1.  Okada fended off Omega in their first encounter at Wrestle Kingdom 11, a 60 minute time limit decided their rematch at last year's Dominion, and Omega pinned Okada during their non-title G1 bout.
Fast forward to Okada standing in the middle of the ring following his match at Dontaku.  Okada had just beaten the record for most IWGP Heavyweight title defenses by defeating the previous record-holder, Hiroshi Tanahashi.  He openly addressed how nobody was coming out to challenge him and even listed off all his past opponents.  Okada then invited Kenny Omega out to the ring for a match that would finally settle the score, but this time with no time limits.  Kenny one-ups Okada's challenge by adding a 2-out-of-3 falls stipulation.  You know how the Big Bang Theory states that there was once nothing then a giant explosion created the universe?  That's basically what this match is for me.
Let's Book It
In short, I think it's finally time to put the strap on Kenny.  At Wrestle Kingdom 12 earlier this year, I was genuinely deflated after Tetsuya Naito took the pin from Okada in the main event.  I was anything but Tranquilo.  He was white hot and I was incredibly invested in him – maybe more than anyone in the world at the time.  I am aware that Naito has held the big belt before but that reign came and went, plus he didn't have as much momentum as he did in January.  I had a similar thought to Okada at the end of Dontaku: who else is left?  Los Ingobernables merch was flying off the shelves but they still refused to allow Naito to be the usurper.  They found some worthy opponents to roll out since then but Sanada, Zack Sabre Jr., and Tanahashi all fell to a flurry of Rainmakers just as the victims before them.  At this point, I can't imagine a more suitable challenger than Kenny Omega.  He has been Okada's most worthy adversary and one could even argue that Kenny has played a big part in getting more international eyes on the New Japan product.  The only other person I can envision being on Okada's level from an in-ring and marketing standpoint would be Kota Ibushi.
This brings me to my next point…
Imagine: Kenny dethrones Okada.  Kota Ibushi wins the G1 Climax this summer.  Now you have the Golden Lovers forced to put their relationship aside for the sake of their careers in the main event of Wrestle Kingdom.  We already saw how friends jostling for the spotlight can make for an instant classic.  Just look at the Golden Lovers vs Young Bucks match from Long Beach.  Sure everyone loves a good blood feud but there's just something deeper when you're forced to knee the one you love in the face.  We haven't really had an "I'm sorry, I love you" type of moment since Shawn and Ric made us all weep at WrestleMania.  Now is the opportunity.
My only issue with this plan is keeping Kazuchika Okada out of the main event.  Is just feels wrong, doesn't it?  He is the Rainmaker for goodness sake.  However, once the Naito-Jericho feud has boiled over it would be interesting to see Okada as Chris Jericho's next (and possibly final) target.  He even mentioned on his podcast, "Talk is Jericho" that his match with Kenny was originally supposed to be a technical classic before the storyline grew violent.  If you're looking to have a technical showcase, Okada is just the sparring partner for you! Plus, I don't think anybody would complain about an Omega v Ibushi & Okada v Jericho double main event at Wrestle Kingdom 13.