The Lost Art Of The Wrestling Story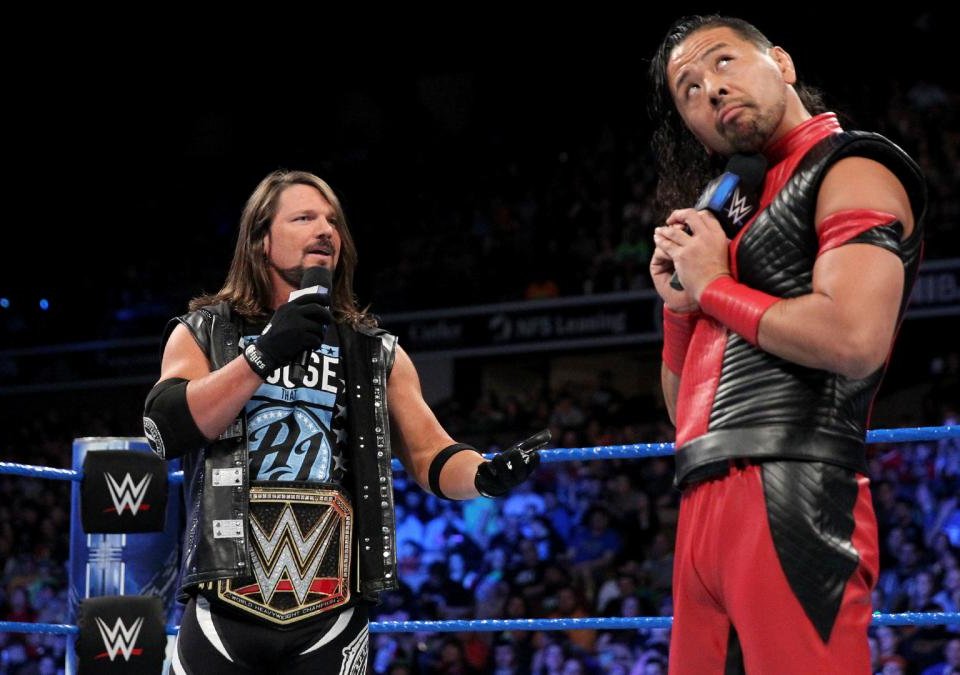 Ric Flair once wrote in his autobiography, "To Be The Man," no one in the wrestling business sold for him more than Ricky Morton and Ricky Steamboat. The story the 16-time world champion and "The Dragon" told from their days in the Carolinas in the late 1970s and early 1980s and later relived in 1989 with Steamboat capturing the WCW World Title was more like ballet than a wrestling match.
When two performers have that kind of chemistry, professional wrestling leaves its mark on its fan and creates a narrative that cannot be duplicated. Today's professional wrestling has a hard time creating that kind of plot and development because feuds are short-lived and today's fans aren't invested in characters like in decades past because of poor booking and a lack of true heels and babyfaces.
The feud between AJ Styles and Shinsuke Nakamura is as close an old-school wrestling story as WWE has put together in some time. Few of this generation of characters come close but fall short of hitting its mark. It may be more important for superstars to work well together than it is for them to have a start, beginning, and end.
When I think of a wrestling story, I have to travel back in time. Jack Brisco and Dory Funk, Jr. Roddy Piper and Greg Valentine. Bruno Sammartino and Larry Zbysko. Verne Gagne and Nick Bockwinkel. Somewhere out there, someone forgot how to write a wrestling program. The connection of the two stars to the fans and how to win them over in victory and defeat. It's a lost art. With the end of Kayfabe and "wrestling" – which was replaced by sports entertainment – the notion of chapter and verse was lost forever.
The Styles-Nakamura showcase is helping to mend the bridge once again.
As a youngster growing up in Jacksonville, FL, my father would take us to the old Colosseum to watch NWA matches. Flair, The Funks, Brisco, Dusty Rhodes, Pak Song and Mike Graham. Good guys or villains, they were like heroes. They created drama in the ring. They knew how to play off the interaction of the fans. They were some of the best in their craft. I could make the argument a few come close in addition to Styles and Nakamura with The Miz and Jinder Mahal providing they are two of the best heels of this generation.
Seth Rollins has become a one-man show on Monday nights, but there is no one to dance with him. Bray Wyatt told a decent story, but he lost his way. No one holds a candle to Trish Stratus and Lita in women's wrestling, but a feud between Sasha Banks and Bayley could rekindle that kind of intensity. Vince McMahon used to be a master at creating "believable" characters and scripts. His "circus" kept children interested for more than five minutes. Now, they jump around from superstar to superstar like butterflies from plant to plant.
If WWE wants to get some of its fan base back, write programs that mean something. Maybe not to the extent of Flair and Steamboat, but use Styles and Nakamura as a springboard. Do something with Samoa Joe and Daniel Bryan. Create heat between Jason Jordan and Chad Gable when Jordan returns. Make Banks and Bayley mean something.
If not, the current feud between the WWE Champion and the King of Strong Style may be the last time we witness greatness in the ring from a story that has written itself.
Write better a better wrestling program and fans remain engaged. I thought this was something WWE already knew about, but apparently, they lost the cheat sheet a long time ago.