Top 5: Best Finishers In NXT Today (2018)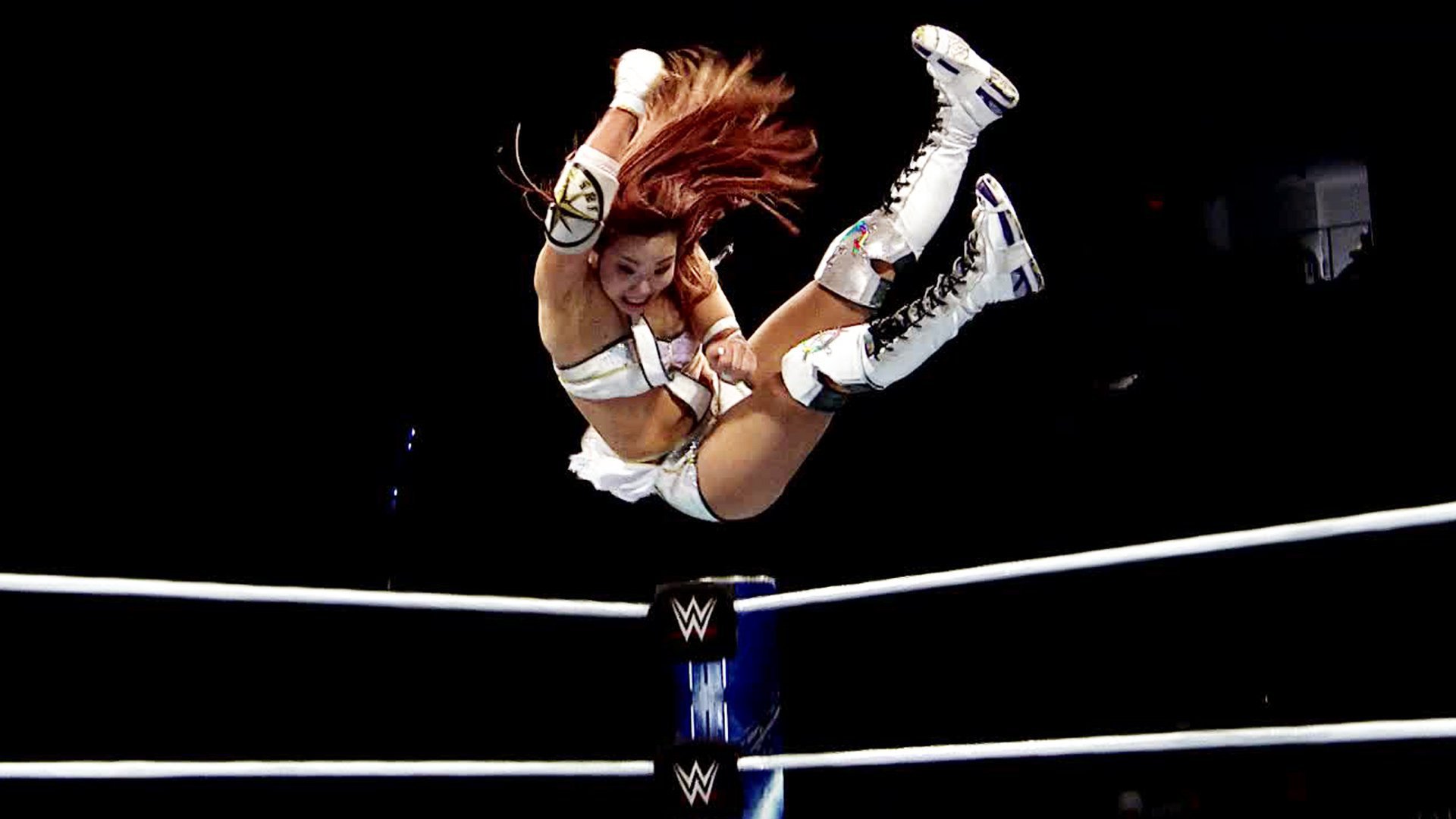 One of the best things about professional wrestling is the finishing moves. From the RKO, to the Stunner, to the Tombstone Piledriver, there are many finishers out there that will go down as the greatest in history. The current WWE roster has a nice selection of finishers as well, but what about NXT. The yellow brand has some overlooked maneuvers that one could put at the top of any list. With that being said, here are the top five finishing moves in NXT today.
Honorable Mention – Bitter End – Pete Dunne
No doubt this would find it's way on this list if Dunne was a full time NXT roster member. Since it can be debated if Dunn is a member of NXT or not, he, and his awe-inspiring finisher, will have to settle for an honorable mention. But don't get it twisted, it may be one of the best maneuvers in wrestling today.
5. Diving Elbow Drop – Kairi Sane/Velveteen Dream
Weather it is the Purple Rianmaker or the Insane Elbow, you can't go wrong with either of these incarnations of the iconic diving elbow drop. Both put their own twist on it, with Velveteen gliding through the air majestically, and Sane bringing her elbow down viciously. Neither have won a championship yet in NXT, but with so much fan support and a great finishing maneuver, it may be only a matter of time before the top rope elbow becomes the top move in NXT.
4. Black Mass – Aleister Black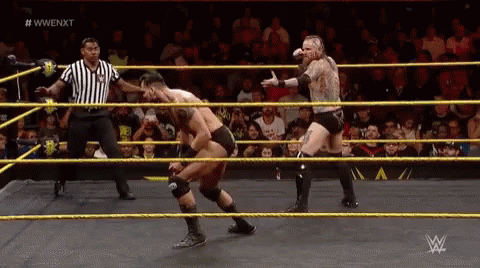 Striking finishers often get a bad reception from fans. The WMD, the Samoan Spike, The Cobra, even the Superkick has been taken under some scrutiny over the years.  However, when a maneuver is delivered with as much grace and power as Alesiter Black's Black Mass, you instantly fall in love with it. There are few maneuvers in wrestling that combine such beauty and devastation together, but when they do, it is a sight to behold. Black's offense is heavy with strikes, and his finishing move only complements that. Since Black is the NXT Champion, it is probably the most impactful finisher in NXT today. That is one of the reasons it lands itself a spot on this list.
3. Edge of Sanity/Youngblood – Eric Young
Wheelbarrow Neckbreakers have been done before, but when in comes from a less larger performer such as Eric Young, it becomes all the more impressive. Young, as well as his finisher, didn't get a lot of light due to him being in Sanity, a possible reason why both have been overlooked in NXT. Now that he's making the jump to the main roster, hopefully he and the rest of Sanity can find a niche to settle themselves in. It would be nice to see them dominate the main roster, with Eric Young's finisher leading the charge.
2. End of Heartache – Roderick Strong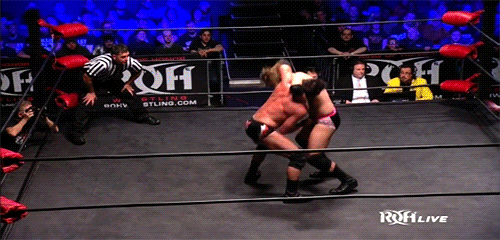 The End of Heartache is one of those moves that just looks like pure agony. That, combined with the impressive twist of a simple suplex setup is a brilliant combination. The move seems more suited for Japan's strong style nature. It brings a touch of the indies into NXT, which also runs parallel with Strong's character. He may not be in a top tier spot in NXT, but his recent partnership with Undisputed Era should give him more opportunities. That also means more opportunities to hit his intriguing finisher.
1. Project Ciampa – Tommaso Ciampa
It get's placed here, not only for it's devastating impact, but the storytelling connotations it comes with it. With the injury to Ciampa's knee, the move almost has a pyrrhic nature to itself. It illustrates Ciampa's need to win whenever he may bust it out during a match. Not tow mention it looks simply devastating. Take, for instance, last TakeOver, where Ciampa hit the move from the turnbuckle onto his nemesis, Johnny Gargano. It proved how far Ciampa was willing to go to put away his old friend, even if it cost him his career. The powerbomb lungblower is a brutal move all it's own, perfect for Ciampa. Add in story telling, and you have a finishing move that may go down in history.