The United Kingdom has become one of the world's best pro wrestling markets over the past decade or so. It had been a great place for WWE & other American promotions to tour, but recent years have seen the formation of an independent wrestling scene that rivals that of any other country. PROGRESS Wrestling regularly sells out its events & sells itself as the world's leading independent wrestling company. WWE has made deals with PROGRESS & Insane Championship Wrestling, and has several of Britain's top wrestlers under contract for a United Kingdom Division. World of Sport is becoming a thing again, and WWE seems to consider them a competitor worth keeping an eye on.
WWE's international travels took them to London this week for Raw & SmackDown Live tapings. One would expect that their brass will use the opportunity to increase their presence in the United Kingdom in some form. I thought this was the perfect time to take a look back at some of Great Britain's greatest performers. Someday, the likes of Will Ospreay, Marty Scrull, Zach Sabre Jr., Pete Dunne & today's other fantastic British wrestlers could very well knock these men off the list. Pro wrestling's future in the UK definitely looks bright.
For now, these are the Top 5 British Wrestlers.
5. Big Daddy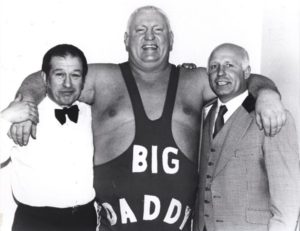 Having a list of British wrestlers without mentioning Big Daddy is like having a list of American wrestlers without Hulk Hogan. Shirley Crabtree is widely regarded as one of the worst in-ring talents of his generation, yet he was the biggest star in English wrestling history. A lengthy-built one on one match with Giant Haystacks drew over eighteen million viewers. He teamed with several of the men on this list early in their careers. They got to do the work, which certainly helped them later on.
4. Nigel McGuinness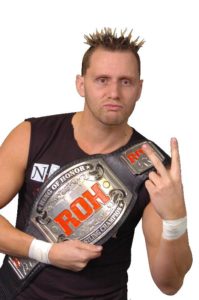 Ring of Honor has never been more successful on a commercial level than it is in 2018. I remain partial to the mid-2000s years with folks like Joe, Punk & Danielson carrying the banner. Nigel was right there with them. He started off as a technical wrestler, then once he went to Japan he became all about the lariat. Lots & lots of lariats. He also became more willing to take punishment over the years, which led to his career ending much earlier than it should have. He took needless risks during a time period when the safety of wrestlers had never been considered more important. It almost worked, as he was nearly signed by WWE until he failed a physical. He went to TNA & had a brief run of success there until he contracted Hepatitis B. His in-ring career came to an end soon after, but he still found work in ROH & currently works for WWE as a commentator.
3. Fit Finlay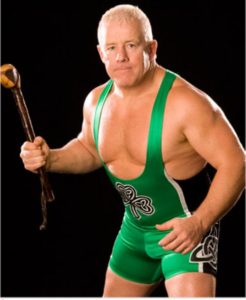 We can't forget about our friends in Northern Ireland. Nobody represented that part of the Kingdom better than the Belfast Bruiser himself. Finlay was a regular title holder in Joint Promotions & All-Star Wrestling for two decades & dominated in Germany's Catch Wrestling Association before making his way to WCW in 1995. He didn't really make an impact there until he & Lord Steven Regal started a feud that regularly stole the show due to the wrestlers' willingness to lay the shots in. It's some sort of a code that the Brits & other European wrestlers seem to have with each other.
Finlay had a successful WCW run that led to a job with WWE as an agent, where one of his jobs was training the Divas. Unexpectedly, at the age of 47, he returned to the ring five years after his original retirement. He was part of King Booker's Court & was often accompanied by Hornswoggle during his WWE run. His father & grandfather were wrestlers, and his son is currently competing in New Japan.
2. William Regal
Regal would probably be the first to admit that he didn't accomplish as much in his career as he should have. He never held a major World Championship. He lost years to excessive drug usage. When he was on the verge of greatness, he would screw it all up. Even so, he had a remarkable career. As Lord Steven Regal, he was one of WCW's most detested wrestlers while holding the Television Championship on four separate occasions. He did nearly everything during his time in WWE, winning the 2008 King of the Ring Tournament & holding the Intercontinental, European, Hardcore & Tag Team Championships on multiple occasions. He served as WWE Commissioner & Raw General Manager, and is currently NXT's GM.
Who better to sum it all up than William himself?
Honorable Mention: Lord Alfred Hayes
I remember Hayes as a longtime WWF announcer & the man who informed us who promotional consideration was paid for by. Before that, he was a highly successful wrestler in Europe & America, and later became a hated manager.
Honorable Mention: Billy Robinson
Robinson was successful all across the world & was known as one of the legendary shooters. He trained mixed martial artists in catch wrestling. He was Verne Gagne's opponent in the 1974 film The Wrestler.
1. The British Bulldogs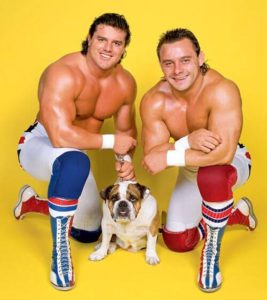 If you ask people of my age to name wrestlers from the United Kingdom, Davey Boy Smith & the Dynamite Kid are the first two that come to mind. They formed one of the greatest tag teams of the 1980s & were one of the WWF's most reliable sources for quality in-ring work during the time period. Their entrance to "Rule, Britannia" & the Union Jack prominently displayed on their tights & entrance attire gave their fellow countrymen a tremendous amount of pride. Their matches with their brothers-in-law, the Hart Foundation, set the standard for tag team wrestling in the WWF.
Smith went on to a highly successful singles career while Dynamite had to retire early due to injury. The high point for Davey Boy came at London's Wembley Stadium, where he beat Bret Hart for the Intercontinental Championship at SummerSlam 1992. Neither story ended well, as Davey Boy died before his time while Dynamite was confined to a wheelchair & became bitter about his lot in life. We try not to think about their later years, and choose to remember when they were arguably the most popular & talented tag team in the world.