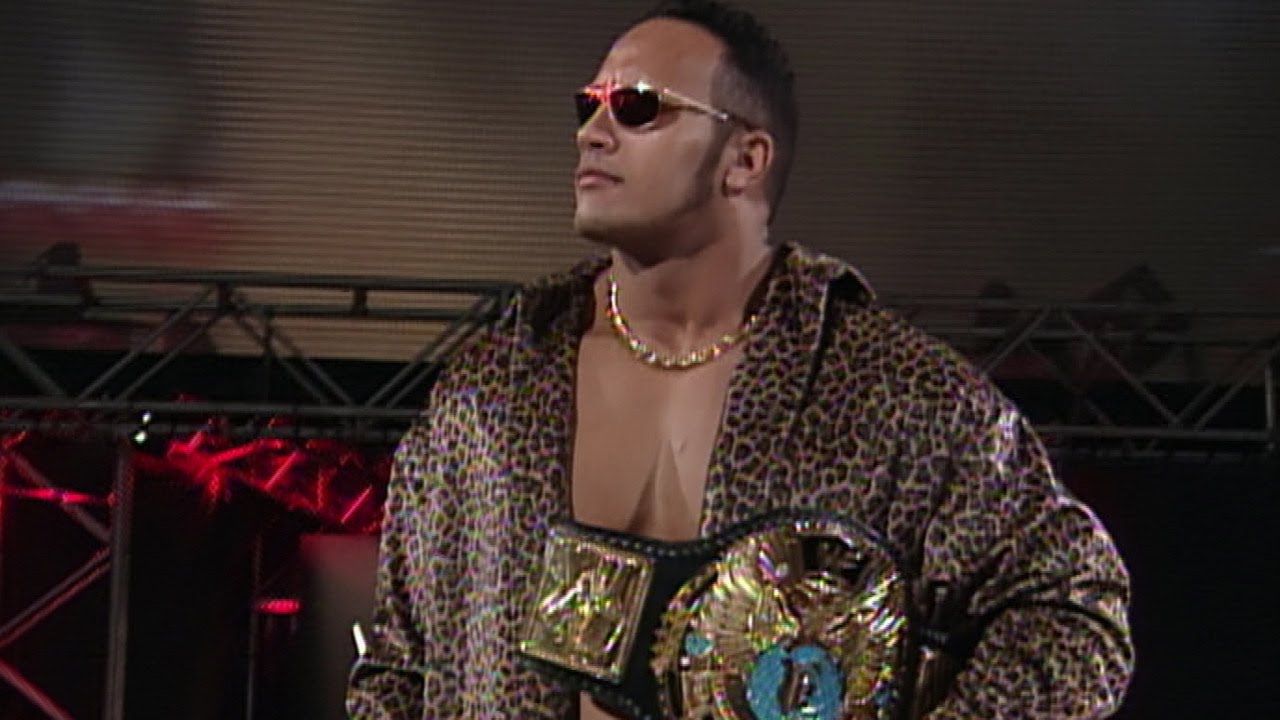 One of the most entertaining aspects of WWE television lately has been Shinsuke Nakamura's emergence as an evildoer. He had been a generally well-mannered individual during his first couple of years under the WWE umbrella. Something inside him snapped after losing to AJ Styles at WrestleMania 34, and he's been hitting people in the lower nutsac region ever since. He also has periods of time where he can't speak English.
Some guys are just better off as bad guys. A turn to the dark side can revitalize a career. Shinsuke seemed to be running out of things to do in WWE. Now, the sky's the limit. He's learned what many people before him have…it pays to be bad.
Here are the Top 5 Heel Turns in wrestling history.
5. Andre the Giant
Andre had been used as a good guy pretty much everywhere he went across the world for fifteen years. He drew tons of fans wherever he went & was one of the most popular wrestlers in the world for the lion's share of his career. Given the nature of his career traveling from territory to territory as a special attraction, titles weren't something he focused on.
Until 1987. A series of trophy presentations where Hulk Hogan upstaged the Giant enabled Bobby "The Brain" Heenan to convince Andre that Hogan & the WWF promoters took him for granted. Andre joined with Heenan & demanded a title shot.
There weren't very many matches that could fill the Pontiac Silverdome in 1987. WrestleMania was big, but it wasn't what it is today. Andre the Giant as a heel challenging Hulk Hogan filled that dome. The Giant was breaking down physically & didn't have much left, so it was time to establish the next generation. Andre's run as a heel didn't result in a ton of classic matches, but he did help stars like Hogan, Jake Roberts & the Ultimate Warrior reach another level.
4. Chris Jericho
Jericho has turned a number of times during his career. The shock factor has never really been there with him like it was for most of the turns on this list. Fortunately, Jericho makes up for that weakness by being wildly entertaining as a bad guy. His WCW heel run put him on the map, but his most successful stint as a bad guy came after he turned against Shawn Michaels in 2008.
The Y2J character had become hackneyed & played out, so it was time for Jericho to turn over a new leaf. He got out his Nick Bockwinkel DVDs, brushed up on his vocabulary & went from being a colorful rockstar to a monotone suit-wearing braggart. The new persona cemented Jericho's status as one of the most critically-acclaimed wrestlers of his generation.
3. Shawn Michaels
Although HBK was the target of Jericho's wrath in 2008, he should have identified with the situation. Michaels' Rockers tag team with Marty Jannetty had run its course towards the end of 1991. After years of great matches, they were nowhere near title contention. If Michaels was going to live up to the potential people thought he had, change needed to be made.
A barbershop window would have to pay the price.
We all know where Michaels' career went after that. The Heartbreak Kid worked his way up to the IC title level as a bad guy & established himself as one of the best wrestlers in the company. Nowadays he's considered one of the best of all time. It all started with the run he had after turning against Jannetty.
2. Hollywood Hogan
Hulk Hogan's move to WCW didn't exactly go the way people had hoped. While the company gained more notoriety & got on more even footing with the WWF, Hogan's babyface character was running out of steam. Traditionally, wrestlers turn heel when that happens. This was Hulk Hogan, brother. The idea of him turning heel was as ridiculous as it would be for John Cena to turn heel. Or even for Roman Reigns to turn heel, brother!
They did it.
Hogan went from being on his way out to the biggest name in wrestling once again. He & the NWO took WCW to the top of the business. Hogan's heel run was great because it played into all the complaints his haters had over the years. People loved to see him lose on the rare occasions it happened.
Honorable Mention: Tommaso Ciampa
I don't think there's been a better-executed heel turn during this decade than Ciampa's attack against his longtime tag team partner Johnny Gargano. Gargano has this certain factor about him that fans just get behind. Not many people can pull off the whitemeat babyface act these days, but he does it. Ciampa's attack on Gargano stunned the NXT Universe.
The only problem: Ciampa was injured & wouldn't wrestle for months afterward. Fortunately, Twitter is a thing now & Ciampa is one of the best at it.
One day away from a historic all new episode of NXT. Life post Johnny Gargano.

And remember boys and girls…

The show ends when I say it ends…#TheCopyrightKiller pic.twitter.com/yHhR5LKhVb

— BLACKHEART (@ProjectCiampa) February 27, 2018
That moment you realize all of your wedding photos are ruined…#NationalAwkwardMomentsDay pic.twitter.com/HTpW5bstsD

— BLACKHEART (@ProjectCiampa) March 18, 2018
Join me tonight as we say goodbye to Johnny Gargano.

John will always be remembered for his boyish charm and his never die heart.

In his absence, let us learn from John's mistakes. Selfishness does indeed cost a price. ??? pic.twitter.com/KDgHgWGoLC

— BLACKHEART (@ProjectCiampa) April 7, 2018
After some deep reflection, I have come to the conclusion that Tommaso Ciampa transcends the sport of professional wrestling. Truth be told, I am insulted when people define me as a "wrestler"

I am a Sports Entertainer.

I am Tommy Entertainment.pic.twitter.com/PaDBXVBpRH

— BLACKHEART (@ProjectCiampa) April 18, 2018
I agree with Bill Watts. It's not just enough to be a heel in the ring & on television. To achieve your true evil potential, you have to be a heel everywhere. Ciampa knows this.
1. The Rock
Rocky Maivia was going to be a superstar. Everybody knew this. That was exactly the problem. Fans in the late 1990s were tired of happy-go-lucky babyfaces that were destined to be superstars the moment they entered the business. Especially if that whole smiling act seemed fake, which it did with Rocky. The turn itself, when he randomly came back from an injury, helped Faarooq win a match & joined the Nation of Domination, wasn't much. It was what came after that made The Rock a superstar.
Once Rock was allowed to be himself, he became exactly what WWE management thought he would be. Rock changed sides of the fence a handful of times during his career, with each turn gaining him more & more momentum. Becoming Mr. McMahon's Corporate Champion right when the people were really getting behind him put Rock in the main event picture for good. Capitalizing off of fans' annoyance with Rock always being going to do movies led to the Hollywood Rock character that was one of the most entertaining of all time.
Rock's time as a heel didn't last long. But he managed to accomplish in scant years what takes mortal men decades.
King's WrestleMania Rewind: Charlotte Flair vs. Asuka from WrestleMania 34
Chris king is back with one of the most underrated matches in WrestleMania history–Charlotte Flair vs. Asuka!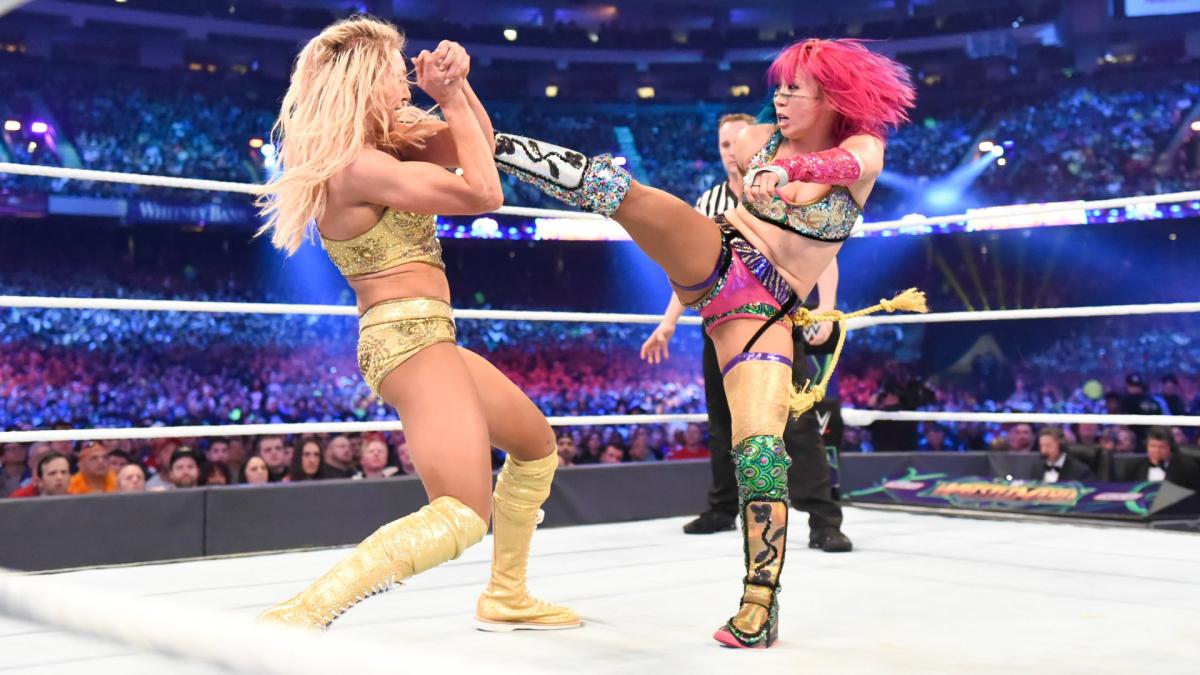 Chris king is back with one of the most underrated matches in WrestleMania history–Charlotte Flair vs. Asuka!
We look back at Charlotte Flair vs. Asuka at WWE WrestleMania 34. 'The Empress of Tomorrow' put her unprecedented and historic undefeated streak of 914 days on the line against 'The Queen's' SmackDown Women's Championship.
For years, this was considered a dream match while Asuka dominated the roster in NXT, while Flair won numerous championships on the main roster on both Raw and SmackDown. The Empress made her long-awaited debut on the September 11th episode of Raw and began to tear through the competition.
Asuka outlasted all twenty-nine other women in the historic first-ever Women's Royal Rumble match to challenge for the title of her choosing. At Fastlane, she made her choice.
The WWE Universe was so excited for this match myself included. Both superstars delivered a fantastic performance on the Grandest Stage of Them All executing counter after counter. Asuka showed off some nasty-looking kicks to her opponent, and Flair hit a thunderous Spanish Fly off the top rope. Flair was seconds away from defeat at the hands of The Empress but she locked in Figure Eight and Asuka was forced to tap out.
I can't even begin to explain how shocked I was at this outcome, as nearly everyone expected The Empress to continue her undefeated streak and walk away with the women's title. This controversial decision was the downfall of Asuka's momentum. She would ultimately win the SmackDown Women's Championship at the 2018 TLC pay-per-view in the triple-threat ladder match.
Fast forward to this year when Asuka has recently returned with her Japanese-inspired persona Kana. Kana is dangerous and ruthless and is heading into a championship with Bianca Belair at WrestleMania 39. The Empress has regained all her momentum and is highly favored to walk away with the Raw Women's Championship. Let's hope that Asuka and Belair can tear the house down and deliver an A+ grade match both women are fully capable of.
King: Dominik Mysterio Needs To Do This At WrestleMania
Chris King is here with what WWE should do with Dominik Mysterio at WrestleMania in his long-awaited match against his father Rey Mysterio Jr.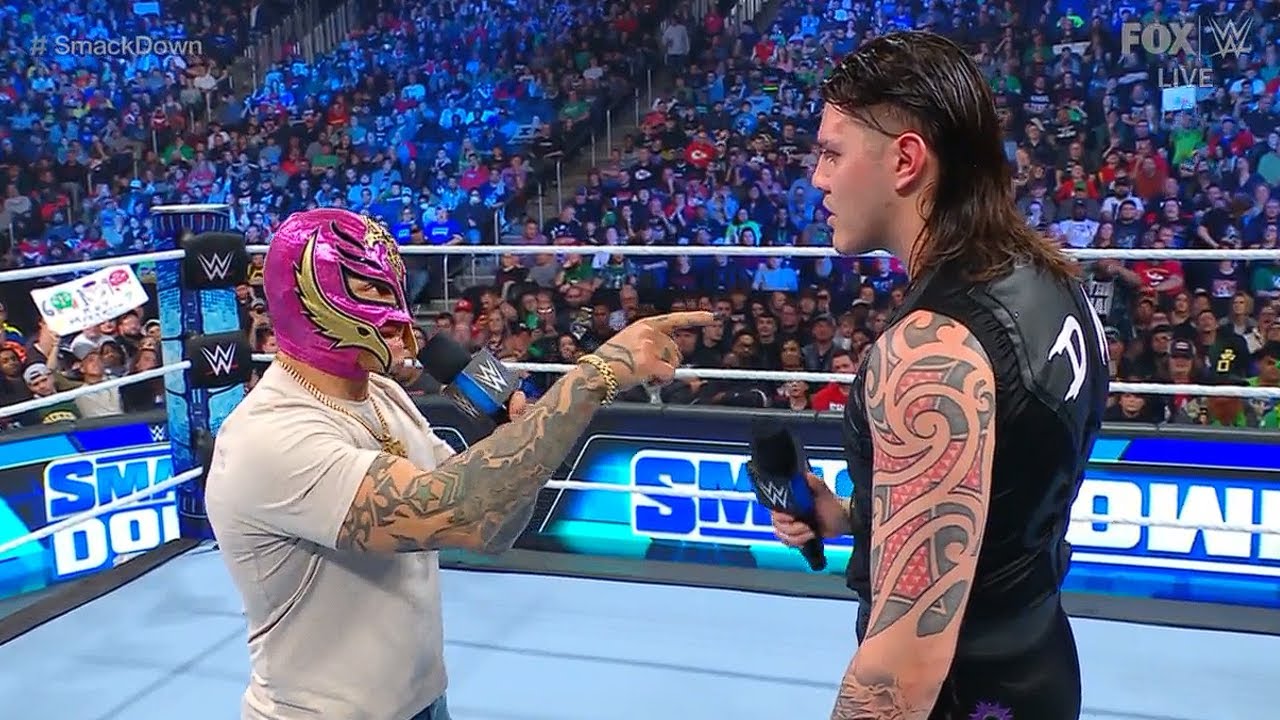 Chris King is here with what WWE should do with Dominik Mysterio at WrestleMania in his long-awaited match against his father Rey Mysterio Jr. 
On this week's episode of Friday Night SmackDown, Rey Mysterio finally snapped and beat some sense into his disrespectful punk-ass kid Dominik. The member of the Judgement Day came out to push his father again for a match on the Grandest Stage of Them All, this time with his mother and sister at ringside. The ungrateful punk told his mom to "Shut Up," as a father even I wanted to jump through the screen and whoop his ass.
Back in October of last year, Mysterio made the emotional decision to possibly quit the company but, instead, Triple H persuaded the Lucha libre superstar to move over to SmackDown to avoid his son. This came after Dominik shockingly turned on his father at Clash at the Castle. Mysterio did everything he could to refuse his despicable son's challenge for Mania but, a man can only be pushed so far. Mysterio will be inducted into the 2023 WWE Hall of Fame and I expect Dominik to embarrass his father during his speech to further this personal feud.
Yes, the WWE Universe hates Dominik and wants to see him get the ever-loving crap kicked out of him but, this feud is missing a special ingredient to capitalize on the biggest heat possible. Throughout this feud, Dominik has made mention of the legendary Eddie Guerrero on several occasions going back to the "iconic" 2005 feud.
I know WWE might not want to go this route but, Dominik MUST come out to Eddie Guerrero's theme at Mania. The disrespectful punk needs to come out in a lowrider to garner nuclear heat. It doesn't matter if The Judgement Day comes out and causes interference for Dominik to get the win, all that matters is that both superstars get the biggest payoff of this nearly year-long feud. Just imagine the Roman Reigns heat after he defeated The Undertaker and multiply that by ten. Dominik portrays the perfect heel and he truly is the missing ingredient that The Judgement Day needed to grow and evolve into a top faction.