Top 5: Pro Wrestling Moms
This Sunday marks one of the most important holidays of the year. While we should love & appreciate our mothers every single day, it's especially important to on the second Sunday of May. Mom does so much for us. We would not be alive if not for their care. Not to mention the whole childbirth thing. I try not to think about that too much, the "Miracle of Life" video scarred me as a young child.
Pro wrestling is full of loving mothers that have made an impact on their childrens' careers. Here are the Top 5 Pro Wrestling Mothers.
5. Momma Benjamin
Shelton Benjamin is an outstanding athlete. He's always been missing a little something in the charisma department though. He isn't a great talker. He'd do amazing things in the ring, but wouldn't be able to connect with the audience. WWE's idea to deal with this was giving Stelton an entertaining side character. Managers used to serve this role, but there weren't managers in 2006. WWE decided to introduce us to Shelton's momma.
Momma Benjamin was bigger than life. She'd often get her son into untenable situations with other competitors. The character really had potential, but she lasted a little over two months before her departure. Thea Vidale, the actress that played the role, later said that her time with WWE was one of the low points of her career. While not naming names, she made claims of sexual harassment that led to her decision to leave.
That's no way to treat somebody's momma.
4. Saraya Knight
Saraya met professional wrestler Ricky Knight in 1990 & quickly went into the business herself. They married and had twp children that also got into the business. You're likely familiar with one of them, the current general manager of SmackDown Live, Paige. She's the only mother in pro wrestling history that I know of to have a lengthy in-ring feud with her daughter, which was probably more to do with necessity than anything else. Until recently it was tough to find female wrestlers in the UK.
The entire family was the subject of a documentary that insipred a feature film that will come out in 2019. I remember Saraya coming off in the documentary as somebody that would do anything for her family, like any good mother.
3. Mama Cornette
Jim Cornette was a spoiled mama's boy. He was accustomed to getting his own way because he always had at home. This made it impossible for the common wrestling fan, whose parents instilled work ethic in them, to relate to him. Her fortune enabled him to acquire the services of some of the best wrestlers in the industry. There was a thread of truth in the story, as Jim's mother was the person that got him interested in wrestling to begin with. She'd buy him magazines & regularly take him to shows. She even became friends with one of the promoters, Christine Jarrett, and convinced her to let Jim take pictures at ringside. She'd sell his pictures, an arrangement that continued until Jim became a manager.
Mama Cornette never cut a promo. She never even appeared on a show. It was better that way. The character worked better as a mythical figure that Cornette would brag about than it would have in the flesh.
2. Linda McMahon
We've seen a lot of the McMahons on WWE television over the past twenty years. Vince was one of the most effective performers on the microphone in the history of wrestling. From commentary to evil authority figure to even occasionally as a popular boss, he excelled for decades. His children aren't as good as he was in his prime, but that's hardly an insult. Both Shane & Stephanie learned well from their father & became solid talkers.
Fortunately, they didn't take after their mother. Linda was never a commanding presence on television. Her charisma was non-existent, which stood out in comparison to the rest of her family. Her value came in her ability to seem like the one McMahon that was somewhat mentally stable. Every family needs one of those.
Honorable Mention: Big Bad Mama
Every house needs somebody in charge. Especially the GLOW House. Big Bad Mama ruled the roost during the third & fourth season with her dominating presence & voodoo. She's most remembered for her appearance on …Married With Children where she squashed poor Al Bundy. After her death in 2013, multiple GLOW performers took to social media talking about how she was like a mother to them. Even if most fans didn't take the show seriously, the performers did. Mama lived up to her name behind the scenes.
Honorable Mention: Judy Bagwell
Judy was a former WCW Tag Team Champion, the object on the pole in a match between her son Buff & Kanyon, & was a strong backstage presence in her son's career. Jim Ross described an occasion where Judy telephoned him to let him know that her son wouldn't be able to make a WWF live event. Jim was not impressed.
1. Helen Hart
You can make the argument that Helen sacrificed more to the wrestling business than any woman. She moved from New York to Calgary to be with her husband, Stu. She gave birth to twelve children. She didn't want any of her sons to wrestle, or any of her daughters to marry wrestlers. You can guess how that turned out. She helped run Stu's Stampede Wrestling promotion while staying off-camera until the early 1990s.
Helen & Stu provided Jerry "The King" Lawler with plenty of comedic material to use during his feud with Bret. Bret would later say they found it hilarious & loved their role. They appeared on WWF television several times during their sons' careers, including at Survivor Series 1994, where Owen convinced Helen to throw a towel into the ring to stop Bret's suffering in Bob Backlund's crossface chickenwing, costing Bret the WWF Championship. Her love for all of her children didn't always lead to the best of decisions, but she always had the best of intentions.
King's WrestleMania Rewind: Charlotte Flair vs. Asuka from WrestleMania 34
Chris king is back with one of the most underrated matches in WrestleMania history–Charlotte Flair vs. Asuka!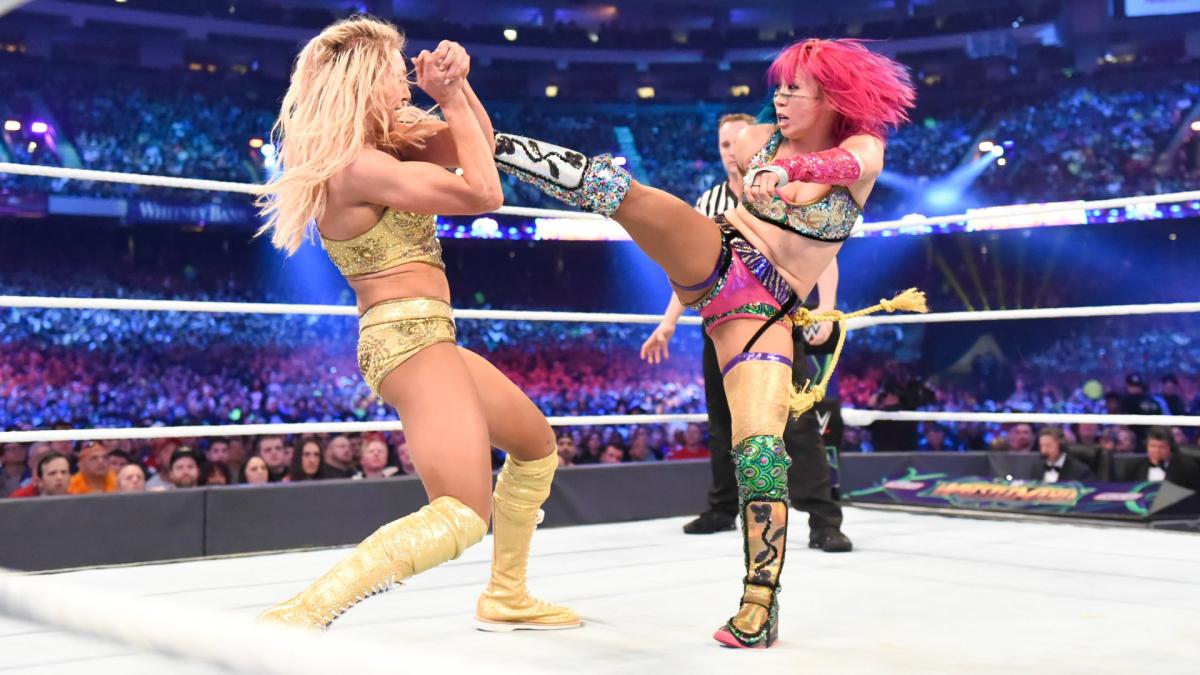 Chris king is back with one of the most underrated matches in WrestleMania history–Charlotte Flair vs. Asuka!
We look back at Charlotte Flair vs. Asuka at WWE WrestleMania 34. 'The Empress of Tomorrow' put her unprecedented and historic undefeated streak of 914 days on the line against 'The Queen's' SmackDown Women's Championship.
For years, this was considered a dream match while Asuka dominated the roster in NXT, while Flair won numerous championships on the main roster on both Raw and SmackDown. The Empress made her long-awaited debut on the September 11th episode of Raw and began to tear through the competition.
Asuka outlasted all twenty-nine other women in the historic first-ever Women's Royal Rumble match to challenge for the title of her choosing. At Fastlane, she made her choice.
The WWE Universe was so excited for this match myself included. Both superstars delivered a fantastic performance on the Grandest Stage of Them All executing counter after counter. Asuka showed off some nasty-looking kicks to her opponent, and Flair hit a thunderous Spanish Fly off the top rope. Flair was seconds away from defeat at the hands of The Empress but she locked in Figure Eight and Asuka was forced to tap out.
I can't even begin to explain how shocked I was at this outcome, as nearly everyone expected The Empress to continue her undefeated streak and walk away with the women's title. This controversial decision was the downfall of Asuka's momentum. She would ultimately win the SmackDown Women's Championship at the 2018 TLC pay-per-view in the triple-threat ladder match.
Fast forward to this year when Asuka has recently returned with her Japanese-inspired persona Kana. Kana is dangerous and ruthless and is heading into a championship with Bianca Belair at WrestleMania 39. The Empress has regained all her momentum and is highly favored to walk away with the Raw Women's Championship. Let's hope that Asuka and Belair can tear the house down and deliver an A+ grade match both women are fully capable of.
King: Dominik Mysterio Needs To Do This At WrestleMania
Chris King is here with what WWE should do with Dominik Mysterio at WrestleMania in his long-awaited match against his father Rey Mysterio Jr.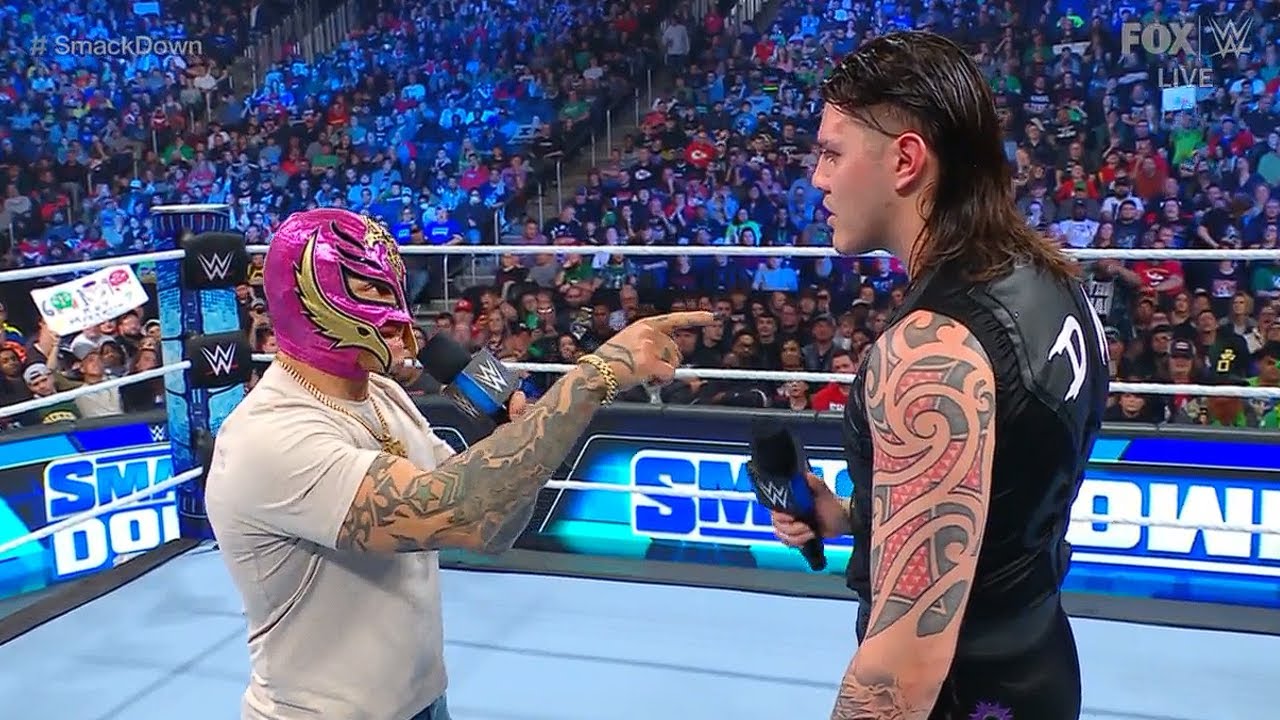 Chris King is here with what WWE should do with Dominik Mysterio at WrestleMania in his long-awaited match against his father Rey Mysterio Jr. 
On this week's episode of Friday Night SmackDown, Rey Mysterio finally snapped and beat some sense into his disrespectful punk-ass kid Dominik. The member of the Judgement Day came out to push his father again for a match on the Grandest Stage of Them All, this time with his mother and sister at ringside. The ungrateful punk told his mom to "Shut Up," as a father even I wanted to jump through the screen and whoop his ass.
Back in October of last year, Mysterio made the emotional decision to possibly quit the company but, instead, Triple H persuaded the Lucha libre superstar to move over to SmackDown to avoid his son. This came after Dominik shockingly turned on his father at Clash at the Castle. Mysterio did everything he could to refuse his despicable son's challenge for Mania but, a man can only be pushed so far. Mysterio will be inducted into the 2023 WWE Hall of Fame and I expect Dominik to embarrass his father during his speech to further this personal feud.
Yes, the WWE Universe hates Dominik and wants to see him get the ever-loving crap kicked out of him but, this feud is missing a special ingredient to capitalize on the biggest heat possible. Throughout this feud, Dominik has made mention of the legendary Eddie Guerrero on several occasions going back to the "iconic" 2005 feud.
I know WWE might not want to go this route but, Dominik MUST come out to Eddie Guerrero's theme at Mania. The disrespectful punk needs to come out in a lowrider to garner nuclear heat. It doesn't matter if The Judgement Day comes out and causes interference for Dominik to get the win, all that matters is that both superstars get the biggest payoff of this nearly year-long feud. Just imagine the Roman Reigns heat after he defeated The Undertaker and multiply that by ten. Dominik portrays the perfect heel and he truly is the missing ingredient that The Judgement Day needed to grow and evolve into a top faction.