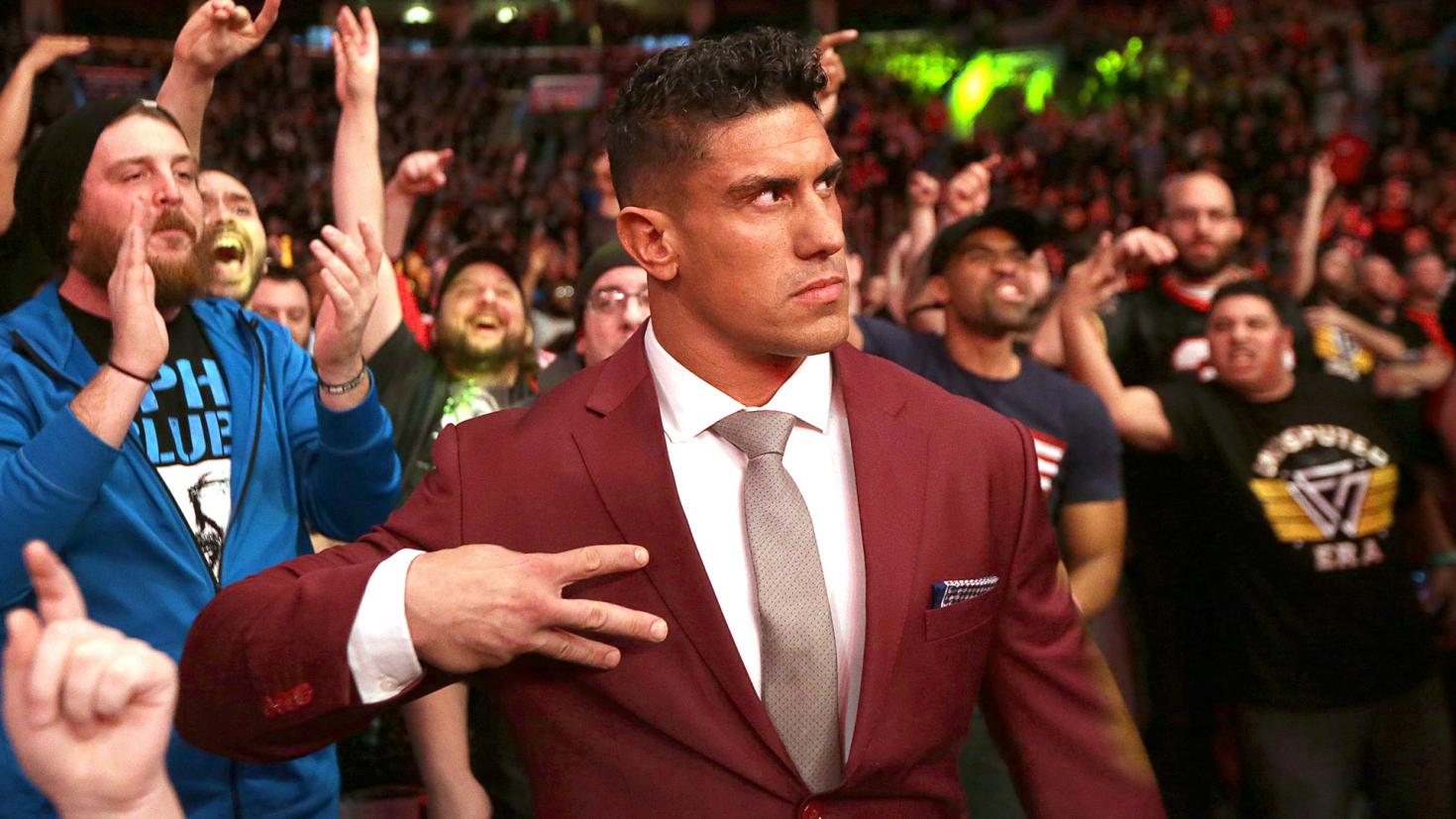 Out of all the people who have been released from WWE EC3 has to be one of the most successful. He's up there with Drew Galloway and Cody Rhodes.
It was probably the best thing for him at the time because Derek Bateman was never going to be a world champion.
When he showed up in TNA as the Kayfabe nephew of Dixie Carter you could see he was a totally different person. Very soon he became the world champion and one of faces of the company. It was here that he proved he could thrive as a main eventer.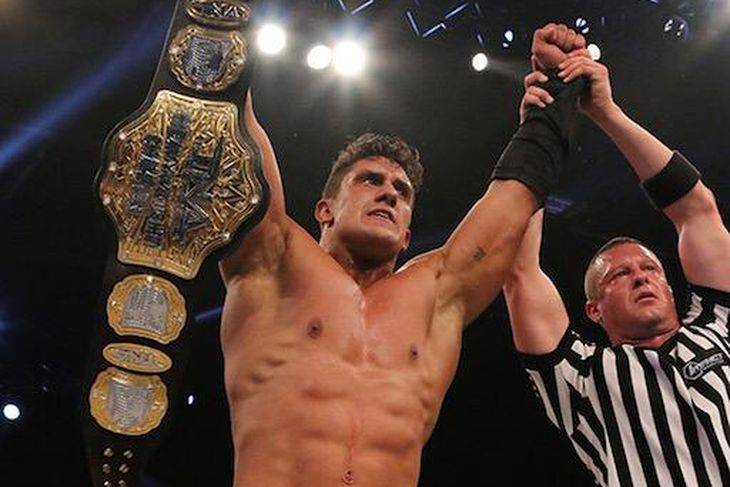 Towards the end of 2017 it was announced that EC3 was yet another person who had decided to part ways with Impact Wrestling. Immediately beginning speculation of a WWE return. Then came Takeover Philadelphia where not only was he in the crowd but to many people's surprise he was still called EC3.
This was a positive step because he had gained so much notoriety as EC3 to debut under any other name would be a mistake. Thank god he didn't go back to being Derek Bateman.
He wouldn't make his official debut until a few weeks before New Orleans where he was expecting to be handed the North American Championship. His first match back as we know would be given 5 stars not all down to him but he played his part. It goes to show how much of a star he is that he could have won that belt in his first match back and fans would have bought it.
Despite that since then all he's down is pre taped vignettes and a squash match against Raul Mendoza. I know they way NXT does things not everyone needs to be on TV every week but I would've expected more given how he was brought in.
Looking at the stories that are building towards Chicago it doesn't look like EC3 fits into the current plans. They can't have him challenge for the North American Championship because it would be heel vs heel. It looks like Sullivan is the one intended to challenge Black but I think it should be EC3.
EC3 can easily be slide into that main event role simply explaining that he is EC3 and does what he wants. He and Black could put on a good match and the loss wouldn't harm him all that much.
If there's no plan for him why is he even in NXT? He could easily debut on the main roster tomorrow. Hopefully better than his former Impact Wrestling counter part Bobby Lashley (what happened to him).
He could believably be put in there against the majority of people on the main roster. The most interesting prospects to me are him vs either John Cena or Daniel Bryan.The later of which excites me given their history in the old NXT.
Maybe WWE have this great long term plan for him that we don't know about which starts in NXT. Hopefully they do because in terms of top stars EC3 is in the top 1 Percent.
Andrew's Impact Wrestling Ratings & Review 1/18/2019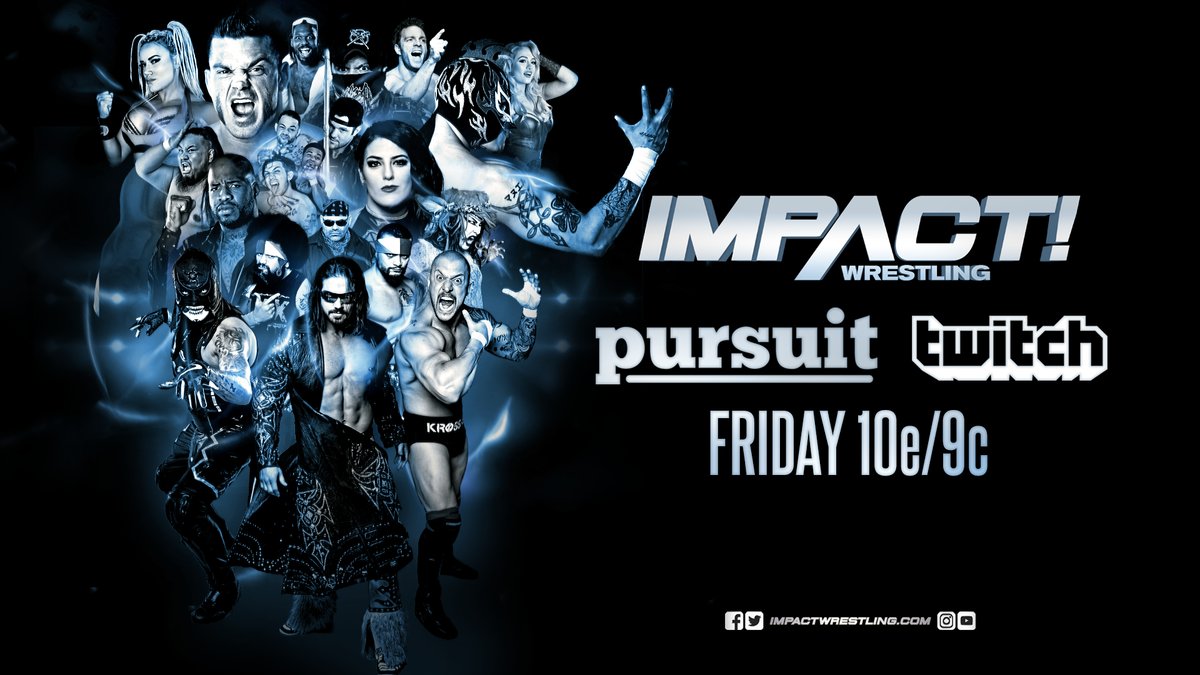 Coming off their sexy debut on Pursuit and Twitch, how does Impact Wrestling follow that? Andrew let's us know how it all went down.
With nothing as edgy as a Scarlett Bordeaux strip show advertised for this week, I guess we should find out exactly how much sex sold last week and who stuck around for Impact.
We should see developments with Johnny/Cage/Kross/Moose, Tessa/Gail and Allie/Rosemary. So with a bunch of budding stories, this should be a fun episode.
.@AllieImpact is here… #IMPACT

▶️ – https://t.co/jyZYT6QL46 pic.twitter.com/WHnYmlkeoK

— IMPACT (@IMPACTWRESTLING) January 19, 2019
Interesting note: Sami Callihan, Don Callis and Jordynne Grace are active in the Twitch chat tonight, along with a few other wrestlers. The interactive aspect is kind of cool.
Ratings:
KM w/Fallah Bah vs Caleb Conley – NO CONTEST Brian Cage lays everyone out
'All Ego' Ethan Page vs Eddie Edwards – Page wins via DQ – ** 1/2
Dark Allie w/Su Yung vs Jodynne Grace w/ Kiera Hogan –  Jordynne wins via Wristclutch Fisherman Driver – *
Brian Cage vs Moose – Cage wins via Drill Claw – ***
Trey vs Rich Swann -Swann wins via 450 Splash – ***
LAX vs oVe – LAX wins via Tandem Inverted Suplex – *** 1/2
Review Notes:
The show starts off with what we expect to be a match, but then it cuts to the back with Brian Cage going crazy. He storms out, interrupts the match, lays out the world and calls out Johnny Impact. Impact comes out, Moose and Kross beat down Johnny. Cage eventually struts up the ramp, drags Johnny back to the ring to lay in some damage himself, but Moose spears Cage and Kross hits Johnny with the Doomsday Saito Suplex.  Wonder if we get a thrown together tag or if the free for all feel continues.
Twitch unique commercial break has Josh Mathew's Skype in and chat with the viewers. It's an interesting take on doing the show through Twitch.
Quick backstage moment with Cage making a match for tonight with Moose, since Moose hit him with the spear.
Eli Drake comes out to join commentary
Decent match by Page and Edwards here. Drake sets up the promo he cuts on Edwards after the match throughout his commentary. Some nice bickering between commentary and solid enough match before Eddie decides to use the Kendo Stick. Edwards calls the Kendo Stick Kenny, and when Page landed a big Pump Kick, Drake couldn't miss the South Park reference. But after the DQ it sounds like Drake wants Eddie to return to his old version, not this twisted hardcore person. Maybe we'll see Davey Richards come back. LAX against the American Wolves would be a great match.
Flashback moment is a steel cage match with Raven's Gathering versus Abyss' Red Shirts. Always nice to see the overbooked nostalgia of old school TNA with AJ Styles, Sting and CM Punk at the time.
Rascalz with the That 70s Show stoner vignette, even drop a Step Brothers reference. Pretty funny if you like that.
Allie puts up a little bit of a fight, but Jordynne dominates for the most part. After the match Rosemary shuts the lights off and switches places with Su Yung in the ring to try and get Allie back. But Allie bails and runs off in fear.
Scarlett announces her winner, and it's herself. She says that she's already the most over Knockout and she hasn't wrestled yet, so now she'll get in a ring and prove herself there.
Cage vs Moose is a hard hitting big boy style match. Moose got to showcase a bit of the cocky persona when he thought he outsmarted Brian Cage, but then Cage ducks the chop and Moose hits the post like a geek. The match was slow, but some nice outside of the ring work, as well as, fun spots. Moose did a Kip Up, Brian Cage fired up, flurry of strikes, Moose lands a Go to Hell, but Cage kicks out. Moose tries to introduce a chair, it backfires and Cage kills Moose. Cage has a much clearer path to a rematch against Johnny.
Taya interview says she'll be back in time for the Mexico shows, and we'll get some La Wera Loca action.
Interesting note, Allie joined the Twitch chat, with Rosemary in it as well…and they continue to talk in character and further to story a bit. It's really cool. Feels like an old AOL RP chat room…shut up, I'm old, don't talk.
Tessa gets an interview in the back, nearly attacks McKenzie, attacks a PA, Gail shows up to pull her off and they scuffle. So again, I'm figuring Gail comes out of retirement to face Tessa. Fun Eli Drake sighting in the background during the brawl though. Scott D'amore did just suspend Tessa, but we all know those never stick.
Swann and Trey was quick and fun. A few hiccups in the match, but not bad. Locomotion Double Leg Cradles make Baby Ref dizzy and Trey nearly gets the best of it. Swann kicks out, knocks Trey back on his ass and then puts things away with a second rope 450 Splash. oVe comes out to try and recruit Swann again, but before a decision is made, LAX come out for the match. So again we're left without knowing how Swann feels.
The commercial break comes back a little late, but we get a good portion of the match. Spotty but a fun match. Saw a lot of quick tandem work between both teams, and it's also the first time we've really seen Dave Crist in an actual match in a while. oVe hits a Superplex/Jumping Powerbomb combo, but only for a 2. Then LAX dispatches of Dave, hits a bunch of smooth moves, Rolling Cutter, Code Breaker, Superkick, Tandem Inverted Suplex, and the pinfall. Fast paced and fun, perfectly fine TV main event. After the match the Lucha Bros congratulate them, but Ortiz gets a little prematurely mouthy as Konnan voices his dismay when the show cuts off.
"If you ever want another ass whipping just let us know baby!" @Ortiz5150 is happy to pick another fight with @PENTAELZEROM and @ReyFenixMx! #IMPACT pic.twitter.com/sapQDse4tt

— IMPACT (@IMPACTWRESTLING) January 19, 2019
Overall Score: 6.5/10
Fun and solid show. Even though the actual wrestling was back-loaded this week, we saw plenty of story line progression and all of the little segments and promos are building to something. Plus Impact showed their new concept with wrestlers in the chat to kind of talk with and Josh's Skype presence. It would be cool if they mixed up the Skype person though. McKenzie Mitchell, Eli Drake, Bruan Cage (with Melissa maybe) or Alicia Atout popping in at 3 minute intervals during commercials would probably be better. But it was still a very cool concept.
Still, between the interactivity on Twitch and the actual content of the show, this was an easy watch and pretty enjoyable. It should be mentioned though that Twitch viewers did drop by a bit. The show capped off right around 8,000 viewers and by the time the main event hit, it was down to 6,500. So this shows about a 20% drop in viewership, but a strip show also wasn't marketed…so who knows if that played into the bigger number last week. All I know is, it's early in the year, but Impact has put on a more solid TV product than even SmackDown Live. I'm hopeful this trend continues, so I'll keep watching.
Power Ranking The Women's Royal Rumble Entrants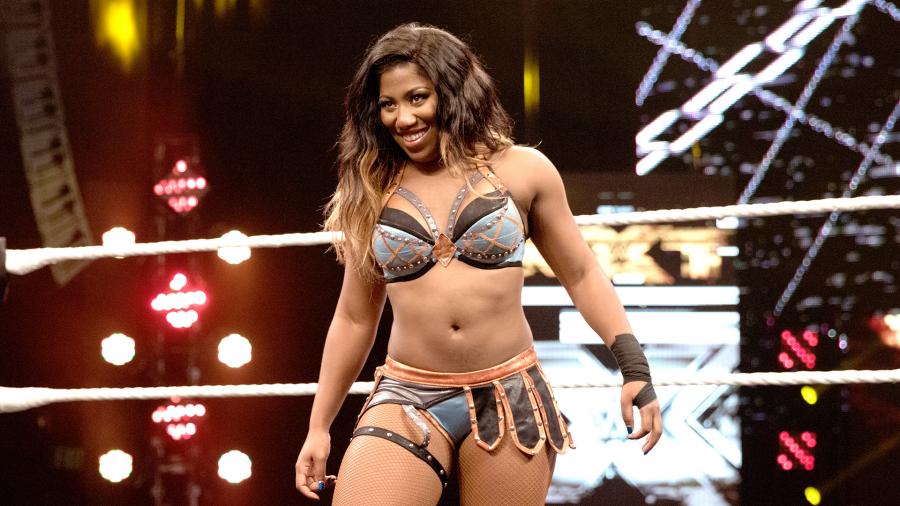 With the Rumble fast approaching, Kevin takes a look at the competitors we know of, and Power Ranks them all! Let's see who number 1 is!
I'm baaaaack!
Last week, as you may recall, I did a column power ranking the participants in the men's Royal Rumble by who had the best chance of winning, in my eyes.
But we don't have just ONE Royal Rumble match to dissect. That's right, for the second consecutive year, the women of RAW and SmackDown will compete in their very own Rumble match!
So, in the spirit of the season, I've decided to break down the women's Rumble in the same way, taking each of the announced competitors and ranking them in terms of who I think has the best shot of taking the whole thing, and punching their ticket to WrestleMania.
Let's begin, shall we?
Wild Cards: Becky Lynch, Charlotte Flair, Alexa Bliss
So just to be brief: Becky Lynch is competing for the SmackDown Women's Championship against Asuka at the PPV, but every inch of me believes that she will lose that match, and enter the Rumble at #30 to a wild crowd pop.
Charlotte Flair, while many (including myself) expect her to enter the Rumble, hasn't officially declared her entry into the match at the time of this writing, and Alexa Bliss may be unable to compete due to her recent concussions. Still, if any of these three women make it into the match, I think they would all be considered among the favorites. As it stands, none of them are official, and therefore ineligible to make the official list.
15. Zelina Vega
While Vega has made huge waves as the business partner/manager of Andrade Cien Almas (that will always be his name, I refuse to conform), she hasn't really been presented as a credible in-ring competitor yet. I think she's going to have a busy WrestleMania season, but as a manager, not as a competitor for a women's championship.
14-13. Billie Kay & Peyton Royce
It's a shame, really, because I think these two have found a nice little niche for themselves over on SmackDown. Unfortunately, that niche seems to be that they're always getting beat up after running their mouths, but hey, whatever gets you on TV, right?
These two just seem like they're destined for a short stint in the Rumble, I'll give the edge to Peyton Royce over Billie Kay just because I think she's a better overall competitor.
12. Alicia Fox
Poor Foxy, she just doesn't have much of a chance in this field. Still, I'll give her a slight advantage over her competitors because she's crazy, and also has a veteran's experience and has been in this situation before, unlike a competitor like Vega, who wasn't in last year's Rumble.
11-10. Liv Morgan and Sarah Logan
I have a feeling that we might see some intriguing story work out of these two in the match. Do they work together? Does one turn on another? Do they team up on Ruby Riott? Does Riott turn on them? None of the above? It's pretty enticing.
But as far as actually winning the match goes, I don't see that in the cards for Morgan or Logan – at least not this year.
9. Mickie James
I'll use the same veteran argument that I used for Foxy here for Mickie James. She's been around a long time, she knows how to handle high-pressure situations, she was in this last year, etc.
But I could actually envision storylines that have Mickie James pulling this one out. I don't think it will happen, but there are plenty of fans out there who would love to see James get one last push, and where better to start that at the Rumble? A pipe dream maybe, but nonetheless, she gets a spot in the Top 10.
8. Naomi
I have a feeling Naomi gets dumped by Mandy Rose here, since they're so dead set on continuing this highly questionable love triangle story with Jimmy Uso, and that seems like a good way to further the feud, maybe even toward WrestleMania.
So no, I don't think that Naomi will win. However, she's got a good history in Battle Royals, winning last year's WrestleMania Women's Battle Royal, and a potential Naomi-Asuka WrestleMania match would make sense in story, and also would be an absolute banger of a match.
7. Natalya
Another crafty veteran, but one that's been involved in or around the title picture in recent weeks. We already got Natalya-Rousey on RAW a couple of weeks ago, but wouldn't it be even better with a few weeks of proper build? Don't count out the Queen of Harts.
6. Mandy Rose
Like I mentioned earlier, I think that Mandy Rose will get the jump on Naomi and send her packing from this year's Royal Rumble. But again, I think that Naomi-Mandy should get the WrestleMania treatment, although I wish the storyline were about two women who just flat-out hated each other, rather than a woman trying to break up a marriage just for kicks. That's kinda messed up.
But Mandy is clearly someone who Vince is high on, and therefore she has to be seen as at least a fringe contender to bring the whole thing home.
5. Carmella
Carmella's been flirting with the main event scene again for the first time in a few months, just narrowly missing out on the chance to challenge Asuka for the Women's title, so instead she'll be competing in the Rumble match to try ad fight her way into a title match at WrestleMania.
But Carmella does, by way of winning the Mixed Match Challenge, have an advantage over the rest of the field: The coveted #30 entry. She's going to be the freshest competitor in the whole match, and that should play to her opportunism quite well. She's also been doing quite well as a fan favorite, and would probably get a decent-sized pop if she won, which is important.
4. Bayley
I don't think she's going to win. She hasn't exactly been presented as a threat recently, even though she did pick up a pinfall victory in six-woman action on RAW. But could you imagine if Sasha wins the RAW Women's Championship, and Bayley wins the Rumble, then we could FINALLY get that Sasha-Bayley WrestleMania dream match that we all deserve.
But, while we will see that match someday, it's not going to be at WrestleMania. Sorry, everyone.
3. Sonya Deville
I may be stretching out on a limb here, but I'm a HUGE fan of Sonya Deville. I think she's pretty close to the total package, and should be in line for a push. The best place to start a push is the Royal Rumble, isn't it?
Even if she doesn't win, which I don't think she actually will, she should put on a star-making performance, solidifying herself as one of the top dogs in the SmackDown Women's division.
2. Ruby Riott
Another superstar who's basically just waiting on a chance to burst out and become one of the top women in the company. I could actually genuinely see her winning this match, to tell you the truth, one of two women outside of the wild cards that I actually could believe will win.
What will inevitably stand in her way, besides 29 other competitors, is her tie-in with the Riott Squad. I think Ruby either lasts until the Final 4, or takes a surprise exit courtesy of Liv Morgan and/or Sarah Logan. Plenty of interesting ways that story could flesh out.
1. Ember Moon
Give Ember Moon a title shot already! She's one of the most exciting competitors to watch on either show regardless of gender, the fans love her, and yet she wasn't even on RAW this week. I actually have a feeling we won't see her again until the Royal Rumble, giving the fans somewhat of an element of surprise.
But I want her to win. More than Becky and Charlotte and Alexa, who don't need it to stay in title contention. More than Ruby or Sonya, who may be a year away. Ember Moon is ready for superstardom NOW. Catapult her to the gosh darn moon, have her eliminate six or seven competitors and win the whole thing, going on to WrestleMania to challenge Rousey or Banks or Asuka (!!!). It's what the people want, and it's what I want!
There you have it, guys and girls! That's my list, Do you love it? Did you hate it? Do you wish to have my head examined? Drop a comment!