Wrestle-1 Tour 2018 Cherry Blossom Results & Review (4/18/2018)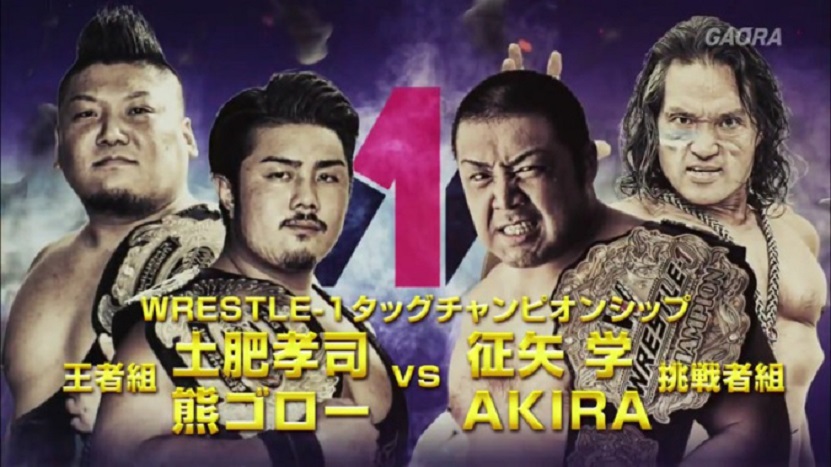 Hello and welcome to another Wrestle-1 Show with the Cherry Blossom tour. I was gonna do the one previous to this, but with too much having to cover and not much happening on that show, figured we would go right to this show where we have the return of Shotaro Ashino along with three title matches today, so definitely a stacked card and let's…dive right in.
Tag Team Match
Shotaro Ashino & Yusuke Kodama vs. Joji Otani & Masayuki Mitomi
Review: Ashino has returned to Wrestle-1 after losing his championship to Manabu Soya as he looks to build up more momentum before seeking his revenge on Manabu. This was actually a really solid match with both Joji and Masayuki working really well together here as a tag team while Ashino and Yusuke doing the same thing here and giving her great chemistry which is a great way to start off the show. Ashino, even without the title is still as aggressive as ever as he was taking out his frustrations on the opposing team here. Lots of exciting back and forth action, but Ashino would get the victory with his Ankle Lock on Masayuki and would walk away soon as the bell rings.
Recommended: Solid match, check it out.
Eight Man Tag Team Match
FUJITA, Kaz Hayashi, MAZADA & Ryuji Hijikata vs. Ganseki Tanaka, Jun Tonsho, Shunsuke Sayama & Tsugutaka Sato
Review: We get a eight man tag with the veterans taking on the future up and comers, but we got FUJITA and MAZADA on this team and not with NOSAWA while he has a tag match later on tonight, weird. Jun Sonsho looks just so skinny here like he's not even a hundred pounds soaking wet. But I feel like I had to put it out there and say, his attire looks a little similar to one of Natio's old ones even though his shorts are a solid red, but I think it's the boots that remind me.
Anyway, this match wasn't bad either as all eight of them would showcase the right amount of time they needed to do while still being a short and entertaining match here. Not a whole lot to talk about this match since it's an exhibition as FUJITA hits the SAYONARA on Jun for the win here.
Recommended: Give it a look if interested.
Tag Team Match
ASUKA & Hiroe Nagahama vs. Hana Kimura & Natsumi Maki
Review: Up next we have our women's tag match with Hana teaming up with Natsumi Maki who are called Actwres Girl'Z as they take on two people from Pro Wrestling WAVE, Hiroe and possibly one of my favorites in that promotions, ASUKA. ASUKA is nineteen years old and is a transgendered person (MtF), but she doesn't let that stop her from doing the thing she does and that's to wrestle, and she's also really good at it as she reminds me of a young Jushin Liger with how she moves in the ring. This girl has a fantastic future if she keeps working hard and not let what people say affect her. ASUKA and Hana going back and forth with the Big Boot was a joy to see and makes me wanna see them in one on one action soon and I hope we see that because that'll definitely be a great match to see.
Only con was we didn't see Hiroe really in this match at all since it was mostly ASUKA fighting both Hana and Natsumi, who are great by the way and not that I mind seeing more ASUKA, but also wanted to see what Hiroe could do also. ASUKA would get the win over Hana with a Chokeslam and I have a good feeling that Wrestle-1 will give us this one on one match soon. While I don't have this service, but Pro Wrestling WAVE does have a network if you're interested in what they got or if you're a fan of ASUKA, go to http://zabun-japan.com/wave_network/ to find out info about their service along with their shows and roster.
Recommended: Solid match, great women and teasing a future match.
WRESTLE-1 Result Title Match
Jiro 'Ikemen' Kuroshio (c) vs. Seigo Tachibana
Review: Our first title match of the night and of course it's my kawaii man, Jiro defending his Result Championship in his first defense again someone that has pinned him in a previous tour, Seigo as he looks to pin him once more and this time to claim the Result Championship. This match was just entertaining as the majority of it was just commentary and you know what? I had no issue with that since Jiro is charismatic and funny, and the crowd just loved it, so what more could you want? My main problem with Jiro is his selling can sometimes be off since he either sells really well or just hardly sells at all and it can be a little bit annoying at times, but he's still very enjoyable. We do get some wrestling in the match and some dirty tactics by Seigo due to being part of Enfant Terribles obviously, but his tricks would hardly work out for him and even got bitch slapped by Jiro's jacket and that was funny.
Ten minutes into the match, Seigo would hit Jiro in the head with a kendo stick and would proceed to roll him up, but Jiro would reverse it to roll him up as well which is calls the Ikemen Flash and he retains the Result Championship. I now kinda wanna see Jiro take on Shingo Tagaki for the Open the Owari Gate Championship since that will be funny and great to see.
Recommended: If you want good laughs and nice wrestling, definitely check it out as it's harmless fun.
Six Man Tag Team Match
Andy Wu, Takanori Ito & Jay Freddie vs. Masayuki Kono, NOSAWA Rongai & Shuji Kondo
Review: Another vet/NEW ERA match here and still confused why NOSAWA didn't have his partners in this match, but oh well. Andy Wu just gets abused throughout most of the match here, specially with NOSAWA attempting to rip his mask off of him and he actually did get close a few times since it almost ripped in half before he was stopped. The match was average with really nothing to talk much about as Shuji Konda would hit the King Kong Lariat on Jay Freddie to secure the win. After the match, Shuji Konda would give the NEW ERA an ultimatum to either split up for good or remain as they are, but Andy Wu said that they'll never die and refuse to split, but it appears Konda didn't like that answer. Curious to see where it'll go.
Recommended: Match is kinda skippable, but up to you.
WRESTLE-1 Cruiserweight Title Match
Seiki Yoshioka (c) vs. Alejandro
Review: This match I was definitely looking forward to after seeing how well Alejandro has been doing throughout the entire Cruiser Fes Tournament and gets to take on Seiki Yoshioka who I am a fan of on the roster, and it's finally for the Cruiserweight Championship as Seiki looks to have a fourth successful title defense here while Alejandro has been building up quite the momentum during the tour before this match, so let's see how it plays out. The match would start slow after Alejandro had a little offense in the beginning as Seiki would just toy with him during the majority of the match, slapping him around, kicking him down, pretty much not taking him seriously at all. But Alejandro would turn it around to get some momentum in the match and would even hit a Canadian Destroyer, but Seiki kicked out and I still hate when people kick out of that move and just treat it as a sequences more than an actual finisher now, sad really. It would finally start picking up a lot better in the last five minutes with nice back and forth action and some close calls thinking that this match could go either way, but Seiki would put Alejandro away with a Shining Wizard and end it with his SK, and still WRESTLE-1 Cruiserweight Champion. While the match wasn't fantastic, I thought it was really solid for what it was and I hope they get a rematch to try and top this encounter since both guys are really good. No new challengers stepped up to the plate to try and take the title from Seiki.
Recommended: Worth a view, really solid match.
WRESTLE-1 Tag Team Title Match
Koji Doi & Kumagoro (c) vs. AKIRA & Manabu Soya
Review: We have NEW ERA defending the Tag titles against AKIRA and the new WRESTLE-1 Champion, Manabu after they made their claim to go for the titles and still promising AKIRA that they would still have this match despite defeating Ashino at a previous show. This is my first time paying full attention to Kumagoro and I gotta say that he's not bad at all since he can work and can definitely see him going for the WRESTLE-1 Championship this year against Manabu.
I think it's crazy that AKIRA is 52 years old and he moves around like he's twenty years young since he gets great height for when he does his Dropkicks or Spinning Heel Kicks, and is just agile aside from those two things and all I gotta say is good for him. Manabu unfortunately didn't do too much in this match and it was a shame, but I guess they wanted the champ to not do too much and let AKIRA do most of the match since it's more his thing along with them strengthening their bond together since AKIRA was the one that helped motivate Manabu to fix himself. The tag mtatch was solid since everyone has done well with some nice spots despite the few little nit picks I had with the match with slow pacing and what appeared to be a botched ending. AKIRA hits his Musasabi Press on Koji Doi and it was a good way to end the match too, but it looked like Kumagoro broke it!
I think even though from where the angle was that he didn't even touch him, so they decide to do it again and this time they get the win and we have new champions. After the match, Kumagoro would attack his own partner and signaled that he is leaving NEW ERA as he now joins Ashino and Enfants Terribles while Ashino states that he wants the tag titles and picks his new member as his partner.
Recommended: Solid tag match, worth a view.
Overall: It wasn't a terrible show, but it wasn't great either since while most of the matches were solid, nothing really to write home about or say which matches stood out as amazing compared to their previous show I did which was much better.
Favorite Match: Jiro 'Ikemen' Kuroshio vs. Seigo Tachibana
Least Favorite Match: Andy Wu, Takanori Ito & Jay Freddie vs. Masayuki Kono, NOSAWA Rongai & Shuji Kondo
Score: 7/10