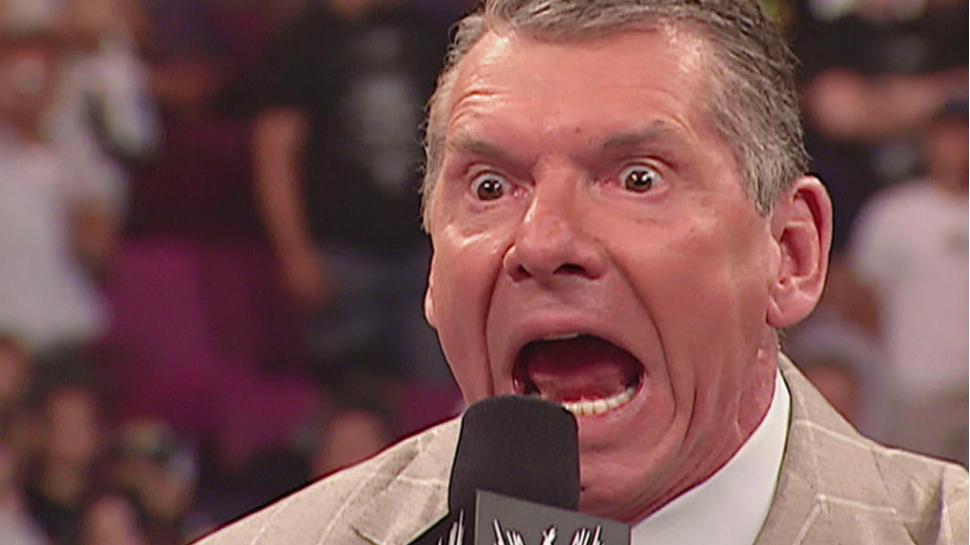 In 1982, Vincent K. McMahon (commonly just Vince McMahon) purchased Capitol Wrestling Group and the WWWF from his father, Vincent J. McMahon. Between 1954 and 1982, the elder McMahon built his version of the WWWF around the old territory idea of how wrestling promotions were run. Business was good, as the WWWF had long been regarded as one of the crown jewel territories because it was among the first promotions to split gate dollars with talent and controlled the New York market, and Vincent J. McMahon was very happy to keep the status quo.
However, the younger McMahon had a larger vision for not just the WWWF, but for the wrestling business as a whole that his father could not or did not want to see. In fact, "Junior", as his father's friends called him, changed the business so drastically that even he admitted to Sports Illustrated in 1991 "Had my father known what I was going to do, he never would have sold his stock to me."
As fans, we've been able to watch that vision turn into reality, as Vincent K. McMahon would turn the world upside down again and again, turning his father's regional promotion into one of the largest entertainment companies in the world. Along the way, he has given us some of the most memorable characters, moments, and storylines in the history of the sport. He has also pushed the now WWE to the forefront of innovation, re-writing the book on how wrestling is marketed and produced.
Truly Vince McMahon is one of the most innovative, creative minds in the history of entertainment and the father of modern wrestling (insert genetic jackhammer joke here).
Except he's killing WWE and needs to go.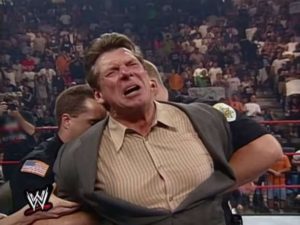 Now, I know someone is rolling their eyes at this, frantically getting ready to type something about "WWE revenue year over year", "#LOLZWUTAMARK", "You don't understand wrestling" etc. but just take a minute and keep reading.
Vincent K McMahon is 72 years old, 3 years older than his father when he passed away as a result of pancreatic cancer and 5 years older than his father was when he was bought out. Some of the same things in regard to presentation and being overly reliant on old ways of doing things that the younger Vince held against the older are now somewhat afflicting the current WWE.
Brock Lesnar as an attraction-type champion is a bad and antiquated approach. Attractions worked when the WWE didn't produce so many hours of content each week. That's not to say wrestlers as attractions can't draw. Attraction matchups still work, look at the interest in the Undertaker or HHH's yearly WrestleMania matchup, but it's a really bad look to have all this content, but not be able to feature one of your top 2 champions.
The same can be said of the repetitive, dogmatic approach to Roman Reigns booking. I like Roman. I think he's an excellent performer, good looking, popular with kids. He ticks all the "top guy" boxes. He is SUPER over without question. But Vince and creative have tried out every single approach to cementing him as champion without giving that character time to breathe with the fans. Think about it (or maybe, more appropriately, Always #UseYourHead): he's tried the dominant Hogan booking, the bad-boy Austin booking, the screwed over by the Authority booking, and now the scrappy underdog booking with Roman all to NO AVAIL.
I could go further with this, but by now you are already thinking of other examples of the WWE's repetitive approach to main roster booking and production.
Truthfully, the best parts of WWE right now are NXT and lately 205 Live, both Triple H's pet projects. Triple H smartly seems to have built both to more closely resemble the style and tone of promotions like ROH, New Japan, and PWG which are currently popular among younger and international fans alike.
Perhaps most troubling is when NXT stars get to the main roster, many struggle because Vince's approach is so very different. As de facto god of all things wrestling for the main roster, Vince has to be held responsible for the product's inability to evolve.
It's really simple business. Any business that can't grow its talent to success will always have trouble on multiple fronts and eventually will endure long-term difficulty. Mid-level talent and below will continue to do just enough to stay around because they are just happy to get a paycheck. Good players who feel abandoned, mishandled, or ignored will leave, taking their talent elsewhere and succeeding when given a platform that is better suited to their strength (see also: Cody Rhodes).
When the growth problem becomes most debilitating is when the talent exodus eventually breeds a more competitive market. What's worse is the eventual whisper campaign against your company which impacts the ability to attract new up and coming talent. Right now, WWE can still cover their imperfections with the promise of a bigger paycheck for young, starving performers eager to make it to the big stage.
But if what continually occurs is that they fail not because of their lack of skill or an inability to connect with the crowd but because of a failure to connect with a septuagenarian who rules with an iron fist, eventually the chorus of bad experiences gets loud enough to drown out the siren's call of the money. The consequence becomes inevitable and your company goes from being stocked deep with young talent to having to hire the 3rd, 4th, and 5th best candidate in order to fill a roster (see also: The Island of Misfit Toys that was mid-90's WWE or the later days of WCW).
Predictably the product suffers, market share shrinks, and one of two things happens: the company changes course radically and bounces back (late 90s WWE) or your former fans serenade you with a rousing rendition of Vince's favorite song as the lights go dark for good.
A wiser man than I once said "Enough is enough. It's time for a change."
Vince has to go.
Just don't blow him up in a limo this time.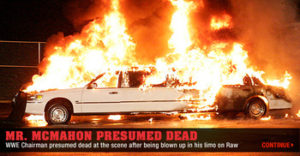 Andrew's Quarterfinals & Semifinals New Japan Cup 2019 Ratings & Analysis
Andrew's combines the New Japan Cup Quarters and Semis out of necessity. Who made the finals? How were the matches leading up?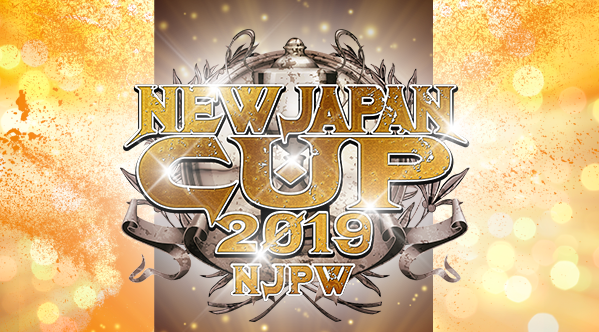 Andrew's combines the New Japan Cup Quarters and Semis out of necessity. Who made the finals? How were the matches leading up?
Due to personal plans, I figured it would be best to group these two and cover the Finals show in full on Sunday. So this way no article looks awkwardly short.
Now after an interesting first 2 rounds, we saw some upsets and some favorites pushed harder than expected.
Many of the usual suspects made the Quarters, so let's see who gets out alive!
Quarterfinals Ratings:
Tomohiro Ishii vs YOSHI-HASHI: Ishii wins via Vertical Drop Brainbuster @20:25 – ****
Kazuchika Okada vs Will Ospreay: Okada wins via Rainmaker @20:10 – *** 3/4
Colt Cabana vs SANADA: SANADA wins via Skull End @14:55 – ** 1/4
Zack Sabre Jr vs Hiroshi Tanahashi: Tanahashi wins via Leg Clutch @21:10 – *** 1/2
Quarterfinals Analysis:
YOSHI had something to prove, and being that he and Ishii are stablemates, it felt almost personal. YOSHI came out with more fire and resiliency than we're accustomed to expect from him and had a few nice near falls. Never really being able to hit Karma, and trying to go toe to toe with Ishii on strikes was his undoing. You don't trying to go blow for blow with the Stone Pitbull.
Okada and Ospreay are great together. As much as I was previously against Ospreay, after his neck injury he seems to actually be doing more than just a plethora of pointless flips. Ospreay has started to become more calculated and Okada keeps getting pushed harder and harder each time these two get together. Though I feel their 46th Anniversary was better, this was still a damn good match. New Ospreay is best Ospreay.
Colt and SANADA. What can I really say. Colt tried to outsmart SANADA on multiple occasions but seemingly gassed himself out being quirky. He overshot the Superman Pin once allowing SANADA to roll out of it and then he just missed, leaving himself wide open for the Skull End. Hopefully we see SANADA get over the hump in the semis, but he's in some pretty elite company.
Sabre and Tanahashi was a deliberately paced match with Tanahashi trying to keep Zack away from his legs. I'm surprised that Zack didn't immediately go after the legs when we all know Tanahshi has two bad wheels. So something about Zack seemed to not be nearly as sharp and calculated as usual, so Tanahashi was able to land an Inverted Slingblade and squeak out the pinfall with a Leg Clutch, much to Zack's chagrin.
Quarterfinals Overall Score: 6.75/10
After a first day of two great matches, the second was bound to not live up to the bar that was set because of well, Colt Cabana. No knock on Colt because he is a well rounded wrestler, but because he was basically Gaijin Yano in this tour, he wasn't going to put on  a classic. Honestly, even Tanahashi and Sabre was a little underwhelming. When YOSHI-HASHI is a participant in the best match of this section, some soul searching might be in order.
Semifinals Ratings:
Kazuchika Okada vs Tomohiro Ishii: Okada wins via Rainmaker @21:10 – **** 1/4
SANADA vs Hiroshi Tanahashi: SANADA wins via Skull End @24:10 – ****
Semifinals Analysis:
Okada and Ishii was a hell of a slobber knocker. Ishii does have a G1 victory over Okada, so it wasn't a foregone conclusion that Okada was going to win, and there were plenty of callbacks to the match where Ishii won. Okada saved the match for himself a few times with desperation Dropkicks, as Ishii just kept coming at him and avoiding the Rainmaker attempts for the most part. A multitude of headbutts and attempted Tombstones is where the match swayed to Okada. Ishii kept trying to hit the Tombstone to weaken the neck for the Vertical Drop Brainbuster, but Okada was wise to it and hit a Jumping Tombstone of his own, to set up the Rainmaker finish. Solid match, with the type of aggression you'd expect from two men who really wanted the chance to beat the hell out of Jay White.
Tanahashi and SANADA is interesting. They have similar teachers and harken back to both for their distinctive style. Tanahashi has been referencing Fujinami a lot to avoid knee damage and SANADA loves himself some Mutoh. We saw this match be a little more of a mat based chess game, with both finding ways to work over the other. Tanahashi went through the litany of the moves he used in the tournament thus far, only to have SANADA either break out, or outright counter. Tanahashi tried to use the Leg Clutch he used against Zack Sabre, but SANADA blocked it and sunk in the Skull End. Which marked the end for Tanahashi.
Semifinals Overall Score: 7.5/10
These matches were great and lead to a rematch between Okada and SANADA. In what was one of Okada's better title defenses last year, SANADA is a year older and hopefully with a new trick. The excessive attempts at the Moonsault, are what spelled SANADA's doom last year.
See you tomorrow for the New Japan Cup Finals! Does SANADA or Okada face Jay White in MSG?
Andrew's Impact Wrestling Ratings & Analysis 3/22/2019
Andrew checks in on IMPACT to see how Johnny validates his betrayal of The Machine called Cage!
Andrew checks in on IMPACT to see how Johnny validates his betrayal of The Machine called Cage!
Even though I rated last week barely above average, we did get a bigger story arc that people seemed to be interested in according to YouTube numbers.
That's got to account for something when it drew some attention, even on a show that was a little lackluster. However, now we're on the Go Home to Against All Odds!
With the TV special looming, Sami Callihan tries to make an example out of Richie and take the X Division title. Let's see how that turns out!
.@TheSamiCallihan wants to take EVERYTHING from @GottaGetSwann.

And he's going to start with the X-Division Championship TONIGHT! #IMPACT

WATCH NOW – https://t.co/jyZYT78lVE pic.twitter.com/zggZ4AWNEd

— IMPACT (@IMPACTWRESTLING) March 23, 2019
Ratings:
Moose vs Trey: Moose wins via Spear – * 1/2
Fallah Bahh & KM vs Eli Drake & Eddie Edwards: Eddie wins via Boston Knee Party – ** 1/4
Ace Austin vs Damian Hyde: Ace wins via The Fold – **
Ethan Page vs Willie Mack: Mack wins via Stunner – ** 1/4
X Division Championship Match: Sami Callihan vs Rich Swann (c): Swann retains via Cradle – *** 1/2
Analysis:
Moose has a bone to pick with the Rascalz since they were making jokes about him striking out with Melissa. As for the match, I don't know what happened here. Moose looked great with deliberate power moves, but Trey had more missteps than Johnny has last names. He got tied up in the ropes at least once, he came out of a Tiger Feint reversal weird, completely wiffed a Code Breaker attempt…and those are just the notable things that stuck out. I like the way Moose wrestled this match, but yeah, Trey was made the match rough. MOOSE!
Solid tag match, Eli and Eddie have this odd couple chemistry which is perfect. Eddie grabbed Kenny the kendo stick and Don said " That's the most famous Kenny in wrestling at the moment". That popped me more than I'd like to admit, but the wrinkle came when Eddie threw Kenny back outside to Eli so Eli could hit KM while the ref continued to admonish Eddie. So Eddie is okay with Eli using Kenny and they seem to keep building this team nicely. Fun match.
GWN Flashback Match: Brian Cage vs Fenix ReDefined August 30,2018.
Rolando Menendez gets shoved into a trash can.
Ace Austin in another enhancement match, but this time he dominates better and shows off his agility. Ace looked smooth as butter, so a much better showing for the new talent.
Madison Rayne maybe?
Two weeks. #IMPACT

WATCH NOW – https://t.co/jyZYT6QL46 pic.twitter.com/0TYN2wD3wd

— IMPACT (@IMPACTWRESTLING) March 23, 2019
Johnny explains his heel turn and blames the smarks. Starting to be a tired excuse for reasons, but hey, it's wrestling. Johnny plays the "I've defended this title more than anyone" reasoning. He makes an analogy that people only watch wrestling for the crashes like NASCAR. Taya says they control the belts so they have the power. It was kind of a flat promo, but solidifies them as shitty heels.
Rosemary and Jim Mitchell have a moment where Rosemary says she'll go back to the undead realm and talk to HIM, if Jim won't give her what she wants. So we know where this is going. But since Supernatural was announced to be coming to an end, do things not bode well for Rosemary?
Decent match where Willie and Ethan both showed their hybrid abilities. Ethan's "All Ego" has been biting him in the ass often enough during his time in IMPACT. A Cross Arm Iconoclasm gave Page a near fall, but Willie puts together the right combination of offense and lands the Stunner for the win. Nothing super special, but decent TV match.
What did @realKILLERkross just tell @TheRealMorrison? #IMPACT

WATCH NOW – https://t.co/jyZYT6QL46 pic.twitter.com/7oLQIwhSOO

— IMPACT (@IMPACTWRESTLING) March 23, 2019
Rolando interviews Disco at the bar. Glenn says he doesn't have to try since it's a girl. It's actually quite amusing.
Melissa catches Gail Kim coming out of management's office about Tessa's earlier demands, and then a brawl between LAX and Lucha Bros kicks up.
Really good match between Swann and Callihan. Signature moves kicked out of, nice back and forth…just a generally solid match with good flurries from both men. Rich with the surprise Cradle win allows for Sami to get upset and we get a new face to IMPACT! Sawyer Fulton shows up and reveals an oVe shirt. Seems like he's going by Mad Man Fulton in IMPACT. This all makes sense after being a part of Sami's Death Machines stable in MLW as well.
Overall Score: 6/10
Decent show, slightly above average. The show felt a little better than last week, but still fell a little flat as a 'Go Home' show. We got a few good filmed segments either for comedy or story progression. Eli and Eddie's match lends to more build for them. The main event was really good wrestling wise and story wise. Nothing was pushed by leaps and bounds, but we got everything we could want in a weekly TV show. Story progression, solid wrestling and different elements of entertainment.
Twitch Views:
Week 1: High – 10,350 / Low – 8,500
Week 2: High – 8,000 / Low – 6,500 
Week 3: High – 8,500 / Low – 7,900  
Week 4: High – 7,100 / Low – 5,300
Week 5: High – 7,450 / Low – 5,650
Uncaged: High – 9,000/ Low – 8,000
Week 6: High – 8,025/ Low – 5,300
Week 7: High – 14,400/Low – 9,800
Week 8: High – 7,200/Low – 4,500
Week 9: High – 9,700/Low – 4,000
Week 10: High – 4,900/Low – 4,150
Well now, first night of the NCAA Tournament could've played into a huge hit for the top end. The show comes in with it's lowest viewership since being on Twitch. Yes, maybe the barely average show last week didn't help, but whenever WWE has a lower audience during a large event, people love to use THAT as the reason. So see, I can do it too. You can't stop me. No take backs.
All seriousness though, the show averaged like 4,600 viewers and after 3 fairly strong weeks, this has to be a disappointment. Next week is Against All Odds, so maybe people were taking the week off before the TV Special…but still, not great.