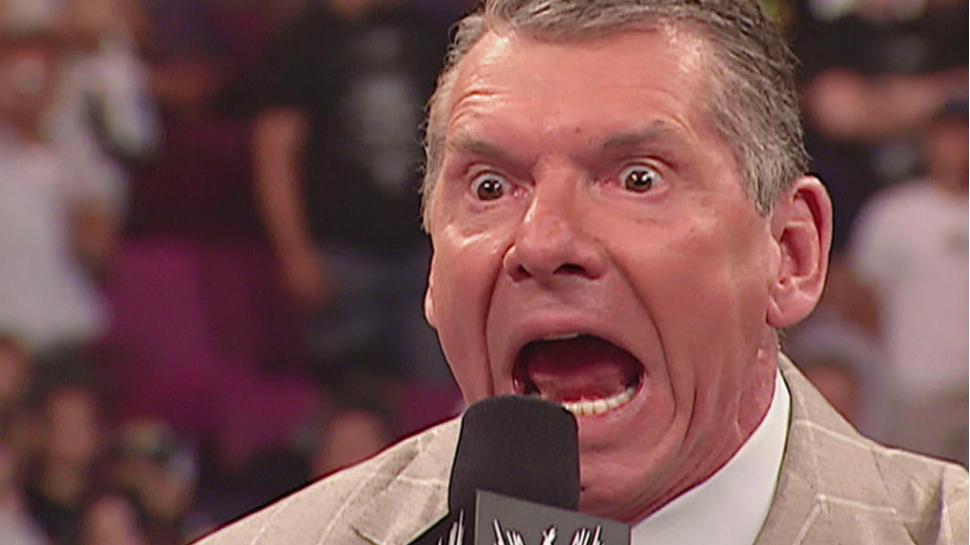 In 1982, Vincent K. McMahon (commonly just Vince McMahon) purchased Capitol Wrestling Group and the WWWF from his father, Vincent J. McMahon. Between 1954 and 1982, the elder McMahon built his version of the WWWF around the old territory idea of how wrestling promotions were run. Business was good, as the WWWF had long been regarded as one of the crown jewel territories because it was among the first promotions to split gate dollars with talent and controlled the New York market, and Vincent J. McMahon was very happy to keep the status quo.
However, the younger McMahon had a larger vision for not just the WWWF, but for the wrestling business as a whole that his father could not or did not want to see. In fact, "Junior", as his father's friends called him, changed the business so drastically that even he admitted to Sports Illustrated in 1991 "Had my father known what I was going to do, he never would have sold his stock to me."
As fans, we've been able to watch that vision turn into reality, as Vincent K. McMahon would turn the world upside down again and again, turning his father's regional promotion into one of the largest entertainment companies in the world. Along the way, he has given us some of the most memorable characters, moments, and storylines in the history of the sport. He has also pushed the now WWE to the forefront of innovation, re-writing the book on how wrestling is marketed and produced.
Truly Vince McMahon is one of the most innovative, creative minds in the history of entertainment and the father of modern wrestling (insert genetic jackhammer joke here).
Except he's killing WWE and needs to go.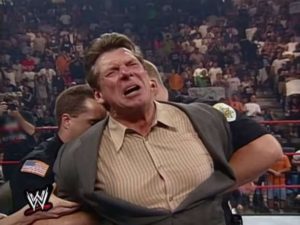 Now, I know someone is rolling their eyes at this, frantically getting ready to type something about "WWE revenue year over year", "#LOLZWUTAMARK", "You don't understand wrestling" etc. but just take a minute and keep reading.
Vincent K McMahon is 72 years old, 3 years older than his father when he passed away as a result of pancreatic cancer and 5 years older than his father was when he was bought out. Some of the same things in regard to presentation and being overly reliant on old ways of doing things that the younger Vince held against the older are now somewhat afflicting the current WWE.
Brock Lesnar as an attraction-type champion is a bad and antiquated approach. Attractions worked when the WWE didn't produce so many hours of content each week. That's not to say wrestlers as attractions can't draw. Attraction matchups still work, look at the interest in the Undertaker or HHH's yearly WrestleMania matchup, but it's a really bad look to have all this content, but not be able to feature one of your top 2 champions.
The same can be said of the repetitive, dogmatic approach to Roman Reigns booking. I like Roman. I think he's an excellent performer, good looking, popular with kids. He ticks all the "top guy" boxes. He is SUPER over without question. But Vince and creative have tried out every single approach to cementing him as champion without giving that character time to breathe with the fans. Think about it (or maybe, more appropriately, Always #UseYourHead): he's tried the dominant Hogan booking, the bad-boy Austin booking, the screwed over by the Authority booking, and now the scrappy underdog booking with Roman all to NO AVAIL.
I could go further with this, but by now you are already thinking of other examples of the WWE's repetitive approach to main roster booking and production.
Truthfully, the best parts of WWE right now are NXT and lately 205 Live, both Triple H's pet projects. Triple H smartly seems to have built both to more closely resemble the style and tone of promotions like ROH, New Japan, and PWG which are currently popular among younger and international fans alike.
Perhaps most troubling is when NXT stars get to the main roster, many struggle because Vince's approach is so very different. As de facto god of all things wrestling for the main roster, Vince has to be held responsible for the product's inability to evolve.
It's really simple business. Any business that can't grow its talent to success will always have trouble on multiple fronts and eventually will endure long-term difficulty. Mid-level talent and below will continue to do just enough to stay around because they are just happy to get a paycheck. Good players who feel abandoned, mishandled, or ignored will leave, taking their talent elsewhere and succeeding when given a platform that is better suited to their strength (see also: Cody Rhodes).
When the growth problem becomes most debilitating is when the talent exodus eventually breeds a more competitive market. What's worse is the eventual whisper campaign against your company which impacts the ability to attract new up and coming talent. Right now, WWE can still cover their imperfections with the promise of a bigger paycheck for young, starving performers eager to make it to the big stage.
But if what continually occurs is that they fail not because of their lack of skill or an inability to connect with the crowd but because of a failure to connect with a septuagenarian who rules with an iron fist, eventually the chorus of bad experiences gets loud enough to drown out the siren's call of the money. The consequence becomes inevitable and your company goes from being stocked deep with young talent to having to hire the 3rd, 4th, and 5th best candidate in order to fill a roster (see also: The Island of Misfit Toys that was mid-90's WWE or the later days of WCW).
Predictably the product suffers, market share shrinks, and one of two things happens: the company changes course radically and bounces back (late 90s WWE) or your former fans serenade you with a rousing rendition of Vince's favorite song as the lights go dark for good.
A wiser man than I once said "Enough is enough. It's time for a change."
Vince has to go.
Just don't blow him up in a limo this time.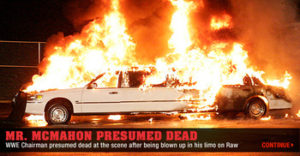 King's WrestleMania Rewind: Eddie Guerrero vs. Rey Mysterio (WrestleMania 21)
In the next WrestleMania Rewind, Chris King takes us back to WWE WrestleMania 21, and Rey Mysterio vs Eddie Guerrero in a battle of tag team champions!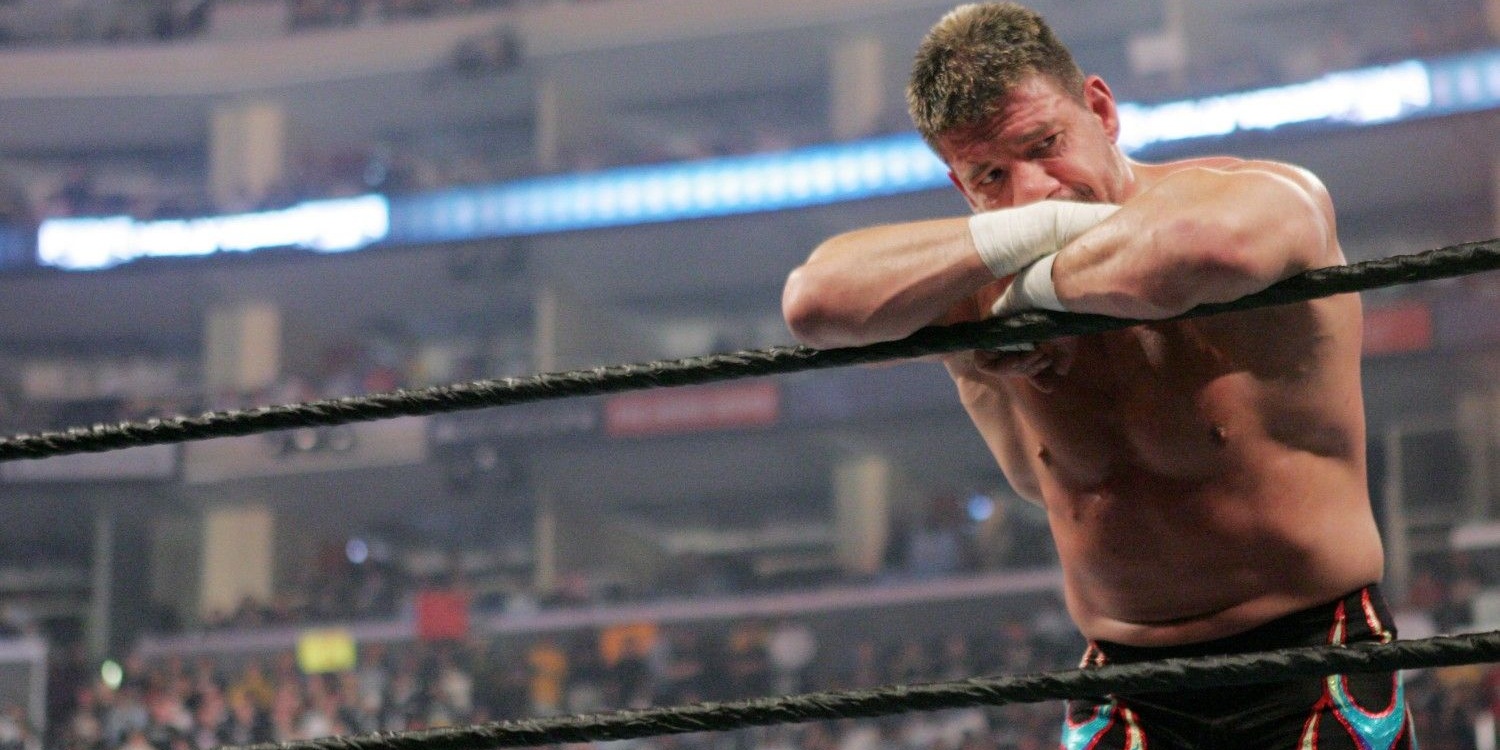 In the next WrestleMania Rewind, Chris King takes us back to WWE WrestleMania 21, and Rey Mysterio vs Eddie Guerrero in a battle of tag team champions!
Chris King is back with his third edition of WrestleMania Rewind. This week he's bringing us back to some 'Latino Heat.' We're rolling back to WrestleMania 21 where Eddie Guerrero faced longtime friend and rival Rey Mysterio.
This would be Guerrero's last Mania match caused by his unfortunate death. Over on SmackDown, Mysterio and Guerrero would become the tag team champions at No Way Out where they defeated MNM.
Chavo Guerrero would get into the head of Latino Heat by making him believe Mysterio was trying one-up his tag team partner. Chavo went as far as to tell his uncle to stop using the Guerrero name.
Guerrero would finally give in to his nephew's manipulation and went on to challenge Mysterio to a one-on-one match at WrestleMania 21. I For the first time in history, both tag team champions would face each other. Guerrero vs. Mysterio was the first match on the stacked card. Both partners threw everything at each other including the kitchen sink in a battle of one-up-manship.  In an incredible high-octane match that saw both superstars delivering counter for counter, Mysterio pulled off the win with a surprise pin roll up.
A few months later, what once was a friendly battle turned into a nasty fight involving the custody of Mysterio's real-life son Dominik Mysterio. After several torturous weeks, both former tag team champions would face off in a ladder match with the custody of Dominick on the line. I forgot how amazing this rivalry was and it's definitely worth a watch. Sadly, we would lose Latino Heat in November of 2005. There will never be another Eddie Guerrero. Viva La Raza!
King's WrestleMania Rewind: Stone Cold VS. Scott Hall (WrestleMania X8)
Chris King is back with another WrestleMania Rewind, looking at the NWO's Scott Hall battling Stone Cold Steve Austin at WWE WrestleMania X8 from Toronto!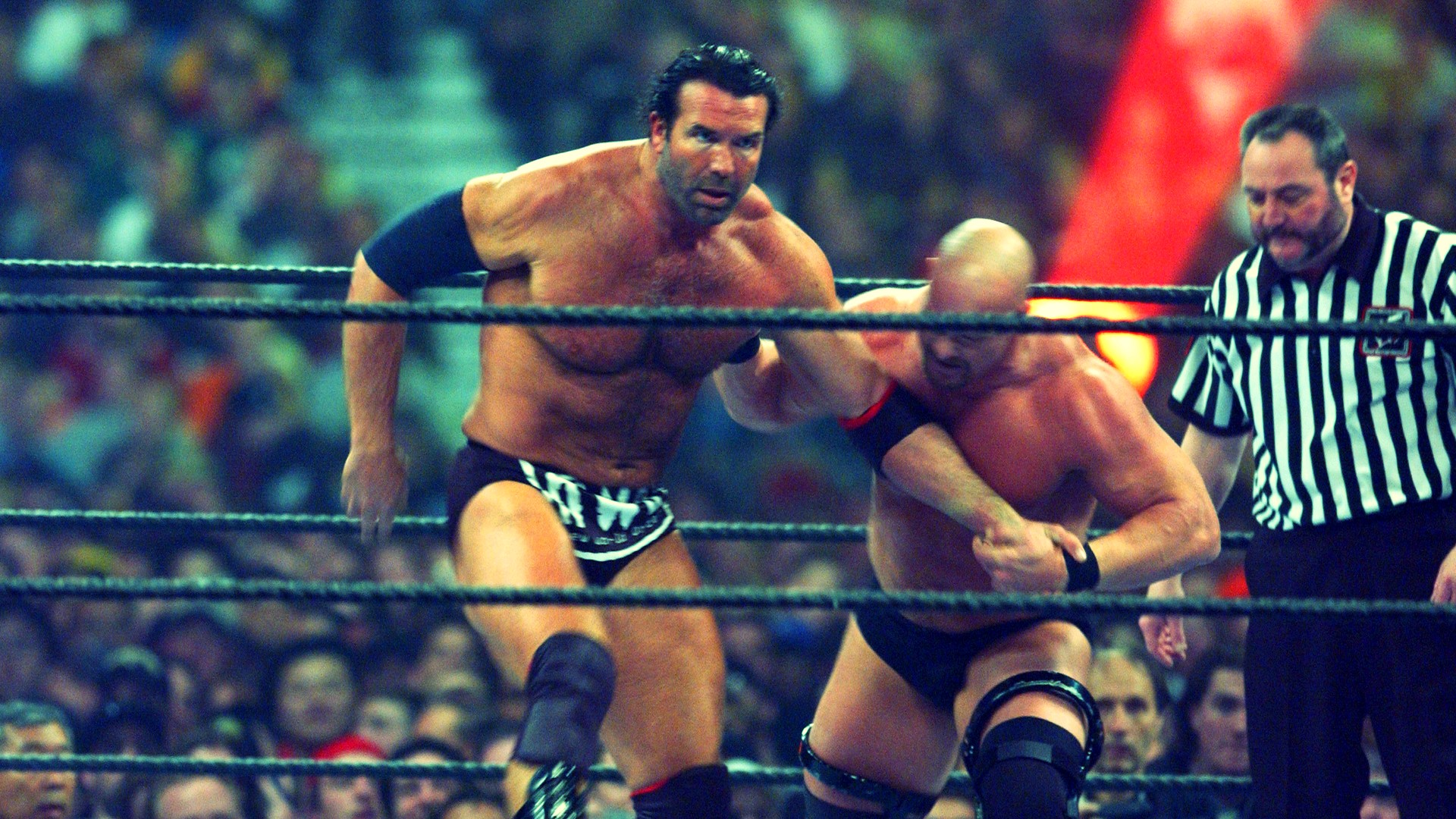 Chris King is back with another WrestleMania Rewind, looking at the NWO's Scott Hall battling Stone Cold Steve Austin at WWE WrestleMania X8 from Toronto!
Chris King is back this week with another edition of WrestleMania Rewind, where he is rewatching all the past Mania matches and feuds. This week you're in for a treat as we look back at 'Stone Cold' Steve Austin vs. Scott Hall at WrestleMania X8.
In late 2001, Vince McMahon bought out his competition WCW and acquired the rights to a plethora of talent including Booker T, Eddie Guerrero, Chris Benoit, and the iconic trio known as NWO. Hulk Hogan; Kevin Nash, and Scott Hall were hell raisers, and what better way to make a name for yourself than take out the two top superstars in the WWE The Rock, and Stone Cold?
The NWO cost Austin his chance at becoming the Undisputed Champion at No Way Out during his match with Chris Jericho. Adding insult to injury, the NWO spray-painted 'The Texas Rattlesnake' with their brand logo just like they did in WCW. As you can imagine, Austin was pissed and out for revenge against the group and primarily Scott Hall.
Hall would challenge Stone Cold to a match at WrestleMania 18. Both superstars beat the living hell out of each other leading up to this highly-anticipated match for who runs the WWE.
The glass broke and Stone Cold made his iconic entrance, and black and white NWO covered Halls' entrance alongside Kevin Nash. With the odds stacked against 'The Toughest S.O.B' could Austin or NWO prove their dominance? Sadly the NWO  broke up that very night when Hulk Hogan came to the aid of his adversary The Rock after their 'iconic' dream match. Stone Cold would ensure the victory with the Stunner. Hall would perform an Oscar-worthy sell over the finisher.
What a time to be a wrestling fan in the 2000s when nothing was impossible for WWE. Who would've thought WCW would go out of business and Hogan would make his long-awaited return to WWE?