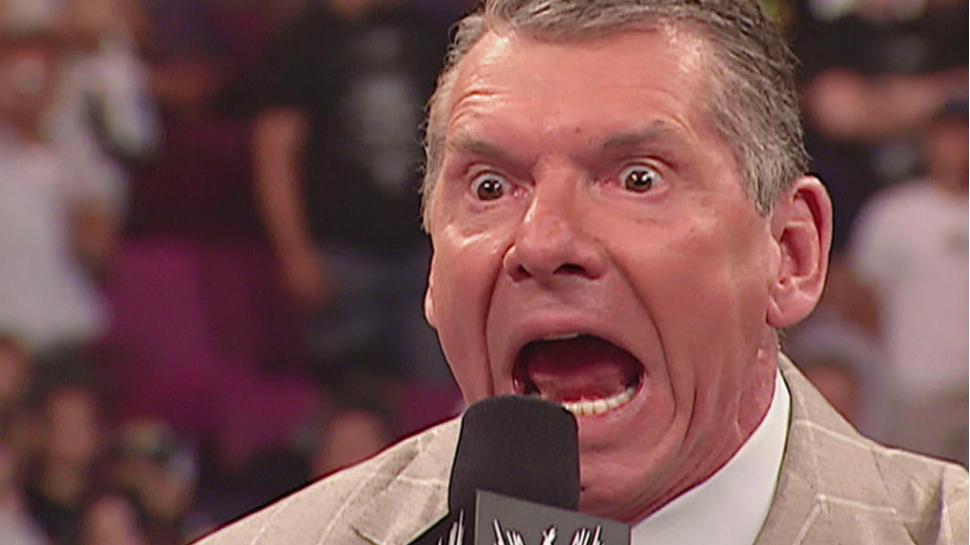 In 1982, Vincent K. McMahon (commonly just Vince McMahon) purchased Capitol Wrestling Group and the WWWF from his father, Vincent J. McMahon. Between 1954 and 1982, the elder McMahon built his version of the WWWF around the old territory idea of how wrestling promotions were run. Business was good, as the WWWF had long been regarded as one of the crown jewel territories because it was among the first promotions to split gate dollars with talent and controlled the New York market, and Vincent J. McMahon was very happy to keep the status quo.
However, the younger McMahon had a larger vision for not just the WWWF, but for the wrestling business as a whole that his father could not or did not want to see. In fact, "Junior", as his father's friends called him, changed the business so drastically that even he admitted to Sports Illustrated in 1991 "Had my father known what I was going to do, he never would have sold his stock to me."
As fans, we've been able to watch that vision turn into reality, as Vincent K. McMahon would turn the world upside down again and again, turning his father's regional promotion into one of the largest entertainment companies in the world. Along the way, he has given us some of the most memorable characters, moments, and storylines in the history of the sport. He has also pushed the now WWE to the forefront of innovation, re-writing the book on how wrestling is marketed and produced.
Truly Vince McMahon is one of the most innovative, creative minds in the history of entertainment and the father of modern wrestling (insert genetic jackhammer joke here).
Except he's killing WWE and needs to go.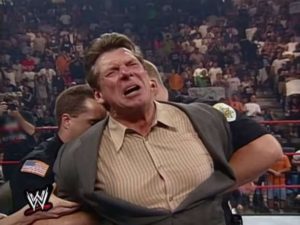 Now, I know someone is rolling their eyes at this, frantically getting ready to type something about "WWE revenue year over year", "#LOLZWUTAMARK", "You don't understand wrestling" etc. but just take a minute and keep reading.
Vincent K McMahon is 72 years old, 3 years older than his father when he passed away as a result of pancreatic cancer and 5 years older than his father was when he was bought out. Some of the same things in regard to presentation and being overly reliant on old ways of doing things that the younger Vince held against the older are now somewhat afflicting the current WWE.
Brock Lesnar as an attraction-type champion is a bad and antiquated approach. Attractions worked when the WWE didn't produce so many hours of content each week. That's not to say wrestlers as attractions can't draw. Attraction matchups still work, look at the interest in the Undertaker or HHH's yearly WrestleMania matchup, but it's a really bad look to have all this content, but not be able to feature one of your top 2 champions.
The same can be said of the repetitive, dogmatic approach to Roman Reigns booking. I like Roman. I think he's an excellent performer, good looking, popular with kids. He ticks all the "top guy" boxes. He is SUPER over without question. But Vince and creative have tried out every single approach to cementing him as champion without giving that character time to breathe with the fans. Think about it (or maybe, more appropriately, Always #UseYourHead): he's tried the dominant Hogan booking, the bad-boy Austin booking, the screwed over by the Authority booking, and now the scrappy underdog booking with Roman all to NO AVAIL.
I could go further with this, but by now you are already thinking of other examples of the WWE's repetitive approach to main roster booking and production.
Truthfully, the best parts of WWE right now are NXT and lately 205 Live, both Triple H's pet projects. Triple H smartly seems to have built both to more closely resemble the style and tone of promotions like ROH, New Japan, and PWG which are currently popular among younger and international fans alike.
Perhaps most troubling is when NXT stars get to the main roster, many struggle because Vince's approach is so very different. As de facto god of all things wrestling for the main roster, Vince has to be held responsible for the product's inability to evolve.
It's really simple business. Any business that can't grow its talent to success will always have trouble on multiple fronts and eventually will endure long-term difficulty. Mid-level talent and below will continue to do just enough to stay around because they are just happy to get a paycheck. Good players who feel abandoned, mishandled, or ignored will leave, taking their talent elsewhere and succeeding when given a platform that is better suited to their strength (see also: Cody Rhodes).
When the growth problem becomes most debilitating is when the talent exodus eventually breeds a more competitive market. What's worse is the eventual whisper campaign against your company which impacts the ability to attract new up and coming talent. Right now, WWE can still cover their imperfections with the promise of a bigger paycheck for young, starving performers eager to make it to the big stage.
But if what continually occurs is that they fail not because of their lack of skill or an inability to connect with the crowd but because of a failure to connect with a septuagenarian who rules with an iron fist, eventually the chorus of bad experiences gets loud enough to drown out the siren's call of the money. The consequence becomes inevitable and your company goes from being stocked deep with young talent to having to hire the 3rd, 4th, and 5th best candidate in order to fill a roster (see also: The Island of Misfit Toys that was mid-90's WWE or the later days of WCW).
Predictably the product suffers, market share shrinks, and one of two things happens: the company changes course radically and bounces back (late 90s WWE) or your former fans serenade you with a rousing rendition of Vince's favorite song as the lights go dark for good.
A wiser man than I once said "Enough is enough. It's time for a change."
Vince has to go.
Just don't blow him up in a limo this time.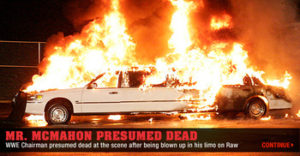 Becky Lynch WWE Survivor Series Exclusion A Blessing In Disguise
Could this be a good thing?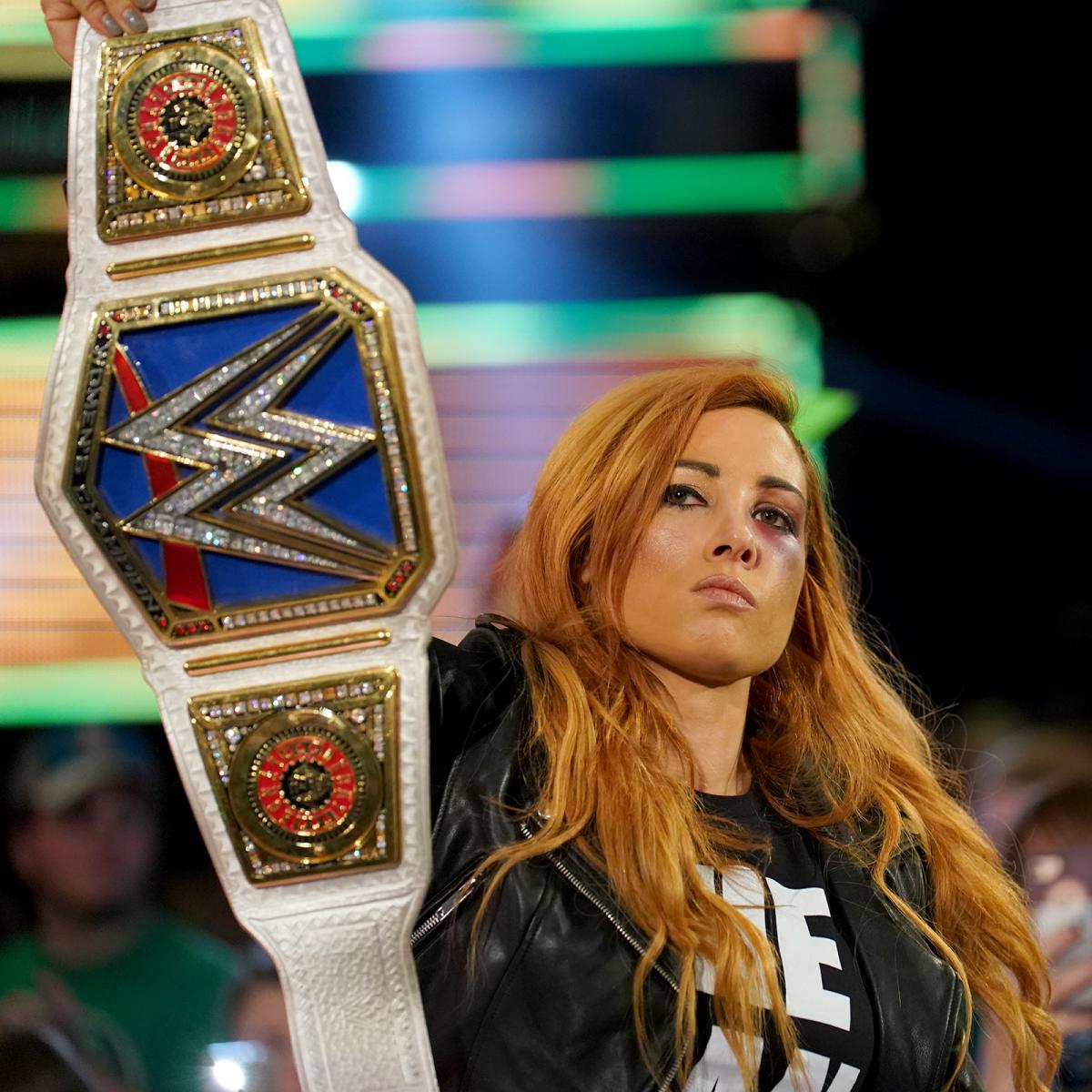 A showdown between Becky Lynch and Ronda Rousey was among the top reasons many fans were excited to watch WWE Survivor Series. Lynch is out, but Sarah Hirsch believes it may be a blessing in disguise.
In a tale where ascension and mishaps collides, WWE Smackdown Women's Champion Becky Lynch has had a hell of a week.  After an incredible statement to end Monday's Raw, fans learned of the unfortunate concussion and broken nose Lynch suffered courtesy of Nia Jax.
Charlotte Flair was handpicked by Lynch to take on Raw Women's Champion Ronda Rousey at Survivor Series – a match many fans and insiders expected to see as the dream match of the WWE Women's Division that would be a number one contender to main event WrestleMania in April.  But the turn of events of Lynch's injury and the quick thinking of WWE's Smackdown roster has created a bigger story.
The Women's Division is coming off of a successful Evolution PPV.  Becky Lynch and Charlotte Flair stole the show in the first Last Woman Standing match, where both women were taken to their limits in those career-defining performances.  Fans have been behind Lynch since her shocking heel turn at SummerSlam – something that backfired in WWE's faces.  And now that there's a switcheroo with Flair, it opens up the door further for Lynch.
Of course with Lynch, Flair, Sasha Banks, and Bayley these four women are history makers as the "Four Horsewomen."  They have all had a hand in changing the game in the WWE Women's Division.  Flair and Banks' feud in 2016 has taken them to the first Women's PPV main event at Hell in a Cell.  Banks and Bayley's historic feud produced one of the greatest Women's matches of all time followed with a Iron Woman match at NXT Takeover: Respect.
We can't forget when Becky Lynch, Charlotte Flair and Sasha Banks made their main roster debuts in Atlanta in 2015 (I was there).  It set the main roster into a tailspin.  The revolution made every woman better.  Everyone stepped their game up and took the division to places where it never went before.
And while Lynch has had an incredible hand in all of these moments, perhaps no one deserves that WrestleMania main event more than The Man herself.
Her mean streak has been unprecedented with epic matches and a balls on attitude of being The Man in the WWE Women's Division.  It's catchy and fits the bill for Becky.  Fans have been comparing Lynch's meteoric rise to that of Stone Cold Steve Austin – an WWE icon who is bigger than the business.  Monday's events are proof that Lynch's legacy is breaking major ground.
Becky Lynch is white hot, which should continue into the fall following with WrestleMania season.  With WrestleMania becoming the platform for dream matches and opportunistic ventures, why not have Lynch and Rousey duke it out in Met Life Stadium?  Not only does Rousey have the ability to fill the stadium, but with her and Lynch having unfinished business, this match would be money.
It is proven that fans are behind Lynch, who as of Sunday morning only has 16 items listed in WWE Shop.  This is atrocious considering her rise to Women's Division Immortality.  Change has certainly come for the Lass Kicker even if it takes awhile for the company to see her true potential.
All of this being said take notice that Becky Lynch is just getting started.  Once she returns, there is no stopping The Man.




Do you think Becky Lynch's removal from WWE Survivor Series is a blessing in disguise?
Let us know on social media @theCHAIRSHOTcom and always remember to use the hashtag #UseYourHead!
Writing The Book: WWE Survivor Series 2018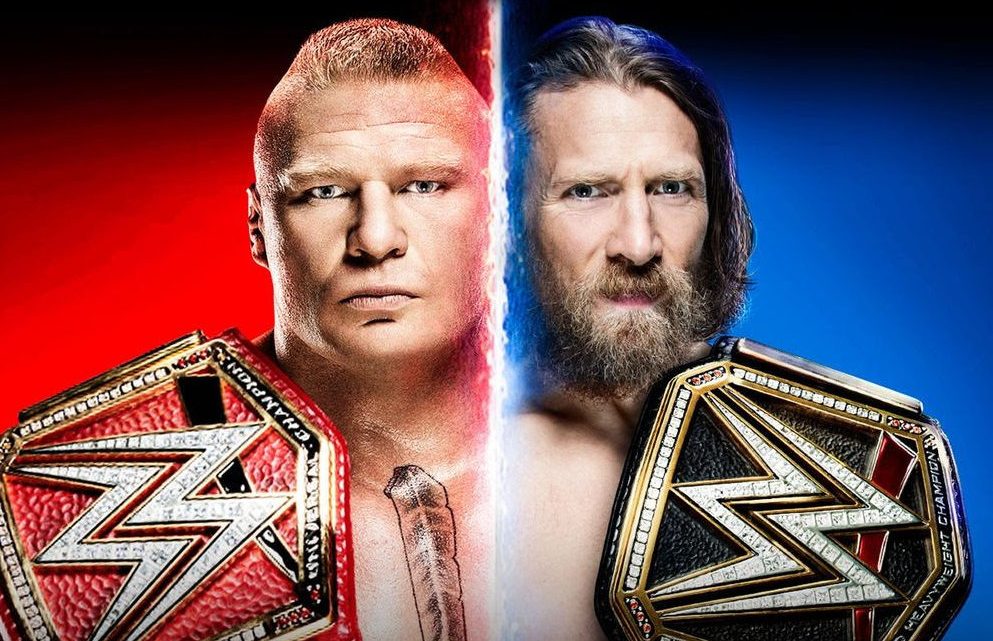 Before the event itself goes down, see how Abe Odeh would book WWE Survivor Series 2018!




Before we get started, I'll mention that I didn't book the cruiserweight match because I wanted to stay focused on the battle between Raw and Smackdown. The Cruiserweight Championship match is currently not on the pre-show and I hope it stays that way. Buddy Murphy and Mustafa Ali had one of my favorite matches of the year this summer so hopefully they'll have a chance to recreate some of that magic for a bigger audience on the main card.
5 v 5 Survivor Series Tag Team Match
Team Raw (The Revival, Bobby Roode & Chad Gable, The Ascension, B-Team, & Lucha House Party) vs Team Smackdown Live (The Usos, New Day, The Colons, Sanity, and Gallows & Anderson) 
Winners: SD Live
Sole Survivors: Usos and New Day
Order of Eliminations: Ascension (via New Day), Lucha House Party (via Sanity), Colons (via B-Team), B-Team (via G&A), Roode & Gable (via G&A), Gallows & Anderson (via Revival), Sanity (via Revival), Revival (via Usos)
Since this match is on the pre-show, I made pretty standard booking decisions. The Usos and New Day are the clear best teams among the ten competing so they get to be the sole survivors. If this match was in the middle of the card, I'd probably give that honor to Sanity because we all know they need that big win. The Revival are the most legitimate tag team on the Team Raw side and they could also use some spotlight. Toppling both the New Day and Usos is a big leap so I decided to have them go on a small roll then barely fall short in the end.
Score:
Champion vs. Champion
Raw Tag Team Champions AOP vs Smackdown Tag Team Champions The Bar
Result: AOP goes over clean with The Last Chapter.
AOP just became the tag team champions and I imagine they'll be holding the belts for awhile in a shallow Raw tag division. They need the win much more than Sheamus and Cesaro.
Score:
5 v 5 Women's Survivor Series Match
Team Raw (Mickie James, Nia Jax, Tamina, Ruby Riott, & Natalya) vs Team Smackdown Live (Carmella, Naomi, Sonya Deville, Asuka, & TBA) 
Winners: Raw
Sole Survivors: Nia Jax and Tamina
I'm going to make a couple changes to the teams before I get into the eliminations. It doesn't make sense that Natalya is a lone babyface on a team of heels. For this reason, I would have the Riott Squad attack Nattie backstage and have her unable to compete in the match. Natalya is currently in a feud with Ruby Riott so that further adds to the reason. She would then be replaced with Alicia Fox who is already friends with both Mickie James and Team Captain, Alexa Bliss. Also, at the time of this article being created, Smackdown has not announced a fifth member for their women's team. It was likely going to be Charlotte but she had to replace Becky Lynch in her match. I'm giving that fifth spot would go to Mandy Rose. She lobbied for her chance to replace Charlotte last week and now she'll be given that opportunity.
Order of Eliminations: Sonya (via Tamina), Alicia (via Naomi), Mickie (via Asuka), Mandy (via Nia), Carmella (via Ruby), Ruby (via Asuka), Noami (via Tamina), Asuka (via Nia)
I want several things to happen in this match: Mandy accidentally causes Sonya's elimination, Ruby gets an elimination, and Asuka gets two. There were seeds planted last week of Sonya and Mandy having a falling-out so Sonya being eliminated because of Mandy would further that story. Since I can't give Asuka the luxury of winning the Survivor Series match for a second year in a row, I gave her two consolation eliminations. The superstars that need it more are Nia Jax and Tamina. They've just formed a new tandem so they need to solidify their stable with a win. Asuka's elimination should be the result of slightly bent rules. It'll be 2-on-1 at the end of the match so Nia and Tamina would gang up on her until they have the advantage.
Score:
Champion vs. Champion
Intercontinental Champion Seth Rollins vs United States Champion Shinsuke Nakamura
Result: Nakamura wins with a Kinshasa.
A lot of people expect Dean Ambrose to make an appearance but I decided to work around that since I have interference occurring in other matches. After a grueling 20-minute, show-stealing match, it looks like Seth is about to pick up the win. But right before that can happen, The Shield's music hits, leaving Seth in shock and confusion. It can't be Roman Reigns and Dean is done with The Shield. As Seth looks around for Dean, he loses sight of Nakamura and walks right into a knee. Nakamura wins and Dean causes Rollins the match without even having to show up.
Score:
Raw vs. Smackdown
Raw Women's Champion Ronda Rousey vs Charlotte Flair
Result: Charlotte wins by submission (let me explain)
If this match was still Ronda Rousey vs Becky Lynch, it would have been my last match on the card. This is a match we expected to see a WrestleMania but was forced to be made the week of the show. That's why I want Ronda to have a reason why she loses this match. As Ronda walks out to the ring second, she'll be wearing her leather jacket as always. But when she takes it off, her arm will be heavily bandaged. Her arm is still damaged after Becky's ambush. Charlotte's eyes light up and commentary highlights it. They go through their match and Charlotte begins to take shots at the arm. Ronda eventually finds a way to turn the tides and tries to lock in the armbar. However, she can't lock it in completely because she's only able to pull with her one good arm. Charlotte fights out and locks in the Figure-8. Ronda's bad arm is the arm closest to the ropes. She tries to reach but is visibly agonized at the slightest attempt of stretching her injured arm. She has no choice but to tap.
When I first went through the Survivor Series card, Ronda was one of the first names I circled as an obvious win (which probably will still happen). But when I finished picking the winners, the final result was Raw winning 5-2 and that can't happen. I needed to pick another match to sway in Smackdown's favor and Ronda's potentially injured arm gave me that opening. If the original match stood, Becky would have been my winner so now Charlotte gets that win and gets her confidence back. The questionable win also gives Ronda a claim for a proper rematch in the future.
Score:
Champion vs. Champion
Universal Champion Brock Lesnar vs WWE Champion Daniel Bryan
Result: Brock wins with an F5 after interference from AJ Styles
As much as Vince McMahon loves Daniel Bryan, he's not letting Brock Lesnar walk into the UFC fresh off a loss to a much smaller opponent. AJ is surely still fuming after having his historic title reign ended with a low blow so he'll do whatever it takes to make sure Daniel has a miserable night.
Before this match got flipped on its head Tuesday, I was thinking of ways for AJ's and Brock's match to end in a no-contest. I didn't want AJ to lose to Brock two years in a row so I was toying with the idea of having the night end with an even 3-3-1 record between the brands.
Score:
5 v 5 Men's Survivor Series Match
Team Raw (Dolph Ziggler, Drew McIntyre, Braun Strowman, Bobby Lashley, & Finn Balor) vs Team Smackdown Live (The Miz, Shane McMahon, Rey Mysterio, Samoa Joe, & Jeff Hardy)
Winners: Raw
Sole Survivor: Drew McIntyre
Order of Eliminations: Shane (via Dolph), Finn (via Joe), Braun (via countdown/Mysterio), Mysterio (via Lashley), Lashley (via Miz), Joe (via Drew), Hardy (via Dolph), Dolph (via Miz), Miz (via Drew)
Somehow Shane McMahon has found himself on a Survivor Series team for the third straight year. Dolph should eliminate him in a couple of minutes to rectify what happened in Saudi Arabia. When Mysterio enters the match, Braun will asked to be tagged in, leaving the fans with a pretty interesting face-off in the center of the ring. The two will go back and forth for a bit until the fight spills to the outside of the ring. The ref starts his count. Once the ref reaches 5, Braun will try to tackle Mysterio through the barricade but miss. Braun spends the second half of the 10-count laying in the rubble and Rey somehow comes out on top. However, when the referee is focused on Braun outside the ring, Randy Orton sneaks in, gives Rey an RKO, then leaves, before the ref notices. Rey has been the target of Randy's for the past couple of weeks so now that story continues. My original plan was for Randy to replace Shane in the match but I already had something similar happen earlier in the night.
At this moment, Braun is eliminated and Rey is lifeless in the ring. Lashley runs in to pick up the scraps, covers Rey with a cocky pin, and eliminates him. Since this was such a bogus elimination, it gives Lio Rush the right to celebrate in an even more obnoxious fashion. This celebration becomes so obnoxious that the ref has no choice but to throw Lio Rush out. Lashley is distraught that his manager is gone so Miz rolls-up Lashley for the pin while he's distracted. Daniel Bryan's heel turn suggests that The Miz will turn babyface soon so he needs a moment like this. Now the real fight begins.
The former tag champs of Drew McIntyre and Dolph Ziggler are now faced with the challenge of The Miz, Samoa Joe, and Jeff Hardy. The match turns into a real battle. Joe is eventually eliminated by McIntyre, and Jeff is pinned by Ziggler. Miz is now at the disadvantage. Miz is able to eliminate Dolph and is now head-to-head with Drew McIntyre. The crowd is getting behind Miz in their exchanges as he's had the appearance of a babyface in the match. Unfortunately, Drew is just too much of a beast to overcome and is the last man standing for Team Raw. The man who is most likely to challenge for the Universal Championship next is the last face we see before the show concludes.
Final Score:
What do you think of Abe Odeh's booking for WWe Survivor Series 2018?
Let us know on social media @theCHAIRSHOTcom and always remember to use the hashtag #UseYourHead!