5 Most Frustrating Things About the Universal Championship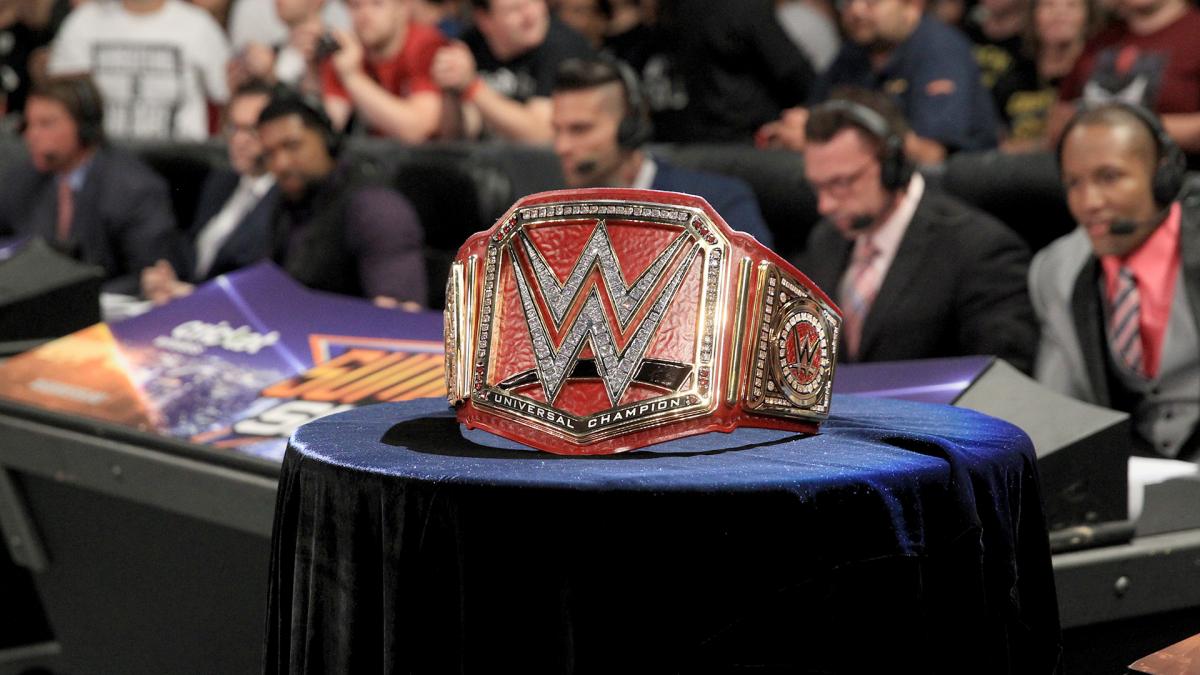 The Universal Championship has been a WWE "World Title" since its creation in 2016. Through it's history of ups and downs though, it has always been a bit of a frustrating belt, one that seems to lack any real meaning especially because WWE tends to treat it like it's more important than ACTUAL WWE CHAMPIONSHIP over on SmackDown. So rather than thrash and complain to other people in person like a normal human being, I decided to write a few grievances about the red strapped newcomer.
Goldberg Squashed Kevin Owens to Win It
Royal Rumble 2017 was a generally decent event in my opinion, and even though I knew pretty well what was going to be the result in the Universal Championship match of the evening, I was quite excited for the match. At this time Goldberg, yes Goldberg, made a surprising WWE return a few months prior and offed Brock Lesnar in less than three minutes at Survivor Series. That ending came as a shock to myself and many others, but when Goldberg was positioned to fight then Universal Champion Kevin Owens at Royal Rumble, the concern started to seep in.
We all knew that the Lesnar/Goldberg feud would be resolved at WrestleMania, but we just didn't know for sure if it would involve the Universal Championship. Kevin Owens was doing a decent job with the title and was establishing a great rivalry with best friend Chris Jericho, so at the time I was hoping that would be a main event at WrestleMania 33.
I thought Brock would interfere and cost Goldberg the match or that Goldberg would eat Kevin Owens, and unfortunately the latter took place. Even though he lost from a Jericho distraction, it would have been real nice to see WWE position KO as an actual threat to Goldberg rather than a doofy turnstile that Goldberg had to walk through to get on the Lesnar express.
Finn Balor's Rematch Clause(?)
I feel like every week on RAW, one of the commentators (mostly Michael Cole) mentions that Finn Balor was the first Universal champion. He totally was, but you wouldn't know it because the guy has never even touched the tip of that title since he was forced to relinquish it due to an injury. He never lost the title, and by WWE logic that's grounds for a rematch clause of sorts.  
You can imagine if Roman Reigns had to relinquish the title due to injury that the big dog would receive a rematch clause on a silver platter once he got his big dog paws all fixed. It's strange how Finn Balor has not received that opportunity quite yet. Though Finn may not be the most over guy on the roster, you could imagine that if AJ Styles could put on a great match with Lesnar, that Balor could at least give a well-fought performance.  
Roman's Destiny
Since Brock Lesnar won the Universal Championship back at WrestleMania 33, it has almost been a given that Roman Reigns would be the one to beat him for it. From WrestleMania 33 on, we all at some point accepted that Lesnar would fight Reigns again in New Orleans at WrestleMania 34. And they did. Reigns lost, which was a shocker, but they did have another match. It seemed that all of 2017 was aimed at building Reigns more and giving him even more accolades so that he could receive another coronation at another WrestleMania.
Although it seems the company is moving more towards Braun Strowman in recent months as "the guy," I still have this terrible feeling that Reigns will again fight Brock Lesnar and this time win the Universal Championship. He could lose afterwards to a Braun cash in, but my god do I never want to see Reigns and Lesnar in the main event title picture ever again.
It's Not The WWE Championship
Speaking of "main event title picture," what ever happened to the WWE Championship, the most historic and prestigious championship title, main eventing dual branded shows? I'm sure nobody wanted to see Reigns vs. Samoa Joe main event Backlash 2018 instead of AJ Styles vs. Shinsuke Nakamura. I'm sure that nobody wanted Reigns vs. Lesnar for the Universal title to main event WrestleMania 34 instead of AJ Styles vs. Shinsuke Nakamura. However, the WWE clearly thinks that the Universal Championship and everything revolving around the Universal Championship is more of a main event than the WWE Championship.
This could partly be a RAW vs. SmackDown issue, but it's mostly rooted in each title and it's champions and contenders. WWE clearly likes Reigns more than AJ Styles, WWE clearly thinks Lesnar is where the money's at, WWE clearly cares more about who is number one contender to Brock than who is the actual WWE champion. These are just things I've noticed in the past year or so. It's unfortunate, but as long as dual branded PPVs continue, the WWE Championship will essentially fill the show as a glorified Intercontinental Championship.
It's Still on Brock Lesnar
So in the wonderful world of kayfabe, Brock Lesnar is now "up in the air" for a title defense in the near future, aka SummerSlam. This caused General Manager Kurt Angle to "cancel" the number one contenders match at Extreme Rules, which is a decision that definitely makes no sense.
Who cares if Lesnar can't come in for a match? What does that have to do with deciding who his opponent will be if he comes down to tango again? Frustrations of that aside, Lesnar has surpassed CM Punk's 434 day world title reign, and has defended the Universal Championship a miniscule amount of times compared to Punk. Also, considering the Universal title and the WWE title are two different entities, Lesar really only set the record as far as the Universal title is concerned.
Lesnar's reign has decent points though. Though he never defends the title, I do like that when he does it has a very important feeling to it. I like his UFC-like schedule sometimes, it makes sense for his contract and for the way WWE wants to portray him. What is not great however, is how long this reign has been. This is simply too long for this gimmick, and it will be refreshing to have a champion on RAW every week no matter who it is. Overall, Brock Lesnar's reign has been a bit boring, and also the Universal Championship is not a prestigious enough of a title to warrant all this fuss.