AJPW Dynamite Series Results & Review (6/12/2018)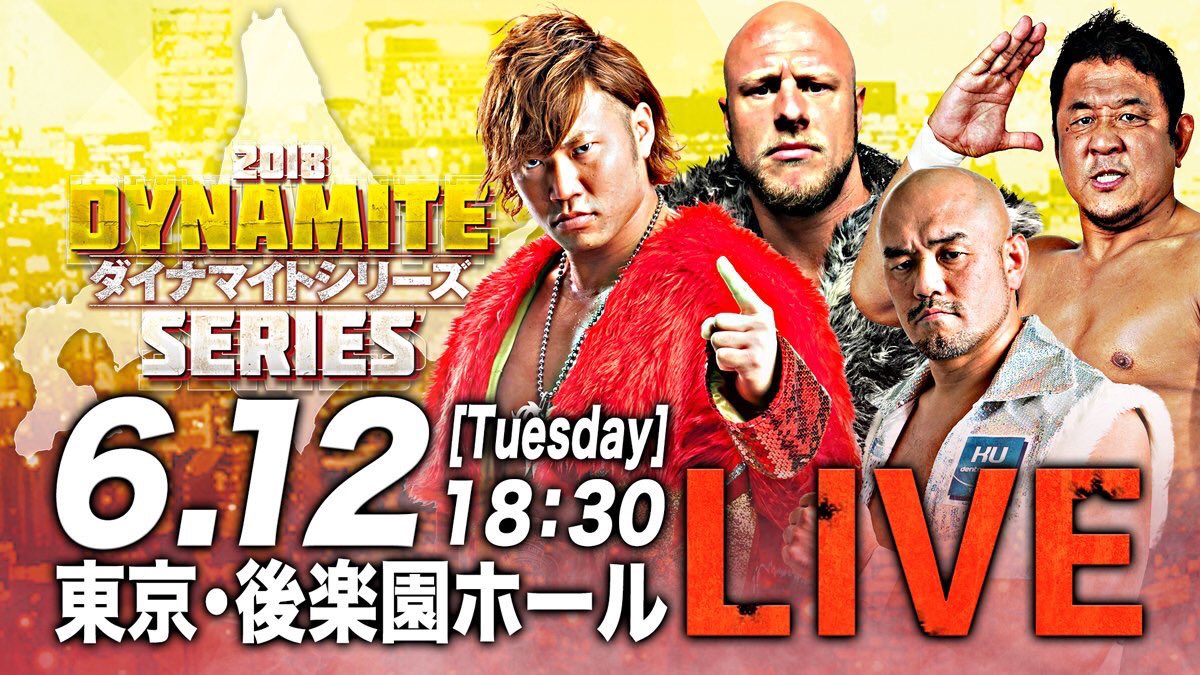 We return to AJPW with a pretty stacked card as we have two title matches tonight, including the Triple Crown Championship.
The show before this, there was a tag title match, Champions Dylan and Ryoji, against KAI and TAJIRI, where the champions retain, giving Dylan some momentum for his title match against the champion tonight, Kento Miyahara.
Will Kento retain the title or will Dylan shock AJPW? Let's find out and…dive right in.
Singles Match
Keiichi Sato vs. Rionne Fujiwara
Review: We get single's action to start off the show with some juniors, so let's hope this match can lead to come new contenders for the Junior Heavyweight Championship. The match was rather slow since the majority of it was chain wrestling and strikes which I don't mind, but it just felt a little bit slower than usual at times.
I know the name is Rionne Fujiwara, but don't let fool you thinking he's a Japanese wrestler since he's actually a gaijin, but there's actually a good reason for the Fujiwara surname. In 2013 he beat Jiro, challenged Yoshiaki to a match in WNC and lost, however, Fujiwara took him on as the last official disciple, so gave him the Fujiwara surname in a matter of respect and I love that.  I do gotta say that he actually isn't so bad as he would work on Sato's arm throughout the match to try and make him tap out, even went for the Triangle Choke between the ropes to help weaken him. Sato would start to deliver stiff kicks in the match and would deliver a Splash first to have Rionne kick out at two and would go for a Brainbuster for another two count and another kick out, but he would hit his Shouha or modified Fisherman Buster to get the win.
Recommended: The match was pretty basic, but not terrible either.
Tag Team Match
Takao Omori & Atsushi Maruyama vs. Masanobu Fuchi & Osamu Nishimura
Review: Our next bout is a tag match with our four vets in the promotion for some friendly competition towards one another. I will say this though, I love the reactions from the crowd whenever Fuchi is in the ring because they'll cheer for him quite loudly whenever he does his trademark stuff and would boo the hell out of his opponents whenever they would try to mimic his stuff from hitting Fuchi below the belt or putting him in a headlock to punch him in the head and do his open fist taunt to the referee.
The match was Omori and Maruyama getting the heat over Fuchi for the majority of it, until Fuchi would make his comeback, do his closed fists and even Scoop Slam the both of them while holding them in the air for about ten seconds. Nishimura would now get in the ring with Maruyama to try and do some damage on him, but Maruyama would then put Nishimura in the Figure Four Leg Lock to try and make him tap out, but Fuchi comes into the ring to get rid of Omori and flips the two over so the hold would be reversed and Maruyama taps out to give Nishimura and Fuchi the win! I do gotta say that for a match involved with guys their age, it was pretty fantastic for what it was and while it's not great compared to current standards, but for the old school type feel, it was worth seeing.
Recommended: Actually yes, yes check it out.
Tag Team Match
Atsushi Aoki & Ishikiri vs. Yohei Nakajima & Último Dragón
Review: Another tag team bout with our Junior Heavyweight Champion teaming up with Ishikiri to take on Yohei Nakajima and the returning Ultimo Dragon. A little bit of context here, Nakajima is on the hunt for the championship against Aoki, but Aoki feels as if he's not deserving of a title match and Yohei now has to prove himself to see if he can get a match, so if he can beat him cleanly in a tag match, then that will put him in the title picture.
Nakajima would start to attack Aoki before the bell would ring and would keep on the assault until Ishikiri got tagged in and same with Ultimo as the two go at it and let me tell you, Ultimo can still go for a man his age and is just better than the entire junior division in AJPW and that's the problem with them, just about none of them really stand out, and I've said it in my last article with them at how the division has no leadership and something needs to change soon. I personally think Ultimo should be the one to take the title and hold onto it for the time being until they fix up that division and pick someone to be their future instead of just having him drop it to TAJIRI like they did last time. I will, however, try to give this feud a chance and if the execution is bad, then I still say go with my plan and have Ultimo keep the belt. Near the end of the match, Nakajima and Aoki would brawl around and outside the ring while Ultimo and Ishikiri would be the legal men in the match and Ultimo would eventually pick up the win with the La Magistral. After the match, Aoki continued to criticize Yohei as he does not feel he is fully invested in being a champion, which means that Aoki would not give him the title match as he feels like he still doesn't deserve one.
Recommended: I would watch it just for the interactions between Ultimo and Ishikiri and that's it. Just give me a singles match with these two instead since they work great together.
Tag Team Match
Zeus & Black Tiger VII vs. TAJIRI & Yoshitatsu
Review: We have Zeus in action now and not teamed up with Bodyguard meaning he's still injured or it's just a heavyweight/junior heavyweight tag bout and his partner is Black Tiger VII as they take on Yoshitatsu and TAJIRI, surprised he's not teaming up with KAI and I guess that's over with since they failed to get the tag titles.
Tiger and Yoshi start the match off and it looked like Tiger would have the opening advantage while for some reason selling his knee and dancing around at the same time…he's weird, but he would then go for a Shining Wizard and I'm confused as to did Yoshi block it or just no sell it since he got up pretty quick. I always liked the chemistry between Zeus and TAJIRI since they match their strengths off pretty well together and he knows how to make Zeus powerful than he already is. I mean just look at that gorgeous body of his, the body of the gods! The match was solid for what it was except for Yoshi how has been rather sloppy in this match and it really shows here, but hopefully, it's just the one time since it's gonna happen to everyone. Yoshi would try to apply the Koji Clutch on Zeus, but that man is too powerful and throws him off before doing a Gorilla Press to both Yoshi and TAJIRI. Black Tiger would try to go for the Shining Wizard on Yoshi to get the win, but Yoshi ducks and hits him with a Spinning Heel Kick and the COJ (Codebreaker of Jericho) for the win and yes he actually calls it that. You know, Jericho is in Japan for the time being, so maybe he should pay Yoshi a little visit.
Recommended: I would like to say it was worth a view.
Six Man Tag Team Match
Suwama, Shuji Ishikawa & Hikaru Sato vs. Jake Lee, Ryoji Sai & Koji Iwamoto
Review: We now get six-man action this time with Violent Giants and Hikaru to take on Jake Lee who has been doing rather well ever since he returned from his injury and wants to keep that momentum going here.
Jake and Suwama would start off the match with Suwama pretty much testing Jake's strength in the match once they locked up and Jake would even get Suwama towards the ropes to break it up, but then it leads to Jake being kicked in the chest and would get him down which made both teams switch as we now have Shuji and Ryoji in the ring now. Shuji would then knock Ryoji down after going back and forth as we now have another tag, putting Hikaru and Koji in the ring now with Hikaru trying to deliver some stuff strikes to Koji. Hikaru would continue his assault on Koji and both Suwama and Shuji would run in to knock down Ryoji and Jake as they beat down Koji, Shuji would even throw him towards the guardrails to damage his body up some more. Suwama would get in the ring now and hits a nice Back Suplex to pin him for a two count and would then apply the Liontamer only for it to break up. Suwama would deliver stiff shops to Koji and would go for an Irish Whip, but Koji reverses it into a Judo Throw to give himself some time to tag in Ryoji for the hot tag as he starts exploding with energy and would go back and forth with punches against Suwama until he got chopped, but Ryoji would still knock Suwama down to get Shuji tagged in as he doesn't go down without a fight as he delivers a Double Stomp to Ryoji to end his momentum right here, but Jake would then get tagged in as well as Hikaru with Jake trying to go for his Backdrop and is still unsuccessful to do so with Suwama and Shuji coming in to triple team Jake by the both of them delivering Clotheslines to Jake while he was caught on the ropes and ended with Hikaru doing a Jumping Kick, but would get a two count out of it. Hikaru tries to knock Jake out, but Jake makes a comeback with stiff kicks and hits the PK to knock him down and go for a pin, but he breaks up the pinfall by himself since he's not done yet as he hits the Backdrop for the win. If Jake Lee can keep this momentum up throughout the whole year, then I would have no problem with him winning next years Champion Carnival.
Recommended: Great match, definitely watch it.
All 7 teams were announced for this year's "Jr. TAG BATTLE OF GLORY". The league will run throughout the month of August (August 3rd – August 25), with the team with the highest points winning the league.

☆ Atsushi Maruyama & Masashi Takeda (2017 Winners)
☆ Atsushi Aoki & Hikaru Sato
☆ Yohei Nakajima & Black Tiger VII
☆ Koji Iwamoto & TAJIRI
☆ Kaji Tomato & Shiori Asahi (K-DOJO)
☆ Shuji Kondo (W-1) & Kotaro Suzuki (FREE)
☆ Masaaki Mochizuki & Shun Skywalker (DRAGON GATE)
All Asia Tag Team Titles Match
Jun Akiyama & Yuji Nagata (c) vs. Naoya Nomura & Yuma Aoyagi
Review: Uncle Jun and Yuji are back teaming up together as they are set to defend the All Asia Tag Team Championships against Naoya and Yuma from NEXTREAM, can the uncles of AJPW and NJPW retain their championships or will they get dethroned by the younger generation? Well, let's find out for ourselves.
Naoya and Yuji would start it off with a lock up and Naoya would flip him over only for Yuji to quickly get back up and kick him off. Naoya seems to be holding onto his own for a bit of it since he was able to knock Yuji down after delivering some pretty nice forearm shots to his head and would tag Yuma in now which lead to Jun getting the tag in as well which leads to Yuma getting Jun outside of the ring and does a Plancha to the outside while Naoya does the same to Yuji and would start to knock down the champions outside of the ring. Yuma would throw Jun to the guardrail and once he tried to chop him, Jun wasn't phased by it at all, but he did take a nasty DDT on the outside and would get him back into the ring. There are two things I love about this match and the first one is the old generation vs new generation feeling with this one with Jun and Yuji showing they can still go in the ring and deliver quality matches for their ages and with Naoya and Yuma, they showed the fire and intensity as a team and as individuals to show that they have a chance to beat them and can be people that others should keep an eye on.
The second thing I loved about this match is that it shows AJPW still has a bright future ahead of them and yeah you got Kento Miyahara carrying the company right now, but you got quite a few people on the rise and that follow Kento to help AJPW reach new heights once more since you got guys like Naoya, Yuma, Koji, and Jake Lee to help them and once the time comes for them to reach that status, they'll have new people ready to start their journey to follow them and so on, and so on. Naoya would get some close calls with Spearing both Jun and Yuji back and forth and would pin Yuji, but would only get a two count. With Jun beating down and holding Yuma back, Yuji had Naoya in the ring all to himself and would go for his Backdrop Hold and it looks like it could be it, but Naoya surprisingly kicks out at two to show he still had some fight left in him, but it doesn't last long as Yuji hits the Backdrop Hold one more time for the win and have a second successful defense under their belt. After the match, Naoya and Yuma stated that they weren't done chasing the titles as they plan to have a rematch for them very soon while both Jun and Yuji welcome it.
Recommended: I thought it was a great match with nice storytelling with old and new generations feeling to it. Definitely watch it.
AJPW Unified Triple Crown Heavyweight Title Match
Kento Miyahara (c) vs. Dylan James
Review: I'm still confused as to why its James Dylan getting a shot at the Triple Crown Championship over anyone else in the company. Here we have someone who had the worst performance in this year's Champion Carnival next to The Bodyguard and has been having mediocre matches since his arrival in this run of AJPW, and he somehow gets this big match in the main event. If it's so Kento could get an easy defense for his reign, then why not just have him fight someone that defeated him during the Carnival like Joe Doering, I wouldn't mind a third encounter between the two as a way to end that trilogy over this, but too late now and let's see how he fairs in this match. Kento is the future of Japanese wrestling and just his entrance and how the crowd reacts to him before he gets into the ring is something similar to Tetsuya Naito except it's not as loud…yet and he will definitely get there once more people know of his greatness in the ring.
The two lock up as James gets Kento by the ropes and went to go for a quick chop, but Kento ducks out of the way while Dylan tells him he was this close to hitting him, but the next time he would hit Kento and it would even make him go to the outside of the ring. Kento was selling each strike down to him to make Dylan look as strong as he could in this match and I felt like that's what he needed to do since Dylan is a big guy after all. Dylan would have Kento on a corner and goes for a chop, but Kento ducks and causes Dylan's hand to chop the turnbuckle post, hurting his hand and would give Kento an opening to strike him down and would even go onto the apron to knee him in the back of the head. Kento would throw Dylan, but Dylan would run back after hitting the guardrail to shoulder tackle Kento, causing him to go over the guardrail. Dylan would get Kento back into the ring so she could work on Kento more with some stomps, chops, and just any strike he could do and while it's simple, Kento makes it look very effective and I love his seeling for it and Dylan would keep this up for a few minutes before taking him back to the outside, but Kento would headbutt Dylan to regain some composure and before he could do it again, Dylan catches him for a Chokeslam and hits it onto the ring apron. Dylan gets Kento back into the ring and places him on the corner and would deliver a stiff Lariat onto the corner and immediately knocks Kento down onto the mat. Dylan attempts to go for a Powerbomb and Kento reverses it into a Hurricanrana and kicks Dylan, but Dylan chops him and goes for a Suplex, but Kento hits a Brainbuster and the two are down. Kento would hit the Blackout and then attempts to hit his Shutdown German Suplex Hold, but Dylan would break free of it to hit a Lariat and would them hit a second one for good measure and Kento kicks out at two. Dylan is pulling off all the stops in these last few minutes as he hits a Powerbomb this time after Kento breaking free from two of his Chokeslam's and giving him another Lariat, Dylan is just killing him with these Lariats while Kento keeps kicking out at two even though this whole sequence was actually making me believe that we would've had a new champion here. Dylan goes for another Chokeslam, but Kento would turn it around for a regular German Suplex Hold for a two count and Kento would try to get more momentum, but Dylan stops him dead in his tracks and hits the Powerbomb for another two count! Dylan goes for another Lariat only for Kento to hit the Blackout on his arm and go for his finisher, but Dylan breaks free from his hold only to be hit with two Blackouts and then hits his Shutdown German Suplex Hold for the win and still Triple Crown Champion. Where the hell has this Dylan James been? This was the best match I've seen him wrestle in, give me more of this!
After the match, Zeus makes his way to the ring and claims himself as Kento's next challenger and I am completely torn on this because I don't know if they wanna give Kento another short reign while being the face of the company, but at the same time I feel like Zeus has to win this one and show he can actually win the companies biggest prize. The match is set to take place on July 27th and this is sure to be a classic match. I want Zeus to be the one to take the belt, but I don't know what direction Uncle Jun would have this match go and we'll have to wait and see.
Recommended: Dylan James best match in the company and it actually was a great match for what we were given between the two, so give it a look.
Overall: I have to say that the show was solid from top to bottom and none of the matches were actually bad and the last two matches definitely delivered to give us a great show here, plus we now have something to look forward to in July and you don't wanna miss it.
Favorite Match: Jun Akiyama & Yuji Nagata vs. Naoya Nomura & Yuma Aoyagi
Least Favorite Match: Keiichi Sato vs. Rionne Fujiwara
Score: 7.5/10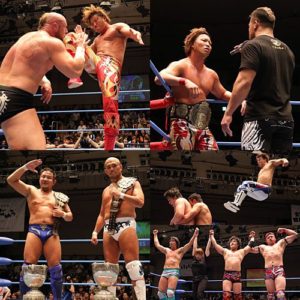 AJPW Dream Power Series 2019 Results & Review (3/19/2019)
Mathew shows us some power! AJPW puts together a card that could rival anything all year. Does it live up to the expectations?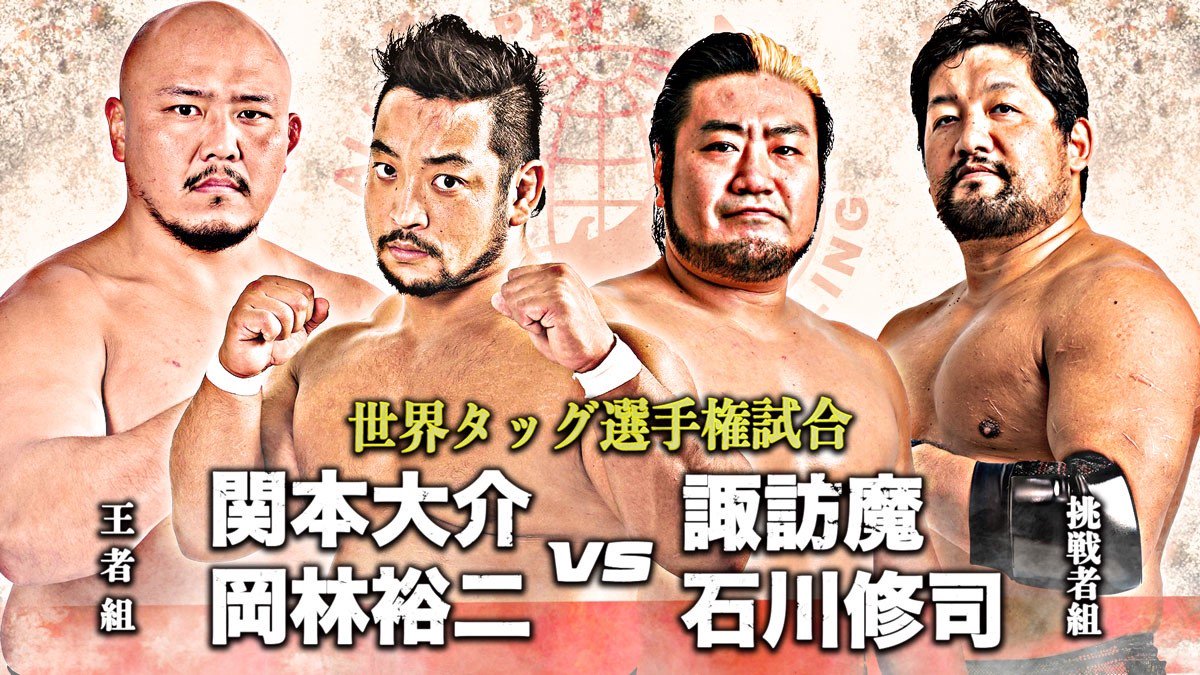 Mathew shows us some power! AJPW puts together a card that could rival anything all year. Does it live up to the expectations?
Welcome back to AJPW! We're gonna talk about the last big show before this year's Champions Carnival coming up in early April as we have a few title matches in this show that I couldn't resist wanting to cover it.
We got some dealing with revenge along with one trying to make history. How's this year's Champions Carnival gonna shape up?
Let's find out as we…dive right in.
Rating System:
0 Stars: Dave Meltzer
1 Star: Vince Russo
2 Stars: Tony Schiavone
3 Stars: Eric Bischoff
4 Stars: Bruce Prichard
5 Stars: Jim Cornette
Six Man Tag Team Match
Atsuki Aoyagi, Danji Tamura, & Hokuto Omori vs. Evolution (Atsushi Aoki, Hikaru Sato, & Yusuke Okada)
Review: Our opening contest is a six-man tag team match with our young lions, Atsuki Aoyagi, Danji Tamura, and Hokuto Omori taking on three members of Evolution, Atsushi Aoki, Hikaru Sato, and Yusuke Okada. Going up against three people from the junior division is a fair start to have them all fight each other in this tag bout and a better view of how the young guys are doing. Will Evolution school the young boys or will they somehow get one of the biggest wins in their starting careers?
As I've said, this match is mostly to showcase our future talent as they fight the vets of the game in the junior division. I do gotta admit that these three have definitely improved in the ring as they're shaping up to be some of All Japan's finest students. Evolution held off on their own and I'm glad they were their opponents for this match since they're very easy to work with. Another thing I loved about the match is that they had a good amount of time instead of just being less than five minutes like how most matches will do. Yusuke and Hokuto are in the ring now and Yusuke would hit him with a Brainbuster for a two count and would quickly apply a Boston Crab onto him and Hokuto struggles to get to the ropes and once he does, Yusuke pulled him back in and would lock it in more as he would tap out to give Evolution the victory in a solid match.
Rating: Tony Schiavone and a half
Six Man Tag Team Match
Jun Akiyama, TAJIRI, & Ultimo Dragon vs. Black Menso-Re, Masanobu Fuchi, & Takao Omori
Review: We got another six-man tag team match here as Jun Akiyama, TAJIRI, and Ultimo Dragon will be taking on Black Menso-Re, Masanobu Fuchi, and Takao Omori. It's been quite a while since we've seen Ultimo Dragon wrestling in All Japan, so I'll never complain to see him in the ring. This is another match with the vets and Manso-Re for being a punching bag as it'll most likely be a comedy style match. Which one of them will win?
Menso-Re starting with Ultimo Dragon as he wanted him first, but TAJIRI would slap Menso before the bell would ring and we would kick it off right now. They would do a little bit before Jun and Takao get tagged in, but we all care about TAJIRI and Fuchi getting tagged in now as Fuchi would try to get his hands on him. TAJIRI would be the sneaky heel with leaving the ring to sit with the crowd so he could avoid contact in the match. TAJIRI would get back in the ring only to tag in Ultimo as the crowd would just boo TAJIRI. Fuchi would do his antics with the punch to the forehead as the crowd eats it up but everything would backfire on Fuchi as he would miss a Dropkick to make the crowd boo Ultimo which is a shocker. Ultimo would kick Fuchi and attempt an Asai DDT but Fuchi would turn it around to a Backslide as Ultimo would kick out. Both TAJIRI and Jun would both make Fuchi miss a Dropkick and taunt him right after to make the crowd boo them. Ultimo would get Fuchi in the La Magistral and he gets the win for his team in a rather entertaining match.
Rating: Tony Schiavone and a quarter
Tag Team Match
NEXTREAM (Yoshitatsu & Yumi Aoyagi) vs. Sweeper (Jake Lee & Ryouji Sai)
Review: Our next match here is a tag team match as NEXTREAM members, Yoshitatsu and Yuma Aoyagi will be taking on members of Sweeper, Jake Lee and Ryouji Sai. Since Naoya is no longer Yumi's partner, he's gonna be paired off with Yoshitatsu this time around. Since all four of them are in the Champions Carnival, a win for either of them would give them some momentum leading to the tournament. Which one of these two teams will win and what will be the future payoff?
It seems like Yoshitatsu has a little gripe with Jake Lee in this match as he seems to be disgruntled when he was in the ring with him, especially when Jake would just best him during the first sequence with the chaining. Ryouji and Yuma are in the ring now and Ryouji with a series of kicks in the match and have him in a submission before Yoshi would break the hold and just stared at Jake again. Yuma is really growing out on his own as an individual and you can see that when he's not partner with Naoya. Yuma would have Jake in a Headlock but Jake would attempt a Backdrop Driver as Yuma flipped it into a Crossbody as Jake kicked out at two. Once Jake kicked out, Yuma would try to turn the pin into a European Clutch as Jake kicked out at 2 as even the referee was shocked by this. Yuma would run into him as Jake kneed him in the face and hits him with a Backdrop Driver as he pinned Yuma for the victory.
Rating: Eric Bischoff and a quarter
Six Man Tag Team Match
Atsushi Maruyama, KAI, & Zeus vs. Bomber (Dylan James & Joe Doering,) & Francisco Akira
Review: We have another six-man tag team match taking place as Atsushi Maruyama, KAI, and Zeus team up to take on Dylan James, Joe Doering, and Francisco Akira. KAI recently failed at Dragon Gate to win the Open the Twin Gate Championships, so he could at least try to win for his team but I think Zeus has a lot on his plate when it comes to their opponent since Dylan James and Joe Doering are a strong team to beat and wants to try and look powerful leading into the Carnival. Which one of these two teams will win the match?
Zeus and Dylan would charge at each other right away to test their strengths with also some chops and a test of strength as the two appear to be evenly matched, which is no surprised. KAI gets tagged in and he calls Joe to get tagged in since he wants to fight him as Dylan honors that request and lets Joe have a turn on the fun. Joe would start to make him regret that decision as he had the upper hand on him at first but KAI would hit a few Dropkicks on him but Joe still wouldn't go down as he tackled him and went for an Elbow Drop before KAI moved and quickly tagged in Atsushi. The juniors get a turn on the fun as Francisco showed more of his impressive ability. One problem I had with the match was that the last few minutes are incredibly sloppy with Atsushi missing most of his kicks to Joe in the corner, Francisco slipping on his Moonsault to the outside, which he thankfully caught himself and redid it again. The finish would be with Joe hitting Atsushi with the Powerbomb and it looked like he got knocked out as he took the pinfall despite his shoulder being kinda up, so it looked botched but the referee still has a job to do as Joe just left the ring and walked to the back possibly frustrated.
Rating: Eric Bischoff
World Junior Heavyweight Title Match
Koji Iwamoto (c) vs. Kotaro Suzuki
Review: Our first title match of the show is Koji Iwamoto defending his Junior Heavyweight Championship against Kotaro Suzuki. The two fought each other in the A Block of the Junior Battle of Glory Tournament where Kotaro defeated Koji in the match but would eventually fail to win as Koji would actually be the one to win it all. Koji decided to defend the title against Kotaro since it was only fair due to him winning the match and wants to avenge that loss. Will Koji be able to retain his title again or will Kotaro get the upper hand on him again?
Kotaro showed no mercy to the champion as fought him to the outside and Slingshots him into the turnbuckle post and DDT's him face first into the mat as you hear the loud thud and damage has been done to Koji. Kotaro has beaten Koji before so he knows what he has to do to try and defeat him again as he worked on Koji's neck a bit during the match and gets the heat from the crowd. I know Kotaro is a Freelancer and is mostly at NOAH right now due to being a champion there, I hope he does stick around a little bit longer since I feel like the division could really use him as he's a very talented individual. Koji would try to outrun him after he dodged him to the outside and it appeared as if Kotaro would botch but he quickly caught himself and dived to the outside to land on Koji, getting the better of him again.
Koji would finally be able to get a comeback as he hits an STO onto the ring apron to knock Koji down and most of the time, he would try to hit the Koko no Geijutsu but Kotaro would hold his ground to make sure he wouldn't hit it but Koji would be able to deliver a German Suplex and a Dragon Suplex. Kotaro would land a few punches before Koji tried to hit the move again, but Kotaro would hold his ground again and kick his leg out to work on his neck before landing Gory Bomb Special and tops it off with the La Magistral for the pin and Koji would kick out various times whenever Koji would try to roll out of it and was so close to having a new champion. Koji would just use this time to hit a couple of STO's in a row to weaken him down a bit. Koji would go for it again but he catches him for a Back Suplex to save himself a bit. Kotaro would now hit not one but two Excaliburs onto him to try and end it as Koji would somehow kick out of it again. It all came down to his as Koji would attempt the Koko no Geijutsu again as Kotaro would stop himself to pin him for a two count and they both would spin around as Koji would hit it this him but he picked him up to hit the Koko no Geijutsu properly this time and pins him to retain the title! After the match, various people from the junior division would come out and it looks like they all want a shot at the Junior Heavyweight Championship but Koji would have to pick one of them to be his opponent. It does look like, however, that Koji doesn't have a clear opponent right now as he left the ring but I guess we'll see soon.
Rating: Eric Bischoff and three quarters
World Tag Team Title Match
Strong BJ (Daisuke Sekimoto & Yuji Okabayashi) (c) vs. Violence Giant (Shuji Ishikawa & Suwama)
Review: Our next title match for this show is Strong BJ defending their titles against the team that they defeated them for, The Violence Giant. Strong BJ defeated them on January 13th to win the titles and after they retain their titles on the February 24 show, Violence Giant requested a rematch to bring the titles back home on their turf this time instead of the BJW show. If it's anything like their previous match, it's sure to be hard hitting and a not miss. Will Strong BJ remain on top or will Violence Giant bring the belts back home?
Shuji and Daisuke would be the ones to start off our match here with an incredible display of power as the two were unable to budge and they would tag in their respective partners. Suwama and Yuji were both also very hard-hitting as they would now fight outside of the ring as these two teams are making it personal. Strong BJ has been doing great work during this rivalry with the Violence Giant and they would even give Suwama a big beatdown but the former ace would even try his best to fight them off, even when he was on the corner and would kick Yuji to show his fighting spirit. Suwama would hit a Dropkick to save himself for a little bit and would tag in Shuji for the hot tag and Shuji does indeed come in hot with his Lariats, knees, anything he can throw along with the kitchen sink.
Yuji would brawl with Shuji to deliver some chops while Shuji would give him a couple of forearms and a headbutt to try and daze him but Yuji is pumped up and slams him down with a few Lariats. Once Yuji would hit another Lariat to Shuji, he would kick out at one that time around before getting hit with another one with a two count. What's it gonna take to take Shuji down for good? Yuji would get to the top rope to hit the Splash and it looks like this could be it but Suwama would break the pinfall to save his partner. Strong BJ would have them up for the Torture Racks but they would get down for Suwama to hit a Back Suplex while Shuji hits a Dragon Suplex. Shuji is alone with Yuji again and would hit another Dragon Suplex and a Running Knee to get him out for another two count, he was so close! Shuji would pick Yuji up real quick for the Fire Thunder and goes for the pin as Daisuke breaks the pinfall this time around as Suwama would get Daisuke out of the ring. Shuji knew what he had to do to try and end it as he hits the Giants Slam and pins Yuji to win back the titles! Hell of a match and definitely topped their previous encounter at BJW. I would love to see Violence Giant get a fair and dominating run with this reign, can't wait to see where this goes now.
Rating: Bruce Prichard and a half
2019 DREAM POWER SERIES
3.19後楽園ホール 18:30試合開始
三冠戦は新世代へ-平成最後の三冠戦-
王者 宮原健斗vs挑戦者 野村直矢
全日本プロレスの今が此処に在る。#ajpw #ajpwtv pic.twitter.com/XAlzJjWcPq

— 全日本プロレス/alljapan (@alljapan_pw) March 14, 2019
Triple Crown Championship
Kento Miyahara (c) vs. Naoya Nomura
Review: This is our third title match and the main event of the show as we have Kento Miyahara defending his Triple Crown Championship against former NEXTREAM member, Naoya Nomura. On the February 24th show, Naoya Nomura would defeat Dylan James in a singles match and Kento Miyahara would have his second successful title defense against Suwama. After Kento would defeat Suwama, Naoya would come in to make the challenge to his stablemate and announce his departure from the NEXTREAM group in the process, leading him to also vacate the All Asia Tag Team Championship with Yuma Aoyagi. Kento is now 30 years old and while it's his third title defense in this run, this will be his first time defending it while no longer in his twenties. If Kento can defeat Naoya, he'll be the champion leading into the Champions Carnival and won't defend the title until the tournament is over. Will Kento be able to retain it once again or does Naoya pull the surprise victory?
Kento came in here with a plan since he knew what he was gonna do to Naoya once he challenged him to this match, he didn't wanna go easy on him despite being former teammates but he wants to see how badly Naoya wants the spotlight on him. They were fairly matched during the lock-up part of the match and they would start to fight outside for a little bit as Naoya would get Kento down as he taunts him when he got back in the ring. Naoya would hit him with a big forearm before going onto the apron to jump and Kento catches him with a knee and has him right where he wants him now. This is where Kento would just attack him with a few Headbutts as Naoya would try to deliver one to him but Kento gives him multiple ones as a counterattack and this is why you don't mess with the champion.
Naoya would eventually make a comeback after being kicked around by Kento as he quickly got up to charge at him with a shoulder tackle and you can hear that too. He would hit a few more along with another forearm to the face as he goes for the Brainbuster but Kento would struggle to make sure he didn't hit it and has Naoya over the ropes but wait, Naoya grabbed his leg to pull him over as he attempted a Death Valley Driver onto the apron as Kento jumped off to hit a Blackout. The two would be on the turnbuckle and Naoya gets behind him to attempt a German Suplex as Kento struggles, but Naoya would slam Kento's head on the post and gets off the turnbuckle to hit the German Suplex as both men are down. Naoya would go to the top rope to hit the first Splash as Kento kicked out but Naoya would quickly get up again to hit one more as Kento still kicked out.
Kento would eventually hit him with a Blackout at full force and hits him with a German Suplex for another two count. Kento looks like he's going for the Shutdown German Suplex Hold as Naoya would kick his knee out and hit him with a Spear and the two are down again. Kento would hit another Blackout on the back of his head and tries the German Suplex Hold once again as Naoya would still kick out at two as Kento is starting to get concerned with what he has to do now. Kento tried the Shutdown German Suplex Hold again as Naoya broke out of it and picked him up Fisherman style and dropped him on his head and picked him up for the Death Valley Driver as Kento fought him off but Naoya would hit him with a flurry of forearms to daze him and hits the Spear with the roll-up as Kento kicked out at two again! Naoya picked him back up but Kento would go back to delivering the Blackouts and it looks like Naoya is all out of fight as Kento finally hits the Shutdown German Suplex Hold to get the pinfall victory and his third successful title defense. Great match and a very impressive showing to Naoya but Kento is just still better than him right now. Kento will now officially be the Triple Crown Champion leading into the Champions Carnival. Three defenses down, eight more to go.
Rating: Bruce Prichard and a quarter
Overall: I thought it was a very solid show from top to bottom but the last three title matches were what sold it to me. I would highly recommend that you look out for those matches if you can find them online or subscribe to the streaming service and if you're not already subscribed, what the hell is wrong with you? Get on that!
Favorite Match: Strong BJ (Daisuke Sekimoto & Yuji Okabayashi) vs. Violence Giant (Shuji Ishikawa & Suwama)
Least Favorite Match: Jun Akiyama, TAJIRI, & Ultimo Dragon vs. Black Menso-Re, Masanobu Fuchi, & Takao Omori
Score: 8/10
(NOAH) WEEKLY NEWSLETTER VOL.27 ~ 17TH MARCH 2019
Coming off their first live streaming event on YouTube – Hisame brings us all the things we need to know about NOAH!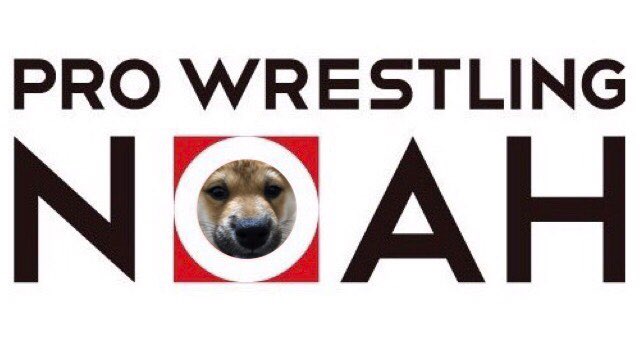 Coming off their first live streaming event on YouTube – Hisame brings us all the things we need to know about NOAH!
CURRENT TOUR RECAP
On March 16th, NOAH kicked off "Spring Navigation 2019" by visiting Matsuyama, Ehime, Shikoku.
The atmosphere was said to be one of excitement, which had been carried over from "Great Voyage in Yokohama 2019" which happened on the 10th March.
Following his appearance in Yokohama with KAZMA, NOSAWA teamed with Takashi Sugiura in Matsuyama. Sugiura later posted on Twitter that he "trusted" NOSAWA, but this was probably a typo as he later said that he didn't at all.
And so much for gratitude, Masao Inoue and Sugiura have returned to their minor (and comedic) feud, with Inoue bumbling around and using the usual tricks to try and win, until Sugiura obliterated him.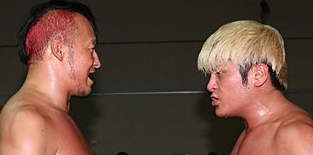 Naomichi Marufuji wound up Kenoh by saying that he was an "obedient Kenoh" these days (because he does what Kiyomiya says), adding on the suffix "kun" (which signifies in this case that a senior is addressing a junior) for good measure.
Kenoh said that it was their first match together since Marufuji had been injured, and he was looking forward to kicking him. Hard.
In the ring, the fight went to the outside (even to the merchandise table) and Kenoh no sold Marufuji's "Kawada Kicks".
Afterwards, Marufuji said that Kenoh must be very fond of him to want to fight him so much, and he wasn't even in Global Tag League.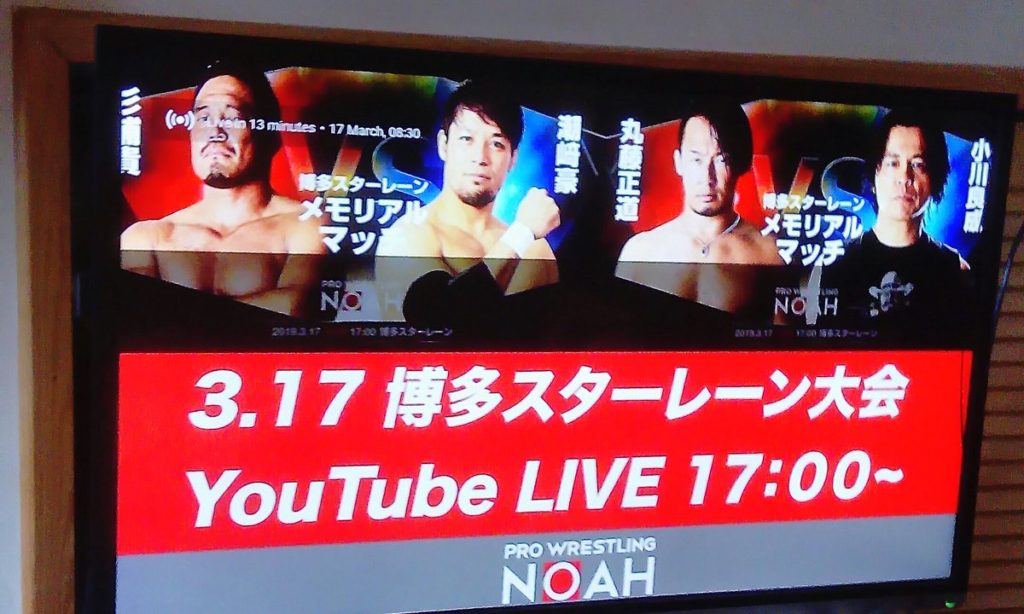 In a first for NOAH (since streaming services became all the rage so to speak), they announced that their final show at Hakata Stalene on the 17th March 2019, was going to be streamed live via their YouTube channel. It was worldwide, free of charge, and despite NOAH having to shut off the audio for any songs they didn't have the rights to, it was a success. The image was flawless, the sound was perfect, the transmission was good (although I had to shut down my machine twice as I was watching it through my PS4, and it kept losing connection, but that is nothing to do with the service).
Hakata Stalene is going to be demolished; the building is now crumbling due to age and damage caused by seismic activity over the years, and it is going to be too expensive to repair due to its 1970s construction methods. Many promotions in Japan have held one final show here.
I have been asked many times if this means that NOAH are going to make this a regular thing. The answer is, I don't know; but I get the feeling that this is them killing two birds with one stone, broadcasting a big event for them and seeing what response they get (about 2.1K people tuned in worldwide).
Hi69 has challenged Kotaro Suzuki to a title match for the GHC Junior  Heavyweight Tag Team titles. Suzuki initially agreed to the match, looked at Hi69 and said that he would "have to check the weight".
Expect Kotaro Suzuki to demand a public weighing. 
Katsuhiko Nakajima faced off against old tag team partner, Masa Kitamiya, and had a policy of eliminating him from his young teammates (Junta Miyawaki, Yoshiki Inamura and Kinya Okada), by throwing him into the crowd, hitting him with a chair and attacking him at the merchandise table.
Naomichi Marufuji and Yoshinari Ogawa had a rare singles match, which was very technical, and although Marufuji won, he said he was exhausted by it. Everything he tried, Ogawa was one step ahead and he said he couldn't pull out any moves from any drawers, not even a fraction. Marufuji, however, wasn't completely at Ogawa's mercy; Ogawa came away with a chopped red chest. 
Takashi Sugiura and Go Shiozaki put on a "Golden Era" match of just two guys beating up on each other. Their match was so stiff, at one point Shiozaki was briefly knocked out, and the ref had to perform a concussion test on him. Shiozaki could walk from the ring fortunately, but managed to slip a bit on the small steps. He later posted on Twitter about how Hakata Stalene was special to him, and made no mention of any concussion or injury, so I guess he is fine.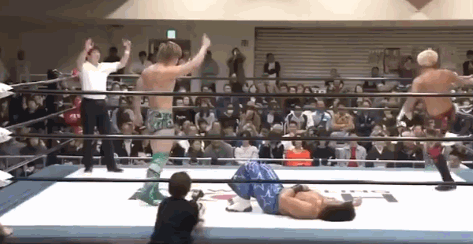 Kenoh and Kaito Kiyomiya debuted their new tag team, their new pose, and their new tandem move. When Kenoh came out, he stepped to the side and Kiyomiya came through the curtains, they then shook hands and went to the ring.
Their new move consists of Kiyomiya slamming the opponent with Kenoh doing the diving footstomp afterwards.
The dates of the small tour can be found here
Event recap: Matsuyama, Ehime
Event recap: Hakata Stalene, Fukuoka
Autograph schedule 
NEWS
"COME AT ME YOU BASTARDS"
Kenoh's new column compares the Japanese closure of the country for about 220 to NOAH's policy of isolation, and how it can be a good thing in allowing homegrown talent to grow without having to rely on or being dictated to by any outside source.
CODY HALL LEAVES NOAH
Although NOAH are yet to confirm anything officially, it looks very much like Cody Hall has left NOAH and is now advertising his availability for events in the US and Europe, and has not appeared on any upcoming cards. He says that he would like to return to the promotion someday.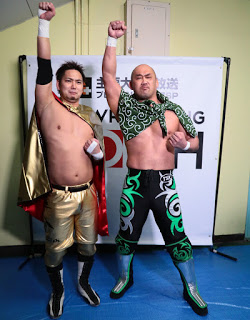 At "Great Voyage in Yokohama 2019", Mitsuya Nagai (having basically been told by 50 Funky Powers that he couldn't dance or pose with them, despite his funky green flashing glasses), said that he was looking for a tag partner that would shake things up for Global Tag League 2019.
Atsushi Kotoge came to the ring clutching a Paisley patterned cape. Nagai (taking a small break from yelling at a woman to shut up), looked as if to say, "please, not you…anyone but you". Kotoge, however, wouldn't be deterred from what he now sees as his mission to put justice into the heart of Nagai and wrapped the cape around him.
Backstage, Nagai said that he said that he never said that he would team with him, and that this cape looked like it was used by robbers (and threw in a few expletives). Kotoge told him that robbers were people the police came to arrest, not heroes such as themselves, whom First Graders looked up to and so could Nagai watch his language?
Nagai later posted on Twitter wondering about a team name, Kotoge of course bounced up and suggested "The Revolutionary Cloak Army".
Nagai is yet to comment.
CURRENT CHAMPIONS
TOUR TIDBITS
~ In Matsuyama when the roster come out to sign autographs. Some junior high kids, who couldn't afford merchandise, asked YO-HEY & Yoshinari Ogawa if they could sign autographs for them, all they had was some paper. Autograph rules are that the wrestlers are only meant to sign merchandise, but Ogawa overruled this (he is the most senior man in the company and no one is going to argue with him), and said, "lets do it".
~ Daisuke Harada made a beeline for Kaito Kiyomiya during their match in Matsuyama, Ehime. Kiyomiya brushed it off in the interview afterwards, basically saying that he had better things to think about than being attacked by the NOAH juniors.
~ Being injured and unable to travel too much meant that like everyone else outside of Fukuoka, Atsushi Kotoge watched the event at Hakata Stalene at home.
~ Maybach Taniguchi is still in "monster mode" and attacked the referee after a match.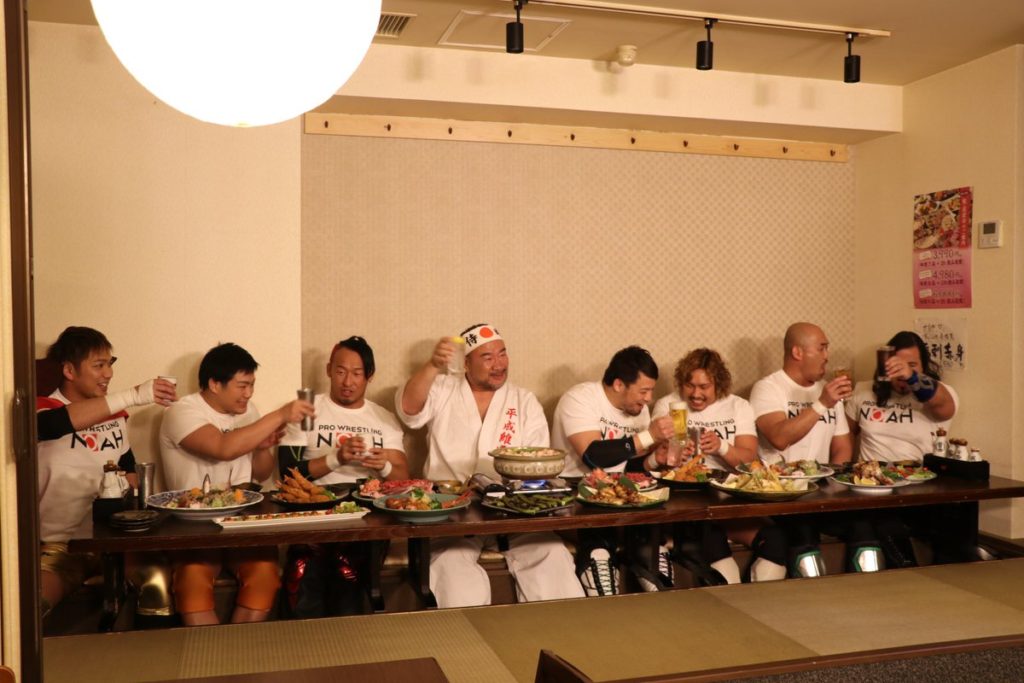 ~ NOAH have filmed their two yearly adverts for long time sponsor, "The Leave".
~ Although Kenoh and Kiyomiya are teaming, both have acknowledged they are not, and probably will not be friends. Kiyomiya says he will have to keep an eye on Kenoh, and Kenoh has said, he will be aiming for the belt (as will Takashi Sugiura who stated that no matter how NOAH may have changed, his wanting the belt hadn't, in a separate interview)
~ Was Kenoh crying when Kiyomiya called him to the ring at "Great Voyage in Yokohama?"
~ The merchandise truck broke down en route to Hakata Stalene, and had to be rescued by the wrestlers bus, hence the autograph signings before the event had to be rearranged.
~ Takashi Sugiura came home to find his dog had moved into his space on the couch when he is away. Lets not talk about the pictures he took of his dog doing its business when he walked him.
~ The GHC Heavyweight champions, AXIZ (Go Shiozaki and Katsuhiko Nakajima) and the GHC Junior GHC Champion, Minoru Tanaka, had a kind of group hug, in which Shiozaki lent so hard on Nakajima he almost knocked him over.
~ Kensuke Sasaki and Akira Hokuto came to Hakata Stalene for NOAH's farewell match there.
BROADCASTS
G+ will broadcast the 17th April show on April 20th
They will also show the 28th May Korakuen Hall show live
LINKS
Venue guide: Yokohama Cultural Gymnasium
Roster birthday list
"Kenoh and I will stand at the top and change the setting" ~ Interview with Kaito Kiyomiya
Kaito Kiyomiya resolves to "lead with strong feelings"
Kaito Kiyomiya defends against genius Marufuji, declares a united front with Kenoh
"Echoes across the industry": Minoru Tanaka's first GHC Junior Championship
Katsuhiko Nakajima & Go Shiozaki's first defense "Going Forward"
Kaito Kiyomiya breaks Marufuji in 3rd championship defense, decoration of the promotions new ship
Picture credits: Takashi Sugiura, Noah GHC, PKDX