AJPW Dynamite Series Results & Review (6/12/2018)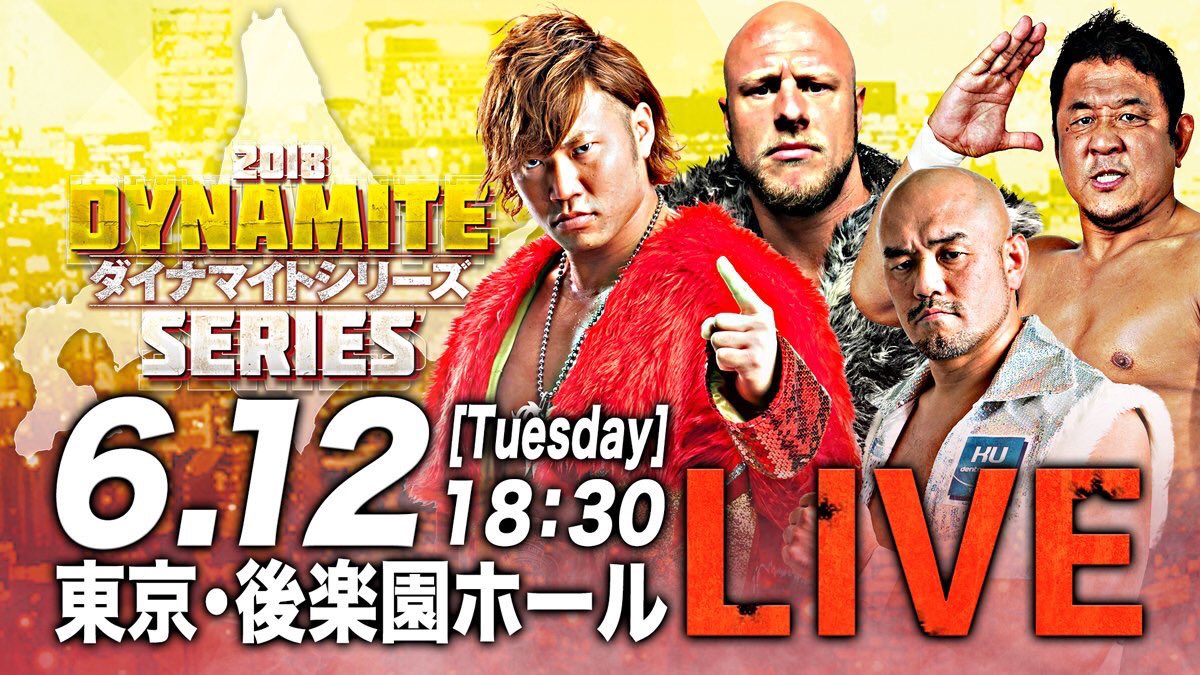 We return to AJPW with a pretty stacked card as we have two title matches tonight, including the Triple Crown Championship.
The show before this, there was a tag title match, Champions Dylan and Ryoji, against KAI and TAJIRI, where the champions retain, giving Dylan some momentum for his title match against the champion tonight, Kento Miyahara.
Will Kento retain the title or will Dylan shock AJPW? Let's find out and…dive right in.
Singles Match
Keiichi Sato vs. Rionne Fujiwara
Review: We get single's action to start off the show with some juniors, so let's hope this match can lead to come new contenders for the Junior Heavyweight Championship. The match was rather slow since the majority of it was chain wrestling and strikes which I don't mind, but it just felt a little bit slower than usual at times.
I know the name is Rionne Fujiwara, but don't let fool you thinking he's a Japanese wrestler since he's actually a gaijin, but there's actually a good reason for the Fujiwara surname. In 2013 he beat Jiro, challenged Yoshiaki to a match in WNC and lost, however, Fujiwara took him on as the last official disciple, so gave him the Fujiwara surname in a matter of respect and I love that.  I do gotta say that he actually isn't so bad as he would work on Sato's arm throughout the match to try and make him tap out, even went for the Triangle Choke between the ropes to help weaken him. Sato would start to deliver stiff kicks in the match and would deliver a Splash first to have Rionne kick out at two and would go for a Brainbuster for another two count and another kick out, but he would hit his Shouha or modified Fisherman Buster to get the win.
Recommended: The match was pretty basic, but not terrible either.
Tag Team Match
Takao Omori & Atsushi Maruyama vs. Masanobu Fuchi & Osamu Nishimura
Review: Our next bout is a tag match with our four vets in the promotion for some friendly competition towards one another. I will say this though, I love the reactions from the crowd whenever Fuchi is in the ring because they'll cheer for him quite loudly whenever he does his trademark stuff and would boo the hell out of his opponents whenever they would try to mimic his stuff from hitting Fuchi below the belt or putting him in a headlock to punch him in the head and do his open fist taunt to the referee.
The match was Omori and Maruyama getting the heat over Fuchi for the majority of it, until Fuchi would make his comeback, do his closed fists and even Scoop Slam the both of them while holding them in the air for about ten seconds. Nishimura would now get in the ring with Maruyama to try and do some damage on him, but Maruyama would then put Nishimura in the Figure Four Leg Lock to try and make him tap out, but Fuchi comes into the ring to get rid of Omori and flips the two over so the hold would be reversed and Maruyama taps out to give Nishimura and Fuchi the win! I do gotta say that for a match involved with guys their age, it was pretty fantastic for what it was and while it's not great compared to current standards, but for the old school type feel, it was worth seeing.
Recommended: Actually yes, yes check it out.
Tag Team Match
Atsushi Aoki & Ishikiri vs. Yohei Nakajima & Último Dragón
Review: Another tag team bout with our Junior Heavyweight Champion teaming up with Ishikiri to take on Yohei Nakajima and the returning Ultimo Dragon. A little bit of context here, Nakajima is on the hunt for the championship against Aoki, but Aoki feels as if he's not deserving of a title match and Yohei now has to prove himself to see if he can get a match, so if he can beat him cleanly in a tag match, then that will put him in the title picture.
Nakajima would start to attack Aoki before the bell would ring and would keep on the assault until Ishikiri got tagged in and same with Ultimo as the two go at it and let me tell you, Ultimo can still go for a man his age and is just better than the entire junior division in AJPW and that's the problem with them, just about none of them really stand out, and I've said it in my last article with them at how the division has no leadership and something needs to change soon. I personally think Ultimo should be the one to take the title and hold onto it for the time being until they fix up that division and pick someone to be their future instead of just having him drop it to TAJIRI like they did last time. I will, however, try to give this feud a chance and if the execution is bad, then I still say go with my plan and have Ultimo keep the belt. Near the end of the match, Nakajima and Aoki would brawl around and outside the ring while Ultimo and Ishikiri would be the legal men in the match and Ultimo would eventually pick up the win with the La Magistral. After the match, Aoki continued to criticize Yohei as he does not feel he is fully invested in being a champion, which means that Aoki would not give him the title match as he feels like he still doesn't deserve one.
Recommended: I would watch it just for the interactions between Ultimo and Ishikiri and that's it. Just give me a singles match with these two instead since they work great together.
Tag Team Match
Zeus & Black Tiger VII vs. TAJIRI & Yoshitatsu
Review: We have Zeus in action now and not teamed up with Bodyguard meaning he's still injured or it's just a heavyweight/junior heavyweight tag bout and his partner is Black Tiger VII as they take on Yoshitatsu and TAJIRI, surprised he's not teaming up with KAI and I guess that's over with since they failed to get the tag titles.
Tiger and Yoshi start the match off and it looked like Tiger would have the opening advantage while for some reason selling his knee and dancing around at the same time…he's weird, but he would then go for a Shining Wizard and I'm confused as to did Yoshi block it or just no sell it since he got up pretty quick. I always liked the chemistry between Zeus and TAJIRI since they match their strengths off pretty well together and he knows how to make Zeus powerful than he already is. I mean just look at that gorgeous body of his, the body of the gods! The match was solid for what it was except for Yoshi how has been rather sloppy in this match and it really shows here, but hopefully, it's just the one time since it's gonna happen to everyone. Yoshi would try to apply the Koji Clutch on Zeus, but that man is too powerful and throws him off before doing a Gorilla Press to both Yoshi and TAJIRI. Black Tiger would try to go for the Shining Wizard on Yoshi to get the win, but Yoshi ducks and hits him with a Spinning Heel Kick and the COJ (Codebreaker of Jericho) for the win and yes he actually calls it that. You know, Jericho is in Japan for the time being, so maybe he should pay Yoshi a little visit.
Recommended: I would like to say it was worth a view.
Six Man Tag Team Match
Suwama, Shuji Ishikawa & Hikaru Sato vs. Jake Lee, Ryoji Sai & Koji Iwamoto
Review: We now get six-man action this time with Violent Giants and Hikaru to take on Jake Lee who has been doing rather well ever since he returned from his injury and wants to keep that momentum going here.
Jake and Suwama would start off the match with Suwama pretty much testing Jake's strength in the match once they locked up and Jake would even get Suwama towards the ropes to break it up, but then it leads to Jake being kicked in the chest and would get him down which made both teams switch as we now have Shuji and Ryoji in the ring now. Shuji would then knock Ryoji down after going back and forth as we now have another tag, putting Hikaru and Koji in the ring now with Hikaru trying to deliver some stuff strikes to Koji. Hikaru would continue his assault on Koji and both Suwama and Shuji would run in to knock down Ryoji and Jake as they beat down Koji, Shuji would even throw him towards the guardrails to damage his body up some more. Suwama would get in the ring now and hits a nice Back Suplex to pin him for a two count and would then apply the Liontamer only for it to break up. Suwama would deliver stiff shops to Koji and would go for an Irish Whip, but Koji reverses it into a Judo Throw to give himself some time to tag in Ryoji for the hot tag as he starts exploding with energy and would go back and forth with punches against Suwama until he got chopped, but Ryoji would still knock Suwama down to get Shuji tagged in as he doesn't go down without a fight as he delivers a Double Stomp to Ryoji to end his momentum right here, but Jake would then get tagged in as well as Hikaru with Jake trying to go for his Backdrop and is still unsuccessful to do so with Suwama and Shuji coming in to triple team Jake by the both of them delivering Clotheslines to Jake while he was caught on the ropes and ended with Hikaru doing a Jumping Kick, but would get a two count out of it. Hikaru tries to knock Jake out, but Jake makes a comeback with stiff kicks and hits the PK to knock him down and go for a pin, but he breaks up the pinfall by himself since he's not done yet as he hits the Backdrop for the win. If Jake Lee can keep this momentum up throughout the whole year, then I would have no problem with him winning next years Champion Carnival.
Recommended: Great match, definitely watch it.
All 7 teams were announced for this year's "Jr. TAG BATTLE OF GLORY". The league will run throughout the month of August (August 3rd – August 25), with the team with the highest points winning the league.

☆ Atsushi Maruyama & Masashi Takeda (2017 Winners)
☆ Atsushi Aoki & Hikaru Sato
☆ Yohei Nakajima & Black Tiger VII
☆ Koji Iwamoto & TAJIRI
☆ Kaji Tomato & Shiori Asahi (K-DOJO)
☆ Shuji Kondo (W-1) & Kotaro Suzuki (FREE)
☆ Masaaki Mochizuki & Shun Skywalker (DRAGON GATE)
All Asia Tag Team Titles Match
Jun Akiyama & Yuji Nagata (c) vs. Naoya Nomura & Yuma Aoyagi
Review: Uncle Jun and Yuji are back teaming up together as they are set to defend the All Asia Tag Team Championships against Naoya and Yuma from NEXTREAM, can the uncles of AJPW and NJPW retain their championships or will they get dethroned by the younger generation? Well, let's find out for ourselves.
Naoya and Yuji would start it off with a lock up and Naoya would flip him over only for Yuji to quickly get back up and kick him off. Naoya seems to be holding onto his own for a bit of it since he was able to knock Yuji down after delivering some pretty nice forearm shots to his head and would tag Yuma in now which lead to Jun getting the tag in as well which leads to Yuma getting Jun outside of the ring and does a Plancha to the outside while Naoya does the same to Yuji and would start to knock down the champions outside of the ring. Yuma would throw Jun to the guardrail and once he tried to chop him, Jun wasn't phased by it at all, but he did take a nasty DDT on the outside and would get him back into the ring. There are two things I love about this match and the first one is the old generation vs new generation feeling with this one with Jun and Yuji showing they can still go in the ring and deliver quality matches for their ages and with Naoya and Yuma, they showed the fire and intensity as a team and as individuals to show that they have a chance to beat them and can be people that others should keep an eye on.
The second thing I loved about this match is that it shows AJPW still has a bright future ahead of them and yeah you got Kento Miyahara carrying the company right now, but you got quite a few people on the rise and that follow Kento to help AJPW reach new heights once more since you got guys like Naoya, Yuma, Koji, and Jake Lee to help them and once the time comes for them to reach that status, they'll have new people ready to start their journey to follow them and so on, and so on. Naoya would get some close calls with Spearing both Jun and Yuji back and forth and would pin Yuji, but would only get a two count. With Jun beating down and holding Yuma back, Yuji had Naoya in the ring all to himself and would go for his Backdrop Hold and it looks like it could be it, but Naoya surprisingly kicks out at two to show he still had some fight left in him, but it doesn't last long as Yuji hits the Backdrop Hold one more time for the win and have a second successful defense under their belt. After the match, Naoya and Yuma stated that they weren't done chasing the titles as they plan to have a rematch for them very soon while both Jun and Yuji welcome it.
Recommended: I thought it was a great match with nice storytelling with old and new generations feeling to it. Definitely watch it.
AJPW Unified Triple Crown Heavyweight Title Match
Kento Miyahara (c) vs. Dylan James
Review: I'm still confused as to why its James Dylan getting a shot at the Triple Crown Championship over anyone else in the company. Here we have someone who had the worst performance in this year's Champion Carnival next to The Bodyguard and has been having mediocre matches since his arrival in this run of AJPW, and he somehow gets this big match in the main event. If it's so Kento could get an easy defense for his reign, then why not just have him fight someone that defeated him during the Carnival like Joe Doering, I wouldn't mind a third encounter between the two as a way to end that trilogy over this, but too late now and let's see how he fairs in this match. Kento is the future of Japanese wrestling and just his entrance and how the crowd reacts to him before he gets into the ring is something similar to Tetsuya Naito except it's not as loud…yet and he will definitely get there once more people know of his greatness in the ring.
The two lock up as James gets Kento by the ropes and went to go for a quick chop, but Kento ducks out of the way while Dylan tells him he was this close to hitting him, but the next time he would hit Kento and it would even make him go to the outside of the ring. Kento was selling each strike down to him to make Dylan look as strong as he could in this match and I felt like that's what he needed to do since Dylan is a big guy after all. Dylan would have Kento on a corner and goes for a chop, but Kento ducks and causes Dylan's hand to chop the turnbuckle post, hurting his hand and would give Kento an opening to strike him down and would even go onto the apron to knee him in the back of the head. Kento would throw Dylan, but Dylan would run back after hitting the guardrail to shoulder tackle Kento, causing him to go over the guardrail. Dylan would get Kento back into the ring so she could work on Kento more with some stomps, chops, and just any strike he could do and while it's simple, Kento makes it look very effective and I love his seeling for it and Dylan would keep this up for a few minutes before taking him back to the outside, but Kento would headbutt Dylan to regain some composure and before he could do it again, Dylan catches him for a Chokeslam and hits it onto the ring apron. Dylan gets Kento back into the ring and places him on the corner and would deliver a stiff Lariat onto the corner and immediately knocks Kento down onto the mat. Dylan attempts to go for a Powerbomb and Kento reverses it into a Hurricanrana and kicks Dylan, but Dylan chops him and goes for a Suplex, but Kento hits a Brainbuster and the two are down. Kento would hit the Blackout and then attempts to hit his Shutdown German Suplex Hold, but Dylan would break free of it to hit a Lariat and would them hit a second one for good measure and Kento kicks out at two. Dylan is pulling off all the stops in these last few minutes as he hits a Powerbomb this time after Kento breaking free from two of his Chokeslam's and giving him another Lariat, Dylan is just killing him with these Lariats while Kento keeps kicking out at two even though this whole sequence was actually making me believe that we would've had a new champion here. Dylan goes for another Chokeslam, but Kento would turn it around for a regular German Suplex Hold for a two count and Kento would try to get more momentum, but Dylan stops him dead in his tracks and hits the Powerbomb for another two count! Dylan goes for another Lariat only for Kento to hit the Blackout on his arm and go for his finisher, but Dylan breaks free from his hold only to be hit with two Blackouts and then hits his Shutdown German Suplex Hold for the win and still Triple Crown Champion. Where the hell has this Dylan James been? This was the best match I've seen him wrestle in, give me more of this!
After the match, Zeus makes his way to the ring and claims himself as Kento's next challenger and I am completely torn on this because I don't know if they wanna give Kento another short reign while being the face of the company, but at the same time I feel like Zeus has to win this one and show he can actually win the companies biggest prize. The match is set to take place on July 27th and this is sure to be a classic match. I want Zeus to be the one to take the belt, but I don't know what direction Uncle Jun would have this match go and we'll have to wait and see.
Recommended: Dylan James best match in the company and it actually was a great match for what we were given between the two, so give it a look.
Overall: I have to say that the show was solid from top to bottom and none of the matches were actually bad and the last two matches definitely delivered to give us a great show here, plus we now have something to look forward to in July and you don't wanna miss it.
Favorite Match: Jun Akiyama & Yuji Nagata vs. Naoya Nomura & Yuma Aoyagi
Least Favorite Match: Keiichi Sato vs. Rionne Fujiwara
Score: 7.5/10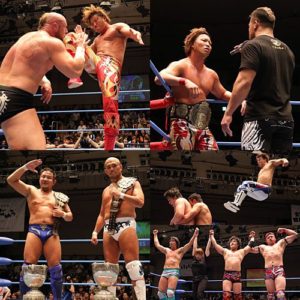 ---
Always Use Your Head and visit the official Pro Wrestling Tees store for The Chairshot All t-shirt proceeds help support the advancement of your favorite hard-hitting wrestling website, The Chairshot!

---
Wrestle-1 Tour 2018 Outbreak Part 2 Results & Review (6/22/2018)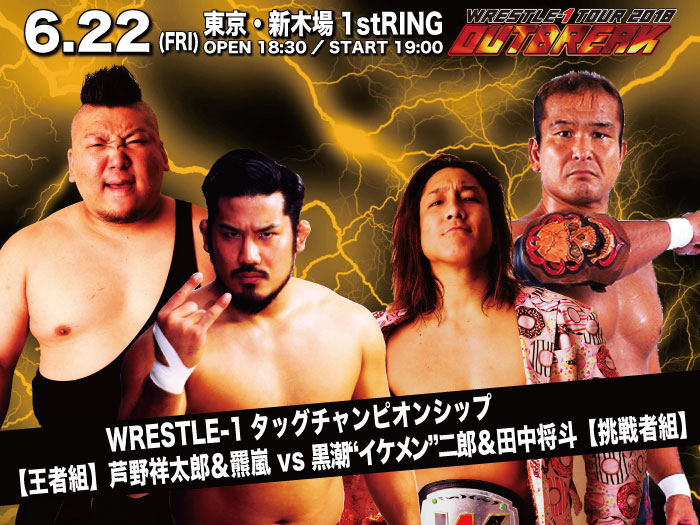 Welcome back to Wrestle-1 and last time we covered them, a lot has happened with CIMA and OWE invading Wrestle-1 to shake the company up, as they will be fighting each other in a series of matches during the show and Manabu would also retain his championship in the process.
Our main event tonight is for the W-1 Tag Team Championships since Jiro and Masato would defeat Ashino at the previous show as they look to have the match tonight. Will W-1 be able to drive OWE away on their first night or will they show that they're here to stay? Let us…dive right in.
Singles Match
Takanori Ito vs. Takumi Baba
Review: We open up the show with a regular exhibition match between Takanori Ito as he takes on Takumi Baba. This one was really nothing to write home about because this was more of an average squash type match with one guy controlling the majority of the match in a short amount of time and eventually Takumi would get some offense in the match for about a brief moment and ended after he would hit a Dropkick off the top rope and Ito would turn it around with a few kicks to the chest and would call for the German Suplex Hold for the win after about five minutes. Ito reminds me a bit of Kevin Owens and I think I said that before since he pretty much has the same attire as him, same body type and is quick, but doesn't have the full intensity like Kevin does, but he does have potential to be a top guy in W-1.
Recommended: Skippable.
Six Man Tag Team Match
Ganseki Tanaka, Koji Doi & Tsugutaka Sato vs. Masayuki Kono, MAZADA & NOSAWA Rongai
Review: Time for a six-man tag match involving someone that is responsible for the invasion of CIMA and OWE, NOSAWA and he got exactly what he wanted so let's see if he's right later on tonight, but now he has to focus on his match against Ganseki, Koji, and Tsugutaka. With another old vs new style tag team match, it's what you expect with Koji getting the early shine in the match and would lose it once Ganseki came in to take in the heat of everything from NOSAWA, MAZADA, and Kono as all three of them would just give him a beating without giving him any chance to tag in anyone else, which is how it should be when it comes to tag team matches. Eventually, Koji would get back in the ring for the hot tag and would clean house with his powerhouse style and would tag in Sato to try and put it away, but NOSAWA would hit a Shining Wizard on Sato, followed by a Lariat from MAZADA and Kono would hit a Chokeslam to try and win it, but Koji would break the pin just in time. NOSAWA and MAZADA would fight the illegal guys on the outside of the ring as Kono would hit a Chokebomb for a two count and then would hit his Running Knee as the young guys would lose once again.
Recommended: It was an average match, so this one is up to you
Tag Team Match
Alejandro & El Hijo del Pantera vs. Kenichiro Arai & Yusuke Kodama
Review: On our last show, Kodama would defeat Seiki to become the new Cruiserweight Champion and was then challenged by Pantera to be the next contender for the belt as we have no match date for it just yet, we got a tag match with Pantera partnering up with Alejandro while Kodama would team up with Kenichiro Arai. We get our preview early as Pantera and Kodama would start the match off with Pantera being all quick in the ring and even ran the middle ropes for a bit before the two locked up and Pantera is just too quick for him with his cat-like reflexes, no pun intended. Kodama would throw Pantera to the ropes and he just flips outside on his own as he landed on the entrance ramp before going in to do a Springboard Dropkick to make him go outside of the ring as Kenichiro would run in only to be tripped down as Alejandro would hit him with a Crossbody to make him go outside now and it looks like they're both about to do a Suicide Dive, but they psyche them out as they are still in the ring taunting them.
Alejandro gets tagged in now and looks to do a Splash to the corner as Kodama would move out of the way and kick Pantera down before going back to the ring to tag in Kenichiro as he now begins to work on Alejandro's arm and that seems to be the key focus for Kenichiro and Kodama when they kept tagging each other back and forth while still working on his arm to injure it more until Kenichiro came back in the ring to do more damage as Alejandro would hit a Hurricanrana to get him down as he makes the hot tag to Pantera. Pantera would hit the both of them with a Tilt-a-Whirl Backbreaker and would go to the ropes to do a Springboard Frontflip onto Kenichiro and before he could do anything, Kenichiro would tag in Kodoma when he wasn't looking and hits Pantera with an elbow while Kodoma hits a Diving Crossbody for a two count. The two start punching each other back and forth until Kodoma would rake his eyes and went to throw him into the ropes, Pantera would hit a Springboard Headbutt and top it off with a Dropkick before he made his way to tag in Alejandro who hits a Dropkick off the ropes and Pantera would hit a Drop Toehold to make Kodoma land between the ropes so they would hit a Double 619 and a Double Dropkick as Alejandro goes for the pin, Kenichiro would break the count. Alejandro and Pantera would hit the ropes again but Kenichiro would pull Pantera out of the ring, giving Kodama an opening to attack Alejandro with a Fisherman Buster and then he hits his Mad Splash to get the victory.
Recommended: Solid match, worth watching.
Singles Match
CIMA vs. Jun Tonsho
Review: It is now time for Strong Hearts vs. Wrestle-1 to begin as we have our first match with the leader, CIMA to take on Jun Tonsho, who has been pretty impressive during the last couple of times that I've seen him wrestle and should be an interesting bout. Soon as CIMA got into the ring, Jun would start to Dropkick him right away and start going after him so CIMA doesn't get a chance to fight back and it's a smart move on his part to try and take him down quickly and does with a few more Dropkicks and once he attempted to go for the Dragon Suplex, CIMA would fight it off and hits a Dropkick of his own. CIMA would first hit a Fisherman Buster for a two count and he quickly picks him up for a DDT and then goes to the ropes to hit his Meteora for the quick victory as he defeats Jun in less than two minutes. Strong Hearts has one point on the scoreboard while W-1 has zero.
Recommended: For a match being two minutes, it was pretty entertaining. Worth a viewing I say, especially if you're interested in this feud.
Tag Team Match
Kaz Hayashi & Seiki Yoshioka vs. Dezmond Xavier & Zachary Wentz
Review: After pretty much CIMA getting the quick work done on Jun, our next match is a tag team match as we have Kaz Hayashi leading this one with former Cruiserweight Champion, Seiki Yoshioka as they take on two of Strong Hearts members, Dezmond Xavier and Zachary Wentz and I'm excited for Zachary as he's been one of the breakout stars for me in 2018 and I can't wait to see him shine more tonight. Zachary and Seiki start the match off with first some basic chain wrestling as Zach would turn it around into an Armbar to try and make him tap, but Seiki would have his foot on the rope to break the hold. Seiki would start ducking Zach's strikes and attempts to go for a Baseball Slide as Zach jumped over him and ran to the ropes to do a Springboard Corkscrew to knock the former champion down and once Saiki got back up, Zach would tag in his partner Dezmond. as Seiki backed up to tag in Kaz.
Dezmond would outsmart Kaz with his strikes and jabs whenever Kaz would try to throw or hit him as Dezmond kept on turning it around and threw him into the corner only to be thrown over, which Zach would tag himself in the second Dezmond hits the apron and would kick Kaz in the back of the head and jump over the ropes to kick his chest in and soon as Dezmond rolled off him, Zach would jump over Dezmond to hit the Bronco Buster and impressive teamwork right here. Seiki would attack Zach for a bit and Kaz would Dropkick his leg to knock him down as he now begins to work the leg a bit until he went for a Handspring Enziguri only for Zach to duck and hit the same move but with a Dropkick as he connected and hurts his knee in the process before tagging in Dezmond.
Dezmond would Dropkick Kaz on the back of his head to make him roll out of the ring and went to go for a dive, but gets punched in the face instead as Zach would jump over the ropes to land on top of Kaz. Seiki would try to attack Dezmond and gets thrown to the ropes and he does an Asai Moonsault to the outside only for Dezmond to do a cartwheel into a Moonsault to the outside as well as the place goes crazy. Dezmond get Kaz back in the ring and goes for a 450 Splash to only land on his feet since Kaz moved and would hit Kaz with a jab to the midsection as both him and Zach would hit a combination of strikes where Zach ends it with a Double Stomp while Dezmond goes for the cover and Kaz kicks out. Seiki and Zach get tagged in and Seiki would look like to put it away as he hits the Headscirssor Slam and tops it off with a Roundhouse Kick to go for the cover but Dezmond breaks the count and gets Kaz out of the ring. Seiki went to go for the victory as Zach had him in a short-arm hold as Dezmond hits Seiki would a Superkick and Zach turns him around for a knee strike as Zach went to go for his Standing Moonsault by Seiki's feet, Dezmond would push him mid-air to make him land on Seiki for the win. Strong Hearts now has the lead 2-0.
Recommended: Great match and I'll even post the video of the match on here so you can see it for yourselves.
Six Man Tag Team Match
Andy Wu, Manabu Soya & Shuji Kondo vs. El Lindaman, Gao Jingjia & T-Hawk
Review: This will be the last match in the Strong Hearts vs W-1 matches for the evening as it is not a six-man tag match with our Wrestle-1 Champion, Manabu Soya leading the team with Andy Wu and Shuji Kondo as they take on T-Hawk who leads the team with El Lindaman and Chinese star, Gao Jinjia. Can Strong Hearts get a clean sweep or will Wrestle-1 finally get a victory here?
This is my first time seeing Gao in action here and I gotta admit that while he's a little bit green and needs more work, he's very athletic and can definitely move in the ring here, I hope to see more growth from him in these matches. Lindaman is someone I wasn't fully sold on in Dragon Gate and I still cannot get into the guy here since he's just mediocre at best in my opinion. T-Hawk is someone I felt like he wasn't ready for the big spotlight when he won the King of Gate last year and once he teamed up with Eita, he started to slowly get better in the ring and with his character work, and now seeing him here made me think that it would be a good place to start if he does get involved with major storylines with W-1 depending on how long the feud will go on for, but I do believe that Manabu will eventually fight at least CIMA or T-Hawk for the championship depending on the direction they go with it. The match was solid with mostly Kondo and Wu doing the work in the matches while Strong Hearts relied heavily on the heel tactics and greater numbers against one person. When Manabu was in the ring, he really played his strengths into the match to show that the company was his house and he's not going to let another promotion come in here and try to take it from him or the others in Wrestle-1. One move I did love was that Gao jumped onto Lindaman's back and hits a 450 Splash off his back and onto Andy Wu, I don't think I really see that happening and thought it looked awesome. T-Hawk and Andy are in the ring now and it looked like Wu would get the one win Wrestle-1 needed over Strong Hearts, but Hawk would hit his Black Tiger Bomb and get the three count.
That's right, Strong Hearts was able to get a clean sweep over Wrestle-1 by winning all three of their matches tonight. The two teams would continue to brawl in the ring after the match while T-Hawk was getting confrontational with Manabu hinting that they would eventually fight each other again soon. W-1 would eventually leave the ring during the brawl and T-Hawk declared that they will all return for the Korakuen Hall show on July 18th. Though he stated that this time around that STRONG HEARTS will announce their matches/teams with W-1 being given the chance to follow.
Recommended: Solid six-man tag match, worth a viewing.
WRESTLE-1 Tag Team Title Match
Kumaarashi & Shotaro Ashino (c) vs. Jiro "Ikeman" Kuroshio & Masato Tanaka
Review: At the last show, Jiro would get the surprise victory over Ashino with the Ikeman Flash and Jiro stated that he and Masato would challenge for the belts at the next show with his partner this time since Kuma was busy that night taking on Manabu for the Wrestle-1 Championship and then lost. Both Ashino and Kuma would need to win this match here to redeem their losses or will Jiro pull the upset once again with Masato and have a second belt in his collection since he's still the Wrestle-1 Result Champion?
Yes, Masato is still rocking Jiro's jacket and wearing it while he wrestles in this match, I just love how he can be a heel in a few places while being the babyface in other companies like this one. I love whenever Jiro and Ashino work together in the ring since they have such great chemistry together with Ashino's ability mixed up with Jiro's charisma gives us unique matches together. I liked how Ashino would tackle Jiro down and would just kip-up right away and do it a couple of times even when Ashino would rake his eyes and throw him down to the ground and Jiro would just find a way to mess with Ashino, it's the small types of interactions mixed with their chemistry that I just enjoy. Kudos to Kuma for showing off his power and throwing Jiro around like a rag doll and he sold that once he hits the turnbuckle post on the outside, even when Kuma tried to throw him into the ring, Jiro would bounce off the ropes to fall back down to the outside and it made Kuma look great here. Masato getting the hot tag and in the match and starts exploding in the ring and he continues to show that he can still be at the top of his game for a man his age, it must be that ancient Japanese secret that I don't know about and need to figure out. Ashino would lock the Ankle Lock on Jiro and would make sure he wouldn't let go of the hold so he could make him tap out this time instead of giving him any type of advantage to escape and pull another upset like he did at the previous show and while Jiro was able to escape, Kuma would be ready to do a Diving Senton onto him off the second rope to add more damage to his body and Masato would hit Ashino  with a Brainbuster off the top rope as Jiro hits his Moonsault Press to go for the win, but Kuma broke the count. Ashino isn't done yet with Jiro as he worked him more with some stiff European Uppercuts and a T-Bone Suplex to go for a two count and would reapply the Ankle Lock once more to see if he could get him to tap out once more and he still fails to do so, and Masato would catch Ashino off guard with a running knee to the face and Jiro would hit not one, but two Moonsault Presses to double tap him and pins him for the win as we have new Tag Team Champions!
Seeing the title change hands rather quickly did throw me off guard, but at the same time, I think it made sense since Ashino is too good for the tag titles and needs to focus on getting his Wrestle-1 Championship back, maybe Kuma can find a different partner from his faction to go for the belts. But congrats to Jiro for now holding two championships in the promotion and if he can win the Grand Prix, he'll have a chance to win three belts if he can also defeat Manabu, but again he has to win the Grand Prix first.
Recommended: Very fun match and all four of these men delivered for a great main event. Give it a watch.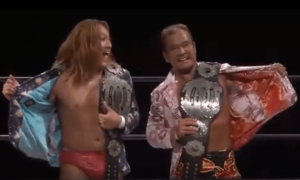 Overall: I was amazed that Wrestle-1 was able to pull off two great shows back to back and they added new elements to their storylines and rivalries to make me wanna watch more of them frequently if they were able to upload shows in time instead of almost a month in between. Next up is the Wrestle-1 Grand Prix which takes place on the July 1st show and will have the semi-final and finals taking place on July 18th (my birthday), and the winner of that match will fight for the Wrestle-1 Championship on their big show in September 2nd. The entrants to this match are Jiro "Ikemen" Kuroshio, Masayuki Kono, Kaz Hayashi, Shotaro Ashino, Shuji Kondo, Koji Doi, Takanori Ito, and Kumaarashi. I'm gonna go with Jiro making lightning strike twice and win it back to back, but don't be surprised if Ashino wins the match to set up the rematch between him and Manabu.
Favorite Match: Kaz Hayashi & Seiki Yoshioka vs. Dezmond Xavier & Zachary Wentz
Least Favorite Match: Takanori Ito vs. Takumi Baba
Score: 8/10
See you all next time!
---
Always Use Your Head and visit the official Pro Wrestling Tees store for The Chairshot All t-shirt proceeds help support the advancement of your favorite hard-hitting wrestling website, The Chairshot!

---
Andrew's G1 Climax 28 A Block Ratings & Review: Day 3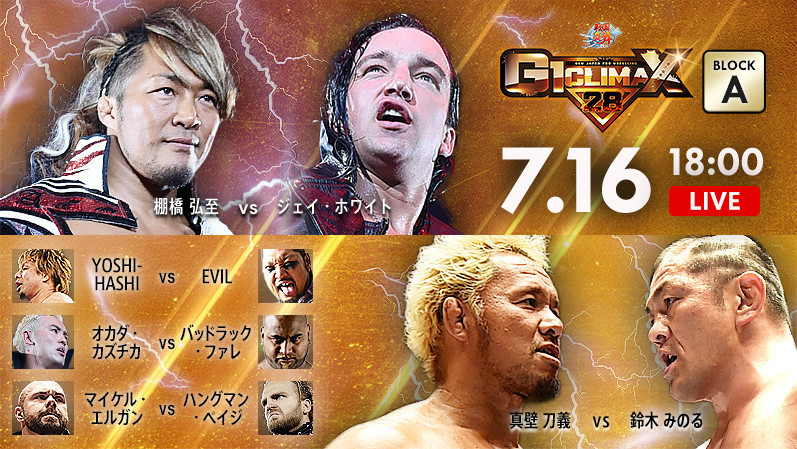 So a few surprising results from the first day of the G1. Shattered Okada lost his first match,  Minoru Suzuki is down early and Bad Luck Fale cares about statements more than points.
It will be interesting to see how the second day shakes out. Break point is usually around 3 losses. So if anyone starts 0-2, that doesn't give a lot of room for error.
Let's find out who takes the early lead this year.
Michael Elgin vs Hangman Page
Starting off nicely with two men who already have a victory, so the winner here will take an early lead in the tournament. Since it's Page's first G1, they don't have any previous matches to pull from beyond stuff in ROH. But let's be honest, Page has really come into his own the last year or so. Thusly, their previous matches are a little moot.
This match really helped Page get over more with the Japanese crowd. Elgin's power was on full display in this match, while Page tried to use his agility and even show heart by striking back and forth with him.
As the match went on, the crowd was more and more behind Hangman, which was nice to see them come around. Elgin ends up countering the Buckshot Lariat with a Lariat of his own, followed by a Tiger Suplex and Splash Mountain, but Hangman kicks out.
Alas, the kick out only delayed the inevitable where Elgin hits Buck Bomb, into Tiger Driver into Elgin Bomb to get the pinfall, and be the first competitor to 4 points.
As a match this was fine. A few higher risk spots looked a little clunky and they didn't always seem to be on the same page, but it wasn't a bad match at all.
Winner: Elgin via Elgin Bomb
Rating: *** 1/4
EVIL vs Yoshi-Hashi
This is an odd pairing. Both men lost their opening match, but aren't perceived as equals. EVIL is up and coming, upper mid card, while Yoshi-Hashi is the bottom of the barrel. However, Yoshi-Hashi holds the victory in their only ever run in the 2016 G1. So can Yoshi-Hashi run it back, or will EVIL get his win back?
Well now, this was a somewhat unsurprising match, and even the crowd seemed to just be waiting for the end. Yoshi-Hashi showed some early aggression, but he came off as over anxious. So much so, he nearly killed EVIL when he put too much torque in a Powerbomb attempt, and also too damn close to the ropes, so they both spilled out to the outside.
Thankfully, no one seemed badly injured, but still, Hashi repeated the Powerbomb attempt when they went back in the ring, which proves it was a botch.
Yoshi went for Karma a couple times, but EVIL fights it off and lands a hard hitting lariat to set up nicely for Everything is Evil. Which ties up their G1 records at 1 a piece, but more importantly, it puts EVIL on the scoreboard.
Winner: EVIL via Everything is Evil
Rating: ** 3/4
Togi Makabe vs Minoru Suzuki
So there's a lot of history behind both of these men. Most recently we had Suzuki beating Makabe at the Anniversary show this year. The bad blood runs deep with these guys, so let's just see how it plays out.
Umm…okay, my first reaction is that this match is the wrestling equivalent of watching a hate fuck. Words don't exactly do it justice, nor can I find a better reaction.
This match is a fight, nothing pretty, nothing flashy, just a masterfully savage brawl. Both men goad the other for more strikes, they have a chair duel, numerous strong style moments and just a plethora of sadistic desire.
Suzuki looks like he might win with the Sleeper Hold, but of course, he goes for the Gotch Piledriver and Makabe continuously blocks the move. Makabe hits a few lariats, his ten count head punches with signature Makabe laugh and Spider German Suplex.
Minoru stands up after the spider so Makabe hits him with a Flying Knee, and then his signature finish, King Kong Knee Drop. Makabe goes to 4 points while Suzuki sits at zero.
This match was leaps and bounds better than their Anniversary show, and will be hard to top for this day.
Winner: Makabe via King Kong Knee Drop
Rating: **** 1/4
Bad Luck Fale vs Kazuchika Okada
From Rainmaker to Rainman, Okada remains shattered with his red hair, balloons and awful remix theme. Not really sure how hard Fale is trying since he gave the 2 points to Hangman Page last A Block Day, just to send a message.
Well okay, so the Tongans are back in old school Bullet Club form. Tanga Loa came out with Fale, but Okada handled both of them relatively easily. Okada was able to slam Fale, slip out of the Bad Luck Fall twice and hit two Rainmakers.
But Tama Tonga slides in out of nowhere, to land a devastating Gun Stun while Fale had the referee distracted, and that was all that was necessary. Fale picks up the pieces, hits a Bad Luck Fall and gets himself 2 points.
Rainman Okada needs to figure this out, definitely, definitely, needs to figure this out.
Winner: Fale via Bad Luck Fall
Rating: ***
Jay White vs Hiroshi Tanahashi
Well Tanahashi put Jay in his place at Wrestle Kingdom 12, but this is a new Switchblade. White has a new confidence about him since beating Okada and Tanahashi has a chip on his shoulder since some people think he's reaching the end. Will the Ace of a Century get his second win, or will Jay get his win back as well as join the 4 pointers at the top?
Jay continues to turn up the intensity in his matches. Going after Tanahashi's banged up knee early and coming back to it to make a few points. However, Jay also lands a bevy of snap suplexes, which gives him the idea to focus on the neck also.
Watching White systematically carve up the ace was different, since this growth in his character has come fairly quickly. Tanahashi got in plenty of offense in this match though, so at least it wasn't a one sided ordeal like his last one.
Jay introduces a steel chair directly in front of Red Shoes, and the referee lets him know that he'll get disqualified. Jay swings any, but misses and then we get some shenanigans with the referee not paying attention.
Red Shoes cowers in the corner the same as he did during the G1 Special in San Francisco, and Jay hits Hiroshi with a low blow. As Jay goes for the chairshot, Tanahashi hits Jay with a straight right, below the belt.
The finish saw Tanahashi have a lot of momentum, but Jay managed to use Red Shoes as a shield to protect him from High Fly Flow and crotch Tanahashi on the top turnbuckle. We then see Jay throw the chair in the face of the ace, much like he did to Okada, land Blade Runner and pick up his second win.
Winner: White via Blade Runner
Rating: *** 3/4
A Block Standings:
Togi Makabe: 2-0 (4 Points)
Jay White: 2-0 (4 Points)
Michael Elgin: 2-0 (4 Points)
Hangman Page: 1-1 (2 Points)
Hiroshi Tanahashi: 1-1 (2 Points)
EVIL: 1-1 (2 Points)
Bad Luck Fale: 1-1 (2 Points)
Kazuchika Okada: 0-2 ( 0 Points)
Yoshi-Hashi: 0-2 (0 Points)
Minoru Suzuki: 0-2 (0 Points)
Thoughts:
Much like I said after Day 1, the match quality is still solid so far, but the stories are really pushing the A Block forward. Makabe and Suzuki continue their blood feud, Yoshi-Hashi can't seem to catch a break, Rainman Okada is too shattered to really compete, Firing Squad bringing the old school Bullet Club antics and Jay White…is just on a different level.
That's not to mean like Okada was as an in ring performer, it's just Jay is doing anything necessary to win. Plus this persona of he will claim everything, including the air, is his while imploring people to "open their lungs, and breathe with him", is just…well…different.
Even if this isn't 4+ star classics on every match, the storylines are still quite compelling and the ring work isn't awful. Damn good night.
---
Always Use Your Head and visit the official Pro Wrestling Tees store for The Chairshot All t-shirt proceeds help support the advancement of your favorite hard-hitting wrestling website, The Chairshot!

---
Mathew's G1 Climax 28 B Block Results & Review: Day 2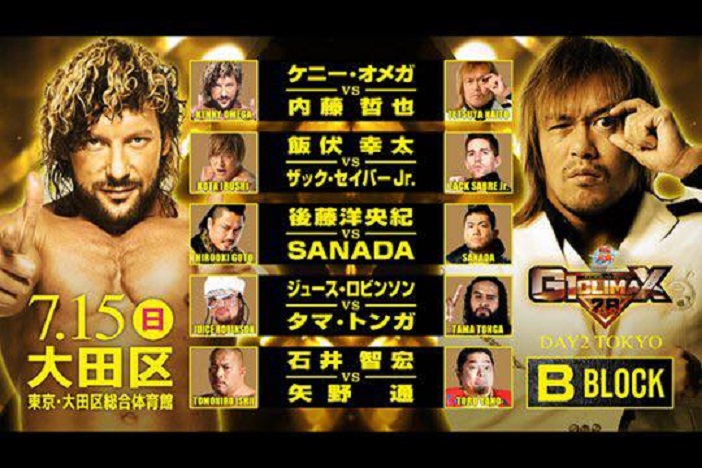 If you have followed me and Andrew's collaborations before, we both covered the AJPW Champion Carnival and Dragon Gate's King of Gate a few months ago into doing separate blocks to make it easier since one person covering the whole thing. That would be a lot of time and work, plus I couldn't ask for a better partner in this. So with this going on, Stardom, Dragon Gate, AJPW, and other stuff I cover will have to either be put on hold or limited for the time being until G1 is over with unless a really big show happens and I'll try to squeeze it in.
Anyway, it is time for New Japan's biggest tournament of the year, the G1 Climax where ten wrestlers with each block will fight each other in a round robin style tournament and the winner of those blocks will face off in the final and the winner of that will challenge the IWGP Heavyweight Champion in the main event of Wrestle Kingdom in January. Last year, Tetsuya Naito won the G1 Climax by defeating Kenny Omega and this year has both blocks surely stacked as I cover B Block and got a solid opening. For predictions, I want Naito to win the G1 again to finally reclaim that title, but I somehow can see Tanahashi vs. Ibushi in there. Let's not waste any more time and just…dive right in.
G1 Climax 2018 Block B Match
Tomohiro Ishii vs. Toru Yano
Review: Our first match in B Block contains both members of CHAOS as we have the companies gatekeeper, Tomohiro Ishii taking on Toru Yano who is someone that isn't somebody that you would expect to win the whole thing but can be known to be a thorn on peoples sides by costing people a chance to win if he surprisingly defeats them. Can Yano get the victory in the first night and ruin Ishii's chances or will the Stone Pitbull stomp on those thorns?
I think I'm missing something here because this is clearly not Toru Yano, did him and Ryo Saito share the same sake and became completely different people since this Toru seems to be a bit more serious than I've seen him in years, keep it up. The match was surprisingly very solid with this new side of Toru getting into the mix with even going toe to toe with Ishii a few times during the match. Another thing about Toru in this is that he wasn't over the top with his little antics since it wasn't one after another, he would do them in different sequences far in between to throw his opponent off a little bit more since they'll be expecting them frequently from him and the fact that he's not can throw them off more than he usually does. Ishii also does very well as usual by working with a bunch of people to give us quality matches and I feel like that's what the remainder of his career is going to be in New Japan with just being the gatekeeper of the company and give us memorable matches outside of winning the IWGP Heavyweight Championship since I don't think he really needs it this stage in the game and you can even have a great career without the need of winning the big gold and he's a great example. Toru near the end would try to do more of his antics with attempting to low blow him or use the referee and Ishii would just counter all of that and even pull a page out of Yano's book with a low blow when the referee wasn't looking and rolls him up with the La Magistral for the win and Ishii gets two points.
Recommended: Surprisingly entertaining, give it a watch.
G1 Climax 2018 Block B Match
Juice Robinson vs. Tama Tonga
Review: At the last show they had at the United States, a lot has happened with first being that Juice Robinson would defeat Jay White to become the new IWGP United States Champion in a solid bout with Juice finally winning his first big title and he has definitely earned it and has come a long way since his NXT days and now looks to have a more impressive record for this G1. Tama Tonga would pull the trigger with Bad Luck Fale and his family to assault Kenny Omega and the rest of the Bullet Club as he looks to bring the Club back to where it was originally supposed to be. With both having newfound chapters in their career, a win here would help solidify them a bit more as they both need it.
Tama normally doesn't care about being in the G1 Climax, but with the Bullet Club Civil War going on and the fact that Kenny Omega is actually in the same block as time, it seems to have given him some motivation to give a damn about it just so he could defeat Kenny in the tournament a try to win the whole thing so he could defeat him again on the big stage. Juice's hand still seems to be a bit injured since you can see him selling it more and not normally using it for when he does his little punch combo. The two seemed to hit it off pretty well with Tama being the cool type of heel with his brother helping him once or twice in the match and Juice, of course, being the underdog that is he despite being a champion now. Juice would seem to get the upper hand as he went for his Pulp Friction until Loa would distract him and get thrown in for Juice to hit him with his combo of punches to take him out and before he could try to hit the move again on Tama, he turned it around for a Gun Stun and gets the win. With Tama getting the win here against Juice, he could potentially have a future title match with him if he does indeed fail to win the G1, could be a fun match,
Recommended: Solid bout, worth watching.
G1 Climax 2018 Block B Match
Hirooki Goto vs. SANADA
Review: SANADA will always be my dark horse in any type of tournament he's in since he has the potential to be one of the biggest stars in the company and he has shown a lot of that this year with his matches against Okada, Toru, Zack, and various others and maybe this tournament could be his break, never count him out because he could surprise you. The NEVER Openweight Champion, Hirooki Goto is his opponent and normally seems to do well in these types of tournaments and represents Shibata every time he comes out with the Openweight title since Shibata made that belt feel important and Goto hopes to do it for his good friend. Excited to see how this one goes since I think this is the first time they fight one on one.
After seeing this match, SANADA moved up the ladder a bit for me for favorites in the promotion for me since matches like these show you how excellent he is in the ring and how his character is also intelligent since he can calculate what to do in the match to better his chances of winning a match and knowing how to dodge or reverse his opponents moves without really having to reverse it into submission holds, almost as if he has a counter for everything if it plays out in his favor. Goto deserves as much credit as SANADA since while Goto is someone that really screams a main eventer or IWGP Heavyweight Champion material, he's exactly where he needs to be with this title and representing his own vision of strong style and bring out the best of his opponents whenever he's in the ring with them. I love the GTR reversals into the Dragon Sleeper between the two and most of these little sequences made me believe that he could've had Goto tap out and unfortunately couldn't but it was still great storytelling with the both of them. Goto would attempt a GTR and SANADA would counter with a roll-up and would almost get the win by a millisecond as Goto kicked out just in time. Goto would have SANDA's feet on the ropes and looked like he was going for that DDT Randy Orton does, but he hits a GTR instead before picking him up to double tap with one more GTR as Goto picks up the win. I need to see a rematch with these two as soon as possible.
Recommended: Great match, definitely worth watching.
G1 Climax 2018 Block B Match
Kota Ibushi vs. Zack Sabre Jr.
Review: These two are no strangers to each other as they fought each other at last years G1 Climax on A Block with Ibushi getting the win over Zack and the two would fight again this year at the New Japan Cup Quarter Final Round with Zack making Ibushi tap out. The two would fight again to get the rubber match to see who would come out on top since a win here is important to get the early advantage. Will Zack be able to make him JUST TAP OUT for the second time in a row or will the Golden Star shine bright?
TAKA needs to be Zack's manager permanently going forward just by how he hypes him up like how Gedo hypes Okada. With Zack Sabre Jr, I love his technical ability and I will never deny his talent as a wrestler, but my big problem with him normally that he hardly ever shows character or even sell outside of Japan like he would just be a generic guy that just knows a lot of technical moves, but whenever I see him in Japan with Suzuki Gun, he shows all of the things to show he can be a better overall wrestler instead of just moves and I wish I saw this side of him everywhere else since it's great of him. This match was incredibly stiff from beginning to end with all of the strikes they do to each other whether it's chops, kicks, or just slapping each other in the face enough to see the sweat leaving their body. Zack is just incredible with his submissions since he just knows body manipulation and can just make you tap out with just about any combination of his holds since he's just so creative with them. Ibushi is a great talent with a glass ceiling hanging over his head and he could break that anytime he wants to move up to the next level and be a top player along with winning more gold, but the fact that he is a Freelancers with no decision to sign a full-time contract with the company is what holds him back to go to the next level to be the IWGP Heavyweight Champion. The last seven minutes of the match elevated their high intensity with Zack kept locking his arms and legs in to try and make Ibushi tap out while Ibushi would do his best to knee his face in to knock him out with both of them not giving each other the edge to make it happen, but Zack would give in as Ibushi finally hits the Kamigoye to pick up the win over Zack.
Recommended: Fantastic match, worth watching.
G1 Climax 2018 Block B Match
Kenny Omega vs. Tetsuya Naito
Review: We're not at our main event of the night with our IWGP Heavyweight Champion, Kenny Omega taking on NJPW's most charismatic superstar and leader of Los Ignorables de Japon, Tetsuya Naito and these two are no strangers to each other since this is the third year in a row where they fought each other in the G1 Climax and actually the only time these two ever fought each other in singles competition also.
Two years ago, Kenny Omega would defeat Tetsuya Naito in the B Block final show to determine who would move on where Kenny has one the G1 Climax, also making him the first Gaijin to win the tournament and also be the first Gaijin to main event a Wrestle Kingdom show despite losing the match. Last year, Tetsuya would defeat Kenny Omega in the G1 Climax final to win his second G1 and finally got what he wanted and that was to main event Wrestle Kingdom and the Tokyo Dome and he would also fail to win the belt from Okada at the show and he stated that he mostly cared about main eventing the show to show that he could get to that level and now that he has that goal crossed off his list, he can now set his sights on a new goal and that's to win the championship once again but as a main eventer. A win here could be huge for both of them at the start of this tournament since they're also both considered to be the favorites to win the tournament and them fighting first could possibly change the course of how things will play out.
This might be a bit of an unpopular opinion, but I like the Naito/Omega matches slightly a bit more than Okada/Omega and it's mostly due to that while Okada/Omega has the better story and rivalry, Naito/Omega also have unique elements to their stories and also really good match quality since I've enjoyed all of their matches together and just feels more organic compared to the other feud, but the only thing holding me back for saying that it's fully better is that they haven't had a match outside of G1 together yet and these are just tournament matches instead of having a regular match without the constraints of being in G1 and I hope they get that soon if they win G1 or maybe at a different big event since I feel like we're long overdue for one and doing it for the title would be a great way to do it. Despite that little nitpick, the match was fantastic and probably their best match together in these series of G1 matches as they are again more organic and natural with their wrestling and story with each other and loved the little taunts to each other in the beginning of the match with Omega mocking Naito and Naito doing it back to him a little bit after, it's just great mind games to each other. Naito would hit a Destino twice on Omega and it was still not enough and when he went to go for it again, Omega caught him with a Fire Thunder and an Underhook Piledriver to do more damage onto Naito's neck and he would eventually hit the One-Winged Angel to get the win. I was hoping for Naito to win this match to set up a future title match at Kings of Pro Wrestling or something, but I think it would be more beneficial for Omega to get a big win under his name while being the new IWGP Heavyweight Champion. Despite the loss, Naito was still super over with the crowd and they were even chanting for Naito over their own champion once that bell would ring, so I don't know what that tells you.
Recommended: Best match of the night in my opinion, definitely check it out.
Overall: This is only the second day of the G1 Climax and they already raised the bar to hopefully have the following days step up their game until the very end of the tournament. I like to think B Block won the first day compared to A Block, but it was still really good and should definitely check out Andrew's coverage also and follow us on this journey together.
Favorite Match: Kenny Omega vs. Tetsuya Naito
Least Favorite Match: Juice Robinson vs. Tama Tonga (If I really had to pick)
Score: 9/10
B Block Standings:
Kenny Omega 1-0 (2 Points)
Kota Ibushi: 1-0 (2 Points)
Tama Tonga 1-0 (2 Points)
Hirooki Goto: 1-0 (2 Points)
Tomohiro Ishii: 1-0 (2 Points)
Tetsuya Naito: 0-1 (0 Points)
Zack Sabre Jr: 0-1 (0 Points)
SANADA: 0-1 (0 Points)
Juice Robinson: 0-1 (0 Points)
Toru Yano: 0-1 (0 Points)
---
Always Use Your Head and visit the official Pro Wrestling Tees store for The Chairshot All t-shirt proceeds help support the advancement of your favorite hard-hitting wrestling website, The Chairshot!

---