Andrew's Ratings & Review: ROH Best In The World 2018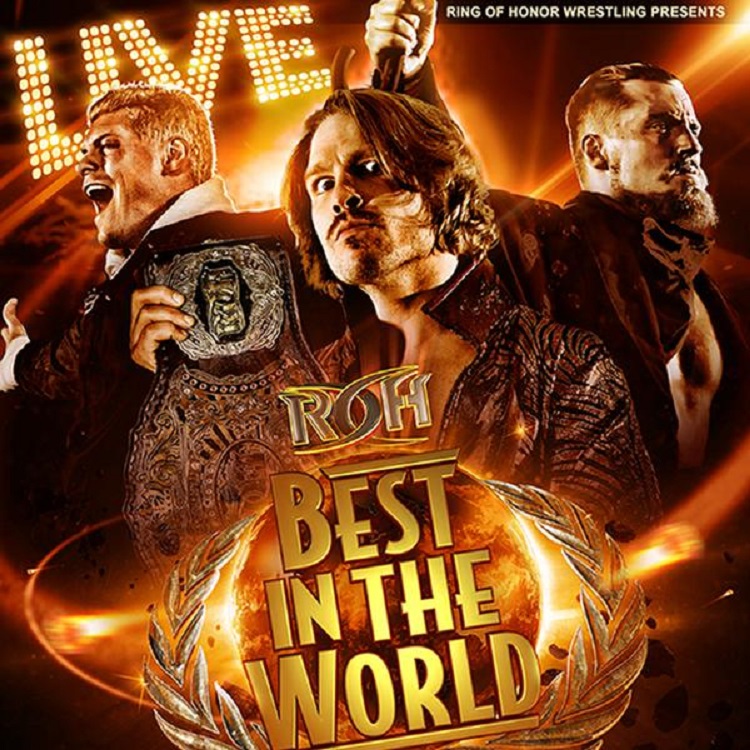 Well if you've heard any podcasts I'm on, I'm not a huge fan of ROH. Usually the wrestling and presentation feels like the minor leagues for New Japan since most of the major players, we see over there anyway. Honestly, my only interest is the main event, but might as well watch the whole thing while I'm at it. Long passed are the days when ROH would stand on it's own, but maybe we could see a change tonight?
Three of the title matches involve Bullet Club members, and I'm assuming 75% of the audience will have on Bullet Club merch. Does ROH cave to the fans like they have for the last few years? Or do we finally see them try to keep some legitimacy with their roster?
ROH Six Man Titles: EVIL, SANADA & Bushi vs The Kingdom (c)
Taven and O'Ryan gang up on EVIL early, but a few well placed Shoulder Tackles put an end to that. Then Taven tags in, as does SANADA, and we get to see a Moonsault, a bunch of standing switches and then SANADA flips out of a back drop, into a casual tag by Bushi, who calls out Vinny. Snapmare from Vinny and he immediately goes for Bushi's mask, to a bunch of boos, and then a big scrum from all six men. Taven feigns a big dive to the outside but does Naito's Tranquilo pose, and SANADA takes offense and goes after them. LIJ chants fill the crowd as EVIL gets tagged in, hitting a Senton for 2.
Vinny back in legal after a tandem move, tags back to O'Ryan for tandem chops into a near fall. The Kingdom keeps control of EVIL in their corner as tags rotate between Vinny and O'Ryan. Spinebuster/Flying Headbutt combination for The Kingdom lead to another 2 count, EVIL desperately needs a tag. EVIL fires up a bit knocking down the outside Kingdom members, blocks a few strike attempts and tags in SANADA to go against Taven. Beautiful dropkicks over and over by SANADA, as he then catches Taven's foot and puts him in the Paradise Lock. O'Ryan tries to do it to SANADA but instead ends up putting himself into the move. Double Dropkicks to the butts of Taven and O'Ryan break the Paradise Locks.
Yeah, that's a tranqui-NO there, buster. #ROHBITW #HonorClub

➡️ https://t.co/mNpVzZkjg8 pic.twitter.com/DVLJHjuXvN

— TDE Wrestling (@totaldivaseps) June 30, 2018
Vinny pops a balloon in SANADA's ear, they go for a big tandem move, but the rest of the LIJ members stop it, and then Taven stops the Magic Killer. So a lot of timely counters, as Taven hits a Shining Wizard for only 2. Taven tweaks his knee, SANADA hits a low dropkick and tags in Bushi. Bushi hits a Missile Dropkick, does a Bushirooni and O'Ryan comes in to try and stop things, but fails. EVIL slides in and LIJ hits some nice combination moves to keep advantage.
But The Kingdom make the save and start some nice combinations on Bushi, but EVIL breaks it up. Bushi tries to mist Taven, but misses and hits Vinny, however O'Ryan and Taven hit Rockstar Supernova for the win.
Winner: The Kingdom via Rockstar Supernova
Rating: ** 1/2
Bully Ray vs Flip Gordon
Two quick Superkicks and then a spear into some ground and pound has Flip start off fast. Flip hits a Plancha to the outside and Bully keeps reeling. Another outside dive, Tope con Hilo, onto Bully. Bully tries to move away, but a Springboard Bodysplash still catches Bully anyway, and Flip continues the pressure and keeps wailing on Bully.
Finally brings him back in the ring for Samoan Pop, Standing Shooting Star Press, into corner Moonsault, for 2. Bully still has yet to land an offensive move, but catches Flip with a sudden and heavy lariat. Pulls him to the corner for a Vader Bomb, but misses.
Flip went for the Star Spangled Stunner, came up short and Bully catches him between the uprights. Todd Sinclair ends the match.
How do you stop a bully? Just give 'em a superkick like @TheFlipGordon! #ROHBITW #HonorClub

➡️ https://t.co/mNpVzZkjg8 pic.twitter.com/s4lnSwS1KO

— TDE Wrestling (@totaldivaseps) June 30, 2018
Winner: Flip via DQ
Rating: * 3/4
WOH 8 Woman Tag: Kagetsu, Hana Kimura, Hazuki & Kelly Klein vs Sumie Sakai, Tenille Dashwood, Mayu Iwatani & Jenny Rose
Kagetsu and Sumie start off, but it's kinda awkward, slow and telegraphed. Hana tags in, calls out Tenille and mocks her with the "All about me" line.
It's all about @hanadayo0903! #ROHBITW #HonorClub

➡️ https://t.co/mNpVzZkjg8 pic.twitter.com/4uWytUOORT

— TDE Wrestling (@totaldivaseps) June 30, 2018
Jenny Rose comes in, gets a near fall on Hana, but Hana manages to land a drop kick and tag in Kelly Klein. Kelly hits the Klein Line, for 2, and then there's some sloppy roll up attempts and we get tags for the women who haven't been in yet. Mayu hits a Slingblade and tags in Sumie, and then the match devolves to all of them in the ring. Hazuki and Kagetsu have a beautiful tandem round kick into senton combination. Then we get the Oedo Tai signature three foot pose on Sumie's face while Hana seems to add a little bit of a twerk to her pose.
Kelly lays in a few strikes and gets a near fall on Sumie. Vertical Suplex into Northern Lights attempt from Kelly, but Sumie hits a counter DDT. Tenille gets the hot tag and she clears Oedo Tai off the ring and hits a Neckbreaker on Kelly. Hana and Kagetsu try a double team, but Tenille counters them, stacks them up in the corner for a double Taste of Tenille and the camera man falls down. Flying Crossbody from Tenille, for 2 as Kelly makes a desperation tag to Hana after Kagetsu interferes.
Mayu gets tagged in, landing a Splitlegged Dropkick. Tenille Butterfly Suplexes Hana, Mayu with a Frog Splash, but Hazuki and Kagetsu break it up. Hana goes for a Brainbuster but Mayu sinks in a Guillotine, but Hana powers through and stalls into a Brainbuster for a dramatic near fall. Kagetsu tries to hit Mayu with their sign, but hits Hana instead, then we have more of a breakdown where everyone attacks each other. Mayu takes advantage of all the chaos and Hana being hit with the sign, so she lands her Dragon Suplex Hold for the victory.
Sloppy, but the energy picked up and it managed to stay entertaining throughout some of the hiccups.
Winner: Iwatani via Dragon Suplex Hold
Rating: *** 1/4
Austin Aries vs Kenny King
Collar and Elbow tie up, moves to the ropes with a fairly clean break from Aries, rinse and repeat from Kenny. Test of Strength attempt, but Aries takes the short cut and stays on King with a front facelock. A little jawwing and grand standing, until Aries chops him and goes off the ropes for something, but both men start countering each other's moves. King finally lands a backbreaker into a lariat. A leg sweep sends Aries crashing on his face, and King does it again at the behest of the crowd.
He bows to the crowd, Aries goes for the Roll Up, Kenny kicks out and hits another leg sweep.Going to the outside, Aries stalks King thinking he has the advantage, but again, another leg sweep. Aries tries to slide in and out of the ring for space, walks over to him, for a sweep again. I guess some find that funny, but it just seems stupid to get caught with the same move 5 times in the course of 2 minutes. Kenny goes for a Springboard from outside in, but Aries dropkicks the rope to send King flying, and then a Triangle Forearm smash, finally gives Austin a small bit of momentum. Rolling King back in the ring, Aries hits the Slingshot Senton for 2.
Aries hits a multitude of his signature moves for a few different near falls, but nothing seems to land hard enough for anything significant. Austin tries to send Kenny out of the ring, it looks awkward, I'm not sure what goes wrong, but a Springboard Blockbuster, into a Hip Attack followed by a T-Bone Suplex from Kenny makes the botch irrelevant.
Royal Flush attempt gets countered and Aries sinks in the Last Chancery. King gets to the ropes, and then they tease a lot of stuff on the apron. Austin his a Neckbreaker into the middle rope, sending Kenny reeling to the outside.
Low-pe attempt from Aries, gets met with a King Enzuigiri. Seems like Aries is out, but he pie faces King and then spits on him, pissing off Kenny. King is about to do something on the outside, but Aries screams "I'm your friend" and it stops Kenny and he rolls him in. Kenny playing conflicted face, while Aries is taking any angle possible to try and get an advantage.
Royal Flush lands, Aries grabs the bottom rope then tries to take his belts and walk away. King lands a big Corckscrew Plancha into Aries and walks around with the Impact Wrestling World Title. Kenny doesn't hit him with the belt, and gets caught with a Brainbuster on the outside.
"You Killed Kenny, You Bastard" chant starts. Aries rolls in King, King tries a quick rollup, but Austin kicks out and then lands a Discus Forearm and one more Brainbuster for the win.
Winner: Aries via Brainbuster
Rating: *** 1/4
Jay Lethal vs Kushida
Kushida opts not to shake hands at the beginning of the match, which is odd since he's usually a happy babyface. Lethal controls the first exchange with a top wrist lock, as Kushida then chain a few moves together, before they both pop up and stare each other down. After bumping off eachother with mirrored shoulder tackles, Lethal hits a single leg takedown, and then Lethal locks in a front facelock and holds it for a little bit. Lethal went for Kushida's hip toss/cartwheel dropkick combo, but misses, Kushida hits one of his own and takes the advantage.
Then we see Kushida mimic Lethal a little by going for 3 Tope con Hilos in a row, as he then comes down with a Double Axe Handle from 3 corners and even poses similarly to how Lethal does it. So this is defintely a match to prove they know each other well and Kushida being a little more heelish is interesting. Both men try to lift the other for Vertical Suplexes, way too many times. Kushida slides out of one and then tries for a Lethal Injection, but Jay kicks the hands out from under Kushida and starts working over Kushida's knee.
Jay continues the knee breakers, and Kushida lands a few desperate chops, but it's all Lethal at the moment.Lethal drives Kushida's knee into the top turnbuckle and gets a fairly long 2. Lethal then just sits on Kushida with some odd Cloverleaf kind of submission. Jay keeps slamming Kushida's knee into his own, hyper extending and smashing the knee joint. Another pin attempts gets 2, and then an uppercut leads to a Figure Four attempt, but Kushida kicks off. Lehtal keeps the advantage, Triangle Dropkick to send Kushida to the ouside, and then we get Lethal's Triple Suicide Dives. But Lethal gets caught on the third by Kushida into a Fujiwara Armbar.
Jay tries to get a single leg on Kushida, but he continues to move his leg and kick Lethal in time. But the Lethal Combination slows things down and gives Lethal a chance to catch his breath. Figure Four attempt number two, is stopped because now Lethal wants a Macho Man style elbow drop. Lethal seesm to be stuck between all of his old gimmicks. Flair, Black Machismo, Heel and himself.
An inverted Torture Rack, gives Lethal the opening to go for the Elbow Drop again, but Kushida catches him in the Triangle Armbar. Lethal manages to counter it into a pin attempt and then slaps on the Figure Four, but Kushida gets to the ropes. Fighting spirit moment as both men tell the other to strike the injured areas. Kushida gets the best of the exchange, Paintbrushes Lethal and then shakes his hand while he's dazed. Pump Kick from Lethal, Pele from Kushida, another Pump Kick from Lethal leads to an attempted Lethal Injection. Kushida catches him into a Hoverboard Lock, but Lethal works out of it, Back to the Future attempt, into locomotion cradles and counters.
Both men struggle to get up, but Lethal finally hits the Lethal Injection, for pinfall victory.
Winner: Jay Lethal via Lethal Injection
Rating: **** 1/4
World TV Championship Street Fight: Punishment Martinez (c) vs Hangman Page
Page goes after Martinez quickly, almost takes out Bobby Cruise in the process. They roll to the outside, Punishment rolls Page back in, but Page hits a Suicide Dive immediately and then whips him around the outside into the barricades. Hangman starts looking under the ring for something, but doesn't find it fast enough and Martinez catches him, but then Page finds a chair and throws it into Punishment's face. Back into the ring, Page wedges the chair in the corner and flings Martinez back first into the chair.
Then we see Hangman prop a table against the ring post and go back to trading strikes with Martinez. Shooting Star Shoulder Tackle was missed, Apron Powerbomb took a while to actually hit, as Martinez then Chokeslams Page into the guardrail. Punishment throws Page into the guardrail and sets up a few chairs. Hangman recovers, and manages to fight away from the assortment of chairs, before Punishment throws him into the guardrail again. Punishment misses a Big Boot over the guardrail, so Page hits a Superplex onto the outside mats. Page lands a few big strikes in the corner, before Martinez rocks him with a lariat and goes to get a chair. Page counters a Tombstone on the chair, into his own Cradle Piledriver into the chair, for a 2 count.
Rite of Passage attempt on the apron is counter by Martinez and he keeps trying to drive Page's head into a chair. Punishment finds a zip tie and ties up Hangman's hands. Page tries to fight back, but with the tied up hands, he can't block the Curb Stomp into the chair, but still kicks out at 2. Martinez sets up a table, Page spits in his face and manages to break the zip ties and spear him sloppily on the outside. That whole going to the outside sequence was awkward or sloppy.
Now we see Page go for his Moonsault, and hits it decently on Martinez. But when he poses on the apron, Martinez kicks him into the chairs from earlier. Instead of going for the finish, Martinez finds a bag of tacks and he lays them out. Attempted powerbomb onto the tacks gets countered into a Back Body Drop from Hangman. Page tries to Rite of Passage him into the tacks, but Martinez counters into South of Heaven chokeslam through the table.
Sloppy, oddly paced, clunky at best match.
Winner: Punishment via South of Heaven Chokeslam
Rating: ** 1/2
ROH Tag Team Titles: The Young Bucks vs The Briscoes (c)
Nick hits the Lucha Style Arm Drag and Twist, and keeps his momentum going through tandem attempts from the Briscoes. All four men get in the ring, attempt tandem moves and then just square up and talk shit to each other. Bricoes get a little momentum and then get caught by stereo Superkicks, followed by the over head toss split legged drop kick, as the Young Bucks look strong. Bucks look to continue their advantage, but get caught by Jay Briscoe and a Redneck Boogie, nearly ends the match right there.
Marc takes the opening finally to lay into Matt, as he tags in Jay and we see the Briscoes finally lay in their more deliberate strikes. Sliding Dropkick from Jay gets a 2 count as they keep Matt in their corner. Matt slides out of the ring, acts like he's going to Nick, just to Superkick Jay. Miscommunication on the Biscoes as Jay manages to pull out Matt, but gets Dropkiced by Marc. Matt hits an Apron Blockbuster to give him the opening to tag in Nick for his Triangle Corkscrew Splash.
Bulldog/Dropkick combination from Nick on the outside, as he and Matt hit their stereo dives, and Nick throws Jay back in. Marc pulled down Nick with a Chokehold and then takes out Matt with a running Blockbuster. Froggy Elbow from Marc allows Jay to pin Nick for a very close 2 count. Avalanche Redneck Boogie countered by the Bucks and Matt comes in, knocking Marc Briscoe down multiple times. Jay comes in to break things up, and somehow just powers through a double clothesline. Matt keeps running and gets caught with a Spicoli Driver while everyone slowly gets back up. Jay stomps on Matt's head, but eats a Superkick. Then the Briscoes hit two Superkicks, the Bucks hit Superkicks, and the Briscoes land flying lariats.
Jay Driller lands flush on Matt, but Nick manages to break it up. Doomsday Device attempt, Springboard Cutter and Victory Roll nearly win the match for the Bucks. The Bucks hit a Springboard Doomsday Device for a near fall. More Bang for Your Buck on Jay, but Marc lands the Froggy Elbow on the referee. The Bucks Superkick Marc, and look to Meltzer Driver Jay, but Marc breaks up the pin. Melzter Driver attempt two, but Marc throws a chair at Nick, Jay Driller on Matt one more time on the chair, for only 2 again.
Avalanche Redneck Boogie, finally puts away Matt Jackson. So the Briscoes retain!
Winner: Briscoes via Avalanche Redneck Boogie
Rating: **** 1/2
ROH World Heavyweight Championship: Cody vs Dalton Castle (c) vs Marty Scurll
Cody tells Burnard to leave, Marty clips Cody immediately, Cody then Rhodes' Uppercuts Marty and Disaster Kick's Castle to the outside. After a little bit of jawing, Marty and Cody both go after Dalton. Throwing Cody into the guardrail, then a twisting Frankensteiner on Marty gives Dalton the advantage. Near fall on Marty, then Scurll and Cody try to work together, but the Springboard Dropkick misses Castle and hits Marty.
Marty with the apron Superkick on Castle, followed by a Tornado DDT onto Cody to give Marty a moment to shine. Cody begs off Marty, Marty signals to the crowd to break his fingers, but instead there's a strike exchange between the two. Front Facelock Release Suplex by Cody onto Marty, gives Castle a small opening. Dalton manages to land strikes on both other men, until Cody catches his foot and slams him face first into the mat. But Dalton catches Cody going to the top rope and hits an Avalanche throw for a near fall. Chicken Wing and Indian Deathlock simultaneously on Castle, but he doesn't tap out. Cody and Marty face off, Cody goes for the Powerslam, but Marty anticipates it and makes Cody look dumb.
fake @MartyScurll #ROHBITW pic.twitter.com/gBdiSKlhQt

— HWAN (@sh6867) June 30, 2018
Cody goes for a low blow after distracting Sinclair, but Marty catches him. And sets up Cody for a Shattered Dreams even with the Goldust breath in pose. Brandi causes a distraction, Cody kicks Marty in the balls and gets the near fall. Brandi gives Cody the ring, Cody makes Marty kiss the ring, but Marty breaks Cody's fingers and takes the ring. Dalton hits a Bang-a-Rang from nowhere, but Nick Aldis pulls out the ref. Cody dives onto Aldis, but Brandi and Cody both pull out Sinclair after Marty hits Dalton with the title belt. Sinclair then kicks everyone out. Makes you wonder if Burnard will play a role, since he wasn't kicked out by Sinclair since Cody sent him home early. All three begin trading strikes, rollup attempts and everyone ends up down at some point.
Cody gets baby powder, but Marty hits it into Cody's face. Cody hits Crossroads on Marty, Dalton dumps out Cody for the pin, but Marty kicks out. Bang-a-Rang number two gets countered and Marty sinks in the Chicken Wing.  Cody tries to Crossroads Marty, but gets it countered. Dalton then hits Bang-a-Rang on Marty for the pinfall victory. Dalton Castle retains.
Winner: Castle via Bang-a-Rang
Rating: *** 1/2
Thoughts:
The first thing that sticks out to me about this show, is that Bullet Club went 0-3 in their matches. Bucks failed, Page failed and Cody went into tonight expecting a Triple Crown run, but now because he lost this match, he no longer gets an NWA Championship match at All In. Also it seems like Tenille made a motion to challenge for the WOH title, Jay Lethal was insinuated to be the next number 1 contender for the World Title and SoCal Uncensored came out to help the Young Bucks, reasons not exactly clear. So we did see title pictures continue to expand out, and with mostly ROH talent.
I'm not sure if this is just a crossroads for the popular Bullet Club members, or if ROH is finally putting stock in their more exclusive talent. As for the show, it, much like Bullet Club, was fine. A lot of the matches lacked fluidity, spots just seemed strung together or rushed and the story telling was really only relevant in the two matches I ranked highest.
The better matches were positioned later, so at least the card build kind of made sense. Still nothing extremely special, just an okay, solid enough show.
---
Always Use Your Head and visit the official Pro Wrestling Tees store for The Chairshot All t-shirt proceeds help support the advancement of your favorite hard-hitting wrestling website, The Chairshot!

---
Mitchell's WWE Monday Night Raw Report! (7/16/18)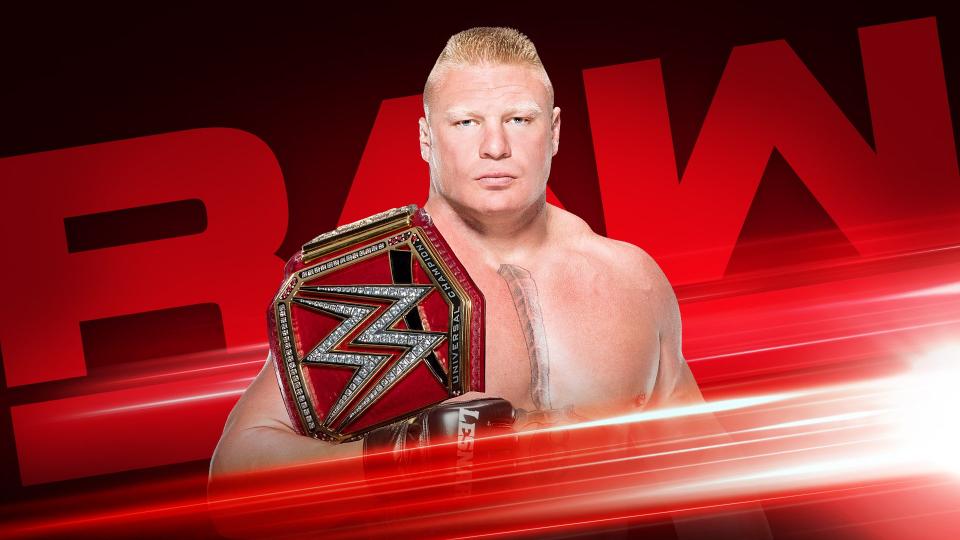 Will the Beast, Brock Lesnar, appear on the Raw After Extreme Rules to answer Kurt Angle's Universal Championship ultimatum? Or are his priorities with MMA?
All images courtesy of the WWE's official Twitter
OFFICIAL RESULTS
Triple Threat: Finn Balor VS Drew McIntyre VS Roman Reigns; Reigns wins and moves on to next week's Universal Championship #1 Contender's match.
Sasha Banks & Bayley VS Alicia Fox & Dana Brooke; win.
Triple Threat: Elias VS Seth Rollins VS Bobby Lashley; wins and moves on to next week's Universal Championship #1 Contender's match
PLAY BY PLAY
WWE and Raw pays respect to Masa Saito.
You are remembered, Masa Saito. pic.twitter.com/iObfAIbsHe

— WWE (@WWE) July 17, 2018
Raw General Manager, Kurt Angle, is already in the ring.
#RAW GM @RealKurtAngle kicks off #RAW, and he wants an ANSWER regarding his ultimatum! @HeymanHustle @BrockLesnar pic.twitter.com/LA0unrCD1D

— WWE (@WWE) July 17, 2018
He thanks all the stars who competed last night in Extreme Rules. Their dedication makes him proud to be GM. However, there is one star who has shown very little dedication, and that is Brock Lesnar. Angle issued an ultimatum for The Beast to show up and/or agree to terms on his next defense, or be STRIPPED of the Universal Championship. He has not heard a thing from Lesnar or Heyman, so he will– Paul Heyman interrupts!
Well look who's here… #RAW @HeymanHustle pic.twitter.com/1xIT76RFIO

— WWE (@WWE) July 17, 2018
The Advocate wishes to tell the "ladies and gentlemen" of Buffalo, New York, that– Everyone knows who you are, Paul! But if Lesnar isn't the one to come out, this is just a waste of time. Heyman sees it as very interesting that Angle says that, because his client, "the reigning, defending, undisputed Universal Heavyweight Champion, BROCK LESNAR", is not here. In that case, Angle strips– NO NO! Heyman hustles to the ring to speak face to face with Angle. With all due respect, Heyman feels Angle and the WWE Universe. They all think Lesnar doesn't care about the WWE, and he only wants to be a UFC champion again. Nothing is farther from the truth! Lesnar loves being in the WWE. Lesnar loves being Universal Champion. Then where is he!?
Lesnar wants to represent the WWE as he challenges for the UFC championship. That way, when Lesnar is both, he elevates the WWE. Just like Angle being all the different champions with an Olympic gold medal. Well more power to Lesnar. But Angle still insists Lesnar defend his championship at Summerslam, or he is no longer champion! Heyman hears the fans chant, and must give his decision for Lesnar. Angle drives a hard bargain. Lesnar will defend his title at Summerslam. So on behalf of Lesnar, Heyman congratulates the fans for their voices reaching the company in demanding more Lesnar. They want more of the Beast, more of the Conqueror! The Network would be all Lesnar all the time! So it's official: Lesnar defends his title at Summerslam, but it's up to Angle to decide who gets "beaten, victimized and conquered"! Bobby Lashley appears!
The Dominator heads to the ring, fresh off his win over The Big Dog, Roman Reigns. Lashley has the fans chanting for him as he explains he did defeat Roman Reigns. But now he's ready for the next step. Heyman backs up as Lashley says he's going to beat Lesnar and win the Universal Championship! But now Drew McIntyre appears! And he wants Lashley to hold on just a moment. Why does everyone think McIntyre came back? To bolster the roster? To be in someone's corner? No, he came back to change things and make sure Ziggler kept the Intercontinental Championship. He's done that, and he's on to Phase Two, just like Lashely. McIntyre enters the ring while fans chant "YES! YES!" because McIntyre wants at The Beast! But here comes Seth Rollins!
Looking for an opponent for @BrockLesnar, @RealKurtAngle? @WWERollins is always ready to #BurnItDown! #RAW @DMcIntyreWWE pic.twitter.com/xMVmpmdhB4

— WWE (@WWE) July 17, 2018
The Architect hits the ring, and he's fuming over how McIntyre screwed him out of the IC title. Fans chant "Burn It Down!" while Rollins glares into the eyes of McIntyre. "Kurt, if you're looking for an opponent for Brock Lesnar, I'm right here." Angle smirks, but here comes Elias?! The Drifter is here in Buffalo and playing his guitar as always. Elias heads to the ring, because he has a question: Who Wants to Walk With Elias?! But questions aside, Elias knows "there's a lot of noise going on in this ring." Nothing sounds better than Elias as Universal Champion. Next week, 7/23/18, Elias' debut album drops! Therefore, ride his wave of success into Summerslam and put Elias VS Lesnar on. But wait, here comes Finn Balor!
WHO was the first #UniversalChampion?

WHO never lost the #UniversalTitle?

WHO wants to face @BrockLesnar at #SummerSlam?

ANSWER: @FinnBalor #RAW pic.twitter.com/bd0KkW7JU3

— WWE (@WWE) July 17, 2018
The Extraordinary Man and the original Universal Champion joins everyone else, saying that "what makes sense" is the answer to this question: Who was the very first? It makes sense for us to get Balor VS Lesnar. But here comes Roman Reigns!
No excuses. No explanations. #TheBigDog wants a FIGHT! #RAW @WWERomanReigns pic.twitter.com/MlHFMEaH2S

— WWE (@WWE) July 17, 2018
The Big Dog may have lost to Lashley last night, but Greatest Royal Rumble is still the chip on his shoulder. He joins all the other men in the ring, and admits he has no excuses. Roman doesn't care who, he just wants a fight tonight. Angle knows they all deserve something, so we're going to divide things into Triple Threats. The winners of those move on to  #1 contender's match, that man goes on to face Lesnar. It'll be Elias VS Rollins VS Bobby Lashley, then McIntyre VS Balor VS Reigns. That latter triple threat is RIGHT NOW! Who moves on down this Road to Summerslam?!
Angle encounters Baron Corbin backstage.
What does he think he's doing? Two triple threats? Did he get authorization? Angle didn't think he needed to. That's the problem! And why wasn't Corbin in one? He wasn't deserving. But Finn Balor does? Yes, because Finn beat Corbin. Think about that!
Triple Threat: Finn Balor VS Drew McIntyre VS Roman Reigns!
Finn is coming off a win over Constable Corbin and the Scottish Terminator helped the Show-Off screw over Seth Rollins while The Big Dog actually lost to The Dominator. Who will come out with this very important win to take one step closer to a match with The Beast in Brooklyn?
The bell rings and we begin. McIntyre rocks Finn but Roman throws hands on McIntyre. McIntyre shoves Roman away but Finn returns to throw hands, too. Roman comes back as Finn is pushed away. Roman lifts McIntyre, but McIntyre escapes, only to get an uppercut. Finn rolls Roman, TWO. McIntyre bulldozes both Roman and Finn! McIntyre bumps Roman on a buckle then chops and punches away. He goes to Finn to chop him, too, then stomps Roman down. McIntyre brings Finn up but Finn hits back. Finn dropkicks McIntyre, then Roman clotheslines McIntyre out. Finn clotheslines Roman out, then builds speed to FLY!
.@FinnBalor has been waiting two years to get his hands on the #UniversalTitle, and he's NOT wasting his opportunity! #RAW @DMcIntyreWWE @WWERomanReigns pic.twitter.com/Wvgef5KHMC

— WWE Universe (@WWEUniverse) July 17, 2018
The inaugural Universal Champion flexes before putting McIntyre in the ring.
Now Finn chops and whips, but McIntyre reverses and hard. Roman returns, but is thrown overhead! Cover, TWO! McIntyre grimaces down at Roman as he stomps his ear and hand. He drags Roman up and throws a haymaker. Roman staggers but is bumped off buckles. McIntyre throws more hands, but Finn comes in to throw hands on McIntyre. Finn gets run over, and Roman gets a boot. McIntyre looms over them both, then drags Roman up for a big suplex. Cover, TWO! McIntyre leaves Roman alone to go after Finn. He stomps Finn then bumps him off buckles. McIntyre chops Finn, then goes back to Roman. He throws hands on Roman, then covers, TWO. McIntyre rains down rights while covering, TWO by an inch. McIntyre throws more hands, then goes after Finn. He blasts Finn to the floor, then glares at Roman.
McIntyre brings Roman up for a neckbreaker. Cover, TWO, and McIntyre grows frustrated. The Scottish machine is in control while we go to break.
Raw returns as McIntyre hammers away on Roman in a corner. He backs off at the ref's count, then fetches Finn for an apron snake eyes. McIntyre throws Finn in the ring, then stomps away on both men. He stalks Roman for a bigger stomp, then goes over to Finn for a big toss into a corner. Finn boots back, then Roman runs McIntyre over! Roman rallies but McIntyre reverses the whip, only to get the leaping lariat. Finn hits Roman! He throws hands and whips but Roman reverses to clobber Finn with a clothesline! Fans are mixed as Roman clears his head. He aims at Finn on the outside, for the Drive- No, it misses, and Roman gets slingshot stomps! Finn brings Roman up, but McIntyre FLIES!
The AGILITY of @DMcIntyreWWE!!! #RAW @FinnBalor @WWERomanReigns pic.twitter.com/PjMfZT72xx

— WWE Universe (@WWEUniverse) July 17, 2018
Finn evades and Roman is wiped out! And then Finn throws McIntyre into steps! Finn takes aim from the apron, and hits double stomps to McIntyre's back! he and Roman return to the ring, double stomps for the Big Dog! Cover, TWO! Roman is gasping after all he's taken, but fans are behind Finn. Finn drags Roman up but Roman powers him to a corner. Roman runs back in, but misses! Finn swing kicks from the apron, and Roman goes down! Finn climbs, but McIntyre uses a CHAIR! It's legal in a triple threat, so no one can really complain. McIntyre targets Roman with that chair, but gets an uppercut first! Roman throws hands in a corner, then throws McIntyre across the way. McIntyre reverses to send Roman into the post, covers, TWO! We go to break with McIntyre back in control.
Raw returns again, and Roman hobbles over to McIntyre in a corner. He unloads the point blank clotheslines and gets all 10. Roman runs, and boots McIntyre down. Fans are mixed again as Roman locks and loads. Roman aims, but McIntyre SPINEBUSTERS! Cover, TWO! McIntyre grows frustrated with how close yet how far he is from the win. He drags Roman up, prepares a powerbomb, but Finn has that chair! SMACK for McIntyre! And another! McIntyre goes out, but Finn goes after Roman! SMACK for Roman! And SMACK and SMACK and SMACK! Finn fires up, and so does the WWE Universe. Finn blasts McIntyre into barriers! Then he drags McIntyre up, but gets out as Roman SPEARS McIntyre into the timekeeper's area!
Don't. Hold. BACK! #TripleThreat #RAW @WWERomanReigns @DMcIntyreWWE @FinnBalor pic.twitter.com/w656iobVnP

— WWE Universe (@WWEUniverse) July 17, 2018
Finn SLINGBLADES Roman! He puts Roman in, takes aim again, and Slingblades again! Finn takes aim a third time, but runs into a SUPERMAN PUNCH! Cover, TWO! Roman is shocked, and looks lost. Finn crawls away, dazed as he is, but Roman talks himself back into this. Fans duel as Roman stands up and fires up. Roman howls, but Finn knees the spear away. Then blasts Roman with the dropkick! Finn goes up while Roman's down, COUP DE GRACE! Cover, but McIntyre drags Finn off!
Finn fires forearms but McIntyre throws knees. McIntyre puts Finn into steel, then puts him into the ring. McIntyre wants someone to get up. Finn sits up first, but SUPERMAN Punch! Roll up from Finn, TWO!! SUPERMAN PUNCH! Roman runs into a Glasgow Kiss, aka a stiff headbutt, from McIntyre. McIntyre runs, but misses Roman and hits Finn! SUPERMAN PUNCH! SPEAR to Finn! Cover, Roman wins!
Winner: Roman Reigns; moves on to next week's #1 Contender's match
The Big Dog is busted up but HE is the one moving on. He found a way to be the one to hit last, but will he be the one to punch his ticket to Brooklyn?
WHAT. A. MATCH.@WWERomanReigns defeats @FinnBalor & @DMcIntyreWWE to compete in next week's match to determine @BrockLesnar's opponent at #SummerSlam! #RAW #TripleThreat pic.twitter.com/GYbR60rrjw

— WWE (@WWE) July 17, 2018
Bayley meets with Kurt Angle backstage.
But where's Sasha Banks? Still in the locker room. Classic Sasha, only caring about herself. Which means the friendship counseling didn't go well. Bayley tried to meet Sasha halfway, but for some reason, it didn't work. They might never ever be friends again. Angle realizes he should've settled things in the ring. They're gonna team up against Dana Brooke & Alicia Fox. That's not a good idea right now. No, they're so good together. If they don't win, one of them is off to SmackDown.
---
Always Use Your Head and visit the official Pro Wrestling Tees store for The Chairshot All t-shirt proceeds help support the advancement of your favorite hard-hitting wrestling website, The Chairshot!

---
Andrew's Ratings & Review: WWE Extreme Rules 2018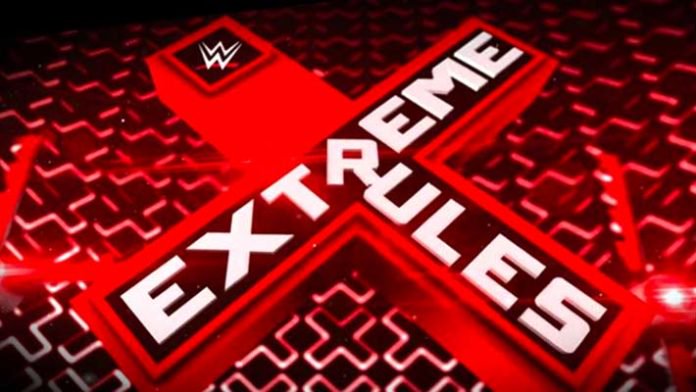 With the information that emerged right before this PPV regarding Hulk Hogan being reinstated and Daniel Bryan signing a contract extension, that could play into some aspects of the show. Not like I expect Hulk Hogan to play a part, but the Daniel Bryan information could change the finish to the match tonight. That portion of the night should be interesting, as well as, the role Ronda Rousey will play in the Women's Match.
The whole Roman Reigns element makes the watch worth while. Will the fans boo him out of the build? Will it main event? Does it matter to the crowd?
Let's get to the show.
Andrade 'Cien' Almas w/ Zelina Vega vs Sin Cara
Wait, does Sin Cara get new music every time he reemerges from Lucha obscurity? This isn't the same song right? Ahh…who cares, El Idolo es numero uno.
Some fast paced lucha style action comes to a crashing halt when Sin Cara goes for a Suicide Dive, but Andrade tosses him into the barricade. Also, I get that Corey is the "Smark" commentator, but making a remark that the person under the mask might be a different person than Andrade knew years ago, is a little too inside baseball.  There's also a question to be asked about why Zelina mirrors the Tranquilo pose now, when she was very much against it in NXT.
After Almas had the advantage most of the match, we see a flurry from Sin Cara, Asai Moonsault plus an interesting headscissors counter to what could've been an Alabama Slam for a near fall.Sin Cara pushes Almas off the top rope to the apron, and then seems to botch what was probably supposed to be a Frankensteiner. The finish came quickly after Sin Cara hits a Frog Splash, but Vega distracts the official. Almas lands a dropkick into the corner, double knees and Hammerlock DDT for the victory.
A better match than I was expecting, but the King of Botch Style, still managed to find a way to screw up a spot.
Winner: Almas via Hammerlock DDT
Rating: ** 1/2
Tables Match: SAnitY vs The New Day
New Day takes an early advantage, but SAnitY quickly resets the balance. We see a lot of 2 vs 1 against Big E before the rest of New Day comes in to start a nice back and forth.
A few big spots like Killian Dain diving onto Xavier Woods and Kofi Kingston and a Double Elevated Foot Stomp from Kofi onto Eric Young and Alexander Wolfe. Hard to really go over this match blow for blow, since it was actually a solid tornado tag match with tables. The finish felt like it took a little too long to set up, but it looked cool and New Day haven't put on a bad match in a long time.
Winner: SAnitY via Reverse Bulldog through Table
Rating: ** 3/4
Raw Tag Team Championship: Deleters of Worlds(c) vs B-Team
Bo and Matt Hardy start off, and his frustration from the multiple singles losses seem to be inspiring more aggression. After a short powder, Bray tags in, but Bo tags out before the crowd gets the two brothers fighting.
Bray's eyes don't often leave from Bo as he beats the hell out of Curtis. Axel gets a short moment of offense, but Bray stops that and brings Matt back in as we get the Delete Headsmashes in the corner. Axel manages to counter a Side Effect, allowing Bo a moment to land a cheap shot and then get tagged in and keep Hardy isolated.
Matt fights out of the isolation and we finally get Bray versus Bo.  Bray dominates Dallas, they go for their tandem finish but Axel breaks it up and Bo hits the Draping Neckbreaker on Hardy for the pinfall.
Well now, surprisingly we have new Tag Team Champions.
Winner: B-Team via Draping Neckbreaker
Rating: ** 1/4
Finn Balor vs Baron Corbin
Corbin physically dominates Balor for the early portion of the match, but surprisingly pulls off a crisp Sunset Flip attempt. That might be the most athletic I've seen Corbin do a thing. Still aside from a few strikes Corbin leans on Balor, cranking the neck and keeping him grounded.
Baron hits his Wrap Around Lariat for a near fall, and we continue to see Corbin setting the pace. Finn gets a little space and goes for a springboard move, but the Constable catches him with a right forearm, getting only a 2 count. It takes a while but Finn puts a few strikes together, goes for his Coup de Grace, but Corbin grabs him, pulling off the Chokeslam Backbreaker for 2.
Wrap Around Lariat attempt number 2 gets met with a Slingblade. Balor goes for his Shotgun Dropkick, but gets caught in a Deep Six for a near fall. Balor gets up, hits the Shotgun Dropkick and goes for the Coup de Grace. Baron counters the Coup de Grace again, pulling Finn off the top rope and attempting an End of Days, but gets it countered into an Inside Cradle for the surprise victory.
Winner: Balor via Inside Cradle
Rating:  ** 3/4
SmackDown Women's Championship Match: Carmella (c) vs Asuka
A couple early strikes from Asuka, followed by Carmella using the hair for a Facebuster gives us our first wrinkle. Ellsworth seems to be hiding items in his coat even though he's in the shark cage.
Asuka manages to fight through a few of the items and get a near fall even though she misses most of the hip attack. Asuka Lock too close to the ropes, so Carmella manages to break the hold while Ellsworth starts picking the lock of the shark cage. Ellsworth gets free, but catches his foot and Asuka treats him like a heavy bag. Asuka remains focused on Ellsworth, even attacking the ring crew who try to put Ellsworth back in the cage. So with all of this distraction, Carmella shoves Asuka's face into the lowered shark cage and picks up the win.
It's not surprising since you'd expect Carmella to need a heelish shortcut to win, but it's still stupid. Angry Asuka can beat down Ellsworth after all she wants, but it makes you really wonder what the hell they're doing with her. Plus, the Ellsworth distraction spots take too long to get to the payoff. Makes no sense that Asuka, who's been wrestling for nearly 15 years, would think it's a good idea to not pay attention to her opponent for like 3 minutes.
Winner: Carmella via Shark Cage usage
Rating: *
United States Championship Match: Shinsuke Nakamura vs Jeff Hardy (c)
Before the bell, Shinsuke immediately hits a low blow, Hardy says ring the bell, Kinshasa and it's over.
Shinsuke celebrates a little as new champion and then Randy Orton shows up. Orton and Nakamura have a small stare down, and then Orton stomps Hardy a few times before walking off.
Winner: Shinsuke Nakamura via Kinshasa
Rating: N/A 
Steel Cage Match: Braun Strowman vs Kevin Owens
Owens starts off the match trying to escape while Braun just keeps pulling him back in screaming at him to fight.  Owens finally obliges, lands a Superkick, Canonball and Frog Splash for 1. Then we see Braun start doing the Braun thing.
He literally just starts throwing Owens into the different sides of the cage. As Kevin gets tossed about it looks like he kinda falls backwards into an accidental Stunner, and Owens tries to run away. Owens handcuffs Strowman and manages some offense, blows him a kiss, taunts him, and Braun breaks the handcuffs. Chases him up the cage, catches him at the top, and Chokeslams him through the announce table.
Technically Owens wins the match since he escaped the cage and his feet are outside first. So…hurray, Owens wins via homicidal tendencies from Strowman.
Winner: Owens via Attempted Murder
Rating: * 1/4
SmackDown Tag Team Title Match: Bludgeon Brothers (c) vs Team Hell No
Earlier in the night we saw the Bludgeons take out Kane by slamming his leg between a door, so Daniel Bryan starts out alone. Rowan starts off the match as Bryan does the resilient plucky underdog thing. He gets beat up a little early, but manages to start taking both men out, even putting Harper in the Yes Lock.
Rowan breaks up the Yes Lock, and then Daniel is on the receiving end of punishment for a while. The punishment continues for a while until Bryan low bridges Rowan, backflips behind Harper and tries a Suicide Dive but gets caught. Harper then goes for a Suicide Dive of his own, but lands on Rowan as Bryan moves. Then Kane's theme music hits and he limps down to the ring for the hot tag.
Kane attempts a Tombstone, Harper gets away and kicks the bad leg. Bryan tags back in and lights up Harper with some Yes Kicks. Rowan tags himself in when Bryan can't see, so he intercepts him, throws him into Kane, and then they hit a Powerbomb/Lariat combination.
Winner: Bludgeon Brothers via Tandem Finish
Rating: ** 1/2
Roman Reigns vs Bobby Lashley
A lot of slow deliberate chain wrestling. Headlocks, a few stiff strikes and not a lot of high impact moves until Roman knocks Lashley to the outside and throws him into the barricade multiple times. Roman keeps sliding in and out of the ring to break the count, so he can keep up the punishment on the outside.
Reigns fries to use the steps, but Lashley catches them and counters with a lariat. Bobby throws in Roman and then hits a big Belly to Belly Suplex, as the two men trade a few running lariats. We then get Roman's Ten Count Lariats corner spot, as Lashley hits a crisp Powerslam for a near fall.
Lashley puts together a few nice moves and a Double Axehandle from the middle turnbuckle, but Roman counters a suplex by attempting a Samoan drop. Lashley grabs the ropes to block, but Roman just chucks Lashley to the outside. As Lashley barely beats the 10 count, Reigns lands a Guillotine Leg Drop for a near fall. We then see a Superman Punch attempt get caught and Lashley hits the Spinebuster into his Delaying Vertical Suplex, for 2.
Lashley gets ready for a Spear but Roman catches him with a Superman Punch. Lashley rolls to the outside, Reigns charges at Lashley but gets caught in a Belly to Belly Suplex over the German announce table. Bobby throws in Roman, goes to the top rope and eats a Superman Punch as he falls into the ring. Roman talks a little smack, hits the ropes for his Spear, but Lashley hits his own Spear for the 1-2-3.
Winner: Bobby Lashley via Spear
Rating: *** 1/2
Extreme Rules Raw Women's Championship Match: Alexa Bliss (c) vs Nia Jax
Alexa slaps Nia and runs to the outside as Mickie keeps throwing different weapons to Alexa, but Nia keeps blocking them and throwing them into the ring. Nia catches Bliss eventually, splashes her in the corner and then tosses her onto the chair. Jax Gorilla Press' Alexa onto a trash can as Alexa powders out.
Nia grabs Alexa's foot as Bliss finally manages to connect on a few shots with weapons. She props a steel chair in the corner, as Alexa then dodges while Nia crashes into the chair. Natty attacks Mickie as Alexa gets out of the ring and helps the beat down. Ronda jumps the barricade and starts beating on Mickie James hitting an Olympic Driver as she then goes after Bliss. But Mickie comes to Alexa's aid with a kendo stick on Ronda.
Bliss goes for a Crossbody, Jax catches her, then Mickie hits her with the chair. A few more chairshots, a DDT on the chair and Alexa retains.
We got to see Ronda Rousey unleash a new move in her arsenal and get in some offense. So story wise, this was fine, but as a match it was forgettable at best.
Winner: Alexa via DDT
Rating:  * 1/2
WWE Championship Match: Rusev vs AJ Styles (c)
Both men trade strikes, as AJ goes after the legs, but Rusev manages a nice Judo throw to start stomping on Styles. Styles continues the leg strikes, tries a suplex, but it gets blocked, so he goes to the ropes and Rusev catches him with a Spinebuster. Rusev is visibly favoring his left leg but manages two Vertical Suplexes and a elbow drop for a 1 count.
AJ attempts a few more kicks and tries to get something going, but Rusev throws AJ back with a huge Back Body Drop. Styles gets beat down for a while until Rusev goes for a top rope move, but AJ lands an Enzuigiri to the injured leg and sends him crashing to the floor. Styles then follows up with a Flying Forearm to the outside.
Phenomenal Blitz back inside as AJ hits the sliding forearm. Stinger Splash from AJ, as he tries an Ushigoroshi, but Rusev slides out. AJ counters Rusev's attempt with a Scorpion Deathdrop for 2. Styles takes Rusev to the corner and tries to roll him out for the Calf Crusher, but Rusev blocks it and sends him to the outside. Suicide Dive attempt from Rusev, met with a jumping forearm.
Rusev counters another Calf Crusher attempt, going into the Accolade, as AJ slips out, kicks him in the bad leg and goes for the sliding forearm again but Rusev kicks him in the face. Fall Away Slam attempt from Rusev, but AJ turns it into the Calf Crusher. Aiden pushes the ropes forward to help Rusev break the hold, AJ gets distracted, chases Aiden on the outside as he eats a Belly to Belly Suplex followed by a Machka Kick for 2.
Macha Kick attempt number two, dodges and Styles hits a Pele Kick. Rusev catches Styles next move and hits a Roundhouse Kick for 2. Accolade attempt, but Rusev's left leg gives out on him so it's more like a Half Camel Clutch as Styles struggles to the ropes. Aiden gets involved again by taking the pad off the top turnbuckle. Rusev goes face first into the exposed turnbuckle since he wasn't aware of it, Styles lands a Springboard 450 for 2.
Styles knocks Aiden down and lands the Phenomenal Forearm for the pinfall victory.
Winner:  Styles via Phenomenal Forearm
Rating: **** 1/4
Intercontinental Championship 30 Minute Iron Man Match: Dolph Ziggler (c) vs Seth Rollins
After an early feeling out process, both men go for multiple backslides and pinning combinations for a quick point, but no one scores a three count. Ziggler powders out for a breather, slides back in and tries to take advantage of Rollins being distracted by McIntyre, but Seth fights him off and keeps the tempo. Awkward moment where it looked like Seth was expecting something different but Ziggler just punches him in the head. Seth catches Dolph with a Bucklebomb into a La Magistral Cradle for the first fall.
Rollins gives Dolph no time to relax and throws him outside, hits a Plancha and then keeps whipping Ziggler from barricade to apron. McIntyre provides a small distraction so Dolph jumps on Rollins as he rolls back in and starts to get some momentum. Rollins slips out of a suplex, begins putting together a few moves before ZIggler hits a low dropkick. Misses the Fameasser, they have locomotion cradles as Rollins catches Ziggler with a Stomp for the second fall.
McIntyre attacks Rollins, to give Rollins a DQ win, but McIntyre doesn't stop. The official kicks out Drew, but he hits a parting Claymore and yells at Ziggler to "Finish This".  ZIggler rolls over onto Seth and finally scores a fall to make the score 3-1 at the moment.
Ziggler waits for Seth to stand up, catches him with a Superkick and gets a second fall.
Dolph goes for a Superkick again, but it gets countered. Rollins tries to fight back but gets caught with a ZigZag for the third fall to tie the match a 3 all.
ZigZag attempt number two is fought off, Ziggler then misses a splash as Rollins finally manages to collect himself enough to fight back. Lariats Dolph to the outside, Suicide Dive attempt but a big Palm Strike from Ziggler stops Seth and feet on the ropes  gives Dolph a fourth fall and his first lead of the match.
Ziggler controls Seth with a few submission holds and really slows things down. Seth is held in a Sleeper Hold for about a minute before starting to fight back. Drives Ziggler into the corner a few times to finally get Dolph to break the hold.  Throws Dolph outside, hits  Suicide Dive and tries to throw Ziggler back in the ring, but Dolph keeps rolling. That urges Seth to go for one more Suicide Dive and try a Springboard Forearm for a near fall. Seth finally hits a Blockbuster, but only for 2.
After looking at the clock, Seth sees time is running out and goes to the top rope to eat a Dropkick from Dolph Ziggler. Rollins gets in before 10, pushes Ziggler off from the DDT attempt, Thrust Kick and Ripcord Knee, for another 2 count. More staring at the clock from Rollins causes him to go to the top rope, and Dolph crotches him again. Rollins grabs at Ziggler and pulls him to the top rope and headbutts him back to the mat. Frog Splash from Seth, for another near fall.
Dolph holds the bottom rope and gets a Baseball Slide to the outside for his efforts. Rollins places Dolph on the top rope and looks for his Falcon Arrow combination most likely, but Dolph fights him off, yet Rollins pops back up for the afore mentioned combination. Rollins goes for another Stomp, but misses, Dolph cradles, kick out, Seth with the catapult into the corner and then rolls through for a pinning combination and gets the tying pinfall.
Ziggler starts throwing some fists, but Seth manages to pull off a Sharpshooter and before Dolph can get to the ropes, Seth turns it into a Crossface. Stomp attempt number 3 and Ziggler powders and tries to run into the crowd. Rollins grabs him and pulls him inside as Dolph hits a Fameasser for only 2.  Dolph goes for a Superkick, Rollins hits his own Superkick, lands a Stomp but time runs out.
Kurt Angle comes out, declares Sudden Death Overtime, McIntyre appears to distract Seth, and give Dolph the opportunity to ZigZag for the 5-4 victory.
Aspects of this match were dumb, like Ziggler trying to run away, but that would cause a countout, so it wouldn't have achieved what he wanted. Tons of high impact moves that don't get pinfalls, but cradles and feet on ropes do. I feel this match had good ring work and flashy moves to cover for spotty storytelling/psychology.
Winner: Ziggler 5-4
Rating: ****
Thoughts:
So much mediocrity and storytelling for the sake of storytelling ruined this show. Awkward endings, bad matches…this is a show you can skip and just watch RAW and SmackDown. The funniest thing to me, was the fact that the IWC or "smarks" were clamoring for Seth Rollins to main event the show, and they enjoyed counting down and making buzzer sounds instead of reacting to the match. They got 9 falls, and still couldn't be bothered to not be worthless.
So ya, there were only 3 matches worth watching out of 12. Honestly, no one had huge expectations for this and maybe some were distracted by the fairly large names on the card, but this was a stop gap show. All that said, bad show is bad, now let's just pray SummerSlam is better.
---
Always Use Your Head and visit the official Pro Wrestling Tees store for The Chairshot All t-shirt proceeds help support the advancement of your favorite hard-hitting wrestling website, The Chairshot!

---
Mitchell's WWE Extreme Rules Report! (7/15/18)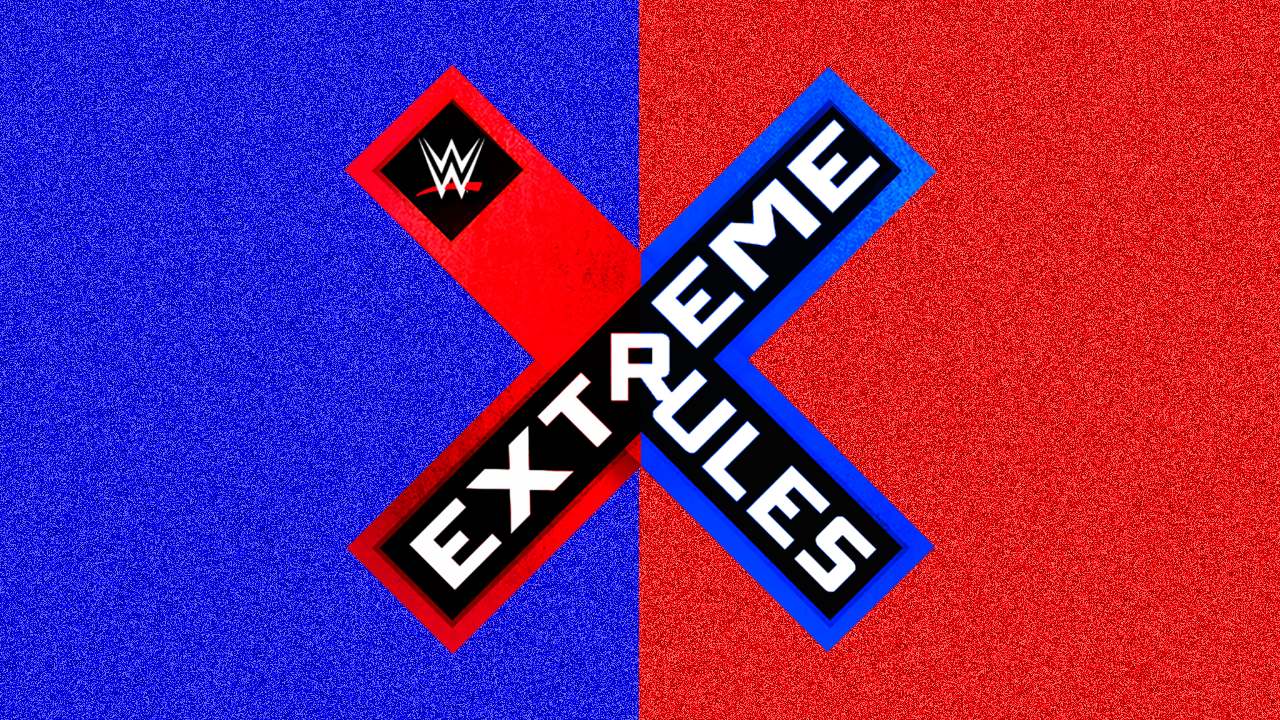 This card's stacked with a Raw Women's Championship Extreme Rules, a 30-Minute Ironman Intercontinental Championship, and a WWE Championship Rusev Day!
All images courtesy of the WWE's official Twitter
OFFICIAL RESULTS
Kickoff Show: Andrade "Cien" Almas w/ Zelina Vega VS Sin Cara; Almas wins.
Kickoff Show: Six Man Tag Tables Match: SAnitY VS The New Day; SAnitY wins.
Raw Tag Team Championships: The Deleters of Worlds VS The B Team; The B Team wins and become new Raw Tag Team Champions.
Finn Balor VS Constable Baron Corbin; Balor wins.
SmackDown Women's Championship Shark Cage Match: Carmella w/ James Ellsworth (in a Shark Cage) VS Asuka; Carmella wins and retains the SmackDown Women's Championship.
WWE United States Championship: Jeff Hardy VS Shinsuke Nakamura; Nakamura wins and becomes the new WWE United States Champion.
Steel Cage Match: Braun Strowman VS Kevin Owens; Kevin wins.
SmackDown Tag Team Championships: The Bludgeon Brothers VS Team Hell No; The Bludgeon Brothers win and retain the SmackDown Tag Team Championships.
Roman Reigns VS Bobby Lashley; Lashley wins.
Raw Women's Championship Extreme Rules Match: Alexa Bliss w/ Mickie James VS Nia Jax w/ Natalya; Alexa wins and retains the Raw Women's Championship.
WWE Championship: AJ Styles VS Rusev w/ Aiden English; Styles wins and retains the WWE Championship.
WWE Intercontinental Championship 30 Minute Ironman Match: Dolph Ziggler w/ Drew McIntyre VS Seth Rollins; Ziggler wins and retains the WWE Intercontinental Championship.
PLAY BY PLAY
Finn Balor joins the Kickoff Panel!
What does he think about Braun Strowman VS Kevin Owens in a Cage? Finn doesn't envy Kevin tonight. As for Baron Corbin, Finn feels Corbin's singing voice is the only thing worse than his wardrobe. Let's just say Corbin isn't American Idol material. Finn's been dealing with guys like Corbin, but he's gonna chop this tree down. And if it means making Stephanie McMahon an enemy for it, he'll happily do it. Can the Extraordinary Man stop the Constable from ruining Raw?
Kickoff Show: Andrade "Cien" Almas w/ Zelina Vega VS Sin Cara!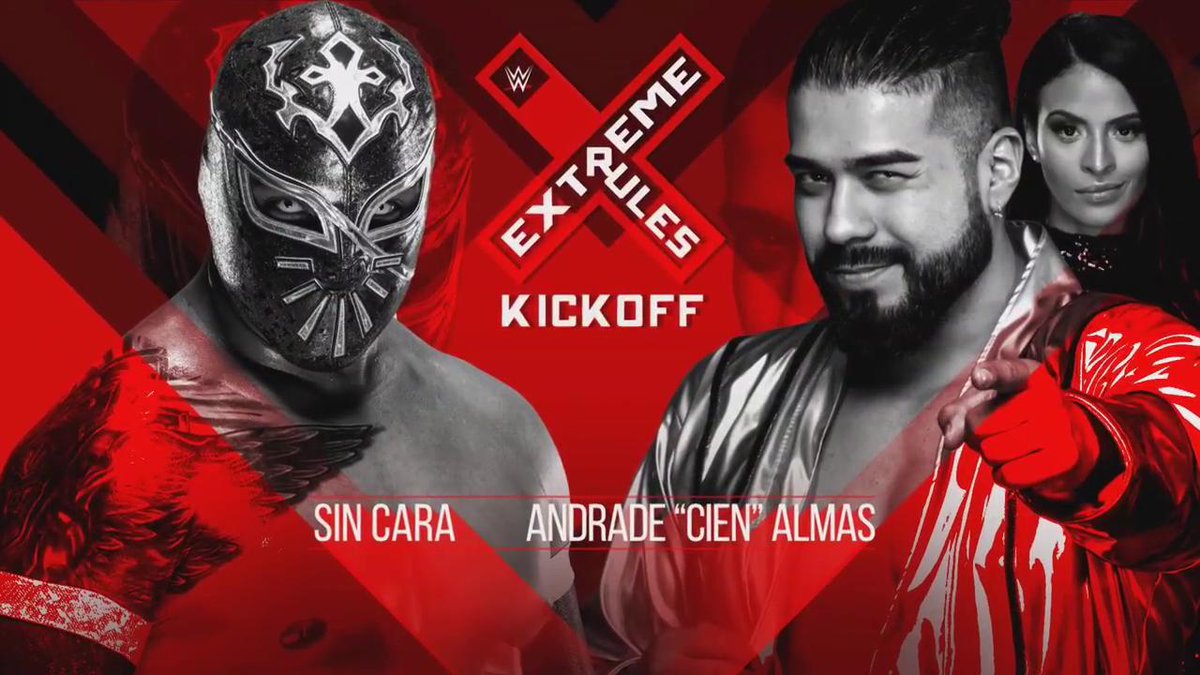 Former amigos are now enemies as El Idolo has been listening to his manager and following her business plan. Almas won on SmackDown, but can he do it just minutes away from Extreme Rules?
The bell rings and the rematch begins. Almas swings on Sin Cara with a heavy hayamker, then dodges him. Sin Cara tilt-o-whirls to arm-drag, then headscissors! Almas slips out but Sin Cara runs. Almas comes in but Sin Cara anticipates his counter to dump him out again. Sin Cara builds speed to DIVE, but Almas throws him into barriers! Vega likes that, and Sin Cara writhes while Almas catches his breath. Almas puts Sin Cara in the ring, but fans rally up for the masked luchador. Almas stomps away on Sin Cara, then throws forearms. He runs and dropkicks Sin Cara in the head. Almas stomps Sin Cara more, then drags him up to whip him to a corner. Sin Cara tries to boot, but gets caught into a draping backbreaker and DDT. Cover, TWO.
Vega grows frustrated now, she wants Almas to finish this fast. Sin Cara hits back, then runs, but into a back elbow! He ends up outside the ring now, and Almas runs to Tranquilo! Vega joins him, and the two have control while we go picture in picture.
Tranquilo…. x2!@AndradeCienWWE @Zelina_VegaWWE #ExtremeRules pic.twitter.com/FPuSgjUk5u

— WWE Network (@WWENetwork) July 15, 2018
Almas fetches Sin Cara ot chop him against the barrier. Vega applauds Almas as he drags Sin Cara up and into the ring. Almas stalks and stomps Sin Cara more, then wrenches the arm in a seated armbar. Fans rally and Sin Cara fights his way up. Sin Cara fights back but Almas wrangles him down while we go to single picture. Almas wrenches harder, but Sin Cara refuses to quit. Fans rally up again and Sin Cara stands. Sin Cara fights back again, then backs Almas down to arm-drag him away. Sin Cara dodges from the corner, then throws forearms. Almas throws back and they brawl. Sin Cara chops and chops, then whips. Almas reverses, but Sin Cara springboards for the crossbody! Then again for the quebrada! Sin Cara is fired up, but is tossed up, for another tilt-o-whirl spike-rana! Cover, TWO!
Vega is furious but Sin Cara is ready. Sin Cara brings Almas up, but Almas blocks the suplex. Almas slips out and boots back, then climbs up. Sin Cara swing kicks Almas! Almas is stuck up top and Sin Cara chops him. Sin Cara positions Almas then climbs up, but Almas fights back. Almas trips Sin Cara up, Tree of Woe but Sin Cara slips out to shove Almas down! Almas hits the apron back first, then crawls into the ring. Sin Cara goes up, for a SUPER huricanrana! BOth men crash and burn to the ground, but Sin Cara is up first. He puts Almas in the ring, climbs up again, FROG SPLASH! But Vega distracts on the apron! Almas dropkicks Sin Cara down. Vega chants for them, Almas gives us CIEN KNEES! And the Hammerlock DDT! Cover, Almas wins!
Winner: Andrade "Cien" Almas, by pinfall
El Idolo gets the sweep, but with help from his business partner this time. Will Sin Cara get some back-up before trying again? Or are Almas & Vega on to bigger and better things?
#ElIdolo @AndradeCienWWE & @Zelina_VegaWWE are all 😃😃😃 after that W! #ExtremeRules pic.twitter.com/4FOTeFx4qP

— WWE (@WWE) July 15, 2018
Shinsuke Nakamura is in the Social Media Lounge.
Can he hear Renee on the panel? Does he have a working mic? The King of Strong Style is set to face Jeff Hardy, how does he feel about the United States Champion? Shinsuke continues to "not hear" anyone. But then he speaks up, claiming "bad connection." After his rivalry with AJ Styles, how important is tonight's win? "You're a clown, like Jeff Hardy." Perhaps, but how important is winning the US title? What? Well, one artist to another, Nakamura respects Hardy. But tonight, Hardy will lose his canvas, his paint, and his title. With that, Nakamura's time is over, but is it really just beginning?
Dolph Ziggler & Drew McIntyre join the Kickoff panel.
The pulse of the nation wants THE top champion on Raw to be around, and that's Ziggler. Ziggler has made his career out of turning small opportunities into big ones. "Opportunist" gets a negative connotation, but Ziggler is proud to be one. Ziggler's been in Rollins' spot, with fans behind you as well as against you. The WWE Universe is the 12th Man, but they're also very fickle. You need to worry about yourself and the title, oh and he has McIntyre watching his back. Rollins lost to the "psychopath" Scotsman, and now McIntyre can be ringside for that Ironman Match.
So McIntyre is a part of Ziggler's strategy? Yes, because McIntyre isn't like the WWE Universe, who are only behind Rollins while they're here. McIntyre is on Ziggler's side 24/7, and they're not tired of winning. Ziggler won't worry about stealing the show, he's just here to win. Main event no matter the spot, but will Rollins be the one stealing the win?
Kickoff Show: Six Man Tag Tables Match: SAnitY VS The New Day!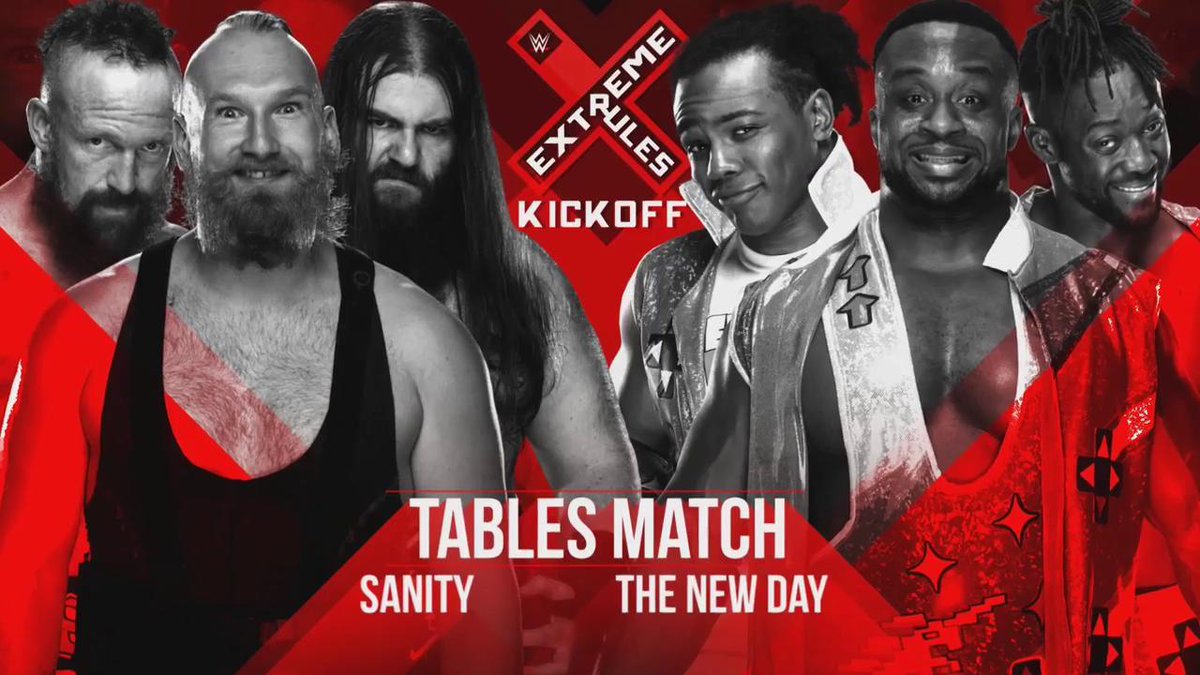 Awwwwww~ Pittsburgh! Don't you dare be sour! Someone is going through a table, so feel~ the power~! Can the power of positivity overcome pure chaos? Or will Eric Young and his anarchic allies begin their own Purge in SmackDown?
The bell rings, annd it's a brawl! All six men pair off as Big E goes after Killian Dain and Kofi clotheslines Alexander Wolfe out of the ring. Woods clubs away on Young but Young whips. Woods reverses and sends Young out of the ring while Big E throws Dain into steps! Kofi kicks Wolfe while he's down, and then the New Day present the first table! They set it up but SAnitY pounces! Wolfe clubs Big E while Young kicks Kofi. Dain has Woods while the others put Big E in the ring. Young & Wolfe stomp away then drag Big E up for body shots. Big E slips out and Young hits Wolfe by accident. Big E dumps Young out, and then runs at them both, but into double knees! Wolfe drags E up while Young climbs. Swinging neckbreaker then elbow drop in that order!
Woods and Kofi have wiped out "Big Damo" in the meantime, but that still leaves Big E alone against two opponents. We go picture in picture while E endures stomps. Wolfe brings Big E up for a haymaker from Young. Young and Wolfe kick and choke Big E against ropes, and there are no rules keeping them from doing it. But Big E revives to throw hands! Only for Young to clobber him again. Young & Wolfe choke Big E more while we go back to single picture. They haul Big E up, but Big E holds on. Kofi & Woods return to throw Wolfe & Young out! Then together, Woods & Kofi FLY! They wipe out Young & Wolfe, but Big Damo returns, to DIVE!!
The Beast of Belfast wipes them both out, then he drags Kofi up and into the ring. SAnitY regroups to go after Kofi while getting a table of their own. Make that two tables! Wolfe hoists Kofi up to the top rope while the tables are set up. Young keeps Woods and Big E down while the preparations finish. Wolfe wants a STACK, so that's what they make! Kofi resists, so Young & Damo come in to help. Big E goes after Big Damo, yurinagi and backstabber with Woods' help! The New Day regroup to help Kofi with Young & Wolfe. Double powerbomb stomps! Steel City is fired up as The New Day stand. Big E drags Young up while Kofi kicks Wolfe out. They bring Young over to the first table, and set him up. Kofi climbs but Damo drags him down off the top!
Big E and Woods run in, but into a clothesline, and a Michinoku Driver that drives Woods into Big E! Kofi kicks Damo in the corner, then Trouble in Paradise! Damo goes down, and Young is still on that table. Kofi takes aim, but Wolfe runs in. Wolfe is sent onto the apron, but Young gets away while Wolfe picks Kofi up. Kofi turns it around, but Wolfe holds on for dear life. Wolfe fights back and even bites Kofi's face! Kofi teeters, Young jumps to drive Kofi through!!
Winners: SAnitY, Kofi going through table
Anarchy rules the day! Is this a new day of doom and gloom for SmackDown's Tag Team Division?
The Deleters of Worlds speak.
"B Team, you mendacious monkeys!" The rules of extreme shall end their streak of luck. "We're here, and we're next."
WWE takes it to the Extreme!
Two alphas fight for supremacy, two frenemies reunite, and two men go for no less than 30 minutes to decide who is the rightful Intercontinental Championship, and that's only some of what's in store for tonight. The Goddess and Irresistible Force go to the Extreme with the namesake match. A Prizefighter is stuck in a cage with a Monster! And a Bulgarian Brute looks to be better than Phenomenal in his first world title match! Who will be victorious on this 10th anniversary of Extreme Rules!?
Raw Tag Team Championships: The Deleters of Worlds VS The B Team!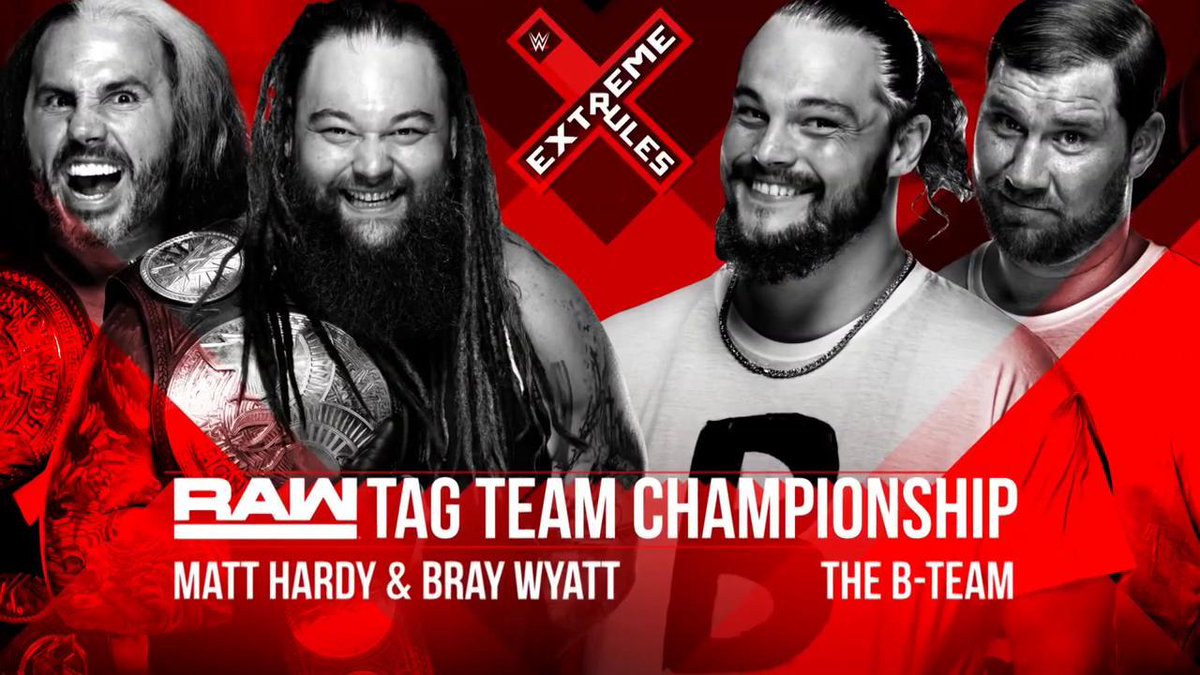 The undefeated "Best" Team of Monday Night Raw wishes to mock and belittle the WOKEN Wisdom of the Consumer of Terrestrial Entities and the vessel known as Matt Hardy. However, this only served to raise the ire of both eternal beings, and now there must be RETRIBUTION! Will Axel & Bo be EATEN, DELETED and DEFEATED!?
The bell rings and we start with Hardy and Bo. Bo swings on Hardy but Hardy throws forearms and headbutts in return. Hardy whips Bo hard, then whips him again. Bo goes down, but Hardy rains down rights and lefts. Hardy drops a leg, then covers, TWO. Bo rolls out to regroup with Axel, then talk strategy. Hardy dares Bo to "Fight me!" Bo returns, but Bray wants in. Fans like that, so Hardy tags him in! Bray and Bo circle, Bo saying he's not afraid. But Bo keeps his distance, and tags in Axel. Fans boo, but Bo just grins. Axel circles with Bray, but Brya puts him in a corner to unleash! Bray reels him in for a big lariat, then stares Bo down. Bray rains right forearms to Axel's head, then grinds Axel down as he grins at Bo. He whips Axel to then headbutt him down.
Bray stomps Aexl's hand, then whips Axel in. Axel dodges and stomps Bray back. Axel runs but into Bray's lariat! Tag to Hardy and Hardy fires off on Axel. Hardy brings Axel around for DELETE buckle bumps, all three levels! DELETE clothesline in the corner, then another! Another! Hardy goes for but Axel denies the bulldog, onlt to run into a boot. Hardy hops up, for an elbow drop. Cover, TWO! Hardy calls for the Twist, but Axel blocks the kick. Axel fights off the Side Effect, then chokes Hardy against ropes. Bo adds a cheap shot, then tags in. The B Team hammer and stomp away, but stop at 4. Fans duel while Bo brings Hardy up for a clothesline. Cover, ONE, but Bo wraps Hardy up in a chinlock.
Hardy endures while fans continue to duel. He stands up, then fights out with body shots. Bo backs him down to the corner, then tags in Axel. The B Team clothesline and DDT Hardy down, cover, TWO! Axel drags Hardy up for a knee and an armlock. He grinds a forearm in Hardy's face but fans rally up. Hardy stands up and fights back with haymakers, but Axel knees low. Axel whips but ends up in the Side Effect! Fans rally again as both men crawl for their corners. Hot tags to Bo and Bray! Bray rallies, palm strikes pushing Bo back. He runs corner to corner for a big corner splash! Bray sets up Sister Abigail but has to kick Axel out. Bo runs into a yurinagi!
Fans fire up for Bray, and Bray prepares a WONDERFUL~ Spider-walk. Hardy tags in and both Deleters grab Bo. Axel comes in again, Bo takes advantage, draping neckbreaker!! Cover, The B Team wins?!
Winners: The B Team, Bo pinning; NEW Raw Tag Team Champions
Change is inevitable, but who would've ever thought this would happen!? The "undefeated" B Team are now champions, and can finally celebrate appropriately.
Interview with The B Team.
From losers to champions, how does this feel? How do you think it feels? How does a rainbow feel? This is unbelievable! B Team proved that the B really does stand for "best"! Will this Cinderella story miracle last for a long time? Or just until the rematch?
The #BTeam's moves look even sweeter with the GOLD! @TheBoDallas @RealCurtisAxel #ExtremeRules pic.twitter.com/klH01pOw0e

— WWE (@WWE) July 15, 2018
Backstage interview with Kurt Angle.
Pittsburgh's own has important information in regards ot the Universal Championship. Angle has spoken with Heyman and Team Lesnar, and has found Lesnar is not interested in returning. Everyone is clearly losing their patience, but Lesnar doesn't seem to care about anything else but Lesnar. Angle has an ultimatum: come to Raw tomorrow and decide when he's facing a challenge, or be stripped of the title! Finally someone is looking to bring Lesnar in line. Will The Beast do what is right for WWE? Or just what's right for himself?
Finn Balor VS Constable Baron Corbin!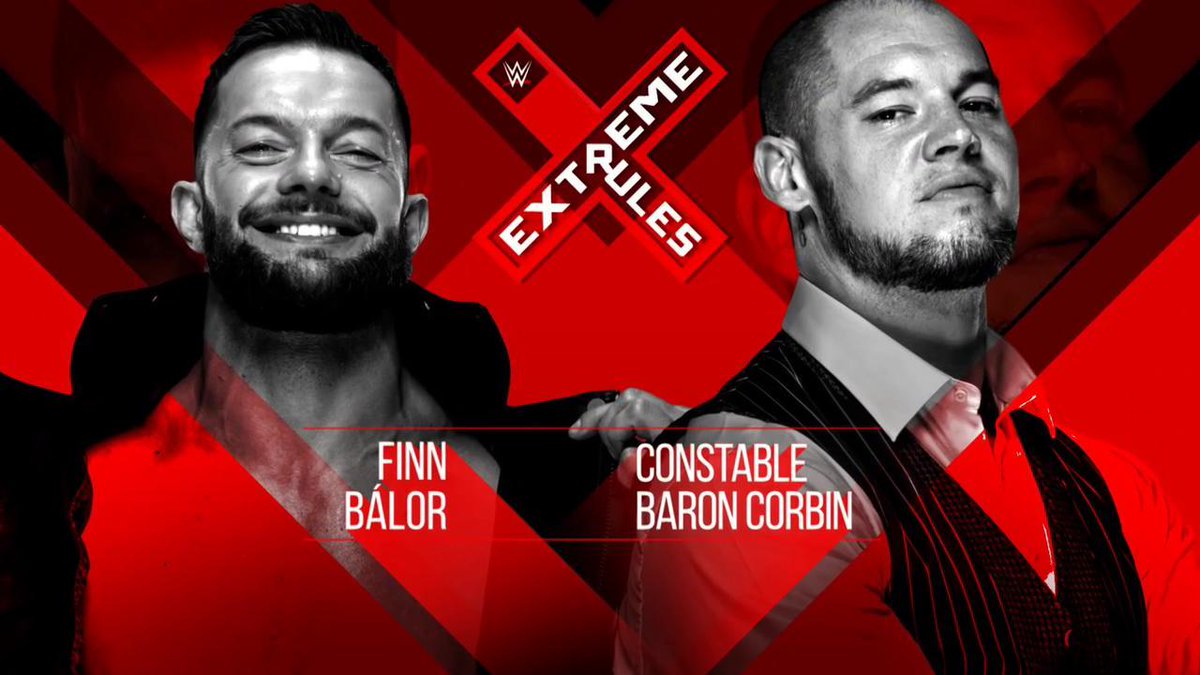 The Lone Wolf was made Stephanie McMahon's representative when it seemed Kurt Angle wasn't fit to run Raw alone. However, Corbin has decide to make it his personal mission to belittle the Extraordinary Man. Will Corbin continue to be a downer on the inaugural Universal Champion? Or will Finn get back at the "bigger" man for thinking so little of him?
The bell rings and the two men circle. They tie up, and Finn gets a waistlock. Corbin backs him down to a corner, then dirties the ropebreak with a back elbow. Corbin keeps on Finn with more elbows, then mockingly applauds the Too Sweet. He forearms Finn down, then grinds his boots into Finn on the mat. Corbin backs off at 4 to then knee Finn in the stomach. He stalks Finn, then brings him up to whip. Finn reverses, Corbin sunsets but Finn rolls through to dropkick back! Finn grabs Corbin in a facelock but Corbin powers him to a corner. Corbin unleashes clotheslines, but fans rally for Finn. Corbin mocks Finn for being "too small", then puts him in a half-nelson chinbar. Finn endures while fans continue to rally.
Finn fights his way up but Corbin wrangles him back down. Corbin talks trash as he grinds Finn down. Fans keep rallying and Finn keeps fighting. Finn pries his way out but Corbin knees Finn low. Corbin pie-faces Finn so Finn punches Corbin! Finn dodges but Corbin slides out and in to clothesline Finn down! Cover, TWO! Corbin grows frustrated already, so he stomps Finn in the back. He grinds his heel into Finn, then elbows him again. Corbin clobbers Finn with a forearm, and eggs Finn on. He puts Finn in a corner, but misses. Finn shoulders from the apron, but his slingshot is intercepted with a powerful haymaker! Corbin drags Finn over, covers, TWO! Corbin puts Finn back in the half-nelson, but fans say "Corbin Sucks!"
Finn endures, but can't get up as Corbin puts his weight on him. Fans rally up and Finn tries again. Finn fights out, but is put in the corner. Finn boots Corbin away, then builds speed to rally! He runs into Corbin's boots, but then swing kicks Corbin down. Finn climbs up! But Corbin grabs him from the top, to bring him down, for the Choke Slam Backbreaker! Cover, TWO! Corbin argues with the referee, but he has to accept it was only a two. Finn crawls to a corner, but Corbin stalks up behind him. Corbin throws furious forearms on Finn, but backs off at the ref's count. He runs back in for a big clothesline, then another. Corbin comes in but has to slide out again. Finn sees him coming and slingblades! Finn lines it up but runs into a DEEP SIX! Cover, TWO!
Corbin is shocked and frustrated, but Finn is definitely tougher than Corbin gave credit. Fans rally up but Corbin grabs Finn again. Corbin drives in more elbows, then prepares a powerbomb. Finn slips out, trips Corbin up, for double stomps! Then hits the blasting dropkick! Corbin goes down again, so Finn goes up again! But Corbin trips him up again, and reels him in. Finn escapes to small package, Finn wins!
Winner: Finn Balor, by pinfall
The Constable is furious to say the least, but he let Finn surprise him. Finn gets a win, but is this fight against authority only just beginning?
Sweet, sweet VICTORY for @FinnBalor tonight! #ExtremeRules pic.twitter.com/oZMJEuNFdb

— WWE (@WWE) July 15, 2018
The Bludgeon Brothers attack Team Hell No!
Harper has Daniel Bryan and throws him into a garage door. As for Kane, he's stuck in a regular door, and Rowan uses his hammer! The door is like a nutcracker on Kane's ankle! The Big Red Machine writhes in pain while Bryan crawls to him. Paige summons refs and medical attention, but is the SmackDown Tag Team Championship match in question now?
SmackDown Women's Championship Shark Cage Match: Carmella w/ James Ellsworth (in a Shark Cage) VS Asuka!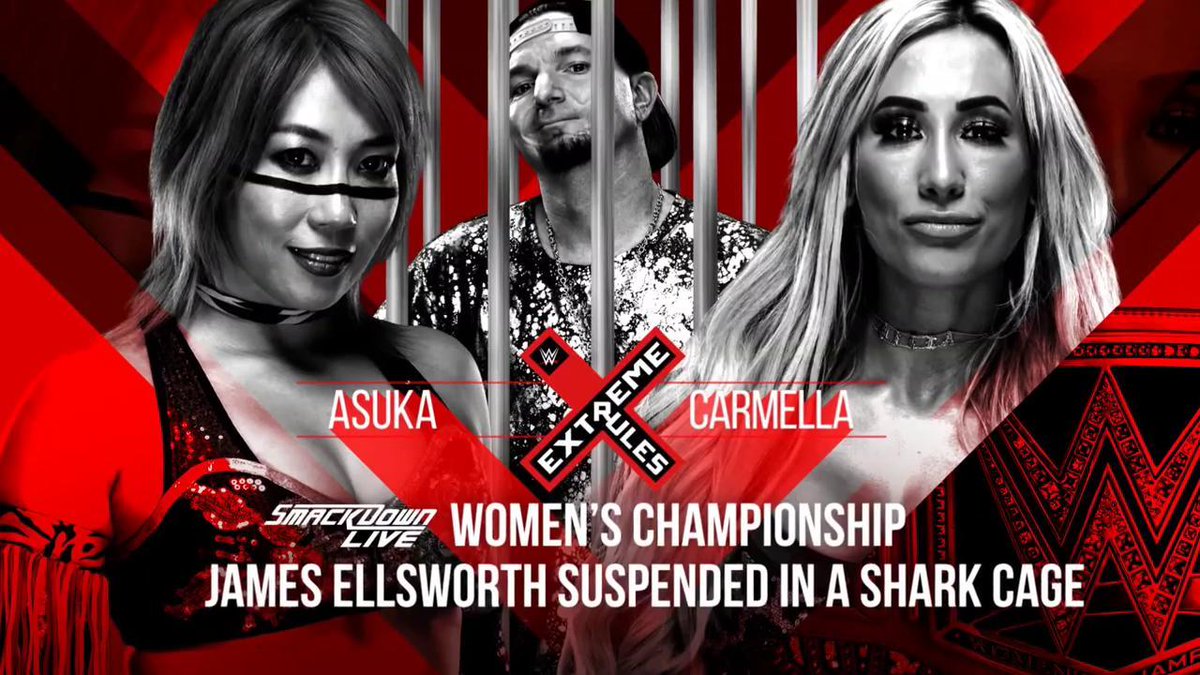 Yes, you are reading that correctly. After the Chinless Misogynist returned to screw over the Empress of Tomorrow in her match against the Princess of Staten Island at Money in the Bank, this is the only way to keep his nose out of the action. Can Asuka make Carmella put her money where her mouth is and actually prove she's better? Or will the truth be revealed: NO ONE is ready for Asuka!!
While the FABULOUS Champion is confident as could be, Pretty Jimmy Dream isn't so sure about being inside a cage of steel bars high above the ring. But he has no choice, as staff prep the cage and put Ellsworth inside. That aside, the belt is raised, as is the chinless pinata, and we begin.
The #SharkCage is on the move. 🦈⬆️

See ya later, @realellsworth. #ExtremeRules pic.twitter.com/8oFvQTvtMo

— WWE Universe (@WWEUniverse) July 15, 2018
Carmella and Asuka circle while Carmella taunts and brags. But Asuka kicks and knees away on Carmella, to then snapmare and kick Carmella in the back. Asuka scoops but Carmella slips out to drive her down. Carmella signals to Ellsworth to throw her something, and he drops one of his silver chains! But Asuka expected something like this, and she's right on the chain with a stomp. Carmella realizes she's in trouble, and she gets a sliding kick! Cover, TWO! Asuka gives point blank hip attacks, but Carmella scrambles to a corner. Carmella kicks and stomps Asuka down, then crawls for that chain. The referee stops her this time, so she shouts for Ellsworth to give her another item. She catches the spray, but Asuka is ready for that, too! Asuka back hands and fires off strikes.
Asuka runs and dropkicks Carmella down. She drags Carmella up but Carmella fights back, only to get the pop-up knee. Asuka runs for the hip attack! Cover, TWO! Ellsworth grows worried while Asuka gives Carmella a shoulder breaker. Asuka gets the chicken wing, Asuka Lock! Carmella saves herself with a ropebreak. Carmella stays safe on the apron and outside the ring while Ellsworth picks the lock! Asuka chases Carmella and snap suplexes her on the floor. There is Champion's Advantage, so Asuka gets Carmella up. She throws Carmella into barriers, but Ellsworth is FREE! And dangling from the cage! He's stuck by his bandana-pants! He's truly a pinata now, and Asuka decides to have some fun. She kicks away at Ellsworth's back, hoping to break him open. She even dropkicks him!
Staff work to get Ellsworth freed so they can send him back up, but Asuka just wants after him! She kicks the staffers out, except for the one that runs away. Asuka kicks away at Ellsworth's butt, but the referee backs her down. Carmella slithers in, and pushes Asuka into the cage!! Cover, Carmella wins!
Winner: Carmella, by pinfall; still SmackDown Women's Champion
It wasn't what anyone expected, but Carmella found another way to steal a win. She raises her title up while Asuka comes to. What other ways will Carmella use Ellsworth as a means to an end?
💲 + 👑 + 😃 = @CarmellaWWE#ExtremeRules pic.twitter.com/UYsWODkUOf

— WWE (@WWE) July 15, 2018
Asuka fires off on everyone!
She attacks the staffers, then aims for Ellsworth. Ellsworth begs for mercy, but gets none from the Empress. She fires off hands and feet on the Chinless Narcissist, and gives him German Suplexes for good measure. Buzzsaw! Then, ASUKA LOCK! Ellsworth taps, but it doesn't matter. Will Carmella suffer the wrath of Asuka herself some day?
WWE United States Championship: Jeff Hardy VS Shinsuke Nakamura!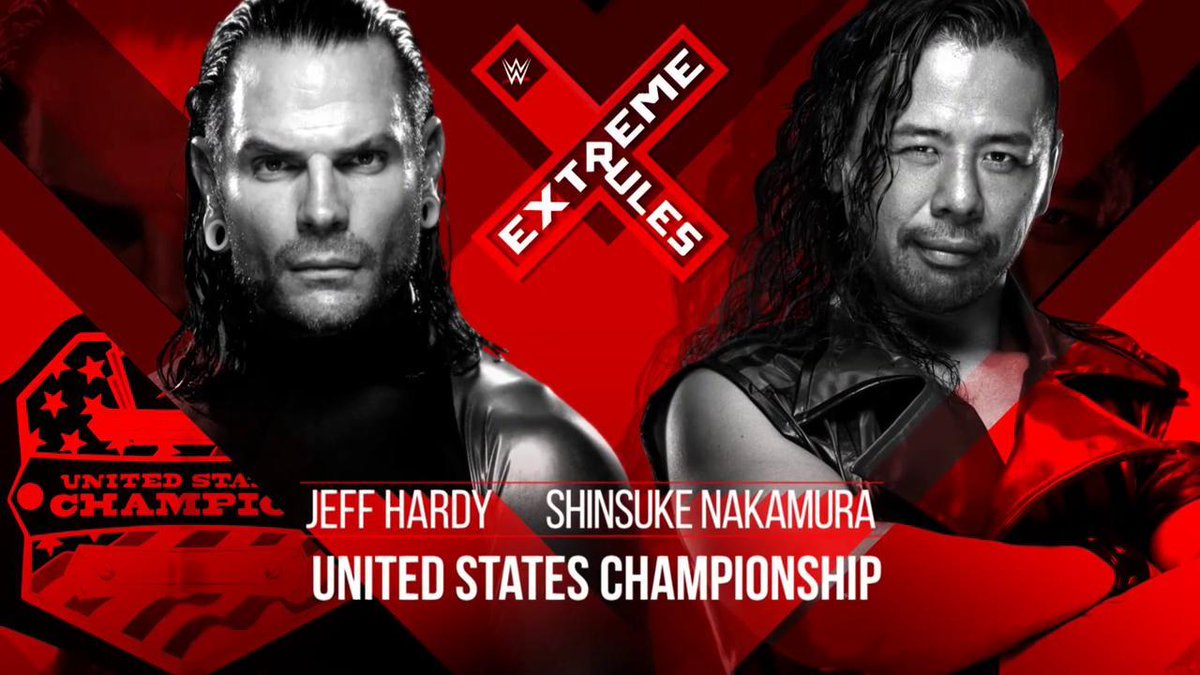 The Charismatic Enigma took issue with the King of Strong Style using him as an example in Nakamura's hunt for the WWE Championship. Now Hardy finally gets a chance at revenge, with the title on the line. Will he get satisfaction? Or a #Knee2Face?
The introductions are made, the belt is raised, and Nakamura low blows Hardy behind the referee's back!
Classic @ShinsukeN. 😳 #ExtremeRules pic.twitter.com/AnjS9jVrKJ

— WWE Universe (@WWEUniverse) July 16, 2018
The referee sees Hardy went down, but he can't do anything about Nakamura's cheap shot now. Hardy is gasping, but doesn't want this match to end before it begins. Certainly not over something like that. He insists the match happen, the bell rings, KINSHASA!! Cover, Nakamura wins!!
Winner: Shinsuke Nakamura, by pinfall; NEW WWE United States Champion
How dirty can you get?! Nakamura has his first title on the main roster, but certainly someone will have something to say about it. Will Nakamura feel good about himself come SmackDown?
#AndNEWWWW #USChampion… @ShinsukeN! #ExtremeRules pic.twitter.com/rUWQYFuHuo

— WWE (@WWE) July 16, 2018
But here comes Randy Orton!
A wild VIPER has emerged! @RandyOrton #ExtremeRules pic.twitter.com/wNpwbOxSeT

— WWE (@WWE) July 16, 2018
The Viper is a former US Champion in his own right, and has had issue with Nakamura at times. Orton stares Nakamura down but Nakamura gets clear of the ring. Nakamura may be champion now, but will he have to deal with the Apex Predator hunting him for the rest of the Summer? Hardy flounders up and gets Orton's attention, but Orton simply brings him down to stomp the crotch! It seems Orton is friend to no one. What won't he do to get back the title that brought him his Grand Slam?
Steel Cage Match: Braun Strowman VS Kevin Owens!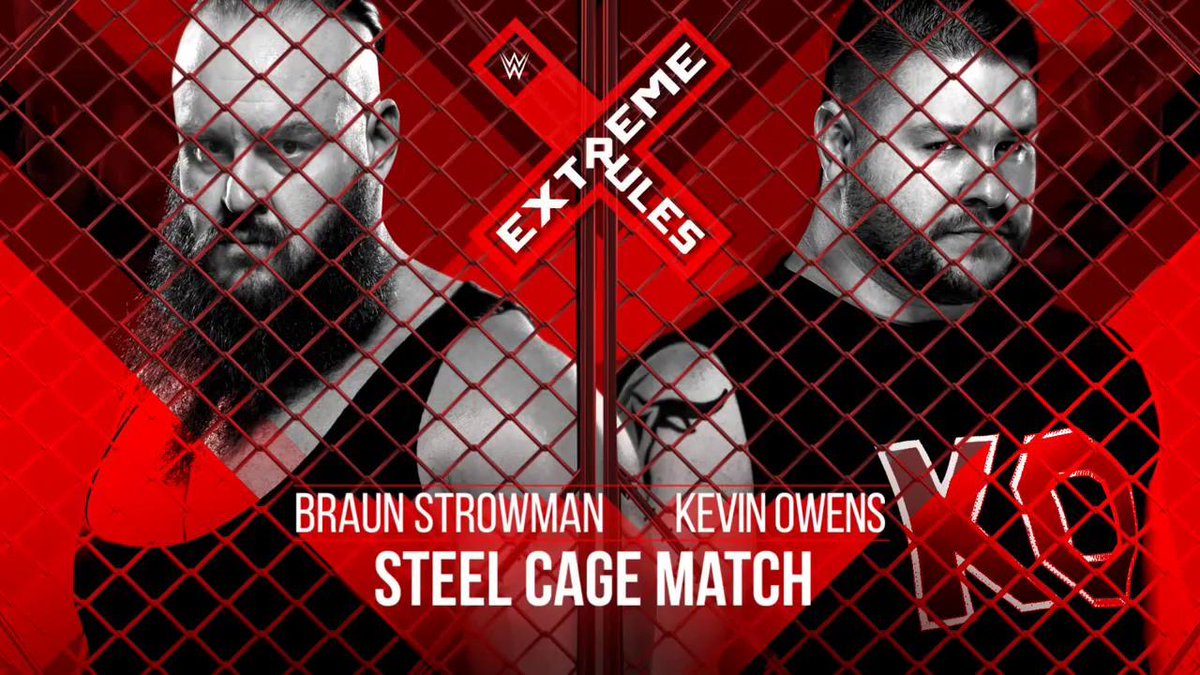 The Monster in the Bank has bullied the obnoxious Prizefighter week in and week out, but doesn't Kevin kinda deserve it? But now, to settle this one way or another, there's no more hiding inside the four walls of steel! Will Kevin win, lose or simply survive Strowman tonight?
The bell rings, and Kevin climbs! Strowman yanks him down, but Kevin climbs up the other side. Strowman throws Kevin down again, and Kevin gets to a corner. Kevin boots Strowman away but can't get away. He goes for the door, but Strowman stops him again. Strowman knows it's "Fight Owens Fight" but Kevin's being a coward. He dares Kevin to fight him, so Kevin tries. Kevin throws hands but Strowman shove shim down. Strowman misses in the corner and Kevin clubs away on him. Strowman throws Kevin away, then boots him down on the run. Kevin stands up and dodges Strowman! SUPERKICK! Strowman's down, here comes the Cannonball senton!
When you see an opportunity to target @BraunStrowman, you TAKE it! @FightOwensFight #ExtremeRules #SteelCageMatch pic.twitter.com/GleAOjO3gF

— WWE (@WWE) July 16, 2018
Kevin climbs up, but not to climb the cage. FROG SPLASH! Cover, ONE!! Kevin put up a fight but he didn't finish Strowman. He decides to take it easy and crawls for the door. But Strowman grabs him and drags him away from the door. Kevin begs for mercy, but then throws hands. Strowman just gives Kevin a clubbing forearm! Then he throws Kevin into the cage. Fans want it "One More Time!" so Strowman obliges. Kevin goes down in a heap, but fans still want "One More Time!" Strowman gives fans what they want, he throws Kevin again! He then drags Kevin up by his beard, for the scoop, to toss Kevin face-first at a wall. Strowman wants Kevin to stand as fans chant "Get These Hands!"
Kevin slowly stands, but Strowman scoops him again. Kevin slips out, boots Strowman back, then hits a Stunner! Strowman goes down, and Kevin crawls for the door! But Strowman gets his feet again. Kevin kicks at Strowman, crawls, but Strowman stands on him, to slam the door on his face. Kevin is dazed and vulnerable as Strowman takes aim. Strowman runs in, but misses! Kevin hits a SUPERKICK! And a SUPERKICK! Then he produces handcuffs to trap Strowman in that corner. Strowman fights against the cuffs, but Kevin kicks Strowman while he's vulnerable. "That's what you get!" Kevin shouts as he throws more hands. "What're you gonna do now, huh?" CHOKE SLAM!
Strowman turns his attention back to the cuffs, but they're sturdy. Kevin crawls to the opposite side of the ring, then tells Strowman to "Suck It!" Kevin climbs and blows a kiss, but Strowman breaks the chain! Strowman rushes over and catches up to Kevin! They're both atop the cage! Strowman grabs Kevin, and looking down at the gruond, THROWS Kevin!! Kevin hits table, but that means he wins!
Winner: Kevin Owens, by escape
Fans lose their minds as Strowman glares down at Kevin. Strowman doesn't care about winning, so long as he's the one standing. He roars with victory and fans chant "Get These Hands!" Will Strowman finally stop targeting Kevin?
.@FightOwensFight sent CRASHING from the top of the #SteelCage, courtesy of @BraunStrowman!!#ExtremeRules #SteelCageMatch pic.twitter.com/xeseJIR8z0

— WWE (@WWE) July 16, 2018
Medics bring a stretcher out.
Kevin can't stand, let alone walk, so he is placed on the body board and the stretcher itself. Strowman mockingly announces the result himself, then enjoys himself as he walks out of the arena. Kevin "won", but will he be lucky to return to Raw any time soon?
After being thrown off of the top of the #SteelCage by @BraunStrowman, @FightOwensFight leaves in a stretcher.#ExtremeRules #SteelCageMatch pic.twitter.com/VuVaxS0HTj

— WWE (@WWE) July 16, 2018
SmackDown Tag Team Championships: The Bludgeon Brothers VS Team Hell No!

Harper & Rowan didn't want to wait for this match to fight Daniel Bryan & Kane, so they did it backstage. Bryan was thrown around like a rag doll while Kane's ankle was crushed between door and frame. Will Team Hell No's PPV return be ruined already?
Somehow, Daniel Bryan is able to make his entrance, but it doesn't look like Kane can. This looks to be an unofficial handicap match now. Does Bryan stand a chance?
The bell rings and Bryan goes right at Rowan! Rowan shoves Bryan away but Bryan dodges to kick away. Rowan shoves him again, but Bryan is ready. Bryan dodges again with fans rallying behind him. Bryan keeps his distance, then dodges to kick away on Rowan. Rowan knees low, then whips Bryan, but Bryan kicks him away. Bryan runs but gets run over, and Rowan brings Bryan to the Bludgeon corner. Rowan stomps away, then tags to Harper. Harper climbs up while Rowan lifts Bryan. Bryan fights out, then slips out, and dropkicks Harper. Bryan dropkicks Rowan out of the ring! Then he climbs up to join Harper and throw hands on the top rope. SUPER Steiner throws Harper, then a dropkick wrecks Rowan. Harper misses the discus, into the YES Lock!
#YesLock cinched in, but @WWEDanielBryan is simply outnumbered tonight.#ExtremeRules pic.twitter.com/BtKphbfmu6

— WWE Network (@WWENetwork) July 16, 2018
But Rowan drags Bryan off the hold and to the floor. Rowan tags in, then drags Bryan back up to put him into steel steps. Harper goes after Bryan, scoop slam senton! Rowan puts Bryan in the ring, then runs for the splash! Cover, TWO! Bryan has heart, but Rowan has a partner. Rowan tags Harper back in, and the Brothers mug Bryan on the mat. Fans chant for Kane to appear, but Bryan endures a throat chop and a snapmare to forearm shot. Harper tags Rowan, and they grind Bryan down more. Rowan stands Bryan up for a pumphandle backbreaker! Rowan scoop slams Bryan, then covers, TWO. Bryan sits up but Rowan is on him with raking fingers. Tag to Harper, and he drops elbows on Bryan. Cover, TWO, and fans keep cheering for Bryan.
Harper brings Bryan up, Rowan tags in to mug him more. Tag back to Harper, and 2B double whip. Bryan holds ropes then dumps Rowan out. Harper runs in but Bryan fires off punches and kicks. Harper knees low then whips, but Bryan goes up and over. Bryan runs, to DIVE on Rowan! Only for Rowan to catch him. Harper runs, DIVES, but Bryan dodges! Rowan takes the hit and both Bludgeon Brothers go down! And here comes Kane!
Injured or not, @KaneWWE is here to come to the aid of @WWEDanielBryan!#TeamHellNo #ExtremeRules pic.twitter.com/BJlxGSllvq

— WWE Network (@WWENetwork) July 16, 2018
Even with a brace on his foot, the Devil's Favorite Demon hobbles out to support his friend. Kane endures the pain of just walk, and gets to the Hell No corner. Harper grabs at Bryan but Bryan crawls for the corner. Bryan shoves Harper away, hot tag to Kane! Kane rallies on one leg with his big uppercuts. Rowan runs in, but into a CHOKE SLAM! Harper gets a CHOKE SLAM, too! Kane slashes his throat, calling for the Tombstone. He scoops but that leg gives out. Harper mule kicks the leg, but Bryan tags back in. Bryan leaps for missile dropkick! He kips up and fires up, as does Pittsburgh! Bryan gives Harper YES Kicks!
"YES! YES!" echoes out over and over, faster and faster. Bryan aims, and hits the buzzsaw! Rowan tags in, but Bryan doesn't see it. He adjusts, but runs into Rowan. Rowan sends Bryan into Kane, then heel kicks Bryan down. Harper tags back in, and they prepare DOOMSDAY! Cover, Bludgeon Brothers win!
Winners: The Bludgeon Brothers, Harper pinning; still SmackDown Tag Team Champions
A wounded Team Hell No falls to the apocalyptic duo. If Kane & Bryan can be 100% next time, will it be a different result?
#AndSTILL your #SDLive #TagTeamChampions… The #BludgeonBrothers! #ExtremeRules pic.twitter.com/Xm0FUjZbO6

— WWE (@WWE) July 16, 2018
Roman Reigns walks backstage.
The B Team's celebration flies in. If they can do it, he can do it! He can even join them! All he has to do is beat Bobby! Right? Yeah? Huh? No? Okay. The Big Dog goes to defend his Yard from a new Alpha Male, but will he put the B in "beat Bobby"?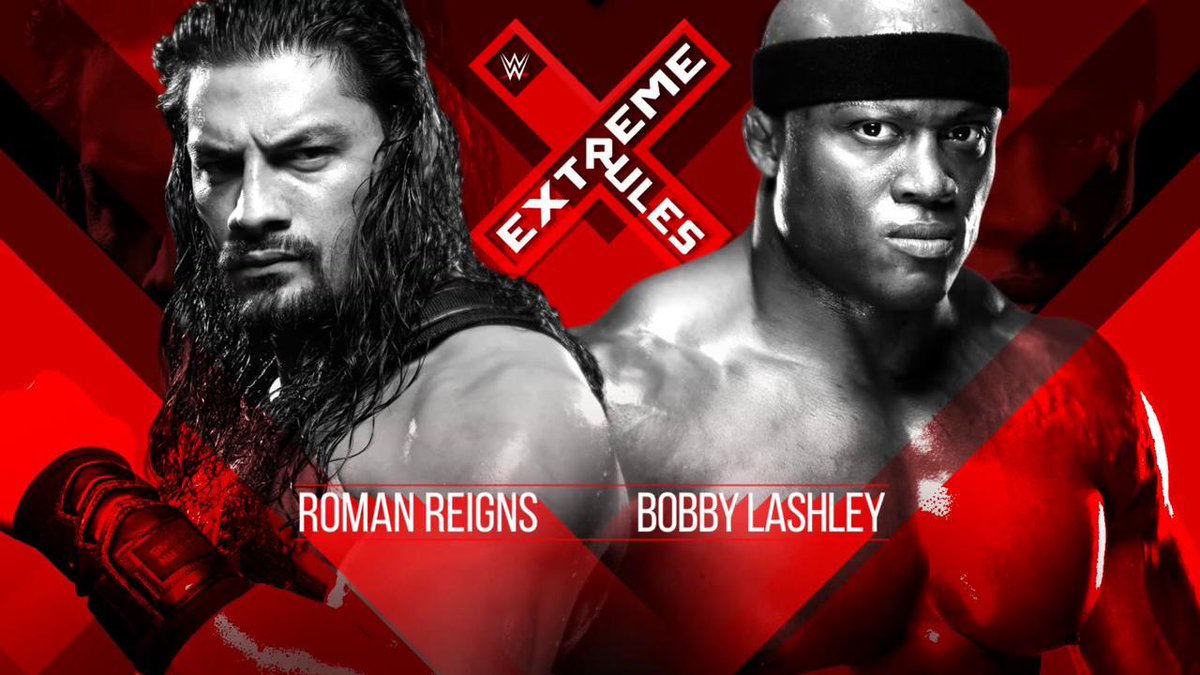 Roman Reigns VS Bobby Lashley!
Both men think they're the only one worthy of challenging The Beast, Brock Lesnar, but they both take offense to what the other man thinks. Who will prove themselves as "The Guy" to stand atop the WWE?
The bell rings and the two big men tie up. Lashley powers Roman to a corner, then around the side. Roman manages to turn it around to put Lashley in the corner, but neither man wants to break. The referee forces them to break and back off. They circle again, tie up again, and Lashley gets a headlock. Roman gets a waistlock but Lashley gets the standing switch. Lashley throws Roman down, then waits for him to stand up to get him again. He dumps Roman down again, then brings Roman up. Roman gets an arm wrench, but Lashley throws Roman overhead! Lashley brings Roman up again, but Roman elbows out of the waistlock. Roman runs, but Lashley leaps over him, only to get an uppercut. Roman glares down at Lashley, then throws hands.
Lashley gets to a corner but Roman throws more hands. Roman puts Lashley in another corner with a buckle bump, and throws more hands. They go to a third corner for another buckle bump. Roman throws more hands, then whips Lashley to elbow him down. Cover, TWO, but Roman keeps his cool. Roman stalks Lashley to the ropes, then he chokes Lashley against them! Lashley is down, and Roman gives him the Drive-By! Cover, TWO. Now Roman grows a bit annoyed, and drags the dazed Lashley up. Lashley fades while Roman grins. Fans boo and jeer The Big Dog while Lashley gets a second wind.
Lashley fights out but Roman rocks him with an uppercut. Roman throws Lashley out of the ring, then takes his time fetching the Dominator. He throws Lashley into barriers, then into more barriers at the timekeeper's area. Roman refreshes the count to keep on Lashley outside. Lashley mule kicks then whips Roman, but Roman reverses. Lashley leaps over the steps but Roman pounces from behind. Roman stalks Lashley, refreshes the count, then whips him at steel steps again. Lashley hits steel this time, but Roman isn't done with him. Roman takes the steps apart and takes aim, to thrust the steps at Lashley! Lashley catches the steps, then throws Roman off. Lashley clotheslines Roman down, then puts him in the ring.
Roman swings but misses, and Lashley runs Roman over. Lashley throws Roman overhead, then runs in corner to corner for a big clothesline. He keeps going, but runs into a boot. Roman runs, and hits the leaping lariat. Roman has Lashley in a corner for the point-blank clotheslines. He gives Lashley all ten, then runs, into a powerslam! Cover, TWO! That was close but not enough yet. Lashley decides to bring Roman up, but Roman fights back with forearms. Roman runs, but into a crossbody! Lashley doesn't cover, he's going up top! Lashley aims for flying double ax handle! Roman stirs but Lashley looms over him. Lashley brings Roman up, but Roman reverses with a fireman's carry. Lashley grabs ropes, so Roman dumps him out!
.@fightbobby sent for a brutal ride over the top rope! @WWERomanReigns #ExtremeRules pic.twitter.com/J0gPaPsmuj

— WWE (@WWE) July 16, 2018
The referee checks on Lashley, but somehow Lashley is okay. A 10 count begins, but reaches 5 before Lashley starts stirring. Lashley gets up at 7, and in at 9! Roman is there with a leg drop! Cover, TWO! Roman can't believe he hasn't put Lashley away. Lashley crawls to ropes while fans duel. Roman locks and loads, takes aim, but runs into a SPINEBUSTER! Lashley fires up now, and drags Roman up, for the vertigo suplex! He slams Roman down, covers, TWO!! That was even closer! Lashley gets up again, and takes aim at Roman now. Roman slowly stirs, coughing and gasping for air. Lashley runs in, to a SUPERMAN Punch! Cover, TWO!! Now Roman is in disbelief.
Lashley rolls out of the ring for a chance to recover. The 10 count returns, but Roman goes outside to pursue Lashley. Roman lets out his howl, builds speed around the ring, but into a belly2belly! Lashley throws Roman over the announce desk! But this won't end it, Lashley wants more. He drags Roman up and into the ring. Lashley climbs up again, but Roman SUPERMAN Punches him down! Roman talks trash, "This is MY Yard!" He lets out another howl, runs, but into LASHLEY'S SPEAR!! Cover, Lashley wins!!
Winner: Bobby Lashley, by pinfall
The Big Dog goes down! The Dominator is the true alpha of this "yard"! It doesn't matter if it was Roman's ego or Lashley's heart, the former WWE ECW Champion has the biggest win since his return. Will it lead to even bigger matches and moments in the near future?
WHAT A WIN for @fightbobby! #ExtremeRules pic.twitter.com/BqI57SWzob

— WWE (@WWE) July 16, 2018
Raw Women's Championship Extreme Rules Match: Alexa Bliss w/ Mickie James VS Nia Jax w/ Natalya!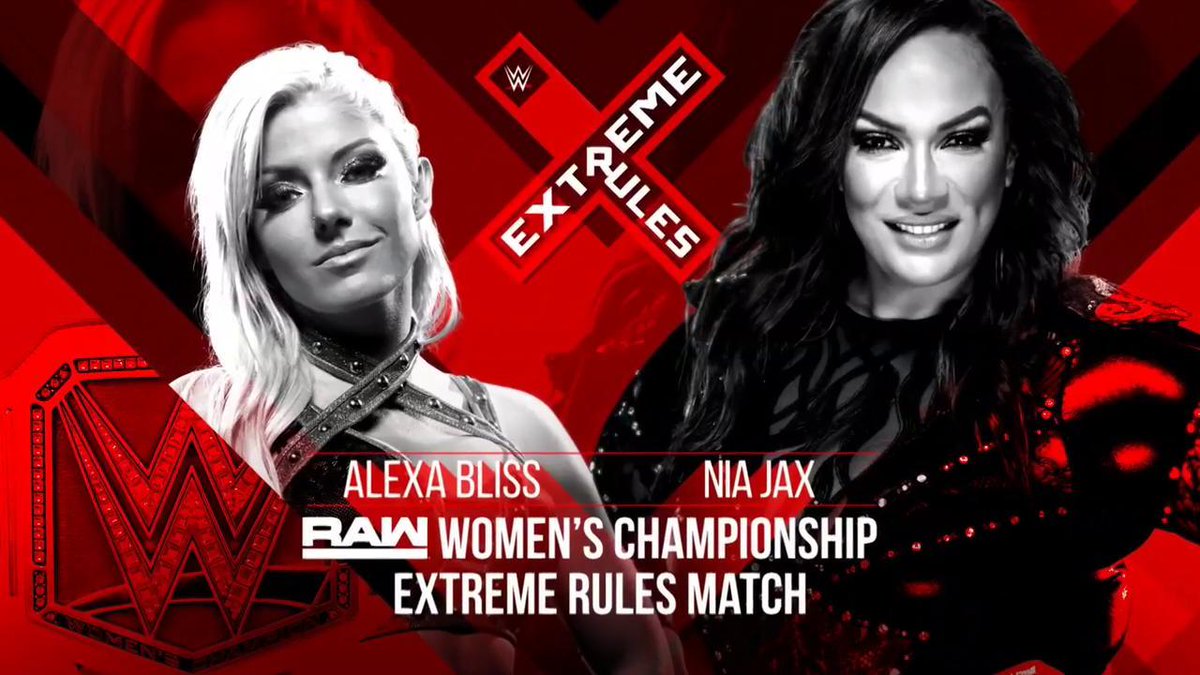 The Goddess became Ms. Money in the Bank the night Ronda Rousey looked to defeat the Irresistible Force in their own Raw Women's Championship match. That cash-in mid-match allowed Alexa to steal the title away from two dangerous forces in the Women's Division, but only one snapped and beat up Alexa and Kurt Angle. Ronda has been suspended these last 27 days, but is in the front row as a fan. Will she have a smile on her face after Nia gets her shot at extreme revenge on Alexa?
At the same time, both women brought back-up, mostly because Nia knew Alexa would bring her "bestie" and the Queen of Harts is the perfect counter. Will Mickie & Natty become x-factors in this match?
The bell rings and we begin. Alexa is obviously wary of Nia already. Nia keeps her away from Mickie and that kendo stick. Alexa dodges and slaps Nia, but that only angers the former champion. Nia chases Alexa, but Alexa gets the stick! Alexa SMACKS Nia once, but then Nia takes and BREAKS the stick. Nia chases Alexa more, but Mickie feeds Alexa items. The trash can is not enough and Nia tosses it into the ring. A chair is not enough, and that ends up in the ring. The second chair and second can, same thing. The lid gets the same. Mickie feeds her a second stick but Alexa ditches that to run. Nia catches up and runs Alexa over. Nia puts Alexa in the ring with the collection of items.
Alexa grabs for the can, but Nia whips and squashes Alexa in a corner. Nia throws Alexa onto the chair and trash can! Alexa tries but fails to hit back with a chair. Nia yanks it away then stalks Alexa to a corner. Alexa swings but gets a headbutt. Nia sets up a trash can, then lifts Alexa in a fireman's carry. Nia takes aim, trophy lifts, and throws Alexa onto the can! It flattens!
.@NiaJaxWWE makes it look easy. #ExtremeRules pic.twitter.com/bQmahCOYZO

— WWE Universe (@WWEUniverse) July 16, 2018
Ronda loves what she's seeing. Nia taunts Alexa while Mickie tries to help her. Nia puts Alexa back in the ring, then backs Mickie off. Alexa crawls but Nia is on her. Alexa smacks away with the trash can lid! Something finally affects Nia, including that crumbled can attack. Natty coaches Nia but Alexa has a chair. Alexa wedges it into the corner, then dropkicks Nia. Cover, ONE, and Alexa grows frustrated. Alexa says it's her title, but Nia gives her a right hand. Alexa resets the chair, but Nia headbutts her down. Nia runs in, but into the chair! Alexa crawls to Mickie, who has a lid, but Natty trips her up! Natty smacks away on Mickie! Alexa helps Mickie, and they throw Natty into barriers together. Ronda gets mad, that's her friend, too. She jumps the barriers to attack Mickie!
Things are about to get ROWDY!!!@RondaRousey #ExtremeRules pic.twitter.com/oh1DHbSBwY

— WWE (@WWE) July 16, 2018
Ronda throws Mickie around, then into the apron. They end up in the ring, and Ronda gives Mickie a spinning slam! Ronda keeps on Mickie by throwing her into an announce desk, and then over it! Fans are fired up as Ronda glares at Alexa across the way. Ronda promised to kick her "pink-haired ass" and she chases Alexa around the ring. She catches Alexa before she can flee, but Mickie SMACKS away on Ronda with a kendo stick. Alexa returns to the ring, targeting the crawling Nia. She climbs up, but leaps into Nia's arms! But Mickie SMACKS Nia with a chair. Alexa adds her own chair shots, then brings Nia over for a DDT onto a chair. Cover, Alexa wins!
Winner: Alexa Bliss, by pinfall; still Raw Women's Champion
But Ronda returns! She and Natty run Alexa & Mickie off, but the damage is done. Is Ronda's suspension going to be extended after this? Will anyone be able to get revenge on The Goddess for this?
The #GoddessOfWWE STILL holds the gold! @AlexaBliss_WWE @MickieJames #ExtremeRules pic.twitter.com/rwvsyPpW5J

— WWE (@WWE) July 16, 2018
WWE Championship: AJ Styles VS Rusev w/ Aiden English!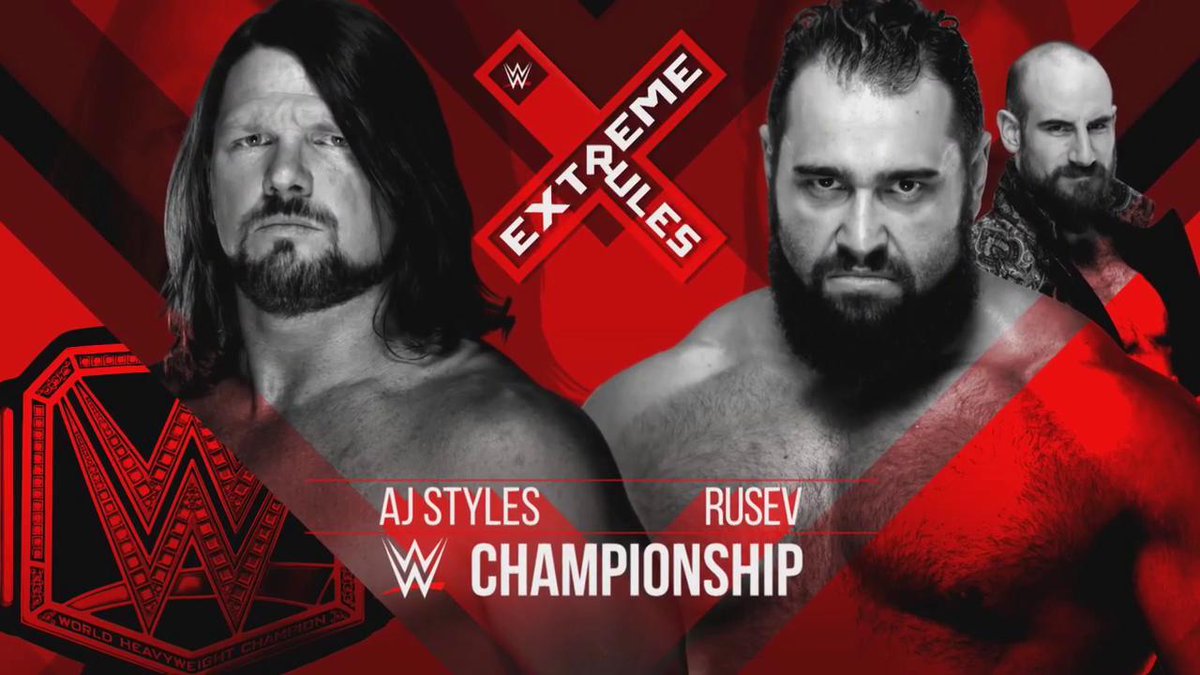 What day is today? Rusev Daaaaay~! But will it be a good Rusev Day? Or a PHENOMENAL Rusev Day when the Champ that Runs the Camp keeps the title in the House that AJ Styles Built?
The introductions are made, the belt is raised, and we begin. Fans duel between Styles and "Rusev Day!" Rusev rushes Styles and ptus him in a corner. Styles slips out to kick and chop back. Rusev turns it around and throws Styles to rpoes. Styles dropkicks the legs, his game plan clear already. Rusev knees low then throws Styles judo style. Styles htis back but Rusev clobbers him down. Cover, ONE, but Rusev doesn't lose focus. Rusev stomps Styles but Styles kicks the leg. Styles chops Rusev, then tries to suplex. Rusev is too strong for that, so Styles just kicks the leg again. Fans keep dueling, Styles runs, but into a spinebuster! Cover, ONE, but Rusev still looms over Styles.
Rusev snap suplexes Styles up and over, then walks it off. He brings Styles up for another suplex, then drops an elbow. Cover, ONE, but Rusev still has confidence. Rusev throws hands on Styles, then drops an elbow. Styles dodges to kick at the leg again. Styles kicks Rusev, then runs, but into a back drop! Rusev still has such power in only one good leg. Rusev stalks Styles to a corner to throw a heavy forearm into the back. He hits Styles again, then brings Styles up for a back suplex. Cover, TWO, so Rusev is getting closer.
Rusev stalks Styles, clearly going after the back the same way Styles is the leg. He lifts Styles up for a bearhug. Styles endures and fights back with forearms. Rusev knees low, then hoists Styles up top. He throws hands while positioning Styles. Styles almost falls off, but Rusev climbs up now. Rusev goes to superplex but Styles slips out to kick out the leg! Rusev tumbles to the floor! English coaches Rusev up, and Rusev crawls towards the ring. Styles takes aim, to slingshot forearm!
Not so fast, @RusevBUL… #ExtremeRules #WWEChampionship pic.twitter.com/kbkSxY6Frn

— WWE Universe (@WWEUniverse) July 16, 2018
He wipes Rusev out, but it almost takes him out, too. Styles stands and drags Rusev up, but Rusev shoves him into barriers. Rusev gets in the ring, but Styles follows. Styles throws the Phenomenal Blitz! Then the sliding forearm! Rusev crawls away to a corner, but Styles runs in for a big clothesline. Fans duel as Styles gets Rusev up. Rusev fights out but Styles still gets him with a reverse DDT. Cover, TWO! Both men are sore but far from done. Styles gets up as best he can with a bad back. He brings Rusev up for the Clash, but that back won't let him. Rusev powers Styles to a corner, then runs in. Styles tries a Calf Crusher but Rusev holds onto ropes! Rusev powers Styles up to the top rope to punch him off it!
Rusev scrapes Styles off the apron, and uses the count as a chance to catch his breath. He then builds speed, but runs into a forearm! Styles slowly stands, as does Rusev. Styles punches and kicks Rusev away, then takes aim. He springboards, but his 450 misses. Rusev boots Styles back, but still walks into a Calf Crusher. He rolls through, goes for Accolade, but Styles slips out. Rusev shoves Styles away but Styles kicks the leg out. Styles slides in but into Rusev's kick! Rusev crawls over to Styles while fans duel again. He scoops Styles, but Styles slips out! Styles goes for and gets the Calf Crusher! Rusev endures the pain, and gets a ropebreak! Styles lets go, but spots English talking trash on the apron. He walks over and MC Artiste runs away. Styles gives chase, but he runs into Rusev's overhead suplex!
Rusev puts Styles in the ring, and with one leg, MACHKA KICK! Cover, TWO!! Rusev was so close! His pain alone is reason to feel despair. But Rusev still gets up, and stomps for another. He thrusts, but Styles dodges to PELE! Rusev is dazed and on one knee, Styles runs in but into the pop-up knee and roundhouse! Cover, TWO!! So Rusev goes for the Accolade! But his bad leg won't let him squat down! Rusev is so close, so he forces himself to do a half-Accolade! It might still be enough. Styles fights back and crawls, to get a ropebreak! Rusev lets go, so English takes matters into his own hands. English rips a buckle pad off the top rope.
Rusev fires himself up, and gets that leg moving. "Rusev, CHAMPION!" He stomps, and puts on the Accolade, but Styles slips out to then get to a corner. He gets to THAT corner, and Rusev runs in! Styles dodges, and Rusev hits the bare buckle! English's brilliance backfires! Rusev is down and English panics. Styles gets up, gets to the apron, springboards 450!! Cover, TWO!? The Super Athlete survives, and Styles can't believe it. But fans are loving it! Styles gets up and wrecks English with a dropkick. He then prepares the arm and takes aim at Rusev. Rusev slowly stands, Phenomenal Forearm! Cover, Styles wins!
Winner: AJ Styles, by pinfall; still WWE Champion
The House that AJ Styles Built STAYS AJ Styles' House! Rusev's first chance at a world title was truly phenomenal, but it surely won't be his last chance. Will Rusev fight his way back towards contention? Will Styles be champion when that time comes?
#AndStill ✅@AJStylesOrg #WWEChampionship #ExtremeRules pic.twitter.com/lSPLERqXFp

— WWE (@WWE) July 16, 2018
Backstage Interview with Seth Rollins.
The Architect is moments away from his 30-Minute Ironman Match for the Intercontinental Championship with The Show-Off, Dolph Ziggler. Obvioulsy, Drew McIntyre will still be ringside, but Rollins knows the odds are against him. There's Ziggler, McIntyre and time to worry about, but Rollins just has to do what he must. It could take thousands of covers, but Rollins vows to walk out the NEW IC Champion. Steel City, there's only one thing left to do: #BurnItDown. Can Rollins do just that to take back the title?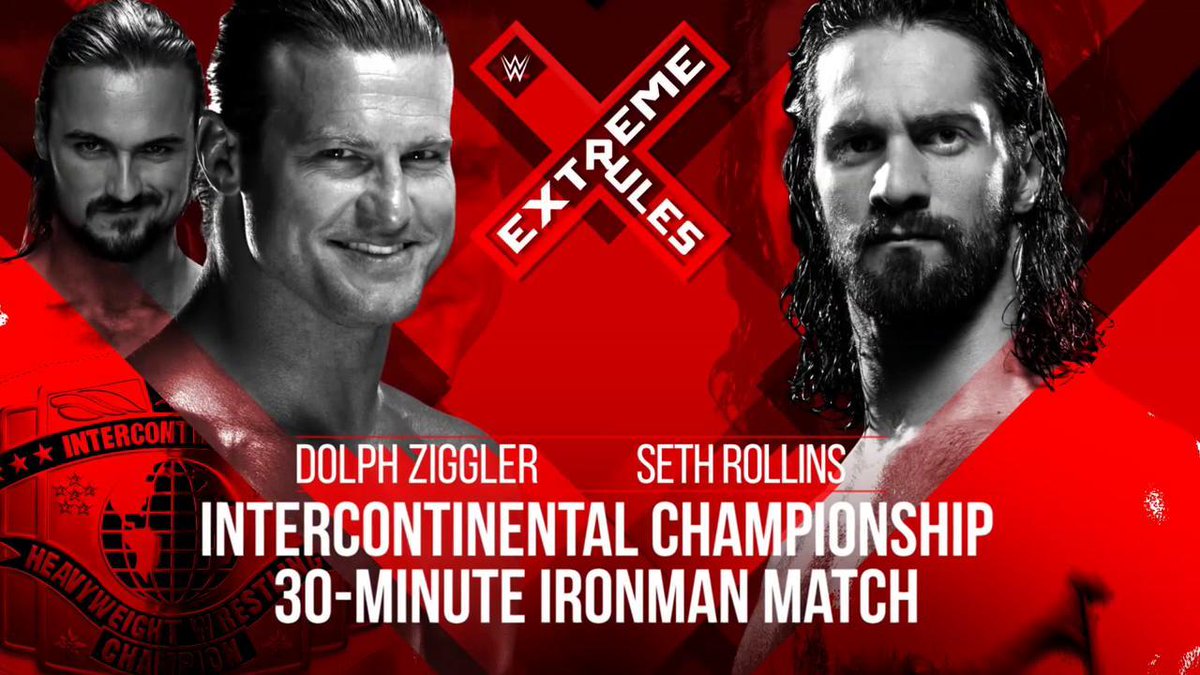 WWE Intercontinental Championship 30 Minute Ironman Match: Dolph Ziggler w/ Drew McIntyre VS Seth Rollins!
The Kingslayer has worked on becoming The Man again, and even the Ironman in giving the WWE Universe top level performances match after match. However, it was both the wear 'n' tear on his body and Ziggler's opportunistic nature that lost Rollins the belt. With the Scottish Terminator watching Ziggler's back, can Rollins overcome? Or will he be overwhelmed instead?
30 minutes on the ⏱.#ICTitle on the line.@HEELZiggler vs. @WWERollins

Are you ready? #IronMan #ExtremeRules pic.twitter.com/xgSJ5pw4m7

— WWE (@WWE) July 16, 2018
The introductions are made, the belt is raised and we begin our countdown! Rollins and Ziggler circle, feeling it out. Ziggler doesn't even have to try, he's the champion. Rollins gets his arm, and puts it in a hammerlock, but Ziggler gets the ropebreak. Rollins lets go, and the two circle again. Ziggler lunges in to get the leg, then brings Rollins down. Rollins manages to reverse, but Ziggler reverses back. Rollins reverses again, but Ziggler gets to ropes. The referee counts for the ropebreak, and Rollins honors it. Rollins and Ziggler circle again, tie up, but Rollins rolls Ziggler. ONE, and Ziggler backs off. They go again, tie up, and Ziggler rolls Rollins. Rollins pops out to backslide, ONE. Ziggler backs off again, and Rollins grins. Ziggler kicks, but Rollins blocks to roll him up. TWO, so Rollins whips.
Ziggler sunset flips but Rollins sits, TWO. Rollins snapmares to a crucifix, TWO. Ziggler bails out to walk it off. He and McIntyre regroup, but Rollins does jumping jacks to show off his cardio. Ziggler talks strategy with McIntyre, then returns. Rollins keeps his eyes on McIntyre, but is ready for Ziggler. He punches and chops, then whips to back elbow. Cover, TWO, but Rollins keeps going with a scoop slam. Cover, TWO, but Rollins keeps on Ziggler. Rollins chops then whips Ziggler. He runs in but is put on the apron. He springboards but Ziggler dodges to throw a haymaker. Ziggler grins as he brings Rollins up. Rollins spins through to powerbomb lift, buckle bomb! Then La Mahistrol, cover, Rollins gets the first fall!
Rollins: 1; Ziggler: 0
The Architect has the lead within just five minutes! This already smashes Ziggler's promise to shut Rollins out of this entirely. Before Ziggler can compose himself, Rollins goes after him. Ziggler elbows out but then gets brought down with a back suplex. Rollins gets to a corner and climbs up but Ziggler rolls out of the ring. Rollins changes plans to slingshot out! He wipes Ziggler out, then stares down the lurking McIntyre. Rollins whips Ziggler into barriers, then bumps him off the apron. McIntyre glares but that's all he can do to Rollins. Rollins puts Ziggler in the ring but Ziggler is on Rollins with hammering fists. Ziggler drags Rollins up for the neckbreaker. Cover, TWO! Ziggler drops an elbow, covers, TWO.
Frustration grows while the time ticks down. Ziggler brings Rollins up, and suplexes. Rollins slips out to chop Ziggler. Rollins whips Ziggler but Ziggler kicks him away. Ziggler runs but into a lariat. Rollins rallies and whips Ziggler corner to corner. Rollins runs in for a corner forearm, then runs again, but into a dropkick! Ziggler takes out Rollins' leg, then runs to Famouser. He misses, Rollins rolls him up, but Ziggler reverses. TWO, high stack, but deadlift powerbomb! Ziggler sunset flips through, CURB STOMP from Rollins!! Cover, Rollins gains another cover!
Rollins: 2; Ziggler: 0
2-0, @WWERollins. 21:58 to go! #IronMan #ExtremeRules pic.twitter.com/vnVs9waqqA

— WWE (@WWE) July 16, 2018
Ziggler finds himself in a bad way at just 8 minutes passed. Not only has he not shut Rollins out, but he's behind the 8-ball. Rollins takes his time now, but he might be getting cocky as he stomps "Burn it Down!" But then McIntyre attacks! That's a disqualification, or in this case, another point!
Rollins: 3; Ziggler: 0
McIntyre wails away on Rollins with hammer fists and elbows. And he won't stop until he's thoroughly rocked Rollins. This puts Rollins up more, but that won't stop him! McIntyre rams Rollins into the apron, the barrier and back again! This is all part of the same fall, but the referee EJECTS McIntyre! Ziggler's ace is no longer useful. Or is he? Because he hits Rollins with a CLAYMORE! The clock has reached 20 minutes and counting, but Rollins is vulnerable. Ziggler crawls over, covers, and gets on the board!
Rollins: 3; Ziggler: 1
The Show-Off shakes the cobwebs out and sees time is of the essence. He needs two falls, and McIntyre has just about served Rollins up for him. Ziggler aims while Rollins stands up, SUPERKICK! Cover, Ziggler gets another point.
Rollins: 3; Ziggler: 2
McIntyre's ejection was not in vain, because Ziggler has caught up in no time at all. Perhaps this was their plan all along. Ziggler takes aim again, stomping a la HBK, but Rollins dodges! Roll up, TWO, and Ziggler uppercuts quickly. He throws Rollins into a post! ZIG ZAG! Cover, Ziggler ties it up!
Rollins: 3; Ziggler: 3
We're back to square one with just over 17 minutes left. But at the same time, it's not even at all with as beat up as Rollins is from McIntyre's attack. Ziggler aims at Rollins again, but Rollins denies another Zig Zag. He dodges the splash in the corner, then boots in another corner. Rollins climbs up, but has to jump over Ziggler. He gets the Slingblade! Ziggler flounders while Rollins fires up. Rollins clotheslines Ziggler out of the ring, then builds speed. Rollins runs into a forearm! Ziggler covers, but uses the ropes! The ref didn't see it, Ziggler gets the point!
Rollins: 3; Ziggler: 4
The ref missed a major detail in that fall, but there's no stopping things now. Ziggler puts Rollins in an armlock, gripping the chin, as well. Rollins endures while Ziggler goes to make it a sleeper. He fights his way out, but Ziggler wrangles him down with a facelock. Rollins fights his way up again, and pries his way out of the hold. Ziggler kicks low, but misses the haymaker. Ziggler slips out of the back suplex to jump on for a sleeper hold! He brings Rollins back down, and Rollins starts to fade.
The clock goes below 13 minutes now, but Rollins gets a second wind. Rollins gets up, fans rally up for him, but Ziggler becomes a backpack. Rollins backs Ziggler into a corner, but Ziggler keeps hold. So Rollins tries again, but facing forward! Ziggler hits buckles, then lets go of the hold. Rollins gets away while he catches his breath. Ziggler stands up, and Rollins clotheslines him out. Rollins fires up, builds speed, and DIVES! It hits! Rollins hurries to put Ziggler in the ring, but Ziggler rolls all the way out to the other side. So Rollins DIVES again!
#TheArchitect has found new life in this #IronMan Match! @WWERollins #ExtremeRules pic.twitter.com/ZhIlLrayoU

— WWE (@WWE) July 16, 2018
He takes Ziggler out again, but he's not done yet. Rollins gets Ziggler back in and takes aim from the apron. Springboard clothesline! Cover, TWO! The clock reaches 10 minutes, the final third of this match. Rollins brings Ziggler up but Ziggler elbows him away. Ziggler runs into Rollins' boot, then Rollins hits the blockbuster! Cover, TWO! Rollins knows he has to hustle, so he heads up top. Ziggler dropkicks him all the way down! Ziggler is content to have a count out, and he ushers for the ref to count. Rollins stirs at 5, but manages to beat the count at 9.5. He stops the DDT to mule kick and Revolution Knee! Cover, TWO!
Rollins grows frustrated as he sees there's only 8 minutes left. He hurries up top again, but Ziggler trips him up. Ziggler is in no rush, but Rollins grabs at him! Rollins drags Ziggler up to the top rope, but Ziggler fights back. Ziggler tries to make it a superplex but Rollins fights him back. Rollins headbutts Ziggler down and adjusts, for the FROG SPLASH! Cover, TWO! Ziggler continues to deny another tie. Rollins crawls after him, but Ziggler clutches the ropes. Rollins has no choice but to stop a second, so he baseball slide dropkicks Ziggler out. He drags Ziggler up around and puts him in the ring. Rollins hoists Ziggler up top, positions him, then climbs up.
Rollins wants the superplex, but Ziggler fights back. Ziggler knocks Rollins down as we reach 5 minutes. Rollins springs back up, SUPERPLEX! Roll through to Falcon Arrow! Cover, TWO!! We're still tied! Rollins and Ziggler slowly stir, and time continues to be Rollins' enemy. Rollins gets up and fans chant "Burn It Down!" Mule kick but Ziggler dodges the stomp. Ziggler kicks out the leg and rolls Rollins, TOW. Rollins denies the superkick to catapult Ziggler into a post. Sunset flip, Rollins ties it back up!
Rollins: 4; Ziggler: 4
Just under 3 minutes and we're tied again! This is still anyone's match, and both men stand. Ziggler throws furious hands on Rollins but Rollins trips him up. Rollins goes for a Sharpshooter! And gets it! Ziggler endures, watching the clock. We hit the 2 minute warning as Ziggler crawls for the ropes. Rollins shifts to a crossface, and rolls Ziggler away from the ropes! Ziggler endures, but he can't get anywhere. He grips the mat, drags himself around blindly, so Rollins goes to stomp. Ziggler dodges and rolls away! Rollins pursues but Ziggler tries to run away. We hit the final minute! Rollins puts Ziggler back in but Ziggler hits a FAMOUSER! Cover, TWO!! Less than 30 seconds, Ziggler knows he's got Rollins where he wants him. Ziggler tunes up, but Rollins SUPERKICKS first! CURB STOMP! But he has to crawl for a cover! TIME'S UP!!
Result: Draw; Ziggler retains the WWE Intercontinental Championship
Time's up. ⌛️#ExtremeRules #IronMan pic.twitter.com/QTCmxXSVQz

— WWE (@WWE) July 16, 2018
Time slipped through Rollins' fingers, as has the title. Ziggler gets away by the skin of his teeth, but the fans don't like that. Neither does Kurt Angle! The Raw GM appears to say that match was truly incredible. "But nothing is settle." He knows the WWE Universe doesn't want a tie, and especially not here in Pittsburgh! Therefore, this match is sudden death! Next fall wins it all, "Ring the bell!" Ziggler is stunned, but Rollins is fired back up. The bell rings again, and we begin again!
Sudden Death
But where did McIntyre come from!? Rollins dropkicks him away, but Ziggler Zig Zags!! Cover, Ziggler wins!!
Winner: Dolph Ziggler, by pinfall; still WWE Intercontinental Champion
What happened to the ban from ringside?! Where and when did McIntyre even come out to ringside again!? Ziggler officially wins, but he officially did it with another ace up his sleeve. Will Rollins get a fair rematch next time? Or has Ziggler stolen the title away from him once and for all?
It's all said and done… and @HEELZiggler is STILL your #ICChampion!@DMcIntyreWWE #ExtremeRules #IronMan pic.twitter.com/k6eu3DPJ8a

— WWE (@WWE) July 16, 2018
---
My Thoughts:
This was definitely a mixed bag of a PPV. The kickoff matches were again better than expected. Almas VS Sin Cara was fast paced as their SmackDown version, but a bit riskier with that outside huricanrana. Almas still wins to keep himself strong, but they can't go wrong with more. The Six Man Tag Taebles match was great, as the New Day have always given us great matches. But again, SAnitY wins to keep their momentum. Then the surprise of the night opens with B TEAM WINNING. I don't even know what to say. I knew Balor would win, he needs something for himself, and to perhaps extend the feud with Corbin. His kickoff interview promo might even set him up as the next Authority target a la Daniel Bryan.
I really like how they played with the Shark Cage match. Ellsworth trying to help Carmella was expected by everyone, including Asuka, so instead they used the cage itself to my surprise. Carmella wins, which is bad for Asuka's booking because, c'mon, it's Asuka! When is she gonna get her big win in this post-Streak phase of her career? But then the quick win for Nakamura makes sense in two ways: 1) It's Heel Nakamura, of course he's going to use the low blow somehow; 2) Hardy needs time off for recovery from his injured knee. Therefore, Nakamura can be champion while Orton surprisingly returns to throw his name into that title hunt. There can also be any number of SmackDown stars joining that title hunt, such as Almas, Samoa Joe or even Tye Dillinger to wrap up their stories into one big Summerslam match.
How is Kevin not dead? That cage spot that brought him the win could've been really bad, but thankfully the tables weren't that far away. I wonder if Kevin will be off until after Summerslam, just so he won't get beat up by Strowman anymore. And with Angle's ultimatum to Lesnar, Strowman can move on to target The Beast. And by that, I hope Strowman cashes in the very second Lesnar appears. I did NOT think Lashley was going to beat Roman, but that match was better than Pittsburgh was willing to give credit. If it wasn't Roman, fans would've enjoyed the slug fest it was. But now we can get the tease of Lashley VS Lesnar, with Strowman lurking. I did not think Bludgeon Brothers would attack before their match, but in a way, that keeps everyone strong. I hope we get a rematch on the way to Summerslam.
The Women's Extreme Rules went roughly how I expected with Ronda getting involved, but I should've realized Mickie and Natalya would've been thrown in, too. That little wrinkle is even more reason why Alexa retains so that Ronda can go after her at Summerslam. Nia might also have a case for another try, so maybe a triple threat? I was disappointed THE WWE Championship wasn't the main event, but the match itself was great. Rusev looks so strong, even in losing, time will tell what he does next. That Ironman match was pretty great, but the fact it was the main event almost telegraphs that it was going to sudden death. I was truly shocked McIntyre returned to screw Rollins over, but I can't be sure Angle gives him another shot just because.  Rollins has been the kind to accept earning things, so maybe he'll fight his way back.
My Score: 8.1/10
---
Always Use Your Head and visit the official Pro Wrestling Tees store for The Chairshot All t-shirt proceeds help support the advancement of your favorite hard-hitting wrestling website, The Chairshot!

---