Binge-Watch Guide to Best of the Super Jr. 25 (Part 1)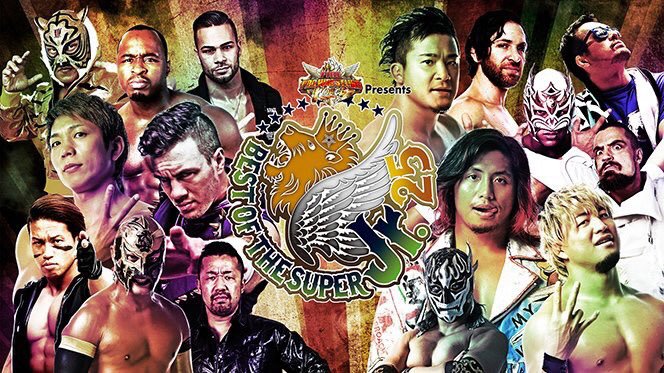 With the stacked Dominion card set for next Saturday, you may be one of the many new subscribers to njpwworld.com.  If you've been waiting anxiously for Dominion on June 9th, you should definitely be watching the Best of the Super Juniors while you wait.
If you are unfamiliar with what I am talking about, the Best of the Super Juniors is New Japan Pro Wrestling's annual round robin tournament that showcases their junior heavyweight division along with talent from Ring of Honor and CMLL.  Past winners include Jushin Thunder Liger, Finn Balor, Ricochet, Will Ospreay and Kushida (among many others).
Winners of each match will earn 2 points, both competitors will earn 1 point in a 30 minute draw, and losers earn 0 points.  The top two point earners from each block will meet in the finals on June 4 and the winner will face the IWGP Junior Heavyweight Champion, Will Ospreay at Dominion on June 9.  Now that I have your attention, I have provided a guide to make your viewing experience a little easier.  The tournament is drawing near to a close but all these matches are available on-demand at njpwworld.com.  This first installment will cover Night 1 (5/18) through Night 7 (5/26).  Now let's meet the competitors.
A Block 
Tiger Mask
Flip Gordon
ACH
Taiji Ishimori
YOH
Yoshinobu Kanemaru
Bushi
Will Ospreay (c)
B Block
Marty Scurll
Ryusuke Taguchi
SHO
Dragon Lee
Chris Sabin
El Desperado
Kushida
Hiromu Takahashi
Matches to Watch
ACH v. Flip Gordon – Night 1 (5/18)
As the first A Block match in the first night, these two really kicked off the tournament in proper fashion.  Both Gordon and ACH fought all throughout the bleachers while also providing hot action in the ring.  This is the first BOSJ appearance for Flip Gordon but it definitely wont be his last after impressing so early.
Hiromu Takahashi v. Marty Scurll – Night 2 (5/19)
Both former title holders, Takahashi and Scurll have proven they can be cornerstones in the junior heavyweight division.  They revisit their feud from earlier this year while also showing why they are two of the most entertaining talents in the world today.
Bushi v. Taiji Ishimori – Night 3 (5/20)
I decided to include this match because it was one of the better showings from each man.  Bushi is a former IWGP Junior Heavyweight champion and Ishimori is the Bullet Club's newest member.  That being said, all eyes have been on Ishimori as an early favorite to win the whole tournament.  Champion, Will Ospreay got a pretty solid match out of both Bushi and Ishimori on 5/26 and 5/18, respectively.
Night 4 (5/22) – Chris Sabin v. SHO, Ryusuke Taguchi v. Dragon Lee, Marty Scurll v. Kushida, & Hiromu Takahashi v. El Desperado
This night showed why the B Block is the superior block among the two.  I don't have enough good things to say about these matches.  I thought Chris Sabin and SHO was going to be my match of the night but then things never really plateaued or declined.  Dragon Lee is one of my favorite juniors in the world but Taguchi was able to get a good comedy match out of him.  There were several moments before and during that match that reminded me of all the fun parts about wrestling.  Marty Scurll and Kushida then followed Sabin and SHO with a technical clinic of their own.  I was already riding the high of the first three matches but then Takahashi and El Desperado whipped out my favorite bout of the tournament.  Blurring the lines of kayfabe, these two decided to have an impromptu street fight that had some hints of realness to it.  They literally rearranged the seats of Korakuen Hall.
Will Ospreay v. YOH – Night 5 (5/24)
I was intrigued to see how the two halves of Roppongi 3K, SHO and YOH, would look in singles action.  Before their transformation from the Tempura Boyz to Roppongi 3K, I had only seen them in very limited fashion.  Their matches with the Young Bucks were some of my favorite tag matches of the year but they have really held their own as singles competitors.  You saw SHO the previous night.  Now watch YOH headline Night 5 against the champ.
Night 6 (5/25) – Chris Sabin v. Marty Scurll & Hiromu Takahashi v. Dragon Lee
Chris Sabin and Marty Scurll were able to reignite the feud between the Motor City Machine Guns and the Bullet Club in a very abbreviated fashion.  This match felt like a house show match but in the best way possible.  It was just a lot of fun.  I was worried Sabin wouldn't have great chemistry with these guys because he doesn't get to wrestle them very often anymore.  Seeing how this is his second appearance on my list, that clearly hasn't been a problem.  Last year, Takahashi and Dragon Lee had one of my favorite matches in all of 2017.  They have an incredible rapport and a rivalry that always provides matches filled with chops and dangerous spots.  With this being his third appearance on here, Hiromu Takahashi is my tournament MVP so far and my pick to win the tournament.
NOAH WEEKLY NEWSLETTER VOL.119 ~ 24TH JANUARY 2021
A former King of Pancrase and Triple Crown champion steps up to challenge for the GHC National title at Budokan! NOAH shaping up for their biggest event in a decade!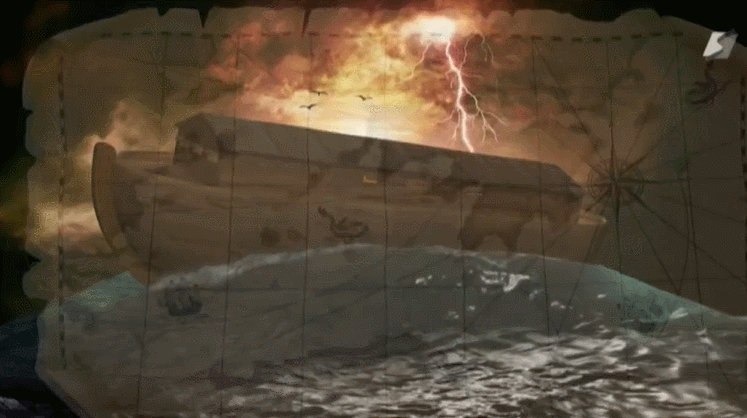 A former King of Pancrase and Triple Crown champion steps up to challenge for the GHC National title at Budokan! NOAH shaping up for their biggest event in a decade!
NEWS
Hajime Ohara tests positive for COVID-19
It was announced on the 22nd January that Hajime Ohara had tested positive for Covid after a routine PCR test. The Osaka card was changed with YO-HEY filling in for him. Ohara has not shown any symptoms of fever, cough or loss of taste so far, and temperature taken on the morning of the 24th January was normal. Ohara is isolating at home, and true to form is studying (he was taking an online English class), and and eating nutritiously. He is determined to be back to NOAH for The Budokan.
In Osaka, the roster paid tribute to him, with YO-HEY making the Muy Bien sign, and Naomichi Marufuji finishing his promo (tantrum) with "Muy Bien".
Kenoh from Murakami to Masakatsu
In a match that lasted only nine minutes and forty seconds, which was really for how long it needed to last, Kenoh defeated Kazunari Masakatsu for the GHC National title in Osaka on the 23rd January 2021. The match started off somewhat MMA style, and went to mat wrestling. Kenoh got his own back on Murakami for felling him with a closed fist, by doing the same, but this seemed to only make Murakami mad and he unleashed a volley of kicks and punches on Kenoh. After a brief loss of temper, Kenoh came to his senses and realized that he was going to have to take Murakami down, and he did it by using the sleeper hold, which caused the referee to stop the match.
Almost immediately after the match had finished, Masakatsu Funaki made his challenge. He simply pointed at the belt and asked Kenoh to be his next challenger. Kenoh accepted the challenge, and set it for the Nippon Budokan (12th February 2021), but backstage rather than scream abuse about his opponent, he actually said that he was it was exciting and he was looking forward to it. Murakami he said he had also enjoyed the match with, although he admitted to being scared by him.
Masakatsu Funaki seemed to have a few different reasons for challenging; he had the image of being a champion alongside Mutoh, Kenoh was not something he had experienced before, and he felt that the time was now to do it. He was also complimentary about Kenoh, saying that he was "in his thirties and riding high". Funaki makes the third MMA fighter to have challenged Kenoh.
EVENT RECAPS & POST MATCH PROMOS
Event recap: HIGHER GROUND 2021 (January 23rd, Edion Arena Osaka 2nd Stadium)
Post match interviews: HIGHER GROUND 2021 (January 23rd, Edion Arena Osaka 2nd Stadium)
ELSEWHERE IN NOAH
~ Atsushi Kotoge admitted some jealousy of Daisuke Harada.
~ Mohammed Yone did some catering for the roster on the way home from Osaka.
~ Naomichi Marufuji won the chop challenge against Go Shiozaki, then got annoyed at it being pointed out that he beat Shiozaki in the challenge, but wasn't the one to make the pin and win the match. Pointed out that HE was the senior to them, and would take both their belts, "so I can enter last and show them off". And then walked off.
~ Takashi Sugiura says he aims to create a new record, and become the GHC Heavyweight Champion at the age of 50, however if Keiji Mutoh defeats Go Shiozaki for it, he will do it when he is 60.
CURRENT CHAMPIONS
ALL the titles, except the GHC Heavyweight Tag, have been challenged for and the matches will take place at The Budokan. Fans are hoping that Katsuhiko Nakajima and Masa Kitamiya will challenge, especially as they are teaming together against Takashi Sugiura (Kazushi Sakuraba is absent) on NOAH's last show before The Budokan, on the 31st January.
THIS WEEK IN NOAH
Sunday 31st January: "HIGHER GROUND 2021" (11.30am JST, Korakuen Hall.)
BROADCASTS
NOAH's 23rd January show from Osaka will be available to view on WRESTLEUNIVERSE on Tuesday 26th January. The GHC National title match, and the main event were streamed live through Periscope.
The 31st January event at Korakuen Hall has not had broadcast details announced yet.
LINKS
"Parasyte" Kazunari Murakami's plan to take over the REIWA Ark
"For us, The Budokan is the beginning rather than the "Return" ~ Interview with Yoshiki Inamura
Kazushi Sakuraba has an astonishing determination to "become the Takako Tokiwa" of the Pro Wrestling World
Pro Wrestling Casebook ~ a shock ran through Michinoku, when Kenoh announced he was joining Noah (2013)
"Aiming to become the GHC Champion, in the year of my 60th birthday" ~ Takashi Sugiura
GIF taken from Noah's Periscope
Match graphic taken from the Official NOAH Twitter
NOAH WEEKLY NEWSLETTER VOL.118 ~ 18TH JANUARY 2021
The GHC National competitors continue to heat up right before their clash on the 23rd! The NOAH Juniors also stay…well the Juniors. Hisame explains if you don't know!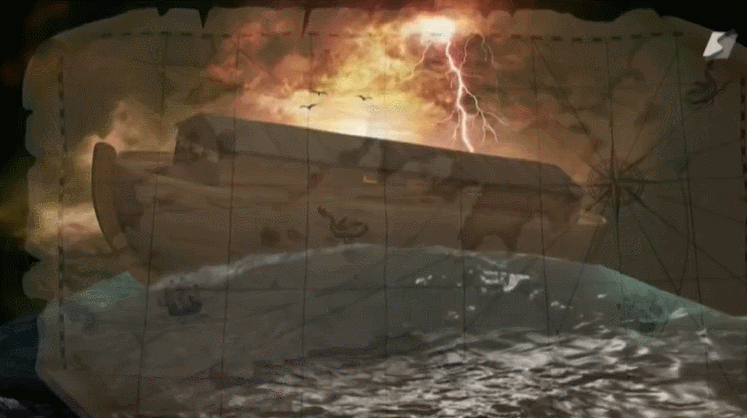 The GHC National competitors continue to heat up right before their clash on the 23rd! The NOAH Juniors also stay…well the Juniors. Hisame explains if you don't know!
NEWS
Kenoh vs Kazunari Murakami
Kenoh and Kazunari Murakami had their one and only pre-match on the 16th January at Yokohama Radiant Halls. Murakami was repeatedly told off during the match for punching (mainly Kenoh) with a closed fist. However, it was Tadasuke who he choked out, and the referee stopped the match.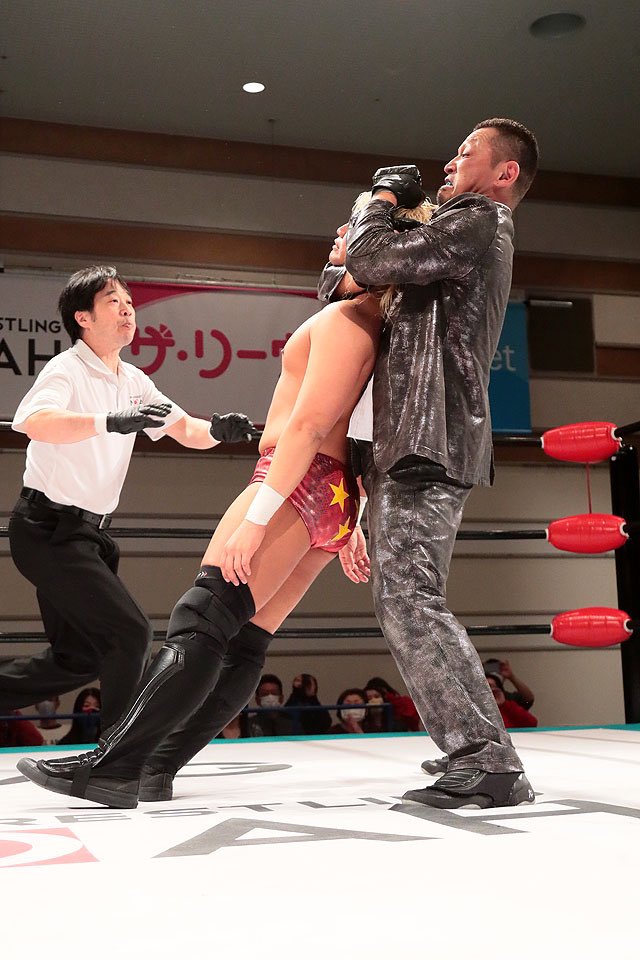 Afterwards, rather than scream and swear (like he would if it were Kaito Kiyomiya, Takashi Sugiura, Naomichi Marufuji or really anyone who Kenoh hates), Kenoh studied Murakami almost as if he was trying to work him out. Backstage Kenoh said in a promo which didn't involve angry swearing, that although he hated Murakami "from the bottom" of his heart, he would play him at his own game. Was it okay to punch with a closed fist while wearing open fingered gloves? "Was that wrestling?" Kenoh has sworn he will show him "the true Kenoh". Title match will take place on the 23rd January at the Osaka Edion Arena.
STINGER retain against Kongoh; challenged by mortal enemies
Although Nioh's hubris led him to say that if he had two victories over HAYATA in a row, a third would follow, he and Haoh were unsuccessful in capturing the tag team titles and swinging the balance of power in the volatile NOAH juniors to their favor, when HAYATA pinned Haoh to retain the titles. Although it was never said by Yoshinari Ogawa, fans got the impression that HAYATA was walking a very thin line.
After the match, STINGER were celebrating their victory, when they were jumped by Kotaro Suzuki, NOSAWA Rongai and Ikuto Hidaka, who threw HAYATA from the ring, kept Susumu (who had been at ringside) out, and stamped down on Yoshiari Ogawa, before Kotaro challenged for the titles saying, "The next is Hidaka and I. You can't refuse. The place is the Nippon Budokan". The pair of them threw the tag belts down that NOSAWA had draped over them, as HAYATA crawled back into the ring. For the second time, it was up to quiet shy HAYATA (who managed to keep his back to any cameras) to accept the challenge. Laconic as ever, HAYATA simply said "Next…you".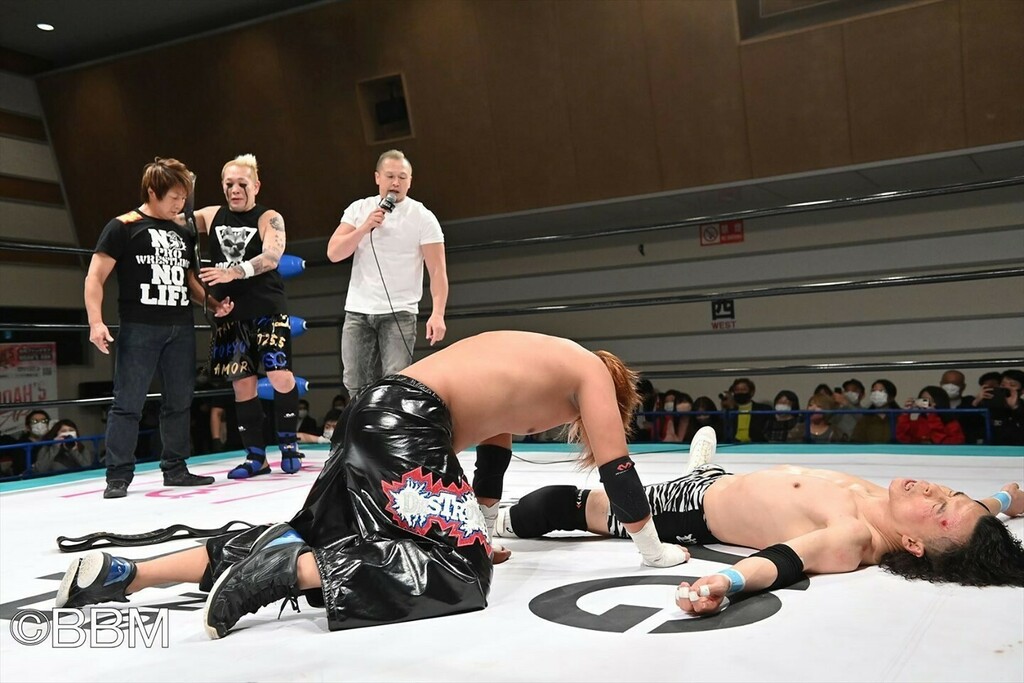 Match has been set for the 12th February at The Nippon Budokan. The pre-matches, however, start on the 23rd January.
You can watch the title match for free here (NOAH streamed it through Periscope)
(This made my Match of The Year 2021 list)
EVENT RECAPS & POST MATCH PROMOS
ELSEWHERE IN NOAH
~ Shuhei Taniguchi tried "Disco Dancing", except it looked more like some crazy jig.
~ Seiki Yoshioka is slowly discovering why HAYATA gave up speaking, by first of all reacting to YO-HEY verbally and wondering what he was talking about, and then reacting with "…?" after YO-HEY had babbled something about peanut butter.
~ Go Shiozaki and Naomichi Marufuji had a chop challenge. On Atsushi Kotoge's chest.
~ Yoshiki Inamura has declared that the Musou will be hunting Jun Akiyama at The Nippon Budokan.
~ NOAH are teasing a GHC Heavyweight tag title match by The Aggression. Nakajima has started talking about "natural" it feels, with Masa Kitamiya saying how much The Sugiura Army (especially Sugiura) irritate him.
~ Manabu Soya carried Tadasuke of the ring after being choked by Kazunari Murakami, as if he was going to Avalanche slam him.
~ NOSAWA Rongai told Kotaro Suzuki and Ikuto Hidaka that they had bad fashion sense, Hidaka's clothes were as bad as his promo skills, and that he felt sorry for the champions on that account.
~ Although the steel plate in his jaw was difficult to remove, Kaito Kiyomiya has made a good recovery and returned to the NOAH dojo. Naturally, he has not shown any pictures of his face.
~ The last time Go Shiozaki took a headbutt from Atsushi Kotoge, his head was split open and his teeth knocked out.
CURRENT CHAMPIONS
THIS WEEK IN NOAH
Thursday 21st January: Go Shiozaki (39)
Saturday 23rd January: NOAH "Higher Ground 2021" (Osaka Edion Arena 2nd Stadium)
BROADCASTS
 NOAH's Yokohama Radiant Halls event will be broadcast on WRESTLEUNIVERSE on the 19th January. The event on the 23rd January in Osaka will be broadcast on WRESTLEUNIVERSE on the 26th January. You must be a subscriber to view these events.
LINKS
Why did Yuki Sato, Dick Togo's apprentice, become "Haoh" in Noah?
The key point is "craziness" in the battle with Murakami to the "dream" of The National GHC defense at The Budokan
Pictures taken from Noah GHC