Binge-Watch Guide to Best of the Super Jr. 25 (Part 1)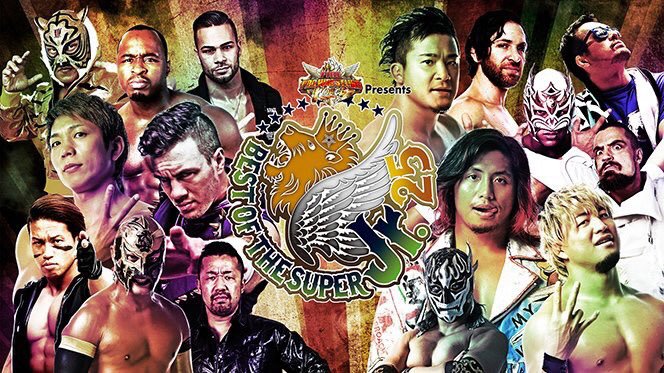 With the stacked Dominion card set for next Saturday, you may be one of the many new subscribers to njpwworld.com.  If you've been waiting anxiously for Dominion on June 9th, you should definitely be watching the Best of the Super Juniors while you wait.
If you are unfamiliar with what I am talking about, the Best of the Super Juniors is New Japan Pro Wrestling's annual round robin tournament that showcases their junior heavyweight division along with talent from Ring of Honor and CMLL.  Past winners include Jushin Thunder Liger, Finn Balor, Ricochet, Will Ospreay and Kushida (among many others).
Winners of each match will earn 2 points, both competitors will earn 1 point in a 30 minute draw, and losers earn 0 points.  The top two point earners from each block will meet in the finals on June 4 and the winner will face the IWGP Junior Heavyweight Champion, Will Ospreay at Dominion on June 9.  Now that I have your attention, I have provided a guide to make your viewing experience a little easier.  The tournament is drawing near to a close but all these matches are available on-demand at njpwworld.com.  This first installment will cover Night 1 (5/18) through Night 7 (5/26).  Now let's meet the competitors.
A Block 
Tiger Mask
Flip Gordon
ACH
Taiji Ishimori
YOH
Yoshinobu Kanemaru
Bushi
Will Ospreay (c)
B Block
Marty Scurll
Ryusuke Taguchi
SHO
Dragon Lee
Chris Sabin
El Desperado
Kushida
Hiromu Takahashi
Matches to Watch
ACH v. Flip Gordon – Night 1 (5/18)
As the first A Block match in the first night, these two really kicked off the tournament in proper fashion.  Both Gordon and ACH fought all throughout the bleachers while also providing hot action in the ring.  This is the first BOSJ appearance for Flip Gordon but it definitely wont be his last after impressing so early.
Hiromu Takahashi v. Marty Scurll – Night 2 (5/19)
Both former title holders, Takahashi and Scurll have proven they can be cornerstones in the junior heavyweight division.  They revisit their feud from earlier this year while also showing why they are two of the most entertaining talents in the world today.
Bushi v. Taiji Ishimori – Night 3 (5/20)
I decided to include this match because it was one of the better showings from each man.  Bushi is a former IWGP Junior Heavyweight champion and Ishimori is the Bullet Club's newest member.  That being said, all eyes have been on Ishimori as an early favorite to win the whole tournament.  Champion, Will Ospreay got a pretty solid match out of both Bushi and Ishimori on 5/26 and 5/18, respectively.
Night 4 (5/22) – Chris Sabin v. SHO, Ryusuke Taguchi v. Dragon Lee, Marty Scurll v. Kushida, & Hiromu Takahashi v. El Desperado
This night showed why the B Block is the superior block among the two.  I don't have enough good things to say about these matches.  I thought Chris Sabin and SHO was going to be my match of the night but then things never really plateaued or declined.  Dragon Lee is one of my favorite juniors in the world but Taguchi was able to get a good comedy match out of him.  There were several moments before and during that match that reminded me of all the fun parts about wrestling.  Marty Scurll and Kushida then followed Sabin and SHO with a technical clinic of their own.  I was already riding the high of the first three matches but then Takahashi and El Desperado whipped out my favorite bout of the tournament.  Blurring the lines of kayfabe, these two decided to have an impromptu street fight that had some hints of realness to it.  They literally rearranged the seats of Korakuen Hall.
Will Ospreay v. YOH – Night 5 (5/24)
I was intrigued to see how the two halves of Roppongi 3K, SHO and YOH, would look in singles action.  Before their transformation from the Tempura Boyz to Roppongi 3K, I had only seen them in very limited fashion.  Their matches with the Young Bucks were some of my favorite tag matches of the year but they have really held their own as singles competitors.  You saw SHO the previous night.  Now watch YOH headline Night 5 against the champ.
Night 6 (5/25) – Chris Sabin v. Marty Scurll & Hiromu Takahashi v. Dragon Lee
Chris Sabin and Marty Scurll were able to reignite the feud between the Motor City Machine Guns and the Bullet Club in a very abbreviated fashion.  This match felt like a house show match but in the best way possible.  It was just a lot of fun.  I was worried Sabin wouldn't have great chemistry with these guys because he doesn't get to wrestle them very often anymore.  Seeing how this is his second appearance on my list, that clearly hasn't been a problem.  Last year, Takahashi and Dragon Lee had one of my favorite matches in all of 2017.  They have an incredible rapport and a rivalry that always provides matches filled with chops and dangerous spots.  With this being his third appearance on here, Hiromu Takahashi is my tournament MVP so far and my pick to win the tournament.