Binge-Watch Guide to Best of the Super Jr. 25 (Part 2)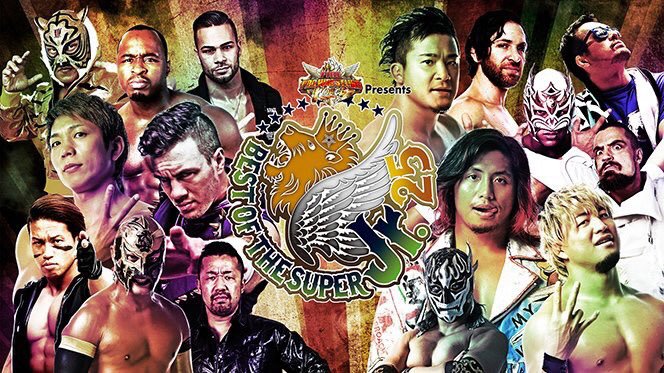 As the title would suggest, this is the second installment of my BOSJ watch guide.  You can read Part 1 here.  The tournament has since concluded but that's the beauty of on-demand over at njpwworld.com.  This guide will cover Night 8 (5/27) through the Finals on June 4th.
SHO v. Kushida – Night 8 (5/27)
I decided to include this one for the wrestling purists out there.  It was a slow burner but in a good way.  They took their time by showcasing a lot of chain wrestling and keeping the action in the ring.  Kushida worked a body part throughout the match and both showed off their technical prowess.
Night 9 (5/29) – Tiger Mask v. Taiji Ishimori & Will Ospreay v. Yoshinobu Kanemaru
Unfortunately, Tiger Mask and Kanemaru were both absent from my Part 1 list even though they both contributed.  I chose this night because it had the two biggest babyfaces pinned against the two biggest heels in the A Block.  Now you can be more invested in whichever side you choose to root for.  Any wrestling fan can also admire the 47 year old Tiger Mask doing a top rope Tiger Suplex every night.
Marty Scurll v. Dragon Lee – Night 10 (5/30)
If you read my last article you would know that I've recently become a big Dragon Lee fan.  This match is a good example why.  Just some really solid back-and-forth action with great pacing.  It kept my attention the whole time.  Also, as I look at my notes page I realized that I made a note about Marty every night he wrestled.  He did something to entertain me on a daily basis and I didn't even realize it.  That's the making of a true star.
Now I want to talk about a couple guys that I've really grown to love over the course of the tournament.
Ryusuke Taguchi
I've always known Taguchi to be a great babyface that provides the comic relief during the nights he's booked just as Toru Yano does.  What's great about Taguchi is that he can start a match with silliness for a whole 5-10 minutes then get serious before the conclusion.  The transition is usually so effortless that I don't even realize it happened until the match is over when I'm left to admire his work.
Matches to Watch: Hiromu Takahashi (5/27) & Marty Scurll (6/2)
El Desperado
I mentioned how his match against Hiromu Takahashi was my favorite in the tournament at this point but he really kept the ball rolling.  Him and his stable mate, Kanemaru would throw their opponents into the bleachers every night which always kept the fans entertained and on edge.  He's one of the biggest heels in the company so the fact that he enters the ring like Melina is fantastic.  Whether it was trying to out-villain Marty Scurll or innovating the use of weapons against Kushida, Despy always kept me thoroughly invested.
Matches to Watch: Marty Scurll (5/27) & Kushida (5/30)  
Night 11 (5/31) – Bushi v. Flip Gordon, ACH v. Taiji Ishimori, Tiger Mask v. Will Ospreay, & Yoshinobu Kanemaru v. YOH
In the last article I talked about how Night 4 was the big day for the B Block.  Everything just clicked.  That's what this night was for the A Block competitors.  In my opinion, it was the best showing for Bushi, Ishimori, Tiger Mask, and Kanemaru at this point in the tournament.
Hiromu Takahashi v. SHO – Night 12 (6/2)
If you looked solely at SHO's point total, you wouldn't think anything much of his BOSJ performance.  In reality, he was one of the most consistent competitors in the entire field.  Meltzer even gave his match with Dragon Lee on May 19 a 4.5 star rating.
Before we get into the last night before the finals, let's look at the highest point earners in each block.
A Block
Taiji Ishimori (8 points)
Will Ospreay (8 points)
Flip Gordon (6 points)
Tiger Mask (6 points)
Bushi (6 points)
YOH (6 points)
B Block 
Hiromu Takahashi (8 points)
Kushida (8 points)
Marty Scurll (8 points)
Chris Sabin (6 points)
Dragon Lee (6 points)
Night 13 (6/3) – Part 1: ACH (4) v. Tiger Mask (6), Bushi (6) v. Kanemaru (4), Sabin (6) v. Taguchi (4), & Dragon Lee (6) v. El Desperado (4)
These matches ultimately did not mean much because of the way the points and match-ups shook out but they were all very enjoyable in their own right.  ACH paid tribute to Tiger Mask, Bushi and Kanemaru renewed their rivalry, Taguchi had yet another fun match, and Dragon Lee and Desperado got personal.
Night 13 (6/3) – Part 2: Ospreay (8) v. Gordon (6), Ishimori (8) v. YOH (6), Scurll (8) v. SHO (4), & Takahashi (8) v. Kushida (8)
These are the matches the entire tournament boiled down to.  I'll run through some of the situations.  Ospreay needs a win and an Ishimori loss to advance but Kevin Kelly explained on commentary that Flip Gordon was not mathematically eliminated if he wins.  If both Ishimori and Ospreay win, Ishimori owns the tie-breaker because he beat Ospreay way back on Night 1.  YOH is also not out of the picture because he holds a win over  Flip.  That means Ishimori is the only man with a win-and-in situation.  Scurll can still advance to the finals but he needs a win plus a time-limit draw between Takahashi and Kushida.  Needless to say, things got really dicey down the stretch.
Best of the Super Juniors 25 FINALS (6/4) – A Block Winner vs. B Block Winner 
The BOSJ Final is always one of my Match of the Year candidates so I had high expectations.  I wont spoil anything but both men in the match blew me away.  The crowd was white hot for the entire duration and I genuinely did not know which way it was going to go.  It was easily the best match of the tournament and one of my favorites of 2018.  If star ratings are your thing, Dave Meltzer broke his scale again by awarding it 5.5 stars – tied for the highest rated of the year.  After watching it, I'm even more excited than I already was for the IWGP Junior Heavyweight Championship match at Dominion on June 9.  You'd be doing yourself a disservice if you choose not to watch.