Candice LeRae Needs To Turn Heel At NXT Takeover: Chicago
This is the story that WWE NXT needs to tell!
Women are at the heart of any a discussion headed into WWE Money In The Bank weekend. You have the performers involved in the third ever Money In The Bank Ladder Match for the women. You have Carmella defending her Smackdown Women's Championship against Asuka (who she is presumably not ready for), and of course you have former UFC champion Ronda Rousey opposite Nia Jax for the former's Raw Women's Championship. Even in NXT you have Nikki Cross getting a shot at Shayna Baszler and the NXT Women's Championship. But the woman you really need to keep an eye on is Candice LeRae.
Yes, that Candice LeRae.
EXCLUSIVE: @CandiceLeRae is "done" after @JohnnyGargano picked up some paperwork regarding #NXTTakeOver: Chicago… pic.twitter.com/H5txQBtA4O

— WWE (@WWE) May 25, 2018
As you can see in the video above, Candice LeRae the character is "done" with Johnny Gargano's issues with Tommaso Ciampa, since he supposedly exorcised the demon at NXT Takeover: New Orleans.
But NXT Takeover: Chicago offers a unique opportunity for husband (real life and on-screen) Johnny Gargano. Gargano is signed to fight Tommaso Ciampa in a Street Fight.
That isn't just any old Street Fight, it's a street fight that takes them both back to the scene of the crime, the city (and arena) where Tommaso Ciampa turned his back on Gargano and DIY in a brutal attack after the duo lost a ladder match to The Authors Of Pain (remember them?).
LeRae has been by Gargano's side through all of this, including his other battles with the likes of former NXT Champion Andrade "Cien" Almas (and Zelina Vega). But this time, she's taking a different stance.
"You're becoming the very thing that you despise."
This line is so very telling. Johnny Gargano has been called the "last white-meat babyface" by Triple H himself, and even though he might have another one at his disposal in Dakota Kai, Johnny Gargano is the pure babyface the likes of which we haven't seen since Ricky "The Dragon" Steamboat and Daniel Bryan, circa WrestleMania 30. And even then, Daniel Bryan's "YES Movement" started as the fans' reaction to his constant pleas of "NO!"
But there is one character–one person–more pure than Johnny Gargano. That person is Candice LeRae.
Candice is so pure, she cannot even fathom why her husband would put himself them through more of this. That Gargano is so obsessed with revenge, he is becoming the very thing he despises.
They wouldn't do that, would they?
Oh if you don't think they'd do that, you're dead wrong, pal!
Candice LeRae is an amazing performer, likely to retire with her best in-ring matches coming against (and teaming with) men. But she's about to pull off her greatest performance ever, when she turns on husband Johnny Gargano at Takeover: Chicago.
It's a simple story, really. She's not falling in love with Tommaso Ciampa, she's falling out of love with this new Johnny. The one more obsessed with vigilance and revenge than Disney World and butterfly kisses.
And look at the main man behind NXT: Triple H. The man basically booked himself into a real-life marriage with Stephanie McMahon, ruining the career (and maybe life) of Test in the process. Now he sits as the heir to the proverbial throne of the largest and most powerful pro wrestling entity in the world.
So yeah, they'd do that.
Candice LeRae and Johnny Gargano have a happy ending, right?
This one, in my opinion, does.  Maybe it stretches all the way to Takeover: NYC for WrestleMania 35 weekend, or maybe it ends in Phoenix the night before the Royal Rumble.
But I believe this ends with Johnny Gargano winning the NXT Championship, likely from Tommaso Ciampa, and more importantly regaining the love of Candice LeRae.
Johnny and Candice have a relationship solidified at the Magic Kingdom, and this story will have an ending equally suited to their beloved Happiest Place On Earth.
---
Hate this perspective? Tell me about it at @ChairshotGreg or gregdemarco@thechairshot.com!
King: Dominik Mysterio Needs To Do This At WrestleMania
Chris King is here with what WWE should do with Dominik Mysterio at WrestleMania in his long-awaited match against his father Rey Mysterio Jr.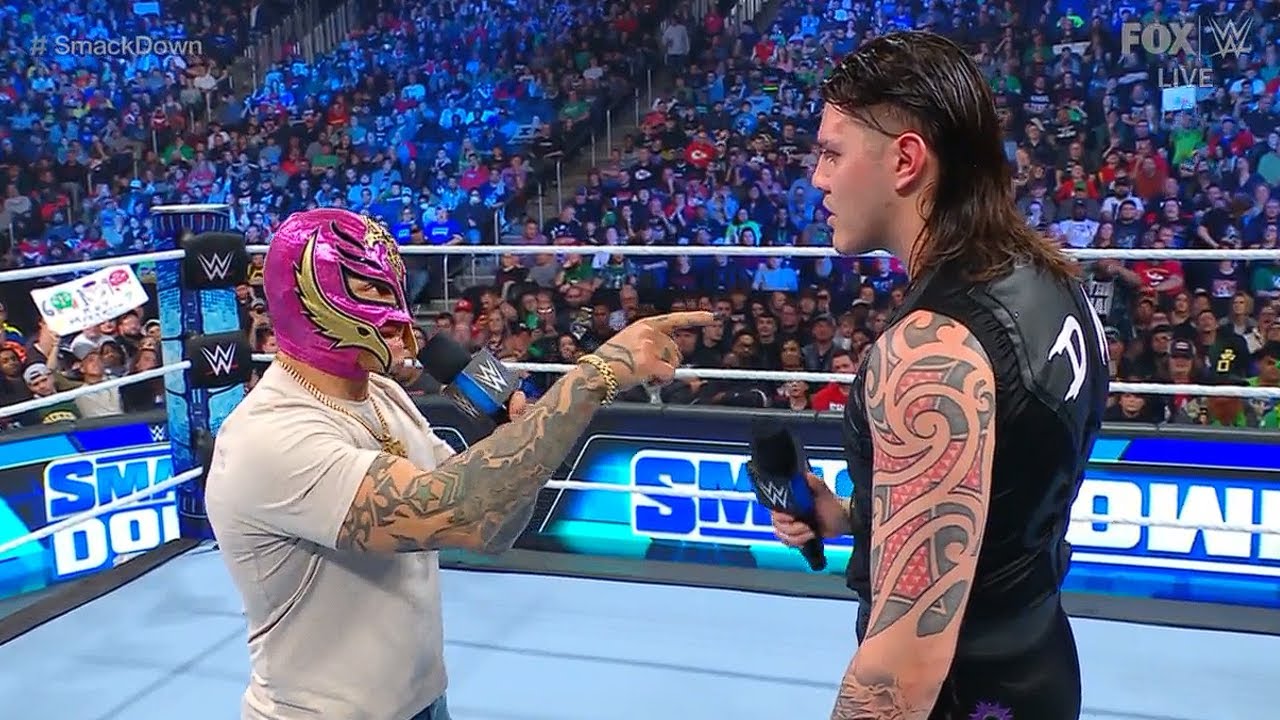 Chris King is here with what WWE should do with Dominik Mysterio at WrestleMania in his long-awaited match against his father Rey Mysterio Jr. 
On this week's episode of Friday Night SmackDown, Rey Mysterio finally snapped and beat some sense into his disrespectful punk-ass kid Dominik. The member of the Judgement Day came out to push his father again for a match on the Grandest Stage of Them All, this time with his mother and sister at ringside. The ungrateful punk told his mom to "Shut Up," as a father even I wanted to jump through the screen and whoop his ass.
Back in October of last year, Mysterio made the emotional decision to possibly quit the company but, instead, Triple H persuaded the Lucha libre superstar to move over to SmackDown to avoid his son. This came after Dominik shockingly turned on his father at Clash at the Castle. Mysterio did everything he could to refuse his despicable son's challenge for Mania but, a man can only be pushed so far. Mysterio will be inducted into the 2023 WWE Hall of Fame and I expect Dominik to embarrass his father during his speech to further this personal feud.
Yes, the WWE Universe hates Dominik and wants to see him get the ever-loving crap kicked out of him but, this feud is missing a special ingredient to capitalize on the biggest heat possible. Throughout this feud, Dominik has made mention of the legendary Eddie Guerrero on several occasions going back to the "iconic" 2005 feud.
I know WWE might not want to go this route but, Dominik MUST come out to Eddie Guerrero's theme at Mania. The disrespectful punk needs to come out in a lowrider to garner nuclear heat. It doesn't matter if The Judgement Day comes out and causes interference for Dominik to get the win, all that matters is that both superstars get the biggest payoff of this nearly year-long feud. Just imagine the Roman Reigns heat after he defeated The Undertaker and multiply that by ten. Dominik portrays the perfect heel and he truly is the missing ingredient that The Judgement Day needed to grow and evolve into a top faction.
King's WrestleMania Rewind: Eddie Guerrero vs. Rey Mysterio (WrestleMania 21)
In the next WrestleMania Rewind, Chris King takes us back to WWE WrestleMania 21, and Rey Mysterio vs Eddie Guerrero in a battle of tag team champions!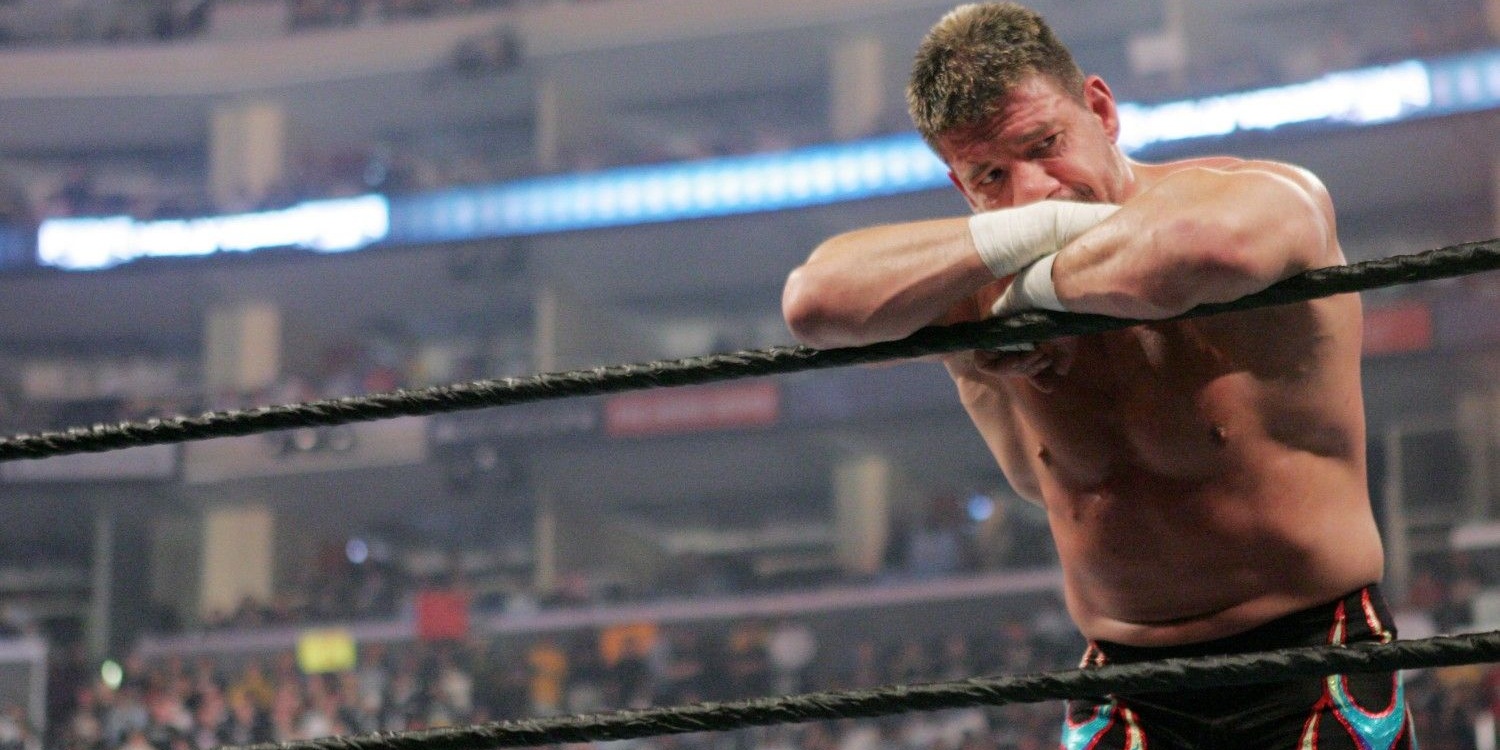 In the next WrestleMania Rewind, Chris King takes us back to WWE WrestleMania 21, and Rey Mysterio vs Eddie Guerrero in a battle of tag team champions!
Chris King is back with his third edition of WrestleMania Rewind. This week he's bringing us back to some 'Latino Heat.' We're rolling back to WrestleMania 21 where Eddie Guerrero faced longtime friend and rival Rey Mysterio.
This would be Guerrero's last Mania match caused by his unfortunate death. Over on SmackDown, Mysterio and Guerrero would become the tag team champions at No Way Out where they defeated MNM.
Chavo Guerrero would get into the head of Latino Heat by making him believe Mysterio was trying one-up his tag team partner. Chavo went as far as to tell his uncle to stop using the Guerrero name.
Guerrero would finally give in to his nephew's manipulation and went on to challenge Mysterio to a one-on-one match at WrestleMania 21. I For the first time in history, both tag team champions would face each other. Guerrero vs. Mysterio was the first match on the stacked card. Both partners threw everything at each other including the kitchen sink in a battle of one-up-manship.  In an incredible high-octane match that saw both superstars delivering counter for counter, Mysterio pulled off the win with a surprise pin roll up.
A few months later, what once was a friendly battle turned into a nasty fight involving the custody of Mysterio's real-life son Dominik Mysterio. After several torturous weeks, both former tag team champions would face off in a ladder match with the custody of Dominick on the line. I forgot how amazing this rivalry was and it's definitely worth a watch. Sadly, we would lose Latino Heat in November of 2005. There will never be another Eddie Guerrero. Viva La Raza!