Chairshot Classics: Monday Night Raw #2 (1/18/93)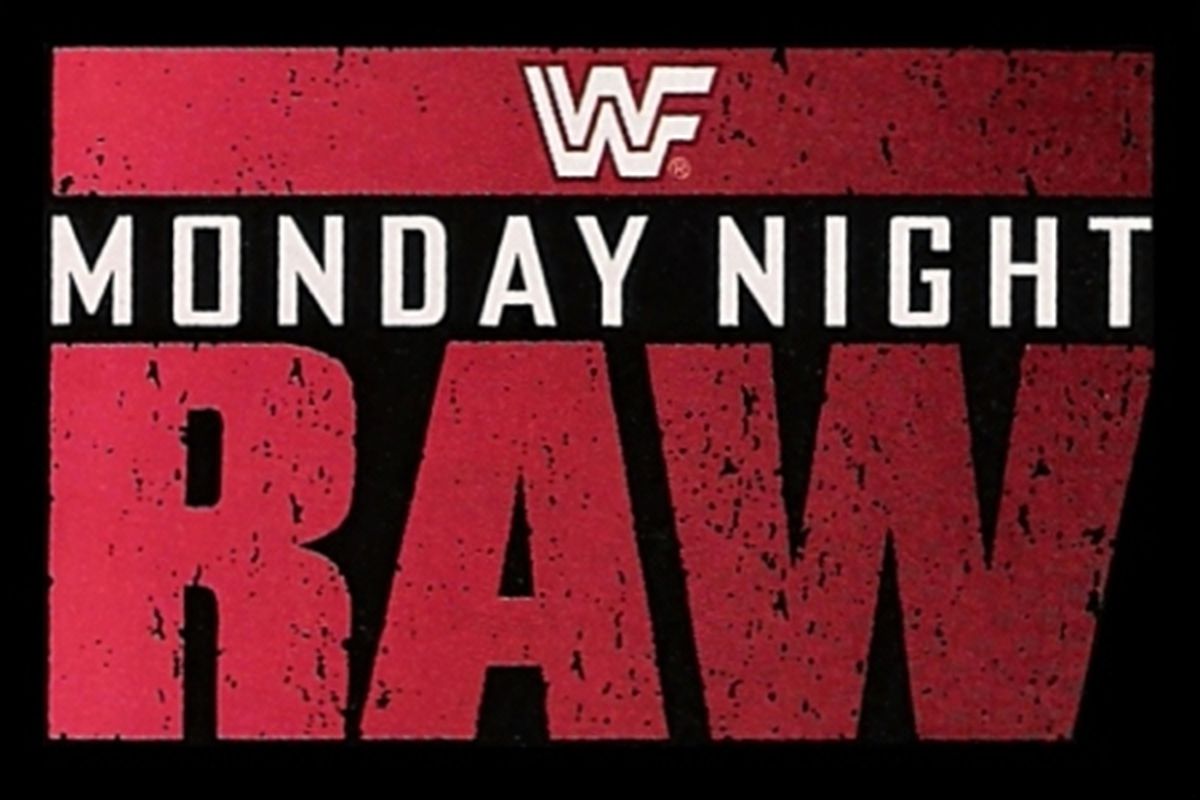 Ric Flair vs El Matador
El Matador is just Tito Santana from when we covered Hottest Matches with a Bullfighting gimmick. Not sure if it even is a new gimmick as they alternate between calling him El Matador and Tito Santana. His opponent is Ric Flair. Do I really need to introduce who he is?
A Collar and Elbow is turned into a Headlock by Matador but Flair pushes Matador off the ropes only for him to come back and knock Flair down with a Shoulder Block. Another Collar and Elbow is turned into another Headlock by Matador only for Flair to push Matador off the ropes again and be caught by another Shoulder Block by Matador. Flair gets to his feet and charges right into a Bodyslam by Matador and a Headlock takedown that gets Matador a two count. Matador holds Flair down with a Headlock, Flair tries to push his way out but Matador keeps his grip. Flair eventually pushes Matador off the ropes and gets hit by a Shoulder Block AGAIN! Matador bounces off the ropes and drops Flair with a Clothesline and then a Dropkick and gets another two count from another Headlock.
Back from the ads and Matador Irish Whips Flair but Flair grabs the ropes to counter a Monkey Flip allowing Flair to get a two count from a Roll Up. Flair jabs a thumb in Matador's eye and clobbers him with a series of Right Hands before a Snapmare and a Knee Drop to Matador's skull. In the corner, Flair hits a Chop an some Right Hands before Matador countered an Irish Whip and hits a huge Back Drop. Flair backs of into the corner where Matador hits Flair with 10 Punches. Flair jubs a tumb to the eye before climbing to the top turnbuckle to hit…… Flair has NEVER hit it. Never in his whole career, the opponent would always grab Flair and slam him from the turnbuckle to the canvas. There was no difference here as Matador slammed him down. Matador then Irish Whips Flair who clatters into the corner that he goes up, over and out of the ring. Matador follows and Clotheslines him on the arena floor. Back in the ring, Matador hits Flair with another Back Drop before hitting a High Knee and a Flying Forearm. Flair ducks a second Flying Forearm and sends Matador sailing over the top rope to the outside. At this point, Mr Perfect runs in and pulls Flair to the outside. Both men exchange punches as referees and officials separate them.
Winner: Ric Flair by DQ
Following the ads, Perfect and Flair are still brawling. Referees pull Perfect away while Flair heads to Vince McMahon. Flair says the WWE isn't big enough for both men. Flair challenges Perfect to a match next week where the loser leaves the WWE.
Just as Flair walks away, Mr Perfect arrives and accepts the challenge. Vince hypes that match and Randy Savage vs Repo Man for next week.
We see a shot of Repo Man with Savage's hat towing a car away and we fade out.
Post Show: Raw for a while will be an odd show as they try to find what Raw is. I'd say this was an OK show, there was a couple of decent matches but they won't go down as being great ones.
Match Of The Night: Mr Perfect vs Terry Taylor. I really liked this one. I think there were a few good moves in it.
MVP: Mr Perfect. I don't think anyone really stood out tonight but he won the MOTN so I'll give it to him.
Rating: 5/10
With that, I am done for another week. I can be found on Twitter @Callaweasy2220 where I live tweet Raw, Smackdown, NXT and, when there's one on, PPV and I babble on about any other bits and bobs of wrestling inbetween those as well as posting random screenshots of what ever I am reviewing.
I will be back next week with Raw's third episode along with the results of the Royal Rumble so until then #UseYourHead and ALWAYS have an angle!
"Drop to your knees Ric, drop to your Knees!"
---
Always Use Your Head and visit the official Pro Wrestling Tees store for The Chairshot All t-shirt proceeds help support the advancement of your favorite hard-hitting wrestling website, The Chairshot!

---
Chairshot Classics: Raw #3 January 25 1993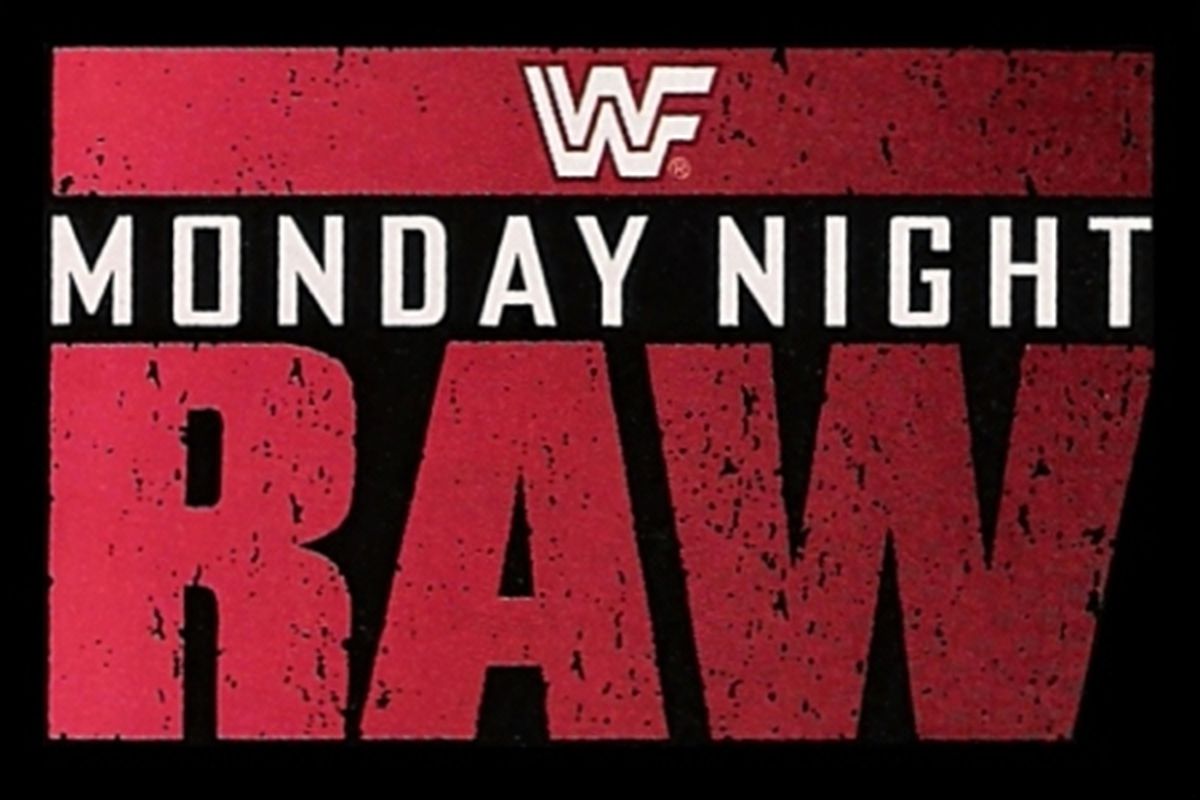 Helo and welcome everybody to the next and latest instalment of our weekly trips through Monday Night Raw. Last night (in 1993 anyway) was the Royal Rumble pay per view. I did promise the results and here they are:
Rick Steiner & Scott Steiner beat Blake Beverly & Beau Beverly when Scott Steiner pinned Blake Beverly after a Frankensteiner
Shawn Michaels beat Marty Jannetty to defend the Intercontinental Title after a Superkick
Bam Bam Bigelow beat The Big Boss Man after a Diving Headbutt
Bret Hart beat Razor Ramon to defend the WWE Title after a Sharpshooter
Yokozuna beat Rick Martel, Ted DiBiase, Owen Hart, Ric Flair, Max Moon, Jerry Saggs, Bob Backlund, Jerry Lawler, Randy Savage, Papa Shango, Terry Taylor, Repo Man, Koko B Ware, Carlos Colon, Damian Demento, Brian Knobbs, Mr Perfect, El Matador, The Undertaker, The Berzerker, IRS, Tatanka, Fatu, Skinner, Earthquake, Tenryu, Samu, Typhoon and Virgil to win a Royal Rumble Match last eliminating Randy Savage
Or for more details, written by the lovely people at CHAIRSHOT feel free to head here:
http://thechairshot.com/2018/06/chairshot-classics-wwf-royal-rumble-93/
Right! Everyone caught up? Good, because that means it's time for…
Raw #3
January 25 1993
Sean Mooney is STILL outside in the cold. He is joined by Repo Man who arrives in a tow truck. Repo says that beating Savage will be like reposessing a brand new Cadilac before heading into the Manhattan Centre.
We are joined on commentary tonight by Vince McMahon, Rob Bartlet and Bobby Heenan.
Randy Savage vs Repo Man
Remember a while ago we covered 'Superheroes Of Wrestling' for 'Leaping Through The Network'? Remeber there was a painted faced tag team in S&M gear called Demolition? Repo Man is the one formally known as Smash from that team. Happens a lot in wrestling, characters getting repackaged. It's always nice to catch up with a familiar face.
As Repo makes his entrance, Savage runs in and attacks Repo from behind without waiting for his entrance (cheer this man for backjumping the bad guy?) Savage attacks with chokes before dragging Repo to the outside where he hits a Snapmare and a Knee Drop. Throwing Repo back into the ring, Savage continues his attack on Repo with an Axe Handle and another choke before a second rope Knee Drop. Savage hits a Right Hand but Repo hits one of his own before tossing Savage out of the ring. Quick as a heartbeat, Savage is back in the ring and hits Repo with a High Knee in the back sending Repo out of the ring. Repo heads for the locker room but Savage chases him down and clubs him with an Axe Handle. Savage shoves Repo back into the ring and stomps and chokes Repo in the corner. Repo heads to the outside and Savage follows. Savage tries to ram Repo's head into the ringside steps but Repo reverses it and rams Savage's head into them before throwing him into the ringpost. Repo throws Savage into the ring and then into the corner and choking him. Repo then applies a Chinlock wrapping Savage with his legs in a body scissors. Savage powers out of it and hits a running Shoulder Block that knocks Repo down.
Back from the ads and Savage hits Repo wth a shot to the gut and one to the face but Repo sticks a thumb in Savage's eye. Repo hits Savage with a Snapmare and a Legdrop for a two. Repo wears Savage down with another body scissors but Savage gets to the ropes so the hold has to be broken. Savage kicks Repo in the chest as he gets to his feet but is caught with a Clothesline as he turns around. Repo uses the top rope to choke Savage and then hits Savage with a Side Suplex that gets another two before applying another Chinlock but savage gets out of it with some elbows to the gut before hitting Repo with a Shoulder Block and a Clothesline. Repo regains control with a Right Hand followed by slamming Savage's head into the turnbuckle and then hitting a Backbreaker. Savage catches Repo with a Clothesline and a Body Slam before winning the match with a Flying Elbow. Not a classic Savage match but at least he got his hat back. Just a shame it doesn't go with this week's outfit.
Winner: Randy Savage
It's Coming. An ad airs for Wrestlemania 9 which airs on April 9th. Damian Demento is shown in this ad, it's about as close as he is going to get to Wrestlemania.
Kamala vs The Brooklyn Brawler
Does this count as the Raw enhancement spot? Brawler is a known Superstar but he never wins!
Much like Savage in the last match (sort of) Brawler attacks Kamala from behind with Clotheslines and punches. An Irish Whip attempt is stopped by Kamala either by his size or his hand on the ropes (it's hard to tell which) and Chops Brawler before an Irish Whip of his own but Brawler manages to avoid an Avalanche attempt and Kamala charges into the turnbuckles. Brawler then attempts a Bodyslam but can't lift Kamala. However, Kamala can lift Brawler which Kamala proves when he Bodyslams Brawler. Brawler tries to confuse Kamala by offering to shake his hand, Kamala chops Brawler in the skull. Kamala whips Brawler off the ropes and Brawler ducks a Clothesline attemp only to be hit by a Superkick which is followed up with chops before Kamala presses Brawler in the corner and then chokes Brawler with his foot. Kamala chops Brawler in the skull again before using the top rope, and his leg, to choke Brawler. Kamala makes the cover but Brawler is laying on his stomach so it doesn't count. Undaunted, Kamala hits Brawler with an Axe Handle and a Superkick before ramming Brawler's head into the turnbuckle. Kamala sends Brawler off the ropes and hits him with a Big Boot. He makes the cover and again Brawler is on his stomach. Kamala then whips Brawler shoulder first into the corner before hitting a Big Splash. He makes the cover and after a few attempts at pinning Brawler on his stomach, he eventually rolls Brawler onto his back and gets the three count.
Winner: Kamala
Vince McMahon is at ringside with Slick and Kamala. Vince says the change in Kamala since he's been managed by Slick has been outstanding. Slick says the credit goes to the fans for opening up their hearts. He tells Harvey Whippleman and Kim Chee that he won't be responsible for what Kamala does to them.
Time for a PPV Report, right here on Raw!. Mean Gene plugs the VHS release and covers the results of last night's Royal Rumble. I'm way ahead of him, results are at the top of this article. What he mantions that I didn't is that Lex Luger is here as the Narsissus that Bobby Heenan was talking about in Episode One and Giant Gonzales is also in the WWE as he launched an attack on The Undertaker at the Royal Rumble.
We get an ad for IcoPro with Bret Hart and one for Slim Jim with Randy Savage.
---
Always Use Your Head and visit the official Pro Wrestling Tees store for The Chairshot All t-shirt proceeds help support the advancement of your favorite hard-hitting wrestling website, The Chairshot!

---
Chairshot Classics: WWF SummerSlam 1999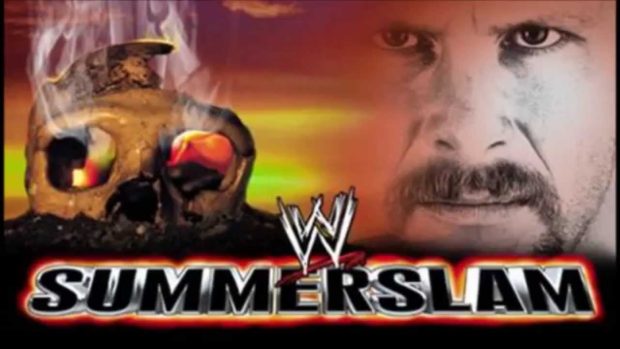 All the Titles are on the line and we get a Main Event that features Mankind, Stone Cold Steve Austin and Triple H. Plus one of the most controversial finishes of The Attitude Era. All this and more as www.thechairshot.com brings you another edition of Chairshot Classics!
We hop into the WWE Network's DeLorean for a Trip to August 22, 1999 and we will spend the next few hours in The Target Center in Minneapolis, Minnesota. There is 17,750 people in the building and another 600,000 tuning in on PPV. The price at the time to rent on PPV was still around 30 bucks. The WWF is on a ratings tear and is destroying the competition. The Monday Night War rating at this time are as follows; 8/02-RAW-5.9, NITRO-3.1, 8/09-RAW-6.4, NITRO-3.1, 8/16-RAW-6.6, NITRO-6.6, NITRO-3.3. These numbers are absolutely crazy and its even crazier to think what the WWE would do to have these kind of rating again. Anything can happen in the WWF so lets get this show underway for "An Out of Body Experience"!
The show opens with a vignette showing all the special guest referee matches in the career of Stone Cold thus far and tonight is no different. It leads with the WrestleMania 14 where "Iron" Mike Tyson was the ref and betrayed the trust of Shawn Michaels by counting Austin's pin and thus giving him the strap. Next is the night of May 31, 1998 where Vince is the special ref at In Your House: Over The Edge for a match between Austin and Dude Love. Austin would use Vince's hand to make the three count after Dude Love misses with a Chairshot and knocks McMahon out. Finally we see how Shane 'O' Mac fast-counted on Steve to cost him the Strap to The Undertaker on May 23, 1999 edition of RAW. This all of course builds to showing Jesse "The Body" Ventura being declared the special guest referee for tonight's Main Event. Ventura was the newly appointed Governor of Minnesota and this is his first appearance in the WWF since 1990. He had a falling out after he filed, and won, a lawsuit against Vince McMahon in 1994 over royalty money for Coliseum Home Video's VHS releases of previous PPVs.
We enter the pyro filed Target Center and Jim Ross introduces us to his partner-in-crime for the night, Jerry "The King" Lawler. JR then ask us if we are ready for "An Out Of Body Experience", as this is the tag-line for the event. The signs are in full force in the audience as Jim Ross is explaining how there are six Titles on the line tonight and that Ventura plans on providing "Law and Order" in the Main Event. Some of the signs read some funny stuff like "De-Bra Debra" and "I'm as hard as a ROCK". I don't imagine you could get away with signs like this on todays PG product. Ross tells us that the show sold out in less than hour as the broadcast cuts to the back and Ventura, in Zebra stripes, is standing by with Triple H and Chyna. He is telling them this is his state and he is the "Law and Order" around here and that if they break any of the rules out there they will have to deal with him. Triple H tells him "I'll break whatever rules I want" and storms out. Such a rebel that Helmsley is.
It shows us a clip of from earlier in the day and it is of Chris Jericho arriving in the arena as Howard Finkel is carrying all his bags. Jericho goes on to ask him "Do you think Jericho is here to save the WWF Herald?" and "Don't you believe in Y2J?". He continues to call him Harold as Howard agrees with him. Jericho is awesome hear on the mic per usual and he has said he thinks this is his first good promo leading to his debut.
Back in the arena now and the place is on their feet as Jeff Jarrett's theme begins to play. He makes his way to the ring and is joined by Debra, and her "Puppies". Finkel then tells us that both the European and Intercontinental Championships are on the line. When they enter the ring Jeff is yelling at Debra for posing for the camera, and we can already hear Lawler starting with the "Puppy" talk. For those that may not know this is a reference to Debra's large breasts. Jarrett then forces Debra to go to the back and this enrages The King and the fans. The fans begin to chant "Asshole" at Double J.
When she returns through the curtain we see her talking to D-Lo Brown, Jeff's opponent and the IC and European Champion. Debra is asking D-Lo if she can join him instead at ringside and he obliges her. When the pair enter the arena the Target Center is absolutely shaking and Jarrett is as equally pissed as the fans are excited. But no one is more excited to see the puppies return that Jerry Lawler. The crowd is continuing to go nut as D-Lo hits the corners and Debra teases the removal of her jacket, even though it couldn't possibly show off anymore. This leads to an ambush by Jarrett before the bell sounds and the lights are fully lit again. Jarrett delivers a series of punches until Brown hits a flying forearm coming off a reversed Irish whip. Jeff jumps over D-Lo on an Irish whip attempt but Brown rewards him with a scoopslam for his efforts. Another scoopslam leads to a pop from the crowd as Jarrett rolls from the ring to recover. The ref stops Brown from going after him and Jarrett tries to use this to his advantage. This backfires though and he is soon Irish whipped into a sit-down powerslam from Brown. There's more pop from the crowd for this but it only gets the two count. Jeff would apply a rest-hold sleeper but D-Lo counters out of it and hits a powerplex. After the maneuver he goes to the ropes to amp the crowd up with his arms out and neck bobbing like crazy. This sends the crowd into an absolute frenzy, but King would attribute this pop to the puppies.
D-Lo attempts a lariat from the second rope but Jarrett manages to reverse it into a sidewalk slam. He follows it up by dropkicking Brown and sending him between the rope to the outside. Debra helps him to his feet but Jeff Jarrett is in waiting and comes through the ropes, hitting him with a baseball slide. He then goes straight for Debra and yelling at her to remain in the corner. Jeff then uses the ring steps to his advantage before returning to the ring. Jarrett attempts to jump from the apron on Brown but he manages to move and Jarret hits the apron. D-Lo follows the reversal up by clotheslining him over the rail and into the crowd. After a few punches from Brown, Jarrett reverses a suplex attempt over the railing with a backslide. He the throws Brown into the apron. After a whip to the ring post, Debra is again attempting to help D-Lo up. This of course pisses Jeff off again, who returns Brown to the ring after yelling at her. After some back and forth, Jarrett hits a cool armbar tornado DDT off the second rope. He doesn't go for the pin, though, and instead goes over to berate Debra. He continues to work the arm of Brown as the crowd chants "We Want Puppies". D-Lo regains some momentum after he reverses the ten count punches in the corner by flap-jacking the face of Jarrett into the turnbuckle. D-Lo follows this up by going "DownTown" and hitting his signature sit-down powerbomb that leaves both men on the mat. Both men return to their feet and after Jarrett ducks under a clothesline he catches a tilt-a-whirl slam and the crowd is popping when D-Lo follows it up with a jumping kick to the chest of Double J. He hits the "You betta recognize" leg drop but Jarrett manages to kick out.
After a suplex, D-Lo Brown is pointing at the corner and calling for a LowDown which is his version of a frogsplash. I've said it before and I'll say it again, D-Lo has one of my top five frogsplashes of all-time. Jarrett rolls out of harms way making Brown miss and this is when we see Debra get on the apron. Jarrett is attempting to hit Debra with a guitar, but the ref is dividing the two. This is when we see Mark Henry slide into the ring and take said guitar. The twist comes next when Henry, who is allied with D-Lo, turns on his friend and blasts him with the guitar. This really gets the heat turned up with the fans. Jarrett makes the cover and gets the three count and the fans are pissed. Debra then joins Jarrett in the ring and is celebrating with him as if it was all a work. Henry joins in the celebration after slapping the face of Brown. This would lead to Mark Henry's first title when on the following night's RAW Jarrett awards him with the European Championship for his efforts. This was a good opening match, and the crowd seemed to enjoy it as well. The swerve ending was even well enough done. It's worth a watch in my opinion and Jarrett did a good job keeping the heat up with the crowd. Match Time: 7:28
---
Always Use Your Head and visit the official Pro Wrestling Tees store for The Chairshot All t-shirt proceeds help support the advancement of your favorite hard-hitting wrestling website, The Chairshot!

---
Chairshot Classics: WWF Royal Rumble '94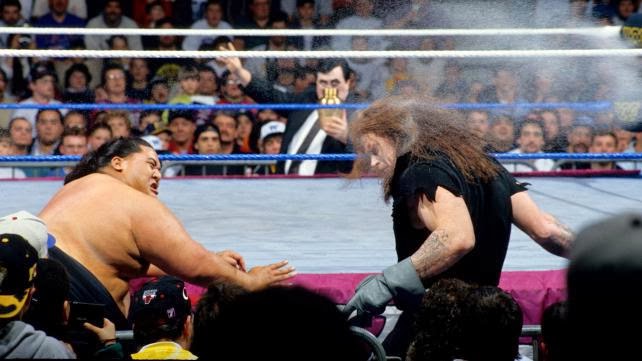 In the words of Borat Sagdiyev, the 2MB Wrestling Podcast watch-along episodes have been, "Great success! High five!". So this week the Royal Rumble run continues following the 1992 and 1993 editions with the beginning to the build of WrestleMania X, the '94 Royal Rumble! After the classic that '92 brought us, '93 was a real disappointment. Let's find out how this year holds up!
Match #1: Tatanka vs. Bam Bam Bigelow w/Luna Vachon
Bam Bam looks for an ambush before the bell and Tatanka avoids it, The Native American with right hands in the corner, Bigelow returns fire, scores with a dropkick and backs him into the opposite corner. The Beast from the East whips him across and charges in, Tatanka explodes out with a clothesline that staggers the big man, hits the ropes for a shoulder block, then again for a shoulder tackle and drops Bam Bam to a knee with a dropkick. The Native American heads back into the ropes and connects with a crossbody for a count of 2, catches Bigelow with an arm drag back up and hooks in an armbar, working over the left shoulder.
Bam Bam works his way up, rakes the eyes and shoots him to the ropes for a back body drop, Tatanka has it scouted, puts on the brakes and spikes him with a jumping DDT. He looks to the corner and heads upstairs for a crossbody, The Beast from the East ducks it, recovers and puts the boots to him, whips The Native American into the corner and follows him in with a splash. Bigelow sends him back across and goes for another splash, Tatanka sticks a boot up to the chin, goes back up top for a sunset flip, can't quite get Bam Bam over and the big man simply drops down and squashes him. The Beast from the East drops a headbutt to the lower back, picks The Native American up for a big haymaker, Tatanka blocks it and fires back with overhand chops, Bam Bam absorbing them and clocks him with an enzuigiri for a count of 2.
Irish whip to the ropes and Bigelow grabs a bearhug, Tatanka starts to fade, the official checking his arm and The Native American getting a rush of adrenaline. He breaks Bam Bam's grip with a series of overhand chops, hits the ropes and gets flattened by a shoulder block, The Beast from the East goes into the ropes for another, goes back to the well a third time and The Native American plants him with a powerslam for a near fall. Bam Bam's back up and misses a wild right hand, both guys hit the ropes and think crossbody, colliding in mid-air. The Native American seems to get the worst of it, Bigelow up first to drive him head-first into the top turnbuckle, but it has no affect and Tatanka starts absorbing punishment and going into his war dance.
The Beast from the East puts a stop to that with another big enzuigiri, mocks the war dance, positions him on the mat and heads up top for the Bam Bamsault, but he doesn't find the mark. Tatanka pulls himself up, goes to the top turnbuckle as Bigelow staggers to his feet, The Native American connects with a crossbody, hooks the leg and scores the pinfall.
Winner: Tatanka (Top Rope Crossbody)
EA's Take: I'd only call this a decent opener, there was not much special happening here, although it's always impressive to see Bigelow pull off a moonsault and this was one of the cleaner attempts from him I've ever seen. Originally, this was supposed to be Tatanka vs. Ludvig Borga after The Helsinki Hellraiser had (kayfabe) knocked Tatanka out of action with an injury and forced him to miss Survivor Series. The feud continued, but Borga would suffer a legitimate ankle injury just five days earlier and would be forced out, cancelling this match and plans for him to meet Earthquake one-on-one at WrestleMania. Real name Tony Halme, this is the last time we'd see Borga as he left the company soon after and wouldn't be seen in a big-time American promotion again. Unfortunately, Ludvig was another case of a man who couldn't get past his demons, struggling with drug and alcohol issues before taking his own life at the age of 47 in 2010.
Video: We take a look at the history of The Harts after there was turmoil between Owen & Bret at Survivor Series, 'The Rocket' would later speak to Vince McMahon about how he' lived in Hitman's shadow his whole life. Owen would challenge Bret to a match so he could prove himself, The Hitman later stating that people love controversy, but he will never step into the ring against his brother under any circumstances. The two would resolve their issues to keep the family together and looked to channel their energy towards something positive, Bret claiming they are a unit now and have their sights set on The Quebecers and the Tag Titles. Owen would apologize for saying some of the things he said, but he'd like to move on and make 1994 a memorable year for himself and his brother. The 1-2-3 Kid & Marty Jannetty would go on to win the Tag Championships on an episode of RAW, however it would be short-lived as The Quebecers took the titles back one week later.
Backstage: Todd Pettengill is standing by with Bret 'Hitman' Hart & 'The Rocket' Owen Hart, Bret speaking about how confident they are and vows to give everyone a shot at the Tag Titles after they become champions tonight. Owen states this is the happiest day of his life and the opportunity he's been waiting for, claiming he will make his brother proud and bring the belts home to their mom and dad.
Match #2 for the WWF Tag Team Championships: WWF Tag Team Champions The Quebecers (Jacques & Pierre) w/Johnny Polo vs. Bret 'Hitman' Hart & 'The Rocket' Owen Hart
Bret & Pierre to begin the action, collar & elbow tie-up sees Pierre power The Hitman away, they lock-up again with the same results, this time Bret bouncing off the ropes with a right hand. He goes back to the ropes, slips out of a slam attempt by Pierre, pushes him to the ropes for a roll-up, Pierre hanging on to toss Hitman away. Bret runs right back in and gets planted by a body slam, Pierre hits the ropes, The Hitman pops up and buries a knee to the midsection, tags out and Owen comes off the top with a clubbing shot to the back. He grabs a wristlock, Pierre counters into one of his own, The Rocket rolls through to regain the hold, but Pierre goes to the breadbasket with a kick, snapmares him over and then hits the ropes for a shoulder block.
Back into the ropes he goes, Owen leapfrogs over and hits a hip toss into a cover for a quick 2 count, locks in an armbar, Pierre grabbing the hair and he slams The Rocket to the canvas before tagging out. Jacques comes in and mockingly claps for Owen, telling him he's better than Bret and they exchange words. Jacques rakes the eyes off the lock-up, shoots him to the ropes for a back body drop, The Rocket puts on the brakes, hits him with a snap suplex, irish whip back to the ropes and Owen scores with a dropkick now, Jacques seeking reprieve in his corner and there's a conference with Johnny Polo. Back to the center of the ring now, Owen attempts a kick that gets caught, Jacques toys with him, The Rocket brings the other foot around for an enzuigiri and gets a near fall.
Tag to Bret, Owen planking Jacques across his knee and The Hitman drops an elbow from the 2nd rope for another count of 2, utilizes a small package, but again Jacques kicks out. Irish whip to the ropes is reversed, Jacques tries for a back body drop again, Bret countering with a sunset flip for 2, Jacques looks to make a tag, but Hitman catches him with another roll-up from behind for a near fall. Pierre comes in and clobbers Bret off the kick-out, Owen steps in and gets clocked as well, The Quebecers working The Harts over in opposite corners, attempt to whip them into one another, The Hitman dropping down and Owen goes to a schoolboy on Jacques for 2. The challengers clear the ring and the champs look to regroup, Jacques finally sliding back in and instantly getting split by an inverted atomic drop.
Bret sends him to the ropes and goes to the abdomen with a right hand, Pierre gets the tag, Hitman slings him in from the apron, tag to The Rockeet and he whips Pierre into the ropes for a clothesline and another 2 count. He plants him with a gutwrench suplex for a near fall, drops a leg for another, Owen tagging back out and The Hitman goes to a wristlock. Irish whip to the ropes is reversed, Pierre scores with a powerslam for a count of 2, brings Jacques back in, he drives Bret head-first into the top turnbuckle, baits Owen into the ring to distract the ref and Pierre chokes The Hitman in the corner with the tag rope. Jacques shoots Bret to the ropes for a kick to the ribs that gets 2, Pierre re-enters the match, the champions with a double back elbow, Pierre clubbing him down to the mat and The Quebecers with more double teaming, choking Hitman on the middle rope.
The Rocket tries to intervene and takes the official's attention again, Pierre with a head of steam for a seated senton to Bret's lower back, tags out and Jacques hooks the leg for another 2. He whips Hitman to the ropes for a back elbow, tag back to Pierre, he comes off the 2nd rope, but Bret sticks his boot up under the chin and crawls to a tag as Jacques re-enters. Owen with dropkicks for both of the champions, shoots Jacques to the ropes for a back body drop, whips Pierre in for an overhead belly-to-belly suplex, then clocks Jacques with a spinning heel kick. He wants to hook in the Sharpshooter, Pierre tries to make a save and The Hitman drops him with a headbutt, the referee works to get Bret back to the apron and Pierre seizes the opening to save Jacques.
Pierre heads back to his corner and gets the tag, hammers Owen with a couple of rights, tag back to Jacques and The Quebecers with a double hot shot for a near fall. Pierre re-enters and the champions attempt a double clothesline, The Rocket ducks it, takes them both out with a double dropkick, crawls to a tag and The Excellence of Execution takes on both Quebecers by himself. He whips Jacques to the ropes for a fist to the ribs, plants him with a side russian leg sweep, turns back to Pierre to crack him with a backbreaker, then rams them into each other with a double noggin knocker. He sends Pierre spilling over the top after an atomic drop, Owen holds Jacques from the apron for his brother, Bret goes to hit the ropes, but Polo's on the apron and he separates the ropes to dump The Hitman to the floor.
Bret writhes in pain on the floor while holding his knee, Owen tries to check on him and it distracts the official, The Quebecers taking the opportunity for double team punishment to the leg. Jacques sneaks in a cheap shot with a chair behind the ref's back, Owen's attempts to get involved continue to do more harm than good, Jacques now using Polo's putter for more shots to Bret's knee. The Rocket finally sends Bret back inside to avoid a count-out, Jacques is there waiting with stomps, tag to Pierre for a wishbone and he targets the injured leg.
Jacques re-enters to keep the punishment going, slaps on a Boston crab, Owen comes in to break it up, Jacques still able to hold The Hitman down and Pierre comes off the 2nd rope with a leg drop to the back of the head. Jacques positions Bret on the mat, the champions look for the Quebecer Crash to the injured knee, The Hitman avoids it and Owen calls for the tag. The Excellence of Execution tries to lock in the Sharpshooter from the canvas instead, his knee gives out on him, the referee decides Bret can't go on and calls for the bell.
Winners and STILL WWF Tag Team Champions: The Quebecers (Referee Stoppage)
After The Bell: The Hitman seems to be hurt and can't get to his feet, Owen arguing with the official for stopping the match, then turns and asks Bret why he didn't tag him. The Excellence of Execution uses the ropes to pull himself to his feet and The Rocket continues to argue with him, kicks Bret in the bad knee and drops him back down to a chorus of boos. Owen takes his leave as multiple referees and WWF officials check on The Hitman, Ray Rougeau coming down to the ring for an update on Bret's condition, stating it's uncertain now that he'll be able to participate in the Royal Rumble.
EA's Take: This was a pretty sloppy tag team match considering the guys involved like Bret, Owen and Jacques are mostly known for being good workers and are all familiar with each other. A lot of the double team stuff that was supposed to be behind the ref's back just didn't work for The Quebecers, timing seemed to be off every time they went for it. This made the finish of a referee stoppage look questionable after he clearly saw a foreign object get used multiple times, yet there was no DQ called. Obviously the big takeaway here is Owen's heel turn which had been building since Survivor Series and would become the most notable time of the younger Hart's career. In my opinion, Owen was actually better than Bret with his combination of technical ability, high flying offense and was much better at promos. This feud would be a focal point for the company through most of 1994, leading to some of the best matches of the early 90's.
---
Always Use Your Head and visit the official Pro Wrestling Tees store for The Chairshot All t-shirt proceeds help support the advancement of your favorite hard-hitting wrestling website, The Chairshot!

---