Chairshot Classics: WWE Money In The Bank 2010
Get ready for the 2018 edition of WWE Money In The Bank with Mishal's look back at the 2010 edition, featuring a cash in and start of The Miz's road to the WWE Championship!
Money in the Bank 2018 is a matter of weeks away, marking the 3rd major WWE show following Wrestlemania 34 and is a show that will set the tone for the company product as we head into the summer wrestling season. Unlike shows like the Royal Rumble, Wrestlemania, Summerslam & Survivor Series, Money in the Bank doesn't have the most expansive history and certainly hasn't been as integral to the company's success as the formerly mentioned shows.
However, the Money in the Bank concept is one of the most revolutionary in recent memory and has provided fans with countless chaotic & classic memories for us to cherish for years to come. In honour of this, it's time we take a look back at when WWE decided to capitalize on the popularity of this concept and give the match its own show; on July 18th, 2010.
Match #1: SmackDown Money in the Bank Ladder Match for a World Heavyweight Championship Opportunity – Kane vs Dolph Ziggler vs Drew McIntyre vs Big Show vs Kofi Kingston vs Matt Hardy vs Christian vs Cody Rhodes
I'll stand by this for as long as I live, this is the most underrated Money in the Bank ladder match the WWE has ever put on, at least from my own perspective.
SmackDown had a fascinating product in 2010 which was the result of departures from the likes of Edge, John Morrison & Chris Jericho to the opposing RAW brand as well as a major shake-up the brand faced with the sudden removal of The Undertaker due to injuries caused a few weeks prior to this particular event. While these circumstances can be seen as a negative for sure, it did open the door for a plethora of new talent to take the reigns and earn an opportunity in matches such as this.
What made this Money in the Bank so special wasn't just the action, which was insanity for the most part, but the clash of numerous personalities. From the 7-foot giant Big Show all the way to Cody Rhodes sporting his 'Dashing' gimmick, the match was filled with multiple personalities bouncing off each other's strengths and more importantly completely hiding their weaknesses.
The matches highlights included Kofi Kingston driving Drew McIntyre through a table with a Boom-Drop, Big Show getting drowned in a sea of ladders by his fellow competitors and the innovative use of the gargantuan golden ladder that was specifically designed to hold the weight of the Big Show himself. On top of this the standout performances from ladder match veterans Christian & Matt Hardy added a great deal, not just further deepening the strategy behind the competitors but also providing the younger talents such as Cody Rhodes & Drew McIntyre bodies to throw around to assist in their excellent performances.
Having the matches winner be Kane was also a move that was completely out of left field. Most fans at the time, myself included, felt Drew McIntyre was a shoe-in to claim the briefcase and secure the purpose behind his gimmick of being Vince McMahons 'Chosen One', but this was shockingly swerved and instead used to give Kane his first moment in the limelight in what seemed like a decade.
As an opening contest, this did everything any fan would expect and opening match to do; present excitement for what the evening will have on offer, send bodies crashing onto or through countless ladders, showcase the younger talents while maintaining the credibility of the veterans and more importantly get the crowd going on the highest note possible.
Winner: Kane via Briefcase Retrieval at 26:17
Match #2: WWE Divas Championship Match – Alicia Fox (c) vs Eve Torres
Reviewing and critiquing women's matches from this era of WWE television is a hard thing to do, primarily because what was on offer was for the most part fairly one dimensional and bland to the point that audiences struggled to care. That was the case with this match.
Granted, it seems like the WWE actually tried to give us a match worth remembering, at least glimpses of that effort were shown.
Alicia Fox is actually a criminally underrated women's performer who today has fallen into the background with the 'Women's Revolution' coming along so heavily with a number of newer female talents soaking up time on the weekly TV product. Fox demonstrated some genuine talent in this match, and the same can be said for Eve Torres who is equally talented as she is beautiful.
The two women played into a fairly standard match layout but thankfully sections of this felt solid, with some fine use of in-ring psychology and selling giving fans a little something to cling onto instead of treating this as a complete bathroom break. Torres also played her part well, as she always fit into the role of babyface just as well as she did the role of the cocky heel in her later days as Divas Champion.
Alicia Fox managed to eventually retain her Championship following a devastating Ax Kick after taking advantage of a slight moment of hesitation on the part of Eve Torres. I hope this recap doesn't come across as lazy, because it certainly isn't, there just isn't much to note here.
Winner and STILL Champion: Alicia Fox via Ax Kick at 5:53
Match #3: WWE Unified Tag Team Championship Match – The Hart Dynasty(c) w/Natalya vs The Usos w/Tamina
I think we hammer down so frequently on the WWE's treatment of women up until around the point in 2013 where audiences actually started taking them seriously, that we forget similar injustices were done to the Tag Team Division until 2012.
The Usos today are seen as one of the WWE's best & brightest, putting on show-stealing performance after show-stealing performance and elevating every single opponent they are put up against. The Hart Dynasty is a duo I wish we had today, insanely talented with the bloodline to back it up but never properly utilised due to the company's clear disinterest in tag team wrestling at the time.
It's that particular lack of interest that makes this match quite depressing to watch, especially if you put it up against some of the tag team matches we've gotten in the last 18-24 months from the likes of The Usos, The Hardy Boys, The New Day, Cesaro & Sheamus, etc. The layout for this match, much like the previous Divas Championship encounter, is quite by-the-numbers which sometimes can work if a certain level of creativity is involved, which in this case we had very little of.
Noticeably, both teams worked hard to do the best with what they were handed at the time, which was an abysmal time limit which really never showcased what either team is capable of in any manner. The Hart Dynasty played the babyfaces here while The Usos resorted to their original heel shtick, and saying it was bland was an understatement when you see what they bring to the product under their 'Day One-ish' gimmick.
Natalya and Tamina also had some minimal involvement, due to their lack of presence in the women's division at the time, and instead worked the outside interference portion of the match but none of this really caught on in the manner it could have. The crowd had one or two bursts of excitement for a few of the big spots, but sadly this came across as extremely forgettable to a crowd that clearly just wanted more ladders, of something of importance.
The Hart Dynasty managed to come out on top after using their teamwork to their advantage and isolated the Uso brothers and their sister, eventually resulting in one of the brothers (who I couldn't name, apologies) tapping out in the centre of the ring to the Hart family's signature Sharpshooter. Despite some solid call-backs to the days of the Hart Foundation in the 80's to 90's and a few moments of excitement, this was sadly extremely forgettable, which I hope I never have to admit for a match featuring the Usos.
Winners and STILL Champions: The Hart Dynasty at 5:58 via Sharpshooter
Match #4: World Heavyweight Championship Match – Rey Mysterio (c) vs Jack Swagger
This was the match that definitely woke the crowd back up and got them invested in the show again, after 2 matches that ultimately deflated the live crowd, then again following the opening contest is no easy task in itself. No wrestler on the planet thrives in big man matches like Rey Mysterio does, and considering his size you could consider almost any match he has with any opponent a 'big man match' as he's rarely faced an opponent smaller than himself.
Jack Swagger, riding a wave of eventful circumstances in 2010, walked into Money in the Bank with what was ultimately Kurt Angle 2.0 as he utilised the Ankle Lock to dismantle and handicap countless opponents on SmackDown on the weeks leading up to this show. In the process Swagger managed to injure Mysterio himself, giving the challenger a distinct advantage heading into this match. Storytelling like this is simple, yet effective and this match used it to its advantage magnificently.
Continuously playing off Mysterio's injured ankle and the pre-empting storyline, the champion & Swagger put on a clinic in storytelling which they combined with fantastic all around in-ring action. Swagger constantly grasped the upper hand here and not just because of the injury but also due to the clear size advantage he possessed over the 'Master of the 619'. While the match itself certainly wasn't the longest, it did everything it needed to and I would argue that this match would not have been of similar quality should it have received more time to develop, as the restrictions of a 10-minute span gave this match a ridiculous amount of energy that I adored.
Mysterio managed to battle his way through the pain and retain his World Heavyweight Championship using tactics from his best friend Eddie Guerrero at Wrestlemania XX, loosening the boots and rolling up a distorted Swagger to earn a great win, a clear call back to the superb Guerrero vs Angle match that evening. However, it didn't stop there, after coming to his rescue when Swagger continued his assault on Mysterio following the match, Kane's music hit to the shock and awe of every single person in attendance.
The Big Red Machine had chosen his moment and decided to cash in his newly won Money in the Bank Contract in exchange for Mysterio's World Championship just over an hour after his victory, setting the record that is yet to be broken. In dominant fashion, Kane dismantled Mysterio in under a minute and delivered a Tombstone Piledriver to claim his first (and to this date, only) World Heavyweight Championship in a move that none of us saw coming.
Not only does this remain one of my favourite Money in the Bank cash-in's but one of the best moments in the career of Kane. Beautiful booking from top to bottom and a reminder of just how good WWE can be at booking Kane when they put their minds to it.
Winner and NEW Champion: Kane at 12:07 (Total) via Tombstone Piledriver
Match #5: RAW Money in the Bank Ladder Match for a WWE Championship Opportunity – Randy Orton vs Edge vs The Miz vs Chris Jericho vs Evan Bourne vs Mark Henry vs Ted Dibiase w/Maryse vs John Morrison
Following the magnificent opening contest for any contest, as mentioned earlier, was no easy task. SmackDown had set the bar ludicrously high for any remaining competitors, with their chaotic and adrenaline fuelled match.
Was RAW able to create a match of similar, maybe even equal quality?
Without question, yes.
The RAW side of the Money in the Bank matches had a very different pace than what SmackDown had, sure it had the mixture of chaos in there but for the most part this match had a more methodical and calculated style to it for the most part and that's what makes it so good. Much like the opener, you had a wide range of personalities in the ring who all worked magically together.
Highlight moments of the match include Mark Henry using his brute strength to knock over two ladders in unison, John Morrison using his parkour in ridiculous ways, Edge almost decapitating John Morrison, Maryse attempting to claim the Money in the Bank briefcase on Dibiase's behalf and Evan Bourne eating an incredible landing from the ring to the floor.
Every participant had a pivotal spot here, whether it be high-flying, ground based or getting nearly murdered courtesy of a ladder, the one exception however is Randy Orton who seemed to have little involvement until the matches conclusion which I guess is the matches biggest negative. Orton came in during the closing moments and dished out a plethora of RKO's and just as it seemed he had it won, the moment a star was born happened, as The Miz took out Orton and claimed the briefcase for himself. This moment wasn't just wonderful but considering how vastly improved The Miz had become throughout 2010 it was more than well deserved.
I'm not entirely sure which match fans like more of these two, for myself personally I prefer the opener but it's easy to see why people would gravitate more towards this one. If you're ladder match style is more about the sheer chaos of everything, I see SmackDown being your choice but if you're style is a more methodical and timed approach, this is the one for you.
Either way, this was another homerun of a ladder match and essential viewing for almost anyone.
Winner: The Miz at 20:27 via Briefcase Retrieval
Match #6: WWE Women's Championship Match – Layla (c) w/Michelle McCool vs Kelly Kelly
I'm so sorry ladies, I don't mean to be harsh. I really don't.
The first women's match of this particular show was largely forgettable, but I can admit to its positives, such as having an okay amount of time to encompass some in-ring action and solid overall psychology & storytelling. Almost none of that appears in whatever the WWE was trying to accomplish with this match.
The whole 'LayCool' gimmick never caught on with me when I was younger, and it still doesn't to this day, their mannerisms while admittedly more than capable of garnering them heat, come across as far too over-the-top and completely distract from the match itself. Where this really hurts it, is the lack of time this match got, a whopping 3 minutes of in-ring action. Add to the fact that Kelly Kelly has never been the strongest in-ring performer the women's division has had, and this ended up being what it was, a car crash.
Nothing in this match had anything worth gripping onto, almost every aspect felt rushed and unimportant and to add insult to injury, the crowd decided to cheer for the then fired Daniel Bryan over the Championship match in the ring at the time. For me, this was the earliest sign of the popularity the man had that transcended the WWE Universe and sadly it was far more interesting than anything Layla & Kelly Kelly managed to put on.
Layla ended up retaining her gold with a cheap roll-up, and this match left absolutely no impact on the audience or the rest of the card. Another look back and reflection of how happy we should be to have the women's wrestling we have today.
Winner and STILL Champion: Layla at 3:56 via Roll-Up Cradle
Main Event: Steel Cage Match for the WWE Championship – Sheamus (c) vs John Cena
Sheamus & John Cena had quite the history leading up to this main event. In the months prior many fans were stunned at the sudden rise of Sheamus in the main event scene in WWE and despite losing out on walking into Wrestlemania XXVI as WWE Champion he managed to gain his gold back a few short months later.
The more intriguing factor in this match though, was the potential inclusion of Nexus, a new stable formed of NXT Season 1 talent who were out to make a name for themselves (in hindsight, this project failed on all levels). To make sure this didn't happen, the two main event talents were locked inside a steel cage for good measure and the potential for a brutal exchange. With 2010 being the peak of WWE's PG policies surrounding their programming it was difficult to imagine how far the brutality could reach considering the restrictions but there was some potential.
In a nutshell, the match itself was a fine main event to close a show. All the parts that had been put in motion weeks prior came into play, the cage itself was used as a weapon to inflict pain to both men and as anticipated, Nexus brought their chaos to the main event. The issue with this match was its pacing, which sadly was quite boring as both Cena & Sheamus built towards their big spots and signature moves, which ultimately made this match seem fairly one-dimensional and bland at countless points.
Whenever signature moves, or big spots occurred, the match became quite entertaining, but the sad reality was that the crowd knew what was coming and resulted in them deflating any tension, unpredictability or shock value from the contest. A steel cage should be a structure of brutality & unpredictability, not one where the main prize at stake ultimately falls into the back drop in favour of cheap outside interference.
Once Nexus did show up, the match seemingly had more levity and stakes to it, as WWE Universe members had been waiting to see Cena get his hands on the rebel group for the destruction they had caused in the weeks prior to this match. This slight distraction left a window open for Sheamus to escape the cage and retain his WWE Championship in the most simplistic ending imaginable and was only setup to tie-in to the post-match antics.
Following the match Cena finally got his hands on some of the Nexus members, ploughing them over with clotheslines and the use of steel steps in the hopes of rearranging their facial features. This was slightly satisfying but failed to reach the emotion we had anticipated initially and as a result closed the show off in fine yet unspectacular fashion.
Cena & Sheamus did their job here, it just seemed like the entire thing was a setup for a post-match beatdown and you never want to detract from the importance of your company's biggest championship, ever.
Winner and STILL Champion: Sheamus at 23:02 via Cage Escape
What I Watched #10b: All IN 2018
Harry decided to abridge his All In write up and bring us the blast from the past while he's on vacation! With only a few weeks until All Out, reminiscing could be fun!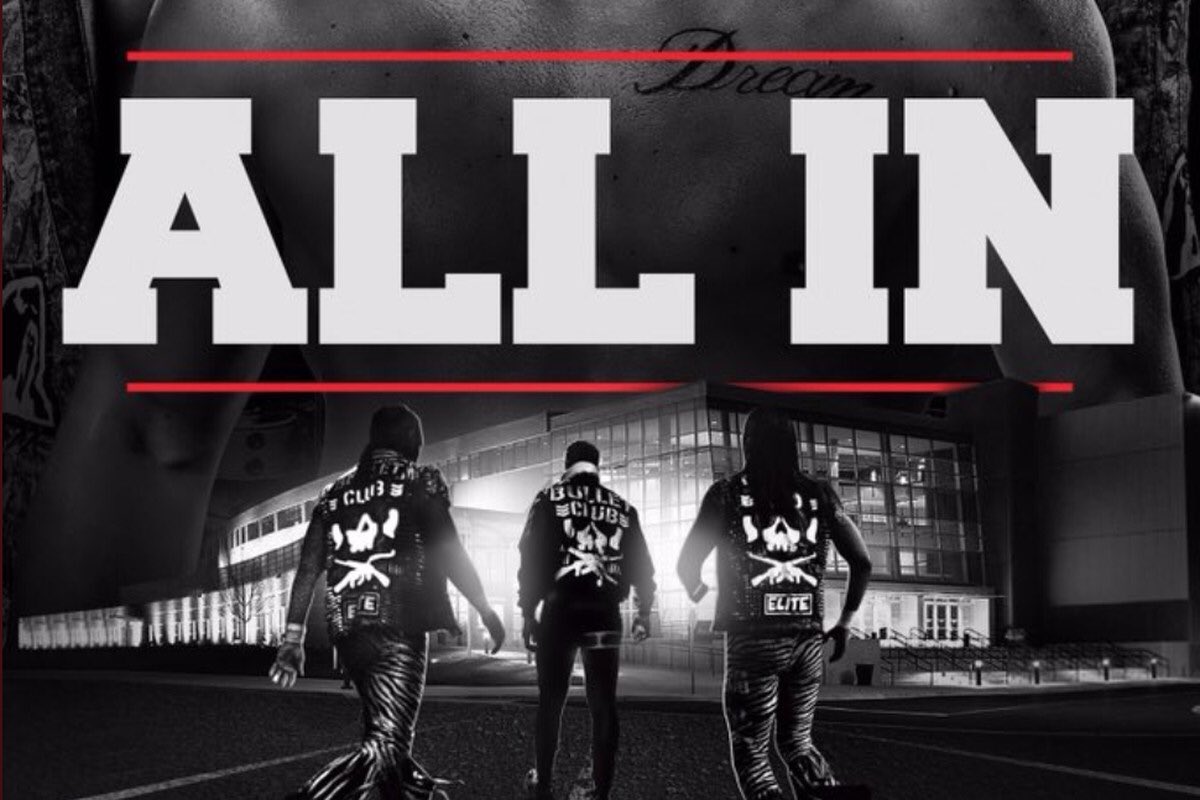 Greetings, salutations and what nots. At the time you are reading this, I will be away from home on vacation with my amazing girlfriend. In the interest of not want to lose everyone's attention in the downtime, I decided to go back to one of my earlier reviews and reformat it to match the current style while giving people who may have not been interested due to the length of the previous review a chance to see what they may have missed as well as share my thoughts on a show that had quite the buzz when it happened.
I mention in my review of AAW's Destination Chicago 2018 (full review available in my archive by clicking my name at the top of this review) that everyone was in Chicago for this particular show. Obviously, though it was presented as part of a deal with ROH (and to some extent New Japan), this ends up being what many consider the launching point for AEW. So join me once again as the WayBack Machine takes us to suburban Chicago on September 1st 2018 and we revisit 'All In' here on 'What I Watched'.
What I Watched #10-B
ROH/NJPW/Friends 'All In' 2018
9/1/2018
Sears Center in Hoffman Estates, IL
Runtime: 4:45:24 (45:27 on YouTube for the preshow, 3:57:57 on Fite.TV/HonorClub/NJPW World/traditional PPV for the main show)
Commentary By: Excalibur (PBP), Don Callis (Color), Ian Riccaboni (PBP/Color)
THE RESULTS
Match #1:

Zero Hour-

Frankie Kazarian/Scorpio Sky def. Jay/Mark Briscoe, Kazarian pins Mark with a powerslam counter to the Doomsday Device @ 12:35

Match #2:

Zero Hour-

Flip Gordon wins the 'Over the Budget Battle Royal' @ 17:11, last eliminating Bully Ray

Match #3: Matt Cross pins Maxwell Jacob Friedman, Shooting Star Press @ 10:07

Match #4: Christopher Daniels pins Stephen Amell, Best Moonsault Ever @ 11:45

Match #5: Tessa Blanchard wins four way, pinning Chelsea Green with the Buzzsaw DDT @ 12:43 of a match that also involved Britt Baker and Madison Rayne

Match #6:

NWA World Heavyweight Title-

Cody Rhodes pins Nick Aldis ©, sitdown on sunset flip attempt @ 22:03

Match #7: Adam Page pins Joey Janela, Rite of Passage off a ladder through a table @ 20:09

Match #8:

ROH Heavyweight Title-

Jay Lethal © pins Flip Gordon, Lethal Injection @ 14:25

Match #9: Kenny Omega pins Pentagon Jr., One Winged Angel @ 17:48

Match #10: Kazuchika Okada pins Marty Scurll, Rainmaker #2 @ 26:06

Match #11: Kota Ibushi/Matt Jackson/Nick Jackson def. Bandido/Fenix/Rey Mysterio Jr., Matt pins Bandido after the Meltzer Driver @ 11:44
THE BREAKDOWN
Zero Hour- SCU (Frankie Kazarian/Scorpio Sky) vs. The Briscoes (Jay/Mark)
*Hell of a way to kick things off and the exact kind of match that you want to put out to people in order to get those on the fence to order the show. I don't know about the $50 price tag that the PPV had, but this would have been enough for me to sign up for Honor Club for $10 to watch the show at least. I'm curious if ROH ever followed up on SCU pinning the ROH tag champions here. I'd imagine so even though the end is near for Kazarian, Scorpio and Daniels in ROH with AEW looming on the horizon. (***½)
Over the Budget Battle Royal
*It was fun for what it was. Maybe a little overcrowded, but there are several people who have got to make a name for themselves off this match. Marko Stunt is all over Game Changer Wrestling (and got a run in AEW as part of Jurassic Express) and Jordynne Grace, who got herself a deal with Impact, being two to spring immediately. I don't rate battle royals but it was entertaining, which is all you can ask for sometimes. (X)
Maxwell Jacob Friedman (MJF) vs. Matt Cross
*Good little opener here for the main show. My misgivings on the rope hanging piledriver aside (MJF calls it the Heatseeker), they worked together well without throwing too much against the wall and burning out the crowd for later. I had hoped Cross would get a chance with AEW but we know that doesn't happen, unfortunately. MJF does become one of the biggest creations AEW has up until this point, but no-one is really sure where his status lies with the company at present. Strong start to open the show and really happy for a genuinely good dude in Matt Cross to have gotten this opportunity. (***)
Christopher Daniels vs. Stephen Amell (special guest referee: Jerry Lynn)
*When this show first happened, I heard a myriad of opinions on this match. Some thought it was really good, others thought it stunk. I fall somewhere in the middle here. Amell, for an actor, put in a pretty good performance here. I'm not saying he should do this full time or anything, but it's not like he embarrassed himself either. Daniels had his own hiccups here as well though. So the blame doesn't fall solely on Stephen. Overall, I'd call it above average given who Daniels' opponent was. But I know first hand that Daniels is capable of much, much more. (**½)
Britt Baker (bay bay) vs. Madison Rayne vs. Chelsea Green vs. Tessa Blanchard
*Not sure if it was just me but the finish looks a little suspect. Tessa getting the win did make sense though at the time (I'd imagine this result changes with benefit of hindsight). As for the match, they worked hard and it by and large came together well. It definitely lost its way a bit towards the end, so I have to dock it a bit for that. All in all, I'd say good effort from the ladies involved and I'd even put it just slightly above the Daniels and Amell match it just followed. (***)
NWA World Heavyweight Title- Nick Aldis © vs. Cody (Don't Call Him Rhodes)
*A very good match but a couple of little things keep it from the next level for me. First, the blatantly missed superkick. I'm not really as upset about that one as some people may be because I get it, shit happens in the moment. The blade job however, I can't forgive. It was terribly obvious. I get the intent behind it to help Cody fight from underneath. I have no issues with blood in general (hell, I watch death matches). But if you can't do the blade job more realistically there, it shouldn't have been done. It doesn't really factor into the match in the grand scheme of things. Also while I personally don't mind the methodical pace, I do know it's not everyone's cup of tea. I dug the match as a whole though. And props to Brandi for eating it on that flying elbow drop. (****)
'Chicago Street Fight'- Adam Page vs. Joey Janela
*This match won't be for everyone. Some people like the old school ECW brawl and some people don't. I do when it's well executed but there seemed to be quite a bit of downtime in this one. Honestly, to me…Penelope Ford came out of this match looking like the biggest star of the three. All in all, I'd say good for what it was but nothing I'd probably want to go back and re-watch either. The finish was dope though. Janela is a crazy person for taking it. (***)
ROH Heavyweight Title- Jay Lethal © vs. Flip Gordon
*Let's not kid ourselves. There was no way that they were going to change the ROH title on a non-ROH show. As much as they enjoyed having the belt defended, this defense was a lock for Lethal regardless of the opponent. Flip getting the match itself is the story here and his performance justifies it. I'd call it good but again, it's nothing that you'll want to re-watch again, despite the impressive agility of Gordon and the sheer nostalgia of Lethal busting out the 'Black Machismo' shtick again. (***½)
Kenny Omega vs. Pentagon Jr.
*Your mileage may vary for sure on this one. Everyone heaped a ton of praise on it and while it is very good, it does not raise to the level of excellence for me. The ridiculously spotty selling and the absolute disrespect to some of the most protected moves in wrestling cause me to take an issue. I do think they worked really well together and the styles meshed a lot better than I thought they might. But there was nowhere near the emotion here that came through clear as day on the Cody and Aldis match earlier. From a pure work rate aspect, it's the best on the show so far. But personally, I prefer Cody and Aldis to Omega and Pentagon Jr. (****)
Kazuchika Okada vs. Marty Scurll
*A little long. But they told a pretty strong story throughout.At the time of this writing, I had made it no secret that I was not sold on Kazuchika Okada as a draw in the US. Clearly, I was wrong. He had the entire crowd in the palm of his and Scurll's hands for basically the entirety of this contest and it was one that I think both raised Scurll's standing in the world of wrestling and confirmed what many people already feel about Okada. That being said, it's a better match if you chop off five to eight minutes from it. (***½)
Young Bucks/Kota Ibushi vs. Bandido/Fenix/Rey Mysterio
*Clearly much shorter than it was probably supposed to be, they packed a ton of action into these almost twelve minutes. I'd have been curious to see what was possible with a full run time but with Rey already gone (he had just resigned with the WWE), there would be no chance to run this back. I think it was a good way to send everyone home happy and get all the marquee moments in, but overall it just ends up being a spotfest fluff match rather than anything that'll be strongly remembered as standing out down the road. (***½)
THE FINAL REACTION
There is a lot to get through here. As you guys saw above, the totality of both Zero Hour and All In run almost five hours. While not all of that is well spent, there is more than enough to sink your teeth into here, even if you wouldn't classify yourself as a traditional 'Independent Wrestling' fan. There are a couple of real good spotfests if you liked the ECW/WCW luchador/cruiserweight style. There's a tremendous call-back to the old NWA days with how Nick Aldis vs. Cody plays out. There is a interesting take on the old 'hardcore' styles that both ECW and the WWF used to enjoy presenting in Janela vs the 'Hangman'. You even get the chance to see the celebrities that get trotted out for the big shows in places like the WWE and Impact Wrestling. Does it all work? No. But a good majority of it does. As I said, it's almost five hours. But by and large, it's five hours well spent. Call it an 8.5 and while there is room for improvement (as with everything), a very strong start for Cody and the Bucks as promoters.
Best Match/Moment: I'll go moment here and go with the obvious of Cody getting to hold the same NWA title his father did in what was an NWA stronghold town. It's cool to see the torch passed like this.
Worst Match/Moment: The fact that the main event with arguably six of the best wrestlers in the world at the time ends up getting the second shortest amount of time.
Overall Show Score: 8.5/10
MVP: I'm going to give this one to Cody, both for the role he played as a producer/agent for the show as well as the performance in the match with Aldis as well. A good night for young Mr. Runnels.
THE SIGNOFF
And that wraps up the first of the 'retro' look backs at previous 'What I Watched' reviews. When I return, I will be coming back with ECW's Guilty as Charged 1999, the first pay-per-view of the last year of the 1900s. Following that, I know the WWF's Royal Rumble 1999 is on the list. I'd imagine I'll get to WCW's Souled Out 1999 and when I do return to the Indies, promotions like IWA-MS, CHIKARA, Freelance, BEYOND, WWR and so many others are within my potentially planned scope. Hope to see you down the road and may you all enjoy quality time with those you care. See you next time and thanks for reading, everyone.
Attitude Of Aggression #275- The Big Four Project Chapter 3: Royal Rumble '88 & WrestleMania IV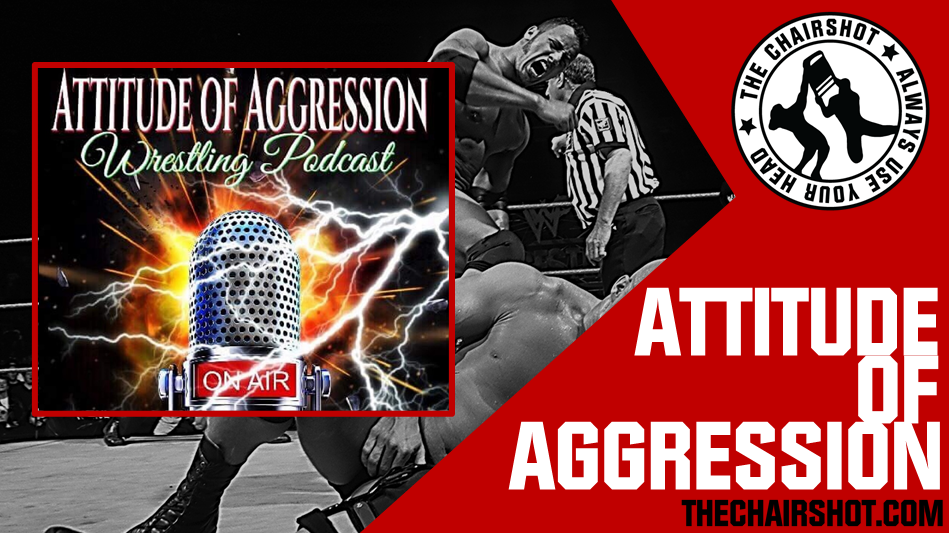 The Attitude Of Aggression returns for Chapter 3 of The Big Four Project, a chronological analysis, review, and discussion about WWE's Big Four PPVs/ Premium Live Events. On this Episode, Dave welcomes back the one and only PC Tunney to discuss two more immensely important events in pro wrestling history, the inaugural Royal Rumble and WrestleMania IV. The 1988 Royal Rumble was different than any other Rumble in history and not just because it was the first. Dave and Tunney break down the fascinating history of the first installment of an event that would evolve into an annual favorite for many in the WWE Universe. From there, the guys recap the surreal events that led to the end of Hulk Hogan's 4-year reign as WWF Champion and set the stage for, arguably, the most important tournament in WWE History at WrestleMania IV. Macho Madness reached new heights that night. But was Savage the first choice of Vince McMahon to emerge from Atlantic City with the gold that night? We have the whole story for you here on Chapter 3 of The Big Four Project!
About Chairshot Radio
The rebirth of Chairshot Radio will see a rotating cast of hosts delivering you new shows and content. Sports, Entertainment, and Sports Entertainment is the umbrella under which we seek to invade your earballs. So sit back, relax and LET US IN…
For the latest, greatest and up to datest in everything pro wrestling, sports and entertainment head to TheChairshot.com and remember to ALWAYS #UseYourHead.
About the Chairshot Radio Network
Created in 2017, the Chairshot Radio Network presents you with the best in wrestling and wrestling crossover podcasts, including POD is WAR, Women's Wrestling Talk, Chairshot Radio daily editions, The #Miranda Show, Badlands' Wrestling Mount Rushmores, The Outsider's Edge, DWI Podcast, Bandwagon Nerds, the Greg DeMarco Show, 3 Man Weave, Five Rounds, Turnbuckle Talk, The Reaction and more! You can find these great shows each week at theChairshot.com and through our distribution partners, including podcasting's most popular platforms.
The Chairshot Radio Network


Your home for the hardest hitting podcasts and radio shows!
Listen on your favorite platform!
iTunes  |  iHeart Radio  |  Google Play  |  Spotify
Listen, like, subscribe, and share!
---