Chairshot Classics: WWE SummerSlam 2003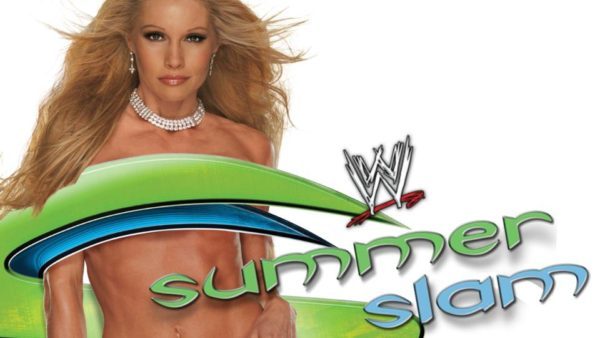 Join me as Triple H defends his WWE Universal Title in the second ever Elimination Chamber Match, that features some of the biggest names to ever strap on a pair of boots. Also we see Kurt Angle and Brock Lesnar go toe to toe for the WWE Championship. All this and so much more in this edition of Chairshot Classics.
This PPV has a tough act to follow, because SummerSlam 2002 may have been the strongest card SummerSlam has put out. (More on SummerSlam 02 here) That doesn't mean the 16,113 fans in attendance and the other 415K watching at home on PPV aren't eager to see them top it. This may be the SummerSlam with the lowest buyrate, but they still killed it in ticket sales alone, making $715,000 at the gate. Stacker 2 sponsors this SummerSlam that is held at The American West Arena in Phoenix, Arizona. I find it odd that a "dietary pill" is the sponsor for this event, as the target market for the WWE is mostly made up of younger males. I guess the hope is mom watching at home finds a need for this dietary speed. The Theme Song for the evening will be "Saint Anger" by Metallica. I always was a fan of the WWE's use of popular Metal bands at this time because that was the music that a young wrestling fan was drawn to. The WWE is seeing a decline in revenue for the first time in a while so lets jump right into SummerSlam 2003 and see if the product is growing stale.
We enter right into the arena and Howard Finkle introduces us to the U.S. Marine color guard. He then introduces Lillian Garcia, who is going to sing the National Anthem. She receives some pop at the high spots of the song and overall didn't do a bad job. This is a new addition to the opening of the show. I wonder if Vince makes sure the guys aren't kneeling in the back…
We get a cool package next that shows highlights from the first Elimination Chamber, at Survivor Series 02, and some clips of the other rivalries on the card. The narrator tells us to "Bear witness and grieve the end of civility because tonight wars will be waged on the most brutal of battlegrounds." He continues to hype the Chamber match as it cuts back and forth between the last Chamber match and a funeral scene. The video ends with a Ten Bell Salute as it shows the bloodied faces of various SuperStars. This is a great open and is about the only thing the last SummerSlam card was missing. Maybe it is a sign that a good PPV is upon us.
Jim Ross welcomes us to the sixteenth annual SummerSlam and is sure to tell us that the event is sold out. He introduces his partner for the evening, Jerry "The King" Lawler for this "Red Hot Event" and gives us a quick rundown on the Elimination Chamber Match. This is done early and often and must be it was because it was such a new gimmick the WWE thought they really needed to drive the point home. It's not long after that JR introduces the SmackDown announce team, Michael Cole and Tazz. The pair speak of the excitement for their brands WWE Championship Match between Brock Lesnar and Kurt Angle. Those two then introduce the Spanish announce team of Hugo Savinovich and Carlos Cabrera. It's not long until we hear the bomb drop and The Dudley Boyz, D-Von and Bubba Ray, enter the arena. The Tag Team champions, La Resistance enter next and they are made up of Rene Dupree and Sylvan Grenier. When Dupree won the Tag gold he became the youngest ever to do so at 19 years old. This was, of course, beat by Nicholas (10 years old) when he would partner with Braun Stroman at WrestleMania 34 and become Tag Team Champ. The angry Frenchman gimmick was these two guys' most famous moments.
The Dudleyz waste no time and are quick to attack the Frenchmen on the entrance ramp. The crowd chants "USA" as the Dudleyz guide them back to the ring.  The bell sounds and D-Von and Dupree start the match. Not much worth talking about happens early on, as D-Von maintains the momentum. Grenier eventually tags in and D-Von continues to beat him with punches followed by a leg drop. He goes for the first cover, but Grenier is quick to kick out. Bubba tags in next and he continues to beat Grenier with a variety of slaps and punches. The crowd gives up the first pop of the night when Bubba puts Grenier in a tree-of-woe and stomps on his nuts. A back elbow is next and when Dupree comes in to help, Bubba is quick to whip them both into the same corner. Bubba of course splashes them both and the crowd is popping again. The Dudleyz clear the ring out and pump the crowd up. The fans reward their efforts with a "Get the Tables" chant. When Dupree returns to the ring he goes on the offensive after a cheap shot to the back of Bubba's head, from Grenier who is on the apron. Grenier tags in not long after and La Resistance level Bubba with a double shoulder block. The "USA" chant come back but are again hushed by some more La Resistance double teaming. When  Bubba is put into a waist lock is when he starts to rally for a hot tag. Bubba escapes the hold with some head-butts but is quickly sidewalk slammed by Grenier. He goes for the cover and It takes D-Von to stop it. Next Bubba reverses an Irish whip into his signature BubbaBomb. The crowd is electric as both men lay on the mat, because they know a hot tag is incoming. Both men tag out but D-Von comes in hot and tears La Resistance up. He hits clotheslines and some other cool moves on this tear, including a nice cutter.  D-Von tosses Grenier from the ring before he scoop slams Dupree and tries to cover. But Dupree kicks out at two and the fight continues.
The next highlight comes when D-Von comes off the rope and catches some serious air to deliver a flying forearm. Grenier is now on the apron and holding D-Von's arms. When Dupree attempts to clothesline, D-Von he ducks and Dupree sends his partner flying off the ring apron. D-Von goes for a quick school boy but Grenier is quick to return to the ring and break the cover up. The partners double chokeslam D-Von and go for the pin. They are astonished when he kicks out, and this is when Bubba returns to the ring and levels them with a double clothesline. Bubba hits one of them with his version of "Shake, Rattle and Roll"  and the other member of La Resistance gets a "WUZ UP" from the Dudleyz. If you aren't familiar with this move it is a diving head-butt from D-Von that lands in a low blow as Bubba holds the opponents legs up. A 3D follows but D-Von's cover is broken up by Dupree when he pulls the ref from the ring. Bubba joins him on the outside to brawl and this is when we see a camera man enter the ring and lay D-Von out with his camera. The camera man puts Grenier on top of D-Von and the ref comes sliding in to make the three count. And La Resistance retains the Tag Team Titles. The camera man re-enters the ring and this time lays Bubba out with his camera. But as the three are stomping away at The Dudleyz , little Spike Dudley enters to try and help. But he, too, is quickly laid out with the camera. The Camera man removes his wig and it is the La Resistance henchman, Rob Conway. This was a decent match but I don't think it did the opening card slot justice. This one could definitely be fast forwarded through. Match Time:7:49
Jonathon Coachman stops The Dudley Boyz on the ramp as they are exiting and begins to question them about their loss. Bubba rants on about how they will get the Titles from La Resistance and even calls Coach an "Un-American sympathizer". D-Von says his usual "Testify" before the segment ends.
Next we see Eric Bischoff, in a black Gi, and he is shadow boxing in the back to prepare for his fight with Shane McMahon later in the evening. For those that aren't aware, Bischoff has a legit black belt in Tae-kwon-do and used to compete on the amateur level when he was younger. The Intercontinental Champion, Christian, joins him and is pissed that he doesn't have a match on the card. Bischoff is quick to pass the blame onto the acting commissioner, Stone Cold Steve Austin. Christian won the Title from Booker T at a house show in Des Moise, Iowa but that was originally scheduled to happen at SummerSlam. The plans were changed because Booker T was dealing with a nagging back injury and they took their opportunity then to have the Strap change hands. The segment ends with Christian offering assistance in Bischoff match tonight. To which Bischoff replies "I've already got a back-up plan in position."
Team SmackDown, Michael Cole and Tazz, introduces us to our next match between The Undertaker and A-Train. A-Train is the former Prince Albert but his real name is Matt Bloom and is currently one of the heads of development at NXT. The American Bad Ass enters first and is on a yellow Harley. We don't get the real theme song on the Network and it must be due to some kind of rights battle. I notice this often on the WWE Network and have really never looked into why. Big Evil circles the ring on the bike a few times before he parks it on the ramp. The A-Train enters next and is joined by the lovely Sable. Pairing A-Train with her must of been an attempt to help get A-Train over with the fans. The match starts with the collar and elbow and A-Train transitions it into a side headlock. He then whips Taker into the ropes and levels him with a shoulder block. They run through another sequence of the same moves and we are off to a pretty slow start. The first little pop comes when The Undertaker hits a Russian leg sweep and goes for the cover. A-Train kicks out, and the slow paced fight continues. They two go back and forth, and the next spot worth mentioning is a running DDT by The Undertaker.
They continue the back and forth until Taker comes off the ropes and goes sky-high to hit a flying lariat. Taker goes to the corner next, and hits his signature, Old School. Albert isn't much fazed by this and soon catches The Undertaker with a big boot. Taker charges again but A-Train hits the deck and grabs the top rope. This in turn causes Big Evil to go over the rope and crash to the floor outside. Train is quick to join him out there and ram him into the ring post. He returns Taker to the ring and goes for a cover but The American Bad Ass kicks out. A-Train continues to use Undertaker's ribs as his target and stomps away at them. A-Train hits a big vertical suplex next and again goes for a cover. But Taker is not done yet and is still kicking out. The Undertaker finally goes on the offensive after he lands some back elbow. This leads to some punches from Taker, and he soon has A-Train in a standing sleeper hold. The hold doesn't last long, though, and The A-Train breaks free by landing a jawbreaker that leaves both men stunned for a moment. They both return to their feet but Big Evil keeps the edge with some big left hands. A-Train receives some snake-eyes next and the crowd is back into this match. Taker attempts the big boot, but A-Train ducks it and both men are back on the mat after a double clothesline. A-Train is first to his feet and Taker is soon kneeling and unloading punches to A-Train's midsection. Taker is soon on his feet and the two men are going punch for punch. Taker nails the big boot and follows it with a leg drop. He goes for the cover but A-Train hasn't left station yet and gets the shoulder up. Taker drops the leg again this time on the apron. Taker tries the Last Ride but A-Train shoves him into the ref to stop the finish. A-Train hits the two handed chokeslam, but the ref is still groggy and it takes a moment for him to start the count, which Taker kicks out of. The Undertaker is quick to his feet, but when Train ducks under a clothesline it hits the ref instead. A bicycle kick to Taker's face is next from A-Train and with the ref down he leaves the ring to get a chair. But The Undertaker sends it back into his face with a big boot. He goes for another cover but the official is still dazed and A-Train kicks-out of the slow count. The Undertaker goes for the Tombstone but A-Train  escapes with a backslide but he soon is chokeslamed. He makes the cover and this time he gets the three. After the match Taker is about to give Train the Last Ride but Sable comes in the ring to make the stop. Her seduction almost works, but Taker isn't deceived and is soon about to chokeslam her. This is when Stephanie McMahon runs in and spears Sable. Steph is unloading some punches on Sable until A-Train grabs her foot and pulls her from the ring. The Crowd gives him some serious heat for this as he and Sable make their way to the back. The match ends with Stephanie applauding Big Evil for his work. For two large men, the match wasn't bad, but I have definitely seen better work from the Deadman. This one is another you could skip over. Match Time:9:19
---
Always Use Your Head and visit the official Pro Wrestling Tees store for The Chairshot All t-shirt proceeds help support the advancement of your favorite hard-hitting wrestling website, The Chairshot!

---
Chairshot Classics: NWA-TNA Episode 3 "Tag Team Turmoil"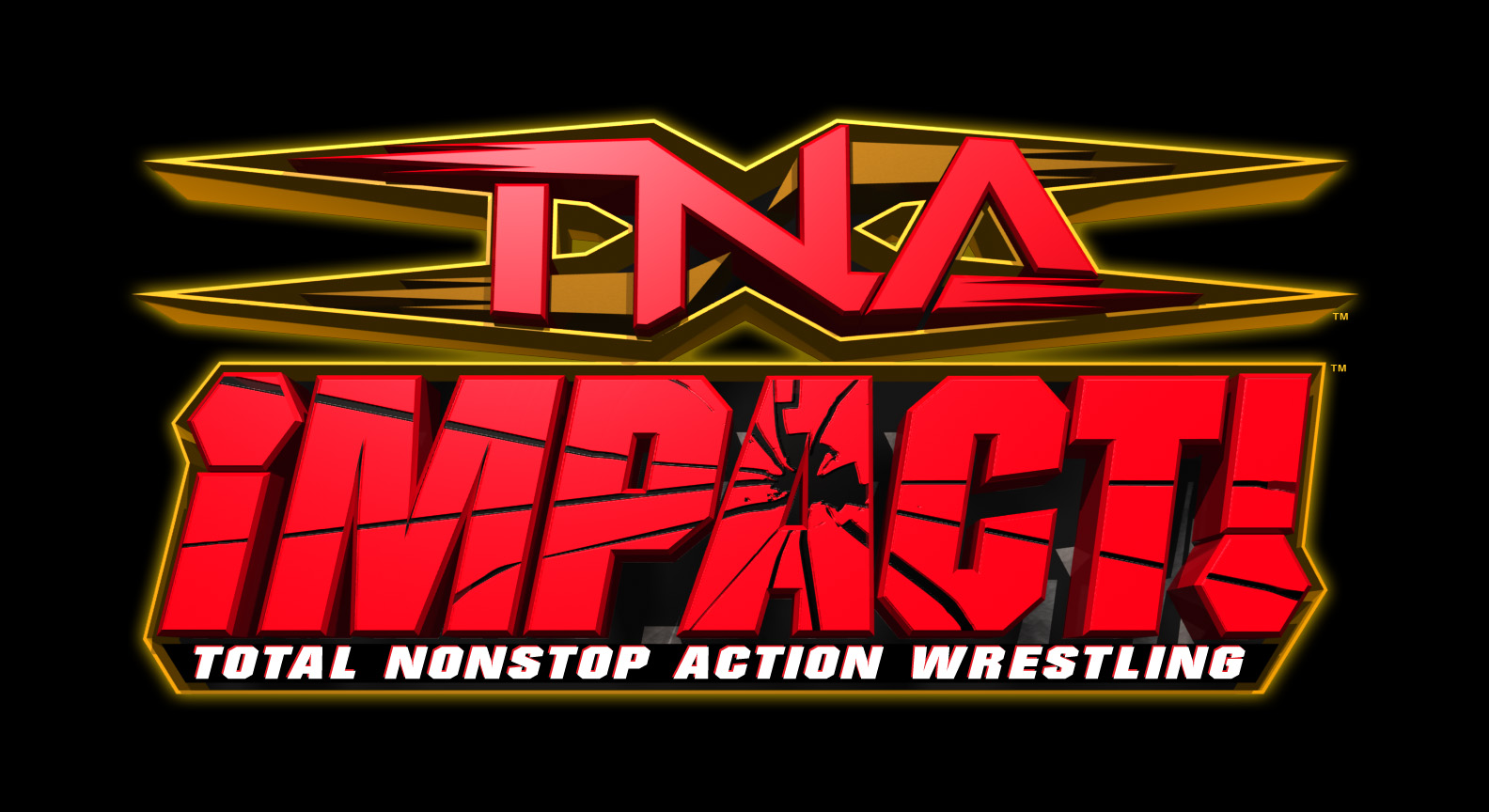 This week, TNA is building on two good shows, and this week is all about the Tag Team Division. We're getting a one-night tournament to crown the new NWA Tag Team champions, Ken Shamrock will be facing Malice (I guess the rest of Guns n Roses weren't available this week for Slash) and AJ Styles will defend his brand new X Division Championship against David Young. Let's see how they do!
Opening
TNA seems very pyro happy this week. There's a sign about the show needing 'Athena'. Don West is wearing an ugly red suit jacket with black pinstripes. We're told that Ken Shamrock and AJ Styles will be defending their titles against Malice and David Young, respectively, as well as crowning new Tag Team Champions and our Main Event is going to be Scott Hall and Brian Christopher vs Jeff Jarrett and K-Krush. Ferrara points out that Jarrett and K-Krush got screwed last week by the 'babyfaces'.
(Gotta agree with Ferrara on this one, that was BS.)
We're introduced to Jim Wilson, who is president of the NWA. Wilson apologizes for missing the first show, he was in Japan on a scouting mission (I think that's what he said). He says that there's a surprise but won't reveal the surprise just yet, but does give Tenay a trophy and welcomes TNA to the NWA.
(I thought they were already in the NWA.)
Tenay gives an awkward thanks for the trophy, clearly he thought they were already in the NWA too, but presses about the surprise. Wilson says that during his tour of Japan, he met a big, 280lb Japanese man and that next week, this gentleman, whose name is Omori will face the winner of the Shamrock/Malice match next week (sorry Guns-n-Roses).
Round 1 of the Tag Tournament: 'Cowboy' James Storm and Chris Harris vs The Johnsons (with Mortimer Plumtree)
Storm and Harris get a HUGE pop. If I remember correctly, this was the start of their run as 'America's Most Wanted'. Storm's got a pistol that's he's shooting off (blanks, I assume).
The Johnsons are back and not looking any better than they did two weeks ago, and Plumtree is every bit as obnoxious. I'm hoping this doesn't last long.
We start with Harris and Johnson #1. I think it's safe to say that the Johnsons are only going win this by dumb luck, because they stink.
This match is…not good. It's very awkward and both teams are trying to find their footing and the Johnsons just…ugh! Thankfully, this is a short one.
Winner: James Storm and Chris Harris by pinfall, they advance to the next round. Plumtree is berating the Johnsons and the Johnsons aren't happy and start to give Plumtree the worst looking chokeslam ever, but then settle on just pushing him down.
Comments: Thank god, that's over. This was awkward on both sides of the ring, but Storm and Harris, even with only being a week-old team, were a lot better than the Johnsons.
Scott Hall comes out, he's not dressed to wrestle, so I guess this is a promo segment. Hall looks like he's had a few cocktails, but before he can get past 'Hey, yo', Jarrett crashes the party. After a 'Hey, yo, my ass' that the crowd seems to like, Jarrett tells Hall that no one wants to see or hear him, which the crowd disagrees with. He tells Hall to take his ass exactly where he came from…bitch.
(Uh…okay, that sounded more awkward than it needed to sound)
Hall says that Jarrett hasn't changed at all. He still talks a lot of smack but he (Hall) doesn't think Jarrett can back it up. He then tells Jarrett 'Don't sing it, just bring it', which sounds like they ripped it right out of Rock's mouth, to be honest.
Jarrett is fine with that and heads for the ring, saying they don't have to wait until later. Unfortunately, Wilson, who seems to have drawn the 'Irritating Management Figure' straw this week. Wilson seems to have forgotten that the NWA stopped being a big deal to anyone about fifteen years ago and was definitely not a big deal eight years ago when Shane Douglas threw the belt down and cut his epic promo when Eastern Championship Wrestling went extreme, and says that Jarrett is not going to run roughshod over the NWA and that Jarrett is going to do what they say. Jarrett seems to find Wilson's delusions of power and authority amusing but backs off for now.
Wilson doesn't know when to shut up and actually seems to think that his word is law, but Jarrett plays nice and backs off. Jarrett's uncharacteristic retreat is quickly explained when K-Krush attacks Hall from behind.
(Okay, now that's how a heel acts.)
Hall quickly gets the upper hand and sends K-Krush out of the ring, but Jarrett's message was sent loud and clear: Hall doesn't only have Jarrett to worry about.
(Okay, is someone not paying the light bill here, because the lights in the building keep dimming).
We get sent back to the back, where Storm and Harris were apparently jumped in the locker room after beating the Johnsons. Storm is a bloody mess. The NWA VP throws everyone, including Goldilocks, out of the locker room with orders for someone to get the EMTs.
Anthony Ingraham vs Monty Brown
Back in the ring, we've got a filler match. Anthony Ingraham is already in the ring and Monty Brown is on his way out to a pretty good pop.
Brown cuts a promo that's a little hard to understand over the music, but from what I can hear is Brown saying that he's there for one reason and that is to beat Ken Shamrock and he's going to show everyone how he's  going to get what he wants.
Okay, maybe it's my eyes, but it looks like either Brown is really whiffing these punches, or Ingraham's timing is off.
This is a typical jobber match. Ingraham's just there to get beat up, but Brown's rough as a cob in spots.
I'm guessing, judging by the movements, Brown's setting Ingraham up for his finisher, which he hits and gets three.
Winner: Monty Brown by pinfall.
Comments: This was an okay match. Brown was pretty rough in spots and some of the spots weren't crisp, but it wasn't an awful match.
Goldilocks is looking for the NWA president, who I thought was Jim Wilson, but she's saying Jim Miller. Either way, she isn't having much luck when she's interrupted by the Psycho Dwarf. Psycho is mad that he wasn't allowed to wrestle two weeks ago and wants to 'Makes some midgets/bitches (can't really understand him) bleed.' He calls out Gary Coleman (Diffr'nt Strokes), Mini Me (Austin Powers), and the drunk midget from Howard Stern (don't know his name). Either way, he wants to see a midget bleed. Goldilocks looks weirded out (or she's trying not to laugh at him).
Back in the ring, it's time for our second Tag Team Tournament Match.
Round One of the Tag Team Tournament: The Rainbow Express (with Joel Gertner) vs Buff Bagwell and Apollo
Rainbow Express gets the reaction you'd expect them to get. I'm not sure who is more hated, Gertner or the Express, but at least we don't have to listen to Gertner talk.
Backstage, Goldilocks is interviewing the Rainbow Express' opponents: Buff Bagwell and Apollo.
(Oh dear)
Apparently, Buff and Apollo are surprise entries into this tournament, or they were to Goldilocks. Buff takes exception to being termed a 'surprise' and calls Goldilocks 'Goldilegs', much to her irritation, before reminding us that he's a six-time World Tag Team Champion.
Buff vows to become a seven-time tag champion and that's why he picked Apollo. Apollo's the biggest, baddest, the #2 man in the business (Buff apparently thinks he's the #1 guy, not, you know, the NWA Champion). Apollo's game, until the #2 comment.
Goldilocks looks bored and unimpressed.
Apollo vows victory, but apparently, Buff doesn't think people will be able to understand Apollo, because he interrupts and basically repeats what Apollo said.
(This is going to end badly.)
Goldilocks thanks them for a wonderful (yes, it was that dripping with sarcasm) interview and sends it back to the ring.
Bagwell gets a surprisingly good pop, as does Apollo. Ferrara, who is the HEEL commentator, is panning Bagwell's interview, but West defends him…kind of.
(Okay, who dropped out of this tournament for this team to be put together?)
Bagwell and Bruce start us out and we get a quick back and forth before Bruce gets the upper hand and kisses in Lenny.
Alicia comes out, wonder who she's going to be bothering this time, and apparently, it's Ferrara, who is more than happy to pay up, unlike Alicia's other…transactions.
Back in the ring, Apollo's been tagged in and is taking on both member of the Rainbow Express. Where Bagwell is, I have no idea.
When asked about the Alicia thing, Ferrara assures us that it's not what we think. (It's not, I researched it and I'm glad they scrapped it).
Apollo is doing a pretty good job, but Gertner's inserting himself in this thing.
Rainbow Express hit the Broken Arrow, the signature finisher of the World's Greatest Tag Team on Apollo, and think it was so nice, they had to do it twice, only it looks like Bruce botched it a little.
Lenny goes for pin, but Apollo doesn't want to cooperate.
Bruce and Buff are tagged in, no kissing this time, and Buff actually seems to be making some headway, but things get a little screwy and suddenly Apollo is taking on Bruce instead.
Apollo is about to end this thing when Lenny and Buff come back in. Buff  hits the Blockbuster, but eats a superkick by Lenny, who gets the pinfall.
Afterwards, Buff is upset and embarrassed. Apollo is giving him a lot of flack for the loss and leaves, leaving Buff in the ring.
Ferrara goes for an interview and asks if Buff wants a mic. A very sad looking Buff tells Ferrara to call him 'Marcus' (his real name) and not to call him 'Buff' anymore. Ferrara is surprised and asks him why. Marcus says that he's been 'Buff' his entire career and what has it gotten him: A broken neck that he came back from and no one gave a s**t (his words, not mine). He bemoans being a six-time tag champion and getting beat by two gay guys. He says he wants to be called Marcus forever and the other thing he wants is to go home.
Ferrara is stunned. Marcus says that 'Buff' has ruined his career and that his ass is going home and gives Ferrara his top hat.
Winner: Rainbow Express by pinfall.
Comment: Okay, that wasn't a total trainwreck. The promo at the end really broke my heart and I'm not a fan of Bagwell's.
Back to business, Ken Shamrock is coming out, but he's not dressed for wrestling.
Shamrock cuts a promo on Brown and pans Brown's comments about going for the NWA title. He reminds us that he went through nineteen guys to get the NWA title and Brown's only had one match. He also tells Brown to be careful what he wishes for because he could have a short career.
The crowd is doing the 'What?' chant and it's really irritating, thankfully, Shamrock seems amused by it.
Shamrock reminds us that he faces Malice this week and Omori next week. He also says that IF Brown is able to get a title shot by then, he'd be happy to beat him up and send him home with his head shoved up his ass.
(Charming)
The lights go out and James Mitchell is here and tells Shamrock not to concern himself with Monty Brown or Omori but that he DOES need to fear Malice.
When the lights come back up, Shamrock's been laid out and Malice is standing over him. Security and EMTs come in, putting the title match in doubt.
Backstage, Goldilocks is trying to get a word with NWA VIP Bill Berens over what is going on tonight. Apparently, Mr. Berens is trying to get an update on James Storm and Chris Harris. Jerry Lynn is also there and tells Berens that he can find a tag partner he can step in. Berens is being very uncooperative with Lynn and Goldilocks.
Up next is Puppet, aka Psycho Dwarf.
Puppet vs Todd Stone
 Puppet gets the mic and continues his rant from earlier tonight. Before he can get too far, his opponent comes out. Puppet isn't sure what to make of this guy, but here we go.
Puppet greets his opponent with several shots to the head with a kendo stick and a size appropriate trash can.
I have no idea what the heck is going on, but this is basically a hardcore match with little people and Stone seems to be the jobber. Puppet hits an F-5 (F-2.5?) on Stone for the win.
fterwards, Puppet celebrates by hitting the ref with the kendo stick before attacking Stone some more. He nails Don West when West wants a high five and basically is swinging his stick at anything moving.
Winner: Puppet by pinfall.
Comment: Uh, yeah, okay.
Goldilocks is with Shamrock, trying to figure out if Shamrock will be able to face Malice later on. The EMT tells her that they're trying to figure that out and they're going to do a further assessment. Shamrock tries to get up (not very hard, I might add) and the EMTs get him sat back down.
We get a recap of the Miss TNA match and what happened to Francine, including the creepiness that Ferrara pulled, and rightly got his butt kicked for. Apparently, we're getting a match.
Francine vs Taylor Vaughn
Francine gets a good pop, as does Taylor, whose music sounds like a little like Charlotte's.
Apparently, someone didn't tell Francine that ECW's rules (or lack thereof) don't apply in TNA, because she produces the belt from last week and starts whaling on Taylor with it.
Scott Armstrong gets the belt away from Francine and I guess this match has started. Vaughn gives Francine a taste of her own medicine, and even gives Armstrong a smack for interfering…which gets her disqualified.
Taylor and the crowd are furious because Francine got what she deserved. Ferrara apparently didn't learn his lesson from last week and goes to comfort Francine and raises her hand and that's when things get weird. Francine puts Ferrara's hand on her boobs. When Ferrara responds the way most men would to a woman putting his hand on her chest, Francine beckons him closer and then smacks him before nailing him with the belt.
Winner: Francine by DQ.
Comment: That happened.
Borash introduces Hervey Sadler…who apparently is not going away anytime soon. Apparently, Hervey is worried about K-Krush showing up because he's got some big security guys backing him up.
It's a good thing Sadler's success relies on his driving skills and not his promo skills because the promo was nothing to write home about, even if I could totally understand what he was saying.
Thankfully, K-Krush is back to save us from this monotony. He tells Sadler to shut up and reminds him and us of their on-going feud.
The promo goes about as well as it has for the last two weeks, until K-Krush shoves Sadler, who responds with a decent spear and begins punching K-Krush until security gets them separated.
K-Krush is furious and says that he doesn't have time for Sadler this week due to his main event match this week but that he's free next week, and challenges Sadler to a match, which Sadler accepts before security escorts him out.
(Why do I have a bad feeling about this?)
NWA Championship Match up next.
NWA World Heavyweight Championship: Ken Shamrock vs Malice (with James Mitchell)
 Mitchell and Malice are out to music that Paul Bearer would call cliched to a round of boos. Malice looks a little like Sycho Syd and JBL, which is an odd combination.
Shamrock comes out, to everyone's surprise and he's selling the pain of the beatdown like he's just stubbed his toe and is trying to walk it off.
Anyway, this match is all Malice at the start and he's rough as a cob, but he's doing a good job of looking like a credible threat.
Malice does a move where he climbs to the middle turnbuckle while having Shamrock in a headlock. It looks like it could be an impressive strength move if he can make it look a little smoother.
Shamrock starts showing some life and tries to get Malice in a submission hold, but he's too beat up and Malice gets away.
Malice throws Shamrock outside and Mitchell tries to distract the ref, who refuses to cooperate.
Malice throws Shamrock back in the ring, but gets caught when Shamrock gets him in a leg bar, but Malice gets to the ropes.
This match has been all Malice, Shamrock's only gotten in two offensive moves the whole time and it's starting to get boring.
Spoke too soon, Shamrock finally wakes up and starts acting like he's got a horse in this race. After one belly to belly suplex, he gets a pinfall.
Malice and Mitchell are furious and confused, and I don't really blame them.
Result: Ken Shamrock by pinfall.
Comment: That was not a great showing by either man. Malice is not quite ready for the spot he was in and hesitated several times before making a move. Shamrock was basically a punching bag and his sudden victory didn't really do either man any favors. Hope the match against Omori is better than this.
X-Division Championship: AJ Styles for David Young (with Bobcat)
 So, David Young and the ever classy Bobcat are back and Young has a title shot against Styles for some reason. Bobcat is loving the attention, but Young isn't happy. Styles gets a great pop. His music is a hokey country music sound, but it works for him.
Young gets the jump on Styles, but Styles quickly recovers. Young is very awkward, but he's doing an okay job out there.
There's a REALLY awkward spot where Styles looked to be going for a plancha but either misjudged did the spot wrong or Young was too close to do the spot correctly. They recover and Styles throws Young back in the ring for a two count.
Meanwhile, Bobcat has lost interest in Borash, much to Borash's relief, I'm sure, and is busy talking on her cellphone. Yes, kids, cellphones did exist in 2002 and there were obnoxious people on them even then.
Styles goes for a springboard move but Young knocks him off and back onto the floor, before hitting a surprisingly good springboard moonsault. Young seems a little irritated by Bobcat being on the phone, but it's not making an impact on the match. Young goes for a German Suplex, but Styles lands on his feet. There's another awkward spot that ends with Styles being suplexed into the corner. Young is showing some impressive moves, but this match is really awkward.
Bobcat puts down her phone long enough to wave to the camera before going back to her conversation. Young hits a really good powerslam but only gets two.
(Come on, guys, pick it up a little.)
Styles hits a superkick but only gets two. He hits what looked like it was supposed to be a springboard moonsault but it didn't go off and he transitioned it into a reverse DDT, but again, only got two. Young hits another powerslam that looked nasty, but Styles won't stay down.  He gets Styles into the corner and goes for a Frankensteiner, but Styles counters into a Styles Clash from the middle turnbuckle.
Bobcat either doesn't notice that Styles won or doesn't care because she gets in the ring and mugs for the crowd. Styles, quite ungentlemanly, shoves her out of the way, but she gets up and keeps going
Winner: AJ Styles by pinfall.
Comment: Another not great outing for a defending champion. There were a lot of awkward spots in this match and I can't say they were all Young's fault. I'm a little curious to see what they have planned for David Young and Bobcat.
Backstage, Goldilocks is with the Rainbow Express, who currently don't have an opponent for the Tag Team Tournament due to Storm and Harris being taken out earlier in the evening.
For whatever reason, Lenny decides to tell Goldilocks that while they aren't interested in her, she should be interested to know that they know a place where she can get her hair fixed.
Goldilocks isn't having it and tries to continue her interview but Gertner seems more interested in being a sexist creep, emphasis on CREEP, by hinting that he takes 'toys' with him to the airport. Goldilocks isn't having it and asks about the tag team tournament. Gertner replies that since every other team has either been beaten or beaten up, the Rainbow Express not only get the rest of the night off but will leave as NWA World Tag Team Champions. He then tells Goldilocks that he might just wrestle her. Goldilocks is disgusted. He then states that under NWA rules and regulations, if all the other teams have been beaten or can't compete, the last team standing (Rainbow Express in this case) wins by default.
(Guess we know who was behind Storm and Harris getting beat up).
Gertner then kisses Goldilocks and leads his team out of the locker room. Goldilocks laughs it off, but I'd be rushing to sanitize my face after that.
Up next is the final match of the Tag Team Tournament, but we only have one team.
Gertner comes out with the Express, all looking confident that they'll be handed the belts and leave since Storm and Harris were taken out.
Borash says that the NWA officials have said that the Rainbow Express must have opponents for the match. Gertner is audibly furious. Their opponents are…Jerry Lynn and AJ Styles.
Final Match For NWA Tag Team Tournament: The Rainbow Express (with Joel Gertner) vs Jerry Lynn and AJ Styles
Lynn and Styles get a great pop. Styles looks sore and tired from earlier. Rainbow Express get the jump on Styles and Lynn, but that quickly changes.
This quickly turns into a brawl outside the ring, but inside, Lenny and Lynn are facing off and Lynn is outclassing Lenny at every step.
Couple of funny/risqué moments. Lynn goes for the Bronco Buster, but changes his mind, getting a few kicks in before hitting a drop toe hold on Bruce, who was trying to get a cheap shot in, that sends Bruce head first into Lenny's Jesus Zipper, and then rams Bruce back into Lenny's crotch several more times.
Lynn seems to be in control, until Gertner grabs his leg to keep him from going to the top turnbuckle, allowing Lenny time to pull himself together and take control of the situation. Lenny kisses Bruce in and West's fairly homophobic ranting about it is a little nauseating. Bruce only gets a two count for his pin attempt.
Lynn manages to get back in control but only gets a two count after a guillotine leg drop. Styles is tagged in and manages a little offense before tagging Lynn back in. Gertner goes for the leg distraction again, but Lynn ignores it, while the ref is berating Gertner, Bruce gets a low blow in. Bruce tags Lenny in, but Lynn hits a jawbreaker.
Lenny goes for a Full Nelson, but Lynn slips away and hits an awkward Victory Roll but only gets a two count. Lynn misses a dropkick, giving Lenny an opening for his really bad looking Lion Tamer, but Styles makes a run-in and gives a stiff looking clothesline to break things up. While the ref is berating Styles about coming in without a tag, Bruce does exactly that, but the ref does nothing, of course.
Bruce kisses in Lenny, who gets Lynn up in a vertical suplex, but then seems to have forgotten what he was going to do with him, before finally hitting the suplex, but only gets a two count. Frustrated, Lenny takes a cheap shot at Styles and kisses in Bruce. Bruce shoots Lynn into the corner, but Lynn counters with another Victory Roll, but only gets another two count.
There's a very funny exchange where Bruce tries to go for a Sunset Flip and Lynn sits down on him for a pin and then realizes what he's doing. Bruce counters a headscissors takeover attempt with a faceplant, but only  gets a two count.
After an extended time in a head scissors submission, Bruce tries to get Lynn into a piledriving or powerbombing position, but Lynn blocks and gets clobbered for his effort. Bruce goes for a powerbomb, but Lynn counters and goes his piledriver, but Bruce counters, Lynn counters the counter and would've gotten three if Gertner hadn't distracted the ref for a few seconds.
Lynn hits a reverse DDT but can't capitalize on it and both men tag in (no kissing) their partners.
Styles seems to have finally gotten his wind back because he comes in like a house of fire. Styles gets two near falls, the last of which is broken by Bruce. Lynn comes in and we have chaos. Lenny hits a Full Nelson facebuster, but Lynn breaks up the pin and hits his piledriver on Lenny, giving Styles time to hit the corkscrew senton and we have new Tag Team Champions!
The crowd is ecstatic! Though, oddly, Styles is the only one celebrating at first, maybe because Lynn and Bruce were out of the ring and Lynn didn't realize what had happened. He gets in the ring and both men celebrate.
Winner: Jerry Lynn and AJ Styles
Comments: That was a really great match once Styles was able to get his wind back and take the pressure off of Lynn. It was still awkward in several places, but a very good match.
We go backstage and find President Wilson/Miller tied up backstage with FU written on his belly.
We get a recap of the issues between Jarrett/Hall/K-Krush/Christopher, including last week where the babyfaces screwed over the heels.
Jeff Jarrett and K-Krush vs Scott Hall and Brian Christopher
Krush gets a minimal reaction, as does Jarrett. It's implied that Jarrett might have had something to do with whatever happened to NWA President Whatshisname. Christopher gets a great pop as does Hall. Thankfully, Hall and Christopher came out without help.
We start off with a brawl that quickly heads to the floor.
This was a really great match, but it seems to be struggling to top the Tag team final match, which probably should've been the Main Event.
Jarrett and Krush are a really good team, but Hall/Christopher just seem like very odd ringfellows. Christopher's got a lot of talent, but he just doesn't fit in with Hall, Jarrett, and K-Krush. Jarrett is really making a case of being the guy to build the TNA brand around. Despite not being the biggest guy on the roster, he's easily one of the most talented and it's really showing in this match.
Christopher makes an error, by trying to stop a tag attempt by Jarrett to Krush by grabbing Krush at the other side of the ring, which takes him out of position for Hall to make the tag. What the heck?! Christopher acts like he wants Hall to tag him in, then yanks his hand away and punches Hall. In the exchange that follows, the ref gets knocked out and Hall is left fending for himself and takes out Christopher.
Okay, so Christopher has turned heel and helps Jarrett hit the Stroke. Christopher hits the leg drop and Jarrett and K-Krush get the win.
The heels are celebrating, and the crowd is livid.
Winner: Jeff Jarrett and K-Krush by pinfall.
Comment: That was better than I expected, the heel turn was a nice swerve, but it still felt a little flat after that Tag Team match.
Jarrett gets on the mic and says that he proved his point: Scott Hall isn't worth a s**t. He goes on to say he's beaten Hall in 1995, 1997, ran him out of WCW and WWF, and that he's going to run him out of the NWA. Jarrett then proceeds to beat up Hall some more.
Jarrett says that Hall is just like all the other legends in the NWA, he's not worth a damn. He then tells Tenay to take that to NWA President Jim Whatshisname, since apparently no one knows if his last name is Wilson or Miller, Harley Race, Dory Funk and all the other NWA legends. Jarrett seals the deal by cracking the NWA trophy over Hall's head. Apparently the NWA didn't skimp on the trophy because it takes Jarrett two tries to break the thing.
As the EMTs come out, Jarrett challenges everyone he can think of:  Toby Keith, Starling Marlin and vows to whip everyone's ass. He also says he'll run Scott Hall out of the NWA if it's the last thing he does.
Jarrett then drops an elbow on Hall for the sheer hell of it and then tells everyone to put it down in their books: He got screwed the first night of TNA (which is true), and he'll be damned if he'll ever let it happen again. Jarrett makes a comment about Toby Keith but I couldn't understand it over the commentators talking. He tells Scott Hall to never forget what happened and then attacks him again. Jarrett walks out still complaining about Episode #1 and him getting screwed by Fargo and the NWA.
Tenay reminds us that next week we're going to have a NWA title match between Shamrock and Omori, an X-Division match featuring the return of the Flying Elvises. Jarrett is back again and still attacking Hall. We end with Jarrett dropping the stretcher frame on Hall.
Overall Comments:
So, how was Episode #3? It was pretty good, it did a good job of moving the storylines forward now that we're past the first two episodes. The three titles for TNA have been introduced and have champions for them.
There is still a lot of awkwardness in the matches and a lot of guys who were put into spots they aren't ready for in terms of in ring skill. I saw several awkward spots in just about every single match tonight. A lot it is probably because TNA is just starting and are using what's available and what's available are…the guys WWF/E doesn't want or isn't interested in at the moment, or the guys who were in WCW or ECW and didn't want to work for WWE.
That said, it was a very good show.  The tag team tournament was really good, though the final match went a little long for my liking and was mostly all Jerry Lynn because Styles had JUST wrestled a fairly tough match not five minutes earlier.
Speaking of Styles, having seen how great he is in WWE, it was a surprise to me to see so many awkward spots in his match against David Young and I can't say that all of it was Young's fault. That said, Styles had only been in the business a few years and so some awkwardness is still going to happen.
The main event was really good, but it felt like someone was telling Jarrett to keep talking because the run time hadn't be reached, but it put Jarrett over as a top heel, which he was needing.
One of the tough things about watching TNA from 2002 is seeing all the sexism and homophobia that was out there for everyone to see. I found myself very uncomfortable with several segments simply because things have changed so much in the past fifteen years, that being reminded of how things were is a little disconcerting.
Stinkers: Oh, that's hard. I'd have to say that the Johnsons vs Storm and Harris was the worst.
Snoozers: Shamrock vs Malice. It was just very awkward and watching Shamrock, a legit badass, being tossed around was not entertaining.
Match of the Night: The Tag Team Final, even though it ran a little too long for my liking.
Final Thoughts: I really enjoyed this show and I'm intrigued to see what's next.
---
Always Use Your Head and visit the official Pro Wrestling Tees store for The Chairshot All t-shirt proceeds help support the advancement of your favorite hard-hitting wrestling website, The Chairshot!

---
Chairshot Classics: WWE SummerSlam 2007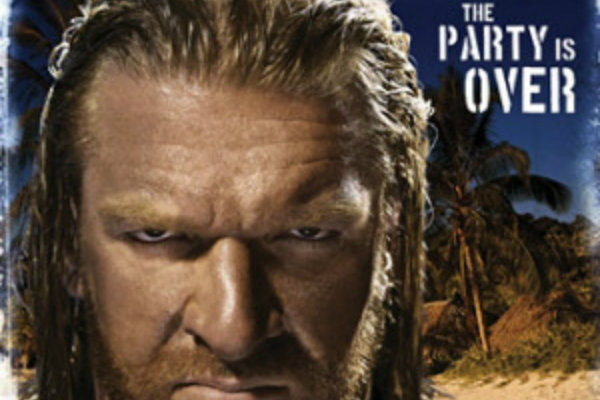 The Twentieth edition of SummerSlam is here and it features three World Titles. John Morrison will clash with CM Punk for the ECW Title. John Cena faces off with Randy Orton in their first singles match for the WWE Strap. Oh yeah, there's Batista/Khali too…
The Continental Airlines Arena in East Rutherford, New Jersey is jammed packed with a sold-out crowd of 17,441. The tickets for this SummerSlam went on sale December 30, 2016 and sold-out in forty minutes. This netted the WWE over a Million bucks in ticket sales alone. This number doesn't include the other 537,000 Pay-Per-View buys that were 30 bucks a pop, either. The theme song for the evening is "Whine Up" by Kat DeLuna Feat. Elephant Man. Lets get to it and head into the arena because apparently "The Party is Over".
The opening monologue is great and is the better we have had in a few years. It begins by highlighting the return of the Sultan of the 619, Rey Mysterio from injury. Next up is Batista challenging The Punjabi Nightmare and World Heavyweight Champion, The Great Khali. Next we see The Viper Randy Orton and his quest to take the WWE Title off of John Cena. Just as the narrator says "Get ready for the party of the summer" his voice is cut off and the screen burns up. Through the fire a video of Triple H being rebuilt like the Terminator begins. This is done to hype up the return of Triple H, who is also on his way back from Injury. It shows the build of his feud with the false king, King Booker. The Motorhead song, and Triple H's theme, "King of Kings" plays as the video rolls on. Like I said, great opening here folks.
Michael Cole welcomes us in to the sold-out arena and introduces his SmackDown announce partner, John "Bradshaw" Layfield. They then turn it over to the Raw announce team of Jim Ross and Jerry "The King" Lawler. They then send it over to the ECW crew of Tazz and Joey Styles. They then send it back to the SmackDown guys who introduce the competitor in the first match Kane. Kane enters and has the ribs taped up. This is from a previous attack at the hands of Finlay and his Shillelagh. The entrance stag here is cool and looks like a 90's Bash at the Beach set. His opponent is out next and Finlay wastes no time getting to the ring. This is a feud that was rushed together because Finlay spilled a cup of coffee on Kane. This is a common theme for this SummerSlam, as a lot of injuries occurred around this time.
Kane is quick with the first punch, an uppercut, and pounds Finlay into the corner. He whips Finlay into the ropes and drops him with a back elbow that he follows up with a dropped elbow. Kane scoopslams Finlay next and is already selling the rib injury. The momentum stays in Kane's favor and he works Finlay with a lot of rope chokes. Of course the ref is there to break these, and Kane is growing frustrated with the ref for this. Finlay finally does something and catches Kane with a big boot after he is whipped to the corner. Finlay takes to the second rope but Kane smokes him with a right hand and Finlay falls to the outside. The clap from this right hand is loud and really looked to have landed solid. Kane joins Finlay on the outside and flattens him with a big boot before returning him to the ring. For some reason Kane tries to take to the top rope, but Finlay chops his leg out. This sends Kane crashing into the turnbuckle, ribs first. Finlay starts to stomp the ribs of Kane and eventually splashes onto them. This leads to a cover for Finlay, but Kane kicks it out. Finlay puts Kane in a single leg crab and starts to stretch the big man. Kane turns him over after some time and out of nowhere Kane nails Finlay with an enziguri. This gets the first real pop of the night from the fans and me as well.
Both men are slow to rise to their feet but Kane gets there first. He nails Finlay with a pair of uppercuts before landing a big boot that lays Finlay on his back. Kane whips Finlay into the corner and charges with a clothesline. He then picks Finlay up with one arm and gives him a sidewalk slam. Kane goes for the cover but Finlay gets the shoulder up at two. Kane takes to the skies and comes off the top rope with a diving lariat. The ribs are really bothering Kane at this point and both men are slow to regain their footing. Kane charges Finlay, who is in the corner, but Finlay dodges him and Kane collides with the turnbuckle. Finlay then delivers a leg drop to the ribs of Kane and attempts a cover. This is only a two and Finlay does a good job of selling the shock here. Finlay then leaves the ring and checks under it. The crowd really pops when the Cruiserweight Champion, and resident leprechaun, appears. Hornswoggle joins Finlay in the ring but as soon as they do Kane sits up in his usual fashion. When Kane is on his feet Hornswoggle runs from the ring and Kane catches Finlay with the big boot. Kane then leaves the ring and grabs the leprechaun, who is trying to escape back under the ring. Kane throws him into the ring ad tries for the double chokeslam. The rib injury is cause for problem here and is struggling to left them up. This opens the window for Finlay to kick the ribs and escape the grasp of Kane. He kicks the ribs a few more times and then hits Kane with a kneeling DDT. Finlay goes for a cover and Kane is still able to get a shoulder up. Finlay is frustrated and removes the turnbuckle cover. The ref comes over a puts it back on, but the distraction allows Finlay to bring his Shillelagh into the ring. Kane stops the attack with an uppercut and is now staring at the weapon. The ref grabs it first and turns his back to remove it. This is when Finlay rolls from the ring and is handed another one from under the ring and strikes Kane in the ribs with it. He then tries to steal the win with a roll-up pin but Kane manages to kick it out. Kane nails the chokeslam next and the fans count along as the ref bangs the three count. Not a fan of this opening match and it surely can be skipped over. Match Time-8:54
We see Jonathon Coachmen and he is joined by Vince McMahon and some of his lackeys. They include SmackDown GM, Teddy Long, Steven Regal and Alejandro. The men look to be in a room that is set-up for a Tiki Party. Coachmen tells Vince "This is party central" to which Vince replies "Four men. How can you have Party Central with four men? Where are the women?" MVP eventually joins the party and issues a non-wrestling match challenge to Matt Hardy. This is because MVP is unable to wrestle because he was diagnosed with a rare heart condition, Wolf-Parkinsons-White Syndrome. It was easily treated, but MVP just had to take a break from the ring to do so. This whole segment is straight goofy. Next.
We are back in the arena and Mr. Kennedy is quick to make his way to the ring. We get JR and The King back for this Triple Threat bout that is for the Intercontinental Championship. Mr. Kennedy takes to the mic and re-introduces himself to the fans and they react positively to this. The next challenger out is Carlito. Carlito has a few words for Kennedy before the Champion is introduced. Umaga makes his way to the ring, and this is another match that was just thrown together after the original plans fell through. Originally it was scheduled to be Umaga Vs. The MTV Jackass Crew. They backed out at that last minute due to not wanting to be associated with all the recent controversy surrounding the Chris Benoit situation. This would have included a boxing match between Hornswoggle and Wee Man. What could of been. The next plan also had to be scrapped, as Jeff Hardy was going to face Umaga for the Strap here, but he was sent home four days prior for thirty days. The reason being "Unspecified Violation of Company Policy." Hmm…
Umaga makes quick work of the other two competitors with some big right hands. Kennedy rolls from the ring and Carlito is whipped to the corner. Carlito then rolls from the ring and starts to form a plan with Kennedy to take on Umaga together. Both men enter from opposite sides of the ring but this plan backfires and Umaga lays them both down with more right hands. Kennedy again rolls from the ring while Carlito is whipped to the corner. Kennedy grabs the foot of Umaga though and this allows Carlito to dropkick him out of the ring. Umaga falls to the floor and Kennedy uses a scissor kick to drive Umaga's shoulder into the steps. Kennedy returns to the ring but Carlito is quick to roll him up for the pin. It looks like Carlito may get the three but the ref notices him using the rope for leverage so he stops the count. Both men hit their feet and Kennedy hits Carlito with a clothesline. Soon after Kennedy attempts a second one but this one Carlito ducks and lands a springboard back elbow. Carlito covers but only gets a two.
Kennedy eventually gets some offense in, and after a inverted side Russian leg sweep, Umaga is starting to stir on the outside. This doesn't go unnoticed, and Kennedy attempts to baseball slide him. Umaga catches his foot and yanks him from the ring. After a quick beat down of Kennedy, Umaga returns to the ring and turns his attention on Carlito. He hits Carlito with a scoopslam and then comes off from the second turnbuckle with the diving headbutt. Carlito finds himself in the corner with Umaga charging him next. This backfires when Kennedy pulls Carlito from harms way and Umaga splashes into the turnbuckle. Kennedy then takes a monitor from the announce table and rams it into the top of Umaga's head. When Kennedy tries to return to the ring Carlito sends him flying off the apron with a forearm. Carlito goes for a cover but the Samoan Bulldozer kicks out. Kennedy returns to the ring and once again Carlito convinces him they need to work together on this one. The double suplex fails them and Umaga lifts them both up for a suplex of his own. Umaga makes quick work of the two, hitting Carlito with a Samoan drop and Kennedy with a swinging sidewalk slam. He covers Kennedy, but Carlito is there to break it up. For this, Carlito is rewarded with a superkick that sends him flying into the corner. Umaga rams his ass into the face of Carlito before he charges at Kennedy. This doesn't work out for Umaga, and Kennedy pulls the top rope down sending the big man crashing to the floor. He hits Carlito with the Green Bay Plunge and goes for a cover. Umaga re-enters the ring, though, and breaks it up. Umaga then hits Kennedy with the Samoan Spike and makes the cover. The ref counts the three and Umaga retains the IC Title. The match wasn't good at all and is definitely worth hitting fast forward on. Match Time-7:35
---
Always Use Your Head and visit the official Pro Wrestling Tees store for The Chairshot All t-shirt proceeds help support the advancement of your favorite hard-hitting wrestling website, The Chairshot!

---
Chairshot Classics: NXT TakeOver Chicago (5/20/17)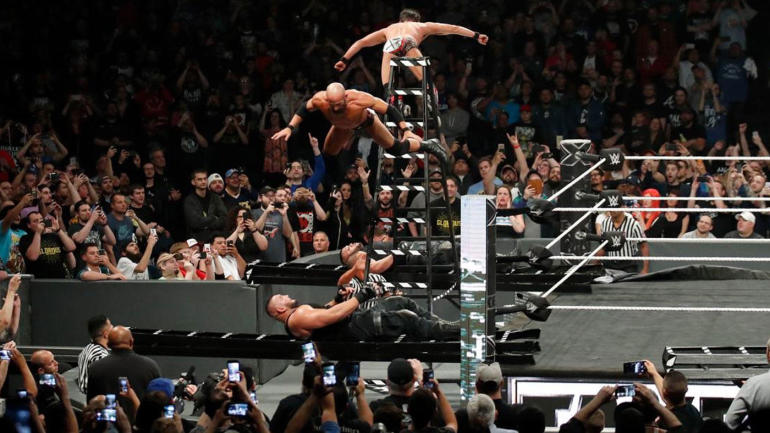 Open: "Welcome to the city of wind, the city where champions become legend. The city where underdogs defy the impossible, turning fairy-tale endings into reality. Tonight, true champions will be defined." This is NXT TakeOver: Chicago.
Match #1: Eric Young w/SAnitY vs. Roderick Strong
Roderick enters from the crowd and shoves Killian face-first into the ring post, plants Wolfe spine-first on top of the barricade, slides into the ring and we're underway. Strong fires away with right hands, Young comes back with a kick, tries to send him head-first into the top turnbuckle, Roddy blocks it, returns the favor and scores with stinging chops. He shoots EY to the opposite corner, elevated him with a back body drop off the rebound, Strong clotheslines him over the top, then goes out in pursuit. The Messiah of the Backbreaker unloads with more chops, Young fires back with a right, rolls him back into the ring and slides in, they exchange shots and EY hits the ropes.
Roderick explodes up with a dropkick, batters Young with more chops and clubbing blows, whips him to the corner and charges in, EY surprises him with a back elbow, then delivers a back suplex. He puts the boots to Roddy, bludgeons him with elbows to the back, hits the ropes for a swinging neckbreaker and gets a count of 2. EY grounds Strong with a chinlock, The Messiah of the Backbreaker finds his footing, Young clobbers him across the spine again, sends him to the corner and follows in. Roddy gets the boot up, looks to whip EY to the opposite corner, double reversal, Strong charges in and gets caught by a back elbow, staggers to the ropes and comes back with a clothesline.
He hammers Young with a series of strikes, EY stumbles to the corner, Roderick rushes in with a stiff right hand, then whips him across. Young flips himself to the apron, The Messiah of the Backbreaker rocks him with a big boot, hits the ropes for a baseball slide to Wolfe, ducks under a clothesline from Dain and sweeps EY's legs on the apron. Killian flattens Roddy with a running crossbody out of the referee's sight, Young steps out and drapes Strong over the apron, clocks him with a kick to the head, then slides back into the ring. He drags Roderick inside and drives him head-first off the top turnbuckle, goes to the 2nd rope and lifts him with a hanging dragon sleeper, allows Roddy to fall to the mat, then comes off with an elbow drop that gets 2. EY batters The Messiah of the Backbreaker with heavy shots, chokes him over the bottom rope, the official steps in to back him off, Wolfe delivers a cheap shot and Young covers, but again only gets a 2 count.
He sends Strong throat-first into the top rope for a 1 count, chokes him using the middle rope, snapmares Roderick over and wrenches away on the neck. Roddy works to a vertical base, gets dropped by a back elbow, EY hooks the leg for another 1 count, then rams him head-first off the top turnbuckle. Young corners Roddy and goes back to the 2nd rope, tries to hang him with the dragon sleeper again, The Messiah of the Backbreaker, fights his way out of it, EY tries to come off the 2nd rope, but gets hit mid-air by a dropkick. Both guys struggle back to their feet, Young charges near the ropes, runs into a back elbow, Roderick starts to build momentum with right hands and clotheslines, sends EY to the ropes and he hangs on, attempts to catch Strong walking in with a kick, but it's blocked.
Roddy pulls Young into a modified backbreaker, measures him in the corner for a running knee, plants him with an inverted back suplex and goes into a lateral press, but only gains a near fall. Young wisely rolls out of the ring for a breather, Roderick reaches out through the ropes to grab him, EY drags him to the outside, then drops him on the floor with the Youngblood. EY tosses Strong in and rolls into a cover, The Messiah of the Backbreaker barely kicks out at 2, Young can't believe it and hauls him back up. Roddy battles back with chops, gets immediately clobbered by a stiff forearm, EY looks to head upstairs, but Strong climbs up to meet him. Young knocks him to the canvas with a headbutt, leaps off the top with a flying elbow drop, hooks both legs and still can't finish it off. He hooks Roderick for the Youngblood again, The Messiah of the Backbreaker reverses into a victory roll for a near fall, staggers near the ropes, catches Young charging in with a kick, follows with an enzuigiri, Killian climbs up on the apron, but gets sent back to the floor by a kick.
Wolfe hops on the apron and Roderick drives Young into him, lifts EY for an olympic slam, Young rakes the eyes to avoid it, then goes back up top. Roddy quickly staggers up and catches EY with fists, climbs up to deliver a superplex, Young battles his way out of it, then tries to superplex Strong to the floor. The Messiah of the Backbreaker slips out of it, rocks EY with a high knee, Young spills off the top onto Wolfe & Dain on the floor, Roddy coming outside to retrieve him. He throws Young into the squared circle, gets surprised by a stiff jab coming in, EY hits the ropes, Roderick explodes up with a high knee, then cracks him with the Strong Breaker for the win.
Winner: Roderick Strong (Strong Breaker)
EA's Take: Great open to the show here, EY is nowhere near the athlete he once was in his younger years, but he's such a smart wrestler that he knows how to use simple tactics to get the job done. I'm pretty surprised Roderick got the win, I think SAnitY should have been left unstoppable until they ran into the "right guy" or another imposing figure, someone like a Drew McIntyre. I know they've been trying to get Strong going, especially with the recent vignettes about his life on NXT, but I just see more potential in SAnitY long-term.
Match #2 for the WWE United Kingdom Championship: Pete Dunne vs. WWE United Kingdom Champion Tyler Bate
Jim Ross has joined commentary for this match. A loud "Bruiserweight" chant breaks out, collar & elbow tie-up to begin, the challenger rides Bate to the canvas and hooks in a front facelock, Bate counters out to a wristlock, Dunne rolling out to a snapmare. He grounds the champion with a headscissor, Tyler goes into a headstand to spin out of it, they lock-up again and The Bruiserweight picks the arm, then starts to wrench away at the shoulder joint. Bate works back to a standing position, rolls himself free and scores with a dropkick, the challenger rolls out of the ring for a breather, the champion steps out in pursuit and gets clocked by a stiff forearm.
The Bruiserweight rips at Tyler's fingers, tries to stomp his hand on the steel steps, Bate avoids it, connects with an uppercut, then comes off the stairs with a corkscrew uppercut. He sends the challenger back inside and slides in, Dunne rolls right out the other side, Bate comes out after him, gets decked by another heavy forearm, The Bruiserweight then planting him on the apron with an X-Plex. He tosses the champion back in and puts the boots to him, goes back to work on the arm, begins to tear Tyler's fingers apart some more, then unloads with more forearms and kicks. Bate starts to absorb it, launches Dunne with a dead-lift exploder suplex, the challenger staggers to the corner, the champion charges in with multiple uppercuts, goes across the ring to build a head of steam, The Bruiserweight follows him in and flattens Tyler with a clothesline.
He hooks him for the X-Plex, Bate lands on his feet, takes Dunne out at the legs, follows with a standing shooting star press, then dead-lifts him with a bridging saito suplex for a count of 2. The champion pulls himself back to his feet, looks for a running shooting star press, The Bruiserweight catches him with a triangle choke to counter it, firing away with punches while maintaining the hold. Bate finds his footing, muscles Dunne up for a powerbomb to break the hold, then calls for the airplane spin, falls into a cover and almost puts it away. Both guys struggle back to a vertical base, the champion hooks Dunne for a german suplex, the challenger flips to his feet, swings wildly with a clothesline, Bate ducks under it, springs off the 2nd rope with a crossbody, but gets drilled in mid-air by a right hand.
The Bruiserweight powers Tyler up with a suplex sit-out powerbomb and nearly finishes it, they exchange shots rising back to their feet, the champion surprises Dunne with a stiff left, then grabs hauls him back up. The challenger surprises Bate with an enzuigiri, they exchange blows again, Tyler connects with a somersault mule kick, Dunne rebounds off the ropes with a boot to the jaw, tries to dump the champion over the top, but Bate bounces off the rope and floors the challenger with a clothesline, draping the arm over for a near fall. Both the champion and challenger drag themselves to a standing position, a "Fight Forever" chant takes over the arena, Bate hooks Dunne for the Tyler Driver 97, The Bruiserweight slides out of it and goes for The Bitter End.
Tyler counters it and spikes the challenger with a DDT, Dunne rolls to the outside to regroup, the champion hops to the apron, springs off the 2nd rope with a moonsault, then tosses him back into the squared circle. Bate quickly ascends the corner, comes off the top with a corkscrew 450 splash, hooks the leg, but Dunne it able to kick out at 2 again, then rolls back to the floor. Bate looks stunned, hits the ropes for a head of steam, flies over the top with a crossbody plancha, The Bruiserweight side-steps it, tosses him back in and delivers The Bitter End to take the title.
Winner and NEW WWE United Kingdom Champion: Pete Dunne (The Bitter End)
EA's Take: Absolutely tremendous contest and certainly a match of the year candidate. This had it all, technical skills, great psychology, power moves and high-flying. No complaints here. I had gone with Bate to retain, but primarily because I wasn't sure WWE would go through with a title change before the weekly UK show even gets started. There's no denying that Pete Dunne is a Superstar in the making, I love his intensity and aggression. For a 23-year old, Dunne has a very, VERY bright future ahead of him which could be coming sooner than expected. Mind you, that's nothing against Bate who is only 20-years old, I just think Dunne is the complete package right now.
---
Always Use Your Head and visit the official Pro Wrestling Tees store for The Chairshot All t-shirt proceeds help support the advancement of your favorite hard-hitting wrestling website, The Chairshot!

---