Chairshot Classics: WWF SummerSlam 1996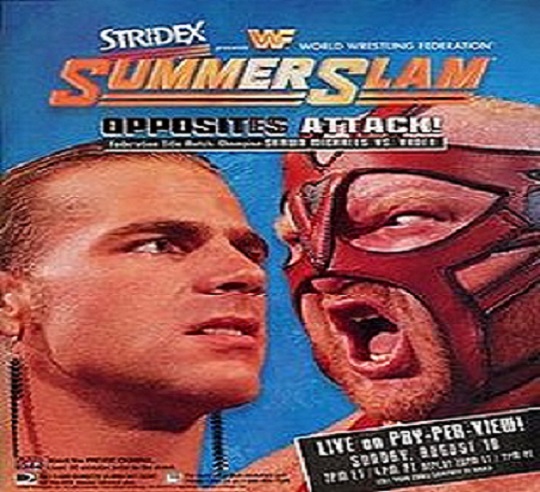 I'll be jumping in for Eric Ames from here to finish the way to this years installment of SummerSlam. Make sure you check out the other SummerSlams, in our Chairshot Classics section, leading to this point. (They can be found here.)
The day is August 16, 1996 and we are in the Gund Arena in "The Rock and Roll Capital of the World", Cleveland, Ohio. There are 17,000 people in attendance and another 157,000 tuning in on Pay-Per-View as "Opposites Attack." This was an all time low, on PPV buys, for the WWF at the time with a 1.3 percent buyrate. A number that would hold that claim until the 2010 Bragging Rights (137,000) dethroned them. Stridex would be the sponsor as "The Heart Break Kid", Shawn Michaels defends his World Title against Vader, in the main event.
There was a preshow match that was available on Free-For-All, a show that was used to hype the PPV for free before the event in hope of more buys. It would feature a main on the rise and one on the decline. Stone Cold Steve Austin versus Yokozuna. I find it strange that Austin is in this match as he was hot off his  "Austin 3:16" speech at King of the Ring, which took place on June 23, 1996. Yoko on the other hand was dealing with a weight issue and that led to more issues with the company for him. Austin would go over after a bearded Yokozuna would have the top rope break while attempting a BONZAI! drop. Austin would roll up Yoko and get the three. I've heard Bruce Pritchard say on his podcast, Something to Wrestle, that this was based on something that really happened at a house show. This is also when the "Bikini Beach Party" took place. I couldn't find this on the Network and only recall a lot broken kayfabe as Heels and Babyface hung out by the pool together.
The show opens with a black and white vignette, that starts with "some monsters wear masks", as it shows clips of Mankind and Vader. It continues, as we see Shawn Michaels and The Undertaker, "Monster slayers are varied and unique". It would show the build up to the feuds between HBK/Vader and Mankind/Undertaker. The narrator finishes with " For the monsters to be abolished, David must slay Goliath. The Reaper must claim another damned soul". This is really well produced and I was a fan of it.
Next we see a quick clip promoting Cleveland and its tourist destinations. We see The Rock and Roll Hall of Fame, Jacobs Field, home of the Indians, and it ends with the newly built Gund arena, home of the Cavaliers. Vince McMahon welcomes us into the arena next and he introduces us to his partners for the night, Mr. Perfect and Jim Ross, sans cowboy hat.
    Savio Vega makes his way to the ring first and receives some high fives from the fans. Owen Hart enters next, cast on one hand and his prized Slammy in the other. Vince notes that its "the slowest healing injury" as Owen has been wearing the cast forever. I find this a homage to "cowboy" Bob Orton, as he did the cast gimmick for years. Owen goes for an early advantage and goes for a blast to the back of Savio's head but is stopped by the official. The ref gives a warning of DQ if he attempts it again. The commentators mention here that Cornette is missing from Hart's corner due to the fact he is prepping Vader for his match. Vega gets the early advantage and goes to work on the casted arm. This is the theme of the match as Savio wouldn't do much more than 5 moves that don't target the cast.
Next a segment of Jim Cornette encouraging Vader as he is pumping dumbbells. Back in the ring we hear "OWEN" chants from the crowd as Savio applies an armbar on, you guessed it, the casted arm. Owen gets his first momentum shift after he counters a roll-up pin, sending Vega into the ring post. The crowd gives a nice response to Hart raising his casted arm. Clarence Mason, the "legal advisor" to Cornette, enters ringside to encourage Hart. Owen hits an enziguri soon after and earning a "what a maneuver" from McMahon, the second of the fight. Vega gets the momentum once again after nailing a spinning heal kick and a few clothesline. He gives Hart a back drop off the top rope and sticks the landing, hitting his head on Owen's cast. Owen slips the cast off and delivers another blow, then re-apply the cast. He finishes Vega by putting his limp body into the Sharpshooter. The ref raises his lifeless arm, giving Owen Hart the victory. Match Time: 13:23
    Todd Pettengill is in the boiler room for an interview with Mankind. After telling us how " dark and ominous" it is down there he discovers Mankind, by some very dirty pipes, and muttering "There's no place like home". He would continue "But as much as I love every square inch, destiny awaits on the other side." Mankind then licks one of the dirty pipes after which the dirt is visibly gone. Nice touch Mick.
The Tag Team Titles are on the line for the next bout on the card. The New Rockers, the team of Marty Jannetty and Leif Cassidy, is the first team to enter. One of the highlights of the match is Leif, the future Al Snow's, charisma and it starts with his dancing down the aisle. Next JR tells us the special stipulations of the match. You can tag anyone (meaning it doesn't have to be your partner), contact must be initiated before a tag can be made, when someone is pinned, he and his partner must return to the locker rooms, and the titles can change hands by a DQ finish. All the stipulations. "SSOOIIIEEE!", Vince's words not mine, and the pig farming Godwinns are on their way down next and are accompanied by Hillbilly Jim. The Godwinns are the team of Henry and Phineas. Phineas would later become Mideon in the Undertaker's faction, The Ministry of Darkness. Henry would suffer a career ending injury at the hands of Legion of Doom's Doomsday Device. Skip and Zip or The Bodydonnas are out next. Zip is the late Chris Candido who would have his WWE career cut short allegedly at the hands of HBK over Candido's wife at the time, Sunny. Zip is sporting a neck brace, from a fractured vertebrae, and will see no action. Skip, on the other hand, is Tom Pritchard, the brother of the one and only Brother Love, Bruce Pritchard. Last to make their way out are the Smoking Gunns and the are joined by Candido's wife, Sunny. The Gunns are made up of Billy and Bart Gunn, hence Smoking Gunns.
The teams play "musical tags" for a moment letting the guys get a few minutes on screen each, except Zip. What should have been the first highlight of the match is when both Gunns are tagged in by Zip and Phineas. They blow the spot, as it could have made for some excitement, and do nothing with it having them both tag back out. Skip and Billy go back and forth, with Skip getting the upper hand until Jannetty pulls his feet from the outside. This would allow Gunn to get the three and eliminating The Bodydonnas.  I wish we could have seen more of Leif Cassidy in this match because his energy is high and you can tell he is excited to be on the big stage. But when he is in the ring he doesn't last long with Henry Godwinn, as he receives a Slop Drop and is eliminated with a pin fall sending the New Rockers to the locker room. Finally two teams remain and Henry lands an explosive clothesline out of the gate on Bart to get thing going. The Gunns quickly recover and are taking turns on Henry. An act the referee warns them about and we hear Vince remind us that the title can change hands, per the rules, in this match.  Henry finally lands a counter body splash and the crowd is popping in anticipation of the hot tag. Henry makes it happen and in comes the rested Phineas who quickly lands a Slop Drop. But the official, who is distracted by Hillbilly Jim trying to empty the contents of his slop bucket on Sunny, misses the initial cover. This allows Bart to break up the cover with a double ax handle of the top turnbuckle. The ref doesn't miss this cover and the Smoking Gunns retain the Tag Titles. This match is not must watch stuff and as I said, the highlight to me is Leif Cassidy's charisma and enthusiasm. Mediocre at best. Match time: 12:18
Sunny enters the ring, with the Gunns, for a quick in-ring promo. She goes to work insulting the crowd, as she normally does, saying "I want you to take a look at The Smoking Gunns and what real men are supposed to look like." She finishes with " And boys take a good look at the woman next to you and how out of shape they are". She always tells the crowd that she is "what a real woman looks like" and it is no different here.
    There is another Cleveland promo up next, this time promoting Cleveland's transit system. It all boils down to a race between The Smoking Gunns with Sunny, on a horse and buggy, and The Godwinns using the Cleveland transit and winning the race. They even had time to stop for lunch. Wow. This is dumb and if anything it should have been shown BEFORE their matches against each other. The Gunns could have rode into the arena on the carriage and that would of sold it even better.  Jerry Lawler is with the Cleveland Indians next and is trying to learn the art of the "Spitter" from the Indians pitching staff. This was classic King and I enjoyed this part of the segment. Broken kayfabe is up next as we see various Superstars, Heels and Faces, cleaning up the streets by painting over graffiti. It ends by showing the Stridex sponsored autograph sessions that included The Worlds Strongest Man, Mark Henry.
The next match was, allegedly, supposed to feature The Ultimate Warrior facing Sycho Sid. It's rumored that the reason The Warrior walked out and "no-showed" was an argument over merchandise money. Another story on the inter-webs is that Warrior was mad at Vince for not wanting to let Warrior attend his Father's funeral saying it was because he wasn't close to his dad and didn't get along. Who knows the real story for sure.
Sycho Sid makes his way to the ring first and receives a decent pop from the crowd. The British Bulldog, on the other hand, not so much pop. They test each other with some early shoulder blocks in to each other but Sid would win when he delivers a clothesline. Bulldog rolls out of the ring to regain his composure and, when he returns, the "Lets Go Sid" chants start from the crowd. This where, at 53:11, we see a well placed man in a "BISCHOFF SUCKS" airbrushed shirt. I have to think he is a plant because of the war with WCW at the time and the fact he stands right out. I could be wrong though. Clarence Mason joins The Bulldog at ringside at this point and, again, the commentators mention Cornette being busy with Vader. Bulldog elevates the 313 pound Sid for what seems like an eternity, for a powerplex. Davey Boy applies a side headlock that he hold for some time, wearing down Sid and the crowd is rallying for the comeback. The rally is quickly stopped with an explosive clothesline that sends Sid over the top rope, crashing to the outside.
This is where we see another clip of Jim Cornette training with Vader but this time he is shadow boxing. Bulldog would hit another powerplex, this time dropping him on his midsection, on the top rope. After that we see the first false finish when Bulldog gets a near three count. Sid would start to rally behind the crowd again but is stopped once again when he takes a scoop slam from Davey Boy Smith. Jim Cornette enters the arena next and begins to argue with Mason. The British Bulldog goes to separate the two managers, that are both in his corner, and for his efforts Sid rewards him with a chokeslam. "313 Pounds of PowerBomb" are next for The Bulldog and this enables the three count for Sycho Sid. I was impressed with this match, as I didn't think two powerhouses would be able to keep the pace, but it flowed well. The two big men deliver a match worth taking a look at and it showed why they are legends, dare I say, of the mid-card.  Match time: 6:24
The "Androgynous" Goldust enters the arena, joined by his real life wife at the time, Marlena, to a pretty negative response from the crowd. Next Todd Pettengill is joined in the back by Marc Mero and his wife at the time, Sable. Todd shows a clip from Superstars, the previous week, where Mankind interrupts Mero's match and pursues Sable, calling her "Mommy" in the process.  They cut back to Mero and Todd, never acknowledging the video they just showed, and Marc says something about Mankind becoming a "fallen star". Marc and Sable enter the arena and receive not much of a response from the crowd. The little pop they get is probably for Sable, in all honesty. This is where Jim Ross tells us Mero, if given the chance, will unveil his new finish, The Wild Thing.
Goldust "bitch slaps" Mero before the bell sounds and cowers in fear, behind the ref, as Marc goes after him. The Wild Man gets an early advantage with some hip tosses. Goldust regains some steam when he sends Marc over the top rope with a back drop. This is where JR comments "Goldust wants to leave with Sable." This is due to them changing the angle because it was originally Marlena who was infatuated with Sable. They changed this approach, allegedly, because USA Network wasn't a fan of the "Lesbian Angle". Enter any Attitude Era Degeneration-X clip here. Goldust knocks Mero of the apron with a clothesline then drops him off the railing "throat first", per Vince.
Mankind comes down the aisle and goes straight for Sable. She is crying out for help as Mankind approaches her, again calling her "Mommy". He quickly runs back down the aisle and back to the boiler room, I presume. Goldust has the momentum rolling when Mero reverses an Irish whip to the corner, with a springboard elbow off the second rope. Marc is pounding away the "ten-count" in the corner when Goldust picks him up and dumps him over the top rope. This is an interesting spot as Mero's foot hooks in the armpit of Goldust and he flips over with him. I don't know if this is a blown spot or meant to happen.  Mero goes right back in the ring and jumps out on Goldust with a nice sunset flip. When they are back in the ring Mero debuts his "Wild Thing". This is another interesting spot to listen to as JR calls it by both, Wild Thing and the original name, The Shooting Star Press. I'm sure Mr. McMahon wasn't thrilled by this because he didn't like to use other promotions names for moves because that would give them some legitimacy. Marlena then distracts the referee from the apron, allowing Goldust time to kick out. The distraction allows Goldust to sneak in the "Curtain Call" and get the pin. After the match is when things get weird. Goldust lustfully preys, and basically sexually assaults Sable here as she cries to her husband for help. I understand this was a work but it was very distasteful. He gripped her up and tried to kiss her before Marc makes the save. He atomic drops him on the top rope and sends him to the outside with a dropkick. Overall the match had okay flow in it with some decent high spots from Mero. Again, nothing special here and if the kids are in the room you may want to skip the awful finish. Match time: 11:01
We see an explanation of Ahmed Johnson's absence in a shoot style interview, like the ones we've grown accustomed to today, but were not something of common place at the time. It shows Ahmed's injury suffered at the hands of Faarooq Asad on the July 22 edition of Raw. He would wrestle after the ruptured kidney, against doctors orders, in a Battle Royale two weeks later than he would win. But he would re-injure the kidney on the process. Gorilla Monsoon, the acting GM at the time, would vacate Johnson's spot on Raw the following week. In the interview Ahmed would say he understands Gorilla's position and we hear a doctor say that if the bleeding of the kidney doesn't stop they would have to be removed and Johnson could never wrestle again. Ahmed finishes by saying " He don't care what the doctors say" and "I got a commitment to the people, the fans. I'll do whatever it takes to get the job done." They announce next there will be a sudden death Battle Royale for Ahmed Johnson's vacated spot on the following nights raw. The participants are Sycho Sid, Savio Vega, Stone Cold Steve Austin and Goldust.  They were the final four in the Royale that Ahmed one. Injury would be a common theme in Ahmed's career and it would happen, always it seemed, when he was on the receiving end of an upward push. I always was a fan of Ahmed Johnson, and his Pearl River Plunge finish, as a kid and its a shame he had a career plagued by injuries.
    Faarooq Asad and Sunny join Todd Pentingill in the ring for an interview when we return to action. Faarooq says that Monsoon should be out here giving him what is his, The Intercontinental Championship. Todd tells him "Gorilla doesn't want the criminal awarded for the crime." Asad takes offense to this and goes on a rant about taking out Ahmed and finishes with "if this is the best that you've got I see a lot of Sunny days ahead." A nice touch and I wonder how The Hitman felt about it. Sunny would finish by telling everyone how much better she is than everyone else and revealing this:
For a lead up to the next bout we see Jake "The Snake" Roberts taking about struggling with his "personal demons", AKA addiction. This was not a work as Jake had real life problems at time. Roberts interview segments would cut to clips of Jerry "The King" Lawler making jokes about that situation, even holding down Jake's protege at the time, Aldo Montoya and forcing liquor down his throat on a episode of Raw.  Even though it is said to have been Jake's idea I still think it is done in poor taste.
The newest member of the WWF universe is introduced next as The Worlds Strongest Man and a participant in the 1996 Summer Olympic Games, Mark Henry. Mark suffered an injury during the Clean and Jerk at the games and was not able to compete. Henry does hold all kinds of records though, for a drug tested athlete, including WDFPF records in squat, deadlift and total weight. Mark also is the 1995 WDFPF World Champion and is credited with having the heaviest raw squat and raw powerlift of all-time. The WWF invested some time into Henry and in the long run it was a good pay off. Mark Henry was inducted into the WWE Hall of Fame with the Class of 2018.
    Jerry "The King" Lawler enters the arena caring a canvass sack, akin to the one Roberts carried his snakes in, and would mostly receive "BOOS". When he is in the ring he removes his jacket, which had a bottle of Jim Beam in each pocket, revealing a Vinny Testaverde, Baltimore Ravens jersey. This really turns the heat up with the crowd because their beloved Cleveland Browns had recently left town and became the Ravens. The King goes on a comedy routine next with stuff like "I gave two tickets to Art and David Modell." They were the owners of the team at the time. He then shoots on Jake's family, saying of his wife, "she's nothing a light switch and a six pack can't, am I right Jake?" We hear some "Burger King" chants here. Mr. Perfect says "Jake has B-arthritis. That's were you are stiff in a different in a different joint each night." Just then Jake "The Snake" Roberts music comes on and the crowd erupts as Jake enters carrying a canvas sack of his own.
     As soon as Jake enters the ring Lawler is right back on the microphone. And he says "You have something in your bag I don't like. But I have something in my bag that you'll like even more than what's in your bag." Jerry goes onto to pull a rather large bottle of champagne from the bag. The referee is trying to wrestle the bag away from Lawler and this allows Jake to get the contents of his bag out. A huge albino python. He attempts to wrap the snake around Lawler and he exits the ring in a hurry and head up the ramp. Then finally the bell rings. As Jake is returning the snake to the sack Lawler, once again is going for the microphone. Thankfully, for us, it wont turn on this time and soon Roberts is going to work with some haymakers. He delivers a scoop slam and some shots to the ring post on Jerry before Lawler throws a fans soda into The Snakes face. This allows The King to bring one of the bottles of whiskey into the ring. Jake goes for the DDT but it is reversed with a back body drop. The crowd is really into it after Jake reverses with his patented clothesline and they are calling for the follow-up move, The DDT. King manages to escape another one by grasping the officials waist. The official, Harvey Whippleman, happens to be a guy who got his start managing two guys on the card in Memphis Wrestling, Jerry Lawler and Sycho Sid. This opens a window for Jerry Lawler to strike Roberts in the throat with the whiskey bottle. Lawler hooks the front of the tights to get the three count victory. This was a gimmick match from the beginning and it continues after. Unfortunately, Jerry gets a working mic and, while Jake is grasping his throat, ask if his throat is dry and says "He needs a drink." Lawler then proceeds to pour the contents of the bottle down Robert's throat and all over his head. Jake has claimed he was extremely pissed off by this because he says it was real booze. This is a claim that The King denies on his Podcast, Dinner with the King, that it was sweet tea. Bruce Pritchard has also said the same on Something to Wrestle. Either way I don't think it was done tastefully. Lawler would go to empty the second bottle of whatever on Roberts but this time Mark Henry chases him away and help Roberts to the back. There was very little wrestling from the minute the wrestlers enter the arena. I am a fan of most gimmick matches, as they provide a sometimes needed break in the action, but this one was just plain awful.
We see a two time WWF Champion and 2013 Hall of Fame inductee, Bob Backlund in the crowd. Vince tells us of Bob's campaign to become President of the United States. Who in their right mind thinks that someone, who appeared on wresting, could be president….
   Todd Pettengill would narrate another well done vignette of the feud between The Undertaker and Mankind. There would be some cool clips like when Taker got pulled through the ring, by Mankind, just to emerge on the other side behind him while Pettengill says thing like "Though both dwell in a world of darkness only one embrace the light." Again, really cool stuff. I'm sure while this clip is being showed the production team used the time to wheel classroom TV sets in for the people down front to watch the "Boiler Room" segment of the match. This was had to be done because there wasn't a TitanTron at the time and the only way to see this segment, because it was pre-recorded, was on the screen on the scoreboard.
The Bells of The Undertaker's theme begin to chime, as the place goes black, and we hear Howard Finkel say "About to come down the aisle, with the urn, Paul Bearer." The urn is significant here as it is the win condition of the match. The winner must exit the Boiler Room and return to ringside and gain possession of the urn. After Bearer is in the ring we see an official letting The Undertaker through a door that leads to a hallway. The way Taker just walks down the corridor and turns is classic stuff and I am a big fan of this version of the Deadman. He tightens his purple glove, again classic, before, hesitantly, opening a door that reads: BOILER ROOM DANGER!. Taker peeks the dark corner and start to assess the situation and head down some stairs, going deeper into the bowels of the building.
Eventually, Mankind appears behind Taker and ambushes him with a rain gutter to back of the head. He would kick a pallet apart next and use a piece of it on The Phenom. Undertaker would be back on the offensive after he give Mankind a few headshot with a trashcan lid. They are off to a brutal start, and I wouldn't of expected anything less from these Legends,as Taker is going to work on Mankind. The pair is fighting over a sawhorse, next, when Mankind hits a stunner over the sawhorse and goes to work with some boots and punches to the head of Taker. Just then the screen goes scrambled, due to what Vince accredits to "transmission problems". It returns shortly and, the "Physically and Mentally Deformed", Mankind is going to work with the whole trashcan now. Taker lands a few defensive blows before Mankind opens a valve on a pipe and unleashing "steam" into the face of The Undertaker. The steam just looked like compressed baby powder but I still found it to be a cool spot.
The Undertaker has received the brunt of the beatings thus far but the tables would soon turn after Taker big boots a trashcan back into the face of Foley, Mankind. He follows the boot up with a nice clothesline into the can, which Mankind was still holding onto. It is Taker's turn to retaliate and does so with the trash can and pallet remnants. His effort doesn't last long because Mankind would raise a pipe, between the legs of Taker, delivering a low blow and the first crowd reaction we have heard in the match. This is understandable, as I mentioned prior, the fans are watching it on TVs that are place at ringside. Mankind would Irish whip the Deadman into a garage door and deliver a "Knee2Face" that bounces the head of Take off the door. Mankind would keep the momentum for a bit with the highlight being a elbow drop of a ladder and onto the bare concrete floor. Mankind, after he takes a second to get on his feet, delivers a DDT onto the floor, that was a bit sloppy. A 2×4 to the back is next for Taker and up until this point the Undertaker has taken the hardest bumps. Not to take away from Mick Foley here, but I found this a little surprising as Mankind is traditionally viewed as the Hardcore guy around the industry.
Soon after The Undertaker yanks the feet out from under Mankind and this sets up for a cool camera shot. The camera zooms in of Mankind's face, with both men on the ground, Taker starts to drag Mankind closer to him. And then the camera goes fuzzy again. Well done. It cuts in and out as we see Taker crawl up the body of Mankind and deliver some blows before it cuts out again. Vince, again, mentions the "transmission difficulties" and apologizes for them. Due to the well timed nature of these "interruptions" I'm led to believe they are a work. It continues to cut in and out and we see Mankind deliver a scoop slam in the process. When the camera is clear again we see Mankind setting up a ladder and begins to ascend it, for what Vince thinks is another elbow drop. This is where The Undertaker sits up, in his tradition fashion, and sends Mankind crashing onto a stack of cardboard boxes.  Mick Foley suffered a real life injury here, causing sciatic nerve damage, from the bump. Just on a side note, I am currently recovering from a pinched sciatic nerve and I can barely walk let alone be tasked to finish a "Boiler Room Brawl" match with The Undertaker. Props to you Mr. Foley. Mankind takes some hard bumps, including a solid flat-back bump into the wall. Undertaker begins to make his way towards the exit but Mankind grabs the feet an hits Taker in the midsection with a chain. This allows Mankind to get the edge heading towards the exit but the Deadman stops it with his famous uppercut to the throat.  Mankind would bounce the head of Taker of the door when he tries to exit but Undertaker empties the content of a fire extinguisher into the face of Mankind, allowing him time to open the door. This attempt would also be foiled as Mankind delivers blows to the backside and escaping first. As he attempts to shut Undertaker in the room, by slamming the door with Taker in door jam, this leads to a cool shot of Taker grasping Mankind, through the door, by the throat. Mankind eventually escapes and crawl down the hallway and out the second door where the official is standing.
Mankind builds a barricade against the door, out of random items, but it wouldn't be long before Taker comes crashing through it. This sends the makeshift wall on top of Mankind. The pair begin to battle their way back to the arena and we see various Superstars standing around cheering them on. This is weird as there are guys next to each other that squared of earlier in the night, like The Godwinns and Skip of The Bodydonnas. Mankind gets a lead on The Undertaker and this allows him to ambush Taker with a giant container of "hot" coffee. Bruce Pritchard has said later on that the coffee was actually hot. This allows Mankind to be the first in the arena and he is again waiting to ambush. It backfires this time as Taker comes out with an explosive clothesline and the crowd explodes as well. He hits Mankind in the back with a 2×4 and they begin to battle down the ramp. This is where we can see all the monitors surrounding the ringside area. Mankind gets an advantage after throwing Taker into the stair as Paul Bearer watches on, with the urn in hand. Mankind would remove a ring mat next leaving the concrete floor exposed. He then deliver a piledriver onto the exposed floor. He then begins to make his way in the ring when The Undertaker makes the save by grabbing the ankle of Mankind. Undertaker finds his way onto the apron, with Mankind, and begin to deliver blows. This eventually leads to Taker sling-shoting Mankind off from the apron and onto the exposed concrete. Taker is finally in the ring and stumbling his way towards Paul Bearer and ending in his signature kneel. But Paul doesn't hand the urn over and instead turns his back as the stunned Undertaker looks on. This then allows Mankind to sneak up from behind Taker and apply the Mandible Claw, as Bearer looks on laughing. Paul begins to polish up the urn in anticipation of turning it over to Mankind.  But we all know what happens when Paul raises that urn, The Undertaker begins to rise as well. Mankind reapplies the Claw and begins to put Taker out. He then holds  The Undertaker's arms so Paul could slap and kick Taker to make sure the fans understood the switch of sides is real. The fans start to turn up the heat as this all goes down. Paul find his way to the corner of the ring and The Undertaker is crawling towards him and ends kneeling at the feet of his former manager. Bearer uses this opportunity to plant the urn upside the head of Taker and handing over to Mankind.
     The new pairing of Mankind and Paul Bearer make their way to the back. As soon as they exit the arena the lights go black and the Undertaker's bells begin to toll. It's not long thereafter that a group of, what look to me as, Druids appear and make their way to the ring area, as monk-like chanting can be heard. They pick Taker up and carry him out of the arena. We hear Vince end with "Who would of thought such treachery could possibly occur". Match time: 26:40
This match was amazing. It was brutal from the moment they met up in the Boiler Room and it didn't miss a beat throughout. Usually these gimmicky, hardcore style matches have a hard time keeping pace and telling a good story. But not this one. It even ended very well with a heel turn by Bearer. matches of these caliber just show why these are two of the greatest superstars of my generation and, quite frankly all-time.
   Doc Hendricks is in the back with Vader and Jim Cornette for a quick pre-match promo for the Main Event. Cornette would do all the mic work, per usual, and say some off the wall stuff, that I enjoyed, like "Shawn, when he grabs you around the neck,and you try to talk, and your voice is gonna sound like Peter Frampton's electronic kazoo." He rants on some more and Doc wrap it up with "Guess we are fixin to find out if it's Vader Time. "The Man They Call Vader" enters the arena, with Cornette, and the fans are on their toes as the Main Event, for the World Title, is about to begin.
The crowd is electric when "The Heartbreak Kid", Shawn Michaels theme, one of my all-time favorites, come on. This theme, like many others throughout time, was written by Jimmy Hart. The crowd is loosing their minds as, the current World Heavyweight Champion, Shawn Michaels makes his way to the ring joined by his trainer, Jose Lathario. Lothario was Shawn's trainer and confidant. He was also a wrestler, primarily in the NWA, and once had a streak on 500 consecutive losses. Take that Kurt Hawkins. But he has held various NWA gold throughout his career, including being a three time Florida NWA Brass Knuckles Champion. HBK does his normal poses in the ring as the pyro went off.
After the pre-match antics of Shawn, the bell sounds and the rematch, from International Incident, is underway. Vader starts off with some intimidation tactics by "flexing" on "The Boy Toy". He backs them up by unloading haymakers to the midsection of Michaels before putting him on the mat with a brutal clothesline. Many other wrestlers throughout the years have said Vader's punches are legit and just from these few early punches you can see that is factual. Vader attempts to land a big boot but Shawn catches it and sweeps the leg of the big man. He follows that up with a beautifully planted dropkick, on the sitting Vader. And The Heartbreak Kid is off to a hot start after he drops to Vader's level and lands a few jabs. Vader tries to get in the fight again, by attempting to throw Shawn to the outside, but the swift-footed Michaels goes prone. This, as a result, sends Vader through the rope and allows for a baseball slide from HBK. There is a great high spot next when Shawn does a running leap over the top rope and into a cross body block. The crowd explodes and are hanging onto Michaels every move, as he is back taunting in the ring. Vader is still failing to gain momentum, even receiving a "beautiful maneuver", a frankensteiner from Shawn. We get another "What a maneuver!" from Vince after Shawn leaps onto the back of the big man and positioning himself to receive an electric chair drop. But what Michaels does instead is a reverse hurricanrana of sorts that send Vader back outside. Shawn, meanwhile, holds the ropes and flips back in the ring. This is some impressive in-ring work, as always, from HBK. Vader finally goes on the offensive when he catches Shawn, who is leaping over the top rope to attempt a second frankensteiner, and delivers a jarring powerbomb to the floor mats.
Vader uses this gaining momentum to throw Michaels around like a ragdoll for a bit, even carrying his limp body up the ring stairs at one point. Vader is once again delivering those monster hands all over Shawn and the crowd erupts when Michaels hits the deck and Vader flexes the guns. It's always a positive when the crowd is cheering for both guys. They just forget sides and favorites for a moment and truly enjoy the performance in the ring.   He hits HBK with a few big chops next before he Irish whips him from buckle to buckle. When Vader whips him for the second time he hits the turnbuckle and flips to the outside and onto the ring mats. Shawn soon returns to the ring and Vader sends him "sky high" for a back body drop. The crowd begins to rally behind Shawn Michaels when he stops a belly-to-back suplex with some blows to the head of Vader. The big man holds onto Shawn and attempts the same suplex but this time Michaels  back flips through the move and slugs Vader a few times. But the attempt doesn't phase Vader and he soon levels Shawn with a clothesline. Michaels next flips through another suplex attempt and slug away on Vader but, again, the punches go unnoticed by Vader. He attempts to toss Shawn from the ring but Michaels holds the top rope to flip back in. The big man just grabs the legs off Michaels and just tosses him across the ring. The strength this dude exhibits here is nuts and as JR would say "It's a physical dissection of the WWF Champion." This leads to the first pin attempt of the match.
After Michaels manages the kick out, Vader begins to wear on Shawn with a side shoulder lock. Michaels starts to rally and the crowd is right there with him. He hits Vader with a knee followed up by a clothesline. Vader just absorbs the clothesline like a sponge and Shawn is back bouncing off the ropes. This time he attempts to slide under Vader but falls short. This opens the window for a splash from Vader but he takes Michaels knee to the groin instead. He then delivers a clothesline that lays the big man down this time. And Shawn is teasing the elbow drop, as he climbs the turnbuckles. This next spot is partially responsible for Vader's push ending so abruptly. Shawn was apparently yelling for Vader to get up and he obviously just lays there and blows the spot. Michaels kicks Vader in the head twice and they don't look like works. He continues to yell at Vader as he lays on the mat. The match continue to the outside when Shawn cross body blocks Vader into, and over, the ropes and crashing outside. But Vader soon gets the edge on the outside when he picks Shawn above his head and drops him onto the guard rail. This leads to our first true false finish when Vader makes it in the ring in time and Michaels is counted out. Vader is soon rewarded the victory by count-out and Cornette is quick to get on the mic and dispute the victory. He says over and over, "we came here to win the title" and challenges Shawn to restart the match, telling him, "get back in there if you have any guts." Earl Hebner, the official, is on the ramp asking Michaels if he wants to go back. This is when we can see Shawn mouth "I'll do it."  As he is limping back down the aisle Finkel announces "This match will continue", as Vader attacks Shawn on the ramp. Jose Lathario tries to interrupt the ambush but the ref stops him and this allows Cornette to hit Shawn with his tennis racket.
Vader throws Shawn back into the ring a hit a splash in the corner before belly-to-belly suplexing him. He goes for the cover but Shawn manages the kick out. Vader attempts the powerbomb next but Shawn delivers blows to the head, bringing the big man down. Michaels then ducks under two clothesline attempts and hit a flying forearm of his own. When he does his signature kip-up the top comes off the arena. This sets up the elbow from the top rope and The Heartbreak Kid is soon tuning up the band. Cornette is on the apron to stop the chin music, which he does, and his tennis racket ends up in the ring. Michaels goes to work on Vader with the racket and the ref soon rings the bell. He continue to unload with the racket and is soon hitting Cornette too, as the bell keeps on ringing. This allows Vader to get a chair from the outside but the officials keep the two separated. At this time Finkel announce that Vader is the winner, this time by DQ. Vader's music begins to play as Cornette gets back on the horn saying that Michaels got DQed on purpose. He goes on to call Shawn a "gutless, no-good, coward" and finishes by telling Michaels to "get back in there if he has any guts. Get that thing started again." Before you know it Shawn Michaels in attacking Vader, as the bell sounds. He would land a forearm of the ropes, to the face of Vader, that definitely connect to the face of Vader. The Heartbreak Kid hits the elbow drop of the top rope again and the crowd is pumped, as Shawn encourages them by "Tuning up the Band". And he delivers the Sweet Chin Music to Vader. What comes next is the second blown spot by Vader. Michaels goes for the pin and the official stops on the two count, even though Vader doesn't kick out.  This is said to be the reason for the sudden end to Vader's push and its a shame.  Both men are on their feet again and regaining their composure when the big man whips Shawn into the ref, that in turn sends the ref through the ropes and to the outside. Vader slams Michaels with the Vader bomb next that transitions nicely into a pin. With no official present and it taking a moment for a new one to enter the ring, Michaels manages to kick out at two. And the crowd is as hyped for the false finish as Cornette is pissed.
After the near fall, Vader begins to drag the limp body of Michaels to the corner. Vader starts to climb the turnbuckles and hesitates as he reaches the second one.  After the pause he goes to the third rope, kinda rare for Vader, and does a moonsault of the top that Shawn narrowly avoids. Michaels is climbing the ropes now and does a moonsault of his own on the standing Vader. This allows The Heartbreak Kid, Shawn Michaels to hook the leg and get the three count victory. This was a hell of a match and I wish the feud could have continued and maybe even put the strap on Vader, at some point. This wouldn't happen of course as Shawn was the face of the company at the time and expressed displeasure with working with him again. Michaels got his way and their story arc was cut short. The match told a story and had great momentum switches, that the crowd seemed to enjoy either way, and even a few true false finishes. Hell, we even get a solid ref bump. I loved this match and would say it is an overlooked match when most people in the Internet Wrestling Community talk of Shawn's greatest matches.  Match time: 28:59
This was a decent SummerSlam and was typical of the WWF at the time, all top heavy cards and not much worth noting at the bottom. If you don't want to watch the whole show I would definitely recommend the last two matches of the night. They are classic bouts between some of the all-time legends of the business. After I watch these I always like to see what Dave Meltzer, of  Wrestling Observer Newsletter fame, rates the matches. If you are not familiar with Meltzer he has used, what was at the time, a five star rating system. He thought highly of the main event, giving it four stars. The Tag title match would receive the "DUD" moniker and I would have to agree here.  Owen/Savio and Goldust/Mero would get a 2.5 and a 2.25. I didn't see a rating for the "Boiler Room Brawl" on profightdb.com but I can't imagine it was rated bad but you never know with Dave.
This concludes my first article for The Chairshot Classic series on SummerSlam. Be sure to always #UseYourHead and follow us on Twitter and stay up to date with all the breaking news surrounding all aspects of the business we all love and learn something about some of your favorite classics!
---
Always Use Your Head and visit the official Pro Wrestling Tees store for The Chairshot All t-shirt proceeds help support the advancement of your favorite hard-hitting wrestling website, The Chairshot!

---
Chairshot Classics: InVasion [July 22 2001]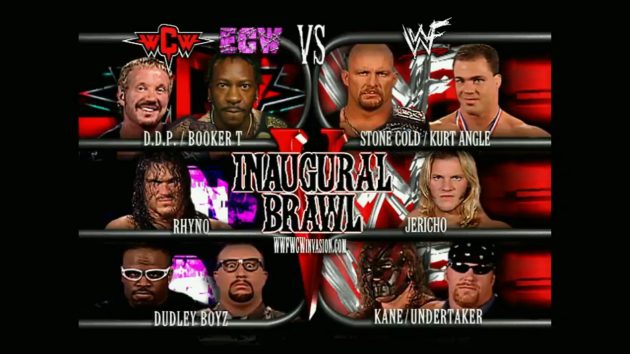 Hello all and welcome to a Chairshots Classic special to coincide with the 2MB Wrestling Podcast.
In 2001, the Monday Night War is over. ECW went bankrupt and out of business. WCW planned to sell to Eric Bischoff and a consortium of investors for somewhere between $10 Million and $!5 Million.
When an AOL Time Warner Executive named Jamie Kellner (the guy who really killed WCW) dropped WCW programming from the Turner Networks, the Bischoff deal fell through. With no TV to air WCW on, WCW was considered worthless and the backers backed out.
WWE and Vince McMahon stepped in. They had a TV deal of their own. They scooped up the WCW library, trademarks and the contracts of some WCW stars for a figure rumoured to be in theregion of just $3 million.
WWE had bought their competition and with that the Monday Night War was declared over on March 26 2001.
On TV, in a moment that aired simultaneously on the March 26th episode of WWE Raw (episode 409) AND the final episode of WCW Nitro (episode 288) it was announced that Shane McMahon's name was on the contract and he now owned WCW. As Spring turned to Summer, WCW wrestlers began interfering in WWE matches on Raw and Smackdown.
Then on the July 9th Raw, members of Team WWE, Chris Jericho and Kane took on WCW representatives, Lance Storm & Mike Awesome. During the match, Rob Van Dam and Tommy Dreamer came through the crowd and attacked Jericho and Kane. Bubba Ray Dudley, Justin Credible, D Von Dudley, Rhyno and Raven ran in to chase off the invading Van Dam and Dreamer only for them to join forces with Storm, Awesome, Dreamer and Van Dam to beat down Jericho and Kane. Paul Heyman would leave the commentary position and announce "This invasion has been taken to the Extreme!" as this group were representing ECW. Later in the show, the WCW and ECW teams would join forces forming The Alliance before announcing new ECW owner (on screen anyway) Stephanie McMahon.
The Invasion is on.
This all leads to…..
InVasion [July 22 2001]
Following an opening video package with stock footage of soldiers marching, bombs falling and a general theme of war, Michael Cole and JR welcome us to the show.
. Edge & Christian vs Lance Storm & Mike Awesome
Awesome starts with a kick and some right hands to Christian followed by shoulders in the corner. Awesome Irish Whips Christian into the corner but Christian avoids the charging Awesome and hits him with a Drop Toe Hold before tagging Edge. He hits Awesome with a couple of Right Hands before Awesome counters an Irish Whip and drops Edge with a Clothesline. Storm tags in and hits Edge with a kick to the ribs and a couple of Right Hands. An Irish Whip by Storm is countered by a Hurricanranna by Edge. Storm reverses an Irish Whip but Edge gets a boot up to stop the oncoming Storm before smacking him with a second rope Dropkick. From the apron, Awesome tries to Clothesline Edge but he ducks it and Dropkicks Awesome off the apron. Storm tries to take advantage of the distraction and charges at Edge who ducks him and Back Drops Storm over the top rope and he lands on Awesome. Christian then uses Edge as a springboard to help him Plancha onto the Alliance team at ringside. Edge drags Storm into the ring and gets a two count from a Backbreaker before tagging in Christian who gets a two from a double hiptoss.
Christian Irish Whips Storm but Storm catches a Monkey Flip attempt and tries to Superplex Christian only for Christian to push Storm off the top turnbuckle. Before Christian is able to mount an attack, Awesome pulls Christian's legs from underhim and he falls chest first onto the turnbuckle pad. As a wounded Christian stands on the apron, Storm clatters into him sending Christian into the ringside barrier. While Edge protests in the ring distracting the referee, Awesome rams Christian into the ring apron and then back into the ringside barrier. Back in the ring, Christian tries to fight back with Right Hands but Storm catches him with a knee to the gut before sending Christian gut first into the ringpost. Awesome tags in and gets a two from an Elbow Drop. A Clothesline knocks Christian down as does a Bodyslam before he gets a two count from a Big Splash. Awesome stomps on Christian's lower back before throwing him face first into Storm's waiting boot. Storm then tags in and gets a two count from a Forearm Smash which he follows with a Gutbuster and catches Christian with a knee to the gut following a whip off the ropes that gets another two.
Storm whips Christian off the ropes but Christian ducks a Clothesline and hits a Cross Body. Storm is able to tag Awesome who prevents Christian from doing the same before lifting him up and dropping Christian down on the top rope before an Alabama Slam gets Awesome a two when Edge has to break it up. After the referee gets Edge back out of the ring, Awesome gets yet another two count after a Flying Clothesline. Storm tags back in and lays into Christian with kicks and stomps and a Backbreaker before tagging out again. Awesome climbs the turnbuckles and launches at Christian with a Frog Splash for a two count. Awesome follows an Irish Whip into the corner with a Clothesline before attempting a top rope Awesome Bomb that Christian Back Drops his way out of. Much like Awesome tags Storm, Christian is able to tag Edge who lays out Storm with Right Hands and a Clothesline before lamping Awesome with a Spinning Heel Kick when he tried to get involved. Edge then catches Storm with a Backdrop and Awesome with a Dropkick before hitting an Edge O Matic to Storm that gets a two count. Edge attempts a Sunset Flip but Storm grabs Awesome's hands to prevent it. Christian gets on the apron and thumbs Awesome breaking his grip only for Storm to roll out of it but Edge rolls him up with an O'Connor Roll for another two count. Storm rolls up Edge with a Small Package but the referee is distracted by Awesome so Christian rolls both men over so Edge now has Storm rolled up, it gets a two count. Storm hits a Jawbreaker and tags Awesome, they go for a Double Side Suplex but Edge rolls out of it allowing Christian to hit Storm and Awesome with a top rope Clothesline. Edge runs at Storm for a Spear but he manages to leapfrog over Edge, Awesome doesn't and he gets hit by the Spear for a two count. Christian Irish Whips Storm but is caught by a back elbow from Storm who lines Christian up for a Superkick. Edge pushes Christian out of the way and he eats the Superkick. Christian dives at Storm and both men go sailing over the top rope while in the ring Awesome manages to cover the fallen Edge for a two count. Awesome lifts Edge for an Awesome Bomb but Christian runs in and Spears Awesome allowing Edge to make the cover and he gets three.
Winners: Edge & Christian
Backstage, Vince McMahon celebrates Edge & Christian's victory by attempting a five second pose. He is interupted by William Regal who says that Steve Austin and his wife Debra have arived at the arena. Vince tells Regal to give Austin some space and think about his own match with Raven later tonight. Vince says tosmear him into the ground like George Washington did to King George's red coats in the Revolutionarry War.
. Earl Hebner vs Nick Patrick
For all those that think 2018 wrestling is a little on the odd side, the referees are going to fight. To keep things even, MIck Foley is here to be the referee.
Earl starts by shoving Patrick but he slaps Earl and Earl looks like he's going to fall down. Earl kicks Patrick then shoves him into the opposite corner and procedesto unload on Patrick with more kicks. Earl grabs Patrick by the ankles and pulls him out of the corner and into the air getting a two count when Patrick lands. Earl attacks with punches but Patrick turns him over and gets in some punches of his own. Earl gets in some knees before Patrick pulls him out of the ring. As Earl slides back in the ring, Patrick stomps down on him but Earl gets to his feet punches Patrick into the corner and hits the 10 punches in the corner. Patrick hits Earl with a Low Blow before a Baseball Slide sends Earl out of the ring again. The WCW referees that accompanied Patrick to the ring attack Earl before the WWE referees chase them off and Mick Foley sends the WCW refs to the the back. In the ring, Patrick argues with Foley allowing Earl time to hit something vaguely resembling a Spear to get the pinfall victory. After the bell, Patrick argues with Foley and gets a mouth full of Socko for his troubles.
Winner: Earl Hebner
An ad airs for an upcoming episode of Tough Enough. I spotted Chris Nowinski and Maven in there. No idea who anyone else is to be honest.
Cole and JR hype the 5 on 5 main event tag match and we see footage from last Thursday's Smackdown when Diamond Dallas Page kidnapped Debra only for Steve Austin to car jack a limo and give chase.
Back in catering, Debra is still angry at being kidnapped by DDP and dumped on a street corner. The Undertaker's wife, Sara (who keeps calling him Mark) understands, she has had her problems with DDP before. Both women want to see DDP torn limb from limb.
. Faarooq & Bradshaw vs Chuck Palumbo & Sean O'Haire
Right, now there are two separate reasons for this match. First one is simple: WWE Tag Team Champions versus WCW Tag Team Champions. Other reason is that Faarooq and Bradshaw are the guardians of the gate defending against the inVading WCW. Fun fact: a WCW Tag Team Champions versus WWE Tag Team Champions match happened three times on Pay Per View over the InVasion period. Each time it was different teams, that is six separate teams competed in these champion vs champion matches. A lot of titles switched hands a lot of times in this five month period.
The match starts immediately with O'Haire and Faarooq brawling on the inside and Bradshaw and Palumbo on the inside. Bradshaw's punches seem to be winning and Faarooq, fresh from whipping O'Haire into the barriers, joins as they hit Palumbo with a Double Spinebuster. Eventually, the referee makes it one on one as he sends Faarooq to the corner. Bradshaw hits Palumbo with a Bodyslam and an Elbow Drop before lifting him for a Suplex that doesn't even get a one count as O'Haire immediately breaks it up. Bradshaw clubs O'Haire as he exits the ring but gets Clotheslined by Palumbo. O'Haire tags in and unloads on Bradshaw with Right Hands before Bradshaw fights back with a knee to the gut and some chops. Bradshaw whips O'Haire off the ropes but he ducks a Clothesline and hits Bradshaw with one of his own before he mounts Bradshaw and unloads on him with punches. Back to his feet and Bradshaw hits O'Haire with a Side Suplex which allows him to tag Faarooq.
Faarooq hits O'Haire with Right Hands and a Back Elbow for a two count. Farrooq Irish Whips O'Haire chest first into the corner and lifts him for a Side Suplex that O'Haire rolls out of and lands on his feet (kind of) before hitting Faarooq with an elbow to the gut and a knee to the face that gets him a two count. O'Haire tags Palumbo who peppers Faarooq with punches and stomps. He whips Faarooq off the ropes and Faarooq ducks a Clothesline before hitting Palumbo with a Shoulder Block before tagging Bradshaw who unloads on Palumbo with punches in the corner before ramming his head into the turnbuckle and hitting him with more right hands. Palumbo reverses an Irish Whip and runs at Bradshaw for an Avalanche but Bradshaw catches him and hits a Fallaway Slam. Bradshaw goes for a Powerbomb but O'Haire is in and he kicks Bradshaw in the head. Instead of removing O'Haire, the referee choses to deal with a protesting Faarooq and doesn't see O'Haire lift Bradshaw up for a Prophecy that, when the referee is paying attention, gets a two count. Palumbo whips Bradshaw off the ropes but Bradshaw clubs him in the back when he telegraphs a Back Drop before hitting a DDT allowing him to tag Faarooq.
Faarooq Irish Whips Palumbo who leaps over a charging Farrooq and catches him with a Waistlock that Faarooq reverses before Palumbo puls him into a Clothesline by O'Haire On the outside of the ring, O'Haire drags Faarooq out of the ring and whips him into the steel ringside steps before sliding him back into the ring where Palumbo covers him for a two count. Palumbo stomps Faarooq before tagging O'Haire and they whip Faarooq off the ropes and drop him with a double Back Elbow. O'Haire then whips Faarooq off the ropes again catching him with another elbow to the gut and a knee to the head that gets him a two count. O'Haire charges at Faarooq for something but it is countered into a huge Spinebuster.
Both men tag their partners and Bradshaw boots Palumbo in the face before whiping him off the ropes and catching Palumbo with a Back Elbow. Whipping Palumbo off the ropes a second time ends in a Powerslam that gets him a two count. A third whip off the ropes sees a Clothesline ducked before Palumbo throws himself at Bradshaw for a Cross Body that again is caught. Before he has a chance to hit another Fallaway Slam, O'Haire Superkicks Bradshaw causing Palumbo to land on Bradshaw for a one count which is broken up by Faarooq.O'Haire then lifts Bradshaw and Paulumbo Dropkicks him in the spine that sends Bradshaw into the turnbuckle in some kind of double Snake Eyes move. Palumbo Superkicks Bradshaw but this leaves him open for Bradshaw to hit a Clothesline From Hell that gets the three count
Winners: Faarooq & Bradshaw
Chris Jericho and Vince McMahon are backstage. Jericho says he's been in all companies. He says WCW never had a leader but ECW have a psychotic and lunatic leader in Paul Heyman (pitty he doesn't mention the WWE leader) Instead he fat shames Heyman. But he does warn that it's because of Heyman that WCW and ECW will be coming on strong, but WWE aren't going to get mad they are going to get Get GET even. Vince says The Alliance will never Eeeeever be the same again.
Shane McMahon, Stephanie McMahon and for some reason Billy Kidman are watching Vince and Jericho on a monitor backstage. Stephanie says she hates Jericho and Paul Heyman can be seen face-palming in the corner. Shane tells Billy Kidman that they need to turn the tide and that he needs to beat X Pac to do that (so that's why he's in this scene) Heyman is furious that The Alliance is losing everything from matches to momentum and tells Kidman that they are at the point of no return and that he NEEDS to beat X Pac.
. Billy Kidman vs X Pac
Yo, you dealling with the X Factor.
JR tells us that because of the inVasion and because X Pac is on team WWE, he will be getting cheers tonight instead of the usual jeers. X Pac gets immediate 'X Pac sucks' chants. X Pac turns a Collar and Elbow into an Arm Drag. X Pac turns another Collar and Elbow into a Headlock then a Hammerlock before pulling Kidman's ankles and sending him face first into the canvas. A third Collar and Elbow is turned into a Headlock again by X Pac but Kitman pushes him off sending X Pac off the ropes but the returning X Pac knocks Kidman down with a Shoulder Block. Both men counter each other's attempts at a Hip Toss before Kidman ducks a Spinning Kick and pulls on X Pac's ankles sending him face first into the canvas. Kidman takes X Pack down with a Drop Toe Hold which he turns into a Headlock. X Pac gets to hi feet and shoots Kidman off the ropes but the returning Kidman knocks X Pac down with a Shoulder Block. Kidman bounces off the ropes but X Pac catches him and throws him into the air (presumably for a Pop Up Powerbomb) but Kidman counters it with a Hurricanranna followed with an Enziguri that knocks X Pac out of the ring. What X Pac doesn't see is Kidman who slides under the ropes with a Baseball Slide Faceplant which gets a two count once Kidman rolls him back into the ring. X Pac whips KIdman off the ropes but he ducks a Clothesline and hits another Hurricanranna. Kidman then charges at X Pac who catches Kidman and throws him over the top rope to the outside. As Kidman gets to his feet, X Pac springboards off the second rope, over the top rope and down onto Kidman with a High Cross Body.
In the ring, Kidman kets knocked down by a Standing Spin Kick which gets a two count before X Pack locks in a Chinlock. Kidman fights out of it only to be caught in a Sleeper Hold. Kidman elbows his way out of it, shoots X Pac off the roes and catches him in a Sleeper Hold but X Pac quickly breaks it when he turns it into a Side Suplex. With Kidman down, X Pac climbs to the top turnbuckle and leaps with some kind of Swanton like manouver, but Kidman moves out of the way and X Pac hits nothing but canvas. Kidman hits X Pac with a Right Hand, an Elbow, a Dropkick and a Sky High (shades of D'Lo Brown) that gets him a two count. X Pac staggers into the corner where Kidman hits him with six out of Ten Punches before X Pac Powerbombs Kidman and, despie having his feet on the ropes for leverage, only gets a two count. X Pac lifts Kidma for a Powerbomb that Kidman counters into a Facebuster (or an X Factor if you want to get technical) for a two count. KIdman climbs to the top rope and launches at X Pac with a flying who knows as X Pac counters it with an X Factor of his own which, amazingly, only gets a two count. X Pac drapes Kidman over th e bottom turnbuckle and goes for a Bronco Buster but Kidman counters it by getting a foot up to block (Referee! That's a low Blow!). With X Pac down, Kidman climbs to the turnbuckle and hits the always impressive looking Shooting Star Press and gets the victory. WCW win something.
Winner: Billy Kidman
Backstage Shane, Stephanie and Heyman seem happier. Diamond Dallas Page is here (Page here) and is talking about when he kidnapped Debra on Smackdown. Shane tells him to forget Smackdown and focus on the likes of Undertaker and Steve Austin tonight
Stacy Kiebler and Torrie Wilson are shown. Torrie says it's a pitty that the audience is going to see Trish Stratus in her underwear and not Torrie's "big, voluptuous breasts". Stacy says no body looks better in panties than her. They say it's a pitty the audience won't see them in their underwear tonight so they plan on giving Matt and Jeff Hardy a private showing. Women's wrestling as come a long way since 2001, that's all I'm saying.
. Raven vs William Regal
A Collar and Elbow ends with Raven backing Regal into the corner and he goes for a Right Hand but Regal ducks it and unloads on Raven with a series of lefts. He whips Raven off the ropes but telegraphs a Back Drop and is kicked in the chest by Raven who takes too long working out his next move that he gets Clotheslined by Regal. He follows that up by grabbing Raven and hoisting him up with a Double Underhook Suplex. As Regal tries to apply an STF, Raven pulls away from Regal and scuttles out of the ring. Regal goes out after him and strikes with some left hands before throwing Raven back into the ring. In the ring, a Left Hand and an Uppercut get Regal the first two count of the match. Raven reverses a whip against the ropes and tries to Dropkick Regal as he rebounds back. Instead, Regal catches Raven by the ankles and slingshots him over the top rope and out of the ring. Regal follows and throws Raven just far enough back into the ring so he can slam Raven down, chest first, onto the ring apron. Back in the ring, Regal charges at Raven who grabs Reagal and thows him over the top rope to the floor where Raven hits Regal with a Baseball Slide.
Raven slips out of the ring to meet Regal and Russian Leg Sweeps Regal into the crowd barrier. In the ring and in the corner, Raven rams his shoulder into Regal's gut. Raven Irish Whips Regal chest first into the corner hits an awkward looking Clothesline to get a two count. Raven Snapmares Regal before applying a Chinlock. Regal is quickly out of it however and Suplexes Raven for a two count. Raven gets control back from a Shoulder to the gut before climbing to the second turnbuckle and clocking Regal with a flying Forearm Smash. A second one is stopped due to a Regal punch to the gut and it gives Regal room to hit a running knee to the side of the head but it's a Small Package from Raven that gets the two count. Regal pounds Raven with Left Hands before Raven reverses an Irish Whip and catches Regal in the corner with a Right Hand and a Bulldog out of the corner gets Raven a two count. Regal counters an attempted whip with a Full Nelson attempt but Raven counters it with a hip thrust and a Sunset Flip that Regal rolls into a pin attempt for a two count. Same for a different roll up. Regal gets another two count from a couple of knees to the skull and a Back Elbow. A DDT attempt by Raven is countered by Regal following a variation of a Northern Lights Suplex that gets another two. An attempted Regal Cutter is countered into an attempted DDT that regal stops by driving Raven into the turnbuckles. An Irish Whip is counterd by Raven but both men run into each other and this knocks Raven out of the ring. With the referee's atention on Raven, Tazz runs in and hits Regal with an Exploder Suplex. Raven then slides back into the ring and hits Regal with a DDT that gets the three count.
Winner: Raven
Vince McMahon, The Undertaker, Sara and Kane are backstage. Vince says WCW have won two in a row and WWE can't afford for WCW to win a third. Vince attempts to motivate Undertaker and Kane by reminding Kane how ECW beat him down when they first joined the inVasion. Vince mentions Diamond Dallas Page stalking Undertaker's wife, Sara and Undertaker grabs Vince by the throat and slams him against the wall. He says tonight we will see the best of The Undertaker. Vince smiles, happy his guy are motivated.
. Hugh Morrus, Shawn Stasiak & Kanyon vs Billy Gunn, The Big Show & Albert
Do not adjust your set, Albert really is wearing the Intercontinental Title and really held the title back then. To this day I have no idea why though.
The WCW lads attack Team WWE to start but WWE quickly fight back creating a cool visual where each man on WWE lifts an opponent for a Gorilla Press Slam. Gunn and Kanyon start with Kanyon ramming Gunn's head into the turnbuckles and unloading with punches and Shoulder Blocks. An Irish Whip is reversed by Gunn and Kanyon tries to leap over Gunn. Instead Gun catches him in a chicken fight/doomsday device position and falls backwards hitting Kanyon with an Electric Chair Drop. Gun charges at Kanyon who hits some kind of Back Drop into a modified Northern Lights Suplex that gets him a two count when Gunn pushes himself up before rolling Kanyon with a Backslide that gets Gunn a two. Gunn hits some Right Hands but is caught by a Stasiak Forearm as he shoots himself off the ropes allowing Kanyon to hit a Russian Leg Sweep that he rolls into a Stroke for a two before tagging Stasiak. He lays into Gunn in the corner with Right Hands and stomps. Stasiak Irish Whips Gunn but Gunn catches in incoming Stasiak with a Back Elbow and a Neckbreaker. Gunn tags Albert who hits Stasiak with a Clothesline, an Irish Whip and an Avalanche. All six men enter the ring but WWE quickly clear house. Back to one on one, Albert knocks Stasiak down with a Pump Kick and a Baldo Bomb that gets a two count. Behind the referees back, Morrus hits Albert with a DDT before legally tagging in. He runs straight into a Powerslam by Albert. Gunn tags back in and he hits Morrus with a Clothesline and a Fameasser but can't take advantaage as Kanyon is in the ring. With the referee distracted by Kanyon, Stasiak hits Gunn with a Reverse DDT (no matter who does it, I love this move) Morrus makes the cover and he gets the three count.
Winners: Hugh Morrus, Shawn Stasiak & Kanyon
Backstage Shane McMahon and Booker T are confident they are going to win tonight.
William Regal and Tajiri are in Regal's office. Regal tells Tajiri that since coming to the WWE, Tajiri has been loyal to WWE. Tonight is his shot. Tonight he wants Tajiri to take the "foul, miserable, torag little gobshite, Tazz" (which the subtitles on the WWE Network amusingly translate as "foul, miserable total reckless will go upside, Tazz") and pull him apart for Regal, for Vince McMahon and most of all the WWE. Regal tells Tajiri that he knows Tajiri can do it "So bloody well go and do it!" I love, Love, LOVE this segment.
. Tajiri vs Tazz
As Tajiri slides into the ring, Tazz kicks him in the head. Both men exchange Right Hands. Tazz wins the Battle of the Right Hands and whips Tajiri off the rope but he ducks a Clothesline and hits Tazz with a Spinning Heel Kick and a standing Moonsault that gets an early two count. Tajiri then rams Tazz into the corner and Chops him. An Irish Whip is countered by Tazz, Tajiri gets a boot up to counter a running Tazz but he then walks into a Capture Suplex. Tazz smashes Tajiri with Forearms to the shoulder blades. Tajiri counters a Suplex and unleashes a flurry of kicks and punches on Tazz but this time he runs into a Clothesline by Tazz. A Whip of the ropes into a Back Drop is scuppered by Tajiri who kicks Tazz in the chest but Tazz ducks a Spinning Kick before hitting a Snapmare and forearms to the face. Tazz chops and stomps Tajiri in the corner. Tajiri fights back with punches and kicks byt Tazz drops Tajiri to the mat with a UFC style takedown which results in a two count. Tazz locks in a Cross Armbreaker (oddly on the right arm, in wrestling it's normally the left) but Tajiri is close enough to get his foot on the bottom rope. Tazz Irish Whips Tajiri who tries to leap over Tazz but Tazz catches him and Alabama Slams Tajiri to the mat for a two count. Tazz whips Tajiri off the ropes but Tajiri turns it into a Handspring Elbow that knocks Tazz out of the ring. Tajiri stands on the ring apron and tries to kick Tazz but he just grabs Tajiri's ankle and yanks him off the apron and down onto the arena floor before throwing Tajiri into the ringside steps. Back in the ring, Tazz Irish Whips Tajiri but Tajiri manages to catch an oncoming Tazz in the Tarantula. Away from the corner, Tajiri hits Tazz with a running Dropkick that get him a two count. Tajiri rattles Tazz with two big Roundhouse Kicks to the chest but Tazz catches a third one and lobs Tajiri up and over with a Leg Arm Suplex. As Tazz attempt to lift Tajiri for his next attack, Tajiri spews green mist into Tazz's face. With his vision obsured, Tazz is defenceless, this allows Tajiri to crack Tazz on the side of the head with another Roundhouse Kick for the pinfall victory.
Winner: Tajiri
Backstage we see Matt and Jeff Hardy. Matt says he is worried about Jeff's match later tonight. He tells Jeff that the upcomming Hardcore Match is what Jeff's opponent, Rob Van Dam, built his reputation on and that Jeff needs to finish the match quickly. Rob Van Dam appears like a puff of smoke and smashes Matt in the back with a chair and tells Jeff "You're Next". Matt seems hurt and most likely won't be at ringside for Jeff's match (you could say his appearance has been DELETED!)
In the WWE's New York restaurant, Bob Holly is hapily signing autographs for fans. That is until one of them is wearing a WCW shirt. This angers Bob. He tears the shirt off the fan and threatens to kick his ass. (pretty sure the fan could sue here. Destruction of Property, maybe even Threatening with Intent but I digress)
. Rob Van Dam vs Jeff Hardy [Hardcore Title]
Jeff starts immediately with Right Hands. He shoots RVD off the ropes but it is reversed, RVD tries to duck under Jeff but Jeff tries to Legdrop RVD who moves and kicks Jeff in the face. Both men take turns at Legdropping each other but the other one moves out of the way. RVD tries to German Suplex Jeff but he reverses it and his attemt at a German Suplex on RVD is thwarded by a Back Elbow and an Arm Drag which Jeff gets out off with a Headscissors.
We have a stand off.
RVD chants can be heard around the arena and when RVD turns to acknowledge them he is Dropkicked from behind. Jeff Irish Whips RVD but RVD catches in incoming Jeff with a Back Elbow. RVD Irish Whips Jeff but Jeff leaps over RVD and Dropkicks him head firtst into the bottom turnbuckle for a two count. RVD sends Jeff off the ropes and tries to Monkey Flip Jeff as he rebounds back. Jeff sees it coming and catches RVD's ankles before compacting him for a two count. RVD hits Jeff with some forearm shots before Jeff hits RVD with an inverted Atomic Drop. RVD ducks a charging Jeff and hits a standing Moonsault on a fallen Jeff for a two count. RVD hits Jeff with a Double Underhook Lifting Facebuster and a Rollng Thunder for a two count. RVD hits Jeff with some rights and some kicks before an Irish Whip which is countered by Jeff. RVD leaps to the top rope but is pushed off by Jeff and RVD goes face first into the ringside barrier. As RVD tries to get back into the ring Jeff catches him in the face with a Baseball Slide. Jeff goes to the outside and uses the crowd barrier as a platform to throw himself at RVD but RVD has the move scouted and knocks Jeff off the barrier and and into the crowd. RVD goes into the crowd after him where Jeff reverses an Irish Whip and RVD goes back first into another barricade. Jeff charges at him and RVD boots Jeff in the face before jumping on to the barricade and Moonsaulting onto Jeff for a two count. At ringside, RVD lifts Jeff onto the ringside barrier so Jeff's laying with his chest on the barrier before leaping off the ring apron and striking Jeff with a spinning Legdrop for a two. RVD tosses Jeff back into the ring but again acknowledges the crowd. This allows Jeff to hit RVD with a Sunset Flip into a Powerbomb sending RVD from the apron back first to the ringside mats. Jeff drags a ladder from under the ring and sets it up at ringside.
Jeff climbs to the top of the ladder but RVD is back on his feet and pushes the ladder over sending Jeff crashing to the floor. RVD arms himself with a steel chair. Not even on his feet yet, Jeff smashes RVD in the face with the ladder. Jeff now has the chair and he gets revenge for Matt when he smashes RVD in the back with it. RVD is on his knees at the top of the isle begging Jeff not to hit him. Jeff takes a moment to think about it and that is all RVD needs as he leaps into the air and Van Daminators the chair into Jeff's face sending him off the entrance stage. Tossing Jeff back onto the stage, RVD hits Jeff with a spinning Legdrop in the middle of the isle way for a two count. RVD throws Jeff and the chair back into the ring before mounting Jeff and unloading with punches. RVD dumps Jeff into the corner and Dropkicks the chair right into Jeff's face but Jeff gets his knees up to counter a Split Legged Moonsault. Jeff DDT's RVD right ontop of his skull and somehow only gets a two. A German Suplex by Jeff also gets a two. Jeff hits RVD with a Jawbreaker before climbing to the top turnbuckle and launching at RVD with a Swanton but RVD narrowly avoids it, moving at the last second and Jeff lands hard on the canvas. RVD places the Hardcore Title onto Jeff's chest before climbing to the top turnbuckle himself and flying through the air and crashing down onto Jeff with a Frog Splash that gives him the victory and the title.
Winner: Rob Van Dam [NEW Hardcore Champion]
Backstage and Vince McMahon isn't looking as confident as he was earlier. Kurt Angle (with hair) is here. Vince says Kurt needs to be in the right frame of mind if they are going to beat The Alliance. Kurt says at the Olympics he kicked ass (with a broken freaking neck probably) and he'll do the same tonight. He's going to kick some serious behind for his country, his company and mostly for himself.
Speaking of serious behind (Michael Cole's words, not mine)
. Trish Stratus & Lita vs Stacy Kiebler & Torrie Wilson [Bra And Panties Match]
According to the video package that aired prior to this, this match is happening because Trish, Torrie and Stacy are all trying to seduce Matt and Jeff Hardy and Lita isn't happy about it. Plus that pesky WCW inVasion thing.
Oh look, Mick Foley is here. He's going to be the guest referee for this. Granted I'm not exactly sure HOW you referee one of these.
Trish and Lita start by mounting Torrie and Stacy and smother them with punches. Stacy escapes by rolling out of the ring while Torrie is now on top of Trish and is slamming her head againt the canvas. Foley sends Lita out of the ring so only two remain in the ring. Torrie kicks Trish in the gut and then Dropkicks her from behind and then stomps her in the corner before unleashing a fearsome Slap to the face. This angers Trish who Slaps Torrie who reverses an Irish Whip, but it does not do any good as Trish comes firing out of the corner and blasts Torrie with a Clothesline. Trish hits Torrie with a Suplex and then tries to remove Torrie's top but Stacy attacks Trish from behind. Stacy and Torrie try to Double Clothesline Trish but she ducks it and Clotheslines them before tagging in Lita. Torrie and Stacy fight over who is legal (it should be Torrie) before Lita pulls Stacy into the ring and pulls off her top. Lita whips Stacy off the ropes but Stacy manages to "High tail it" to the outside. Lita follow and chases Stacy around the ring before Stacy slides back into the ring. As Lita slides in after her Torrie stomps her spine and holds Lita down while Stacy rams Lita's head into the canvas and removes Lita's top. Foley for some reason lifts up Stacy and carries her away, odd he never tried this with Earl earlier. Lita wraps her top around Stacy's neck and uses it to Snapmare Stacy
"Is it a Snapmare because she's a female?"
Lita rams Stacy's head into the corner before grabbing Stacy by the hair and throwing Stacy across the ring. Lita climbs to the top turnbuckle and throws herself at Stacy but she ducks and Lita hits nothing but canvas. Trish and Torrie tag in and Trish knocks Torrie down with a series of Clotheslines. Torrie gets Irish Whipped but moves to avoid an incoming Trish before she grabs Trish by the hair and throws her across the ring. Torrie stands on Trish's hair and pulls Trish by the arms. Torrie then pulls Trish's top off but Trish rolls Torrie and pulls off Torrie's tights. Trish Irish Whips Torrie into the corner and Trish and Lita hit Torrie with a Poetry in Motion and remove Torrie's top. Trish hits a Bulldog on Stacy and Lita hits a Moonsault before they remove Stacy's tights.
Winners: Trish Stratus & Lita
Shane, Stephanie and Heyman are with The Alliance team for the main event. Stephanie says it's do or die. Heyman says they have a chance to create history, that they have a chance to show a winner from a loser. They could be failures or Gods. Shane says the time for talking is over.
Steve Austin and Debra are in Vince's office. Austin says he isn't here to sing, hug or play guitar. He says he's here to whip somebody's ass. Short and to the point I suppose.
. Diamond Dallas Page, Bubba Ray Dudley, D Von Dudley, Booker T & Rhyno vs Kurt Angle, Steve Austin, Chris Jericho, The Undertaker & Kane [10 Man Tag Match]
Undertaker goes to meet Page as he makes his entrance and this war is on. Austin lays into Rhyno with punches before throwing him into the steps. Austin turns his attentions to Booker T and Austin hits Booker with a Snake Eyes on the barricade. Austin throws Rhyno into the ring and the bell finally rings.
Austin kicks Rhyno a couple of times and kicks him low when the referee isn't looking. Rhyno stumbles backwards into the corner where Austin 'stomps a mudhole' in him before he punches Bubba and Page. Austin whips Rhyno off the ropes and knees him in the gut. Austin whips Rhyno off the ropes again and this time hits a Lou Thez Press and a series of Right Hands. Austin shoots himself off the ropes and drops an Elbow on Rhyno that gets a two count. Austin takes Rhyno and plonks him on the top turnbuckle and Chops away at Rhyno before bringing Rhyno down with a Superplex that gets a two count. Jericho tags in and Chops Rhyno before hitting a Flying Forearm. Jericho mounts Rhyno and unloads with a series of punches. Rhyno counters a whip off the ropes with a knee to the gut and a Clothesline and tagging in Booker who stomps Jericho in the corner. Booker then Chops Jericho against the rope before a Jumping Side Kick that Jericho ducks before applying Chops of his own. Jericho shoots Booker off the ropes and catches him with a couple of deep Arm Drags and a one handed Bulldog that gets a two count when Rhyno breaks the count but a springboard Dropkick sends him back out of the ring. A second rope Missile Dropkick gets another two count for Jericho. Kurt tags in and he lays in to Booker with right after right. Kurt whips Booker off the ropes and drops him with a Back Elbow. Booker reverses a second whip of the rops and he drops Kurt with a Spinning Kick. Booker tags D Von and he walks into Right Hands by Kurt. D Von reverses a whip off the ropes and he nails Kurt with a spinning Elbow. D Von Irish Whips Kurt but Kurt nails the oncoming D Von with a Back Elbow (seriously how many times has this same runing into the corner only to be either booted or Back Elbowed on this show alone?) and Kurt drops D Von with a Clothesline before tagging Kane.
Kane nails D Von with an Uppercut before throwing him into the corner. Kane then Irish Whips D Von and the oncoming Kane….. actually hits a Clothesline in the corner before Sidewalk Slamming D Von to the mat for a two count. D Von ducks a Clothesline by Kane but walks in to a Chokeslam that is only broken up when Bubba interferes. With Bubba gone after a Right Hand, Kane catches D Von with a Side Suplex. D Von taggs Bubba and Kane shoots D Von off the ropes but D Von ducks a Clothesline and hits a 3DB (a lift into a Neckbreaker as opposed to the 3D which is a lift into an Ace Crusher) which gets Bubba a two count. Bubba follows with a series of Elbow Drops for another two. Kane shoots Bubba off the ropes and Boots him in the face before climbing to the top turnbuckle and flying at Bubba with a Clothesline. Undertaker tags in un unloads with Right Hands, a Back Elbow and an Irish Whip. But a second Irish Whip is, oncoming, back elbow, we know. A Clothesline by Bubba gets a two count. Bubba shoots Undertaker off the ropes and he ducks a Clothesline by Bubba before catching Bubba with a Flying Clothesline and catches a day dreaming Page with a Right Hand that knocks him off the apron. Undertaker hits Bubba with a Legdrop that gets a two count. Undertaker grabs Bubba's arm and hits Old School before hitting Booker, D Von and Rhyno with Right Hands. He misses a Right Hand to Page who pulls Undertaker down on the ropes leaving him open for Bubba to hit a Suplex. before tagging Rhyno. He hits Undertaker with Punches into the corner and then a running Shoulder (which technically is a Gore) and stomps. Page demands to tag in and Rhyno obliges. Page knees, punches, elbows and stomps Undertaker before a Short Arm Clothesline that gets a two count. Undertaker hits some body shots and an Uppercut that sends Page off the ropes. Page tries to Boot Undertaker, he blocks it but Page is able to hit Undertaker with a Clothesline for a two count. Page shoot Undertaker off the ropes (lot of shooting off the ropes on this show too) but Undertaker ducks a Clothesline only to run into a Back Elbow and a DDT that gets another two count.
Booker tags in and hits some Right Hands before sending Undertaker off the ropes and hitting a Leg Lariat. Booker hits Undertaker with punches to the ribs but Undertaker hits Booker with a DDT for a two count. Undertaker tags Austin who wrenches on Booker's shoulder. Austin thumbs Booker in the eye before 'stomping a mudhole' in the corner. Booker Irish Whips Austin but he comes out of the corner and nails Booker with a Clothesline. Austin attemts a Stunner but Booker pushes him away. A knee to the gut by Austin sends Booker out of the ring. Outside the ring, Austin throws Booker over the barrier and Suplexes him back over onto the ringside mats before throwing him back into the ring. Austin tags Jericho who Irish Whips Booker and yep. Jericho tries to apply the Walls Of Jericho to Booker but Page is in the ring so Jericho tries to apply the Walls Of Jericho to him. Jericho knocks Booker down and attemps a Lionsault. Booker rolls out of the way and Jericho lands on his feet. Jericho tries a Hurricanranna but D Von grabs him and pulls him down onto the ropes and tags in. D Von stomps Jericho down before throwing him into the corner where he unloads on Jericho with Right Hands. Bubba tags in and hit punches and Elbows. Jericho tries to fight back but an Eye Rake stops that before Bubba tags D Von back in. They Irish Whip Jericho but he ducks a Clothesline from an incoming Bubba and hits D Von with a Forearm and a Spinning Heel Kick to Bubba. Angle tags in and he hits Right Hand to both Bubba and D Von. An Irish Whip to D Von is followed by Angle ducking a charging Bubba and sends him crashing into D Von. It's Overhead Belly To Belly Suplex City as Angle hits one to Bubba and one to D Von and a cover on D Von get a two count. A distraction by Page allows Bubba to hit Angle with a Bubba Bomb before he finally rolls out of the ring.
D Von hits Angle with a Stomp, a Bodyslam and a Legdrop for a two count. Rhyno tags in and he punches and stomps Angle in the corner before he hits Angle with a Belly To Belly Suplex for a two count. Bubba tags in and he and Angle exchange Right Hands before an Eye Rake by Bubba. D Von tags in and he stomps Angle in the corner before tagging Booker who hits Angle with a Scissors Kick. Page tags in and he Powerbombs Angle for a two count and gets the same result from a Clothesline. Bubba tags in and he and D Von hit Angle with a What's Up Headbutt that gets D Von a two count when he makes the cover. Page tags in and he hits Angle with a Sleeper into a Slam for a two count before applying a Front Facelock. Angle Back Drops his way out of it and tags Austin. The ref doesn't see the tag. Page hits Angle with a Diamond Cutter but Undertaker is in the ring punching at Page and pretty soon everybody is in the ring.
Rhyno accidentally Gores Booker. It soon comes down to four men: Angle who is still down, Booker likewise and Undertaker and Page who are still fighting. Undertaker hits a Sidewalk slam on Page and a Chokeslam. On thee outside of the ring, Booker pushes Austin into the steps while inside Undertaker hits WCW referee with a Last Ride. Austin is clutching his knee. Page makes an exit through the crowd and Undertaker follows. D Von throws Kane into the steps and sets up a table against the ringside barrier. Kane is back on his feet and Boots Bubba in the face before Chokeslamming D Von through the commentary table. Bubba clangs Kane on the head with a TV monitor. Bubba and Rhyno suplex Kane through the Mexican commentary table. Jericho, from the apron, throws himself at Rhyno and they go through the table at ringside. Bubba and Booker stomp Angle in the corner. Angle fights both men off with punches and hits a German Suplex to Booker followed by an Olympic Slam to Bubba. Booker tries to kick Angle but he grabs Booker's foot and applies an Angle Lock. Booker pushes his way out of it and knocks Angle into the referee who falls out of the ring. Angle charges at Booker who hits a Flapjack. Both men are down. At ringside Vince has the WWE Title in his hand. He slides it into Angle but Shane intercepts it. Vince gets in the ring and is clocked in the head by Shane with the title. Shane tries the same to Angle but he clotheslines Shane out of the ring and Back Drops Bubba too. Angle hits Booker with an Olympic Slam and applies the Angle Lock. Booker taps but there is no referee so Austin slides the referee back into the ring. Ausin gets into the ring and kicks Angle in the head and hits Angle with a Stunner. He throws Booker on top of Angle. The referee counts and thanks to Austin's defection, The Alliance win.
Winners: Diamond Dallas Page, Bubba Ray Dudley, D Von Dudley, Booker T & Rhyno
Austin celebrates his new team's victory by drinking beer with Shane, Stephanie and Heyman and we are done.
Post Show: I enjoyed this. It's easy to complain about this and point out the missing WCW stars like Sting, Ric Flair, Bill Goldberg and Hulk Hogan, but this is the first PPV of the inVasion. IF those stars are coming in, I'd expect to see them in later matches when there is a need for the 'Big guns'. Overall, WCW were made to look like a proper threat to WWE here and I enjoyed the show as a result.
Match Of The Night: Rob Van Dam vs Jeff Hardy. There was a few good ones here but this was a great one.
MVP: Steve Austin. Going in to the show everyone was talking about him, as the show ended people were still talking about him.
Rating: 8/10
That is me done too. I can be found on Twitter @Callaweasy2220 or I can be found here covering Monday Night Raw from 1993 as part of Chairshot Classics. #UseYourHead and ALWAYS have an Angle!
---
Always Use Your Head and visit the official Pro Wrestling Tees store for The Chairshot All t-shirt proceeds help support the advancement of your favorite hard-hitting wrestling website, The Chairshot!

---
Chairshot Classics: WWF SummerSlam 2000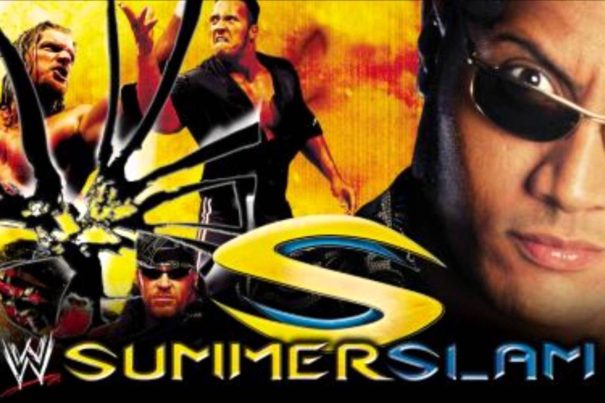 For this edition of Chairshot Classics we are in the new millennium as Kane and Undertaker face off, and The Rock, Triple H and Kurt Angle step in the ring for a Triple Threat match for the WWF Heavyweight Title. All this and so much more..
The date we are traveling to today is August 27, 2000 and we are in the Raleigh Entertainment and Sports Arena in Raleigh, North Carolina. There are 17,672 people in attendance and another 570K tuning in at home on PPV for the Chef Boyardee presented SummerSlam. The WWF is on its way to acquiring the WCW and has crushed them in ratings. The ratings the week before SummerSlam were RAW-6.2, NITRO-2.6. Even though RAW was preempted until 11 because of The US Open Tennis Tournament it still beat NITRO in the week following SummerSlam, RAW-4.9, NITRO-3.5. Vince is on his way to owning that show as well.
There is an awesome, grainy black and white film that opens the show. It is titled "Crimes of Passion" and is said to be "A film by Freddie Fellini". I'm guessing this a reference to a famous Italian director named Federico Fellini. The video features "Classy" Freddie Blassie and he enters the locker rooms to watch a video of the current feud of Kurt Angle and Triple H over Stephanie McMahon, with hints of The Rock sprinkled in. I can't say much more about this but go watch it. Its amazing stuff.
Chef Boyardee presents us SummerSlam 2000 with a CG video of the SummerSlam logo sailing through the sky and landing on the beach. We enter the arena to a sea of signs and the pyro that is not the same today. I miss the awesome pyro and sets from back then. Jim Ross welcomes us and tells us that they made 1.1 million at the gate alone. This has to be a jab at the WCW, who is struggling at this time. He introduces us to his partner, Jerry "The King" Lawler, before he says "We'll see ten matches tonight and four are for Championships". Jerry tells him he is lucky to be able to see at all after what TAZZ did to him. More on that later as it pertains to a storyline of a match on the card. JR finishes by introducing the first match on the card, a six man tag.
Right to Censor enter the arena to some boos. They are a rib on the Parent Teacher Conference, who was giving the WWF a hard time over their Attitude Era material. The RTC is made up of Stevie Richards, Bull Buchanon and The Goodfather. The Godfather was so over at this time and I don't know why they did this to him but I guess he was probably a focal point of the PTC's case. Richards goes to the mic to question the fans booing, and is shocked by it, being they are in the Bible Belt. Before he can finish, Too Cool's music comes on and the place explodes. Too Cool was so over. Too Cool, Scotty 2 Hotty, Grand Master Sexay, and Rikishi enter and Rikishi looks to have picked up some of The Godfather's old hoes. Grand Master Sexay or Brian Lawler is a real life prince, as he is the son of Jerry "The King" Lawler. Rikishi is part of the famed Anoa'i family and is the father of current SmackDown superstar's, The Usos. Whom inducted him into the WWE Hall of Fame in 2015.
Too Cool enters the ring and begin their signature dance, which the crowd is nuts for, but it is interrupted by the RTC. This ambush gains them no advantage, and after GoodFather is clotheslined over the top rope by Rikishi the match starts with Bull Buchanon and Scotty 2 Hotty. This series is all Scotty and the only real highlight are a crossbody off the top and a moonsault over the head of Bull, which he lands. He tags Grand Master Sexay in and they perform a double suplex. The crowd really pops when Scotty exits the ring with a Moonwalk. Goodfather tags in JR, who is still calling him Godfather. He's not long for the ring, and takes a hard bump to the outside when Sexay tosses him over the top rope. Sexay attempts to hold him so the hoes can slap him, presumably for the way he treated them when they were under his employment. He manages to break free though and this leads to him assaulting the hoes. So much for that image change, Huh? This enrages the crowd and the "Save the Hoes" chants begin. After Buchanon puts hands on Sexay he returns him to the Ring and The Goofather resumes the beating. Richards finally gets in the ring and delivers a vicious sit-down powerbomb, for the cover but the Grand Master manages to kick out. Richards goes to the top rope next but Sexay makes the save by hitting it and causing Richards to fall on to the top turnbuckle. Sexay then suplexs him off it and they both lay on the mat as the crowd anticipates the hot tag.
After an enziguri, Grand Master Sexay makes the tag and Rikishi comes in swinging. This leads to all members of RTC entering the ring but it doesn't slow Rikishi down, and he pounds them all. He throws Richards from the ring but he tries to use this to his advantage by heading up the apron. The hoes are there to make the save and throw him back into the ring. A cool spot is next when Rikishi whips all member of RTC to the same corner and each member gets knocked of the "stack" with a butt bumb from each member of Too Cool. Rikishi goes last and he attempts to give Richards the Stink Face after. For those not familiar with the move it is when the big man would rub his thonged ass into the face of his opponent. The move is interrupted by Right To Censor and the crowd is disappointed. The disappointment doesn't last long as Scotty 2 Hotty is setting up for his patented Worm. This is where is does the Worm dance into a drop onto his opponent. But this, too, is interrupted. This time by a superkick from Richards that leads to a three count. And the crowd is definitely bummed. Overall the match was entertaining and kept the audience guessing. I'm sure they wish they could of gotten the Too Cool finisher and I am right there with them on that. Match Time: 5:14
After the match JR and The King discuss that Triple H hasn't arrived yet and are curious as to how Stephanie McMahon feels about it. They flash us back to Sunday Night Heat earlier and the night where Jonathon Coachman is being joined by Kurt Angle, as he enters the building. Coach ask him
"what were you thinking taking advantage of Stephanie on Thursday night?" This is because Kurt kissed her after he wakes her up, and she definitely seemed "not awake" on the couch on Smackdown. But at the end of the kiss she started to kiss back. Kurt asks him if he is questioning his integrity before he storms off saying that he doesn't have to answer to a fourth rate announcer. Weird angle we have here. I guess because Triple H's first date with her was under date rape pretenses Kurt only found it suitable to approach her when she is barely conscious. What the Fuck. It shows Stephanie enter next and she is asking if Hunter has arrived yet. Coach tells her he hasn't but Kurt Angle has. She then asks where he went and goes the opposite way. The video ends showing Angle enter a dressing room that says McMahon-Helmsley.
Michael Cole, with some frosted tips, is trying to interview Shane McMahon, the Hardcore Champion. Before they can get into it though, Steve Blackman comes around the corner and Shane takes off.
We see a quick shot of the arena from the outside before we re-enter to "Oh You Didn't Know, Your Ass Better Call Sombodddyyy" and The Road Dogg Jesse James is on his way out. There is a quick recap as to how this "Friendly Feud" between to members of the D-X began. After a loss to The Undertaker the two argued with James on the apron. X-Pac chest bumps him and it sends him off the apron and through a table. He welcomes the crowd to the Dogg House and talks his normal trash on the mic before X-Pac enters to some nice pop. He enters the ring and gives some "crotch chops" as some pyro X's go off behind him. The pair trade some locks and takedowns before Road Dogg kicks X-Pac in the ass and sends him sailing from the ring. And Road Dogg gets the crowd going with some cock chops of his own. X-Pac returns to the ring but James maintains the momentum until he misses a splash in the corner. Pac knocks him down with a series of spin kicks and this sets up an attempted a Bronco Buster that Dogg manages to avoid. They go back and forth until X-Pac gets the sleeper hold locked in. Road Dogg breaks free but receives a spinning heal kick for doing so. X-Pac drags him to the corner for another Bronco Buster and this time the Road Dogg doesn't move. After X-Pac hits his finish he begins to celebrate with the crowd. This allows the Road Dogg to come to his feet and nail Pac with his 3 punch left combo that he follows with a shimmy and a right hand. This sets him up to drop the Shake, Rattle and Roll knee and go for the cover but X-Pac kicks out at two. X-Pac eventually hits an X-Factor after he reverses a pump-handle slam with a low blow. He follows it up with a cover and the ref counts the three. After the match Pac goes to the mic to offer a truce to Road Dogg. The Road Dogg takes the outreached hand of X-Pac and as JR says "The Road Dogg does it doggy style with a pump-handle slam." This is because he thrust at the ass of X-Pac before picking him up for the slam. Its insane really. This match wasn't the best and was pretty bored with it. I think X-Pac was an underrated talent by most people, but he didn't live up to my view on him here. No real heat in the match also made the story told in ring stale. This is a match you could definitely save some time on by fast-forwarding. Match Time: 4:41
---
Always Use Your Head and visit the official Pro Wrestling Tees store for The Chairshot All t-shirt proceeds help support the advancement of your favorite hard-hitting wrestling website, The Chairshot!

---
Chairshot Classics: WCW Capital Combat 1990 – Return Of Robocop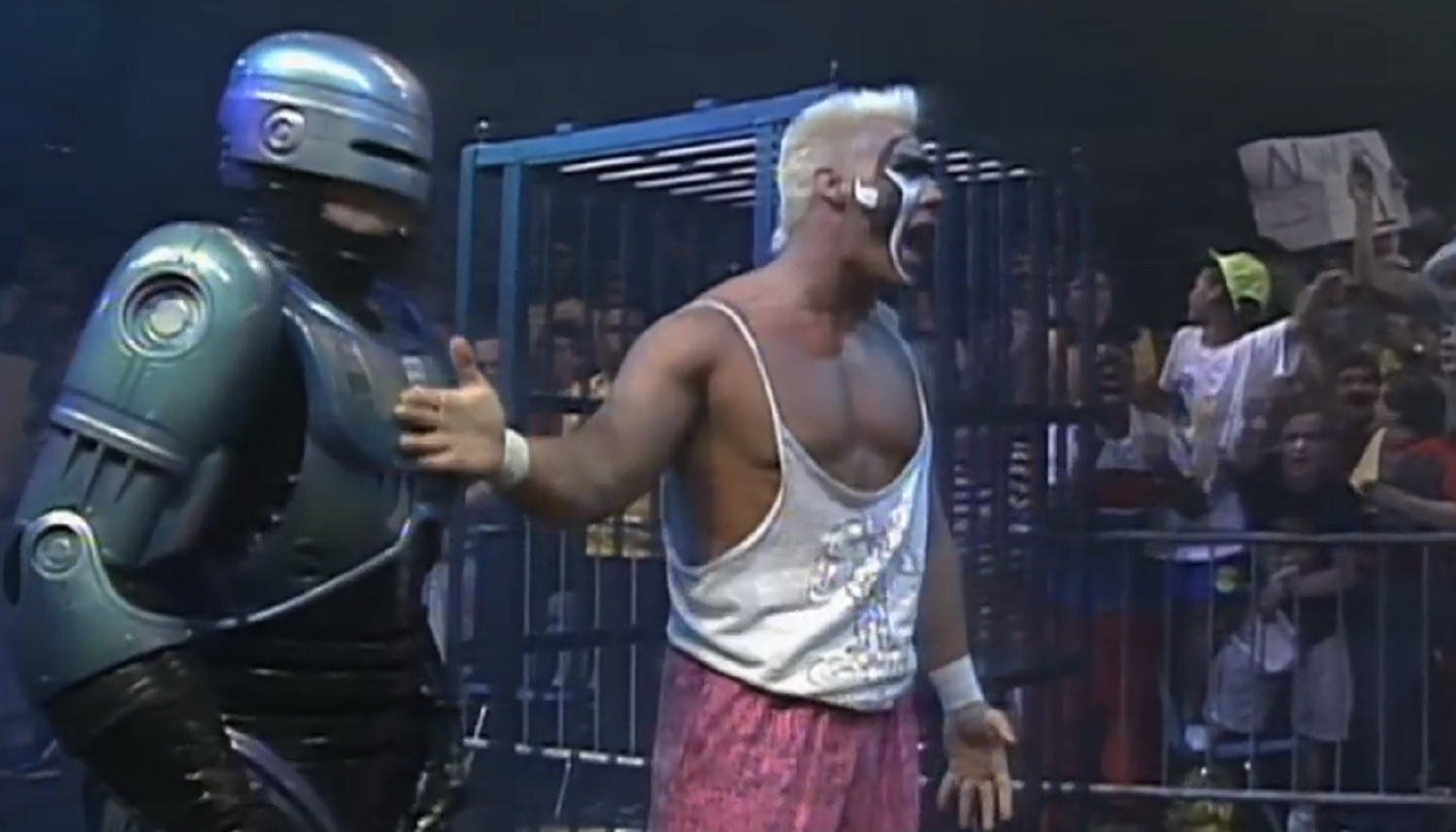 The nation's capital braces itself as WCW wages battle for Capital Combat 1990! The company's hottest star is still on the mend as Sting recovers from knee surgery, but he's found an unlikely (and absurd) ally to help him fend off The Four Horsemen! With this show being primarily remembered for the unusual Robocop 2 cross-promotion, does the rest of the card house any hidden gems? Let's find out!
Match #1: The Road Warriors (Hawk & Animal) & Norman The Lunatic w/Paul Ellering vs. Kevin Sullivan, Cactus Jack & Bam Bam Bigelow w/Oliver Humperdink
Norman tosses some t-shirts to the crowd. Animal and Cactus get the match started. Collar and elbow and they run the ropes. A few leap frogs before Animal power slams Jack. Irish whip by Animal and he catches Jack in the face with a boot. Hawk is tagged in and delivers a big clothesline. Jack regroups and tags in Bigelow. Collar and elbow tie up and Hawk is pushed to the corner. Hawk moves away from a right and goes on the attack. Bigelow fights back but Hawk hits him with a standing dropkick. Sullivan is tagged in.
They try to triple team Hawk in their corner but he escapes and sends Sullivan for a clothesline. Sullivan is quick to go back to the corner and tag Jack back in. On the other side, it's Norman's turn. Irish whip and a big clothesline from Norman. He follows it with a leg drop and a headbutt. Bigelow is tagged back in, and Norman decides it's best for Animal to take him on. Animal can't move the big man on a shoulder tackle. They run the ropes and Bigelow misses a headbutt. Animal clotheslines Bigelow over the top rope but he lands on his feet. Bigelow is fired up as he meets Hawk in back in the ring. A quick exchange and Jack is back in.
Bigelow tries to help his partner by whipping him into his opponent but Hawk moves and Jack tumbles to the outside. Hawk gives chase and clotheslines him off the apron. On the outside, Hawk chops Jack down and then sends him over the guardrail. Hawk rolls back into the ring and tags in Norman. Jack slowly follows back into the ring and tags in Sullivan. They tie up and Sullivan is whipped to the corner. The veteran gets his boot up before Norman can take advantage. A double foot stomp by Sullivan and Bigelow is back in. Big vertical suplex on an even bigger man and they get a two count. Sullivan is tagged back in and he chops away with some forearms.
Jack is tagged back in he tries to cut him down with some rights, kicks and a double axe handle. Cactus Jack tries a neck breaker while Norman is dangling over the top rope and he tumbles to the floor with no regard for his own safety. Sullivan is tagged back in. He goes to work with rights and kicks. He antagonizes the Road Warriors as he stays on Norman. Bigelow is tagged back in and the crowd gets behind the Lunatic. Back body drop from Bigelow followed by a few head butts. Tag is made to Jack and he stomps the big man. Sullivan and Bigelow take some cheap shots while the ref's back is turned. Snapmare followed by a knee job from Jack.
Norman reverses the ride to the ropes and he delivers a clothesline. A tag is made to Animal who catches Jack with a big drop kick and a high shoulder block. Sullivan and Bigelow prevent the cover and Hawk and Norman take issue with it. All 6 men are matched up with an opponent in a brawl. Amid the melee, Hawk comes off the top turnbuckle with a flying clothesline on Sullivan and he picks up the pin.
Winners: The Road Warriors & Norman The Lunatic (Animal/Top Rope Clothesline)
EA's Take: Weird match with a lot of fast tags with Bigelow and Cactus giving some of the best work with everyone else basically being brawlers. Sullivan had been putting together a faction and Norman The Lunatic was the object of their ire. This is of course a continuation from WrestleWar where Cactus went one-on-one with Norman, leading to him joining Sullivan's Slaughterhouse. Bam Bam has just recently returned and began aiding the group, but he's going to be back out the door again here soon to go back to New Japan.
Match #2: Johnny Ace vs. Mean Mark w/Teddy Long
Mean Mark lectures Ace and they get into a shoving match. Side headlock is applied by Ace. Johnny can't move Mark after attempted shoulder blocks. Ace can't hip toss him and Mark lands a clothesline. He can't follow it up with an elbow drop and instead, Ace hits a standing dropkick. Mark heads down to the floor and Ace flies over the top rope and takes him down with a splash. Mark is back in the ring and grabs a wristlock. Ace reverses it and works on Mark's shoulder with some elbows. Ace hangs on but Mark walks him to the corner. Irish whip by Mark but Ace moves.
Another Irish whip but Ace climbs the turnbuckles and hits a high cross body. He can only get a 2 count. Arm drag takedown works into an armbar by Ace. Mean Mark nails him with a right and takes control by kicking him to the floor. Teddy Long takes some cheap shots before Mark gives chase on the floor. Mark rams Ace's head on the steps and rolls back into the ring. Ace gets back on the apron but receives a quick right and falls back to the floor. Ace tries rolling in this time, but Mean Mark holds him up for a huge vertical suplex. A 2 count off a lateral press for Mark. Kick to the midsection by Mark.
While the ref lectures him, Teddy Long takes another cheap shot. Ace follows Long to the floor asking if HE wants to fight. Long runs away and Mark stalks his opponent down, axing him on the back. Mark rolls Ace back into the ring, sends him for the ride and hits a big clothesline for a 2 count. Mark grabs a reverse chinlock on Ace. The ref checks Ace but cannot get 3 drops. Ace works his way to his feet, but his comeback is met with a boot to the face. Power slam and a high elevation leg drop by Mark and he gets a 2 count on an over confident pin attempt. He goes for another power slam, but Ace surprises him with an inside cradle for a two count.
An aggravated Mark goes back on the attack. Ace tries another comeback. He sends Mark for the ride but cannot land a drop kick. Mark chokes Ace on the mat until the ref breaks it up. Ace fights back some more, but Mark moves from the corner after an Irish whip. Wristlock by Mark and he clubs Ace on the shoulder. Ace is hung up on the ropes and Long takes another cheap shot as Mark distracts the referee. Mark attempts a back body drop but Ace kicks him in the face and lands a standing dropkick. Ace jumps up on the middle turnbuckle and monkey flips Mean Mark.
Ace hits a clothesline from the left side and he heads for the top turnbuckle. He dives for a flying clothesline but Mark moves. Mean Mark lands a heart bunch before going to the top turnbuckle, walks across the top rope and lands a flying elbow drop to pick up the win.
Winner: Mean Mark (Ropewalk Diving Elbow Drop)
EA's Take: Fun to watch this match knowing that 25 years later, Johnny Ace (John Laurinaitis) was a senior producer for WWE and Mean Mark would soon after become one of the most iconic figures in professional wrestling history. He used the move both here and at certain times as Taker, but I always chuckle at the him walking the ropes as a finishing move. It's just  fun to see a dude who is pushing 7 feet tall walk across the rope, but does that action somehow make the elbow drop stronger? I jest. You can clearly see the potential in the guy though and he joins the list of young talent WCW gave a shot to, but didn't know what to do with him.
---
Always Use Your Head and visit the official Pro Wrestling Tees store for The Chairshot All t-shirt proceeds help support the advancement of your favorite hard-hitting wrestling website, The Chairshot!

---