Dragon Gate King of Gate 2018 Final Results & Review (6/9/2018)

Welcome back to Dragon Gate as we are now in the final round of the King of Gate tournament where we have YAMATO taking on Masato Yoshino. The winner will face Masaaki Mochizuki the next day for the Open the Dream Gate Championship.
The tournament as a whole has been incredibly lackluster and I probably won't cover their next one due to how poorly the network handled it, but I will however still be covering certain shows along with the big ones. Let's get this started and just…dive right in.
Tag Team Match
K-ness & Masaaki Mochizuki vs. Natural Vibes (Punch Tominaga & YASSHI)
Review: It feels weird that the companies big champion is the opening contest in these last recent shows, but I guess it's just how they work. K-ness would rip off Punch's do-rag off of his head and once that happens, we get Punch abuse by K-ness just slapping the bald spot on his head any chance he would get and it happens quite a lot, even Mochizuki does it a couple of times too, but Punch abuse gets the crowd laughing. Also, Brother YASSHI, what are you doing grabbing their dicks in the match like they're Joey Ryan? I mean I get that it's a distraction, but couldn't rake their eyes or something instead of grabbing and raking the dicks, man?
The match would feel a bit slow at times despite some of the humor they had in the match involving Punch, but also a few sloppy spots in there to hurt the match a little bit. Near the end of the match, Punch and Mochizuki would be in the ring with Punch going for a few strikes and Mochizuki slapping the bald spot on his head along with a few stiff kicks until he hits the Saikyo High Kick to knock Punch out and win the match for him and K-ness.
Recommended: Average match, so unless you like seeing Punch get abused, skip it.
Singles Match
Shun Skywalker vs. Susumu Yokosuka
Review: We got Shun in singles action as he would take on Susumu Yokosuka. Susumu would go up to the referee when he comes into the ring and leans over on him once he was standing on the ropes with the ref between his legs, but once he got down, he saw a kid in the ring holding the flowers as he took them since I guess he wanted to feel pretty and he took a picture with the fan.
The match, for the most part, was solid for what they did since they were crisp with their spots and just had a nice flow with their chemistry here. Shun is someone that keeps on improving in the ring and I feel like he could be a big player in the upcoming years, but I'm still not a fan of his in-ring attire and I guess it's mostly just due to the colors of it that throw me off than anything else. I don't know why it happened, but when Susumu would have Shun in a Powerbomb position, he would just smack his ass a few times like he owned it, Natural Vibes is being weird today…well weirder. The last couple of minutes I enjoyed a lot with Susumu attempting to for the Lariat a few times, but Shun would roll him up quickly for a roll up, but no prevail there, but he would go for it the second time and still no luck. Once Shun got up, he got hit with a stiff Lariat for a two count. Susumu would eventually hit the Jumbo No Kachi on Shun and gets the win.
Recommended: It was pretty solid, I would say it's worth at least a view.
Singles Match
Ben-K vs. Yasushi Kanda
Review: We now have Ben-K taking on ANTIAS member, Yasushi Kanda in out next singles match and the last time these two fought in the ring during the King of Gate tournament, Ben-K would defeat him by countout and I guess he looks to try and get an actual win over him this time.
We had Kanda attacking Ben before the announcer would finish saying his name and took Ben to the outside so he could try to knock him down a little as the bell rang. Once they got back inside, Ben would get the upper hand on Kanda for a brief moment and use his power to try and knock him down, but it wouldn't last long as Kanda would send Ben back to the outside again and I feel like they already overdid it since they did it a total of four times this match and wasn't really spaced out either, so it did hurt the match a lot to me in my opinion. ANTIAS is becoming how Suzuki-Gun was in NOAH where they would do this stuff in almost every match and during times when it's just not needed and becomes overkill for me. It looked like they're still protecting the Ben-K Bomb when he wouldn't hit it again, but would eventually Spear Kanda to try and pin him only for ANTIAS to run in and start assaulting Ben-K.
The beat down would only happen for a while til Over Generation came out to make the save as they have a big match set for July between the two units as the loser of that match would disband. The referee would rule the bout a no contest.
Recommended: I love Ben-K, but the match was pretty awful.
Tag Team Match
Don Fujii & Ryo Saito vs. Natural Vibes (Genki Horiguchi & Kzy)
Review: The last time these two teams fought was in a six-man tag with Saito getting the surprise win and it looks like they'll be fighting again in a regular tag team bout this time around. I'm a little disappointed that they didn't do the Natural Vibes dance and I know they did it for the opening bout, but I wanted to see it again.
If you've seen the previous match between the teams, then it's pretty similar with the mixture of comedy and other spots throughout the match, but no Fujii hitting Saito with a water bottle again, he knew better or we get that face again. That's what I love about Ryo Saito, he's not only hilarious, but he tells a story with his comedy and wrestling, but he knows how to do it so well and that's why the fans are so behind him when he's in the ring. The chemistry between Kzy and Genki is probably my favorite of the two out of the whole Natural Vibes unit just by how they do their moves together and the flow of their teamwork. The match was a lot of fun since we got nice spots and humor in here, but Kzy would get payback this time as he does the Skyade Schoolboy on Saito to pick up the win. After the match, Saito would tell Kzy that he wants a match for the Open the Triangle Gate Championships in which Kzy accepted, but no official date for the match yet.
Recommended: Very entertaining match and a ton of fun, worth a view.
Six Man Tag Team Match
MaxiMuM (Big R Shimizu, Jason Lee & Naruki Doi) vs. Tribe Vanguard (BxB Hulk, Kagetora & Yosuke ♡ Santa Maria)
Review: This is a mostly for hyping up the Open the Twin Gate Championship match as both Yosuke and Kagetora are scheduled to fight Big R and Ben-K for the titles the next day as well and I don't know why Ben just wasn't booked for this match instead of being in that match against Kanda since it did nothing for him, but oh well.
When are people gonna learn not to pick up Jason Lee from behind when he's in his meditating position? Because he's just gonna Arm Drag you every time you try to pick him up from behind, so stop trying it even though it's still cool to see regardless. Soon as Yosuke got into the ring and Naruki was tagged in, Jason and Big R just backed away for a moment because they don't wanna deal with him since they know what he's about. People may not like the type of gimmick Yosuke is doing, but I personally love it and is a damn good worker on top of that, I'm glad he's being used more. Very fun match with everyone playing their part and the highlight for moe out of the six here is Kagetora because he started exploding with his offense throughout the match, especially with Jason Lee. There was one cool spot with Big R going for a Powerbomb on Yosuke and it got reversed when he was high into the air Leg Dropping him on the way down, but only got a two count with that one. Big R went to go for his Shot Put on Yosuke, but it got reversed into the Neraiuchi which looked insane as he pinned Big R to get that much-needed momentum for tomorrow's show.
Recommended: I enjoyed this one a lot, definitely watch.
Six Man Tag Team Match
ANTIAS (Eita, Shingo Takagi & Takashi Yoshida) vs. Over Generation (Dragon Kid, Gamma & Kaito Ishida)
Review: It looks like we're gonna get a little preview here with a six-man tag between the two units to hype up what's to come sometime in July, how as to who should disband? That's really a tough call since both of them should split up, especially with CIMA leaving to help out his Chinese promotion OWE, but ANTIAS has been doing pretty bad lately and wouldn't mind them disbanding as well, however, the only problem is that they're really the only heel faction right now and if they did disband, then there's really no heel team.
Enough with attacking them to go to the outside once the bell rings! Here and there I don't mind it if it's spread out or anything, but the fact they did like four in Ben/Kanda that it already made this one feel a bit forced this time and it's at the point where it's incredibly annoying. Despite that, the match actually does get good since ANTIAS did get some nice heat into the match with Over Generation getting some strong offense in as well. One funny little spot I liked was when Dragon and Kaito would pin Eita down on the mat while Gamma was on the top turnbuckle and spits water down on him as if he was a little fountain or something and after seeing how Eita did during the whole King of Gate, he deserved it. Something that annoyed me between Eita and Dragon Kid is that they actually did better during their encounter in this match than their actual King of Gate tournament match where it was one of the worst matches in the entire tournament, which is a shame too since they're both great workers and I hope we can an actual match soon, but we might if it's for the Open the Brave Gate Championship. When they were going for their last moments in the ring, Dragon would hit the Bible on Eita to get the win for Over Generation.
Recommended: Solid match, worth a watch.
King Of Gate 2018 Final Match
Masato Yoshino vs. YAMATO
Review: Here we are as this is the final round of the King of Gate tournament as it comes down to A Block winner, YAMATO and D Block winner, Masato Yoshino. Both men are no strangers to the Open the Dream Gate Championship also as YAMATO has won it four times while Masato has won it three times. YAMATO defeated Naruki Doi in a fantastic match to advance while Masato defeated Takashi Yoshida to make it here as well. Last year, T-Hawk would be the winner of King of Gate to fight YAMATO who was the champion at the time but failed to capture the title. With YAMATO in the finals, he wants to win the whole thing so he can get that rematch against Mochizuki to try and take back what he feels is rightfully his, but he needs to beat Masato first who hasn't won that belt in three years. Who needs the win more? Who will win the King of Gate 2018 tournament and who will fight Masaaki Mochizuki tomorrow for the Open the Dream Gate Championship? We're about to find out, right now.
The match would start off with some slow chain wrestling with Masato actually controlling the majority of it as he would work on YAMATO's arms for a moment and being smart by just working on that body part mostly since it could cut down his arsenal quite a bit if he damages the arm enough. YAMATO would eventually find a way to get some time to breathe as he went for a Crucifix for a two count but would catch Masato into a Crossface the moment he kicked out, but there would be a rope break. The two would eventually have a chop battle going back and forth, but it looks like YAMATO had the upper hand when he applied a Guillotine choke on Masato to slow him down while wrenching the arms a little bit in the process. Masato would attempt to go for a Reverserana, but he goes to choke YAMATO with his legs while he was over the ropes and while the referee was calling for the five count, Masato would move him over to the other side of the rope to choke him out again before letting go. Masato would get control again as he applies the Black Widow for a moment and turns it into a Sunset Flip for YAMATO to kick out and hits a beautiful yet quick Sling Blade the minute YAMATO got up. Masato would run at YAMATO again only to be caught in a Tombstone position and hits a Fire Thunder Driver for a two count. Masato would apply his Sol Naciente to try and make YAMATO tap out and it almost worked since he fell down almost unconscious, but he got back up and hits the Ragnarok for a two count. Masato would get back up and hits the La Mistica and a Torbellino Crucifix to get the pin as Masato Yoshino has won the King of Gate!
My thoughts on the match was that there were times that it was slow, but around the middle and on is when it started to pick up to be a great match and if it had that flow from beginning to end, then this would've been the best match out of the whole tournament and a worthy final, but I would have to give it to YAMATO and Naruki Doi for being the best match of the tournament. Masato winning this one was a shocker for me since I felt like it should've been YAMATO to get that anticipated rematch between him and Mochizuki, but I can't be mad with the result, so congrats to both of these men and we'll see if Masato will be the one who will dethrone the champion.
Recommended: Definitely worth a watch.
Overall: The show was a rather entertaining one as we had some good matches with one horrible match, but it was a good show for the final and a great main event. Now we find out what happens the next day as we have two title matches to cover.
Favorite Match: Masato Yoshino vs. YAMATO
Least Favorite Match: Ben-K vs. Yasushi Kanda
Score: 7.5/10
---
Always Use Your Head and visit the official Pro Wrestling Tees store for The Chairshot All t-shirt proceeds help support the advancement of your favorite hard-hitting wrestling website, The Chairshot!

---
AJPW Summer Action Series Results & Review (7/29/2018)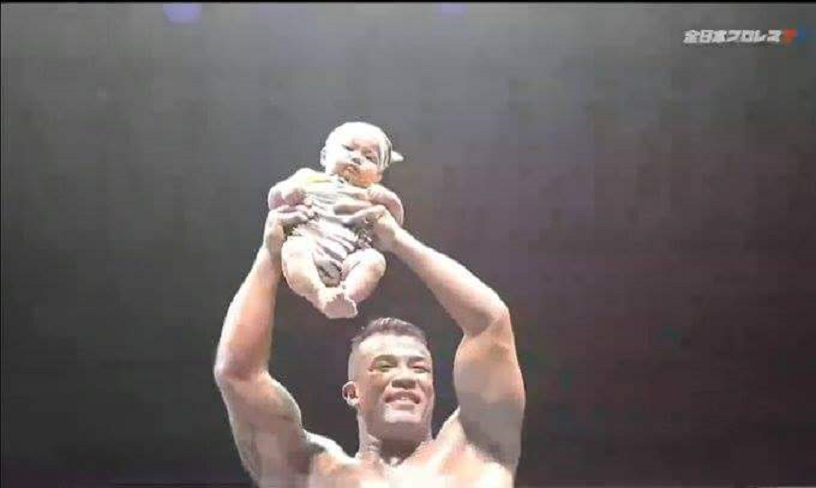 Now that the G1 Climax is over and done with, time to return to the promotions that I cover as we return to All Japan Pro Wrestling.
I believe the last time I covered them was when Kento Miyahara retained the title against Dylan James and Zeus would become the next challenger for the Triple Crown Championship, and luckily for you that this is the show we'll be looking at today. I just realized that I still don't have a rating system yet and after talking to Andrew, figured out which one I could do that doesn't involve stars or those snowflakes. I am going to be ranking them by regular wrestling podcast people or whoever Conrad Thompson partnered with also, and each person will be a 'star', here is who will be who.
5 Stars: Jim Cornette
4 Stars: Bruce Prichard
3 Stars: Eric Bischoff
2 Stars: Tony Schiavone
1 Star: Vince Russo
0 Stars: Dave Meltzer
Anyway, why don't we just…dive right in?
Eight Man Tag Team Match
Atsushi Maruyama, Shoichi Uchida, Takao Omori & TORU vs. Carbell Ito, Hiroaki Moriya, Ultimo Dragon & Yoshitatsu
Review: Our opening bout appears to be a regular old exhibition tag match with some people thrown together as we got Yoshitatsu and Ultimo Dragon in a team and we got Shoichi Uchida from DOVE making an appearance here tonight as well. I also loved how Carbell Ito was the only one that came out to music and it also appears that the wrestlers are giving out bags of snacks to the audience, that's nice of them actually.
Nothing really special to write about it since it was as basic as you can get with this match and what they do with all eight of these men getting an equal amount of time with the ten minutes or so they did together. Think Atsushi had more time out of the rest and had some pretty decent offense in with Yoshitatsu and hit a pretty neat Full Nelson Slam onto him. Yoshitatsu picked up the win by hitting the Codebreaker of Jericho on Atsushi…I still can't believe he still calls it that. God damnit, Yoshi…
Rating: Tony Schiavone
Eight Man Tag Team Match
Atsushi Aoki, Hikaru Sato, Masaaki Mochizuki & Shun Skywalker vs. Black Tiger, Koji Iwamoto, TAJIRI & Yohei Nakajima
Review: Up next, we got another eight-man tag match and this is involving people who are involved in the Junior Tag Battle of Glory tournament and we got some nice surprises here like Masaaki Mochizuki and Shun Skywalker from Dragon Gate being apart of this match to hype up the league due to them being apart of it. I've been very critical of the junior division in All Japan since it's the weakest division in the company right now and I'm hoping it could shed some light on potential contenders for Atsushi Aoki since he has no challengers right now for his title.
Oh, snap, Shun rocking some new gear and not wearing that full body suit anymore, good because that was pretty ugly on him and like this new look much better. I don't know what's going on with Black Tiger abusing Yohei Nakajima like this since that's his own partner, but I'm just gonna roll with it. Shun and Masaaki were the saving graces for this match just by how good they are and especially Shun from how far he's come and felt like they would fit right in if Dragon Gate didn't need them still. Still didn't expect Massaki to be considered junior since he was Dragon Gate's top champion a couple months ago and then again the majority of the Dragon Gate roster is pretty small like a junior heavyweight, so it makes sense. I wouldn't mind some of Dragon Gate going over to help out the junior division since a lot of them fit that weight class and are incredibly athletic as well, can definitely shed some new life to that division.
Anyway, the match was slightly average except for Masaaki and Shun along with Tiger abusing his own partner. Koji would apply the Katagatame on Atsushi to make the champion tap out as Koji won it for his team. After the match, Koji Iwamoto claimed that he was going to win the Junior Tag League and once he does, he wants a match against him for the Junior Championship.
Rating: Eric Bischoff
Singles Match
Gianni Valletta vs. Joe Doering
Review: We got our first singles match for the night as former Triple Crown Champion, Joe Doering is set to take on Gianni Valletta who has been starting his tour here early on in July when TAJIRI brought him over to go for the Tag Team Championships which they also lost. I can't wait to see how he does against the former champ. Can Gianni get a big win over Doering or will Joe squash him like the rest of his opponents?
I really felt like Joe wasn't full trying in this match and it just came off incredibly slow and stale which threw the match off quite a bit in my opinion. Gianni is someone that is pretty average as well, but he did show some promise since he has a pretty good look and had signs of growth he could do since he's only been wrestling for a few years. I wouldn't say it was a complete squash match, but still had an average amount of time together in the ring with seven minutes as Gianni would try to use his heel tactics to grab his chain to try and hit Joe with it, but he was caught with a Diving Body Press and a Revolution Bomb to get another easy win for Joe Doering.
Rating: Tony Schiavone and a half.
Six Man Tag Team Match
Billy Ken Kid, Shuji Ishikawa & Suwama vs. Dylan James, Jake Lee & Keiichi Sato
Review: We got our current World Tag Team Champions, The Violent Giants teaming up with Billy Ken Kid as they take on former Tag Champion, Dylan James and his partners, Keiichi Sato and future star, Jake Lee. Dylan looking to get a victory over the Violent Giants so he could get a rematch for those titles and maybe with a new partnership with one of his fellow teammates if they do somehow win tonight.
Dylan looks to be slowly finding his stride after his match with Kento Miyahara a couple of months ago and it's a good thing to see this progression of his ability and if he keeps it up, he could be much better in the ring. This tag match was very solid with Violent Giants proving why they're one of the best tag teams in Japan right now and the growth of Jake Lee, who I still considered the future of AJPW next to Kento Miyahara. Plenty of high impact between both of these teams with Shuji showing why he's one of the best there, plus the interactions with him and Dylan weren't too shabby either while Jake was mostly focused on Suwama and it feels like it could be a big seller if done right since you have Suwama who was the former ace of the company and a guy on the rise, so it would be a neat passing of the torch if they wanted to go that route.
Near the ending of the match, Shuji and Dylan were in the ring as Shuji hits Dylan with the Dragon Suplex and then a Running Knee while Suwama held Jake down with a Sleeper Hold to prevent him from interfering as Shuji hits the Fire Thunder to win the match. After the match, Yoshitatsu would come out to make a challenge to both Shuji and Suwama for the titles and said his partner would be Kento Miyahara again. For those that don't know, Kento's goal was to be Triple Crown Champion and Tag Team Champion at the same time to make it so he would be the first to hold five titles since the tag team is considered two per belt but he would always hold onto one or the other, not fulfilling his goal and wants to accomplish it soon.
Rating: Eric Bischoff
All Asia Heavyweight Title Match
Ryouji Sai (c) vs. The Bodyguard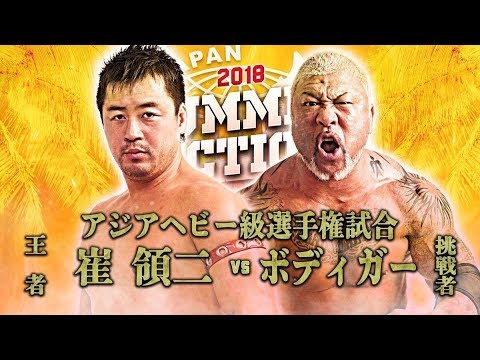 Review: We get an All Asia Heavyweight Championship match with Ryouji Sai defending the title against The Bodyguard. The All Asia Heavyweight Championship has been inactive since 1995 and it came back in January of this year where Ryouji would defeat Bodyguard in the finals to win the title. In the Champion Carnival, Bodyguard scored a victory over him to set up this title match here due to them having a win over each other and would be time to settle it here. Can Bodyguard win the title or will Ryouji retain it once again?
What could I say about this match? Well, let's start with the beginning and it started off really strong since it was mostly brute force with each other to try and beat each other down and it worked for Bodyguard when he kicked Ryouji to the outside and started mauling him down to the point where Ryouji looked like he was kinda knocked out for a bit there. This was where they started to tell more of their story with Ryouji being unable to get up most of the time, even when Bodyguard went for an Irish Whip and Sai just collapsed just from the beating he took.
After that the match starts falling apart, soon as Bodyguard would hit his first Spear the match would begin to get really slow and sloppy and it's a shame too because I was actually really enjoying it. The Bodyguard would start to hit his power moves over to try and get the victory like his Elbow Drop off the top rope but Ryouji would start kicking out of it all. The Bodyguard went up to the top rope again only for Ryouji to get back up quick enough to hit a superplex for a two count. The Bodyguard would start to hit a second sloppy Spear for another two count and goes for his Bounce move and he completely messed that up big time to win the All Asia Heavyweight Championship.
I would've rated this a little bit higher if it wasn't for the fact that the poorly paced and sloppy second half took away from the match. The Bodyguard is the new champion and got his revenge over Ryouji at the end of it all and I don't know where this run is going to go but should be at least interesting. The Bodyguard is like Joe Doering, he can go when they show it and are highly motivated but it's so far in between that there's hardly any consistency with their quality of matches and it just hurts them.
Rating: Eric Bischoff and a half.
All Asia Tag Team Title Match
Jun Akiyama & Yuji Nagata (c) vs. Naoya Nomura & Yuma Aoyagi
Review: We first had the All Asia Heavyweight Championship match and now we got the All Asia Tag Team Championships on the line with a rematch from the June 12th show where Jun Akiyama and Yuji Nagata defend the titles against Naoya Nomura and Yuma Aoyagi. The last time they both fought, they had a great tag team match and they would be able to retain the titles, but NEXTREAM said they would want a rematch for the belts soon and we're getting that tonight. Can they get that big win over these two legends or will they make lightning strike twice on them and still come out on top?
There is a small little story here between Yuma and Jun where Yuma was never able to pin him directly and would always come up short when they're in the same ring together, but he is looking to change that today during the match and from the looks of it, he's going to need a lot of luck. Jun and Yuji are just too tough for our two rookies here as they just have the power, the experience, and just better than them overall, but Naoya and Yuma have that determination to never give up and make sure they will win this time, and that story is what sells for this match since you know how important it is to them to prove themselves against some of Japan's best in this match. I loved the interactions between Uncle Jun and Yuma since I mentioned just a while ago about how Yuma never defeated him and you can see the intensity in their interactions together and it's mostly them in the match together to sell the story between the two much better. I loved their first bout together better since it showed great action and storytelling, but this was more focused on the story of the match and that part was told better here than the first match, but I would give the first match the better overall. Jun would go back and forth with Yuma with the knees and Jun catches him with an Exploding Suplex for Naoya to break it up before getting tossed out by Yuji, so Jun tries to do it again and he hits another Exploding Suplex but for him to kick out of it this time! Yuma is all fired up now and hits a knee on Jun to daze him as he hits the Rock Star Buster on him to go for the pin and we have new champions!
Yuma was finally able to get the direct win over Jun Akiyama in this match and just seeing them fight together gave me a little bit of doubt, but it was the right time for them to drop the belts to the younger generation. Congrats to NEXTREAM on winning the belts, they worked really hard and are only going to get better from here.
Rating: Bruce Prichard
Triple Crown Title Match
Kento Miyahara (c) vs. Zeus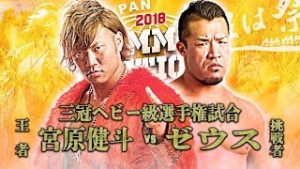 Review: It is now time for our main event with a highly anticipated match as we have Kento Miyahara defending his Triple Crown Championship against Zeus. Sometime in March before the Champion Carnival happened, Zeus would get the direct win over Kento and said he had plans on winning the Carnival and to take the championship, but Zeus would fail to win the tournament and had to wait a little bit to build himself back up until he was ready. In June after Kento retained against Dylan James, Zeus came back out to say he was now ready to fight him for the title since he still did have that clean win over him and wanted to get mentally prepared for this match. Can Zeus win the belt in his hometown of Osaka or will Kento knock him down once again?
Normally the crowd would mostly back up Kento but with the combination of being in Zeus' hometown and how over he's been with the fans lately, they were more supportive of him over Kento. The two start off a little bit explosive with some back and forth action with Zeus showing his strength and athletic ability while Kento just showed his intelligence in the ring to try and outmaneuver Zeus whenever he can. Zeus would hit a Diving Shoulder Tackle and then kips up and takes him outside to do a little bit more damage to him, but Kento would throw him over the guardrail and attempts a kick until Zeus caught his leg and slams it on the edge of the guardrail to hurt his leg a little bit.
Zeus then had him by the entrance ramp to go for a Lariat but gets caught with a kick to the midsection and hits a DDT onto the ramp to do some damage to his head and that doesn't stop there as he hits some Headbutts to knock him down nearly dazed, and tops it off with putting his head on the turnbuckle post to hold him there while he laughs in front of the camera until the referee pulled his hair to take him off. Zeus would start selling his head more and get dizzy for the majority of it while Kento finds an opening to try and take care of him and attempts a German Suplex onto the ring apron but Zeus fights him off to get some breathing room, but it doesn't last long as Kento ran up to him to hit a Brainbuster to the outside. Kento would hit another Blackout and does for just a regular German Suplex Hold as Zeus kicks out of that one and starts to get a small little comeback with some stiff Lariats to turn him nearly inside out, then hits a Chokeslam before going for the Jackhammer and he hits it but Kento kicks out of it!
Match has been incredible and loving the back and forth action and the crowd being behind it as well makes it all the more exciting since you can't tell who was gonna win the match and it could go either way. Kento would hit him with a few more Blackouts on his head to get him down as he goes for the Shutdown German Suplex Hold, but Zeus would break out of it once again by kicking out his bad leg, but gets caught with more Blackouts on his head. Kento would get all fired up to hit him with one more Blackout once Zeus got to his knees and Zeus would still kick out at two! Kento would charge at him one more time but Zeus catches him with not one but two Lariats and Kento would kick out at two, but Zeus quickly picked him up to hit the Jackhammer and we have a new Triple Crown Champion!
Zeus has finally done it, he has won the belt that has alluded him for years and it happened in his hometown of Osaka, Japan. Zeus has been with the company since 2014 and has been making a name for himself there in his eleven-year career. Zeus would get emotional after the match and rightfully so as he thanked everyone is Osaka for their endless support and he hopes to be a good champion. Zeus would end the show by having a kid in the ring and would carry him over his head to show that he was the champion of the people. Congrats to Zeus for finally winning the big belt, he's definitely earned it and I'm excited to see where his reign would go.
Rating: Jim Cornette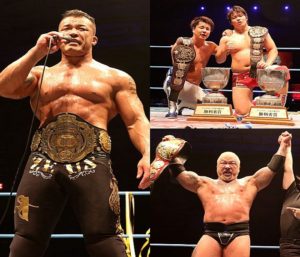 Overall: The undercard was rather weak, but the last two matches were the best part of the show despite an anti-climatic Asia Heavyweight title match also. We got an emotional main event with Zeus getting the big belt finally. We found out that Zeus's first title defense would be against Shuji Ishikawa and I can't wait to see how that one turns out.
Favorite Match: Kento Miyahara vs. Zeus
Least Favorite Match: Atsushi Maruyama, Shoichi Uchida, Takao Omori & TORU vs. Carbell Ito, Hiroaki Moriya, Ultimo Dragon & Yoshitatsu
Score: 7.5/10
---
Always Use Your Head and visit the official Pro Wrestling Tees store for The Chairshot All t-shirt proceeds help support the advancement of your favorite hard-hitting wrestling website, The Chairshot!

---
(NOAH) POST MATCH INTERVIEWS – 31ST JULY 2018, YOKOHAMA RADIANT HALL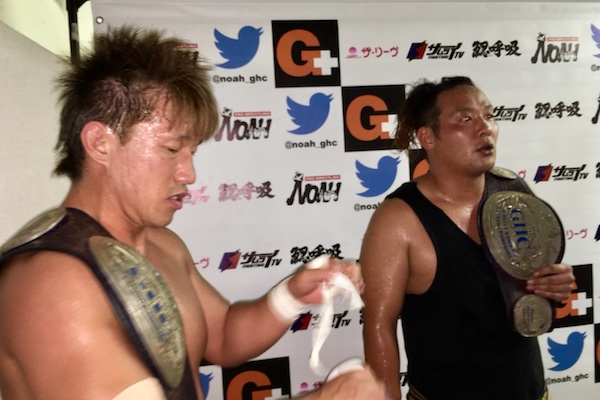 MINORU TANAKA & HI69
TANAKA: We are the 34th GHC Junior Tag Champions and that equals the strongest NOAH junior tag team, that said, the league has ended inconclusively. But everyone, the story will end in Korakuen in three days time. We saw it earlier. I don't know exactly who will be the winner, but we will watch it on the monitor like fans. I am looking forward to it, defending the belt against them.
HI69: I think that is true, I thought that getting the win would be natural, so I am disapointed with the results, but the team who wins the league will aim for the belt, that is true of all of us…we will show the GHC Heavyweight fight to all the NOAH fans.
TANAKA: The story of the worthless champions is over now. It is a story that belongs to the past, and it doesn't matter. Understand?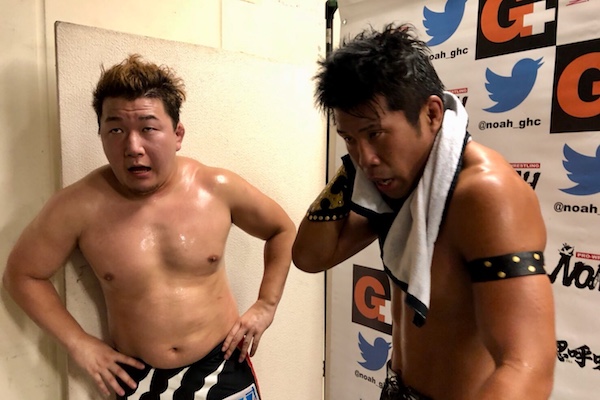 THE BACKBREAKERS (HITOSHI KUMANO AND HAJIME OHARA)
Q: You have taken a big step towards the finals?
KUMANO: We have aimed to win since the beginning. Ohara has tried hard in spite of the injury, and today we took it. The final will be taken by The Backbreakers. If anyone can win, it will be us.
OHARA: So far I've been disappointed, as I have lost a lot. I will not give up, and will take the big step towards winning the title at Korakuen. Kawasaki! Kawasaki will be the title match! I have big ambitions. This year it will be for the Backbreakers, so Mui Bien today too!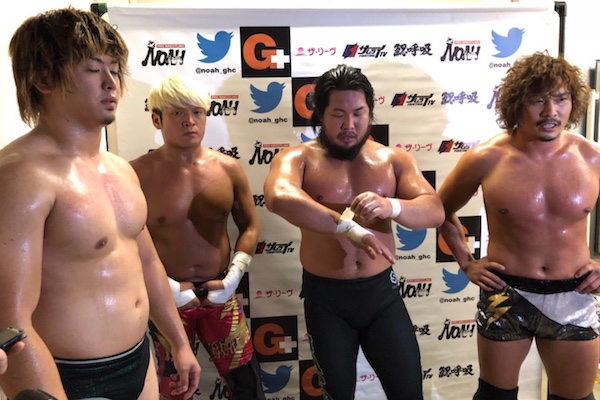 SUPER NEW GENERATION ARMY (KAITO KIYOMIYA, KENOH, MASA KITAMIYA, KATSUHIKO NAKAJIMA)
Q: A victory today, but still nothing to say?
Go Shiozaki silently touches the reporters chest and leaves.
KITAMIYA: Losing the belt does not change what you do. There is always someone in front of you, the belt is a target, people will keep biting at it…putting the belt on does not change.
NAKAJIMA: Although the belt might have been taken over there, we have just started, don't forget…we are the ones who take the iniative.
KITAMIYA: If you are a champion, then be strong like a champion. Do you think you have unarmed us without the belt? It is not enough.
Q: Kenoh, Kiyomiya, what your thoughts on the generation struggle so far?
KENOH: I think its funny that those old men have three belts. Like Nakajima said, this has only just begun and I will take back the belt and end this generation struggle.
KIYOMIYA basically says that you have nothing to fear when a team rides on momentum.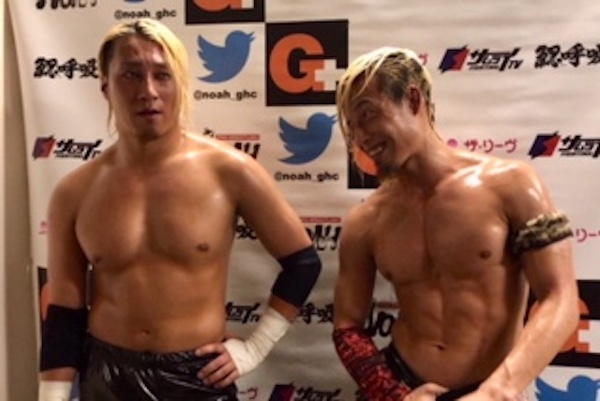 YO-HEY & HAYATA
YO-HEY: Finally! Finally! We got our ticket to the finals! But! Frankly 10%, 20%….no, I'm glad about 747%. However, YO-HEY will be in tune for the final match at Korakuen Hall. We will knock the Backbreaking people down with twisting bodies. We will raise the atmosphere, and get a ticket for our second consecutive title! We are satisfied with such a team for the final! This team will go into the final and defeat the opponents! HAYATA & YO-HEY will win two consecutive times…our….I want to eat pumpkin.
HAYATA decides he is leaving. YO-HEY won't let him
YO-HEY: I want to eat pumpkin…one word…bride…I was impressed by the two moonsaults…
HAYATA walking off as YO-HEY clings to him: Same!
YO-HEY: Same!
---
Always Use Your Head and visit the official Pro Wrestling Tees store for The Chairshot All t-shirt proceeds help support the advancement of your favorite hard-hitting wrestling website, The Chairshot!

---
(NOAH) POST MATCH PROMOS – 28TH JULY 2018, KORAKUEN HALL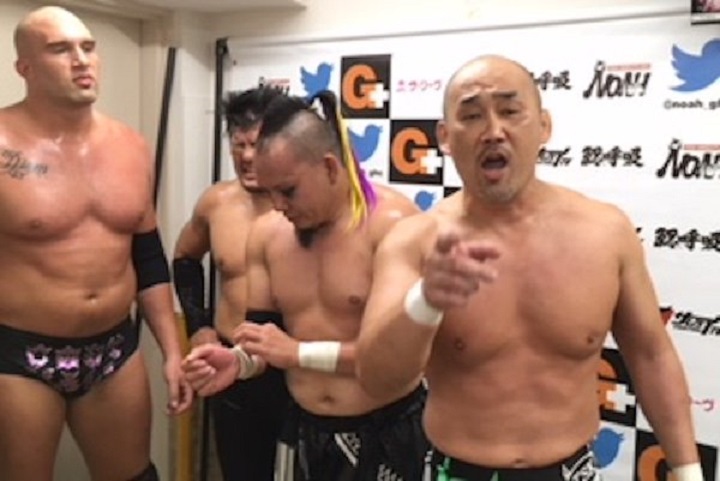 "THE HOOLIGANS" (Mitsuya Nagai, KAZMA SAKAMOTO, Maybach Taniguchi & Cody Hall)
Q: What is the origin of the team name?
KAZMA: You know soccer don't you? Football hooligans fucking rampage. At NOAH we are going to fucking rampage. That's the meaning.
NAGAI wants to know how long the Chinese athletes think they can continue to fight with them
KAZMA: Even though NOAH and Eastern Heroes have a business alliance, why are we their opponents? I guess its some kind of conspiracy. Oh well, we will teach them the true nature of pro-wrestling. We will go to China next time, and anywhere in China, we will teach you wrestling!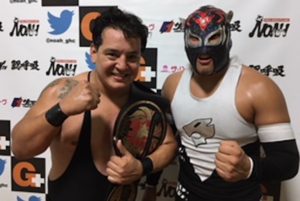 RICKY MARVIN AND EL HIJO DEL PANTERA
Q: Are you excited, you hoped for a third victory?
MARVIN: Yes! From now on it is real! We will show them! I came back from Mexico for this reason!
PANTERA: Thank you! Next it is Hi69 and Minoru Tanaka!
MARVIN: You guys! Do your best!
PANTERA: Team Mexico! Number One!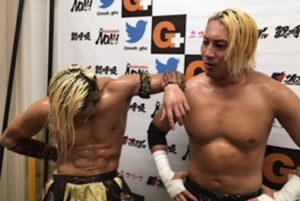 YO-HEY & HAYATA
YO-HEY: My waist…ah. The wife cut in…but another two seconds and it would be too late, I would have tapped out…after all, it is the best wife. Aside from that, Hajime Ohara did not take the Headache well. I caught that guy and was able to win. ♪ Now we have six points. If I think about it, had we lost today I would have lost my dream of two consecutive victories.
Then YO-HEY noticed HAYATA (who had been completely ignoring him) watching the two new trainees making their announcement for their debut.
YO-HEY: If you are interested in the trainees speech, the wife can have the last word.
HAYATA: Same!
YO-HEY: Winning two consecutive matches, also the same!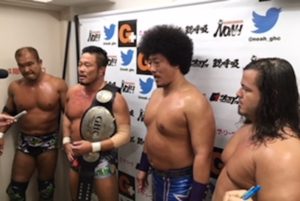 MASATO TANAKA, TAKASHI SUGIURA, MOHAMMED YONE & QUIET STORM
SUGIURA: The members of this group have nothing to fear from those young guys.
Q: You had a fierce competition with Shiozaki. Your chest is swollen from the chops?
Sugiura says that he is going to drive the elbow into his face.
Q: Will you exceed the momentum today?
SUGIURA: What do you think?
Q: What is the opinion on Sugiura from the others?
TANAKA: He looks good, especially when watching Shiozaki and Sugiura from the corner, it makes me feel a hot burn. Two matches. So intense.
YONE: The younger team do not have such a reassuring team to assemble. The wall is too high for them. What do you think Quiet Storm?
QUIET STORM: C'mon, C'mon, C'mon. Anytime! Anywhere!
Q: Blind spots?
SUGIURA: No. For Shiozaki and the younger generation, be scared when we are aligned.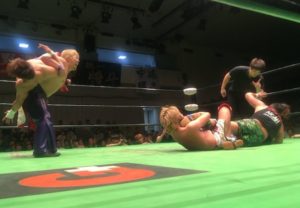 IKUTO HIDAKA & TAKUYA SUGAWARA
HIDAKA: Hey champions! Did you see it? This is what we meant, like when Mr. Yoshiaki Fujiwara, came to the dojo and said "no matter who is the champion, even in sumo, even in rock-paper-scissors, you cannot lose to them". You assholes have no excuse, so just give us the belts.
SUGAWARA: 4 wins, 8 points, we are at the top. I said it earlier by August 5th is not just NOAH's anniversary, it is Hidaka's 46th birthday. 46…does he look it? He looks quite good.
HIDAKA: Stop it!
SUGAWARA: Lets hope Team ZERO-1 gets the victory, and we can have Hidaka's birthday party in the ring at Korakuen.
HIDAKA: How old will NOAH be?
SUGAWARA: 18
HIDAKA: On my 46th birthday
SUGAWARA: This one is going to be beautiful!
HIDAKA: Hey! Stop messing around
SUGAWARA: Anyway, the next is RATELS. ZERO-1 can take the win.
HIDAKA: YO-HEY is a young pupil of my teacher, FUNAKI. I'm sorry, but I will not go easy on him, we have to finish the series.
SUGAWARA: Alright, lets see how tough this can be.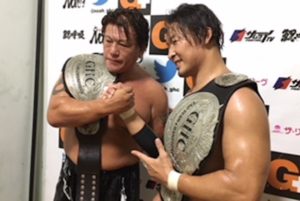 NAOMICHI MARUFUJI AND AKITOSHI SAITO
Q: You have not had a belt for a long time*, what are your thoughts?
SAITO: I haven't really noticed the difference. My ambition now is also a bit different because I am thinking about Noah. There is something I want to say to the young guys. Today I was caught, even if the genius beside me does not care, and even if I fell and collapsed, I turned that into a tactic to take advantage, because that kind of compassion is there. That's it, that's how you raise a promotion I think. If you understand this, I think you will know strength.
Q: Marufuji-san, how do you feel seeing Saito like this?
MARUFUJI: In recent years, Saito has been taking small steps. Now he has shown his real strength, look at what has happened. The customer also knew this, and of course he is a former champion of a different generation. In terms of generation, I am lower than him, but now I am going to fight in the same place like this and with all my strength. I will do my best to support him, and in the 20th anniversary of my debut, thanks to Saito, I was able to win this belt, thank you.
SAITO: No way. I trust you from the bottom of my heart and chosen you for my partner. You and I have a different bond, we have been together since the beginning of NOAH and we know it.
Q: What about future defenses?
MARUFUJI: The young guys…I guess they will challenge. It would be strange if they didn't. Of course it is inevitable that the same generation may also do the same. Nakajima and Kitamiya, you can do it once again, anyone can. It is our style that we will do it with anyone. Do you understand? Who do you think my partner is, assholes?
SAITO: Saito!
Link to original article from Noah.co.jp (in Japanese)
========================================================================
*2012 when Saito partnered with Go Shiozaki
---
Always Use Your Head and visit the official Pro Wrestling Tees store for The Chairshot All t-shirt proceeds help support the advancement of your favorite hard-hitting wrestling website, The Chairshot!

---