Kenta Kobashi Produce: Fortune Dream 5 Results & Review (6/11/2018)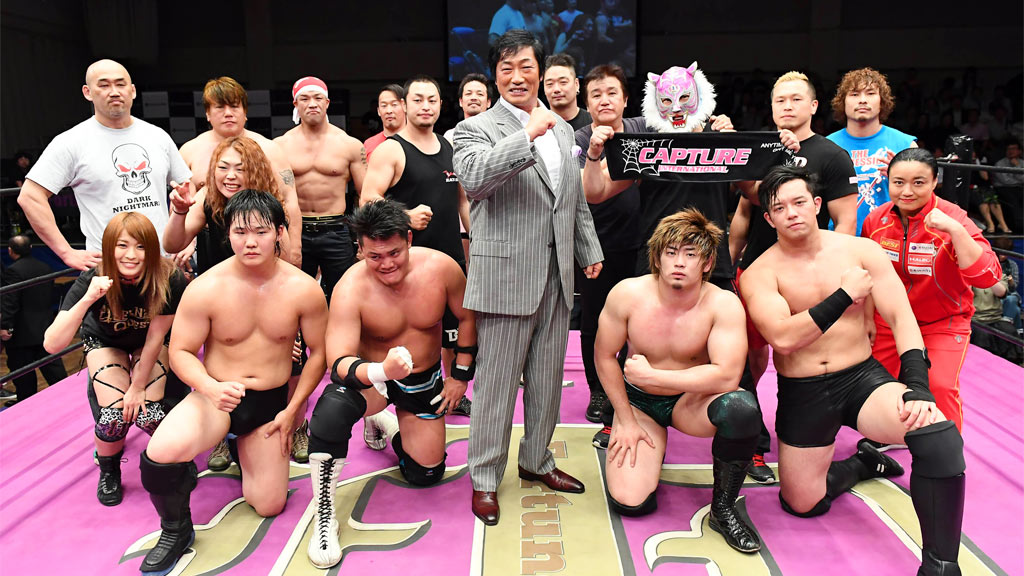 We have another self-produced show here as last time we did this, we covered Kawada's Holy War, with a second set for July.
But let's set our focus on this one, involving arguably the greatest wrestler of all time, Kenta Kobashi. For those that actually don't know of Kenta Kobashi, he started his career in 1988 at AJPW and would be with the company until 200 when he jumped ship with Misawa to join his company called Pro Wrestling NOAH.
He would stay with NOAH until his retirement in 2013 and has one of the greatest careers in not just in Japan, but in the history of wrestling with having memorable reigns, feuds, and coming back after a long battle with cancer, the guy is a legend and should be considered as such. After his retirement, he has been doing self-produced shows once a year called Fortune Dream and today marks as his fifth show ever since his retirement and they're normally considered great shows as it attracts a lot of people. He's given us a great card tonight and let's not waste any more time and just…dive right in.
Singles Match
Kazumi Kikuta vs. Kotaro Suzuki
Review: First bout is a singles match between Kotaro Suzuki and BJW's Kazumi Kikuta. Kotaro is a Freelancer who mostly worked for NOAH in his career with sixteen years of experience while Kazumi has had about three years under his belt, but being in the ring with a vet could help him out a lot and especially if he gets the win over him. The match was simple and yet effective since it was mostly strikes and chain wrestling not that there's anything wrong with it at all. Kotaro would mostly use his strikes on his abdomen and they do work since it helped him be weak at times also. The match is about eight minutes and Kazumi goes for a Lariat but Kotaro ducks it and hits his Tiger Driver for the win.
Recommended: The match is fairly decent, if you like simple stuff then this is for you.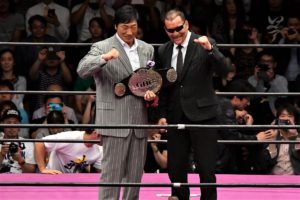 – There was a talk battle between Kenta Kobashi and Masahiro Chono that lasted about twenty minutes and unfortunately I couldn't find out any info on what was said during the talk battle, but I know one of the topics was one of their battles for the GHC Heavyweight Championship.
Three Way Match
Hiroyo Matsumoto vs. Io Shirai vs. Meiko Satomura
Review: One of the first big matches booked for the show as we have OZ Academy vs. Stardom vs. Sendai Girls with all three of the biggest stars in their respective promotions and is also one of Io's last matches before her departure, so it's gonna be a special one for her and another thing to top this all of is that her sister, Mio Shirai is also apart of the match as the special guest referee. I don't know the full story, but Io and Mio have been rumored to have some issues with each other and it's good to see that those are resolved now and they can share the ring one last time. Believe it or not, Mio was also a wrestler at the time for those that don't know and she was actually pretty good despite being retired now.
Io and Hiroyo would start it off with a test of strength and would invite Meiko to be apart of it, but she instead decides to kick the both of them and just attack the two. You can see Io playing it a bit safe to avoid getting injured before her WWE physical, but that's perfectly understandable and she still does the majority of her moveset. She would hit Hiroyo with a Frankensteiner for a two count and would do her signature backflip to get away from them and leads to a Dropkick to the outside and she's not done here as she does a Suicide Dive to the both of them. Io would get Meiko back in the ring for a Missle Dropkick and a Crossface till she had to break it up in which Meiko would start delivering her stiff kicks to Io so she could knock her down and does a cartwheel towards her and landed on her knees directly onto her back. Hiroyo would get back in the ring to try and beat Meiko down, but it backfires with Meiko kicking her into the corner and would proceed to kick her down while Mio would try and break it up to only get pushed down and her sister would strike back at Meiko. Io then goes for a Springboard to only get caught by Hiroyo for a Powerbomb and would do it one more time on top of Meiko as they both kick out.
Hiroyo would get the upper hand over Meiko after a series of punches back and forth and would attempt a German Suplex only for Io to get in and do a Sunset Flip over Hiroyo as she hits her German in the Process. Io goes for her running knees to the corner onto Meki and then hits her Double Underhook Facebuster before hitting her Diving Moonsault Press and looks like this could be it, but Hiroyo picked Io up from behind to hit her Backdrop and Meiki hits Hiroyo with her Death Valley Bomb and Scorpion Rising to go for the finish, but Io breaks it up just in time. All three women are down but Io would get up to hit her Diving Moonsault Press onto Hiroyo and go for the pin, but Meiko pulled her off to hit her Death Valley Bomb and the bell rings meaning the time limit has passed and is now a draw. This was a fantastic match and a great display of how Puroresu Joshi's wrestling is all about, the only big con was the time limit finish being rather predictable and wish they went with an actual winner since a loss wouldn't hurt them. After the match, all three of them would shake hands and hug it out and then Io would hug her sister, Mio and pose with her one last time.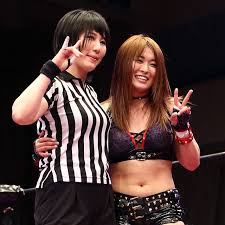 Recommended: Definitely give it a watch, great match.
Tag Team Match
Koki Kitahara & Mitsuya Nagai vs. Naomichi Marufuji & Super Tiger
Review: We now have a tag match involving the veterans of the business with Koki and Mitsuya taking on Marufuji and Super Tiger, yes we have Super Tigers also instead of only Tiger Mask and Black Tigers. This is a special match for another reason too as this is not only Koki Kitahara's 30th anniversary as a wrestler, but this is also considered his retirement match at the same time, so this is a big one for him. The match while nothing special, it's still a really solid match with Koki and Mitsuya doing heel tactics in the match and trying to rip off Tiger's mask, Koki even did a Slice Bread in the match and while not perfect, it's still impressive. The match is about seventeen minutes and Super Tiger gets the win with the Buzzsaw Kick on Koki to end his thirty-year career.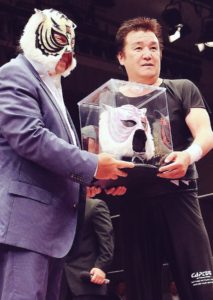 After the match, they would hold a retirement ceremony for Koki as he would thank everyone for all of the support throughout the years and has had a great career. The original Tiger Mask would even come out to present one of his masks in a sealed case for him as everyone takes a picture with Koki and had the ten bell salute for him. Thank you, Koki Kitahara for your career as we'll never forget you.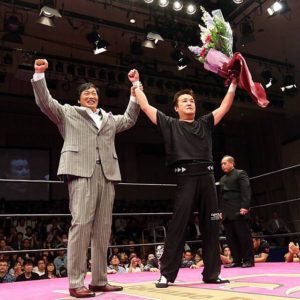 Recommended: Solid match, worth a watch.
Six Man Tag Team Match
Go Shiozaki, Yuji Hino & Zeus vs. Akitoshi Saito, Katsuhiko Nakajima & Kohei Sato
Review: Something like this when you first glance at it and say this should be the main event, but it isn't and I will get to that at the actual main event, but this is still a huge six-man tag match between all of them as on one side we got Zeus, Yuji Hino, and Go Shiozaki to take on Akitoshi Saito, Katsuhiko Nakajima, and Kohei Sato. Kohei and Yuji started off the match and of course you got Hino playing too cool with that swagger of his to not care much and then his teammates would get the others into the corners to chop all three of them and then the other team would flip it around to start kicking them and then they'll brawl to the outside. Hino and Kohei aren't done with each other as they go over to the commentary booth where Kenta Kobashi and Daisuke Sekimoto are sitting as the two would chop each other right in front of them before bowing to the two out of respect. Akitoshi would then hit Go with a Piledriver on the outside of the ring while Hino and Kohei would get back in the ring now and Hino starts to chop him some more before tagging Zeus in so he could do the same thing before tagging in Go just so they could chop this guys chest, and then Hino gets tagged back in to do it some more and would even accidentally chop Zeus when Kohei ducked and tagged Nakajima in as he starts kicking Hino down.
Nakajima would hit a Missle Dropkick and gets a two count until Hino attempts a chop but Nakajima ducks to kick him in the chest and this would happen quite a few times with Hino starting to put his hands behind his back for Nakajima to kick him, but then Nakajima would mock him to have Hino chop hi which he ducks all of them as the fans boo Nakajima for it, but Hino would laugh it off and slap him in the back of the neck and tag Zeus in who starts to show off his power with his own chops, even do the Kobashi style chops in homage to Kobashi and then does a Gorilla Press Slam to gain momentum, but Nakajima would knock him down as the two tag in Go and Akitoshi. They would start getting stiff with each other with the punches until Go hits his own set of Kobashi style chops to him, but would then get knocked down as Akitoshi, Nakajima, and Kohei would start to give him stiff kicks as payback for all of the chops they've done to them and there was a lot of chops. Eventually, the two would start going at it more while the others are outside fight as Go hits his Gowan Lariat for the win.
Recommended: Great tag match, worth a watch.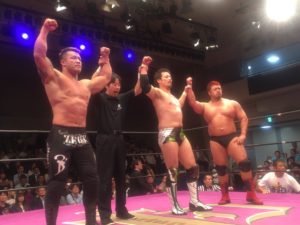 Tag Team Match
Ayato Yoshida & Kaito Kiyomiya vs. Takuya Nomura & Toru Sugiura
Review: As I said in the last match, the six-man tag or even the retirement match on paper could've been your closing matches for this show as one was a retirement match got Kako and the other one was just a match containing some of Japan's best, but Kobashi has picked these four men to be the main event because he believes that these men are the future of Japanese wrestling and he wants to give them this chance to show that to the world and I love Kobashi for thinking this as I believe this is a smart move, so now let's see if those four can deliver with the main event spotlight shining on them. We have Toru and Ayato starting the match off with some chain wrestling and the two seem to be pretty even despite Ayato getting the early advantage be doing a Dragon Screw to Toru's leg while down on the mat and the crowd applauds them as they both get up quick. Kaito would get tagged in now and would start to strike Toru til he got slammed down, but Kaito got back up to knock him down so he could tag in Takuya as the two locked up till they got to the ropes and Kaito would slap Takuya which he replies with some stiff kicks.
What I love about this match is that it's simple and I don't mean that in a negative way or anything like that at all, what I mean is that they didn't need to do anything involving flips, flashy moves, big moves in the beginning, or anything crazy like that since you just had four people in the ring working a regular match and just telling us a story in the ring and showing us that old school puro style of wrestling that we all know and love as these four just match it so well. The only time you see a Crossbody was when Toru would do it to Ayato as a desperation move so he could tag in Takuya to get the hot tag. Also, the interactions between Takuya and Ayato is great with their combination of strikes and reversals with Ayato looking like he was going to do a Hip Toss and would knee him in the face instead and Takuya would deliver a Roundhouse to the head and the crowd cheers once more. The final spots involved Kaito and Toru with Toru hitting a beautiful Spinebuster and they knew when to hit the bigger moves in the match to sell the story of the match more, Toru went for a Moonsault off the top and misses as Kaito would hit a Jackhammer for a two count, but he's not done as he now goes for a German Suplex Hold for another two count. Kaito is now all fired up and looks to put Toru away, but Toru tries so hard to fight off the Tiger Suplex hold, but it doesn't work as Kaito hits it for the three count.
After the match, Kenta Kobashi and the people involved in the show would get in the ring for some group photos as Kenta thanked everyone for coming out here to support the show as he looks forward to producing Fortune Dream 6 next year.
Recommended: Fantastic match, worth a watch involving the future of puroresu.
Overall: The show was fantastic from top to bottom as I look forward to seeing these shows once a year since Kenta would always give us something special for us to see and they all delivered in the match. I can't wait till next year to see what he has in store for us.
Favorite Match: TIE Ayato Yoshida & Kaito Kiyomiya vs. Takuya Nomura & Toru Sugiura and Hiroyo Matsumoto vs. Io Shirai vs. Meiko Satomura
Least Favorite Match: Kazumi Kikuta vs. Kotaro Suzuki
Score: 9/10
NOAH WEEKLY NEWSLETTER VOL.118 ~ 18TH JANUARY 2021
The GHC National competitors continue to heat up right before their clash on the 23rd! The NOAH Juniors also stay…well the Juniors. Hisame explains if you don't know!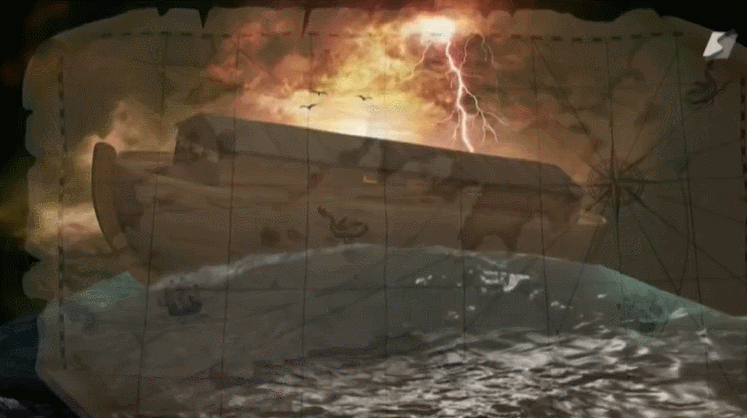 The GHC National competitors continue to heat up right before their clash on the 23rd! The NOAH Juniors also stay…well the Juniors. Hisame explains if you don't know!
NEWS
Kenoh vs Kazunari Murakami
Kenoh and Kazunari Murakami had their one and only pre-match on the 16th January at Yokohama Radiant Halls. Murakami was repeatedly told off during the match for punching (mainly Kenoh) with a closed fist. However, it was Tadasuke who he choked out, and the referee stopped the match.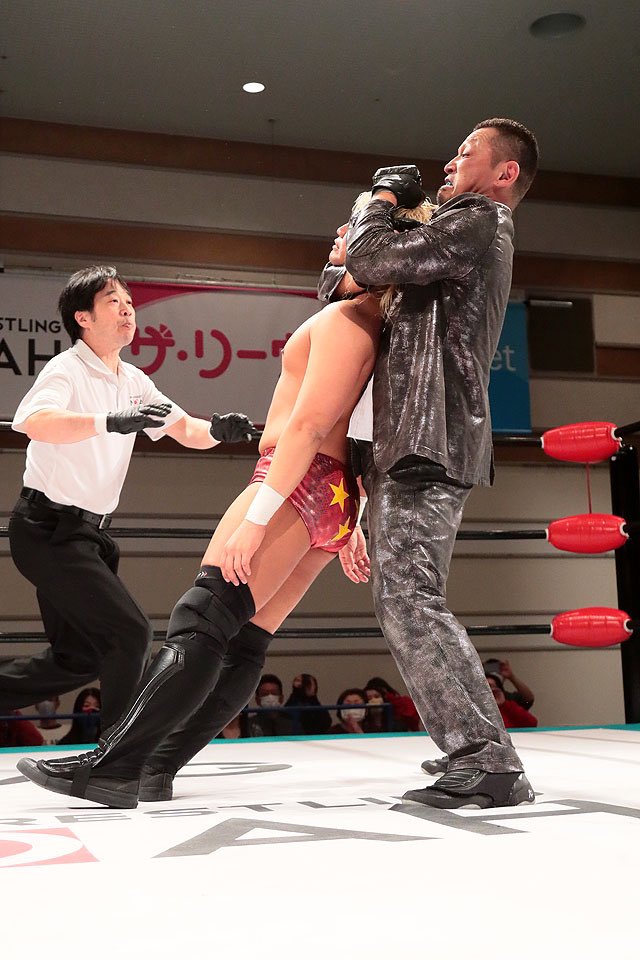 Afterwards, rather than scream and swear (like he would if it were Kaito Kiyomiya, Takashi Sugiura, Naomichi Marufuji or really anyone who Kenoh hates), Kenoh studied Murakami almost as if he was trying to work him out. Backstage Kenoh said in a promo which didn't involve angry swearing, that although he hated Murakami "from the bottom" of his heart, he would play him at his own game. Was it okay to punch with a closed fist while wearing open fingered gloves? "Was that wrestling?" Kenoh has sworn he will show him "the true Kenoh". Title match will take place on the 23rd January at the Osaka Edion Arena.
STINGER retain against Kongoh; challenged by mortal enemies
Although Nioh's hubris led him to say that if he had two victories over HAYATA in a row, a third would follow, he and Haoh were unsuccessful in capturing the tag team titles and swinging the balance of power in the volatile NOAH juniors to their favor, when HAYATA pinned Haoh to retain the titles. Although it was never said by Yoshinari Ogawa, fans got the impression that HAYATA was walking a very thin line.
After the match, STINGER were celebrating their victory, when they were jumped by Kotaro Suzuki, NOSAWA Rongai and Ikuto Hidaka, who threw HAYATA from the ring, kept Susumu (who had been at ringside) out, and stamped down on Yoshiari Ogawa, before Kotaro challenged for the titles saying, "The next is Hidaka and I. You can't refuse. The place is the Nippon Budokan". The pair of them threw the tag belts down that NOSAWA had draped over them, as HAYATA crawled back into the ring. For the second time, it was up to quiet shy HAYATA (who managed to keep his back to any cameras) to accept the challenge. Laconic as ever, HAYATA simply said "Next…you".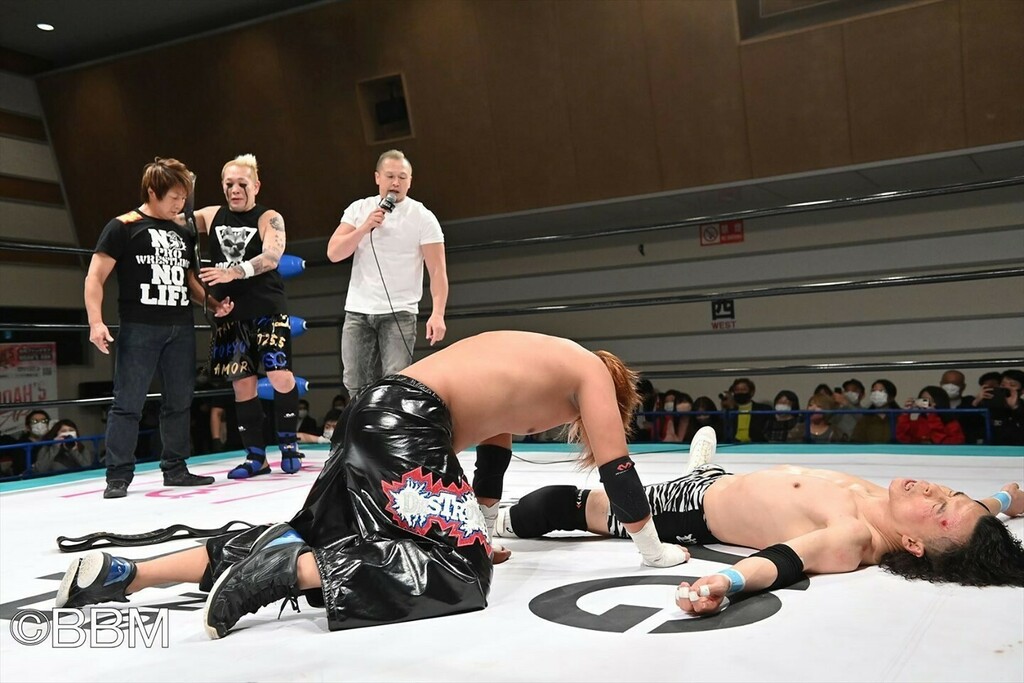 Match has been set for the 12th February at The Nippon Budokan. The pre-matches, however, start on the 23rd January.
You can watch the title match for free here (NOAH streamed it through Periscope)
(This made my Match of The Year 2021 list)
EVENT RECAPS & POST MATCH PROMOS
ELSEWHERE IN NOAH
~ Shuhei Taniguchi tried "Disco Dancing", except it looked more like some crazy jig.
~ Seiki Yoshioka is slowly discovering why HAYATA gave up speaking, by first of all reacting to YO-HEY verbally and wondering what he was talking about, and then reacting with "…?" after YO-HEY had babbled something about peanut butter.
~ Go Shiozaki and Naomichi Marufuji had a chop challenge. On Atsushi Kotoge's chest.
~ Yoshiki Inamura has declared that the Musou will be hunting Jun Akiyama at The Nippon Budokan.
~ NOAH are teasing a GHC Heavyweight tag title match by The Aggression. Nakajima has started talking about "natural" it feels, with Masa Kitamiya saying how much The Sugiura Army (especially Sugiura) irritate him.
~ Manabu Soya carried Tadasuke of the ring after being choked by Kazunari Murakami, as if he was going to Avalanche slam him.
~ NOSAWA Rongai told Kotaro Suzuki and Ikuto Hidaka that they had bad fashion sense, Hidaka's clothes were as bad as his promo skills, and that he felt sorry for the champions on that account.
~ Although the steel plate in his jaw was difficult to remove, Kaito Kiyomiya has made a good recovery and returned to the NOAH dojo. Naturally, he has not shown any pictures of his face.
~ The last time Go Shiozaki took a headbutt from Atsushi Kotoge, his head was split open and his teeth knocked out.
CURRENT CHAMPIONS
THIS WEEK IN NOAH
Thursday 21st January: Go Shiozaki (39)
Saturday 23rd January: NOAH "Higher Ground 2021" (Osaka Edion Arena 2nd Stadium)
BROADCASTS
 NOAH's Yokohama Radiant Halls event will be broadcast on WRESTLEUNIVERSE on the 19th January. The event on the 23rd January in Osaka will be broadcast on WRESTLEUNIVERSE on the 26th January. You must be a subscriber to view these events.
LINKS
Why did Yuki Sato, Dick Togo's apprentice, become "Haoh" in Noah?
The key point is "craziness" in the battle with Murakami to the "dream" of The National GHC defense at The Budokan
Pictures taken from Noah GHC
NOAH WEEKLY NEWSLETTER VOL.117 ~ 10TH JANUARY 2021
Hisame recaps a storied Junior rivalry that helped kick of the NOAH New Year! As well as a pre-match with Mutoh and an original member returning for at least one match in NOAH!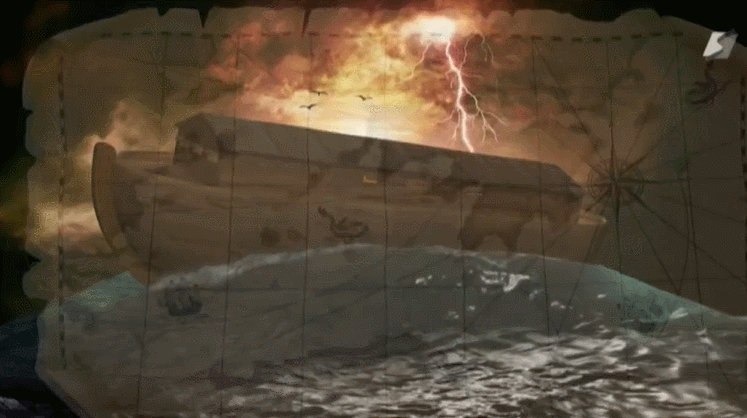 Hisame recaps a storied Junior rivalry that helped kick of the NOAH New Year! As well as a pre-match with Mutoh and an original member returning for at least one match in NOAH!
NEWS
HAOH & NIOH CHALLENGE STINGER FOR THE GHC JUNIOR HEAVYWEIGHT TAG BELTS
HAYATA and Susumu took on the Kongoh Juniors, Haoh and Nioh, on January 4th at NOAH's first show of 2021. The typically fast paced junior match ended with Nioh getting the pin on HAYATA by using HAYATA'S own momentum against him. After that, in true STINGER like fashion, Nioh made the title challenge by yelling loudly. Because Yoshinari Ogawa was not in the match and Susumu not the champion, it fell to an unwilling HAYATA to accept the challenge, which he did (after Susumu had kind of blocked his way to prevent him from leaving), by saying "Next…100 wrestlers" and then walking off quickly. The title match has been set for the 16th January 2021 at Yokohama Radiant Halls.
The only pre-match between the two teams, took place on the 10th January 2021. Yoshinari Ogawa (the champion who doesn't like being challenged), threw his belt down when he got in the ring in front of Haoh and Nioh as if he wanted to say, "The only way you will ever get these belts, is if I give them to you". Worse was to come than an Ogawa temper tantrum however, when the match ended again with Nioh getting the win over HAYATA.
KAZUNARI MURAKAMI CHALLENGES KENOH FOR THE GHC NATIONAL TITLE
Despite being introduced with the potential for a feud with Katsuhiko Nakajima and\or Masa Kitamiya, it was with Kenoh that the true sparks flew with for Kazunari Murakami. After a vicious strike war, which ended with Kenoh eliminating him at The Sugiura Army produce, Murakami choked out Kenoh at NOAH's New Year show on the 4th January. Backstage he saw that both Takashi Sugiura and Kazushi Sakuraba (who along with the referee had tried to pry him off of Kenoh) both were holding a championship, and after hearing that Kenoh was a champion who he had just choked out, Murakami decided to challenge. Kenoh said he had no choice but to accept (he claimed he was unconscious when the challenge was made), and the match has been set for 23rd January with a pre-match on the 16th.
NOSAWA'S "PART TIME GUY" UNMASKED
Thanks to Yoshinari Ogawa ripping off the mask as HAYATA and Susumu held his arms on the 4th January at Korakuen Hall, NOSAWA Rongai's silent, masked and heavily concealed, "Part Time Guy" companion, turned out to be Ikuto Hidaka.
Hidaka has lots of links to NOAH, both personal and professional (i.e. he's an old friend of Hajime Ohara, and like Mohammed Yone is a former BattlArts guy), has appeared in NOAH sporadically since 2003, even once winning the GHC Junior Heavyweight tag titles in 2006 at the Nippon Budokan when he teamed with Minoru Fujita, when they defeated the then junior heavyweight Takashi Sugiura and the long departed from NOAH, Yoshinobu Kanemaru. His relationship with NOSAWA Rongai he has known (ironically) from DDT in 1998, but mainly in ZERO-1. Hidaka teamed properly with NOSAWA and Kotaro Suzuki (who he knew better in ZERO-1 than in NOAH), and has declared that he will "make war on the NOAH Juniors".
MASATO TANAKA JOINS THE M'S ALLIANCE
Masato Tanaka was revealed to be the new member of the M'S Alliance on the 4th January, much to Takashi Sugiura's chagrin. When Sugi asked Tanaka why he joined them and not with his old Bullet-Yankee's tag partner, Tanaka said that Naomichi Marufuji asked him first. He had been waiting for Sugiura to call him, but he never did. Like everyone else, Naomichi Marufuji said that he wants to see them fight.
"I WILL WAIT FOR YOU IN ANY RING", JUN AKIYAMA IS COMING TO THE BUDOKAN
When they met in a tag match before Jun Akiyama left NOAH in 2012, Akiyama promised Naomichi Marufuji that no matter what the future held, one day he would meet him again for a tag match, and until that time he promised Marufuji that "I will wait for you in any ring".
Naomichi Marufuji made a request to Jun Akiyama on the 4th January to team with him on the 12th February. They had fought at Champions Carnival 2018 (when the long bitterness between NOAH and All Japan was finally laid to rest), and Jun Akiyama had later appeared at Naomichi Marufuji's 20th anniversary, "Flight", with their last match being in 2019 in a six man tag, when Akiyama's team defeated Marufuji's. As Marufuji pointed out, they had fought, but they hadn't tagged. Akiyama's initial response was to joke that he wasn't going to do it unless the opponent was Masao Inoue, but he did eventually give his consent that he would appear, and the match was announced on the 10th to be Jun Akiyama & Naomichi Marufuji vs Kaito Kiyomiya and Yoshiki Inamura, in what NOAH have called a "Generations Match".
DAISUKE HARADA RETAINS AGAINST HAJIME OHARA, CHALLENGED BY SEIKI YOSHIOKA
 After an amazing match on the 10th January in which he defended the GHC Junior Heavyweight against Hajime Ohara, (who Harada called "my rival" but paid tribute to by saying that Ohara was the opponent in the NOAH Juniors, who out of everyone "drains your strength"), Harada was challenged by Seiki Yoshioka who was inspired by what he saw. The match has been set for the Nippon Budokan.
Yoshioka has challenged Harada for a title before (GHC Junior Tag) and he has challenged for the GHC Junior Heavyweight before (Kotaro Suzuki), and this will be their first singles match ever. Harada and Ohara doesn't need too much of a build up, fans know what they are going to get and as NOAH save it for special occasions, it is highly anticipated. Yoshioka vs Harada will be a new thing for both of them, and for the fans.
"I EXPECTED MORE", GO SHIOZAKI DEFEATS KEIJI MUTOH IN THE FIRST PRE-MATCH
Go Shiozaki defeated Keiji Mutoh in a mystery card\pre-match on the 4th January at Korakuen Hall, by using (much to Mutoh's shock), his own move against him, The Moonsault. Shiozaki commented that he expected more of Mutoh, but to be honest I think that Mutoh being a wily veteran is playing the old man card here as which started with his leaning on the shoulder of Referee Shu Nishinaga to get into the ring. I get the impression that with that, and how Mutoh was acting during the match, the pretense that he is just an old man is to lure Go Shiozaki in to a sense of false security and confidence. During the match, Mutoh differed from Shiozaki's other title challengers in that he wasn't interested in attacking his arms, he went for his legs (he also did the same to Kaito Kiyomiya), but it's not Kiyomiya who he is challenging, and after the win, Shiozaki said somewhat sternly on Twitter that, "I expected more".
No further details have been announced as of yet, but FULL THROTTLE will be holding their very first produce at Yokohama Radiant Halls on March 6th.
EVENT RECAPS & POST MATCH PROMOS
EVENT RECAP: New Sunrise 2021 (Korakuen Hall, January 4th)
POST MATCH INTERVIEWS: New Sunrise 2021 (Korakuen Hall, January 4th)
EVENT RECAP: Higher Ground 2021 (Korakuen Hall, January 10th)
ELSEWHERE IN NOAH
~ Daiki Inaba made the mistake of accepting a handshake from Tadasuke. Why do people trust him?
~ The Harada brothers were arguing again. Older brother, Akio, asked for an Osaka NOAH poster to be told by Harada that they weren't out yet, and maybe he should stick a picture of himself as a kid up? Harada posted one, and his older brother retaliated by posting one of Harada.
~ Both Naomichi Marufuji and Takashi Sugiura were hoping for a singles match with Masao Inoue at NOAH's mystery card on the 4th January. It turned out to be Kazuyuki Fujita, who destroyed Inoue in 6 seconds.
~ NOSAWA Rongai refused to high-five Kotaro Suzuki, as he said he didn't and doesn't trust him.
~ The majority of people answered with a definite "No" when asked if they were going to Takashi Sugiura's PPV after show party.
~ Kenoh was strangely unsympathetic when Naomichi Marufuji complained to him about Manabu Soya after bouncing off him during a match.
~ In typical fashion, Hajime Ohara said that he was sad that he had lost the pre-match, but was happy that young Kai Fujimura had worked hard during the match. This was a direct contrast to Daisuke Harada, who only talked about himself.
~ FULL THROTTLE appeared on part 1 of "Pro Wrestling Susume" on Samurai TV. We discovered that YO-HEY is good at things that involve anything whirling and high colored (Hajime Ohara isn't) and that Seiki Yoshioka can beat Ohara at shuttlecock, and Ohara us good at things blindfolded.
CURRENT CHAMPIONS
THIS WEEK IN NOAH
Wednesday 3rd January: Tadasuke (35)
Wednesday 3rd January: Part 2 of FULL THROTTLE on Susume (Samurai TV)
Saturday 16th January: NOAH "Higher Ground 2021" (17:30 JST)
BROADCASTS
"Higher Ground 2021" on the 16th January, will be broadcast on WRESTLEUNIVERSE on January 19th at 17:30 JST. You must be a subscriber to view this.
LINKS
Event recap: Naomichi Marufuji at SwanDive
Tour dates: February & March 2021
Picture credit: m_shsankus & Noah GHC
GIFS taken from WRESTLEUNIVERSE & ABEMA