Kenta Kobashi Produce: Fortune Dream 5 Results & Review (6/11/2018)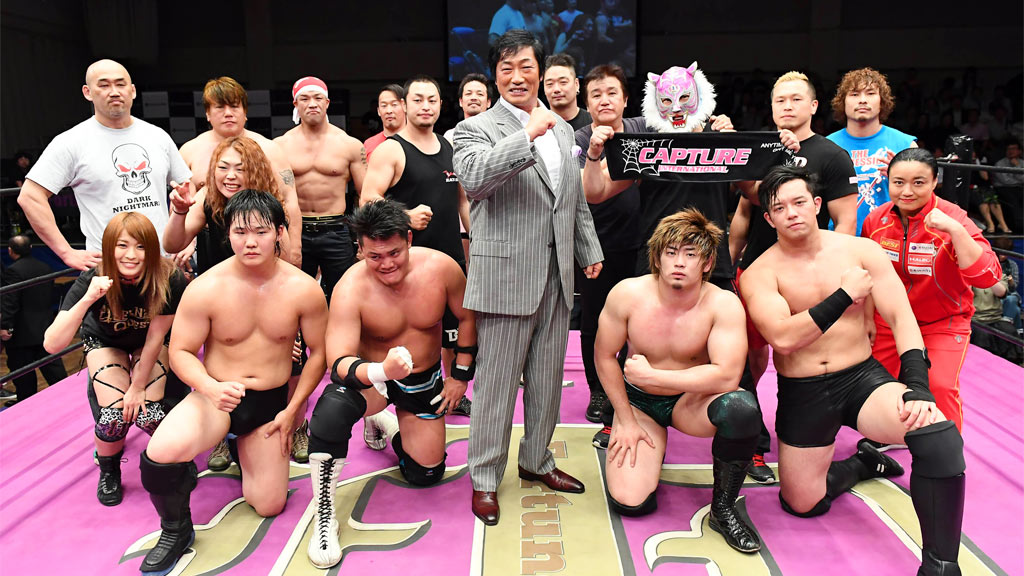 We have another self-produced show here as last time we did this, we covered Kawada's Holy War, with a second set for July.
But let's set our focus on this one, involving arguably the greatest wrestler of all time, Kenta Kobashi. For those that actually don't know of Kenta Kobashi, he started his career in 1988 at AJPW and would be with the company until 200 when he jumped ship with Misawa to join his company called Pro Wrestling NOAH.
He would stay with NOAH until his retirement in 2013 and has one of the greatest careers in not just in Japan, but in the history of wrestling with having memorable reigns, feuds, and coming back after a long battle with cancer, the guy is a legend and should be considered as such. After his retirement, he has been doing self-produced shows once a year called Fortune Dream and today marks as his fifth show ever since his retirement and they're normally considered great shows as it attracts a lot of people. He's given us a great card tonight and let's not waste any more time and just…dive right in.
Singles Match
Kazumi Kikuta vs. Kotaro Suzuki
Review: First bout is a singles match between Kotaro Suzuki and BJW's Kazumi Kikuta. Kotaro is a Freelancer who mostly worked for NOAH in his career with sixteen years of experience while Kazumi has had about three years under his belt, but being in the ring with a vet could help him out a lot and especially if he gets the win over him. The match was simple and yet effective since it was mostly strikes and chain wrestling not that there's anything wrong with it at all. Kotaro would mostly use his strikes on his abdomen and they do work since it helped him be weak at times also. The match is about eight minutes and Kazumi goes for a Lariat but Kotaro ducks it and hits his Tiger Driver for the win.
Recommended: The match is fairly decent, if you like simple stuff then this is for you.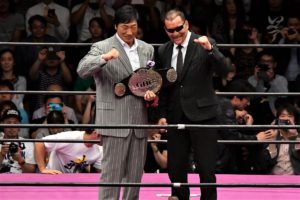 – There was a talk battle between Kenta Kobashi and Masahiro Chono that lasted about twenty minutes and unfortunately I couldn't find out any info on what was said during the talk battle, but I know one of the topics was one of their battles for the GHC Heavyweight Championship.
Three Way Match
Hiroyo Matsumoto vs. Io Shirai vs. Meiko Satomura
Review: One of the first big matches booked for the show as we have OZ Academy vs. Stardom vs. Sendai Girls with all three of the biggest stars in their respective promotions and is also one of Io's last matches before her departure, so it's gonna be a special one for her and another thing to top this all of is that her sister, Mio Shirai is also apart of the match as the special guest referee. I don't know the full story, but Io and Mio have been rumored to have some issues with each other and it's good to see that those are resolved now and they can share the ring one last time. Believe it or not, Mio was also a wrestler at the time for those that don't know and she was actually pretty good despite being retired now.
Io and Hiroyo would start it off with a test of strength and would invite Meiko to be apart of it, but she instead decides to kick the both of them and just attack the two. You can see Io playing it a bit safe to avoid getting injured before her WWE physical, but that's perfectly understandable and she still does the majority of her moveset. She would hit Hiroyo with a Frankensteiner for a two count and would do her signature backflip to get away from them and leads to a Dropkick to the outside and she's not done here as she does a Suicide Dive to the both of them. Io would get Meiko back in the ring for a Missle Dropkick and a Crossface till she had to break it up in which Meiko would start delivering her stiff kicks to Io so she could knock her down and does a cartwheel towards her and landed on her knees directly onto her back. Hiroyo would get back in the ring to try and beat Meiko down, but it backfires with Meiko kicking her into the corner and would proceed to kick her down while Mio would try and break it up to only get pushed down and her sister would strike back at Meiko. Io then goes for a Springboard to only get caught by Hiroyo for a Powerbomb and would do it one more time on top of Meiko as they both kick out.
Hiroyo would get the upper hand over Meiko after a series of punches back and forth and would attempt a German Suplex only for Io to get in and do a Sunset Flip over Hiroyo as she hits her German in the Process. Io goes for her running knees to the corner onto Meki and then hits her Double Underhook Facebuster before hitting her Diving Moonsault Press and looks like this could be it, but Hiroyo picked Io up from behind to hit her Backdrop and Meiki hits Hiroyo with her Death Valley Bomb and Scorpion Rising to go for the finish, but Io breaks it up just in time. All three women are down but Io would get up to hit her Diving Moonsault Press onto Hiroyo and go for the pin, but Meiko pulled her off to hit her Death Valley Bomb and the bell rings meaning the time limit has passed and is now a draw. This was a fantastic match and a great display of how Puroresu Joshi's wrestling is all about, the only big con was the time limit finish being rather predictable and wish they went with an actual winner since a loss wouldn't hurt them. After the match, all three of them would shake hands and hug it out and then Io would hug her sister, Mio and pose with her one last time.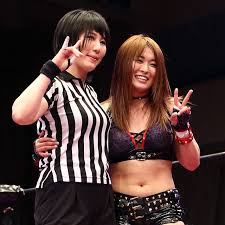 Recommended: Definitely give it a watch, great match.
Tag Team Match
Koki Kitahara & Mitsuya Nagai vs. Naomichi Marufuji & Super Tiger
Review: We now have a tag match involving the veterans of the business with Koki and Mitsuya taking on Marufuji and Super Tiger, yes we have Super Tigers also instead of only Tiger Mask and Black Tigers. This is a special match for another reason too as this is not only Koki Kitahara's 30th anniversary as a wrestler, but this is also considered his retirement match at the same time, so this is a big one for him. The match while nothing special, it's still a really solid match with Koki and Mitsuya doing heel tactics in the match and trying to rip off Tiger's mask, Koki even did a Slice Bread in the match and while not perfect, it's still impressive. The match is about seventeen minutes and Super Tiger gets the win with the Buzzsaw Kick on Koki to end his thirty-year career.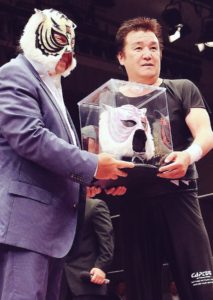 After the match, they would hold a retirement ceremony for Koki as he would thank everyone for all of the support throughout the years and has had a great career. The original Tiger Mask would even come out to present one of his masks in a sealed case for him as everyone takes a picture with Koki and had the ten bell salute for him. Thank you, Koki Kitahara for your career as we'll never forget you.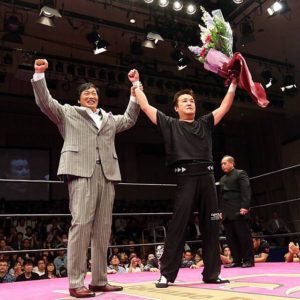 Recommended: Solid match, worth a watch.
Six Man Tag Team Match
Go Shiozaki, Yuji Hino & Zeus vs. Akitoshi Saito, Katsuhiko Nakajima & Kohei Sato
Review: Something like this when you first glance at it and say this should be the main event, but it isn't and I will get to that at the actual main event, but this is still a huge six-man tag match between all of them as on one side we got Zeus, Yuji Hino, and Go Shiozaki to take on Akitoshi Saito, Katsuhiko Nakajima, and Kohei Sato. Kohei and Yuji started off the match and of course you got Hino playing too cool with that swagger of his to not care much and then his teammates would get the others into the corners to chop all three of them and then the other team would flip it around to start kicking them and then they'll brawl to the outside. Hino and Kohei aren't done with each other as they go over to the commentary booth where Kenta Kobashi and Daisuke Sekimoto are sitting as the two would chop each other right in front of them before bowing to the two out of respect. Akitoshi would then hit Go with a Piledriver on the outside of the ring while Hino and Kohei would get back in the ring now and Hino starts to chop him some more before tagging Zeus in so he could do the same thing before tagging in Go just so they could chop this guys chest, and then Hino gets tagged back in to do it some more and would even accidentally chop Zeus when Kohei ducked and tagged Nakajima in as he starts kicking Hino down.
Nakajima would hit a Missle Dropkick and gets a two count until Hino attempts a chop but Nakajima ducks to kick him in the chest and this would happen quite a few times with Hino starting to put his hands behind his back for Nakajima to kick him, but then Nakajima would mock him to have Hino chop hi which he ducks all of them as the fans boo Nakajima for it, but Hino would laugh it off and slap him in the back of the neck and tag Zeus in who starts to show off his power with his own chops, even do the Kobashi style chops in homage to Kobashi and then does a Gorilla Press Slam to gain momentum, but Nakajima would knock him down as the two tag in Go and Akitoshi. They would start getting stiff with each other with the punches until Go hits his own set of Kobashi style chops to him, but would then get knocked down as Akitoshi, Nakajima, and Kohei would start to give him stiff kicks as payback for all of the chops they've done to them and there was a lot of chops. Eventually, the two would start going at it more while the others are outside fight as Go hits his Gowan Lariat for the win.
Recommended: Great tag match, worth a watch.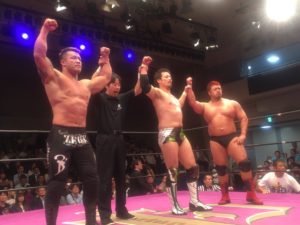 Tag Team Match
Ayato Yoshida & Kaito Kiyomiya vs. Takuya Nomura & Toru Sugiura
Review: As I said in the last match, the six-man tag or even the retirement match on paper could've been your closing matches for this show as one was a retirement match got Kako and the other one was just a match containing some of Japan's best, but Kobashi has picked these four men to be the main event because he believes that these men are the future of Japanese wrestling and he wants to give them this chance to show that to the world and I love Kobashi for thinking this as I believe this is a smart move, so now let's see if those four can deliver with the main event spotlight shining on them. We have Toru and Ayato starting the match off with some chain wrestling and the two seem to be pretty even despite Ayato getting the early advantage be doing a Dragon Screw to Toru's leg while down on the mat and the crowd applauds them as they both get up quick. Kaito would get tagged in now and would start to strike Toru til he got slammed down, but Kaito got back up to knock him down so he could tag in Takuya as the two locked up till they got to the ropes and Kaito would slap Takuya which he replies with some stiff kicks.
What I love about this match is that it's simple and I don't mean that in a negative way or anything like that at all, what I mean is that they didn't need to do anything involving flips, flashy moves, big moves in the beginning, or anything crazy like that since you just had four people in the ring working a regular match and just telling us a story in the ring and showing us that old school puro style of wrestling that we all know and love as these four just match it so well. The only time you see a Crossbody was when Toru would do it to Ayato as a desperation move so he could tag in Takuya to get the hot tag. Also, the interactions between Takuya and Ayato is great with their combination of strikes and reversals with Ayato looking like he was going to do a Hip Toss and would knee him in the face instead and Takuya would deliver a Roundhouse to the head and the crowd cheers once more. The final spots involved Kaito and Toru with Toru hitting a beautiful Spinebuster and they knew when to hit the bigger moves in the match to sell the story of the match more, Toru went for a Moonsault off the top and misses as Kaito would hit a Jackhammer for a two count, but he's not done as he now goes for a German Suplex Hold for another two count. Kaito is now all fired up and looks to put Toru away, but Toru tries so hard to fight off the Tiger Suplex hold, but it doesn't work as Kaito hits it for the three count.
After the match, Kenta Kobashi and the people involved in the show would get in the ring for some group photos as Kenta thanked everyone for coming out here to support the show as he looks forward to producing Fortune Dream 6 next year.
Recommended: Fantastic match, worth a watch involving the future of puroresu.
Overall: The show was fantastic from top to bottom as I look forward to seeing these shows once a year since Kenta would always give us something special for us to see and they all delivered in the match. I can't wait till next year to see what he has in store for us.
Favorite Match: TIE Ayato Yoshida & Kaito Kiyomiya vs. Takuya Nomura & Toru Sugiura and Hiroyo Matsumoto vs. Io Shirai vs. Meiko Satomura
Least Favorite Match: Kazumi Kikuta vs. Kotaro Suzuki
Score: 9/10