Making the Case for Every Money in the Bank Entrant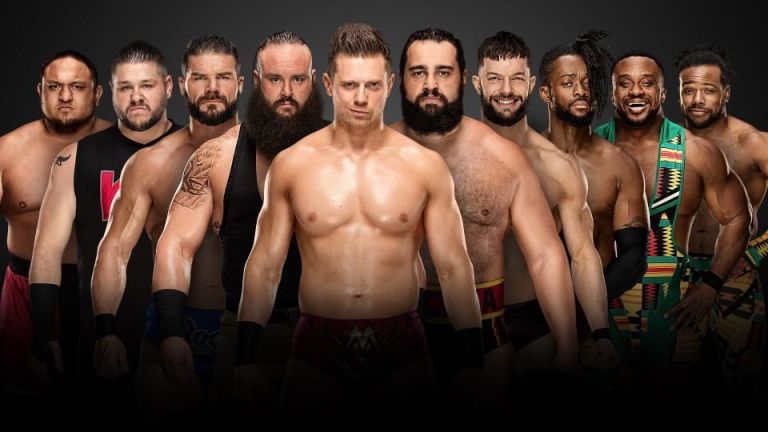 Unlike the past Money in the Bank matches, each contest on Sunday will have eight competitors rather than six.  That means the results may also be a little more unpredictable.  I think more entrants have a realistic shot at grabbing the briefcase than we realize.
Braun Strowman
Braun having the briefcase would bode the best in terms of odds for a successful cash-in.  His music would likely provide the biggest pop and potentially the best moment.  If Roman never gets the belt off of Brock, a cash-in from the monster could end yet another Lesnar title reign.
Kevin Owens
History has shown that briefcases best serve the heels on the roster.  Kevin Owens also works best with mic time and a high-profile storyline.  It's a perfect marriage.  We saw on Monday that he can be the highlight of a segment or a match when given the opportunity.  He's not my clear favorite but I wouldn't be surprised if KO comes out on top Sunday.
Bobby Roode
Fans still love his entrance music but you can't rely on solely that to move to the next level.  When Roode was in NXT, I could imagine him as the future WWE Champion.  However, his babyface run on the main roster has left him at a dead-end so a heel turn could certainly refill his tank.  If he wins the briefcase, it would be wise to pull the turn immediately after.
Finn Balor
His match with Braun Strowman on Raw a couple weeks ago proved that he belongs in the main event picture.  After failing to capture the Intercontinental Title, fans wanted him to be Brock's next challenger.  Even with subpar booking, we haven't abandoned him.  That briefcase could propel him to the next level and help him reclaim the belt he never lost.  After Roman was defeated by Finn to qualify for the Universal Title back in 2016, he said he wanted Balor one more time.  Because of Finn's untimely injury, we never got to establish that potential feud.
The New Day
I struggled with this one.  Xavier Woods is who I want to see seize the spotlight in the ladder match but he's the only guy I can't imagine with the briefcase.  Kofi Kingston has had the most chances to break into the world title picture but it's always alluded him.  I hope he captures it before the end of his career but I have plans to expand on that in a future article.  Big E makes the most sense to enter the match and to hold the case between the three members.  He checks all the boxes and has already proven back in NXT that he can hold the top prize.
Samoa Joe
Speaking of checking all the boxes, Joe is near the top when it comes to promo believability and being a physical threat.  If it's not Nakamura or Daniel Bryan, I think Joe is next in the pecking order to challenge AJ.
Rusev
He's had the most over gimmick of 2018.  Maybe Vince will finally reward one of the most charismatic guys on the roster.  Rusev has been one step away from that big shot for several years now.
The Miz
This is my pick to win the whole thing.  All the creative power needs to be put into a Miz/Daniel Bryan feud before the fans lose interest.  With a second win over Big Cass, Daniel Bryan could be next to challenge for the WWE Championship.  The Miz cashing in on Bryan would work wonders for both guys and the story could keep going for months.  There's also a Last Man Standing match on Sunday.  Styles and Nakamura will likely be in pieces by the end of that match so maybe we'll see the MITB winner take advantage.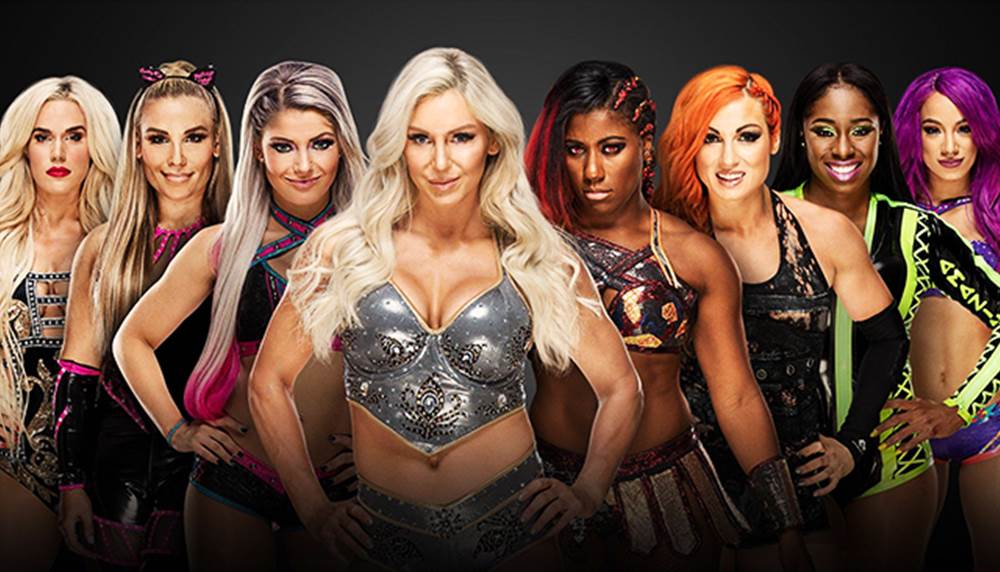 Natalya
As the old trope goes, since Nattie won the fatal four way on Raw, her chances for Sunday are looking slim.  If Ronda takes the belt off of Nia, I think the chances for Natalya winning and turning on her friend would grow considerably.  Her best matches resulted from her and Charlotte trading submissions in the middle of the ring.  Maybe we see the same against Ronda.
Alexa Bliss
Since she was the last Raw Women's Champion, a lot of people have moved her to the back of the line.  However, I see her in the same position as Kevin Owens.  Both management and the fans have always been high on her and trust her in prominent roles.  If Ronda becomes Champion, I think Vince would prefer her to lose the belt on a quick cash-in rather than a clean pin.  When I think of who would be most likely to do that, Alexa comes to mind.
Sasha Banks
Like Alexa, we shouldn't count her out.  She hasn't had a feud for the title in over a year so the briefcase could help get her back there.  My guess is that she feuds with Bayley until Summerslam.  When that door closes, the case could easily help transition her to bigger things.  We saw it with Seth Rollins.  He lost his match to Randy Orton at Wrestlemania but look how that turned out.
Ember Moon
The Money in the Bank briefcase is typically awarded to the superstar with the most chance for potential.  Ember has the largest room for growth out of all 16 entrants.  However, I think she is still too new to the casual fans.  She hasn't even gotten to sink her teeth into any sort of rivalry yet.  If Ruby Riot was in the match, she would have been my pick.  She has the potential and has been on the roster just a tad longer.
Charlotte
At the top of the mountain just a couple months ago, I have the hardest time imagining Charlotte as the winner.  I can't see her revisiting her feud with Carmella or Asuka so soon.  Cashing-in also doesn't seem like her style.  Charlotte has established herself as  someone that settles everything in the ring.  If she were to win, I don't think a cash-in would come until a heel turn or for many months.
Becky Lynch
The darling of the division.  We all just want her to succeed so much.  When the entrants were finally decided, she seemed like the obvious pick.  Becky hasn't has much success since her first run with the title.  Unfortunately, I can't imagine someone cashing-in on Brock or Roman for a second time, so a Smackdown men's competitor will win that briefcase.
I also can't imagine both briefcases going to the same brand. By that logic, I'm not predicting a Smackdown woman to win.  But if I'm picking with my heart, Becky is my choice.
Naomi
This is a tricky one too.  She was given two big Wrestlemania moments the last couple years so that means they're high on her.  That could also mean that her fortune is likely going to change soon.  All the glory can't go to one superstar.  I view her the same as Charlotte: if she captures the case, a heel turn might have to occur eventually.
Lana
My dark horse.  We all want to count her out because it's Lana but she's in the same spot Carmella was in last year.  She isn't the most physically imposing competitor but winning could enhance her development and heat the most.  Lana potentially cashing-in on Asuka definitely produces the highest shock value.
NXT Minus 6: The Most Pointless Match Ever
There are some things Brad really enjoyed, and others that made no sense. Do you agree with his assessments?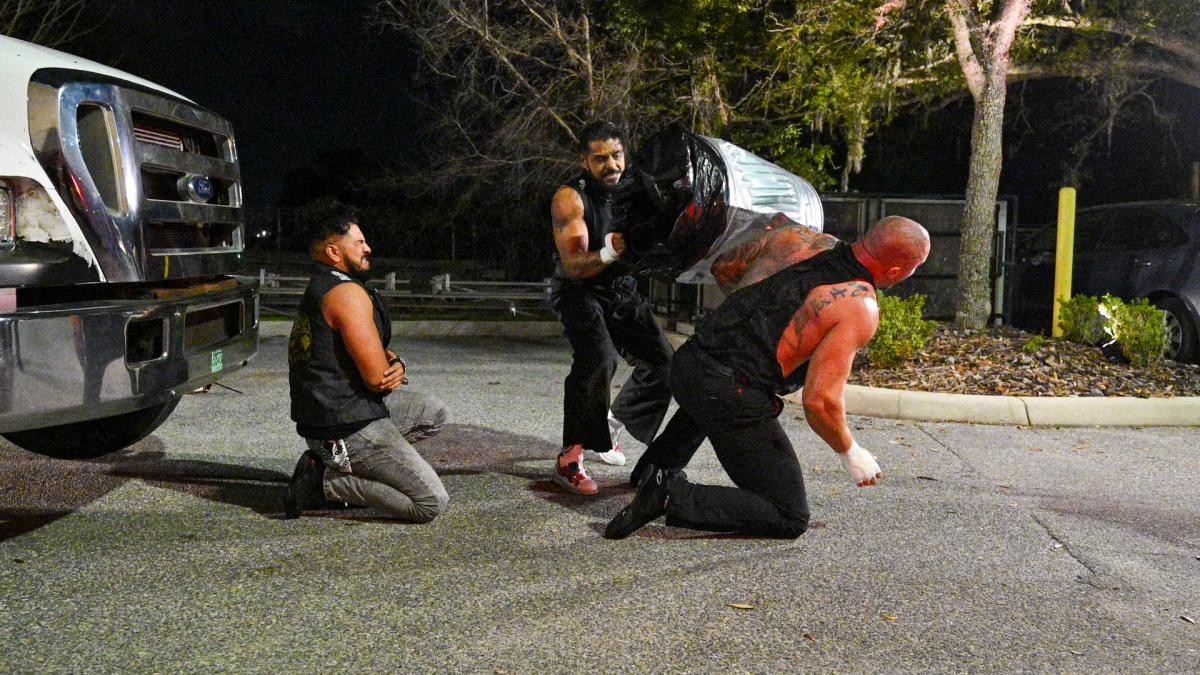 Not just pointless. It was Charles Barkley turrible. 
6. Dexter Lumis is in dire need of a makeover. Since his debut two years ago, the only thing that's changed is the possible addition of new arm tattoos. Great athlete. Deceptively agile. No depth to his character. He is the worst thing you can be in wrestling. Boring. 
5. Zack Gibson strikes again. Drake Maverick & Killian Dain are Shrek and Donkey. Savage! Gibson is on the mic what Wade Barrett needs to be. I like watching him wrestle. I love listening to him talk.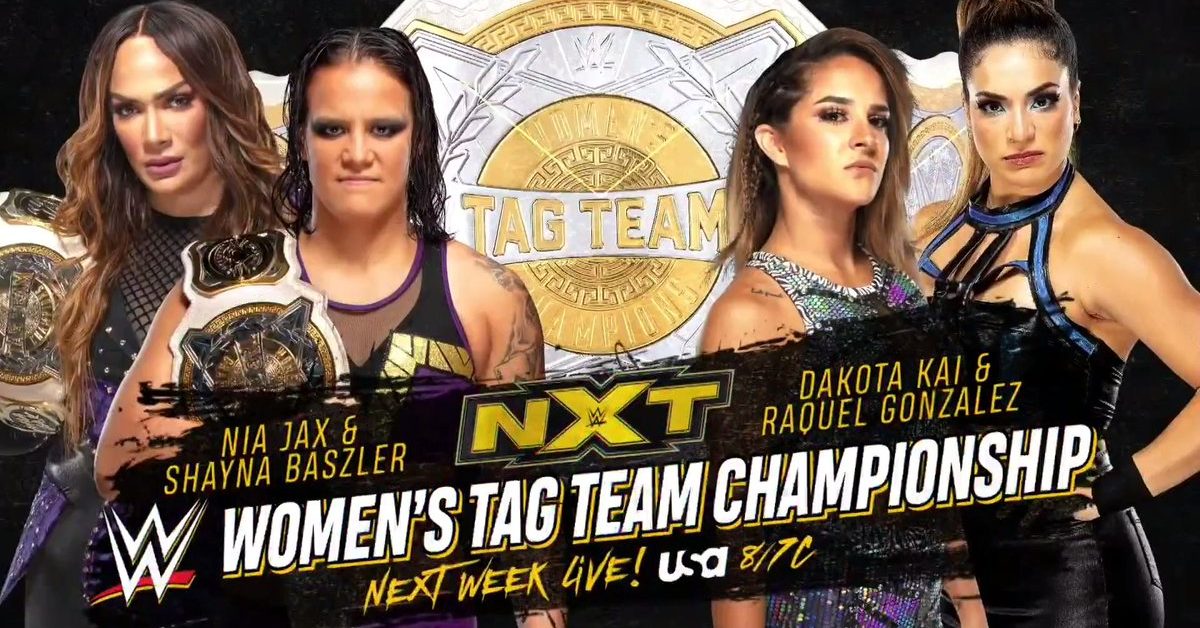 4. How good was it to hear Shayna Baszler's music again in NXT? I am cranked to 11 for the women's tag team title match. So many stories. Baszler and Dakota Kai have a long history. Raquel Gonzalez and Nia Jax, the two biggest, baddest bitches in WWE are out to prove who is the alpha bitch. Titles on the line. Baszler's homecoming. Kai's shot at validation. I'm smelling MOTY contender.
3. I am fully and deeply committed to the notion that Xia Li is the baddest person in the entire NXT locker room, male or female. Madame Li, I will never get on your bad side. If I accidentally cross that line, I will change my name and flee the unidentified state in which I currently reside. Un-Lished.  
2. That thing between Santa Claus Ice Cream Bar and Doomsday Saito was possibly the most pointless match ever. The feud was based on nothing. Why is a heavyweight going after a cruiserweight? Why do they continue to pretend Ice Cream Bar is a cruiser when he clearly isn't? How does Saito survive a 3-on-1 beat down to pop up fresh as a daisy and get the victory? It dragged on and on and on and on and on and on and on, clocking in at just under 92 hours. Let us never speak of this match again. No, it doesn't get a pic. 
1. This week's That's Why I Love Wrestling goes to…unidentified camera man! I'm on my couch, digging Leon Ruff's entrance. BTW, his music kicks all kinds of ass. Ruff is hanging on the ropes, loving life, when BAM! Kick to the head from Swerve Scott. I was genuinely surprised, never saw it coming, because the camera man was fully focused on Ruff, and so was I. Nice work, unidentified camera man.  
Cook's Top 5: Miz Moments
Cook brings the most must see Top 5 of the week! Is it obvious or a MIZtery?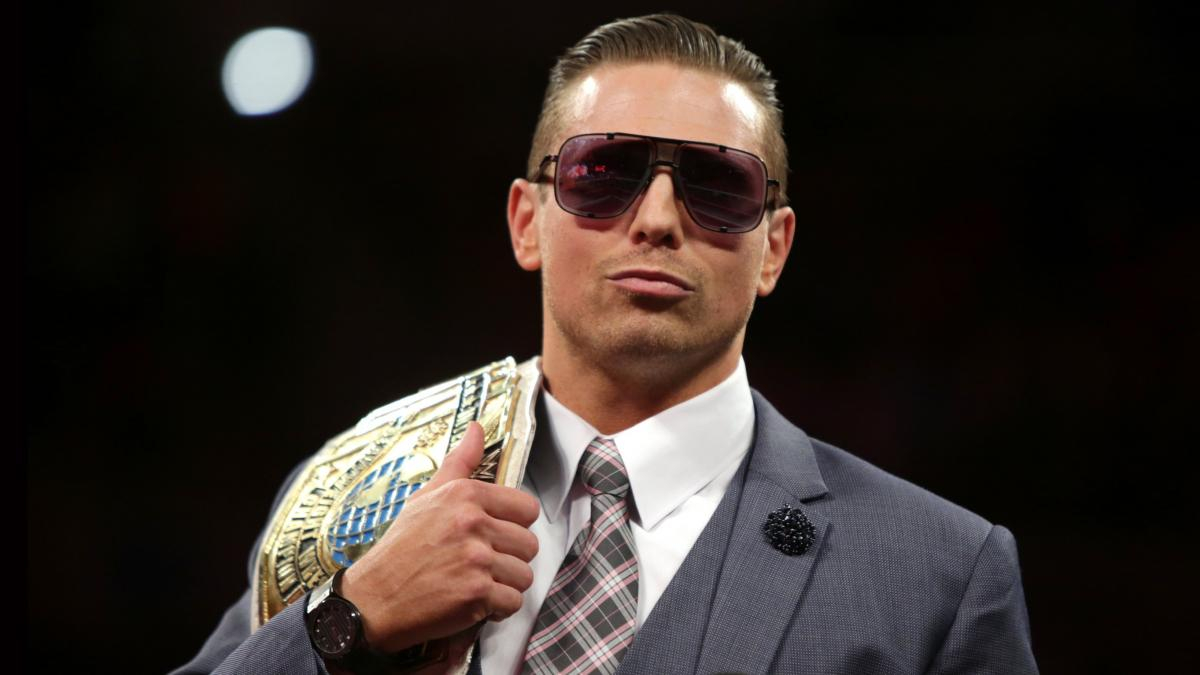 This week is all about our new WWE Champion, The Miz!
Let's be honest, Miz might not hold the Championship for too long. He's got a big match with Bobby Lashley next week. We wish him luck, and maybe something unlikely will happen resulting in Miz holding on to the title longer than anybody expects. Still, I feel the need to get this particular edition of the Top 5 out there as soon as possible.
Here are the Top 5 Miz Moments!
5. Main Eventing WrestleMania
The match itself…not so great. Miz was obviously the third most important person in the match. He also suffered a concussion. But the guy still main evented WrestleMania and beat John Cena, which is something that not too many other people can say. This will remain Miz's biggest WrestleMania match unless they get Bad Bunny to wrestle him this year.
4. A Ladder Match with Dolph Ziggler
Miz & Ziggler have quite a bit in common. Both hail from the Cleveland area. Both prefer to think of themselves as being from Hollywood. They're both egotistical characters that make up for what they might lack in size with ego. They've been in WWE forever with limited changes to their character, pretty much on the same level of the card. Naturally, they get along pretty well & have good chemistry.
2016 saw the best incarnation of their on-screen issues, with Miz & Ziggler trading the Intercontinental Championship back & forth. The Ladder Match ending the feud at TLC is considered by most to be Miz's best match. I don't have a ton of other options off the top of my head, so we'll go with that.
3. The First MITB Cash-In
You always remember your first. At this point in time, much like here in 2021, Miz wasn't seen as the most believable choice to be WWE Champion. However, the man had a briefcase, and, importantly, this was back before the briefcase gimmick was completely run into the ground. So when Miz ran down at the end of Raw to cash in on Randy Orton, it got a tremendous reaction.
People were either really happy or really angry. I was on the angry side of the spectrum, especially since I had a cold and was writing a news column during all of this. Man, I remember when the week or so a year I would a cold was the only time I really felt like crap.
What can I say, Miz has grown on me over the years.
2. Feuding with The King
A lot of old school wrestling fans found it hard to believe that The Miz had become WWE Champion when more deserving wrestlers from their childhood never had been. Heck, Jerry Lawler, a God of Memphis rasslin who piledrove Andy Kaufman into oblivion, had never even gotten a shot at that title, even though he'd worked for WWE for nearly twenty years. Seemed wrong to a lot of people, but nobody expected that wrong to be addressed.
Lawler was celebrating his sixty-first birthday the week after Miz defeated Randy Orton for the WWE Championship. One thing led to another, and Lawler got his very first WWE Championsgip opportunity. In a TLC match! They got the fans believing that Lawler could win the title…until that pesky Michael Cole kept Lawler from climbing further up the ladder.
It was nice to see the King get another important run on WWE television long after we thought it was possible. A large part of the reason it was possible? The Miz. He portrayed himself as just beatable enough that the title change could happen. Also held up his end of the bargin in the promos, which was never easy for Lawler's opponents.
I know everybody likes a title change, but this was the best work Miz did during his first WWE Championship reign by a wide margin.
Honorable Mention: Marrying Maryse
You knew I had to mention this, right?
1. Talking Smack to Daniel Bryan
I've always been a Daniel Bryan guy. Back when he was Miz's "rookie" on NXT, I thought the idea that Miz would have something to teach him was a bit outrageous. It was an interesting pairing though, and the Miz/Bryan relationship/rivalry has provided plenty of compelling moments over the years.
None moreso than the night where Miz did something that a lot of people didn't think was possible: make himself seem right & Daniel Bryan seem wrong. The way Miz defended himself in this tirade was pretty much impossible to argue with. Maybe Miz doesn't wrestle the way that hardcore wrestling fans would like, but he is pretty much the prototypical WWE Superstar of his era. He always works hard, is never hurt, and you don't have to worry about him embarrassing himself or the company.
This promo raised Miz's character to another level at the time, and definitely added some fuel to the fire for Bryan's eventual return. If you want to see one Miz promo that sums up who he is & was, this would be it.