Mandy Rose Will Be A Big Deal, And It's Easy To See Why
Mandy Rose is headed for big things in WWE, and it's easy to see why. Appearance is still part of the game in professional wrestling, and she exceeds that standard. The rest can be taught.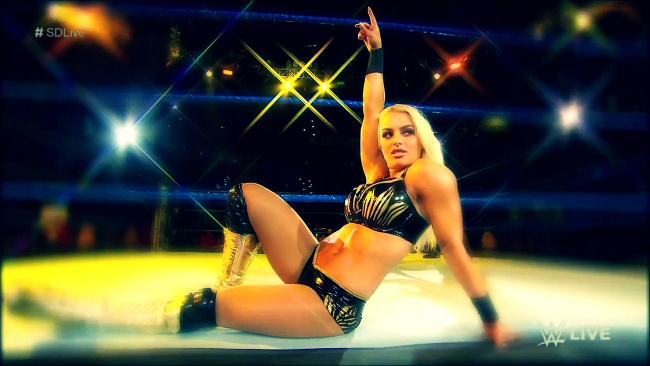 I was raised as a Catholic. Like many Americans raised in the faith, I haven't been the best one over the years. I don't go to church as often as I should. I haven't always turned the other cheek or treated others the way I would like to be treated.
Sometimes, I wonder if there is a God. When you turn on the news & see what's going on in the world, it's tough not to have your faith challenged. What kind of God would allow the atrocities that happen every single day? If God is there to protect us, why would there be hunger across most of the world? Why would He empower those that embrace the deadly sin of Greed? Why won't He make His people understand that we are all His creations, and that He loves us all equally? Doesn't He?
It's easy to question the existence of God in 2018. Until I see Mandy Rose, and I realize that there is a God.
Soak in #GodsGreatestCreation, @WWE_MandyRose… #SDLive 💛💛💛 pic.twitter.com/YpNwmLWugy

— WWE (@WWE) May 30, 2018
God is good.
I'm not here to tell you that Mandy is going to be one of the great female workers of her generation. Her matches have been fine so far. She looks like she knows what she's doing. But to be perfectly honest, I'm going to cut her a lot of slack in this area. You know why? Because when I see Mandy Rose on my television, or on my computer screen, or on my Android, I get a funny feeling in a certain area of my body.
Behold #GodsGreatestCreation… @WWE_MandyRose! #SDLive pic.twitter.com/quBmR7YeNG

— WWE (@WWE) May 9, 2018
I'm not supposed to talk about that in 2018. Things are different now, you see. WWE isn't going to have a swimsuit magazine featuring their female Superstars. They're not sending them to tropical locations for photo shoots & DVD productions. (Come to think of it, they really should have done this while the men were wrestling in Saudi Arabia.) They still have Dance Contests, but you won't be seeing any Swimsuit Contests or Wet & Wild matches or anything like that.
WWE isn't alone in this presentation shift. 411Mania isn't populated with random pictures of celebrities. I'm not doing the 411 Wrestling Hot 100. When I do Top 5s for The Chairshot I'm not ranking people based on how attractive I think they are. We judge people differently now than we used to. The #MeToo & #TimesUp movements have helped ensure that.
Don't get me wrong. In many cases, I think political correctness is a good thing. Many on the right decry the PC culture, mostly because they want to be able to use certain terms to describe certain types of people. I have zero sympathy for their inability to get away with bigotry. When I look back at some of the things WWE presented during the Attitude Era & the 2000s, I'm happy that they went PG. Some of the stuff they pulled was 100% not ok, and didn't accomplish the goal of presenting compelling television. Knowing Vince McMahon's sense of humor, they'd still be trying to do Hot Lesbian Action & Katie Vick type angles today if they didn't go PG.
I, for one, will gladly put up with the lack of blood in matches if it spares me from wrestlers sleeping with transvestites as storyline fodder.
I do think there's one area where we've corrected ourselves too much. Sexual harassment is a tricky thing to figure out for most of us. I think we all know that extreme cases that can lead to prison time are certainly unacceptable. If a member of the opposite sex says no, we should stop trying. There are grey areas however. Like, say you're a wrestling columnist that's never going to meet anybody you write about.
Is it time to call @WWE_MandyRose the NEW #SwoleQueen in @WWE?! We think so! 💪👸🏼 #GodsGreatestCreation pic.twitter.com/xHdpYgDpBG

— PHOWW (@PhysiqueWrestle) May 9, 2018
From where I sit, my writing about Mandy Rose's attractiveness, or anybody else's, should be fair game. I admit that the Hot 100 was borderline, and that the variety of "Ultimate Babe" tournaments were iffy at best. Currently, I wouldn't consider producing such things unless the price was right. With that being said, I don't see the crime in pointing out that Mandy Rose will have a successful career in whatever she does because she's smoking hot.
If we're being perfectly honest, attractive people rule the world.
This is @WWE_MandyRose's world. We're just lucky to be part of it. 😎 #GoldenGoddess #GodsGreatestCreation 👑 pic.twitter.com/xAl5Trm8ns

— Chris Ray (C-Ray) (@CRayChosen1) May 23, 2018
We might not act like we judge based on appearance, but we clearly do. Stores with attractive salespeople get more traffic than ones without. If Roseanne Barr looked like Tomi Lahren, she might still have a TV show. The Trumps are certainly easier to put up with when we're looking at Ivanka or Melania instead of Donald. Look at the cable news channels that constantly talk about these people…you're not seeing too many ugly people hosting, are you?
We all have personal examples of this, so here's mine: I'm on a dating website because I'm in my early to mid 30s & still single. I don't get a lot of messages from women, and messages I send rarely get a response. Why? Because the first thing you see on a profile is the picture, and that's when you decide if you're interested or not. When most women see a picture of me, or see me in person, they decide they're not interested within a couple of seconds.
I'm not bit-ok, maybe I am a little bitter about it, but it's the truth. Men, women, it's the same either way. Most people are more interested in a physical connection than an intellectual or spiritual one. There was a woman I had a pretty good connection with at work, which was a bit problematic because our company frowned upon inter-workplace relationships. She ended up leaving, which kind of stunk, but it meant there was a chance for something more. Until she hooked up with some hot young thing she met on the Internet. I don't think she's actually met the guy yet, but obviously it's a strong connection because he looks good and that's all that really matters to most people.
And hey, it matters to me too.
Last night on #SDLive, @WWE_MandyRose showed up and showed out against arguably the best today in @WWEAsuka. We're trying to warn you all that Mandy is destined for big things down the line. The former @wbff Pro Bikini World Champion is made for stardom in @WWE! pic.twitter.com/XuEeUxQT3r

— FitGems Nation (@FitGemsNation) May 30, 2018
While we're continuing to be honest, let's admit that our favorite wrestlers of the opposite gender are also the ones we find the most attractive. I'm sure I don't need to remind you of Roman Reigns' popularity with the ladies, as the reasoning behind that goes without saying. Alexa Bliss is a very charismatic talent, but I see as many comments about her biscuit butt as I do about her promos. I've seen people talk about how Bayley secretly has the best body in WWE, so even the most innocent persona in WWE isn't safe from being objectified. Heck, even Kevin Owens gets it from people that are into bears. Let's not discuss AJ Styles' popularity among the gay community.
#Absolution might be over, but @SonyaDevilleWWE & @WWE_MandyRose were in full force on @instagram last week! https://t.co/oFj3PhM12i pic.twitter.com/whmsofzvbf

— WWE (@WWE) May 27, 2018
Sonya Deville certainly has her fans. She has a unique look & brings something to WWE that nobody else has before. But if we're talking about the classic image of beauty that WWE has pushed for the past twenty years, we're talking about Mandy Rose. Mandy follows in the footsteps of Sable, Sunny, Trish Stratus, Stacy Keibler, Torrie Wilson, Maryse & countless other beautiful blondes that I'm forgetting at the moment.
There will always be an audience that likes blondes with blue eyes, tanned skin & ample bosoms. As long as that's the case, Mandy Rose has a great chance of success in WWE. I'll be rooting for her because…well, I think that's pretty obvious.
In all seriousness it's great to see @WWE_MandyRose up her game week after week! #WWE #SDLive pic.twitter.com/JXcVt5Xt98

— DIVAbible (@DivaBibleWWE) May 30, 2018
Because I think she's hot. See, admitting it is the first step to freedom. I promise you it isn't that hard. Well, not as hard as it is when I see Mand-
The Good, Bad and Ugly: SmackDown Live 12.11.18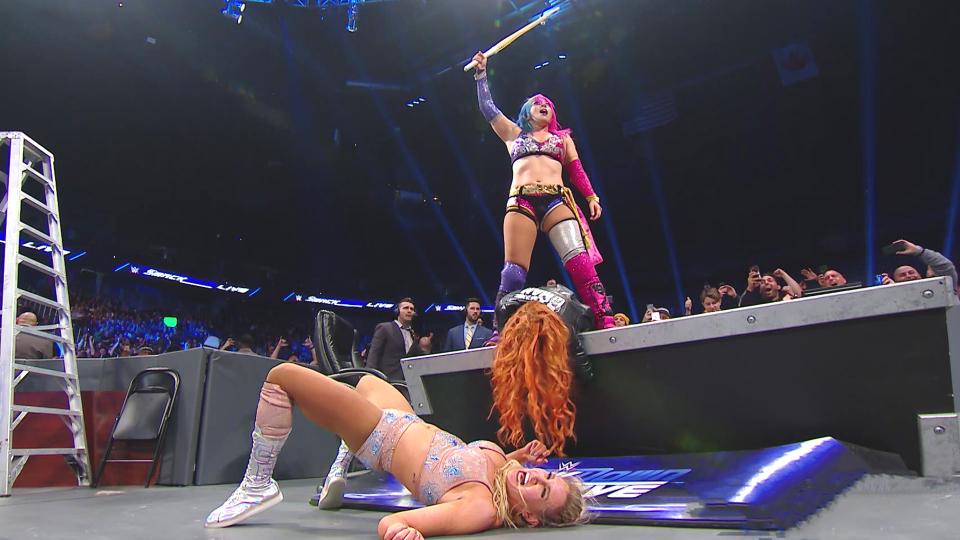 Does the TLC Go Home of SmackDown continue to build excitement, or does it go the way of Raw and help us all get to sleep earlier? Bobby let's us know how things are shaping up.
With Tables, Ladders and Chairs coming up this weekend, we had a semi-sweet Monday Night Raw.  The actual in ring action looked decent.  SmackDown is always looking bright, and tonight shouldn't disappoint.  What surprises are ahead on the Pre-TLC SmackDown?
The Good
Opening Promo w/ Daniel Bryan to Non-Title Match (WWE Champion) Daniel Bryan vs. Mustafa Ali
Daniel Bryan is solidifying his heel persona by continuing his onslaught on the general public and acting as wrestling's Smokey the Bear.  Shaming his once devoted fans, causing everyone to react in some way.  Daniel Bryan continues to pile on that his old self is now dead, and all of the fans are idiots.  Cheap pops and heat continued on.  Until luckily it was interrupted by Ali.  Mustafa Ali is a great talent.  He didn't do much of the talking here.  He mostly fell victim to Daniel Bryan spewing his agenda.  Ali went on to ask Daniel Bryan what's up with his new attitude, only to be disrespected with a slap to the face.  We saw a little action which gave us a taste of what is to come.  Daniel Bryan looked sharp.  His strikes were well done and was full of energy.  This evil, snapped gimmick is working well for him.  He wore down Ali,working the knee.  Old school, clean wrestling.  Ali had minimal offense but stuck to his high spots.  Even with the multiple interruptions and heavy commercials, this was a Good match.  After some incredible feats, Ali misses an inverted 450.  Daniel Bryan went on to tear Ali apart, making him tap to the "Heel Hook." Daniel Bryan Wins, a hot opening match. After the match, overkill set in, with Daniel Bryan viciously attacking Mustafa Ali up the ramp.  This wasn't needed but acted as a callous to Daniel Bryan's changeover to a heel. 
Randy Orton Promo
Orton wielding a chair went about showing off his previous torture of Rey Mysterio, questioning why anyone would want to have a chair match with a guy like him.  Just as he was about finished, Rey Mysterio attacked him out of nowhere, hitting Orton with a chair and a 619, causing Randy Orton to flee.  Not a bad promo.  Short and effective. 
Rusev and Jeff Hardy vs. Samoa Joe and Shisuke Nakamura
Rusev being involved is Good for business.  These four are some of the best in the business.  Rusev has the abilities to carry the WWE as the Heavyweight Champion. Much like a Bobby Roode, he has had moments of being overlooked, however that can change at any moment like we saw on Raw.  Pairing Shinsuke and Rusev is genius and a guaranteed winner.  WWE just has to let them work and it will be fantastic.  After being interrupted by an untimely dance off from Carmella and R-Truth, Shinsuke Nakamura brutally attacked Jeff Hardy from behind.  Samoa Joe continued the assault on Hardy.  This wasn't brilliant considering the talent here, but it was entertaining enough.  As the crowd showed everyone, Rusev when finally given the opportunity, delivered and looked Good in there.  He is a great talent all around.  After a devastating kick to the face, Rusev covers Nakamura for the Victory! 
Asuka vs. Charlotte
Going into this, how could it be Bad?  It really can't right?  First thing, it is a great Main Event, also,having Becky Lynch come out after the contenders were already in the ring was also great.  Charlotte looked completely flawless and confident.  This was very physical.  Asuka not to be outdone did some outstanding work.  Asuka kept after "The Queen" working her arms and beating her down. Charlotte and Asuka went back and forth most of the match.  Charlotte finally trapped Asuka into a "Figure 4" but getting reversed.  The two went back and forth fighting every second. This match was action packed.  Asuka repeatedly kicked Charlotte in the face, until Charlotte hits a spear.  After landing on her feet from a blocked moonsault, Charlotte then kicked out of a roll up from a countered "Figure 4".  Asuka hit the "Asuka Lock" that was countered sending Charlotte and Asuka to the floor. Charlotte then when psycho, Getting Disqualified for using her Kendo Stick.  Before Charlotte could go too far, Becky Lynch got her back, only to get attacked by Asuka.  Asuka went crazy with the Kendo Stick staking her claim of dominance.  Asuka Win!    
THE BAD:  N/A
THE UGLY
New Day Rap Battle:  Usos vs. The Bar
This style of promo has potential.  It can be really Ugly or really Good.  Depending how much cheese is involved vs.actual humor.  The New Day came out looking dapper and ready for the festivities. They are always ready to party.  The Bar had their Run DMC track suits and Flavor Flav clocks for decor.  That's where it ended with a cheese filled "Ice Ice Baby" to remedy their horrendous rap abilities.  The Uso's surprisingly were also not great at this.  This was a completely ridiculous,worthless segment.  Chalk this up as Ugly. 
Miz Promo (Shane McMahon and Miz vs. The Vegas Boys
Begging is just ridiculously over the top, especially in the current SmackDown setting.  It's cheap.  The Miz and Shane are both Good typically on the mic.  This was a smooth promo,however out of the blue Miz calls out a ref for a tag match.  This match was horrible.  Shane had more botches than I have ever seen.  This was absolutely Ugly all around.  Shane ended the debauchery by submission for the victory. 
Tally
Good:  4
Bad:  0
Ugly:  2
Final Results:  Good(ish)
Although the Good outweighed the Ugly on this one, we had some pretty Ugly moments.  More than I have seen on SmackDown in sometime.  This wasn't their strongest show among the past few weeks, but it worked. The highlight of the night was the Main Event!  TLC is Sunday and I would say thanks to SmackDown, we are ready to roll! 
How did you feel about this past SmackDown? Let us know on social media @theCHAIRSHOTcom and always remember to use the hashtag #UseYourHead!
Can a Queen of the Ring Event Work in Today's WWE?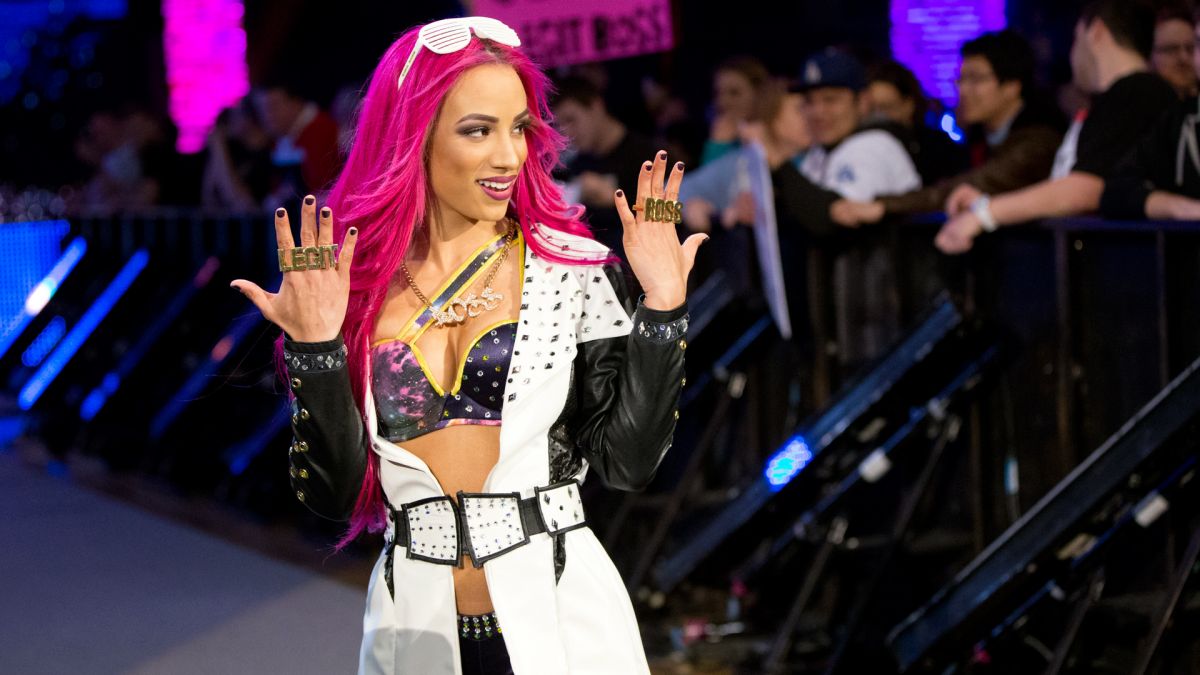 Rumors are swirling about WWE bringing back a throwback event for the next all-women's PPV.  A Queen of the Ring tournament sounds like a good idea as a focal point for the PPV considering the ever-evolving Women's Evolution.
Many fans remember the King of the Ring, which was considered one of the big five PPVs for WWE back in the 1990s.  King of the Ring had its ups and downs, but it was mostly known for the birth of Austin 3:16.  The iconic moment still stands the test of time twenty two years later, however others such as Owen Hart, Triple H, and Edge certainly benefited from the once-prestigious tournament.
After Brock Lesnar's win in 2002, King of the Ring slowly began to fade out. The last tournament was in 2015,where Bad News Barrett would later become King Barrett to celebrate the win. Before that was the infamous King Sheamus, who won the one prior back in 2010.
The allure and beneficial factor of King of the Ring definitely dissipated by the time it was brought back. King of the Ring used to be a big deal, meaning that the winner was definitely en route to a huge push or a WWE Championship opportunity down the road. The accolade was something that a few men could add to their list of accomplishments.
So let's fast forward to now with these Queen of the Ring ideas. Could this really work in today's WWE that is struggling to create lasting moments and new stars?
It depends on the commitment factor for the company; and that lies on the success and reception of the event if it did happen.  There is certainly use for it, as the tournament can be used to elevate talent such as Ruby Riott, Peyton Royce, or Sasha Banks.  On the flip side, it wouldn't be no surprise if someone such as Alexa Bliss or Mandy Rose could take the win to garner extra heat for their respective character.  That would certainly work, as Bliss is an example of someone who is very much over and the company seems to be completely behind her.
Consistency also matters, in which it is crucial to make the Queen of the Ring idea work. That goes hand in hand with the storytelling aspect that the company has been struggling with for some time now. Gaps in logic with missed opportunities have done more harm than good, and with Evolution's success, it wouldn't be fair to the women if Queen of the Ring was one and done thanks to those poor factors.
Queen of the Ring is a great idea that could certainly help the Women's Division.  Having the tournament at the Women's PPV would create interest for fans that want something to look forward to.  There is no doubt that the talent would shine during the Queen of the Ring – even the potential for possible Match of the Year candidates is high at an event such as this. 
WWE has all of the tools to make this a success if at all possible this is true.  Overall, it would be beneficial for the Women's Division, and it will help the Evolution become full circle –something that the Division is meant to be.
Let us know what you think on social media @theCHAIRSHOTcom and always remember to use the hashtag #UseYourHead!