Mandy Rose Will Be A Big Deal, And It's Easy To See Why
Mandy Rose is headed for big things in WWE, and it's easy to see why. Appearance is still part of the game in professional wrestling, and she exceeds that standard. The rest can be taught.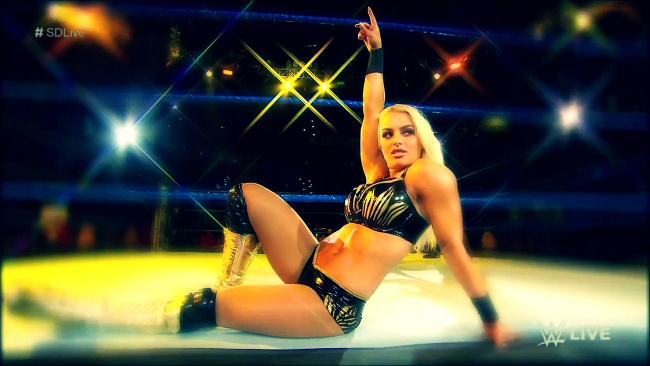 I was raised as a Catholic. Like many Americans raised in the faith, I haven't been the best one over the years. I don't go to church as often as I should. I haven't always turned the other cheek or treated others the way I would like to be treated.
Sometimes, I wonder if there is a God. When you turn on the news & see what's going on in the world, it's tough not to have your faith challenged. What kind of God would allow the atrocities that happen every single day? If God is there to protect us, why would there be hunger across most of the world? Why would He empower those that embrace the deadly sin of Greed? Why won't He make His people understand that we are all His creations, and that He loves us all equally? Doesn't He?
It's easy to question the existence of God in 2018. Until I see Mandy Rose, and I realize that there is a God.
Soak in #GodsGreatestCreation, @WWE_MandyRose… #SDLive 💛💛💛 pic.twitter.com/YpNwmLWugy

— WWE (@WWE) May 30, 2018
God is good.
I'm not here to tell you that Mandy is going to be one of the great female workers of her generation. Her matches have been fine so far. She looks like she knows what she's doing. But to be perfectly honest, I'm going to cut her a lot of slack in this area. You know why? Because when I see Mandy Rose on my television, or on my computer screen, or on my Android, I get a funny feeling in a certain area of my body.
Behold #GodsGreatestCreation… @WWE_MandyRose! #SDLive pic.twitter.com/quBmR7YeNG

— WWE (@WWE) May 9, 2018
I'm not supposed to talk about that in 2018. Things are different now, you see. WWE isn't going to have a swimsuit magazine featuring their female Superstars. They're not sending them to tropical locations for photo shoots & DVD productions. (Come to think of it, they really should have done this while the men were wrestling in Saudi Arabia.) They still have Dance Contests, but you won't be seeing any Swimsuit Contests or Wet & Wild matches or anything like that.
WWE isn't alone in this presentation shift. 411Mania isn't populated with random pictures of celebrities. I'm not doing the 411 Wrestling Hot 100. When I do Top 5s for The Chairshot I'm not ranking people based on how attractive I think they are. We judge people differently now than we used to. The #MeToo & #TimesUp movements have helped ensure that.
Don't get me wrong. In many cases, I think political correctness is a good thing. Many on the right decry the PC culture, mostly because they want to be able to use certain terms to describe certain types of people. I have zero sympathy for their inability to get away with bigotry. When I look back at some of the things WWE presented during the Attitude Era & the 2000s, I'm happy that they went PG. Some of the stuff they pulled was 100% not ok, and didn't accomplish the goal of presenting compelling television. Knowing Vince McMahon's sense of humor, they'd still be trying to do Hot Lesbian Action & Katie Vick type angles today if they didn't go PG.
I, for one, will gladly put up with the lack of blood in matches if it spares me from wrestlers sleeping with transvestites as storyline fodder.
I do think there's one area where we've corrected ourselves too much. Sexual harassment is a tricky thing to figure out for most of us. I think we all know that extreme cases that can lead to prison time are certainly unacceptable. If a member of the opposite sex says no, we should stop trying. There are grey areas however. Like, say you're a wrestling columnist that's never going to meet anybody you write about.
Is it time to call @WWE_MandyRose the NEW #SwoleQueen in @WWE?! We think so! 💪👸🏼 #GodsGreatestCreation pic.twitter.com/xHdpYgDpBG

— PHOWW (@PhysiqueWrestle) May 9, 2018
From where I sit, my writing about Mandy Rose's attractiveness, or anybody else's, should be fair game. I admit that the Hot 100 was borderline, and that the variety of "Ultimate Babe" tournaments were iffy at best. Currently, I wouldn't consider producing such things unless the price was right. With that being said, I don't see the crime in pointing out that Mandy Rose will have a successful career in whatever she does because she's smoking hot.
If we're being perfectly honest, attractive people rule the world.
This is @WWE_MandyRose's world. We're just lucky to be part of it. 😎 #GoldenGoddess #GodsGreatestCreation 👑 pic.twitter.com/xAl5Trm8ns

— Chris Ray (C-Ray) (@CRayChosen1) May 23, 2018
We might not act like we judge based on appearance, but we clearly do. Stores with attractive salespeople get more traffic than ones without. If Roseanne Barr looked like Tomi Lahren, she might still have a TV show. The Trumps are certainly easier to put up with when we're looking at Ivanka or Melania instead of Donald. Look at the cable news channels that constantly talk about these people…you're not seeing too many ugly people hosting, are you?
We all have personal examples of this, so here's mine: I'm on a dating website because I'm in my early to mid 30s & still single. I don't get a lot of messages from women, and messages I send rarely get a response. Why? Because the first thing you see on a profile is the picture, and that's when you decide if you're interested or not. When most women see a picture of me, or see me in person, they decide they're not interested within a couple of seconds.
I'm not bit-ok, maybe I am a little bitter about it, but it's the truth. Men, women, it's the same either way. Most people are more interested in a physical connection than an intellectual or spiritual one. There was a woman I had a pretty good connection with at work, which was a bit problematic because our company frowned upon inter-workplace relationships. She ended up leaving, which kind of stunk, but it meant there was a chance for something more. Until she hooked up with some hot young thing she met on the Internet. I don't think she's actually met the guy yet, but obviously it's a strong connection because he looks good and that's all that really matters to most people.
And hey, it matters to me too.
Last night on #SDLive, @WWE_MandyRose showed up and showed out against arguably the best today in @WWEAsuka. We're trying to warn you all that Mandy is destined for big things down the line. The former @wbff Pro Bikini World Champion is made for stardom in @WWE! pic.twitter.com/XuEeUxQT3r

— FitGems Nation (@FitGemsNation) May 30, 2018
While we're continuing to be honest, let's admit that our favorite wrestlers of the opposite gender are also the ones we find the most attractive. I'm sure I don't need to remind you of Roman Reigns' popularity with the ladies, as the reasoning behind that goes without saying. Alexa Bliss is a very charismatic talent, but I see as many comments about her biscuit butt as I do about her promos. I've seen people talk about how Bayley secretly has the best body in WWE, so even the most innocent persona in WWE isn't safe from being objectified. Heck, even Kevin Owens gets it from people that are into bears. Let's not discuss AJ Styles' popularity among the gay community.
#Absolution might be over, but @SonyaDevilleWWE & @WWE_MandyRose were in full force on @instagram last week! https://t.co/oFj3PhM12i pic.twitter.com/whmsofzvbf

— WWE (@WWE) May 27, 2018
Sonya Deville certainly has her fans. She has a unique look & brings something to WWE that nobody else has before. But if we're talking about the classic image of beauty that WWE has pushed for the past twenty years, we're talking about Mandy Rose. Mandy follows in the footsteps of Sable, Sunny, Trish Stratus, Stacy Keibler, Torrie Wilson, Maryse & countless other beautiful blondes that I'm forgetting at the moment.
There will always be an audience that likes blondes with blue eyes, tanned skin & ample bosoms. As long as that's the case, Mandy Rose has a great chance of success in WWE. I'll be rooting for her because…well, I think that's pretty obvious.
In all seriousness it's great to see @WWE_MandyRose up her game week after week! #WWE #SDLive pic.twitter.com/JXcVt5Xt98

— DIVAbible (@DivaBibleWWE) May 30, 2018
Because I think she's hot. See, admitting it is the first step to freedom. I promise you it isn't that hard. Well, not as hard as it is when I see Mand-
King's WrestleMania Rewind: Charlotte Flair vs. Asuka from WrestleMania 34
Chris king is back with one of the most underrated matches in WrestleMania history–Charlotte Flair vs. Asuka!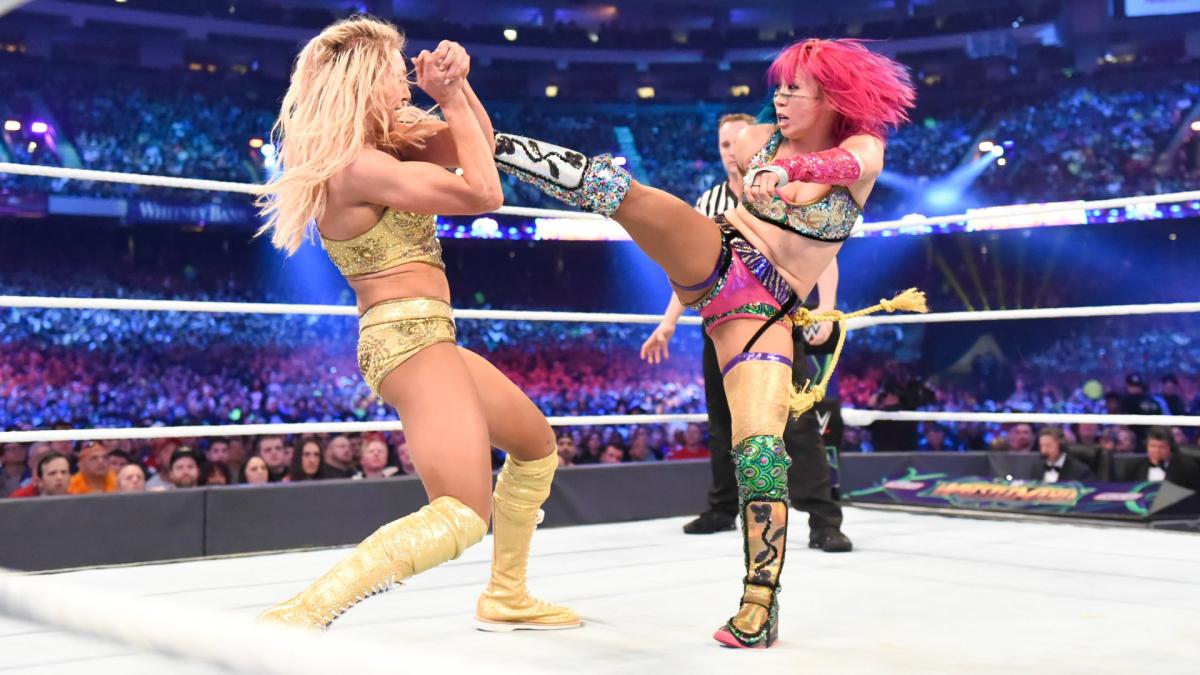 Chris king is back with one of the most underrated matches in WrestleMania history–Charlotte Flair vs. Asuka!
We look back at Charlotte Flair vs. Asuka at WWE WrestleMania 34. 'The Empress of Tomorrow' put her unprecedented and historic undefeated streak of 914 days on the line against 'The Queen's' SmackDown Women's Championship.
For years, this was considered a dream match while Asuka dominated the roster in NXT, while Flair won numerous championships on the main roster on both Raw and SmackDown. The Empress made her long-awaited debut on the September 11th episode of Raw and began to tear through the competition.
Asuka outlasted all twenty-nine other women in the historic first-ever Women's Royal Rumble match to challenge for the title of her choosing. At Fastlane, she made her choice.
The WWE Universe was so excited for this match myself included. Both superstars delivered a fantastic performance on the Grandest Stage of Them All executing counter after counter. Asuka showed off some nasty-looking kicks to her opponent, and Flair hit a thunderous Spanish Fly off the top rope. Flair was seconds away from defeat at the hands of The Empress but she locked in Figure Eight and Asuka was forced to tap out.
I can't even begin to explain how shocked I was at this outcome, as nearly everyone expected The Empress to continue her undefeated streak and walk away with the women's title. This controversial decision was the downfall of Asuka's momentum. She would ultimately win the SmackDown Women's Championship at the 2018 TLC pay-per-view in the triple-threat ladder match.
Fast forward to this year when Asuka has recently returned with her Japanese-inspired persona Kana. Kana is dangerous and ruthless and is heading into a championship with Bianca Belair at WrestleMania 39. The Empress has regained all her momentum and is highly favored to walk away with the Raw Women's Championship. Let's hope that Asuka and Belair can tear the house down and deliver an A+ grade match both women are fully capable of.
King: Dominik Mysterio Needs To Do This At WrestleMania
Chris King is here with what WWE should do with Dominik Mysterio at WrestleMania in his long-awaited match against his father Rey Mysterio Jr.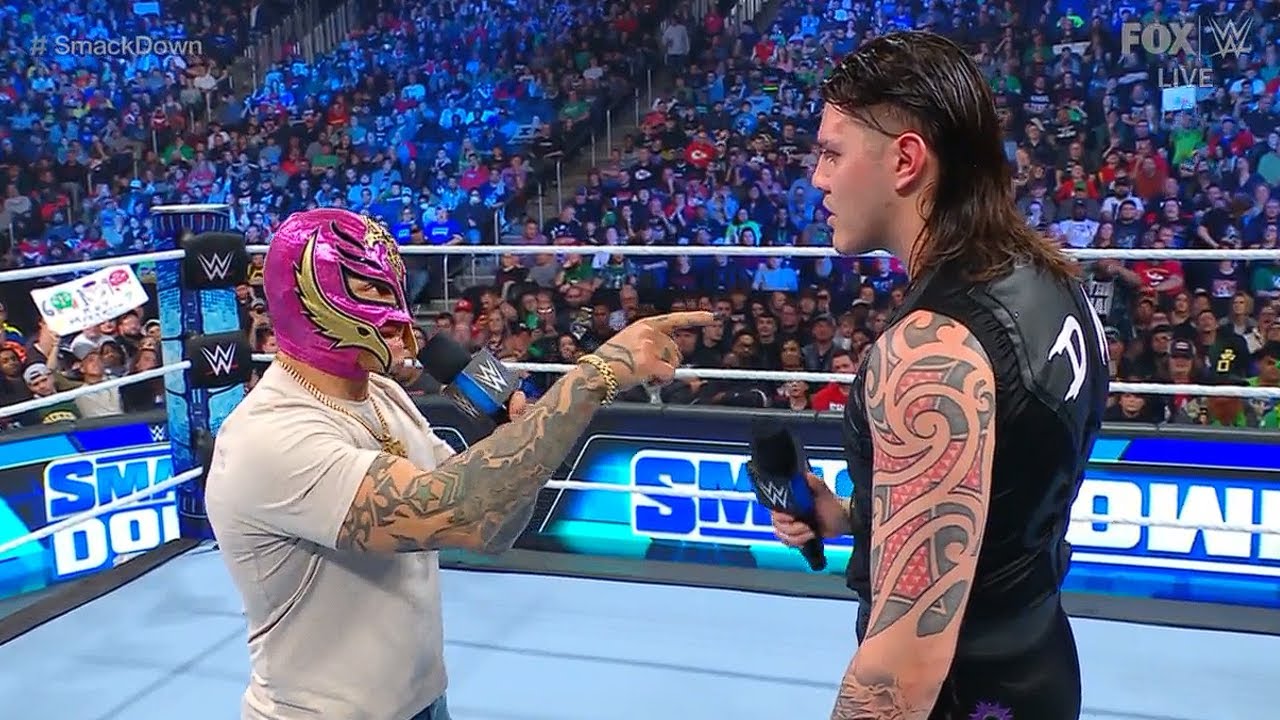 Chris King is here with what WWE should do with Dominik Mysterio at WrestleMania in his long-awaited match against his father Rey Mysterio Jr. 
On this week's episode of Friday Night SmackDown, Rey Mysterio finally snapped and beat some sense into his disrespectful punk-ass kid Dominik. The member of the Judgement Day came out to push his father again for a match on the Grandest Stage of Them All, this time with his mother and sister at ringside. The ungrateful punk told his mom to "Shut Up," as a father even I wanted to jump through the screen and whoop his ass.
Back in October of last year, Mysterio made the emotional decision to possibly quit the company but, instead, Triple H persuaded the Lucha libre superstar to move over to SmackDown to avoid his son. This came after Dominik shockingly turned on his father at Clash at the Castle. Mysterio did everything he could to refuse his despicable son's challenge for Mania but, a man can only be pushed so far. Mysterio will be inducted into the 2023 WWE Hall of Fame and I expect Dominik to embarrass his father during his speech to further this personal feud.
Yes, the WWE Universe hates Dominik and wants to see him get the ever-loving crap kicked out of him but, this feud is missing a special ingredient to capitalize on the biggest heat possible. Throughout this feud, Dominik has made mention of the legendary Eddie Guerrero on several occasions going back to the "iconic" 2005 feud.
I know WWE might not want to go this route but, Dominik MUST come out to Eddie Guerrero's theme at Mania. The disrespectful punk needs to come out in a lowrider to garner nuclear heat. It doesn't matter if The Judgement Day comes out and causes interference for Dominik to get the win, all that matters is that both superstars get the biggest payoff of this nearly year-long feud. Just imagine the Roman Reigns heat after he defeated The Undertaker and multiply that by ten. Dominik portrays the perfect heel and he truly is the missing ingredient that The Judgement Day needed to grow and evolve into a top faction.