Another episode of MLW, and with how everything ended last week, we should get some interesting movement.
Salina de la Renta told Shane Strickland it wasn't over, Callihan's group seems to have it out for MVP and MJF hates Joey Janela. So let's see where this all leads to.
Tom Lawlor vs Fred Yehi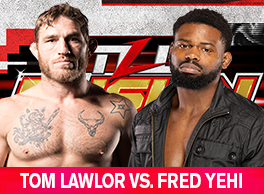 MMA Al Bundy vs Blanka, this should actually be a fun match, depending on how much Team Filthy interfere.
Start off with a lot of mat wrestling for position, switches and flot overs. Yehi shoots the leg but Lawlor counters easily. This counter westling goes on for a while until Yehi manages to shove Lawlor in the corner and put together a few suplexes.
Small strike exchange before Lawlor takes Yehi to the ground and gets in an armbar attempt, some ground and pound and then a seated abdominal stretch. Lawlor hits a nice vertical suplex, as he floats over into a front necklock, as they go to the first commercial break.
After the break, Lawlor hits a big Russian Leg Sweep and tries to lock in a knee bar, but Yehi fights to the ropes. Yehi shows some life with a strike exchange, but Lawlor hits an Exploder Suplex to keep the momentum for him. Tony Schiavone calls Yehi "The Yet-eh", it's amusing.
After a couple minutes with Lawlor grinding out submission attempts, Yehi finally gets some space, but Lawlor stays on him. Standing switch and Yehi gets a German Suplex and Dragon Suplex for a near fall. Multiple knee strikes and a huge Power Bomb from Yehi for 2.
Right as it seems like Yehi was gonna lead to a finish, a diving forearm strike with the exposed steel plated forearm, knock Yehi loopy and the Rear Naked Choke wins Lawlor the match.
Winner: Lawlor via Rear Naked Choke
Rating: *** 1/4
MJF interview, where he does another poorly acted smug heelish douchebag thing. Aria Blake…seemingly drunk, approaches him and the interview falls apart.
Salina de la Renta promo, to extrapolate on her threat from last week. 20,000 dollar bounty put on Shane Strickland's head. A little freaky camera work, possibly someone appears behind Salina. Who will be the first to try and take out Strickland?
Next we see a photo shoot with Jimmy Yuta and Jason Cade, which shows more dissension between the members.
Leon Scott w/Sami Callihan vs MVP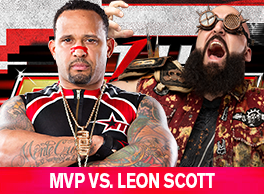 MVP must not like his entrance music, cause this is the second television match where he runs in and starts going after the opponent.
Should tackles, exploder suplex, but then Sami Callihan and the third member of Callihan's group (Possibly Sawyer Fulton) enter and the match is immediately thrown out. Kotto Brazil tries to come in to help MVP, but he's dispatched and the beat down continues.
Winner: MVP by DQ
Rating: N/A
Kaci Lennox catches up with Strickland for a response to Salina's challenge. Swerve says he's confident and turning it down sets a bad example. Low Ki then approaches him with a deal. Offers the services of Black Friday to help Shane, but Strickland refuses.
ACH vs Rey Fenix w/ Salina de la Renta
Both play to the crowd for a while, then finally a test of strength into and Arm Ringer from ACH, Arm Drag from Fenix, a little oneupsmenship, followed up by ACH hitting a sweep, double foot stomp, shotgun drop kick. ACH hits a big plancha after Fenix powders out, and then as they come back in, Fenix returns the favor by hitting a big dive, leaving both men prone for the commerical break.
Following the break a big to turnbuckle springboard senton for a nearfall. Big kicks from both as Fenix hits a rewind Spin Kick for another 2 count. Fenix attempts a Rolling DDT, but gets caught into a backbreaker and German Suplex Hold, for 2.
The match finally slows down a little as they both counter Brainbusters, Fenix gets caught mid move, but manages to keep the momentum. Hits a splash, as he goes for a middle rope moonsault, ACH seems to move, but Fenix keeps rolling and catches ACH with a Cutter for the near fall again.
Fenix keeps his position and starts chopping ACH very deliberately and plays to the crowd to get "Uno Mas" chants. Fenix goes for a corner springboard, ACH stops it, Fenix bounces up again, ACH counters again and Fenix pulls himself out of a Tree of Woe, while both men fight for position. Fenix gets a small advantage, goes for a Crossbody, but ACH catches him into a Death Valley Driver, for yet another 2 count.
Both move over to the apron and begin chopping one another. ACH gets the best of the chops, but Fenix escapes, slips momentarily but still hits an Enzuigiri. Following up the Enzuigiri by sliding out, jumping up to the apron and hitting a nice Spinning Back Kick right in ACH's face.
Fenix tries a big top tope move, but ACH catches him with Flash Kick (Guile from Street Fighter). Pace slows down again, and we get a strong style chop battle. Fenix sells his arm, hits a big combination, but ACH manages to catch him with a few kicks of his own, Vertical Suplex float over, into a near fall.
Big Frog Splash from ACH missed, springboard Spin Kick from Fenix in the corner leads to the Fenix Driver, and the pinfall.
Winner: Fenix via Fenix Driver
Rating: ****
Thoughts:  Well from a wrestling perspective, the matches were more solid than we've seen in a few weeks. They still have a tendency to string too many interview/promo/backstage segments together in a manner that looks like a highlight reel.
However, the fact that all of the stories they established felt like they moved forward, is kind of a special thing. Not a lot of wasted movement in this show, on top of Schiavone and Bocchini being more on point than usual with move calls and general flow.
It feels like the show is starting to come together. Damn entertaining show.