MLW Fusion Ratings & Review: 6/22/2018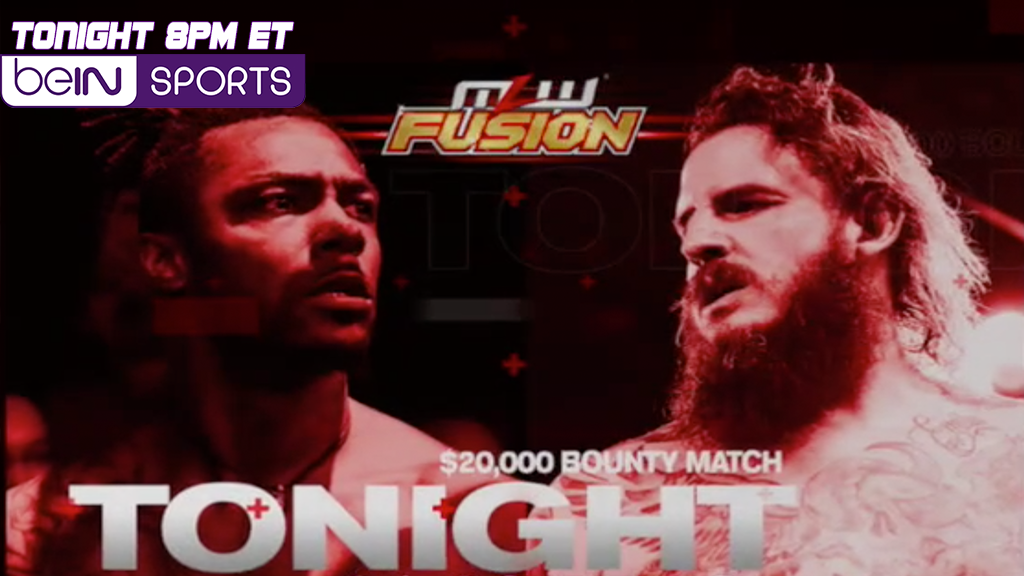 I always feel a little bad when I miss an episode of MLW Fusion, and don't have time to catch up, but thankfully it didn't play into this show too much. Chris Platt does damn good work when I can't cover it, I just need more time in a week.
Since I enjoyed the last episode I watched so much, this should be interesting to see how this episode feels.
The show begins recapping the $20,000 bounty that Brody King is looking to cash in, and a small plug for MLW Battle Riot in New York City
Trey Miguel vs Teddy Hart
Danny Santiago was supposed to be the opponent, but Teddy Hart jumps him before the bell and Court Bauer comes out to make the new match official.
Teddy wants to wrestle … and our CEO @courtbauer says "Make the match!"#MLWFusion pic.twitter.com/jbyi9CAk5p

— #MLWFusion on BeIN Sports Fridays (@MLW) June 23, 2018
Quick exchange, where Teddy goes for an Arabian Moonsault, hits Miguel's knees, goes outside and a kind of short step up Cartwheel Dive from Miguel puts Teddy Hart on his heels. Action goes back into the ring, Trey strings together a few moves and lands a top rope Meteora, for a 2 count. -commercial break-
We return from the break, Teddy is on the receiving end of some forearm shivers in the corner. Counters a corner whip by standing on Trey's back and quickly transitioning into a Code Red for a near fall. Package Hammerlock DDT from Teddy for another near fall. After a little pandering to the crowd, another big spot, Electric Chair Lung Blower, gets a near fall for Hart. A few chops in the corner, Hart attempts a Superplex, but Miguel slips off and connects with an Avalanche Cutter, only broken up by Teddy having the ropes within arm's reach.
Sloppy exchange on the apron, Overhead Back Kick and Flatliner gets Trey a 2 count. They move to the corner, Miguel plays to the crowd, Hart makes him pay with a Side Slam across the top turnbuckle. Hart hits one more Lungblower and an Avalanche Canadian Destroyer give Teddy Hart the win.
Sloppy, but an alright re-debut for Teddy Hart.
This HIGH-IMPACT match comes to a close with a HUGE Top Rope Canadian Destroyer from @TeddyHartIsBACK!

Game effort from @TheTreyMiguel here on #MLWFusion pic.twitter.com/bPYEaUtixP

— #MLWFusion on BeIN Sports Fridays (@MLW) June 23, 2018
Winner: Teddy Hart via Avalanche Canadian Destroyer
Rating: ** 1/4

Kotto Brazil interview about his Rich Swann match. Alright face promo regarding him trying to get some wins.
Teddy Hart interview next, comes off mostly face but saying that the locker room hates to follow him. Rich Swann, ACH and Teddy Hart have a small altercation, ends with ACH saying "These Harts are crazy".
Another Battle Riot promo, naming a few new names and a match including Davey Boy Smith Jr, Teddy Hart w/ Brian Pillman Jr vs Rich Swann & ACH
Small interview with Col. Robert Parker hitting on interviewer Vanessa Croft, and taking her off to get coffee while Team Filthy go into their lockroom behind them.
Barrington Hughes vs Paris Hakeem
Caramel Colossus is a great nickname, but another squash match doesn't really do much for me. Barrington will be a major player later, but these squash matches just look kinda bad.
Now THAT'S an Elbow Drop!#MLWFusion pic.twitter.com/2bbJVIR6zl

— #MLWFusion on BeIN Sports Fridays (@MLW) June 23, 2018
Winner: Barrington Hughes Standing Elbow Drop
Rating: N/A (Squash Match)
Team Filthy say they found his hat, and gave it a good 'Cleveland Steam Cleaning', which Robert Parker finds out the hard way, what that means.
Kotto Brazil vs Vandal Ortagun
Handshake fake, into a kick from Vandal, leads into a shoulder block takedown. Kotto's athleticism comes into play necked, leap frog move, kick, Rhodes Laying Uppercut, into a Dropkick.
A nice rolling Monkey Flip attempt gets countered into a side slam from Ortagun for 2. Another counter Neckbreader from Vandal for yet another near fall. Ortagun continues to dominate the position and flings Kotto into the corner, but counters with a Sunset Flip. Running Uppcut for Brazil, Headscissor Driver into the middle turnbuckle as Kotto transitions to a Frog Splash but gets caught. Backstabber from Ortagun for a 2 1/2. Brazil tries to fight back but gets caught in a Wrist Clutch Backstabber.
Ortagun takes a second to complain about the two count, eats two Superkicks and a Running Shiranui from Brazil, as Kotto picks up the win.
Kotto Wins! Kotto Wins!

Superkick into a running Sliced Bread and he picks up his first-ever #MLWFusion victory! pic.twitter.com/fsluMneOAG

— #MLWFusion on BeIN Sports Fridays (@MLW) June 23, 2018
Winner: Kotto Brazil via Running Shiranui
Rating: **
Recap of Fenix and Pentagon winning the tag titles, going into a Salina de la Renta interview. Very good promo about not being happy with only tag titles, wishing Brody King good luck and running down the interviewer.
$20,000 Bounty Match: Brody King vs Shane Strickland
Starts off with Sawyer Fulton and Leon Scott trying to jump Strickland early, but Barrington Hughes intercepts them and tells Shane to go to the ring.
Everybody wants a part of that bounty. @StricklandShane hasn't even made it to the ring and @HughesyPoo had to fight off @TheSamiCallihan's army!#MLWFusion pic.twitter.com/gusgNCAY4z

— #MLWFusion on BeIN Sports Fridays (@MLW) June 23, 2018
Brody starts off quickly, and the two men begin striking back and forth. Strickland Dropkicks King to the outside, and then starts laying in multiple jumping front kicks from the apron. Swerve attempts a Frankensteiner but Brody catches him and Powerbombs him into the apron. King gets a 2, and continues to put on the pressure, hitting a senton, getting another 2 afterwards. Strickland shows a lot of fighting spirit by landing occasional strikes, but Brody keeps the advantage and hitting more impactful moves.
Repeated knee lifts from Shane, King returns with a Big Boot, German Suplex is no sold by Brody, Shane gets caught in a Fireman's Carry, but before King can pull off his move, Strickland counters with a Dropkick. The pace picks up pretty nicely here and there's a lot of exchanges. Shane hits a multitude of moves including a Tiger Feint to King's stomach, but nothing puts the big man down. Two Pump Kicks, a standing high kick, nothing takes down King. When Shane goes for another move, King hits a big lariat and does a Big Swing, causing Shane to roll out of the ring. -commercial break-
King stalks Strickland on the outside, but a chair to the knee and a stepup Enzuigiri send Brody to a seated position. Shane stares down King and nails him with a Swerve Stomp from the apron, through the chair. Eventually gets big Brody King in the ring, but only for 2 by the time the pin happens.
Swerve kicks and stomps Brody's head but he powers up and through the moves. Lariat while maintaining wrist control and Brody hits the All Seeing Eye, for a near fall. King then goes under the ring for powder, but Shane kicks it into King's face, lowers his knee pad and lands a High Knee Strike and picks up the win.
HUGE knee strike from @StricklandShane after the powder bomb backfired on @Brodyxking and the champ survives the $20,000 bounty match!#MLWFusion pic.twitter.com/ykSMCxWtwc

— #MLWFusion on BeIN Sports Fridays (@MLW) June 23, 2018
Winner: Strickland via Knee Strike
Rating: ***
Low Ki attacks Strickland, as Salina de la Renta comes out with him. She smiles at Low Ki as he continues to beat down the damaged champion.
Thoughts:
Not a terrible show, definitely felt and looked a little more low budget than some of their other shows. Some of the interview segments just looked bad, but everyone gottheir characters over well. Even at the end, Salina de la Renta's facial expressions and body language were fantastic. So it still has those moments where it looks Indy and others when it looks more legit. But hey, if production value is all I'm gonna complain about, that's pretty damn solid.
Plus, Teddy Hart is back, so what's to dislike about that?
---
Always Use Your Head and visit the official Pro Wrestling Tees store for The Chairshot All t-shirt proceeds help support the advancement of your favorite hard-hitting wrestling website, The Chairshot!

---
Top 5 Matches: Week Ending 7/15/2018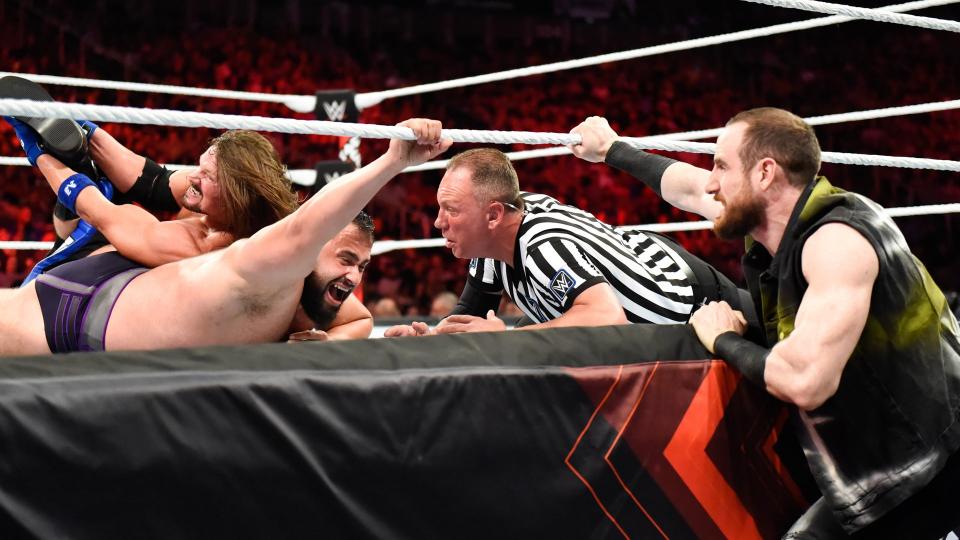 Now last week we had two votes, the June Pool and the normal weekly one. Both votes came down to a tie breaker vote, and one isn't a surprise where the other might be a small shock. Let's show what the current MOTY Pool looks like, and you'll see what won June.
January – Takeover Philadelphia NXT Championship Match: Johnny Gargano vs Andrade Almas (c)
February – New Beginning in Osaka IWGP Championship Match: Kazuchika Okada (c) vs SANADA
March – Strong Style Evolved: Golden Lovers vs Young Bucks
April -Takeover NOLA NXT Championship Match: Andrade Almas (c) vs Aleister Black
May – WWE  Backlash Intercontinental Match: Seth Rollins (c) vs The Miz
June – NJPW Dominion IWGP Heavyweight Match -Kazuchika Okada (c) vs Kenny Omega
So yes, Omega vs Okada IV barely edged out Nakamura vs Styles. The first match to go into the July pool though, may be a surprise. Coming off of a fairly high critical acclaim G1 Special in San Francisco, one could've expected New Japan to take the first week. But too many votes were spread out among the ones on the list, so it came down to Jay White vs Juice Robinson or Mustafa Ali vs Buddy Murphy. The 205 Live NoDQ match, edged out all of the New Japan matches.
Will we get more of the sam? Since the G1 started on Saturday, so for the next month, it will be very hard for anything to overshadow G1 matches.
5. WWE Extreme Rules WWE Championship Match: AJ Styles (c) vs Rusev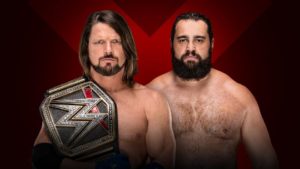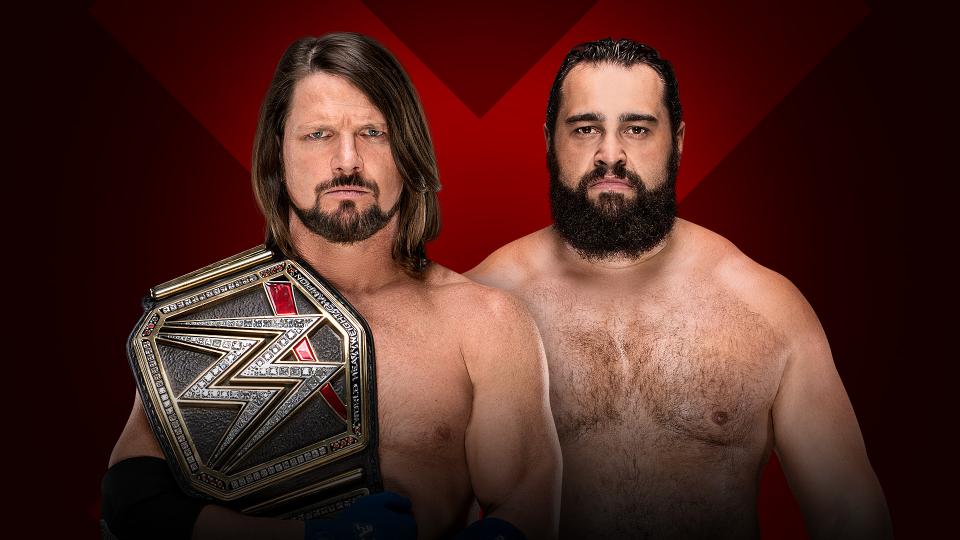 Both men trade strikes, as AJ goes after the legs, but Rusev manages a nice Judo throw to start stomping on Styles. Styles continues the leg strikes, tries a suplex, but it gets blocked, so he goes to the ropes and Rusev catches him with a Spinebuster. Rusev is visibly favoring his left leg but manages two Vertical Suplexes and a elbow drop for a 1 count.
AJ attempts a few more kicks and tries to get something going, but Rusev throws AJ back with a huge Back Body Drop. Styles gets beat down for a while until Rusev goes for a top rope move, but AJ lands an Enzuigiri to the injured leg and sends him crashing to the floor. Styles then follows up with a Flying Forearm to the outside.
Phenomenal Blitz back inside as AJ hits the sliding forearm. Stinger Splash from AJ, as he tries an Ushigoroshi, but Rusev slides out. AJ counters Rusev's attempt with a Scorpion Deathdrop for 2. Styles takes Rusev to the corner and tries to roll him out for the Calf Crusher, but Rusev blocks it and sends him to the outside. Suicide Dive attempt from Rusev, met with a jumping forearm.
Rusev counters another Calf Crusher attempt, going into the Accolade, as AJ slips out, kicks him in the bad leg and goes for the sliding forearm again but Rusev kicks him in the face. Fall Away Slam attempt from Rusev, but AJ turns it into the Calf Crusher. Aiden pushes the ropes forward to help Rusev break the hold, AJ gets distracted, chases Aiden on the outside as he eats a Belly to Belly Suplex followed by a Machka Kick for 2.
Macha Kick attempt number two, dodges and Styles hits a Pele Kick. Rusev catches Styles next move and hits a Roundhouse Kick for 2. Accolade attempt, but Rusev's left leg gives out on him so it's more like a Half Camel Clutch as Styles struggles to the ropes. Aiden gets involved again by taking the pad off the top turnbuckle. Rusev goes face first into the exposed turnbuckle since he wasn't aware of it, Styles lands a Springboard 450 for 2.
Styles knocks Aiden down and lands the Phenomenal Forearm for the pinfall victory.
Winner:  Styles via Phenomenal Forearm
Rating: **** 1/4
4. NXT Tag Team Championship Match: Moustache Mountain (c) vs The Undisputed Era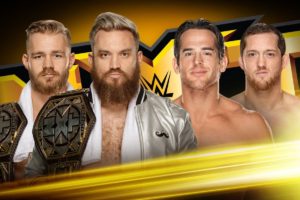 Moustache Mountain dethroned the, then NXT Tag Champions, Undisputed Era during the UK Special a couple weeks ago. So we get to see The Era try to prove something, whereas Trent Seven got his leg banged up in a previous Six Man Tag.
Trent Seven started it off, and that was the beginning of the story. Strong and O'Reilly managed to work over the injured like hunters going in for the kill. Multiple back breakers from Strong and O'Reilly with Heel Hooks and Knee Bars just killing Seven's leg.
After a few cut off moments stopping Tyler Bate from getting into the match, Seven finally fights through and gets in the fresher man. It was at this point we get a goofy spot where Bate has Strong on his shoulders and grabs O'Reilly for an Airplane Spin/Big Swing combo, but since he couldn't hold Strong, it made no sense why he stayed on his shoulders. So the crowd might've enjoyed it, but it really was rather awful.
We see Bate hit a Tyler Driver '97, but it gets broken up. The trainers come out to work on Seven's knee, which inspires Bate to try and fight harder without letting him come back in. Eventually, the Bate's energy leaves him and the numbers game gets too much, so he ends up tagging in Seven.
Trent comes back in looking good, knocking them both down, hitting a Seven Star Lariat for a near fall, but it was all cooking. However, after breaking up one submission attempt the referee admonishes Bate and him being the good babyface listens to him. So we see Kyle O'Reilly go back to torturing Trent Seven by tearing his knee apart as Bate stays in the corner and tries to urge him on.
However, it becomes too much after a while. Tyler can't watch his mentor get his knee torn apart so he throws in the towel even though Seven keeps saying not to do it. So Undisputed Era regains the Tag Titles.
Winner: Undisputed Era via Stoppage
Rating: **** 1/4
3. NJPW G1 Climax 28: SANADA vs Hirooki Goto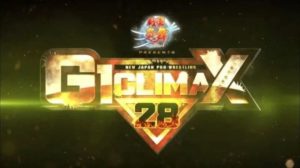 This match is interesting where neither of these guys have much history fighting each other. Goto, who even though he's the current NEVER Openweight champion and a former winner of the G1, as well as, he went to the finals of G1 Climax 26, but isn't ever seen as a strong favorite. SANADA on the other hand is seen as a future champion.
It's hard to really put in to words what happened in this match. We saw beautiful counter wrestling from SANADA, and his athleticism was on display opposed to Goto's technical Bushido persona. We saw the match spill to the outside for a short time, but in general the match started off a little slow. So as we watch this build, it has the skeptical hallmarks of a good but forgettable Goto match.
But once we get to a point where SANADA goes for the Skull End then we watch the counter wrestling begin. SANADA did the usual thing where he puts too much stock in the Muta Moonsault and misses, which gives Goto the opening. A nice tease is Goto looks like he's gonna pull off a Shouten Kai which was more of his go to finish before the GTR all the time.
So Goto lands a Reverse GTR, Draping GTR and his normal GTR to pull off a hard fought victory. SANADA keeps impressing and Goto definitely showed up a lot of doubters. Could've easily been the number 1 match, if it wasn't paired against the well recognized names.
Winner: Goto via GTR
Rating: **** 1/2
Honorable Mentions:
WWE Extreme Rules Intercontinental Iron Man Match: Seth Rollins vs Dolph Ziggler (c)
Winner: Ziggler 5-4
Rating: ****
NJPW G1 Climax 28: Michael Elgin vs EVIL
Winner: Elgin via Elgin Bomb
Rating: ****
NJPW G1 Climax 28: Kota Ibushi vs Zack Sabre Jr
Winner: Ibushi via Kami GoYe Knee
Rating: ****
205 Live Cruiserweight Title Match: Hideo Itami vs Cedric Alexander (c)
Winner: Alexander via Lumbar Check
Rating: *** 3/4
Raw: Drew McIntyre vs Seth Rollins
Winner: McIntyre via Claymore
Rating: *** 3/4
Impact: Sami Callihan, Jake Crist & David Crist vs Rich Swann, Fenix & Pentagon Jr
Winner: Callihan via Get Out of Here
Rating: *** 3/4
WWE Extreme Rules: Roman Regins vs Bobby Lashley
Winner: Lashley via Spear
Rating: *** 1/2
NJPW G1 Climax: Tama Tonga vs Juice Robinson
Winner: Tama via Gun Stun
Rating: *** 1/4
MLW Fusion: 'Filthy' Tom Lawlor vs Jake Hager
Winner: Lawlor via DQ
Rating: ***
2. NJPW G1 Climax 28: Kazuchika Okada vs Jay White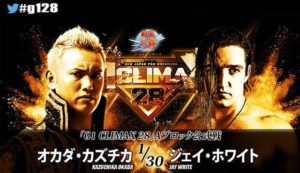 So Jay White gets his first shot at Okada since returning from excursion and joining Chaos. Jay did say he wanted more inner stable matches, but given that neither have titles currently, this is just awkward. Okada sporting red hair and new awful music, and Jay White asking people where his belt is…I don't even know what to think here. One will bounce back after big losses, but neither seems to be mentally complete at the moment.
Okada comes out with his balloons and looking relaxed to the point of goofiness, but does manage to take an early advantage. After some time on the outside, Jay White turns it around and starts banging Okada's back off the barricade and apron. Plenty of entertaining spots in this match. Jay rips off the banner from the apron and tries to asphyxiate Okada, wait til 4, and then reattaches it as the crowd applauds that. Jay beats down Okada on the outside, Red Shoes starts counting, but Jay goes out there and throws Okada in the ring as the crowd applauds that also. So even though he's doing obviously heelish things, they're applauding when he does nice stuff as a show of respect, even if Jay is being disingenuous.
Even though this shell of Okada isn't the same man that defended the IWGP title for 720, he gets a small fire under him when Jay starts toying with him. The Okada Dropkick, Macho Man Style Elbow Drop, Scooby Dooby Doo Crossbody and even a Rainmaker pose, but Jay manages to counter the Rainmaker the first few times.
We see Jay going to any lengths necessary to try and win the match, while verbally harassing Okada and messing with the crowd. Speaking of the crowd, they were oddly quiet through a lot of it. I'm not sure if they're still trying to figure out new Okada or if they're just not ready to openly support him after a year of cheering ever challenger he faced. Either way, the tense atmosphere, coupled with Jay's insistence upon cheating to make it "his Chaos", gave the match an odd feel.
Towards the end, Jay brings in a chair, pushes down Red Shoes and goes to hit Okada, but the Rainmaker Dropkicks the chair into Jay's face and looks to be on track to winning the match. Red Shoes gets up, Okada winds up Jay for the Rainmaker, but Jay backfists Red Shoes before eating the Rainmaker. So even though the ref could've counted to 12, White's tactics paid off. Kazuchika goes to pick him for another move, Jay hits a low blow, followed by throwing the chair into Okada's face and finally, Blade Runner ends the match as the referee comes to.
So it told a good story of Okada still not being himself, and Jay White finding a character that will go to any lengths to win all while claiming everything is his.
Winner: Jay White via Blade Runner
Rating: **** 1/2
1.  NJPW G1 Climax 28: Kenny Omega vs Tetsuya Naito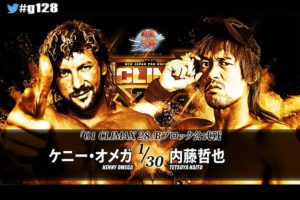 Usually when we see these two, it's either the finals, or leading to the finals. In two previous matchups they each have one win, but Omega wasn't the champion at the time. Also there's the under current of Omega's comments about Japanese wrestlers not working as hard as gaijins (it's a work), so Naito has something to prove not only for himself but for Japanese wrestlers.
This starts off fast and doesn't slow down until they start to get exhausted. Naito gets his Avalanche Frankensteiner countered a few times, both the Destino and One Winged Angel get countered multiple times, and it's just a beautiful match to watch. For as much as people talk about Okada versus Omega matches, the Naito matches have a special feeling about them.
Recounting things that happened won't do this justice, so I'll just fast forward to the end. Naito lands a Running Destino, but Omega kicks out. He then tries Destino four or five more times from different angles, but Omega finally gets an opening to land a V-Trigger to daze Naito long enough to hit the One Winged Angel.
Omega gets the early 2 points, which puts Naito behind the eight ball since B Block doesn't really have an easy match up. Let's remember that Okada went 6-0 last year before the wheels fell off, so it's more how you finish, then how you start.
Winner: Omega via One Winged Angel
Rating: **** 3/4
Now even though my summation wasn't fantastic, you need to watch the match to understand it, Tetsuya Naito vs Kenny Omega, gets my vote for match of the week. I can't wait to see them have a match outside of the G1, but for now, I'll be happy with these.
So Use Your Head, and I'm gonna go to bed.
---
Always Use Your Head and visit the official Pro Wrestling Tees store for The Chairshot All t-shirt proceeds help support the advancement of your favorite hard-hitting wrestling website, The Chairshot!

---
Are We Ready For An All-Female WWE Event?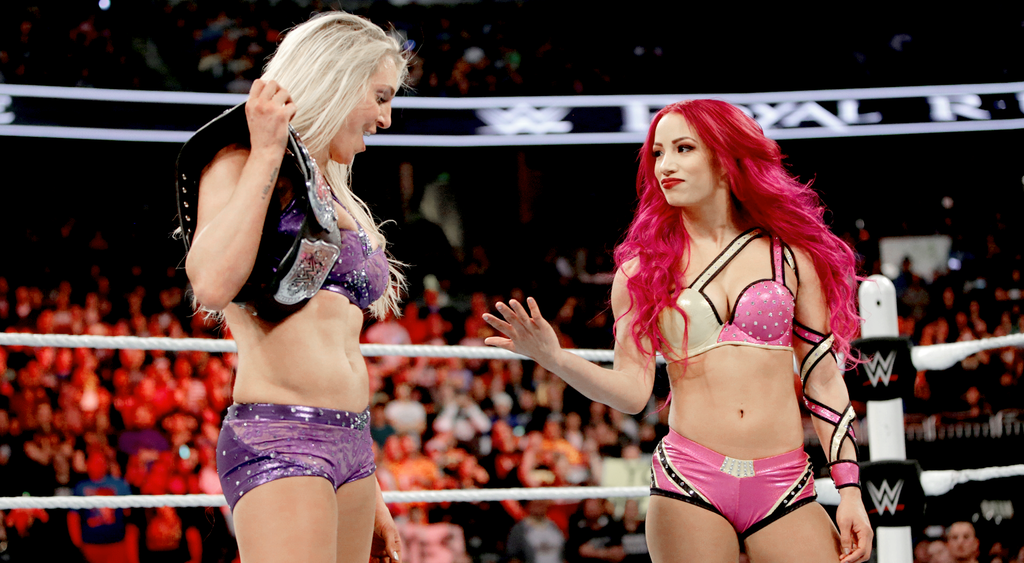 Twitter once again began to stir the pot in the wrestling community this week, with its daily dose of rumours & news on the future of the wrestling business and what we may or may not see in the coming months. Could one of them be an all-female WWE event?
This week we got the announcement of ROH and New Japan taking over the 'World's Most Famous Arena' Madison Square Garden over Wrestlemania weekend next April, Brock Lesnar was just recently confirmed with 100% guarantee to appear at Summerslam in a matter of weeks & the rumours of Rey Mysterio's WWE return have continued to swirl. None of these however caught my attention as much as one particular rumour, that of an all-female WWE event being in the pipeline, potentially occurring before the years end.
Such a rumour did honestly take me by surprise, since this was something fans had fantasy booked for years online & debated over, it was odd to see it come up at a time when so much news was flowing and I did feel the ROH & NJPW deal with Madison Square Garden sadly pushed this into the background.
An all-female WWE event is a marquee moment on its own right without even existing and speaks volumes to the trust the company has in their female talent, as well as the shift in their product compared to almost a decade ago when women were nothing more than a side act to the men headlining the shows.
During that time woman were subjected to simple vanity on most wrestling programming, doing nothing more than posing as sex symbols for audiences to drool over, today? They're stars in their own right, with actual credibility and more than enough potential to steal every show they're booked on and produce some of the years best matches as we've seen since 2015.
Potential based on what I've seen however didn't answer the question I first had; Are we ready for an all-female WWE event?
It isn't a question I could answer with a simple 'yes' or 'no' without some context behind each choice as something like this requires extensive thought and knowledge on the WWE product as a whole and where the women's division stands as of this righting. For this, I split my thoughts into two portions.
---
Always Use Your Head and visit the official Pro Wrestling Tees store for The Chairshot All t-shirt proceeds help support the advancement of your favorite hard-hitting wrestling website, The Chairshot!

---
The Downward Spiral of WWE Raw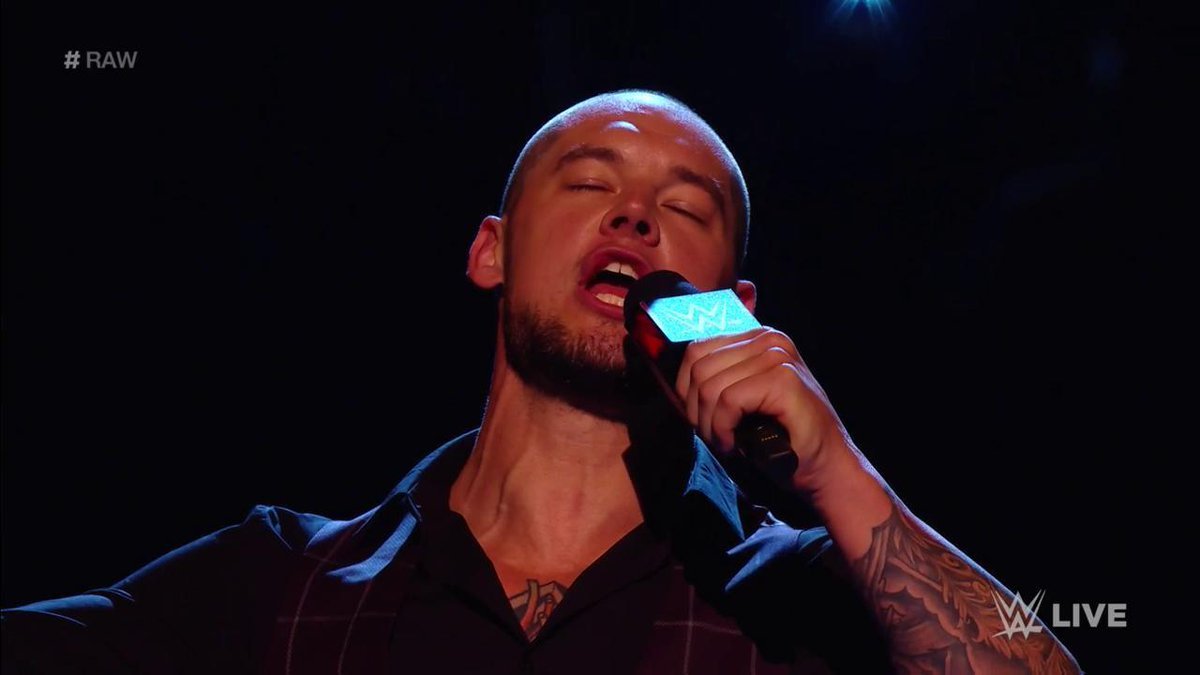 It's been 21 years since the glory days of the Attitude Era, with WWE Raw at its peak.  Times have changed and over time, fans are definitely changing along with that.  There is more accessible content than ever before with as little as a swipe to tune into something other than the kingdom Vince McMahon built.  The writing is on the wall, and recent events have made it even more clearly to the naked eye.
Considering that the pro wrestling world is coming off a great NJPW event last weekend, it's safe to say that WWE might need to change its game plan.  Followed with a record low rating for this past Raw, the bells and whistles should be sounding off all around.  While in the past the legendary show goes against the likes of Monday Night Football and Presidential events, this time the company should be concerned.  There was no football on and there was no State of the Union or debate that much of the world tuned into.
To be honest, this downward spiral has been a long time coming.  Whether it's storylines with loopholes or unnecessary segments, it's only so long before fans tune out of what's being presented to them.  Glimmers of hope include Alexa Bliss and Seth Rollins, but please believe that the spiral has nothing to do with the talent the company has.  The company has a healthy talent pool – probably the best roster of talent they have ever had.  WWE's managing of the Superstars hasn't been their best effort in my opinion, especially when others deserve more focus.
Here are some examples of the theory.  Roman Reigns is a great talent, but his placement on the card doesn't do him any favors of the never-ending war with the fan base.  Sasha Banks and Bayley deserve more screen time to reignite their feud versus social media shade and finding therapists to seek out help.  Bobby Lashley is in desperate need of a manager to sell him to the WWE Universe.  The list goes on in terms of what can improve.   There are three hours for Raw, and I know that it has to be a task to prepare three hours' worth of content.  You want viewers to tune in and stay tuned in but obviously, it's not working.
The biggest flaw seems to be the time management.  The best segments are straight to the point – less talk and more action.  Switching it up is a good thing when done accordingly.  For example, the quickest way to tune out is a 20-minute promo that seems to go on forever.  That concept has been driven in deep into the ground.  The frustration from fans builds from there, whether it's a character build or storyline.  Fans support these Superstars because they are talented and they believe that the Superstars deserve the best.    It's a matter of seeing them grow from storylines and look even better coming out of it.  Sometimes the inconsistent booking just does more harm than good.
With the rumors of Paul Heyman stepping into the Raw creative team role, this is a step in the right direction if true.  It will be a slow start, but in the past, Heyman has done a tremendous job in the early days of the brand extension on the Smackdown creative team.  Tasks such as what's being done on Raw take time to come around.  Simple changes can lead to big results, and Raw is certainly in desperate need to make a complete turnaround.
---
Always Use Your Head and visit the official Pro Wrestling Tees store for The Chairshot All t-shirt proceeds help support the advancement of your favorite hard-hitting wrestling website, The Chairshot!

---